The garage gym we featured in March took up an entire 2-car garage. All the normal garage tools were moved out into Benjamin's second garage.
We don't all have a 2-car garage asking for a gym. So this time, I want to show you an example of a fantastic setup that only takes up half of a 2-car garage, the other half being filled mostly by his truck.
Kyle put this together at his place in Urbandale, Iowa.
Update 2021: I've added notes on current products as alternatives to some Kyle got that are now discontinued, along with estimates of the total costs for a gym like this.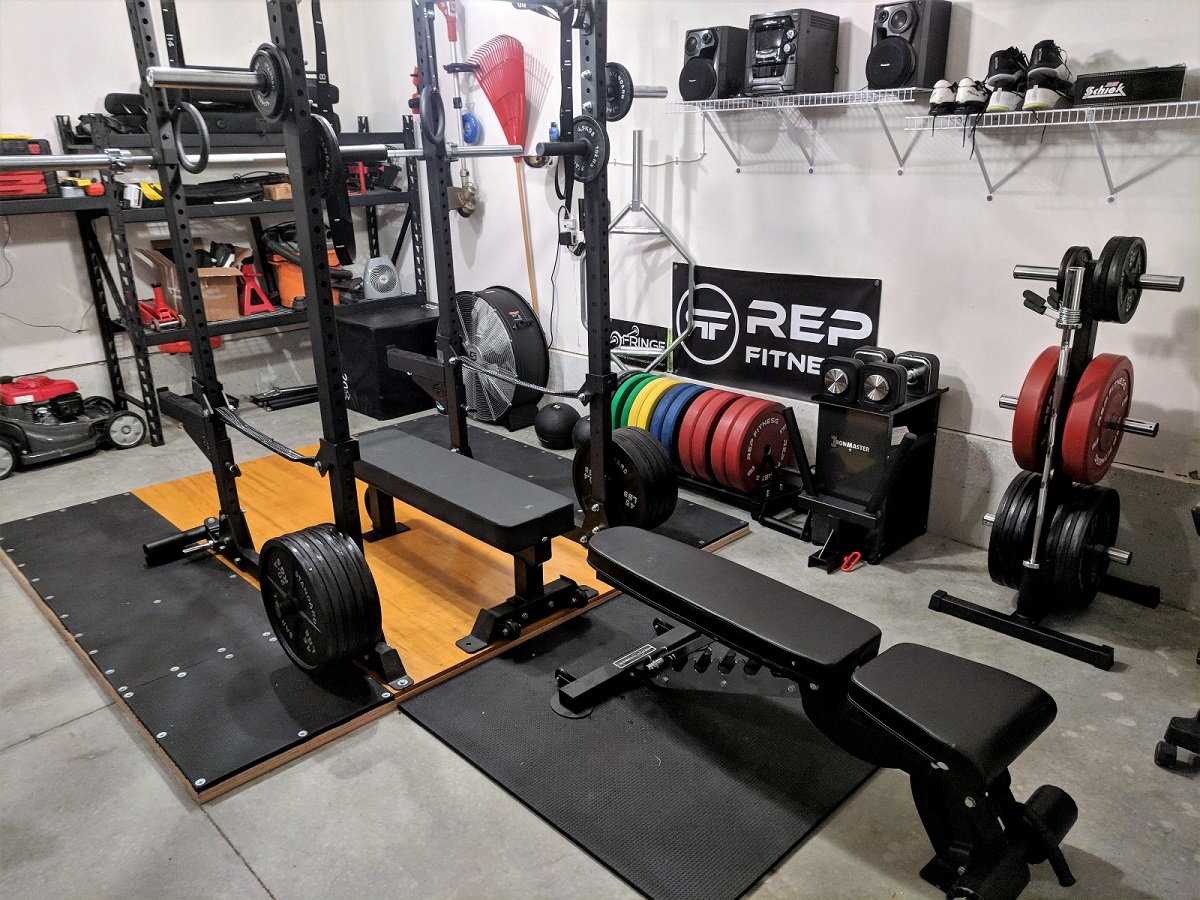 Kyle's Lifting Background
Everyone has different priorities and goals, and it helps if you understand where Kyle is coming from with his equipment decisions that we'll go over.
In high school Kyle was a swimmer and got introduced to lifting. At college he was a cheerleader at the University of Iowa, and with access to the school's facilities and strength staff he started lifting more seriously and put on 40 lbs (!!) his freshman year. Mainly his focus was olympic lifts, the explosiveness of which translated really well to cheerleading.
After college, he couldn't find a local gym with bumper plates or that allowed chalk, so he moved to a powerlifting style program and started competing. At his last meet (as of writing) in July 2017 he put up a 257.5 kg squat, 165 kg bench, and 300 kg deadlift at a bodyweight of 127.2. Remember, those are kilograms, folks! That's a 661 lb deadlift.
But olympic lifting was also calling to him, and the only way to get back into it was with a home gym!
Where He Shopped
The bulk of the equipment he got from Rep Fitness.
Rep has always had favorable reviews online and is good with answering questions. Kyle considered Rogue, but Rogue tends to have the highest prices for most things, and he didn't feel it was worth it, considering Rep's equipment seems to be nearly as high quality as Rogue. Rep isn't a "budget" option that cuts corners like some others.
Rep's prices for larger orders are particularly competitive vs some others who offer free shipping on all sized orders. On small orders Rep isn't as competitive. Once you get one or more pallets worth of stuff, you're taking advantage of the fact that you're paying actual shipping costs instead of a padded amount added to all products for "free" shipping on single-product orders. Rep points that out on their site prominently. The reality is they also want to encourage you to place these big orders with them.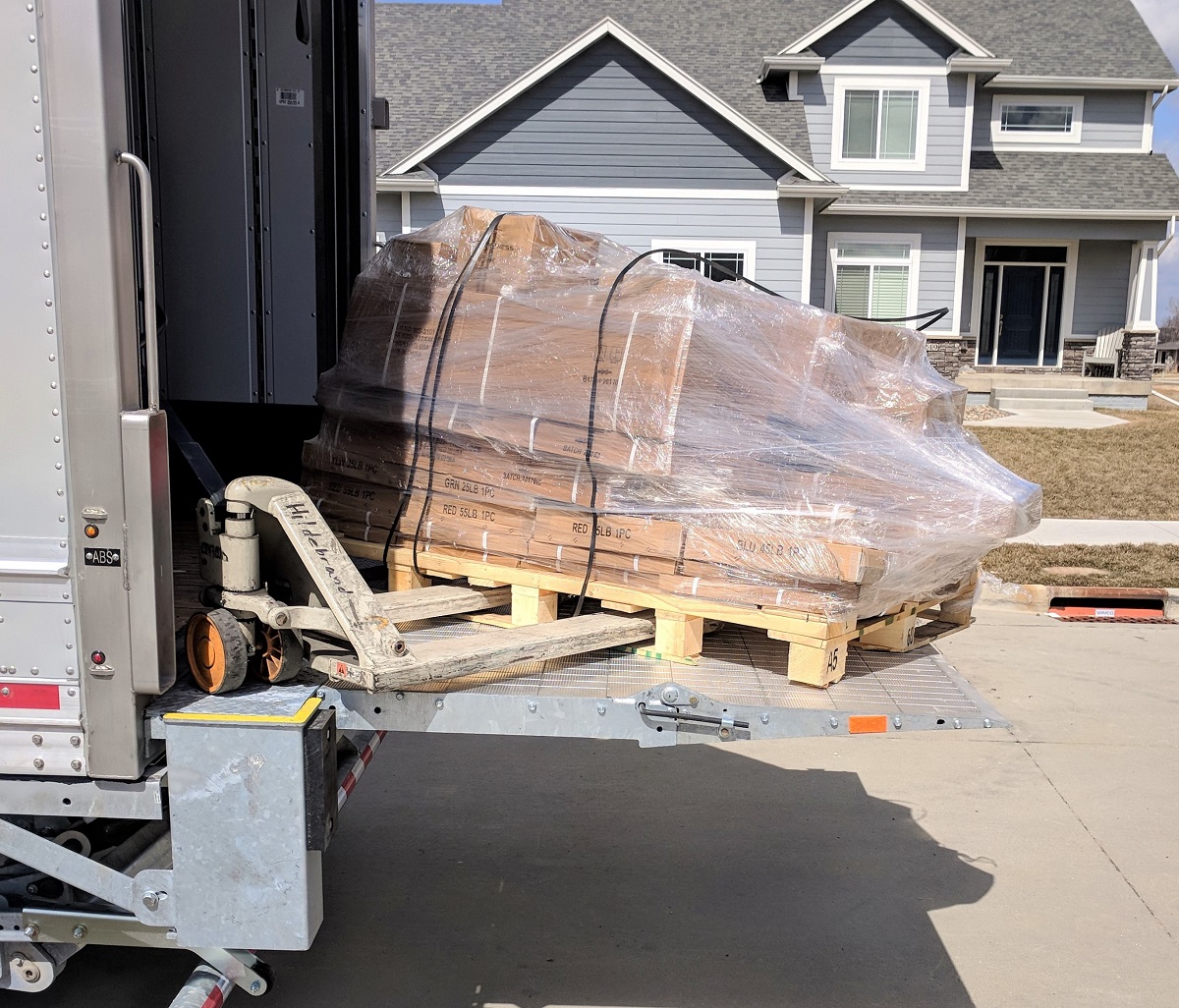 This pallet from Rep Fitness has the weight plates, benches, part of the power rack, and some accessories. Rep included lift gate service (the elevator on the back of the truck) as a courtesy, which is always a good idea for a pallet this heavy. Without that, you would have to unload each box individually from the back of the truck and carry them to your garage. Easy for a few boxes, not so easy for 2000 lbs worth of boxes.

This stuff came separately, two tubes with barbells from Fringe Sport, on top of the CAP Mega Hex Bar from Amazon. The hex bar was packaged well enough to protect it, given that some of the packaging had torn off and the cardboard wrapping was still on enough to keep it safe.
The remaining equipment he got from Titan Fitness and Ironmaster.
The Centerpiece: Power Rack
Let's start with the most obvious thing, that solid looking power rack! It's the Rep PR-3000 Flat Foot Power Rack.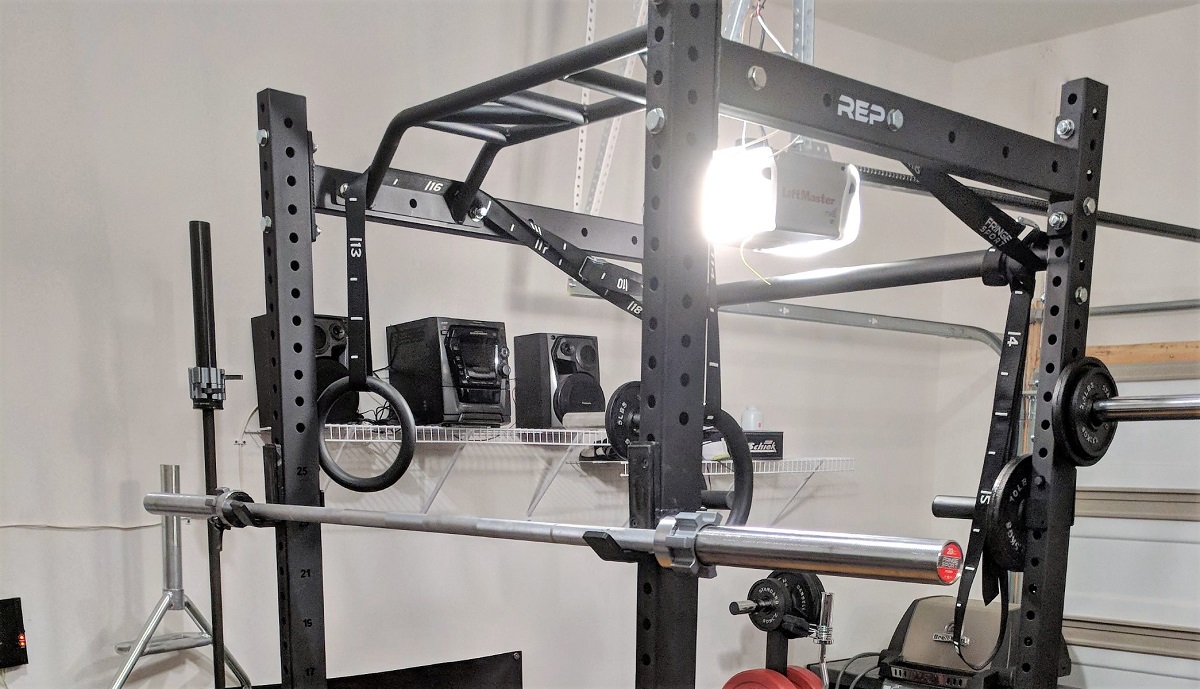 Update 2021: The PR-3000 has since been discontinued in favor of the 3″x3″ PR-4000 rack. Like other manufacturers, Rep is moving away from 2″x3″ racks.
This 11-gauge 2″x3″ rack is bolted into the platform. I'll get to discussing the platform in a moment. This type of open-ended rack usually should be bolted down, because without a horizontal stabilizer connecting the left and right frame it can tend to wobble. Once you bolt it down, the problem is solved, and you've eliminated the chance of it tipping or sliding as well.
He got a total of 6 weight horns on the rack, in addition to the storage racks he has against the wall. Kyle lifts a lot of weight, and all that storage space is used, as you can see. It's like having too many pockets, no such thing.
He looked over Rep's PR-5000 power rack also, a nice upgrade, but he didn't need the 3×3 tubing. It turns out the PR-3000 takes up most of his platform, leaving little room for olympic lifts, and so the PR-5000 actually would have been a better fit.
The steel rings from Fringe Sport he draped over the rack just for the pic. In use they're hanging from the rack's multi grip pull up bar, so not hanging from the ceiling for muscle ups or full pull ups, but good for ring pushups and ring dips.

These strap safeties were an afterthought, ordered after the first shipment came in. That made it so he literally bought every accessory Rep offers (as of writing) for the PR-3000. Whenever you have the chance, get strap safeties instead of traditional steel safeties. It might cause you pause, wondering if nylon is strong enough, but trust me, properly stitched nylon is plenty capable of handling a dropped bar, and you're dealing with a lot less noise and less risk of bar damage when you dump onto strap safeties.
Rep's are kind of tight, but some others like Rogue's are made looser so that you can actually adjust one side higher than the other to set the safety height to just the right spot for you.
As noted above, the PR-3000 rack is discontinued. I'm listing the equivalent attachments here for the PR-4000 to give you a better idea of what you can get like this today.
Approximate total for power rack and accessories: $1,400
Custom Built Platform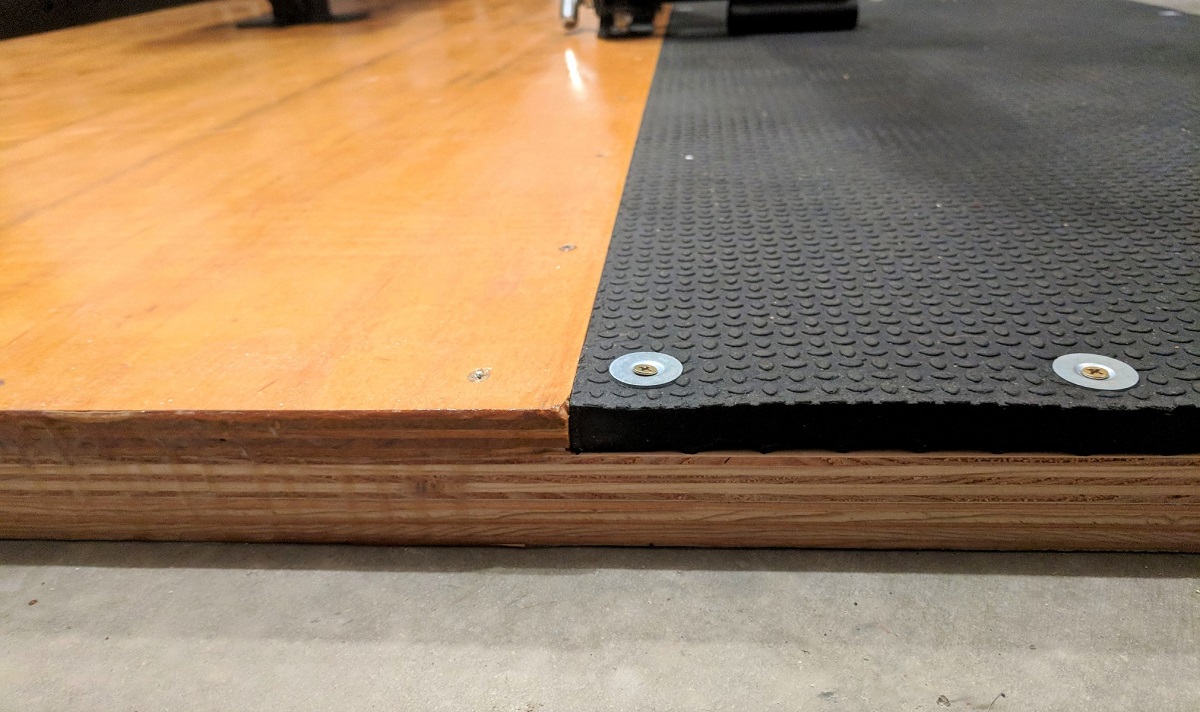 The platform Kyle made himself, following some basic layout instructions he found online.
You're actually looking at three layers above, even though it looks like two. The bottom two layers are each two sheets of 3/4″ maple plywood, the second layer laid perpendicular over the first to create a solid platform as you screw them together. The top 3/4″ layer is another sheet of 3/4″ maple plywood in the center, varnished, and 3/4″ rubber stall mats on the side. He bought all this locally in Iowa, the mats from Mills Fleet Farm and the plywood, screws, washers, stain and varnish from Menards. You can buy mats online from Rubber Flooring Inc with reasonable shipping.
He did not glue any layers together as some people do. He wanted to make it possible to disassemble in case he ever has to move this enormous thing that probably weights 500 lbs.
The Art of Manliness has one of the best guides I've seen on building a platform, with pics.
Approximate total for flooring: $200
Benches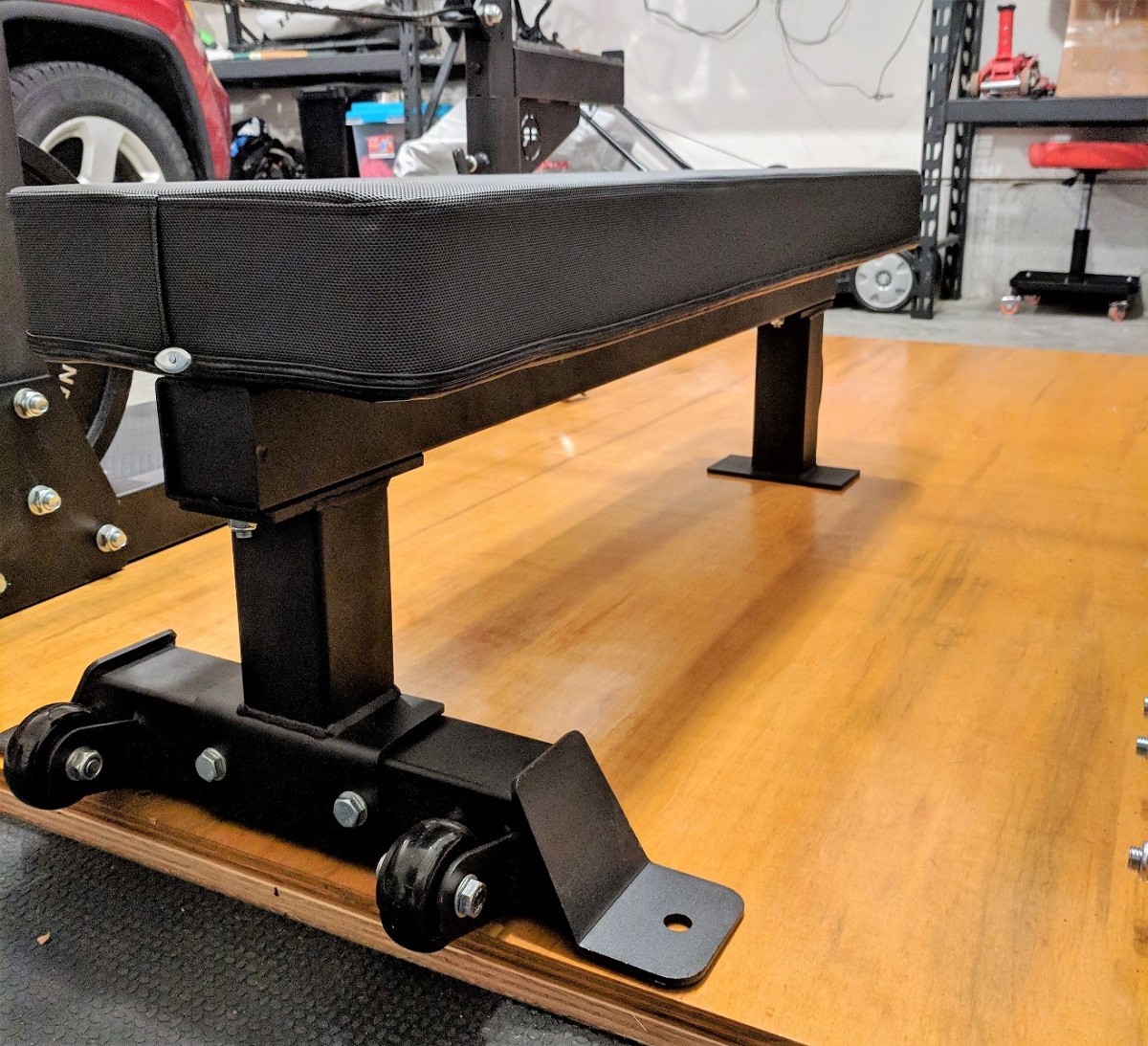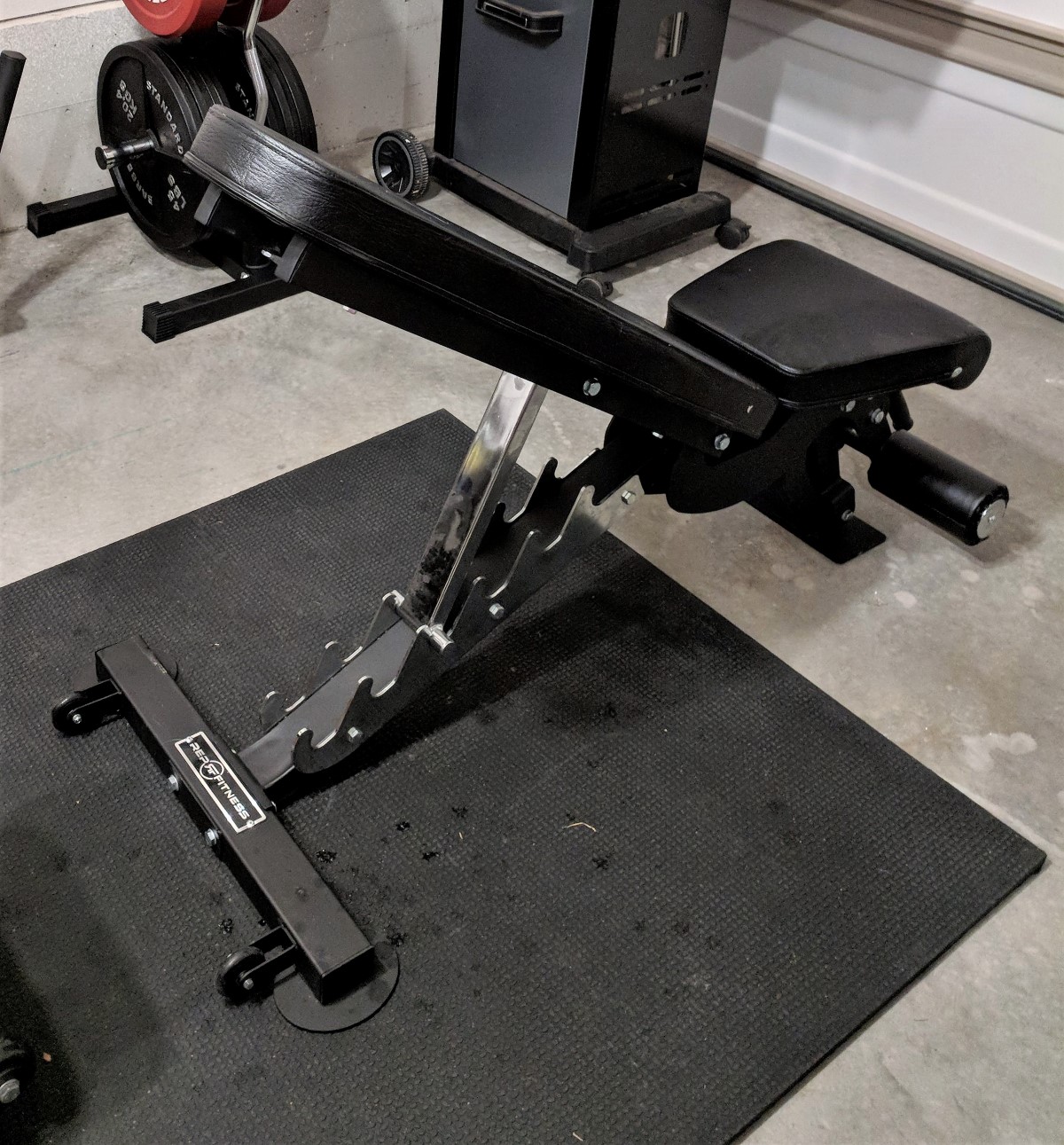 Adjustable benches are good to have sometimes, but there are several reasons to get a flat bench, meaning either skipping the adjustable bench altogether or getting both like Kyle did.
Kyle was going to only get the AB-3000 Adjustable Bench (now discontinued and replaced with the AB-3100), but he opted to add the FB-5000 Competition Flat Bench to it because he's a competitive powerlifter and this particular flat bench is made to regulation size.
By the way, Rep does something rare: They have an ASTM certification for a 1000-lb rating on these two benches. Other manufacturers just come up with a lb rating in any number of ways, usually loading it in some way or another with a 1000 lb weight, or perhaps not testing it at all and just guessing. This ASTM rating means that they aren't trying to get away with loading 1000 lbs gently on a bench and seeing if it breaks. The rating means it can reliably be used where you have a 300lb person doing a 600lb bench press, with all the dynamic, shifting load that the exercise involves.
Approximate total for benches: $400
Weights and Weight Storage
Fringe's Bomba Bar v2 he uses for olympic lifts, and the Fringe Power Bar for everything else. It's good to have those two bars suited to the tasks. Neither one is ideal for the other type of lifting. OSO Collars for both.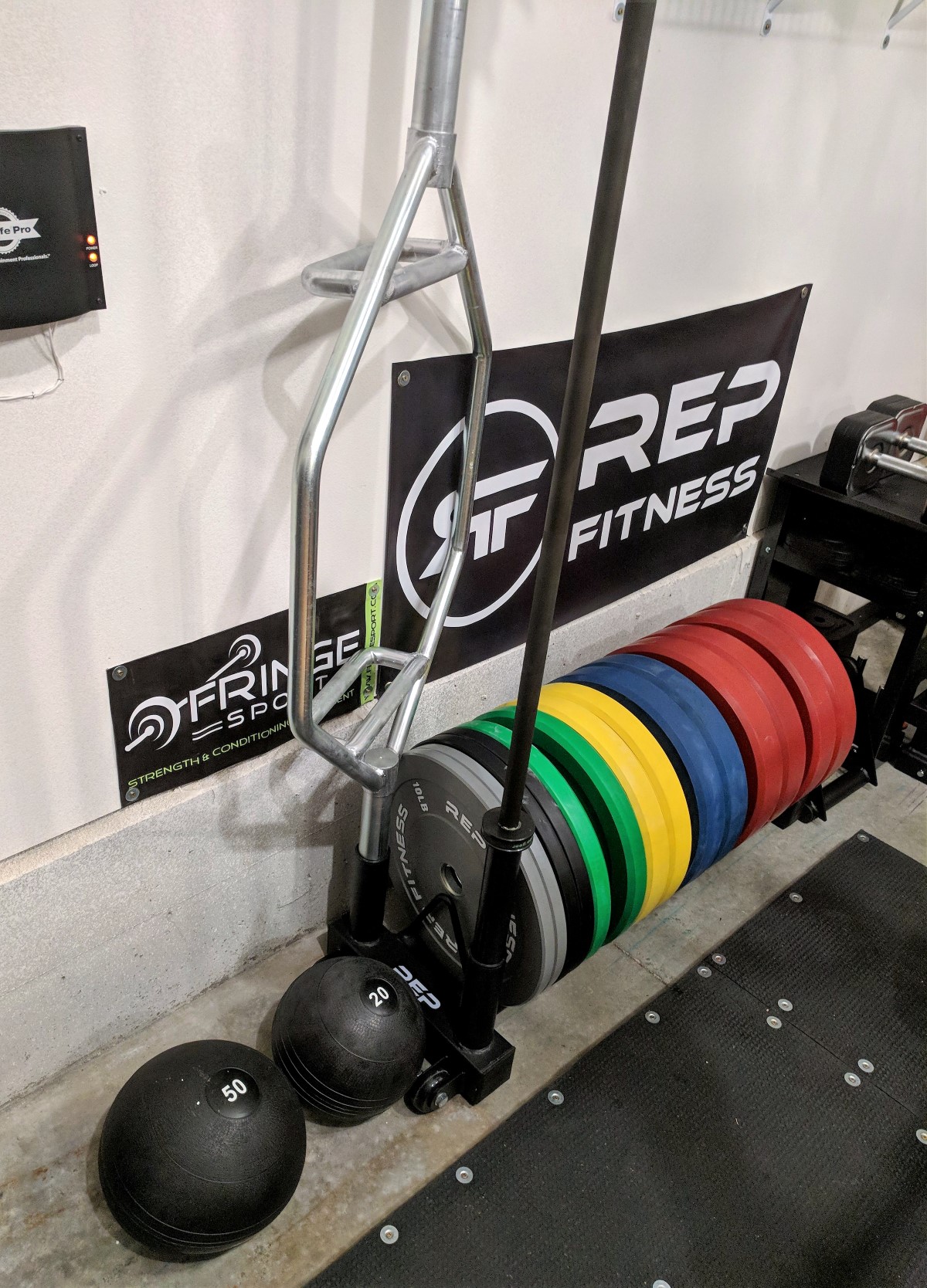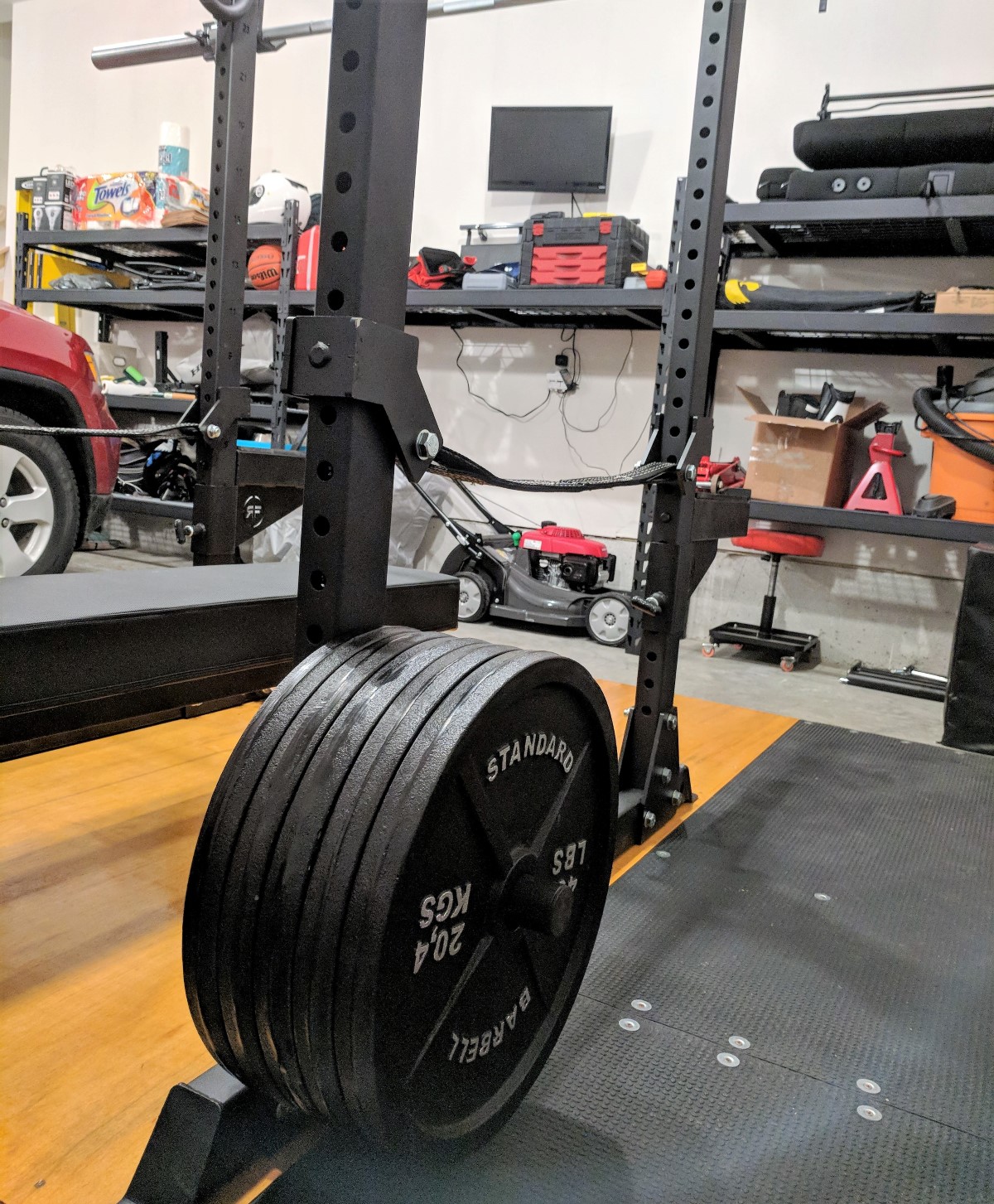 For plates, he got 590 lbs of color econ bumpers plus 815 lbs of iron plates for the power lifts and to double as change plates for the bumpers. Yes, he needs all that weight, or just about. Did I mention his 661 lb deadlift?
That CAP OB-91HZ hex bar is the longest and toughest one that CAP makes, good to fit lots of weight.
Also, as you can see in the pic above, he still has room for his tools and normal garage stuff against the far wall, plus his truck in the other half of the garage.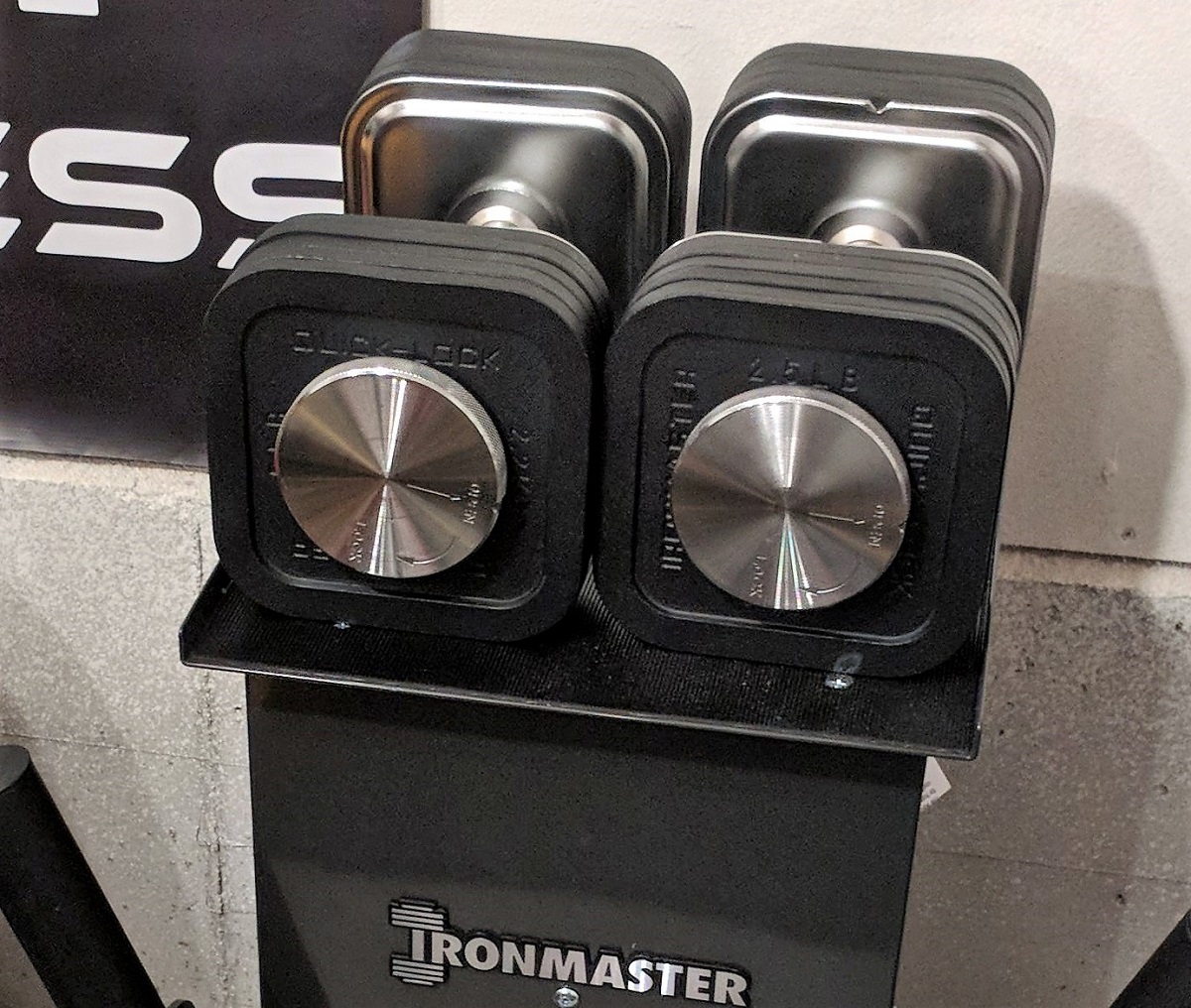 The Ironmaster dumbbells are an obvious choice, as they are the most rugged adjustable dumbbells out there. Also see Tony Fanelli's review of his pair, and our other article explaining why they beat out the other brands.
Approximate total for weights and weight storage: $4,100
A Few Extras
Titan had a great deal on their foam plyo cube, so he got that.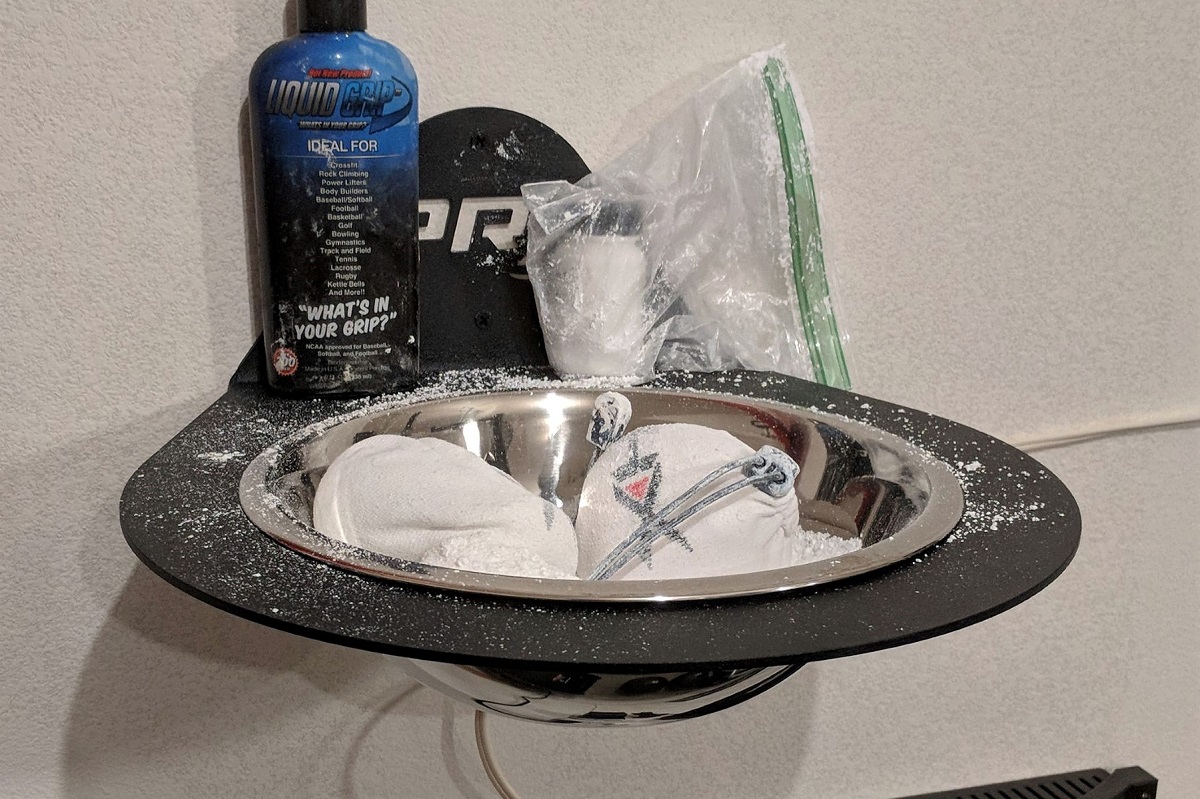 And a wall mounted chalk bowl! Either his other pics are before he started using it, or he is a master at cleaning up chalk.
Plus, to keep cool he has a Strongway Open Motor Direct-Drive Drum Fan – 30in., 1/4 HP, 10,000 CFM.
He has this bluetooth receiver for his stereo, to output music from his phone to stereo system. It works on any stereo with an aux-in port. A good way to bring old stereos into the modern age.
Approximate total for extras: $500
Total cost of gym: $6,600.
So what do you think of Kyle's gym? Share your thoughts below!