Quick-Pick by Gym Type
Home Gym
The best deal online for 4′ x 6′ x 1/2″ rubber mats is XMark's mats on Amazon.
For a power rack setup, 2 of those mats will nicely cover the floor under your rack and enough in front for your bench.
If you'll be doing cleans or snatches in front of your rack, get one additional mat to give yourself enough room to drop the bar.
Commercial Gym, Health Club, or Training Studio
3/8″ or 1/2″ rubber mats or rolls are fine for most applications. See the rubber rolls on Amazon.
If your gym has no freeweights that could be dropped, such as a gym that is entirely selectorized weight machines, your floor will be ok without mats.
For cardio equipment, 1/8″ vinyl mats work well to protect the floor and dampen vibration. See the 3′ x 8.5′ mat from Rogue, or the 2.5′ x 5′ mat from Amazon.
Crossfit Box
3/4″ thick rubber mats are needed to give maximum protection for your concrete subfloor against constantly dropped weights. Available in a 25-pack deal from Rogue Fitness or Fringe Sport.
Olympic Lifting Gym
A line of several lifting platforms is the standard, either the professional-looking York platforms or the budget-friendly Rogue platforms. It protects the floor really well, and rubber flooring might not be needed throughout the rest of the area.
---
4ft x 6ft Rubber Mats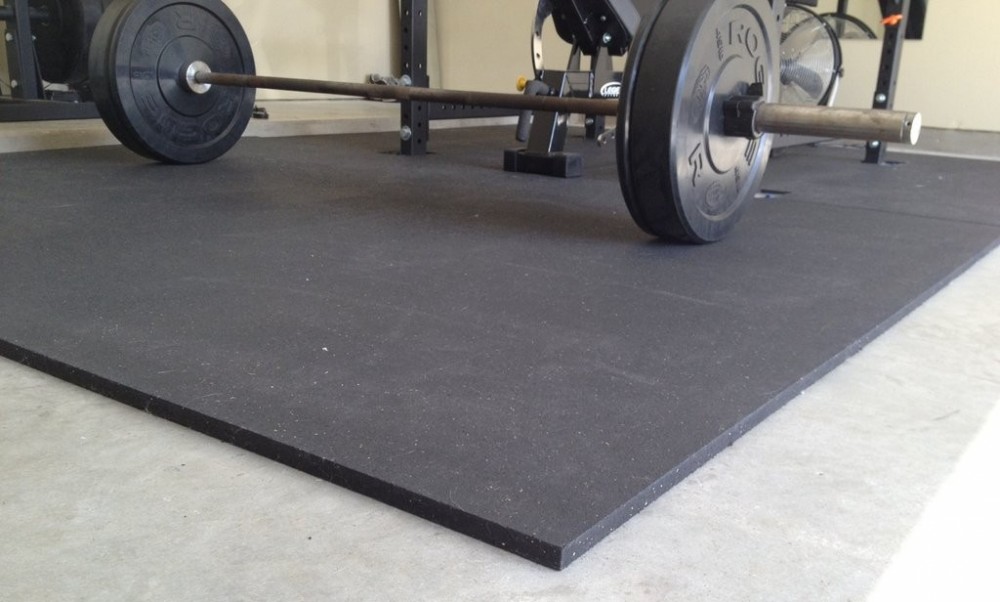 4′ x 6′ happens to be a common size that these come in. There are larger and smaller ones. Larger ones are almost impossible for one person to handle (this size is already 96 lbs). For smaller sizes, on the other hand, you might as well go with interlocking mats, detailed in the next section below.
These mats can work in a 3/8″, 1/2″, or 3/4″ thickness. Get the 3/4″ if you can. It protects your floor underneath the best against dropped weights. Anything thinner than 3/8″ is more like a cardio equipment mat that's just meant to protect the floor against a treadmill or bike sitting on it and not much else.
A concrete floor underneath is ideal, and it's the only subfloor you should have if you plan on dropping weights at all when doing olympic lifts.
For carpet, you're going to either need to pull up the carpet (ideal) or lay sheets of 3/4″ (or 23/32″) plywood over the carpet, and the mats on top of that. A thick carpet will be too squishy and not give you the kind of stability you need when you're lifting a lot of weight. Squats in particular will make you notice that your rubber and plywood setup on top of thick carpet doesn't give you the firmest footing. Either way, drill screws through the mats into the plywood to keep everything from shifting around.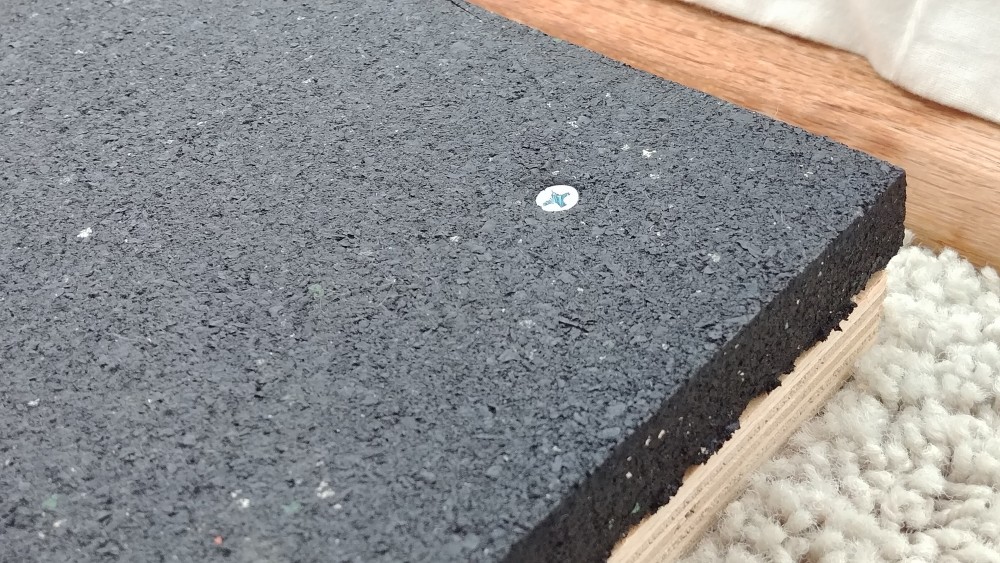 For thin, firm carpet, you can lay mats directly on them and you'll be fine.
For tile or hardwood floors, to prevent scuffing first put down some canvas dropcloths (foam underlay also works but can add squishiness, which is bad), then 3/4″ plywood, then rubber mats. This will protect your nice flooring sufficiently from dropped weights and the direct abrasion of the plywood… and reduce noise. Finally, drill some wood screws through the rubber and plywood to keep everything nicely in place. You will be recessing the screw into the rubber a bit so you don't trip on the screw head, so be extra careful taht your screws aren't so long that you go through to your nice floor underneath.
Plywood note: Get high quality plywood sheets that are nice and flat, not curled. It can still eventually curl up on you, but at least starting with flat plywood is critical. Be careful when you mop the floor later (you do mop your gym floor, right?), keeping any moisture from seeping down to the plywood to prevent curling over time.
"Stall mats", or any mats made with recycled rubber, will stink. If you have time, and you're just installing a few, drape each one on something outside to air them out for a while. Possibly up to a month. Otherwise just keep the room ventilated and they'll eventually stop off-gassing.
These rubber mats can be cut to size with a few passes of a utility knife or good serrated knife. I've cut 3/4″ stall mats with a utility knife and straight edge, and it cuts fine. Just cut the edge that will go against the wall.
Where to Buy 4'x6′ Rubber Mats
If you are filling a big area, get the 25-piece case from Rogue Fitness or Fringe Sport. Even if you don't need all 25, it's a great deal. Sell your extras on an app like Offerup or Letgo for the same as what you paid, $50 a pop, and you'll get rid of them in one day flat and make a friend. There are tons of people out there looking for 2 or 3 good gym mats for that price.
For smaller quantities, XMark's 4′ x 6′ x 1/2″ mats on Amazon are the best deal online right now because of free shipping.
---
25ft or 50ft Rubber Rolls

If you buy a few rolls, these are the best deal per square foot.
These are all 4ft wide and come up to 1/2″ thick but most commonly are 3/8″ and thinner, because thicker ones won't roll up very tightly.
One big advantage of these is they minimize seams between mats that are unsightly or can lead to slipping. Basically, the fewer mats, the fewer seams. These are made specifically for commercial applications so are precision-cut so that you can barely notice the seams. This
Be warned, these rolls are really heavy, more than you can handle on your own. You may need professional help to get them installed right, or at least a couple friends.
See these 8mm (about 3/8″) thick rolls on Amazon. Pick the 3 or 5 rolls options on the Amazon product page and you'll see it's quite a bit less per square foot than for just 1 roll.
---
EVA Puzzle-Piece Tiles
I have to mention these because they're all over Amazon.
If you want to cheap out on flooring, EVA mats are what you'll get. It's the Cheez Wiz of flooring. Don't even think about using it in a commercial setting, or your whole gym will feel cheap.
Sometimes these are advertised as "rubber foam" flooring or "soft rubber" flooring. They're not rubber. Don't be fooled.
They're extremely lightweight and easy to install. Each tile weighs maybe 1/2 pound?
They have several major issues:
The floor protection isn't that great if you drop weights, because it's too soft to disperse the load like rubber does
Pieces can stretch from enough lateral force and move out of alignment
The surface texture wears away quickly
Heavy equipment will cause it to compress a lot and leave marks permanently
Your footing won't be firm for any standing heavy lifts. Squats and cleans, beware!
If you insist on using them, don't put them directly on carpet, unless it's super thin carpet. They'll squish and separate all over the place and be totally unusable. Major bummer. You could lay some 3/4″ plywood sheets down first, as described above for the rubber mats, to at least help keep the tabs from lifting up.
---
Lifting Platforms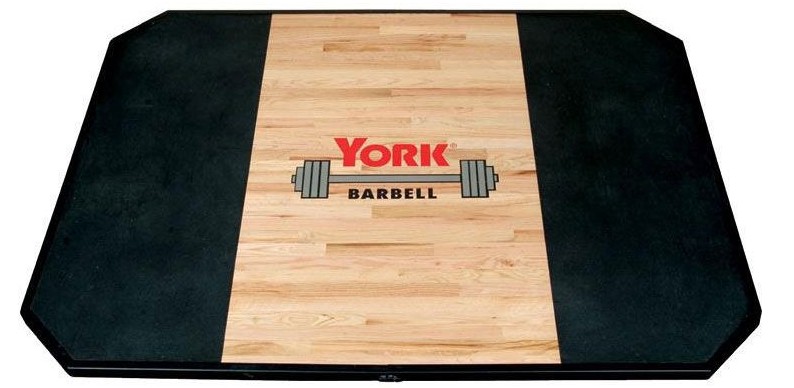 For ultimate protection in dropping barbells when doing the olympic lifts. You still need to use bumper plates, but if you're careful and not lifting a ton of weight you can do deadlifts with iron plates on it.
It's two layers of plywood underneath, and on top is a another layer of hardwood in the center strip, and a layer of thick rubber on the sides. The whole thing is enclosed by a steel frame to keep it together. It's awesome.
The width is always 8ft, to accommodate a fully-loaded 7ft barbell with room for slop. As far as the length front to back, get 8ft if you're going to be doing olympic lifts. That will give you room to drop the barbell in front of or behind you. 6ft depth can work. For deadlifts you only need 4ft.
Putting it directly on a concrete subfloor is fine. Most commonly a lifting platform is on top of the rubber flooring that's everywhere else in the gym.
The hardwood has just the right amount of traction if you're using olympic lifting shoes.
If you have anything but a concrete subfloor, don't try a platform. This won't go well. Light to moderately heavy deadlifts are ok, but a wood floor underneath isn't going to like it when you drop olympic lifts, even with the platform.
We sell York's oak platforms at Adamant Barbell, which look great and perform well in any environment. 
For a cheaper price you can get Rogue's modular "build-your-own" platform kit in the 8'x6′ size or 8'x8′ size. I love things that you can take apart and actually move, and good luck ever moving a regular platform on your own. Basically with Rogue's solution you buy the frame and a set of 1.5″ thick rubber tiles to stick in it. Done!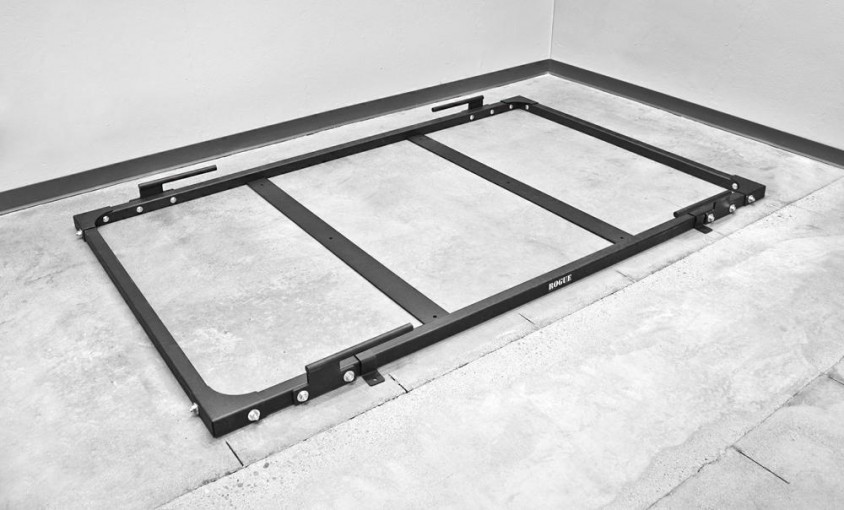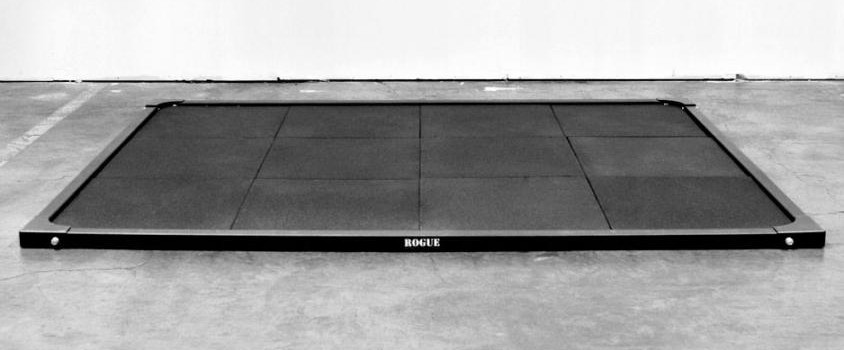 Another advantage of Rogue's is you don't have to ever worry about wood curling over time or everything staying glued together. The frame keeps it all together, and that's that. There's not much to it. If you really want to, you could stick two layers of 3/4″ plywood in the center for your standing area.
Brandon Campbell Diamond did a nice video on Rogue's platform frame:
What did you do for flooring in your gym? Send us a pic!