The two good options for protecting your gym floor are an array of 4'x6′ rubber stall mats or larger rolls of rubber flooring.
The mats are a the cheap option and good for a small area. For any needs larger than around 4 mats, think about the nicer rolled rubber flooring.
4ft x 6ft Rubber Mats / Stall Mats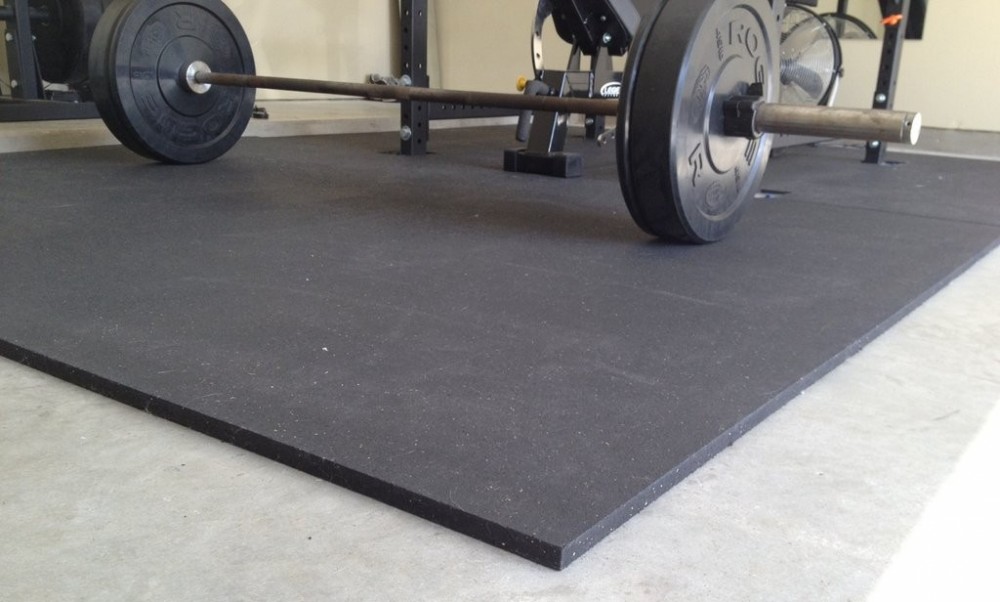 4′ x 6′ happens to be a common size that these come in. There are larger and smaller ones. Larger than 4′ x 6′ are almost impossible for one person to handle (this size is already 96 lbs and all floppy and awkward).
Basic rubber mats like this are all slip resistant, water resistant, and absorb impact.
These mats can work in a 3/8″, 1/2″, or 3/4″ thickness. Get the 3/4″ if you can. That's the standard "stall mat" thickness. It protects your floor underneath the best against dropped weights. Anything thinner than 3/8″ is more like a cardio equipment mat that's just meant to protect the floor against a treadmill or bike sitting on it and not much else.
A concrete floor underneath is ideal, and it's the only subfloor you should have if you plan on dropping weights at all when doing olympic lifts.
For carpet, you're going to either need to pull up the carpet (ideal) or lay sheets of 3/4″ (or 23/32″) plywood over the carpet, and the mats on top of that. A thick carpet will be too squishy and not give you the kind of stability you need when you're lifting a lot of weight. Squats in particular will make you notice that your rubber and plywood setup on top of thick carpet doesn't give you the firmest footing. Either way, drill screws through the mats into the plywood to keep everything from shifting around.
For thin, firm carpet you can lay mats directly on them and you'll be fine.
For tile or hardwood floors, to prevent scuffing first put down some canvas dropcloths or cork underlayment. On top of that, put 3/4″ plywood, then rubber mats as the top layer. Finally, drill some wood screws through the rubber and plywood to keep everything nicely in place. You will be recessing the screw into the rubber a bit so you don't trip on the screw head or break it with dropped weights, so be extra careful that your screws are short enough, like 3/4″.
That layering will protect your nice flooring sufficiently from impact or abrasion and reduce noise. Do not use foam underlayment; it's too squishy and will compromise the sturdiness of the gym floor you're trying to create.
For any subfloor, if you skip the plywood layer and just do canvas and rubber, you may want to cut the hems off the canvas cloths or you'll feel them under the rubber.
Plywood note: Get high quality plywood sheets that are nice and flat, not curled. It can still eventually curl up on you, but at least starting with flat plywood is critical. Be careful when you mop the floor later (you do mop your gym floor, right?), keeping any moisture from seeping down to the plywood to prevent curling over time.
"Stall mats", or any mats made with recycled rubber, will stink. If you have time, and you're just installing a few, drape each one on something outside to air them out for a while. Possibly up to a month. Otherwise just keep the room ventilated and they'll eventually stop off-gassing.
These rubber mats can be cut to size with a few passes of a utility knife or good serrated knife. I've cut 3/4″ stall mats with a utility knife and straight edge, and it cuts fine. Just cut the edge that will go against the wall so that the sides against other mats are factory straight.
For a power rack setup, 2 of those mats will nicely cover the floor under your rack and enough in front for your bench, a 6′ x 8′ area. If you'll be doing more things in front of your rack, get a third mat to make a 6′ x 12′ area.
Alan Thrall shared an idea to keep your mats from drifting apart, as they are guaranteed to do without some method of securing them: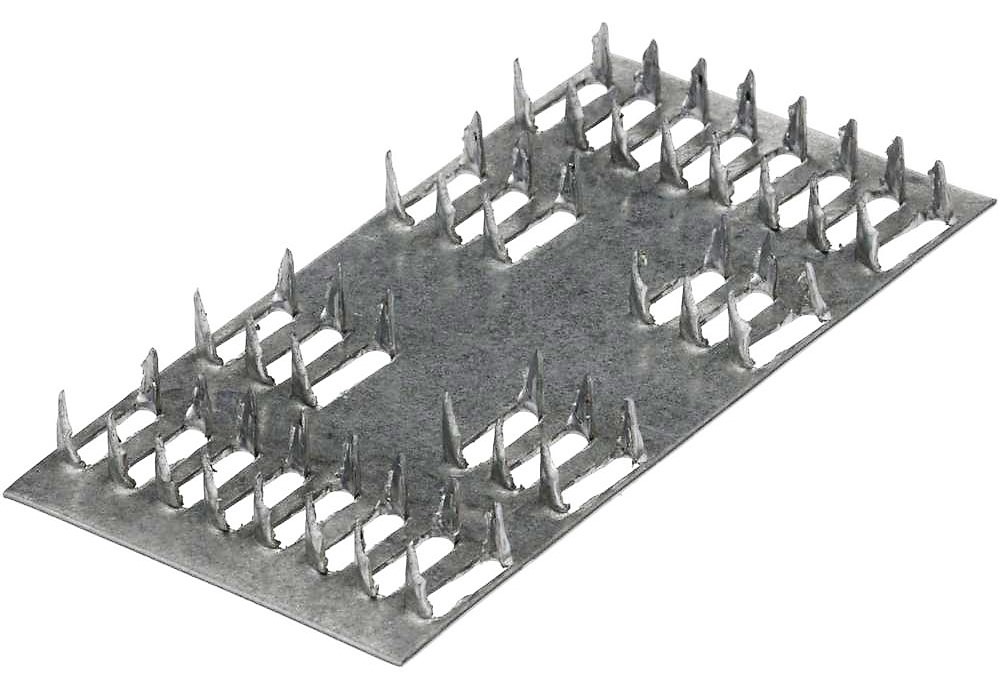 My only objection is: those teeth stab up around 3/8″ or 1/2″ into the rubber. I wonder how much the rubber compresses when you drop a weight on it? 1/4″ teeth would be ideal for this purpose, but I have not found one that size after looking around.
Where to Buy 4'x6′ Rubber Mats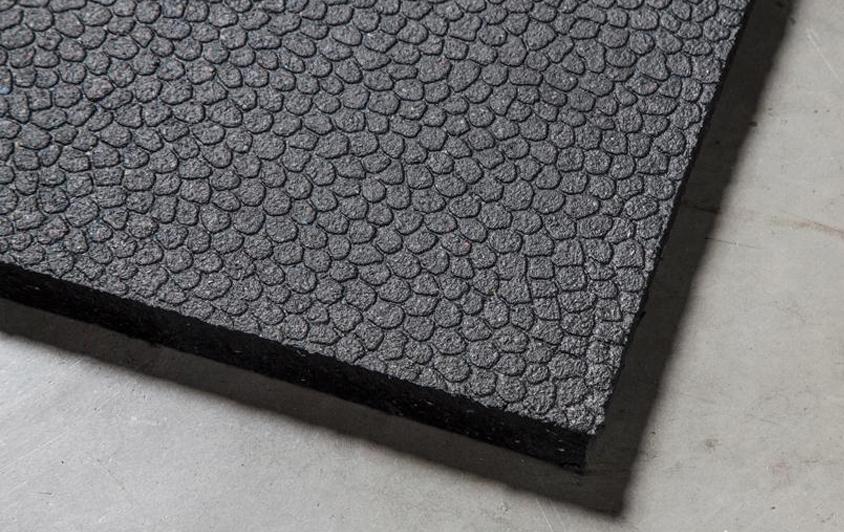 If you are filling a big area, get the 25-piece case from Rogue Fitness. Even if you don't need all 25, it's a great deal. Sell your extras on an app like Craigslist or LetGo for what you paid, $50 a pop, and you'll get rid of them in one day flat and make a friend. There are tons of people out there looking for a couple good gym mats for that price.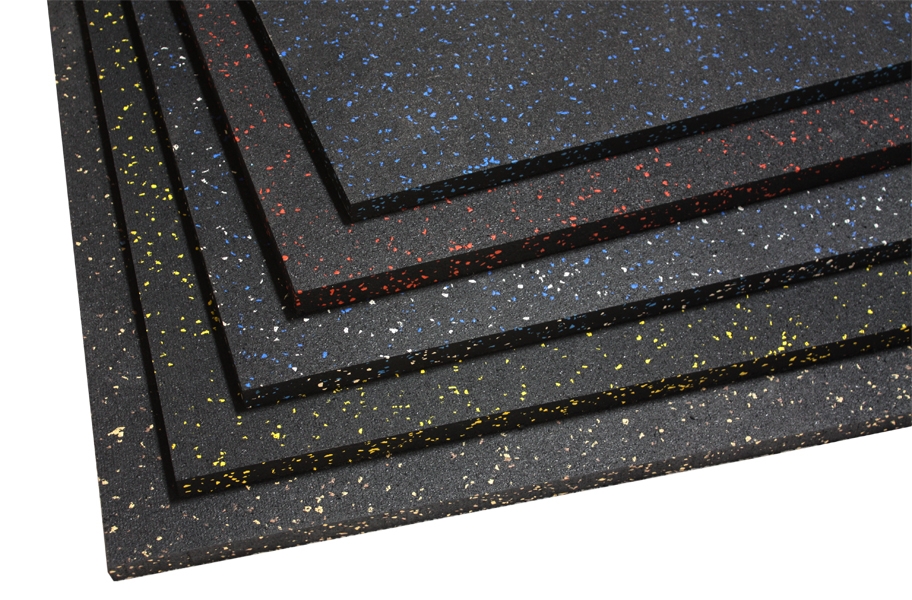 For smaller quantities, Rubber Flooring Inc's Extreme Mats are the best deal online right now, with reasonable shipping. I ordered one mat from them to expand my area. It's a good flat texture on top, and a rough bottom, which I think is done to help with air cushioning or to help give moisture a way to escape. All around excellent quality.
In person, you could go to a Tractor Supply store if you have one close to you. They will have them for cheaper than you can buy in small quantities online. Shipping on 100lb mats is expensive. The problem with Tractor Supply is I have heard stories that they will source any stall mats they can get to match the size, with no regard to matching surface texture. Who knows what you'll find, and good luck if you have to return later to try to get more for a matching set. They originally meant them for animal stalls only, and animals don't give a rat's ass about matching decor.
The closest Tractor Supply was 45 minutes away when I needed another mat, and the gas + travel time wasn't worth the savings to me, leading me to just order the mat online from Rubber Flooring Inc. It arrived safely by Fedex Ground, rolled up pretty tightly (I don't know how they managed that – these things are thick, and a normal human can't roll it up), wrapped in plastic pallet wrap if I remember right.
Rubber Rolls

Rubber rolls are a big step up over stall mats.
Stall mats have some disadvantages:
They can stink for a month or so. Stacked up on a pallet of 25 stall mats at the store doesn't allow them to off-gas.
The thickness of some brands can vary slightly, even from one edge of the mat to another.
The surface texture can vary from season to season. Stores treat these like a commodity and don't care about consistent looking texture. Remember, these were made for horses.
They can shift around over time, creating gaps.
Sweat or spilled liquids can get into the cracks between mats
Good rubber rolls don't have those issues.
It used to be that you had to buy entire 25ft rolls that weigh hundreds of pounds and have a professional install them. If you think a 100lb floppy stall mat is hard to move, a massive roll is extra tricky.
Today everybody gets Regupol rolls custom cut to their specs. You have to fill out a form online to get a quote for your size room. One person said his price with shipping worked out to $2.36/sqft. That's going to vary by size and shipping distance. To compare that to stall mats, the typical cheap solution, you'd be looking at $56.64 per 4'x6′ area compared to around $45 at a Tractor Supply store for 4'x6′ stall mat. Stall mats are known to be sometimes uneven in thickness and change style from time to time, while the Regupol rolls are known to be basically perfect and consistent.
They'll custom cut the Regupol rolls for your area. It's feasible to cut 3/8″ rubber yourself in a single pass with a utility knife and straight edge. I've done that with 3/4″ stall mats in 2 passes. But getting a partial roll (the roll sizes are 50′ long uncut) ought to save both money and time.
As is always the case, these rolls are only 3/8″ thick. That's about the max thickness you'll see in rolls from any brand, due to the fact that anything thicker won't roll up well. As mentioned, the Rubber Flooring Inc roll I ordered above came impressively rolled, though of course we're talking still rolled into a pretty large circle because it can only bend so much, and I can only imagine that if it were larger than a single 4'x6′ sheet it would be completely out of control once I cut away the plastic and stood back.
3/8″ thick can be fine for most of your gym area or for general exercise room flooring. It will protect a concrete floor and give good footing.
For Crossfit / olympic lifting you would best double-up the rubber to absorb dropped barbells or add a layer of 3/4″ plywood as the bottom layer (see more on plywood in the section above on stall mats), which will be around half the price of doubling up the rubber.
Interlocking Rubber Tiles
These used to be more popular. They're still around. I think there are so many of the cheapo EVA tiles (see the section below) that got mixed up with these real rubber tiles that they've undeservedly developed a bad name. There's nothing wrong with them.
The advantage of interlocking tiles is they won't shift around. Stall mats are known to slide around over time unless you screw them down or enclose the area with something tightly.
The disadvantage is you've got more seams so more possibilities for edges to stick up. That being said, well-made tiles should have uniform thickness and not stick up at any point.
I advise you to get 3/8″ (or 10mm) thick tiles. That's about the thickest you'll find. Double them up if you have to, as discussed in the final section of this guide.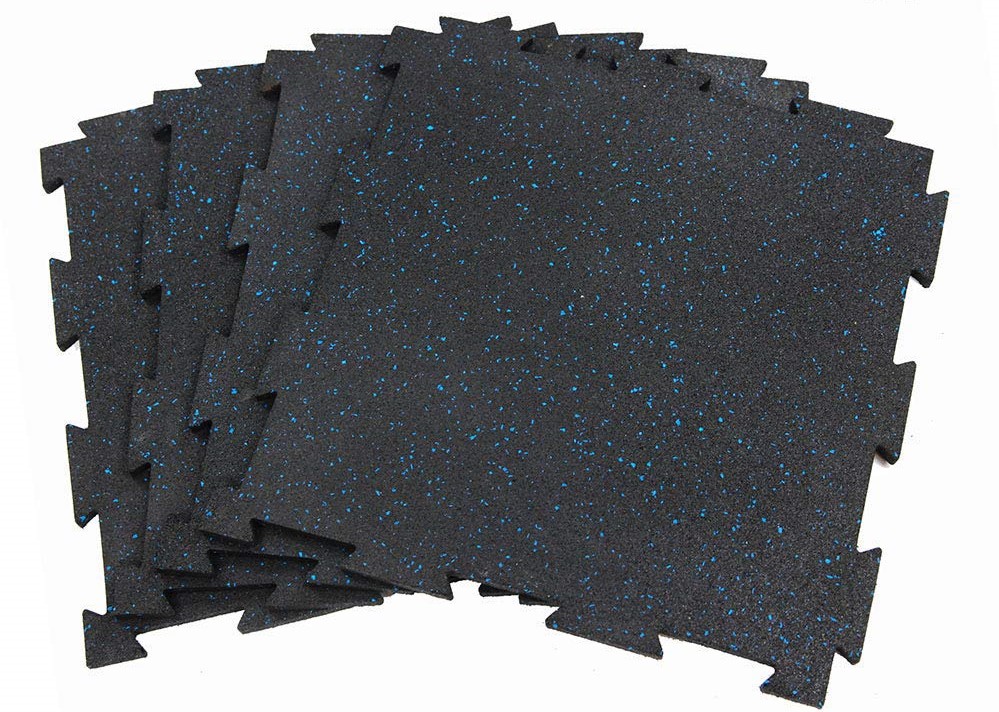 They are a little tough to find now. These tiles on Amazon look pretty good and work out to around $3.50/sqft depending on the current price.
Warning: Watch Out For EVA Puzzle-Piece Tiles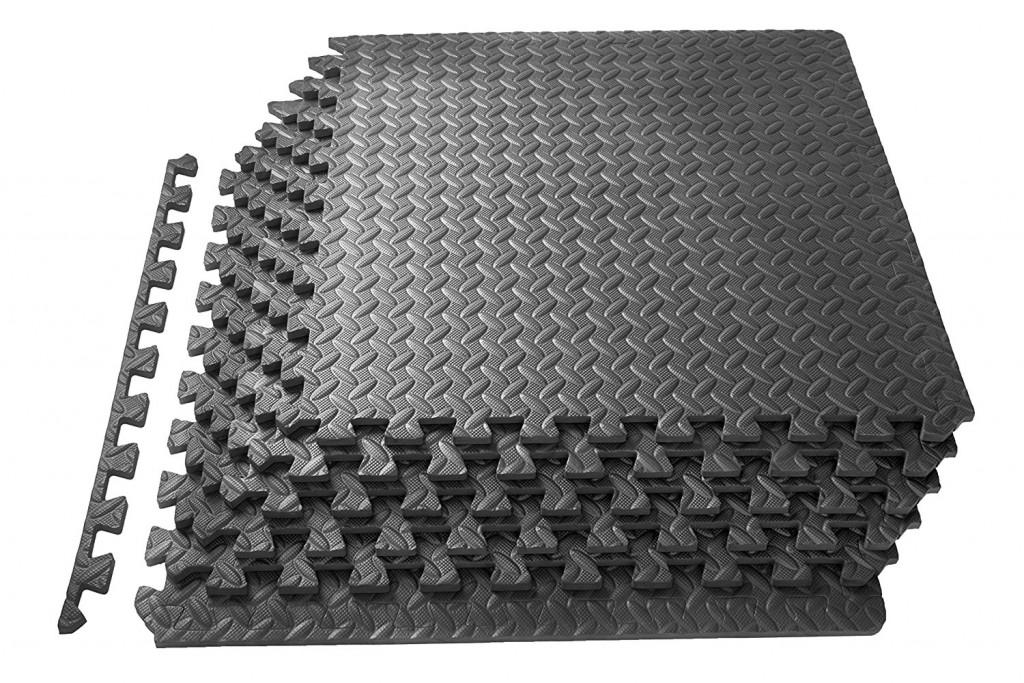 I have to mention these because they're all over Amazon. Dozens of them fill the top search results for rubber mats or rubber flooring. They call them "foam rubber" or "soft rubber" tiles. Don't be fooled. They aren't rubber. They're high density foam, meaning they are not insanely squishy but are still an open-cell type of foam that are significantly more squishy than rubber. You won't be happy.
They are actually EVA mats. EVA is ethylene vinyl acetate, a material that's excellent when used in various types of sports padding like boxing gloves, hockey pads, padded shorts, lots of stuff. As flooring, however, it's the American Cheese of rubber flooring. Not cheese, not rubber.
They're extremely lightweight and easy to install. Each tile weighs mere ounces. Dirt cheap too. That's the appeal.
They have several major issues:
Your footing won't be firm for any standing heavy lifts. Squats and cleans, beware!
The floor protection isn't that great if you drop weights, because it's too soft to disperse the load like rubber does
Pieces can stretch from a little lateral force and move out of alignment
Edges can stick up for no reason at all
If you don't make an effort to bend each one flat before installing, they can be bowed up a little and make slapping noises against the subfloor as you step on them.
The surface texture wears away quickly
Heavy equipment will cause it to compress a lot and leave marks permanently
---
Lifting Platforms
For ultimate protection in dropping barbells when doing the olympic lifts. You still need to use bumper plates, but if you're careful and not lifting a ton of weight you can do deadlifts with iron plates on it.
It's two layers of plywood underneath, and on top is a another layer of hardwood in the center strip, and a layer of thick rubber on the sides. The whole thing is enclosed by a steel frame to keep it together. It's awesome.
The width is always 8ft, to accommodate a fully-loaded 7ft barbell with room for slop. As far as the length front to back, get 8ft if you're going to be doing olympic lifts. That will give you room to drop the barbell in front of or behind you. 6ft depth can work. For deadlifts you only need 4ft.
Putting it directly on a concrete subfloor is fine. Most commonly a lifting platform is on top of the rubber flooring that's everywhere else in the gym.
The hardwood has just the right amount of traction if you're using olympic lifting shoes.
If you have anything but a concrete subfloor, don't try a platform. This won't go well. Light to moderately heavy deadlifts are ok, but a wood floor underneath isn't going to like it when you drop olympic lifts, even with the platform.
Get Rogue's modular "build-your-own" platform kit in the 8'x6′ size or 8'x8′ size. I love things that you can take apart and actually move, and good luck ever moving a regular platform on your own. Basically with Rogue's solution you buy the frame and a set of 1.5″ thick rubber tiles to stick in it. Done!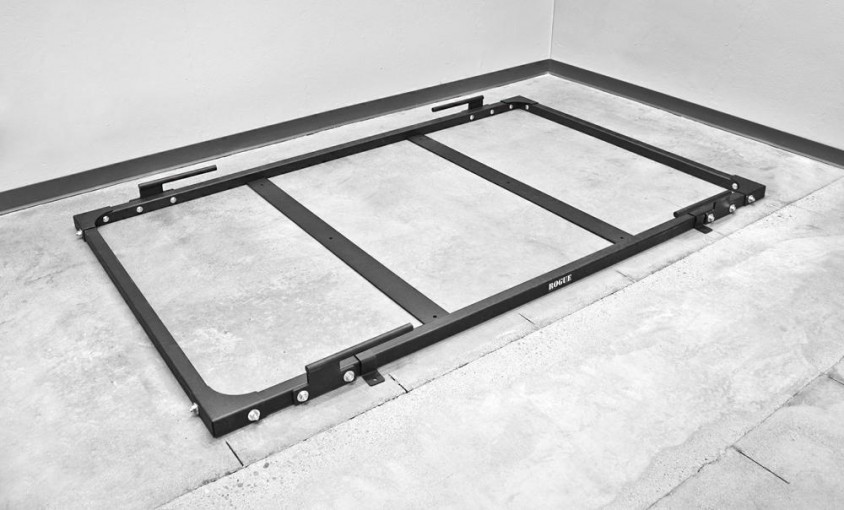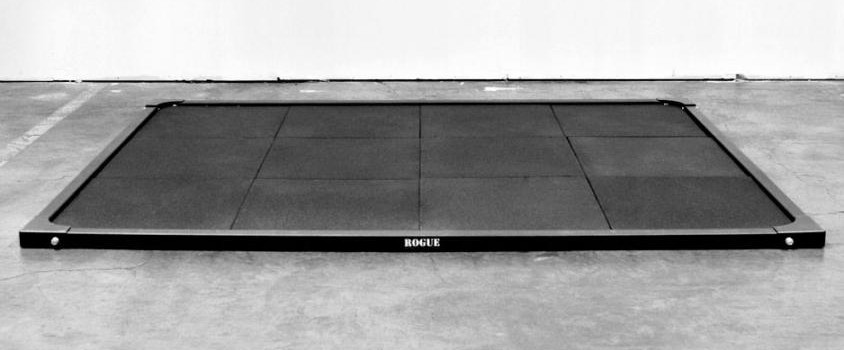 Another advantage of Rogue's is you don't have to ever worry about wood curling over time or everything staying glued together. The frame keeps it all together, and that's that. There's not much to it. If you really want to, you could stick two layers of 3/4″ plywood in the center for your standing area.
Brandon Campbell Diamond did a nice video on Rogue's platform frame:
My Quick Suggestions For Your Type of Gym
For a home gym over a carpeted floor, put down a layer of 3/4″ plywood and stall mats on top of that, as discussed above regarding stall mats. The plywood will help it feel like a solid gym floor, like there's no carpet under it at all. High pile carpet would still be an issue, but typical carpet is fine.
In a home gym with a hardwood floor, start by laying down the canvas or underlayment as discussed, then the thick plywood and rubber. This protects the hardwood from any scratching from the plywood or any marks from the rubber abrasion.
In a garage gym, you've got a nice concrete floor to work with, which is ideal. You can still do stall mats, but when filling out your whole garage as a gym you're going to love the Regupol rolls. It's going to be beautiful. You may also want to take some steps to deal with the sloped garage floor.
Commercial gyms, health clubs, and training studios should go with the Regupol rolled rubber flooring. It looks very professional (because it is), avoids any possible issues with users tripping over seams, and it will last for decades with no maintenance required aside from the normal sweeping and mopping (they are water resistant, keeping the moisture all on top). Think about hiring a professional to install them correctly. It requires some careful planning to lay them out and stagger them in the correct way to prevent issues and do precise cutting around the edges.
Crossfit boxes should get Regupol rolls too, but double them up to get a nice 3/4″ layer, at least in the area used for weights. This will be necessary to protect the concrete floor from all those barbells and kettlebells being tossed around. For areas where weights aren't dropped and people are just jumping around and doing other exercises, or where it's only squat racks or other equipment, a single layer is good. Of course, you may just want to double-up the whole thing when it's a single room, because you don't want people tripping on the step up just because you wanted to save a few bucks.
Corporate fitness rooms or apartment complex fitness rooms will also do well with the Regupol flooring. I lived in a condo once where the exercise room had thin commercial carpeting, which made sense for the rest of the clubhouse area used for meetings and get-togethers but obviously got nasty in a gym from all the sweat and rarely got cleaned properly.
What did you do for flooring in your gym? Send us a pic!