Oct 2023 Update – Removed a couple discontinued bars, added new Titan bars, added new specs, revised the description of all.
You can spend $300 (or much more) on a new bar if you really want to. If you aren't picky and just want something decent, something cheaper should work for you.
You do need a good bar and not a total cheapo bar selling for $115 or so, the type included in a basic 300 lb olympic weight set, for a few reasons I've gone over elsewhere. Here are some reasonable "budget" choices that you might even hang onto later after you've gotten a more expensive bar.
Comparison Chart
All of the bars below are 7ft long and weigh 45 lbs or 44 lbs (20kg), the right size for a general purpose bar that will serve well enough for all barbell movements.
Scroll right to see all 6 bars.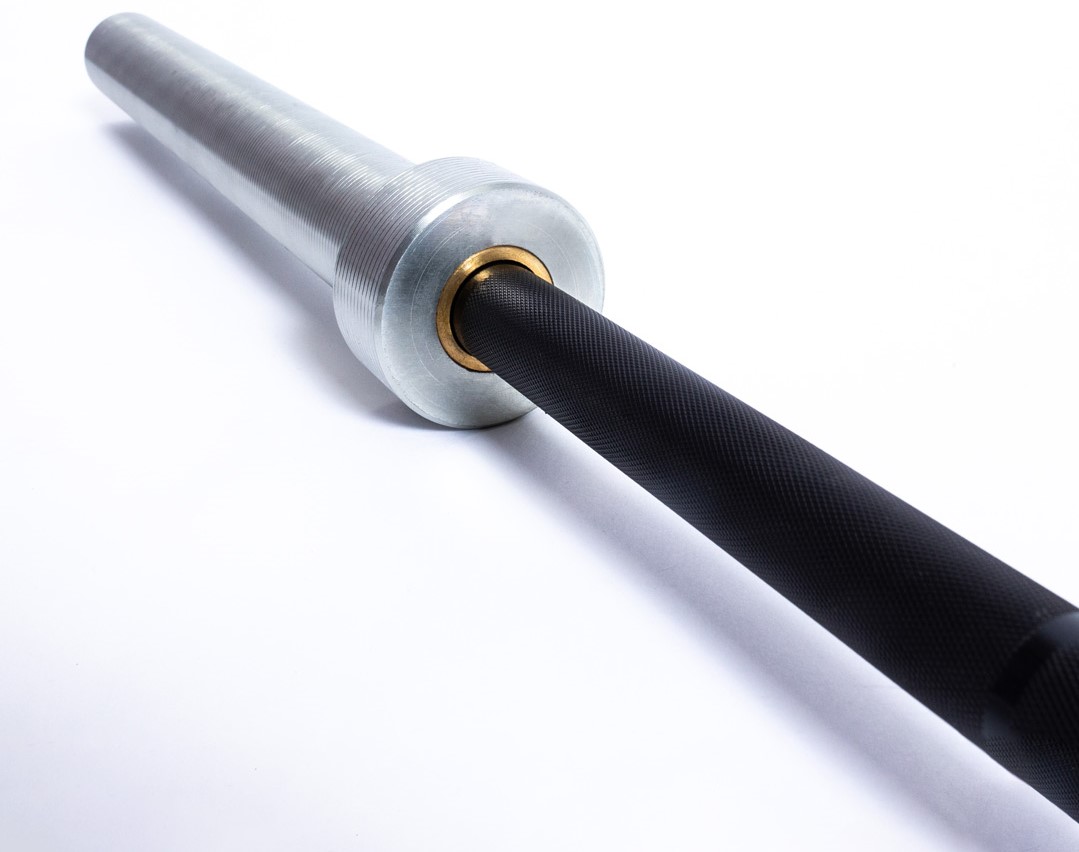 The founder of BoS started the company in 2010 selling push sleds and kettlebells in Canada, and over the years they added a large selection of heavy-duty equipment and expanded to a US location in 2018. I've bought plates from them. Good experience.
This is the one bar featured here with the passive "hill" knurl that slides easily in your hands. A few years back, that was the standard knurl for bars in this price range. Now most of them have moved to a better volcano knurl. I recommend you only get this bar if that's the kind of knurl you're looking for. Nothing else really stands out to make this bar the best choice.
BoS says these are brass bushings. I wouldn't stake my life on it, but I believe that's incorrect. Brass is an alloy of copper and zinc and makes for a soft, decorative metal that can't hold up in applications like this. Bronze is an alloy of copper and tin and is a harder metal that is more commonly used for strong bushings in all kinds of industrial applications and has a lower friction coefficient against steel to let it spin nicely. Granted, there is a grey area in some alloys that that include copper, zinc, and tin. The point is I think these have to be bronze bushings and you shouldn't worry about it.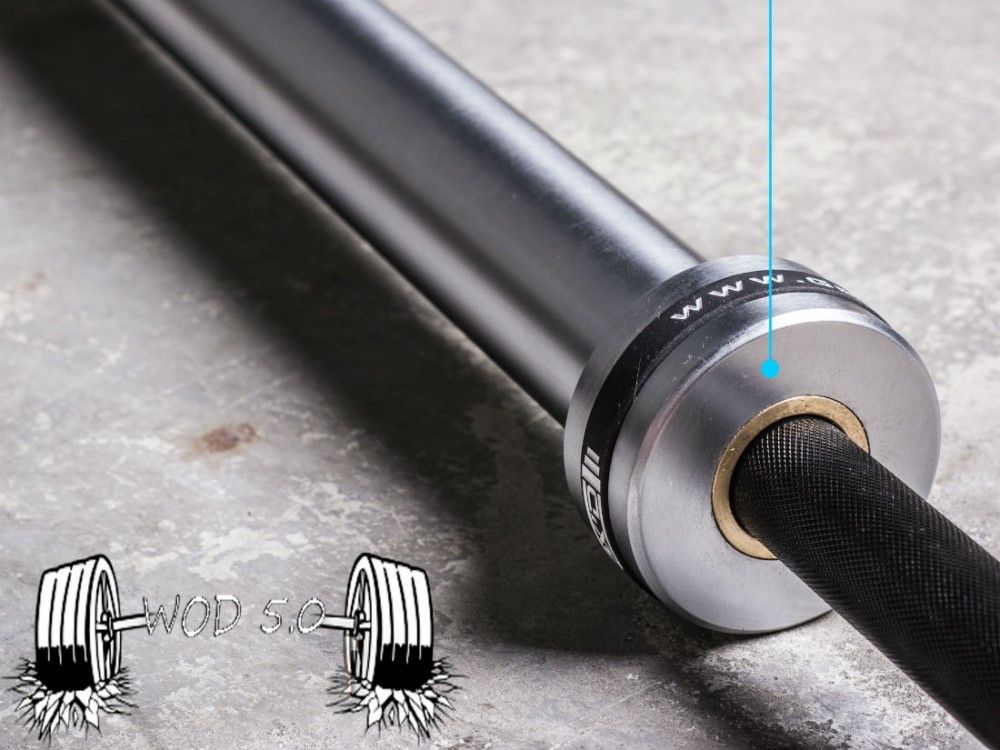 Needle bearings!
Get Rx'd is a Houston, TX company that has been selling equipment since 2011, mainly targeting Crossfitters. Prior to that they sold some home-grade weight machines under the name Multisports.
Alongside the brass bushings, this bar has needle bearings, which is amazing to see at this price point. This gives it a really good spin. It also has an exact 28mm diameter shaft. If you do olympic lifts, this is one you should consider.
The inside collars have Get Rx'd branded black silicone bracelets that can be replaced with your own if you want better identification or customization. They mention this but offer no color options or even any bracelets you can buy separately. Rogue sells some in a few colors.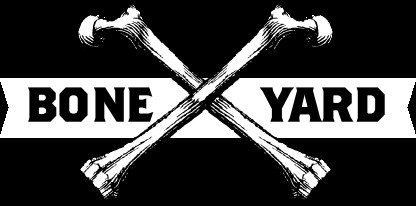 Made in the USA!
You can very often get a Boneyard Bar in Rogue's closeouts, which have cosmetic blemishes off the production line but are otherwise fine. Some people have reported that the bar looked so good they weren't even sure what blemish it had.
I've seen Ohio Bars listed there for under $200. If you don't see one at the moment, check again in a few weeks. I see some available more often than not.
Considering the consistently high resale value of Rogue bars, you should consider these. Plus, they're the only bars on this page made in the USA.
The Rogue Echo Bar used to be a good choice under $200, but they have since jacked up the price.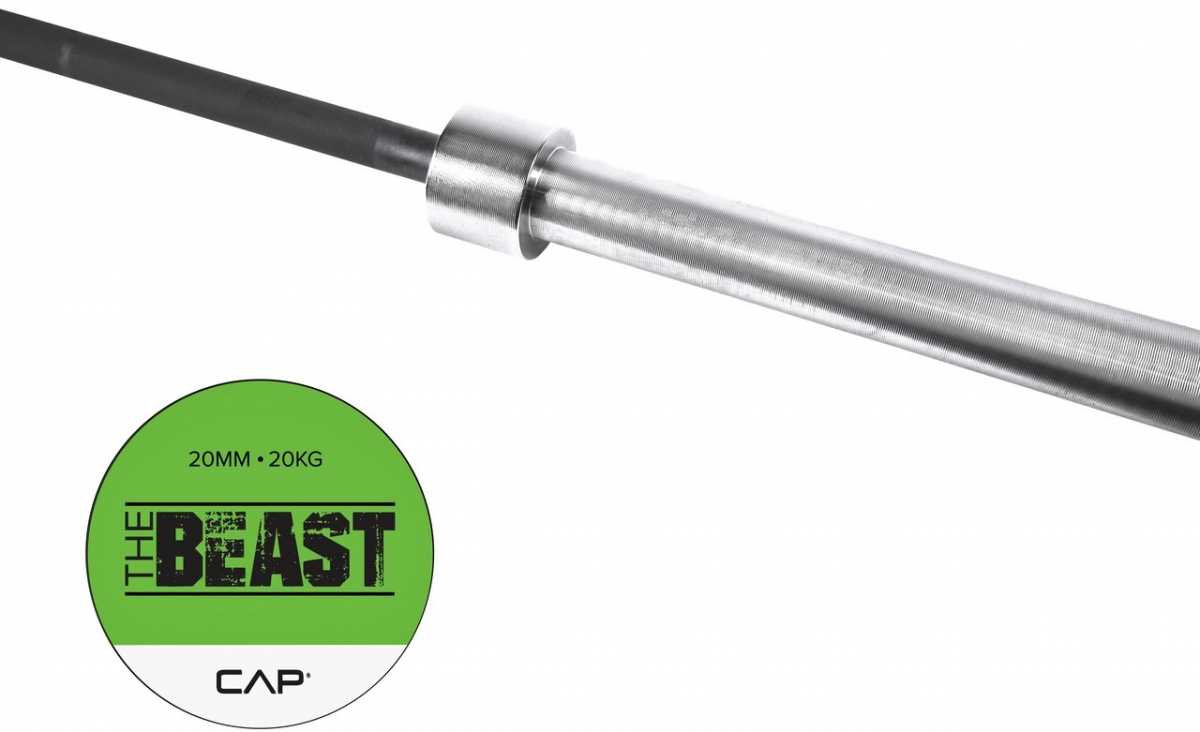 CAP re-branded the OB-86B in 2015 with a green "Beast" label on the ends. The other change was the black oxide coating is now black zinc phosphate. Other than that, it's the same bar they've been selling for years.
I believe C.A.P. stands for Chinese Athletic Products. They make a few decent products, and their price points are low even on them. Most notably their line of barbells is good, and some of their dumbbells and weight plates are fine. Other products of theirs like benches and various accessories are cheaply made and not anywhere near the level of quality I like to recommend.
I had this CAP bar for a while for my own use. Note that I only cleaned 205 and deadlifted 315 on it. There's very little rattle on the sleeves. I had no problem with the grip. The knurling is average. The zinc phosphate coating didn't start to wear off as quickly as the black oxide coating on my previous bar.
The bodybuilding.com forum has a thread devoted to this bar, with links to reviews as far back as 2010.
On the downside, this bar is very dated. The tensile strength is not up to the standards of modern bars. It uses steel bushings, which have a higher friction coefficient with the steel sleeves than any other bushing material. Several years ago it was a good bar for the price, for light lifting. It's when you have to drop a bar on the safety bars of a rack, or you drop it badly cockeyed on the floor with bumpers, or bounce hard out of the hole during a 400lb squat (yeah, most of us don't have that problem), the low 130,000 PSI might show itself with a bent shaft. Unless you find a great sale price, you can get a better bar for the money.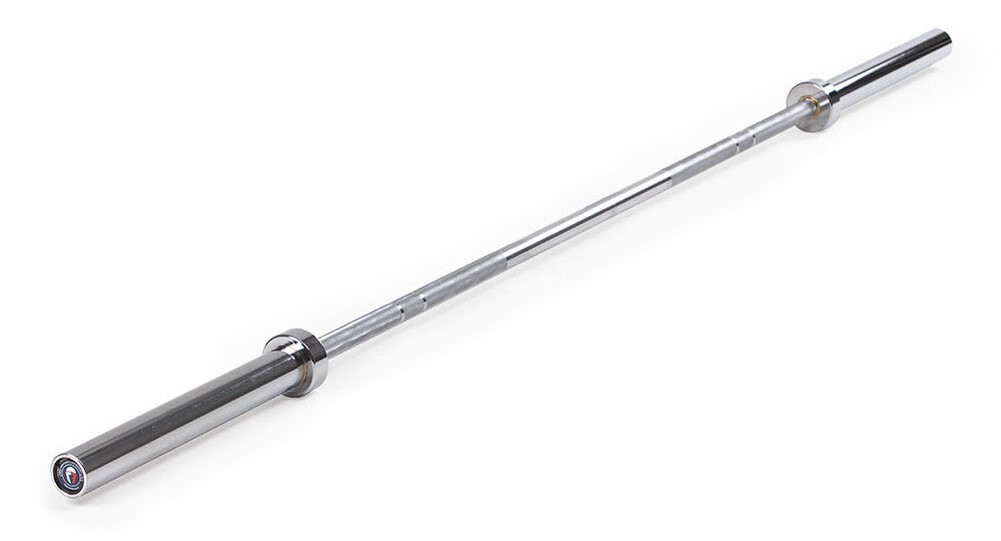 Best value!
This sort of replaces Titan's discontinued Atlas Bar as their lowest priced decent bar. To save on cost, they switched to weaker steel and bronze bushings instead of bearings.
One upgrade is a better volcano knurl texture to replace the softer hill texture. This has become the industry standard.
They also split the bar into two different versions: the Olympic version here with a thinner 28mm shaft, and the Power version below with a few other spec changes.
The price here is the big selling point. As of writing (2023), it was only released a couple months ago and has not stacked up many reviews yet to give a clear picture about quality. If there are no surprises, this bar blows away the others in value for the money.
Heads up: Titan's close-up knurl pics appear to be mistakenly swapped between this and the below bar, while the specs are correct, volcano for this one and mountain for the below. It wouldn't make any sense otherwise.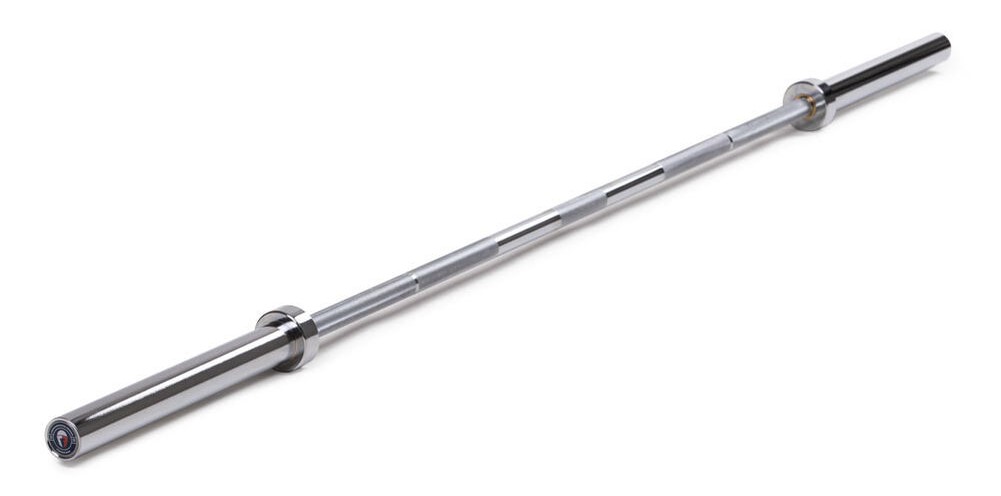 Best power bar!
The only bar here with the extreme "mountain" knurl pattern, which means each square of knurl comes to a sharp point. This is used only in some power bars for lifters who want the most secure grip, at the expense of comfort with the way it digs into your hands.
Plus, features like the single set of IPF spaced knurl rings, the strip of center knurl for keeping it secure on your back for squats, smooth sleeves instead of grooved, and a 29mm shaft, make this a classic power bar. You would normally be paying around $300 for a power bar like this.
As I mentioned in the above section, Titan's close-up knurl pics appear to be mistakenly swapped between their two bars, while the specs are correct, mountain for this one and volcano for the other.