You're convinced you need a good 7ft bar and not a cheapo bar like one included in a basic 300 lb olympic weight set, but you balk at seeing people spend a week's salary on one. You want it as a tool for weight lifting that will last a long time, but $300 is a lot of money.
If that's you, read on.
You can spend $700 on a new bar if you really want to. Only lifters putting up big numbers will discover why it's so good. Plus, it makes sense for competitive athletes who want to be lifting on the same bar they have at the meet.
For bars strictly under $200, I've narrowed it down to this short list.
Comparison Chart
These include bars for both powerlifting and olympic weightlifting. There aren't many of them in this price range, so I thought it best to just include both rather than write a separate article.
Model
Diameter
Finish
Tensile
Strength
(PSI)
Spin
Knurl Marks
Price
Titan Atlas
28.5mm
Chrome
220,000
Bushing & Bearing
IPF
$197.99
CAP OB-86B
Beast
28.5mm
Black Zinc
Phosphate
130,000
Steel Bushing
IPF
varies
Rep Sabre
28mm
Bright Zinc
150,000
Bronze Bushing
Dual
Fringe Wonder Bar
28mm
Black Zinc
205,000
Bronze Bushing
Dual

$262

Rogue Boneyard
varies
varies
varies
varies
varies
< $200
ALL of the bars above have NO center knurl, are 7ft long, and weigh 45 lbs or 44 lbs (20kg).
Note: I have most of the prices above set to auto-update, so I apologize in advance if any of them jack up the price to over $200 and make me look stupid.
There are other bars that make it under the $200 cutoff, but they don't stand out enough for you to pick them over any of these. I also didn't include the cheap economy bars that sell for $115 or so.

| | |
| --- | --- |
| Diameter | 28.5mm |
| Shaft Finish | Chrome |
| Tensile Strength | 220,000 |
| Sleeve Spin | Bronze Bushings and Bearings |
| Knurl Marks | Dual |
| Sleeve Surface | Smooth |
Titan Fitness came out with this bar in 2017. Prior to that they only had the typical $100 economy bars that you should generally stay away from.
They are known for having low-priced equipment, particularly their power racks and squat racks, which copy Rogue's designs and cut some corners.
Even a partial needle bearing bar is amazing to see at this price point. To clarify, this bar rides on a few needle bearings per sleeve, with bronze bushings next to them to better support the bar. This gives it a really good spin. If you do any olympic lifts, this is one you should consider.
This is also the strongest bar on the list at 220,000 PSI.
Basically, the reason you see this bar with such good features for such a great price is because the market is so competitive. There are thousands and thousands of garage gym users who are looking for a low priced bar for doing Crossfit workouts.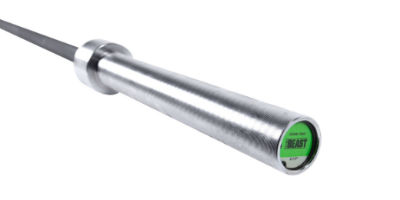 | | |
| --- | --- |
| Diameter | 28.5mm |
| Shaft Finish | Black Zinc Phosphate |
| Tensile Strength | 130,000 PSI |
| Sleeve Spin | Steel Bushing |
| Knurl Marks | IPF |
| Sleeve Surface | Grooved |
CAP re-branded the OB-86B in 2015 with a green "Beast" label on the ends. The other change was the black oxide coating is now black zinc phosphate. Other than that, it's the same stand-out bar they've been selling for years.
Let me get one thing clear. CAP has a ton of junk products. Right down to plastic cement-filled dumbbells and plastic jump ropes. It's like the quintessential Chinese dollar store products. I believe C.A.P. stands for Chinese Athletic Products.
On the other hand, they actually make a few really good products, and their price points are low even on them. Most notably their line of barbells is great, and some of their dumbbells and weight plates are fine too. At the moment I sell mostly Troy and York plates, but I've sold tons of all models of the CAP barbells, and I don't get any complaints.
The bodybuilding.com forum has a thread devoted to this bar, with links to reviews as far back as 2010. Come to think of it, I'm not sure when this bar was first made, but CAP had it in 2007 when I first started doing business with them.
The gist of opinions I've heard is people do like it but also acknowledge that it isn't the strongest bar. Go ahead and drop it with bumpers. That part isn't a problem. It's when you drop a bar hard on a rack, or bounce hard out of the hole during a 400lb squat (yeah, most of us don't have that problem), that your eyes start to widen. At 130,000 PSI, the math does indicate that this bar can't hold up like some others, and hey, that's why it's so low priced.
Because the steel isn't as strong, that gives it a ton of whip as you get up close to 300 lbs, so this is actually a pretty good bar for cleans. For the same reason, it's not so good for powerlifting style squats.
It's worth mentioning that this is the only bar on this list with IPF knurl marks, those little 1/2″ wide smooth spots you use as finger guides. The iPF marks are not quite as far apart as IWF. It just affects the hand placement you're used to.
My Personal Experience with the CAP Beast
I had the CAP bar for a while to use myself.
Note that I only cleaned 205 and deadlifted 315 on it.
The spin really does make a difference in how easy it is to rotate your grip during the catch. It's no needle bearing bar, but it's got brass bushings and spins good on them. Every bar I'm listing here has good spin though.
Now the noise, or lack thereof. I like this one. It's mostly just the thud of the bumpers. That's what you want. I've used bars that had rattle on the sleeves, and a little rattle means a huge clanging sound when you drop it. And really that can't be good for the bar.
I had no problem with the grip. The knurling is just fine. You know, all knurling feels a little different and is hard to describe. It's not just a matter of what's deeper. The pattern makes a difference. The shape of the peaks, all that. At first I wasn't sure I liked it, but it quickly grew on me and I found it to be easier on my soft woman-like hands than the Troy AOB-1200B bar I had prior to this (which I am not including in this review because I'm not a big fan), without sacrificing gripping power. The zinc phosphate coating lends itself to good grip too. It doesn't wear off as quickly as a black oxide coating.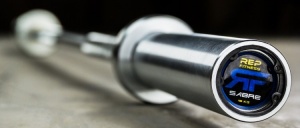 | | |
| --- | --- |
| Diameter | 28mm |
| Shaft Finish | Bright Zinc |
| Tensile Strength | 150,000 |
| Sleeve Spin | Bronze Bushing |
| Center Knurl | Your Choice |
| Knurl Marks | Dual |
| Sleeve Surface | Grooved |
As of writing, the best priced bar on the list!
Rep Fitness has gained a reputation since 2012 for having equipment that rivals Rogue in quality, bit slightly lower in price. That holds true here, with the Sabre coming in lower than the Rogue Echo Bar.
Note that unlike with some suppliers, Rep does not offer free shipping, preferring instead to keep their product prices low and charge actual shipping costs, saving you money on larger purchases. Otherwise the shipping costs are built into the product price and and you end up overpaying on larger orders unless the store has a discount structure for large orders.
The thing that stands out with this bar is the tensile strength is not very high at 150,000. It should be ok for home use, but you could run into trouble with people abusing it in group or commercial environments. It's a simple fact of life that people do not treat other people's property as good as they treat their own. Commercial gym owners have learned to get more heavy duty stuff than they would think is needed.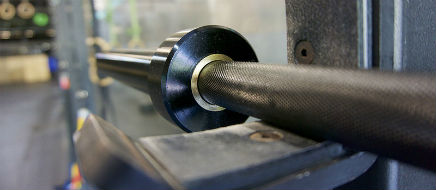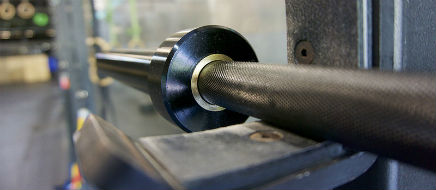 | | |
| --- | --- |
| Diameter | 28mm |
| Shaft Finish | Black Zinc |
| Tensile Strength | 205,000 PSI |
| Sleeve Spin | Bronze Bushing |
| Center Knurl | No |
| Knurl Marks | IWF |
| Sleeve Surface | Smooth |
Most of the bars on this list are made with bushings in the sleeves, but the their Wonder Bar is available in both. So I just want to be clear I'm referencing the bushing version that makes the cut under $200.
This is the strongest 28mm bar out there for this price, at 205,000 PSI tensile strength. Fringe is competitive on their pricing for everything, and they give free shipping.
One thing about Fringe is they offer a really generous 365-day return policy, even for stuff in used (but usable) condition. And in the first 30 days they'll even pay to take it back. I don't know of any other supplier of this kind of equipment that does this. So they rank the best on the risk scale if you're feeling jittery.
The black zinc plating, if you go with that rather than chrome, is a durable finish. A zinc plating is a little thicker than some others, and it's applied as a plating rather than a coating. This means it fills in a little of the knurling, accounting for some of the smooth, easy feel on your hands. It also means it's more of a solid layer, like chrome, so it's not going to wear off as easily as black oxide. Zinc is the same stuff they put on some screws at the hardware store. Unlike chrome, it doesn't get slippery when your hands get sweaty.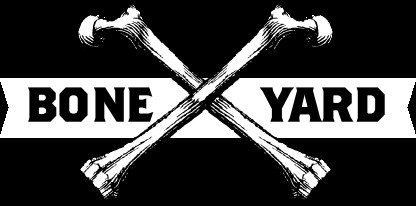 I used to have the Rogue Echo listed here, which is the cheapest of all of Rogue's bars, but Rogue bumped its price up to over $200.
No matter. You can very often get a Rogue Boneyard Bar in their closeouts, which have cosmetic blemishes off the production line but are otherwise fine. I've seen Ohio Bars and B&R Bars listed there for under $200, either of which is a better bar than the Echo and at a better price.
If you don't see one at the moment, check again in a few weeks. I see them listed more often than not.