The Problem
So many of us are short on space in our garage, back room, or basement. A traditional power rack, or even an open-ended squat rack, takes up a painful amount of space.
In the past, your best option for space efficiency was to get a pair of portable squat stands.
3 problems with portable squat stands:
You have to carefully set them the right 48″ distance apart each time, and aligned properly
They're naturally so light weight (being small and portable) that you have to be more gentle when re-racking
The feet stick out partially in your way, causing a trip hazard
The bar catches on some of them only have a short vertical stopper above them for you to walk or push the bar into when re-racking, leaving you with the danger of moving the bar right over the top of them if they aren't set at the perfect height.
So it's clear that we needed a totally different solution to save on space.
The Solution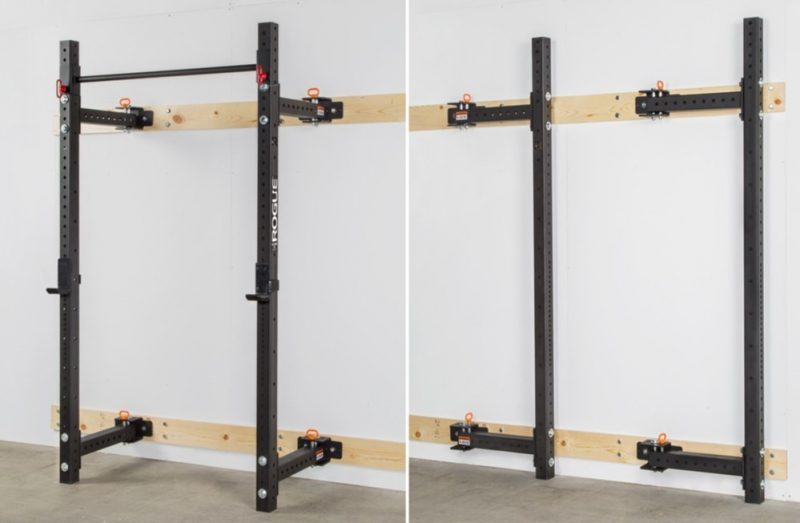 Behold! A folding squat rack that installs securely against the wall, folds out with the feet touching the floor for support, and folds back up against the wall for storage. Awesome stuff.
It can be installed either in a garage or in a room of your home. If you'll be putting in rubber flooring, be sure to get that in before you install this. The height you install the rack at relative to the floor is critical. As a garage or basement squat rack, bare concrete can be just fine, depending on what else you have going on with your gym. Another advantage of these is you can get a really stable squat rack in a garage gym without drilling into your garage floor's concrete to anchor it.
Note that some makers call these wall mounted power racks. Not so fast. A power rack encloses the bar on both sides and has safety bars. Technically these are just squat racks / half racks. It's a marketing issue, I imagine.
The shared features among most of these racks are:
Quick fold-back design
Pull up bar
~48″ wide, ie: olympic width
Adjustable height J-hooks
This basic idea was pioneered by PRx Performance in 2014, and backed by "Shark Tank" businessman and investor Kevin O'Leary in 2016. We sometimes make the mistake of thinking Rogue comes up with all this new stuff, but often they just popularize an existing idea by putting their huge market share behind it.
— Beware the details!!
There's plenty to compare between the brands I've selected, and in this case they can't be explained in a comparison chart. Read on or skip to my final recommendation at the bottom of this post.
Quick Comparison Chart
Detailed Look at Each
Here's what makes each rack stand out among the others. I'll sum up the pros and cons of each one.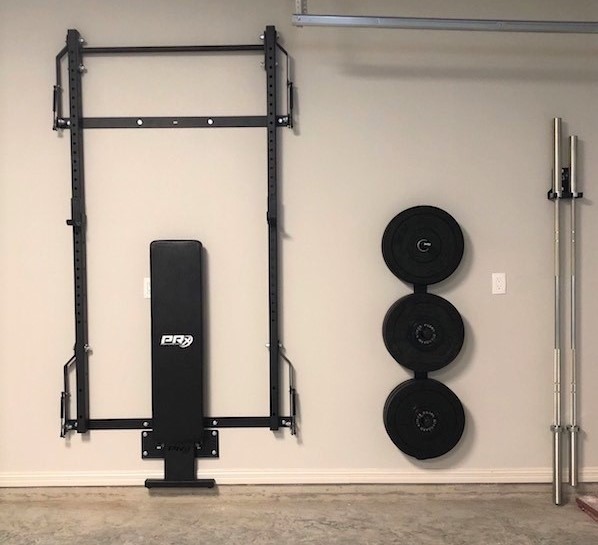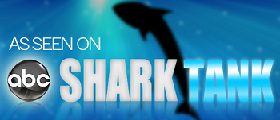 In 2014 PRx Performance invented and patented this rack. In 2016 they aired on ABC's "Shark Tank", a show for entrepreneurs to pitch to a panel of investors. Investor Kevin O'Leary was convinced to buy into 20% of the company.
Folding Mechanism
Unique gas shock system that makes it effortless to pull out and fold back, with locking pins to make it child-proof. All the imitators below require you to remove the pull up bar and fold the rack parts sideways instead. I think the gas shock design is patented.
The video a few paragraphs below shows the folding mechanism pretty well.
Pull Up Bar – Get the Kipping Bar if you Can
3 options – None, regular, or extruded 36″ from the wall for kipping pullups. Get at least the regular. Everyone needs a pull up bar. Keep in mind the kipping bar does not fold back itself, so it's going to be sticking out 12″ from the wall as you fold the rack in. For most of us that's not really an issue, as we don't need to save space that high.
Width Note: The uprights are 48″ wide, just like a normal squat rack. Their product description tells you the whole unit is 52″ wide, but they're including the brackets in that.
Depth: 24″ from the wall, folds to 4″ from wall.
Design and Construction: 2″x3″ 11-gauge steel. The folding design forces a tad bit of play in some joints, making it not feel as solid as a comparable 2″x3″ rack. That goes for all similar wall mounted squat racks. They can wobble a little under loads.
505 lb is beyond the limit, as you can see in the below IG video where a screw ripped out of the stringer. The stringer (the piece against the wall) should be designed better so it would take more screws and thus handle more weight.
Above is a test on the old orange version of the rack. I think the new one is pretty much the same. I think they mainly realized the orange color didn't fit everyone's decor. Imagine that.
To sum up, this rack was a good idea at the time, but for the price you can get a more modern design, which I go over in the other brands below.
PROS
CONS
– easy installation
– quickest setup
– made in the USA
– highest priced by far
– no depth choices
– company is relatively new
– stringer is not good
---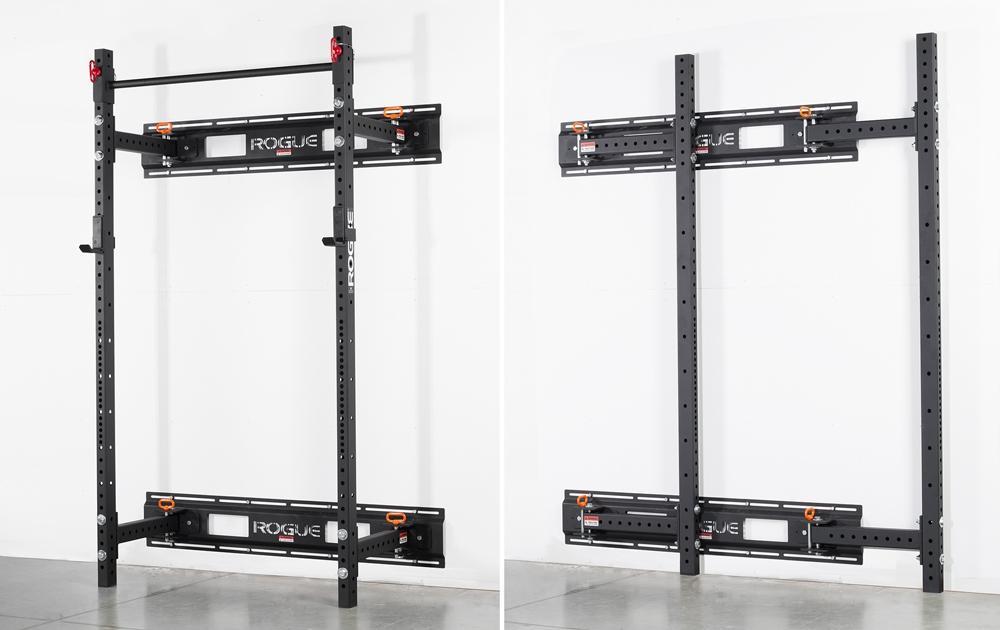 The folding racks are surprisingly hard to navigate to on Rogue's site menu. You have to look in the Power Racks category, not in Squat Stands or Wallmounts where you would expect them.
Rogue put "Westside" hole spacing on the uprights of the R-3W. What this means is 1″ on center between the bar catch height adjustment holes in the height range you would use for bench pressing. Higher than that they are spaced 2″, which is fine for squats or overhead presses. This pattern of spacing was popularized by Louie Simmons of Westside Barbell, hence the name.
They have other marks on the uprights to help you put the two bar catches at the same height and not have to eyeball it too hard.
Folding Mechanism
To fold it away, you first remove the 2 pins above and pull off the pull up bar. Then pull 4 pins from the rack hinges and fold both arms against the wall. The hinges go both ways, so you can fold them both in, both out, or one in and one out, whatever works for your space, standing out only 5″ from your wall. If you have the wall space available where you can fold at least one side outwards, you won't have to remove the J cups. Otherwise, not a big deal.
Accommodating Floor Slope
As Johnny Wild pointed out in the comments, the Rogue bracket design has some wiggle to it, which is not sloppy design but is actually helpful for allowing you to lift and drop the sides of the rack as you fold it into place, and to accommodate the approximately 1/4″ to 1/2″ slope in a garage.
Pull Up Bar
Max height 87″, adjustable down via pop pins. Like the Titan and Fringe models, be conscious of what height you're installing the top horizontal tubing against the uprights, because it will get in the way of your desired pull up bar height if you aren't careful.
Need Heavier Duty, or Color Options?
For an even beefier rack, they have a RML-3WC Monster Lite series wall mounted squat rack, ie; 3″x3″ 11-gauge steel. This compares to the R-3W with 2″x3″ steel. The J-cups on the 3″x3″ are of course 1″ wider to fit. Those are the only differences between the two Rogue sizes. Note that this makes the 3″x3″ rack two inches wider, to 49″, which is pushing the limits to fit the 52″ center shaft of a bar over it during normal use without accidentally hitting the bar's shoulder, and worse case, failing to rack it and risking damage or injury.
Depth Options
Both the 2×3 and 3×3 version of the Rogue folding rack has either a 20.5″ deep or 40.5″ deep option that you select on the product page. The 20.5″ gives you enough room for squats, bench presses, and most any other racks exercises, giving enough room for your feet, head, and bench, as appropriate. For movements like kipping or butterfly pull ups, muscle ups, or toes-to-bar, you want the 41.5″ deep. The 40.5″ deep doesn't fold in neatly to the wall and will overlap unless you fold them one in and one out, which takes up more wall space. Either way works, depending where you want to save the most room when folding it.
Color Options (RML-3WC)
The Monster Lite version has a bunch of color choices, even a satin clear coat that I'd like to see close up.
Ryan (That Tech Teacher on youtube) has a great video going over the parts and installation in his gym: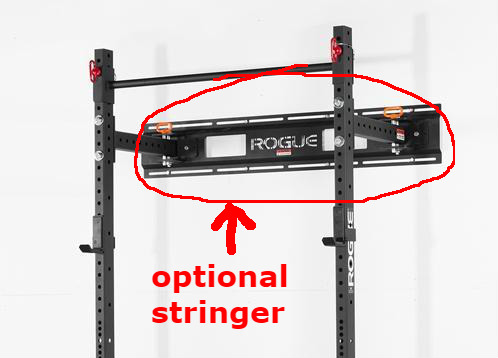 A huge plus to Rogue's folding rack is the $50 stringer option, above. You get those two steel backplates. They aren't there to look cool.
The stringers help you in three ways:
Perfectly spaced mounting holes for the rack so that installation is way easier. No guessing about where to drill holes, and then having a disaster when you drilled a hole 1/4″ off.
No need to go to the lumber store and pick up and cut some 2×6 boards to use as backplates. Easily worth the $50 in cost and time.
Extra stability for the rack. Wood can flex and give a little. The steel makes the rack feel more solid and protects anything from getting tweaked if you're rough with it when folding it up.
I should note that another of Rogue's racks is a single-station wall-mount rig, the W-4. They've had these for much longer. They're basically a single station from the existing rig setups that are normally multiple squat racks with pull up bars all attached to each other for group classes. The main caveat with these is they are not foldable and they're really deep (6ft!). You're stuck with it as sort of a really big power rack with no safety bars, but a pull up bar that can be mounted nice and high. Therefore it doesn't entirely fit into this article, but I thought I'd mention it.
PROS
CONS
– made in the USA
– 2 depth options
– 3×3 tubing version available
– stringer option (and a very nice one)
– compatible with Infinity attachments
– installation takes skill unless you get the stringer
– folding procedure takes a minute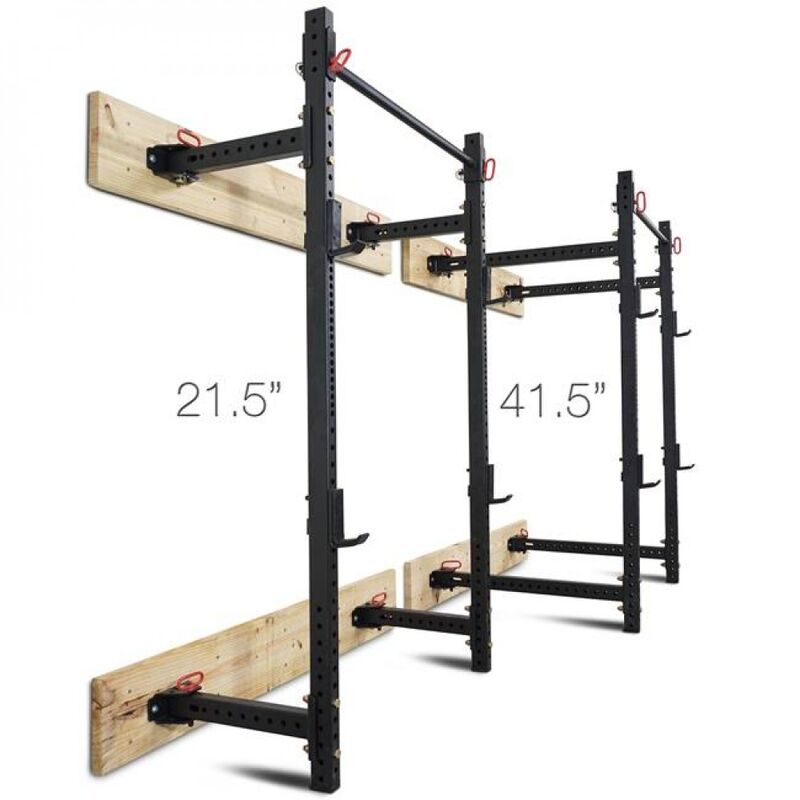 Titan basically does low-cost Rogue imitations. And they do ok at it. They've been at it a while and have gotten better and better with their design considerations.
Depth: They make a 21.5″ deep and a 41″ deep model, very close to Rogue's depth choices.
Pull Up Bar: They put on an unusually thick 1.5″ pull up bar (most people prefer 1.25″). The max height is 86″, adjustable down to any height, but like Rogue, the top wall support arms have to attach somewhere too, so you need to put some thought into it when doing the install. will get in the For kipping pull ups, you probably want the 41″ deep, as 24″ is about the minimum depth you want for enough margin for sloppy form. If you're 5ft tall, 21.5″ could be fine.
Not Actually 2×3
Titan's racks are all measured in mm, not inches, and their 2×3 racks come in slightly smaller. Rogue's R-series attachments will be slightly large but will fit.
Like Rogue's rack, T-3 wall brackets each rotate freely on a bolt, and a locking pin is provided for all four wall brackets. You might find that using only two of the locking pins is sufficient. You normally don't put a lot of side to side force on a rack. Some pictures of this rack on Titan's site, depending on what product page you're looking at, do not show these locking pins, and I want to clarify that they do include them in all versions (tall, short, deep, and shallow) of this rack.
Titan used to have a stringer option (see the explanation about Rogue's stringers further above), Rogue's stringers do not fit the Titan T-3 folding rack perfectly but can be made to fit if you're okay with it attaching imperfectly at an angle (thanks, Johnny Wild!).
PROS
CONS
– lowest price
– 2 depth choices
– compatible with Rogue R-series/Infinity attachments
– installation takes skill
– folding procedure takes a minute
– fat 1.5″ pull up bar only
– made in China
– typically a lack of attention to detail in the alignment and welds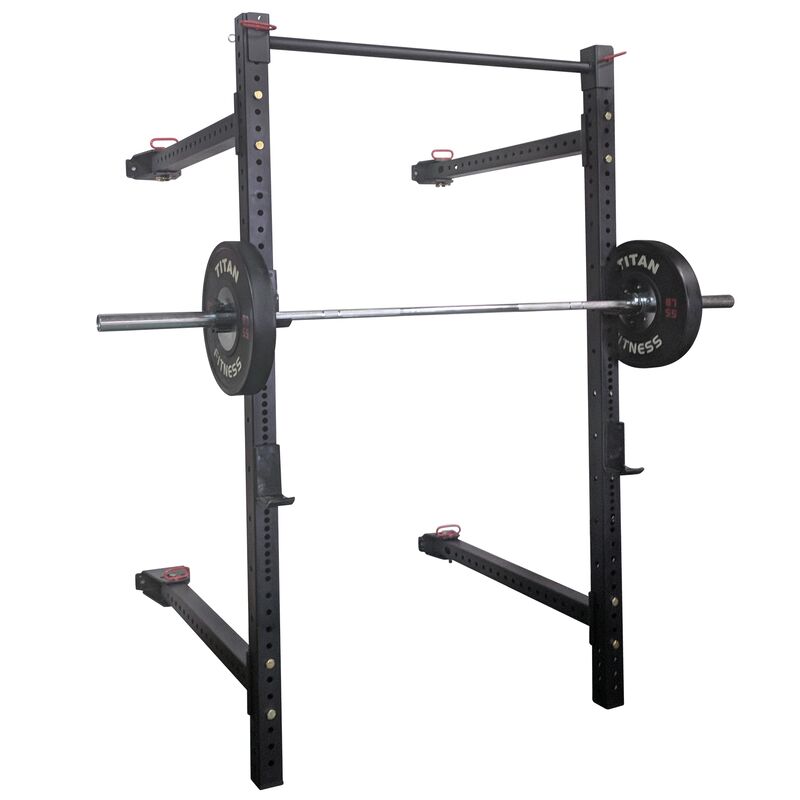 Titan's X-3 series is much like the T-3 but with some notable differences. See my notes above about the T-3 as well.
First, the X-3 is 3×3 tubing vs 2×2 tubing in the T-3. 3×3 is considered generally more heavy duty and stable feeling. Some larger lifters who take a very wide grip on the bar for squats prefer 2×3 racks like the T-3 to give themselves a little more room to avoid smashing their pinkies. Titan's racks are all 48″ outside width, meaning the 2×3 rack gives you 2″ of extra space inside than the 3×3. Some specs given on their site say 50″ width, but that includes things like brackets or feet.
The X-3 comes with two pairs of J-cups rather than one, and they are UHMW-lined unlike the bare steel J-cups included with the T-3.
The X-3 is about the size of the popular Rogue Monster Lite racks, making it generally able to take the dozens of Monster Lite attachments. Titan sizes their racks all in millimeters rather than inches, but it's fairly close.
These improvements could be worth the $50 price difference over the T-3.
PROS
CONS
– good price for 3×3 rack
– 2 depth choices
– Rogue Monster Lite compatible
– installation takes skill
– folding procedure takes a minute
– fat 1.5″ pull up bar only
– made in China
– typically a lack of attention to detail in the alignment and welds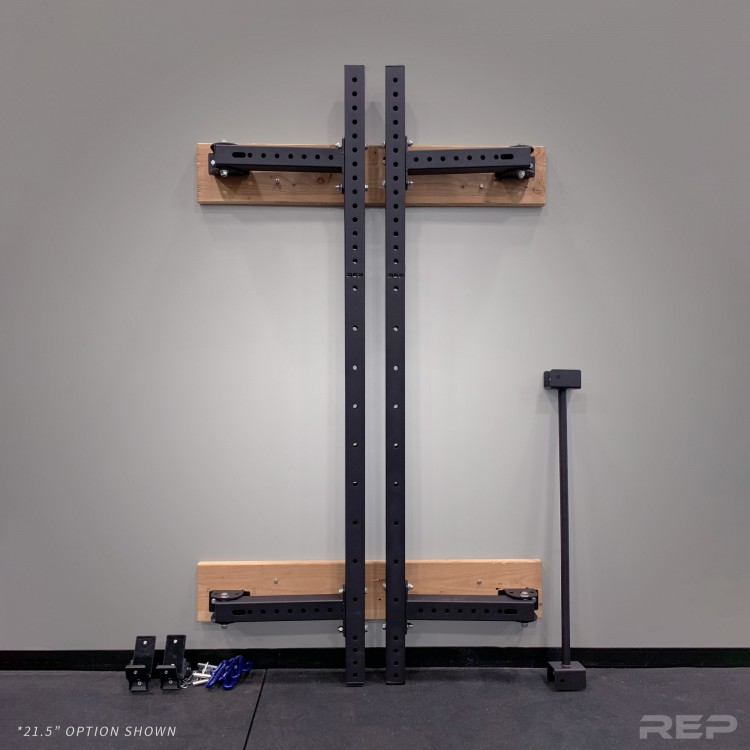 Rep is the only manufacturer to offer a folding rack in a 3×3 only model. They managed to keep the price $45 lower than Rogue's 2×3 model. Why even bother making a 2×3 model when they're winning on price? For that matter, they're lower priced than everyone here, except of course Titan.
The overall design is very much like the Rogue RML-3WC. 48″ width, pretty close to Rogue's 48.5″. 1.25″ pull up bar. UHMW lined J-cups and feet.
Laser-Cut Numbers
Here's a good addition. Laser-cut numbers, starting from the bottom of the bench press area and going all the way up. These are valuable for getting your J-cups or safety arms set at the right height. Otherwise you have to start making your spots with tape.
The lack of a stringer option hurts a bit. You need to buy some boards at the lumber store. The stringer makes it so much easier to install, with no careful work required on screw hole placement.
Rep's rack is fully compatible with the Rogue Monster Lite attachments, opening up Rogue's large assortment of attachments, which they are always adding to, as possibilities for you down the line. That was smart of them to do this, while Fringe and Titan insist on having a unique size and only hurting themselves.
Like Rogue, Rep Fitness does not offer free shipping. For a single item you might not enjoy paying it. For multiple items, though, you will typically get a better deal than other stores, because "free" shipping causes prices to be padded to make up for it.
PROS
CONS
– Good price
– Westside hole spacing
– Rogue Monster Lite compatible

– Installation takes some skill
– Shipping is extra
– Made in China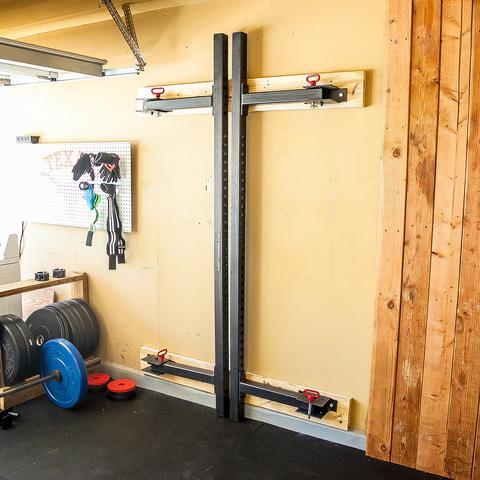 Fringe has a 365-day return policy, which I think is the most generous in the whole industry right now. You get free shipping to begin with, and then you can send it back within a year, on a whim, and get all your money back. Or within 30 days and they'll even pay return shipping. Evidently they don't get many returns, or they wouldn't be able to do this.
Fringe split the difference and did 2.5″ square tubing instead of 3″ square or 2″x3″. They only have a single model, and no options. That makes things easy.
Pull Up Bar: The pull up bar can adjust from 70″-88″ from the floor (5'10" – 7'4″). It's 25″ from the wall.
Width: 49″ wide, the maximum width you want for a rack.
Depth: 25″ from the wall, an inch deeper than PRx's rack.
Folding Mechanism: Just like Rogue. Fold either side in or out. It takes the same amount of work, pulling out 4 pins for the pull up bar and 4 for the rack hinges. Like Rogue, you can leave the J cups in place if you're folding at least one side outward.
PROS
CONS
– 1 year return policy and 30 day free return shipping
– installation takes some skill
– no stringer option
– folding procedure takes a minute to do
– no depth choices
– made in China
– expensive compared to others
Spotter Arms Warning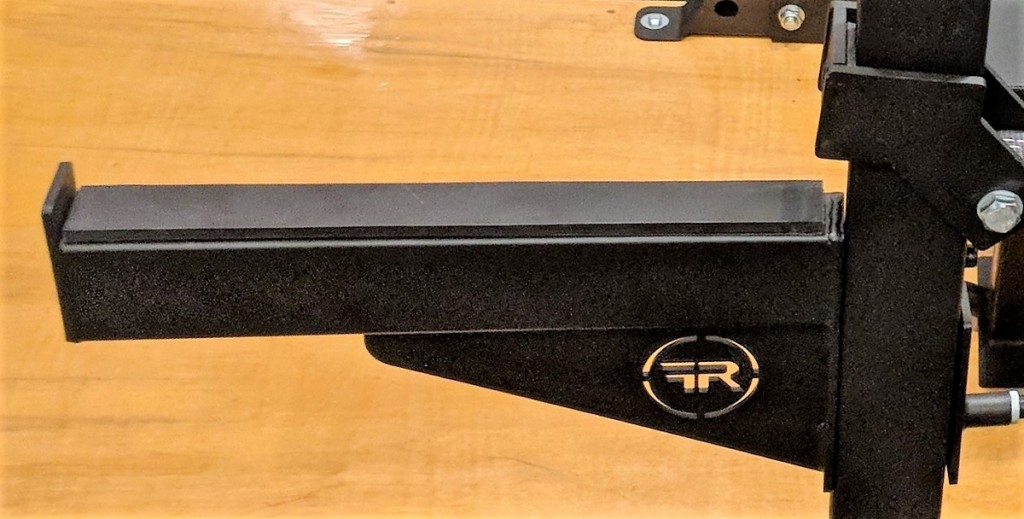 Like certain other designs of racks, wall mounted squat racks are not made to fully handle loads that can be placed on spotter arms hanging off the front.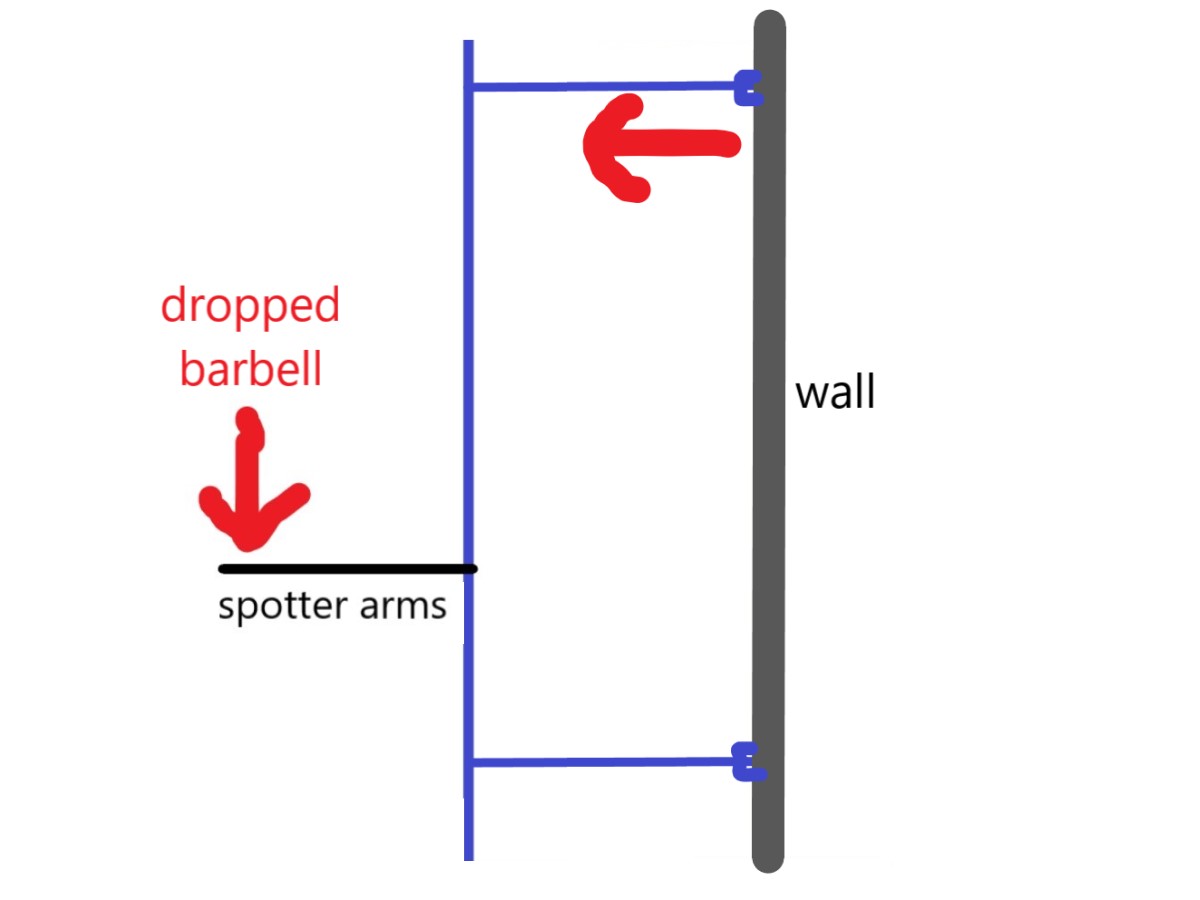 The above shows why. A barbell this far out from the support leg of the rack will cause what would ordinarily be a "tipping" force to the rack. Because tbis type of rack is attached to the wall, it can cause the screws in the top bracket to rip right out of the wall.
A stringer across the wall studs helps, whether it's wood or steel, the way it has several screws securing it to multiple studs in the wall. Even then, no guarantee the screws won't still rip out.
Realistically, I have heard from someone who does rack pulls on the spotter arms on such a rack. The closer you have the barbell to the uprights, and not far out like I have in the diagram, the more the support leg takes the force and the less the wall attachment point does. But as discussed already, even up against the upright you're away from the center of gravity of the rack and you're putting some force on the wall attachments.
A Non-Folding Alternative, and Space Considerations
The main issue with the ~21″ deep racks is they might restrict the exercises you can do. Some adjustable benches have feet or wheels that will stick out too far behind you in the incline position, preventing you from getting your body position as far back as you need to. However, it looks like many benches, including the Vulcan adjustable bench (Thanks Robert for the comment on this at the botom), will work in a moderate incline with the 21″ deep racks.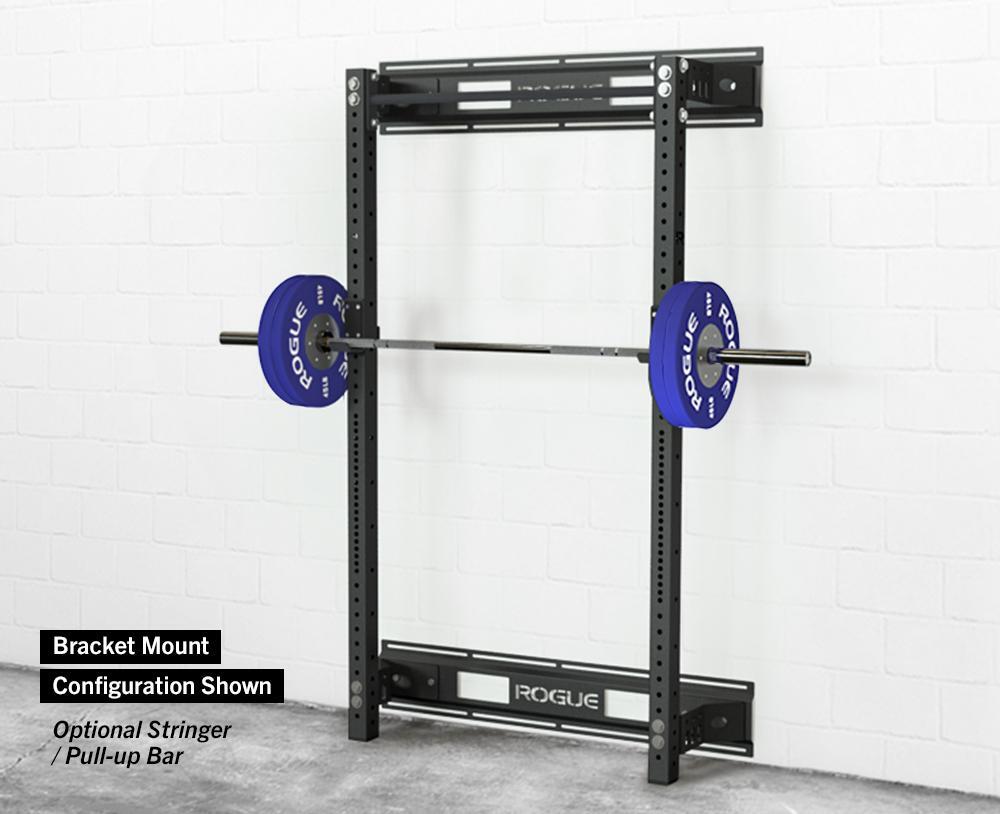 The tight fit is even more the case with another rack I want to bring to your attention, the Rogue Monster Lite Slim Rack. The front face of the uprights are a mere 14″ from the wall. I've determined from my measurements that the 14″ gives you enough head room from the wall to allow for back squats and for flat bench presses, assuming that your bench's feet don't stick out past the bench pad, with just a few inches of head clearance from the wall. No chance of doing incline bench with this unless you have something like the BodyCraft F320 bench that slides back for incline.
Anyway, the Slim Rack might work even better than a folding rack for you, if you don't mind being close to the wall and you don't need a rack that folds tighter against the wall to be out of the way. It will feel more solid than a folding rack because it has no moving parts.
The Winner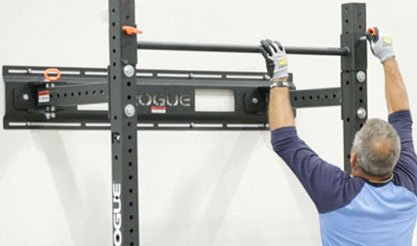 Rogue wins! Here's why…
The quality
Rogue's quality is the highest and most consistent. Titan for example does ok with some things, but this rack needs to be all perfectly aligned so that you can install it with nothing weird going on in its stability, connections, and fold-up procedure. Titan cuts corners with design to lower the price. I trust Rogue the most with having everything made right. Rogue sells more of these types of units than anybody else, and in their own factory in Columbus, OH, while other companies outsource to China and aren't able to unpackage and inspect most of the units.
Stringer option
If I were in the market for a rack like this, the lack of a stringer on the other models is the dealbreaker. It assists in a big way with installation and stability, and for only $50, come on, easy choice.
Price
Great price, especially for what you get. PRx is ridiculously priced.
Distance from Wall
The minimal distance from the wall, 21″ or so, makes sense for any folding rack. The whole point is to save on space by folding it in as tightly as possible, and the 41″ folds up poorly, eating up tons of wall space or sticking out a couple feet if you fold both sides inward.
Attachment options
Being as this is an R-series rack, Rogue's Infinity attachments will fit this rack. Some appropriate ones would be the landmine base, rope anchor, and many more. That opens up a options for more exercises and even more efficient use of space. The other brands don't have these kinds of possibilities.
Rogue basically offers so many of the best features of these racks that it's an easy choice.
Runner-Up Choice
Rep's rack is nearly an exact copy of Rogue's. UHMW lined cups and feet, quick attach pins, 1.25″ pull up bar, etc, etc. It's all the same.
Rep is known for making good equipment, on par with Rogue's quality and attention to detail, not cutting corners, and at a lower price. That's why it makes sense to consider Rep as second choice here. You save $46 over the R-3W, or $159 over the RML-3WC.
Rep's rack is fully compatible with all Monster Lite attachments. 3×3 tubing, 11 gauge steel, and 5/8″ holes. Everything will fit perfectly.
Laser-Cut Numbers
One significant addition over Rogue is their laser-cut numbers, starting from the bottom of the bench press area and going all the way up.
The only thing they really missed is the stringer option. If you like working with wood, this might be a non-issue for you. You will certainly save money by putting in your own wood stringers, as shown below.