Hey there brothers of iron and sisters of steel (credit goes to Dave Draper for that one), I'm back in action for another review. This time we'll take a look at the Rogue Adjustable 2.0 Bench.
First, when picking out the right bench for barbell work and dumbbell work, you want to look for something with the right specifications to your needs, such as bench height, back pad width, a well designed seat pad and with proper stability and the additional features you might want, with as little compromise as possible.
The Rogue Adjustable 2.0 Bench fits the bill for me and I happened to score a decent deal on it. Here are my opinions on the bench after giving it a good home and use.
Rogue Adjustable 2.0 Bench Review
Rogue does an amazing job with the super firm support of their bench and seat pads – barely any give, if any – and the adjustments are rock solid with no budge whatsoever.
If you're looking for some rebound on this bench you won't find it here. But seriously, you gotta drive the lats into the back pad and glutes into the seat pad hard. I actually prefer this type of bench pad since it not only gives you a stable base to bench off of, but it's assured to keep you honest when setting up and to stay tight.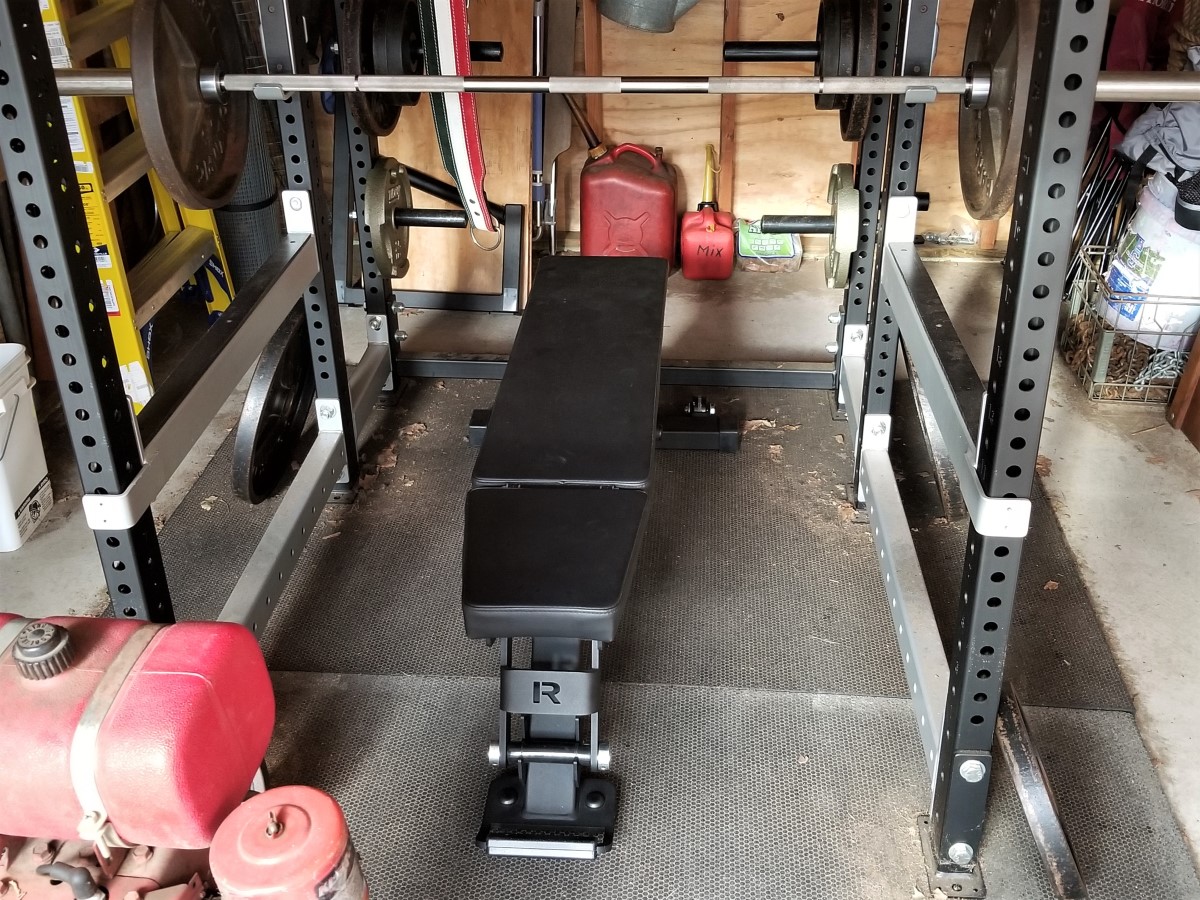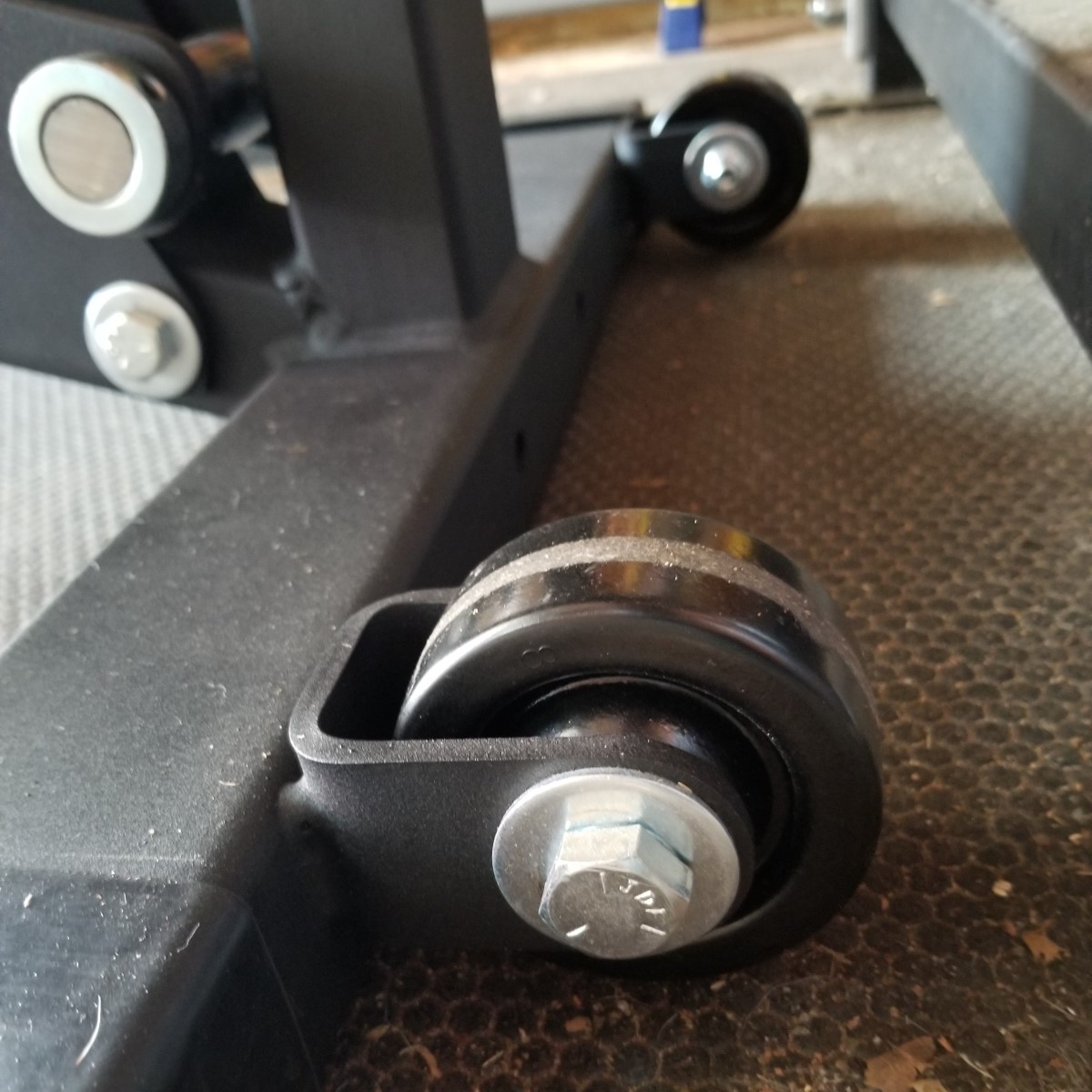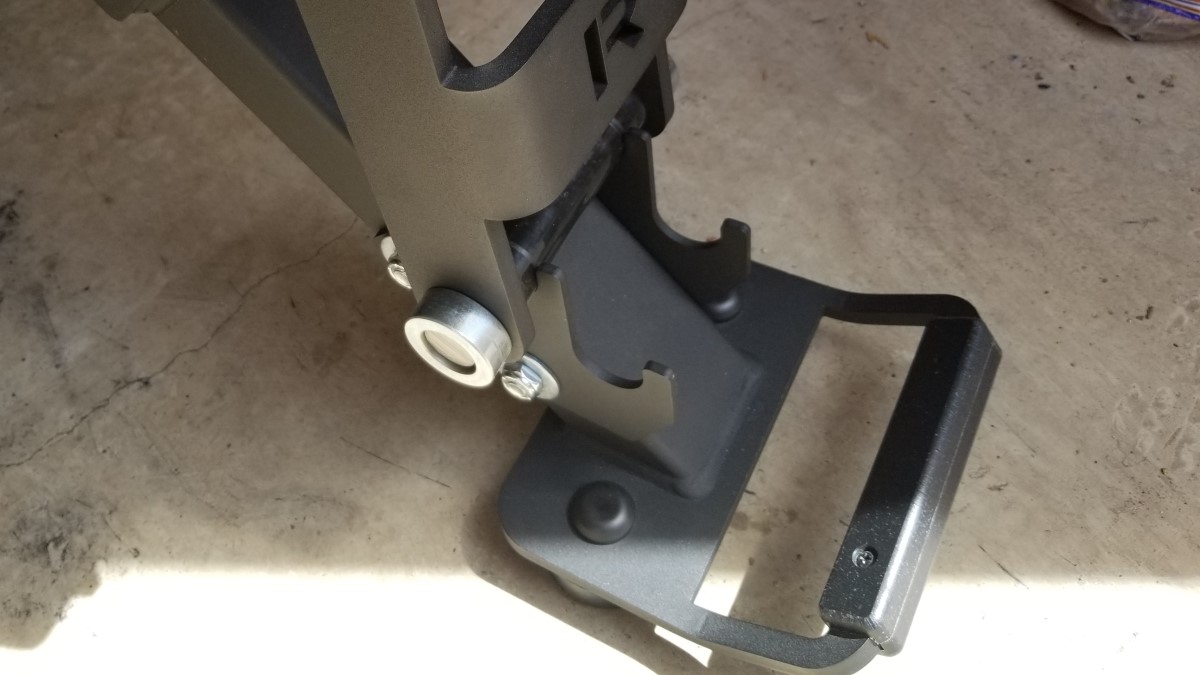 The bench is a tank to move around and the wheels and handle help out greatly (just like with the other benches of this quality), the UHMW on the transport handle, rubber grips on the ladder handle and protective UHMW on the ladder adjustment rollers are nice little details on Rogues part.
The transport handle is grooved at the bottom to avoid contacting the fingers with the ground when setting the bench down off the wheeled portion.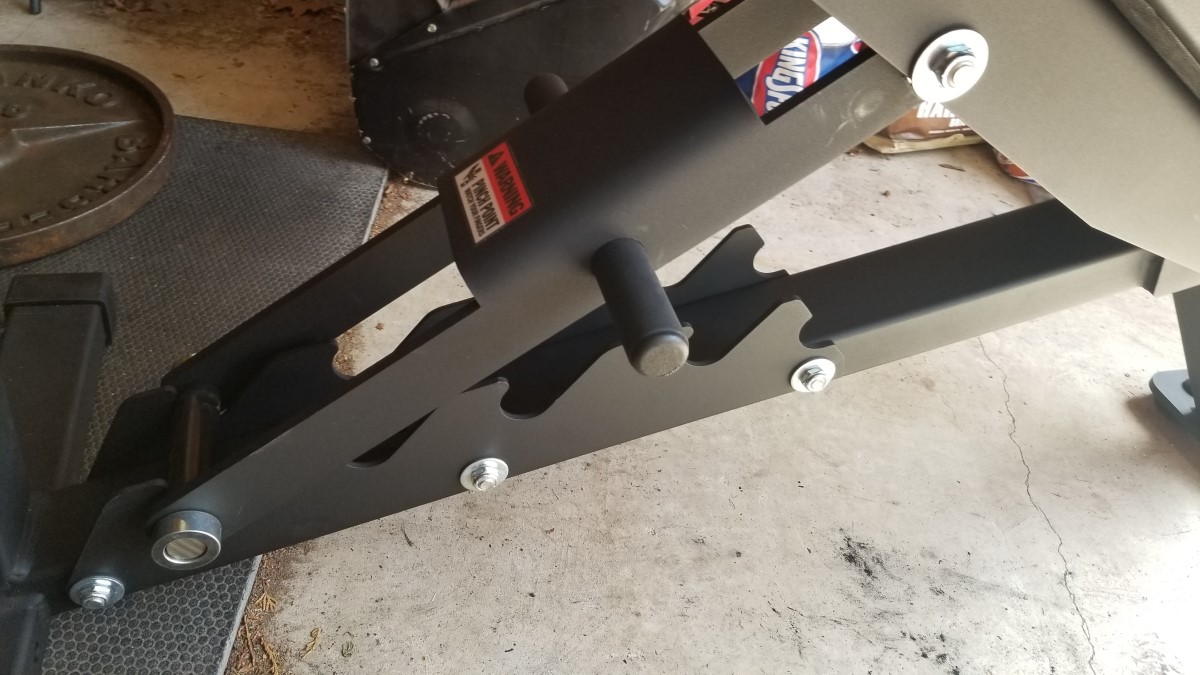 It's awesome how when you adjust to any of the inclines and military position that you don't have to worry about the adjustment grooves, nor the ladder getting scratched, chipped, nor dented up with this design and as an added bonus the UHMW adjustment rollers actually glide right into the grooves when you lift it to adjust and lock in the desired bench angle(s)… absolutely excellent!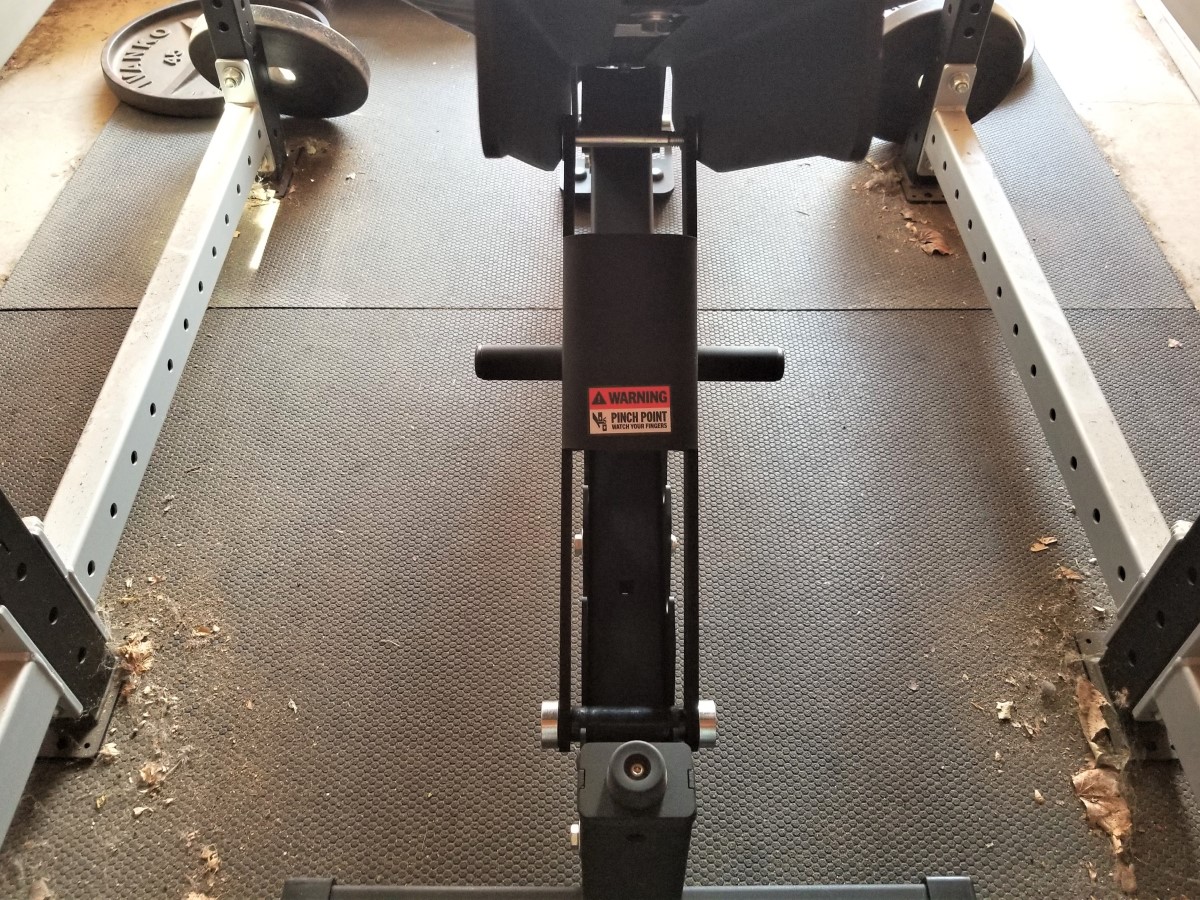 Once the ladder portion is in one of the grooved angle adjustments, it's locked in and totally solid, there's no play at all!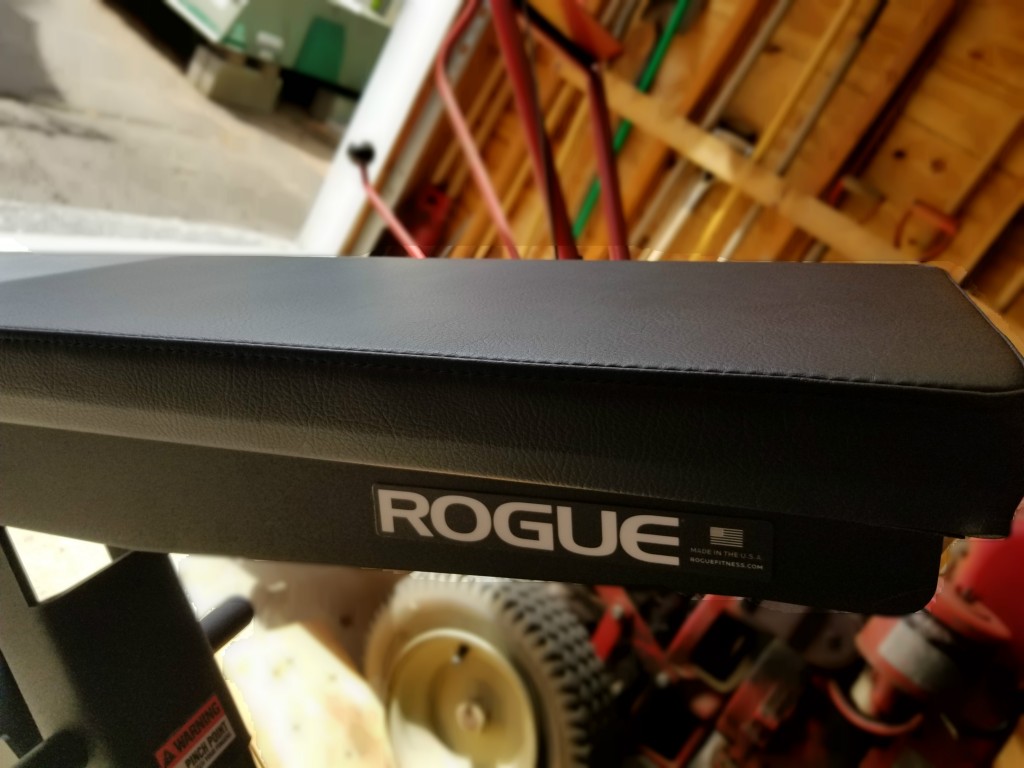 The vinyl is well made and secured nice and tight to the bench and is grippy enough for me. I workout in the garage with all the outside elements and had no problems of the vinyl getting slick from my sweat when I was benching on it.
The powder coat is what you'd expect from Rogue; a rough textured, durable matte black coat, which is fine by me.
The bench weighs a beefy 128 lbs and has rubber feet underneath the front forefoot and square rubber feet around the back feet to prevent scratching up the floors, or the bench when moving it around.
It's made of 2X3 11 gauge steel with a laser cut "R" in the front and the Rogue and American flag logo painted white on the side of the frame.
The back pad's width is 11.25″ which is the perfect range going from a 10.25″ wide pad on my Legend 3-way Bench and more recently a 12″ wide pad on my custom flat bench. Anywhere closer to, or at a 12″ wide pad is the sweet spot for benching on and supports the shoulders nicely.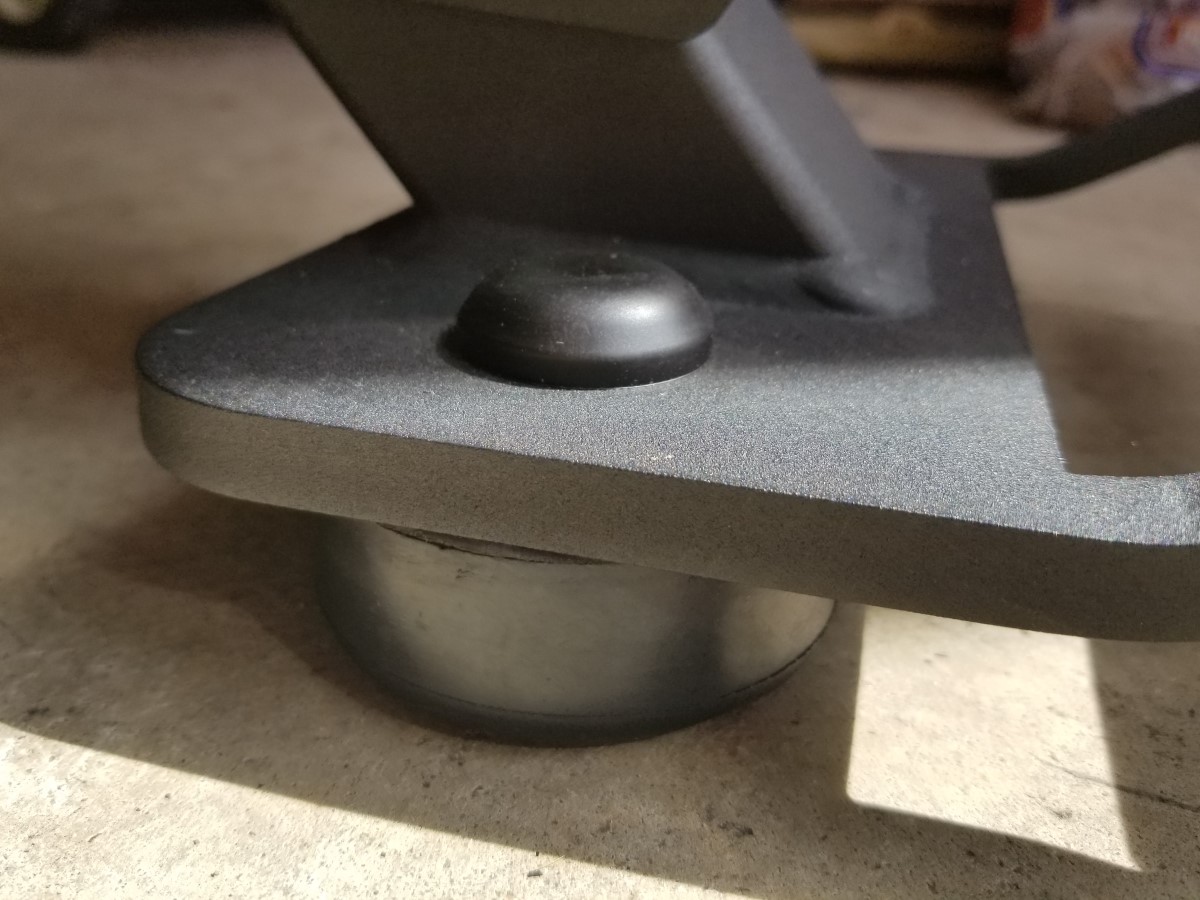 The 17.5″ height is ideal, going from my Legend bench at 18″ tall and then more recently my custom flat bench at 17″ tall, I get better leg drive from the 17″ and 17.5″ height. I'm about 5'8″ with long legs.
Overall length of the padding itself in flat position is 52″. Height of the bench at 85 degrees military position is 56.25″. Overall length of the back to the front of the frame is 54.5″. Width of the back legs of the frame is 24.5″.
The pad gap on the Rogue Adjustable 2.0 is minimal where the small bracket is on this bench (between the seat pad and back pad) and can't even be felt, as if it isn't even there (not even sure if I'm even on that portion, or the seat…I think I'm just past it when benching).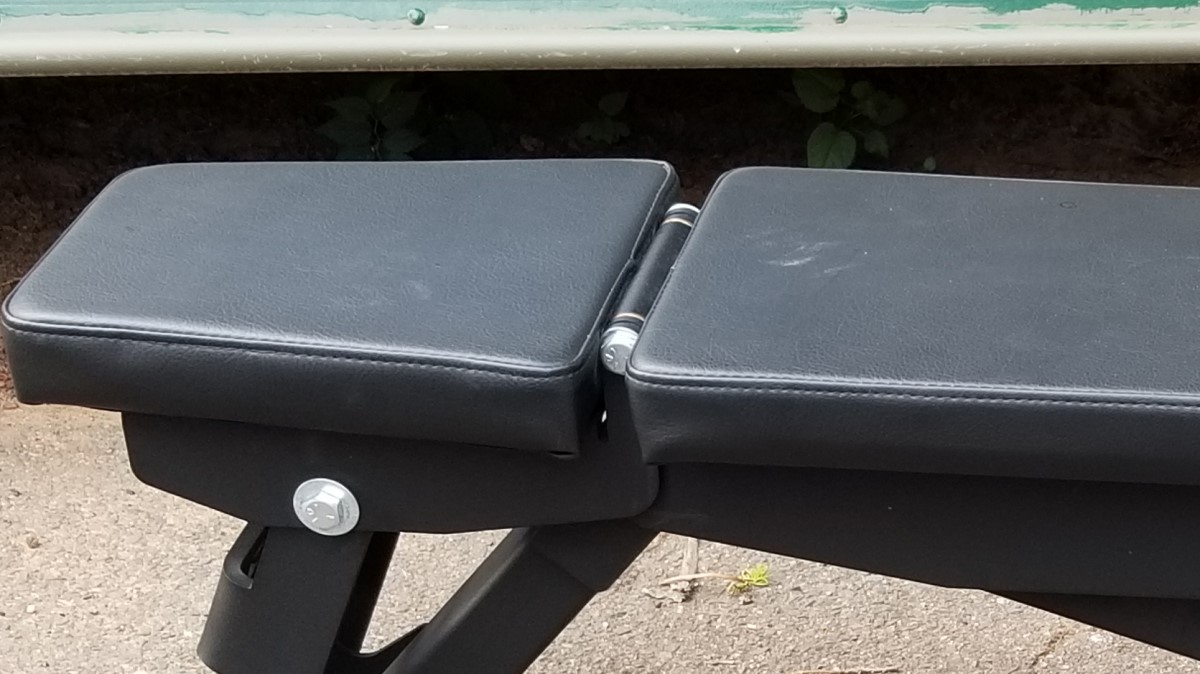 Even when I use the Legend 3-Way bench, which has a bit more of a prominent gap, I never had an issue with getting stuck in the gap from my stature and when I set up.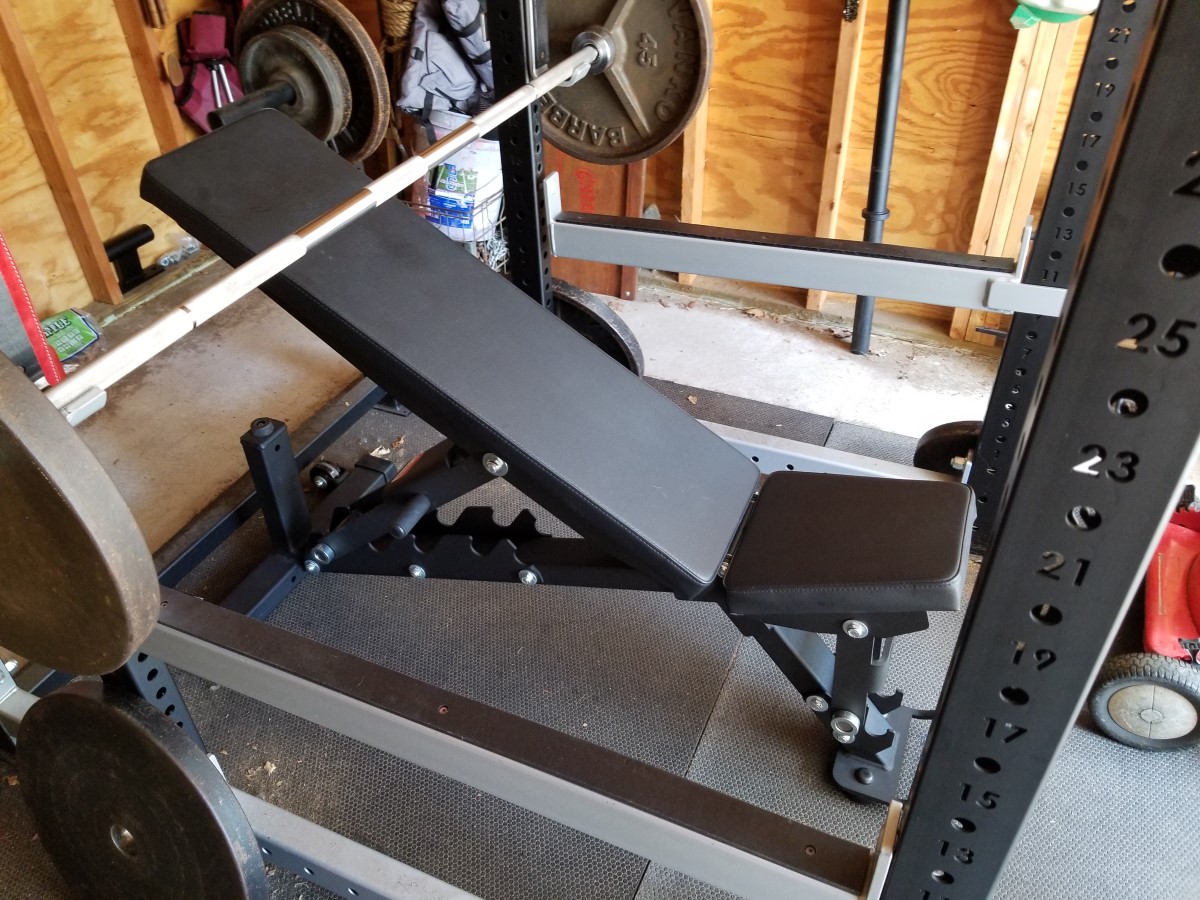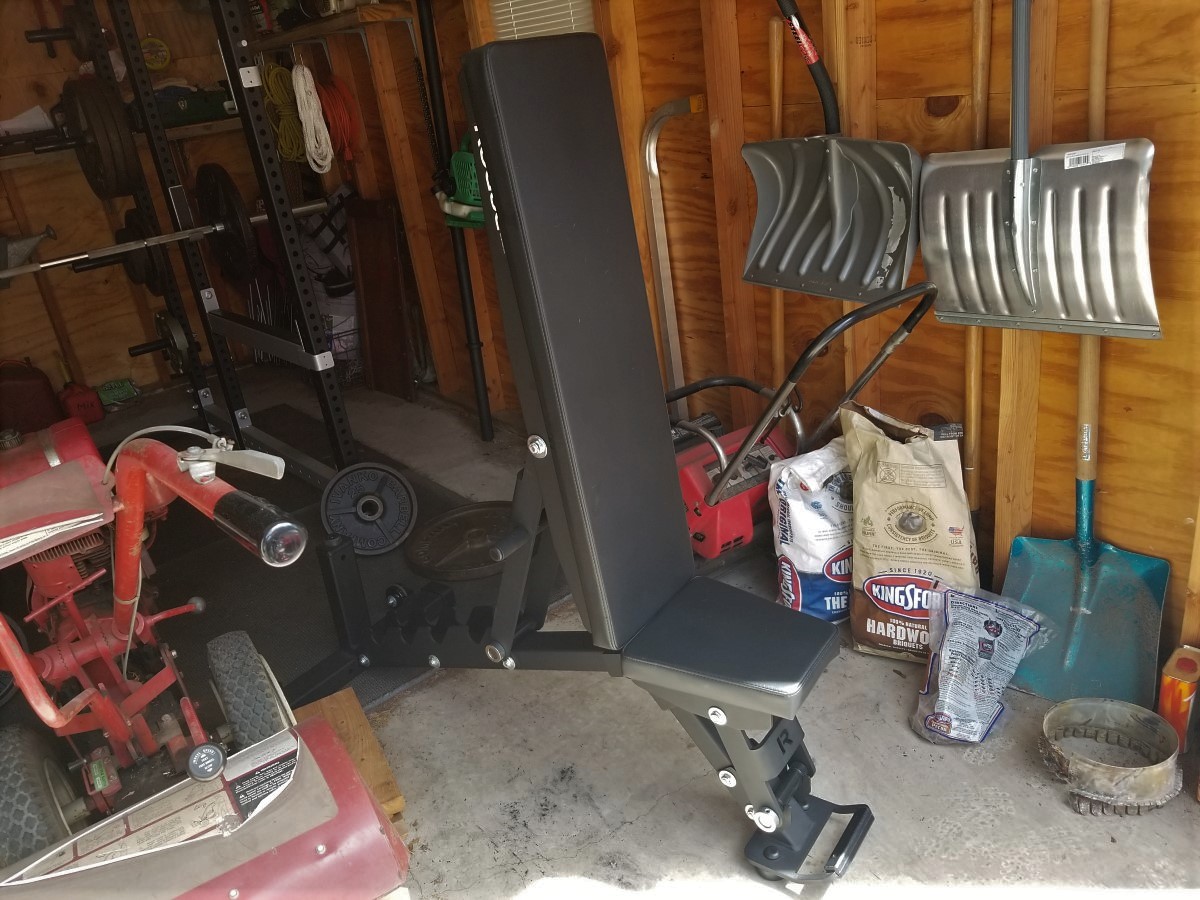 There are six back pad angles which are: 0° Flat, 30° Incline, 47°, 61°, 76°, 85° Military.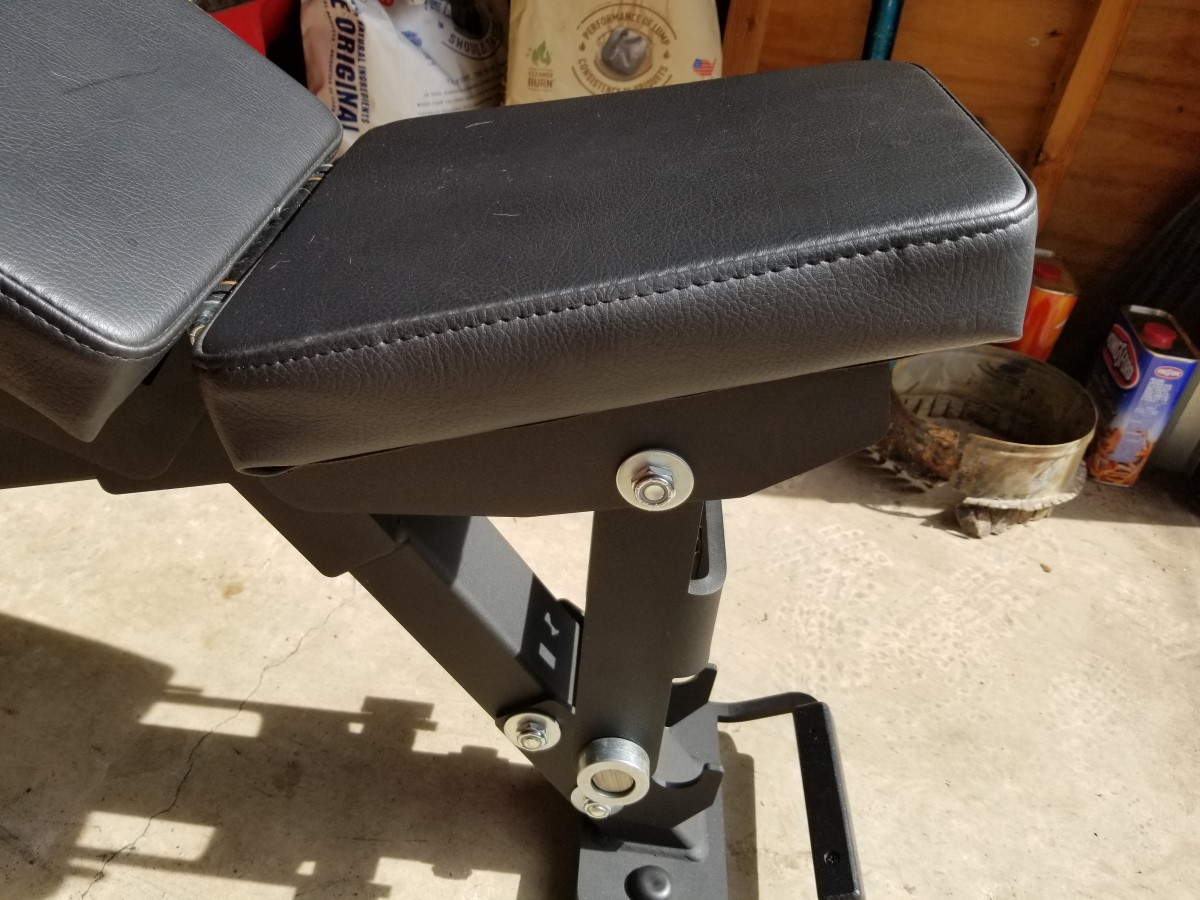 The seat pad has two angles which are: Flat and a slight Incline angle.
The Rogue Adjustable 2.0 Bench also has a bolt-on spotter steps option sold separately (I usually train alone, so the spotter steps wouldn't really serve much of a purpose for me).
Nitpicks on the Rogue Bench
Minor nitpicks…
Buying this bench brand new is expensive and I would neither encourage or discourage you from getting it.
It's all the bench you could possibly want in your home gym and will last generation to generation, if you buy once and take the hit on it you'll never have to buy another adjustable Flat/Incline bench again.
On the other hand, I could totally see why some might be turned off by the total price to get it delivered to their door… so the choice boils down to your home gym wants and needs.
Going from a 4X4 7 gauge flat bench, it looks a bit lacking from an aesthetics standpoint, but in actuality it weighs more than my custom flat bench and in my opinion looks even more slick with all its decked out extra features and actually matches the same 2X3 11 gauge uprights of my power rack, I also like the pads better on the Rogue which are much firmer.
Rogue should make their benches in different colors, both frame and upholstery choices, but for the usual black patterns they go with, it's still sleek, tough and looks good and the durability is there, and it gets the job done in multiple ways.
It would rock if they give the option of a 12″ wide pad to buy and attach to it (especially with the rock solid density of their pads), but 11.25″ wide does suffice more than good!
The seat pad should have a third adjustment angle added for variety to go with the other multiple angles, but it doesn't really need it and the slight incline angle works good when I used it on incline bench press.
The transport wheels could be a bit nicer like the ones on the Rogue AB-3 model bench in looks (especially for the price of it new), but this is just cosmetic and they hold their own just as good as any other transport wheels would.
Laser cut numbers of the degree of angles etched into the sides of the grooves where the ladder adjusts would've been a nice touch to indicate the angle being used, but this is purely a cosmetic rant and most of the angles being used by me at most would be 3, or 4 (0° Flat, 30° Incline, 85° Military and maybe one of the higher incline angles), so they're easy to find.
When setting up for incline angles the bench sticks a bit further out, which might be impeded by a lower rear stabilizer/crossmember if you have one for an un-bolted rack to keep it from splaying. If this is the case, you can turn the bench around and setup for inclines from the inside of the front of the rack to avoid this problem.
This will also be dependent on how far back the lower rear crossmember is and if it's raised a few inches higher, or not. Another option is to put the back legs over the bottom crossmember to clear it for inclines, but this might be the lesser ideal option having to lug it over the crossmember back and forth.
One other solution that works like gold, but is the more expensive route, is to buy a pair of monolift hooks and set them up for incline bench press inside the rack. The monolift attachment arms swing farther out giving you enough clearance to position the bar right where it needs to be when tested at a 30 degree angle, totally eliminating having to roll the bench farther back with the lower rear crossmember impeding it.
This setup is extremely comfortable too as opposed to the sometimes awkward setup where the bar is too far back when un-racking on inclines in the standard J-hooks.
Note: you'll have to play around a bit to find the hole with the perfect height to un-rack the bar at and to get full range of motion on during the lockout portion, I recommend testing it with lighter weight just to be safe when figuring out which height works best.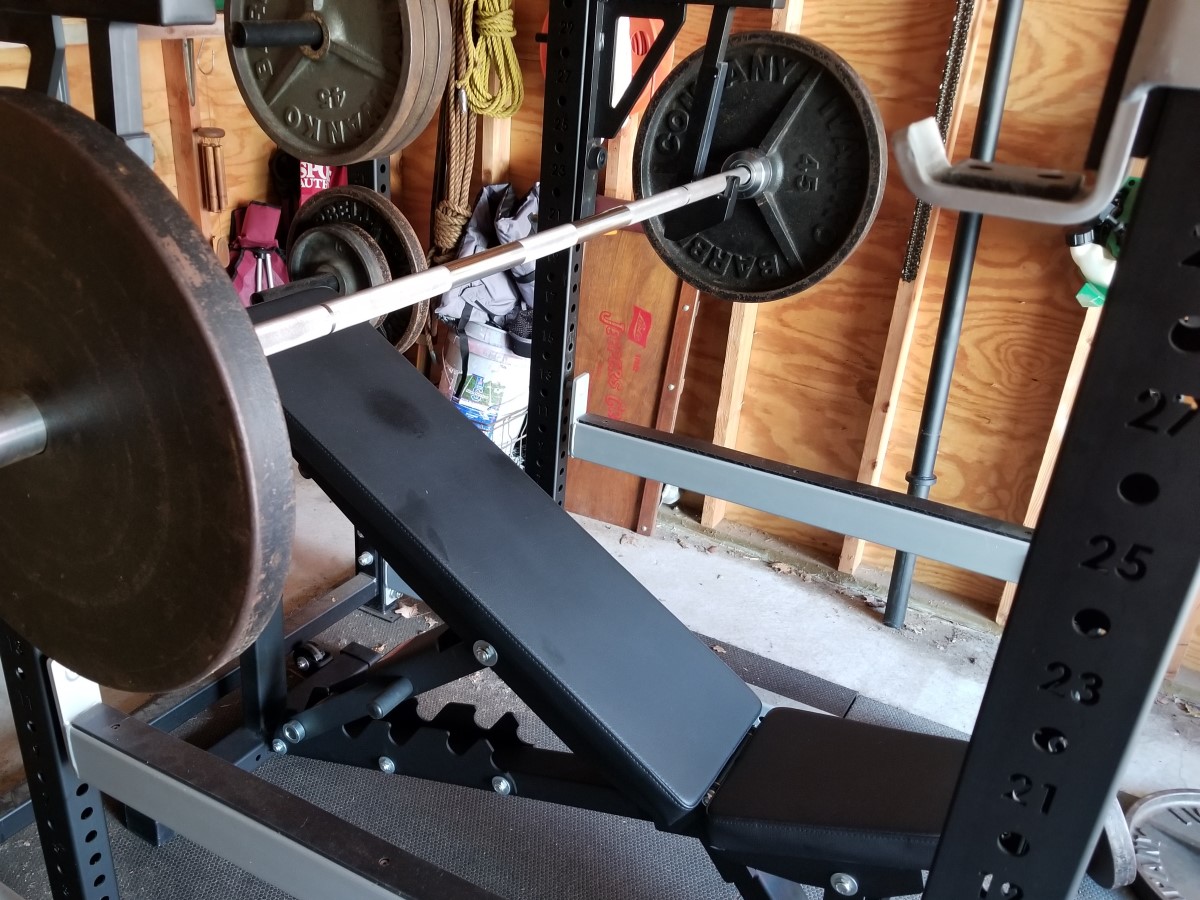 With monolift hooks you'll go up a few holes higher than standard J-hooks, also keep in mind when re-racking of the pattern that you're going in to set the bar back on the arms, since it's a bit different than your typical re-rack on J-hooks.
The Legend 3-Way Bench and Why I Still Own It
As some of yous might've noticed in this lengthy review, I mentioned owning a Legend 3-Way Bench (Model 3103). Here are the technical specs on it and why I still have it in my home gym…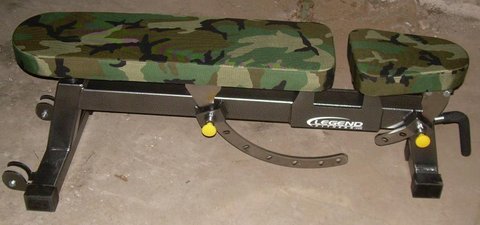 The pad height is 18″ tall (17.5″ in the incline position).
Pad width 10.25″ (12″ wide pad optional, or can be ordered at a later time too).
Weighs 95 lbs.
3″ Durafirm padding.
Total pad length 35.5″
Total height of the bench 49.5″
Total length of the bench 56″
Width of the back legs 20.5″
Seven back pad angles: 0°, 15°, 30°, 45°, 60°, 75°, 85°
Three seat pad angles: 0°, 15°, 30°.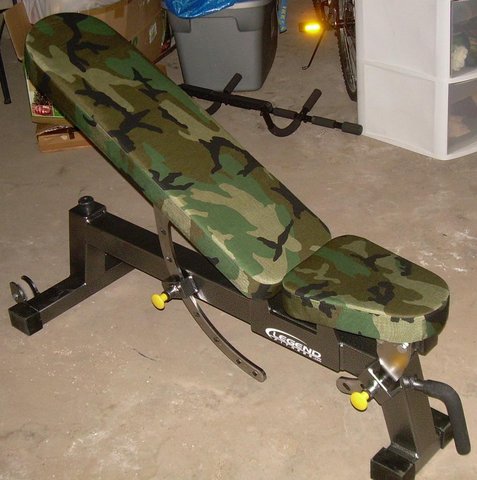 The Legend 3-Way Bench is a nice, well rounded bench and the 3″ Durafirm pads are a good middle ground as far as rebound goes on them and it's comfortable for all kinds of movements on it.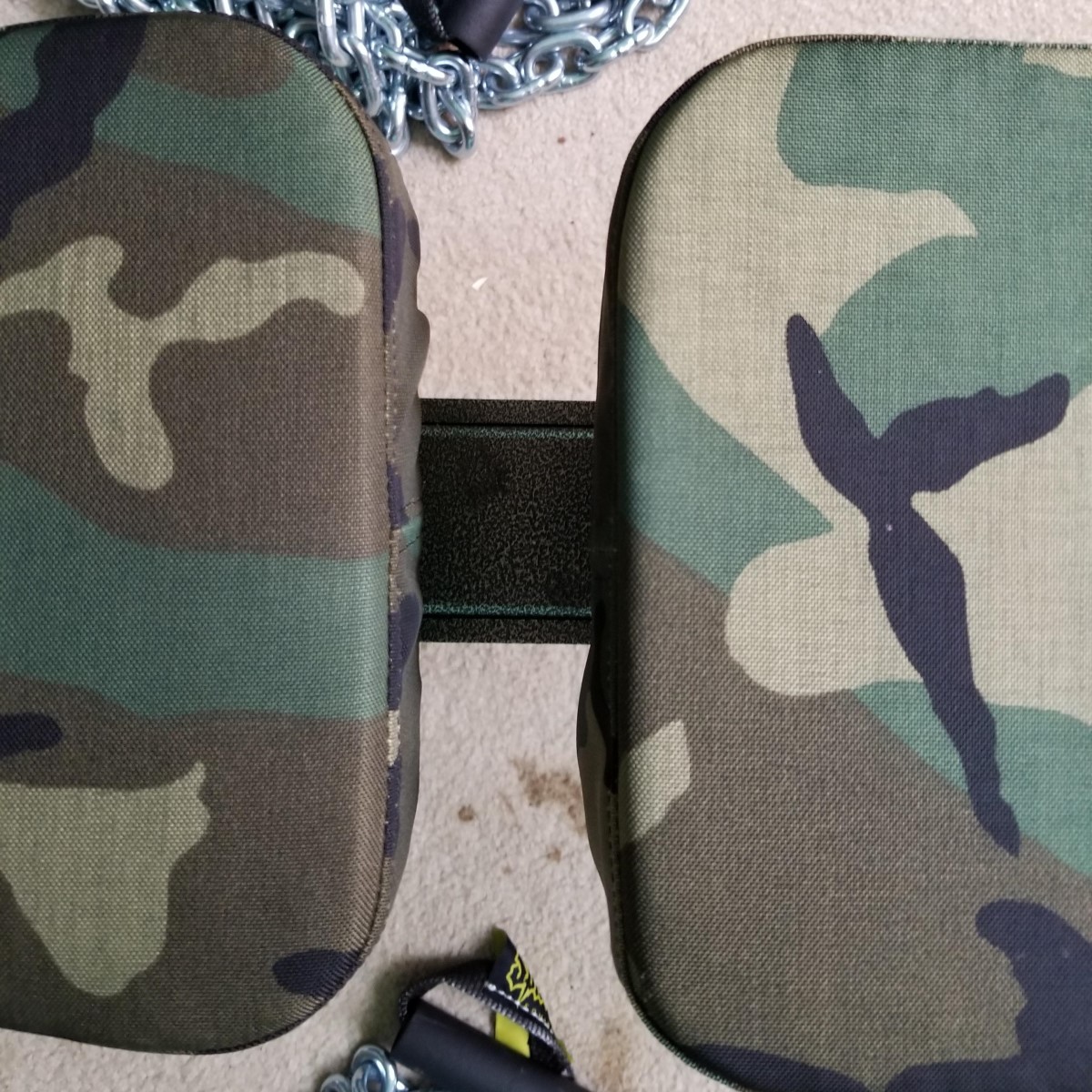 The pad gap is more prominent on the Legend (around 2″ apart), but has never been a problem for me as I land up positioned on the seat pad when benching on it anyway.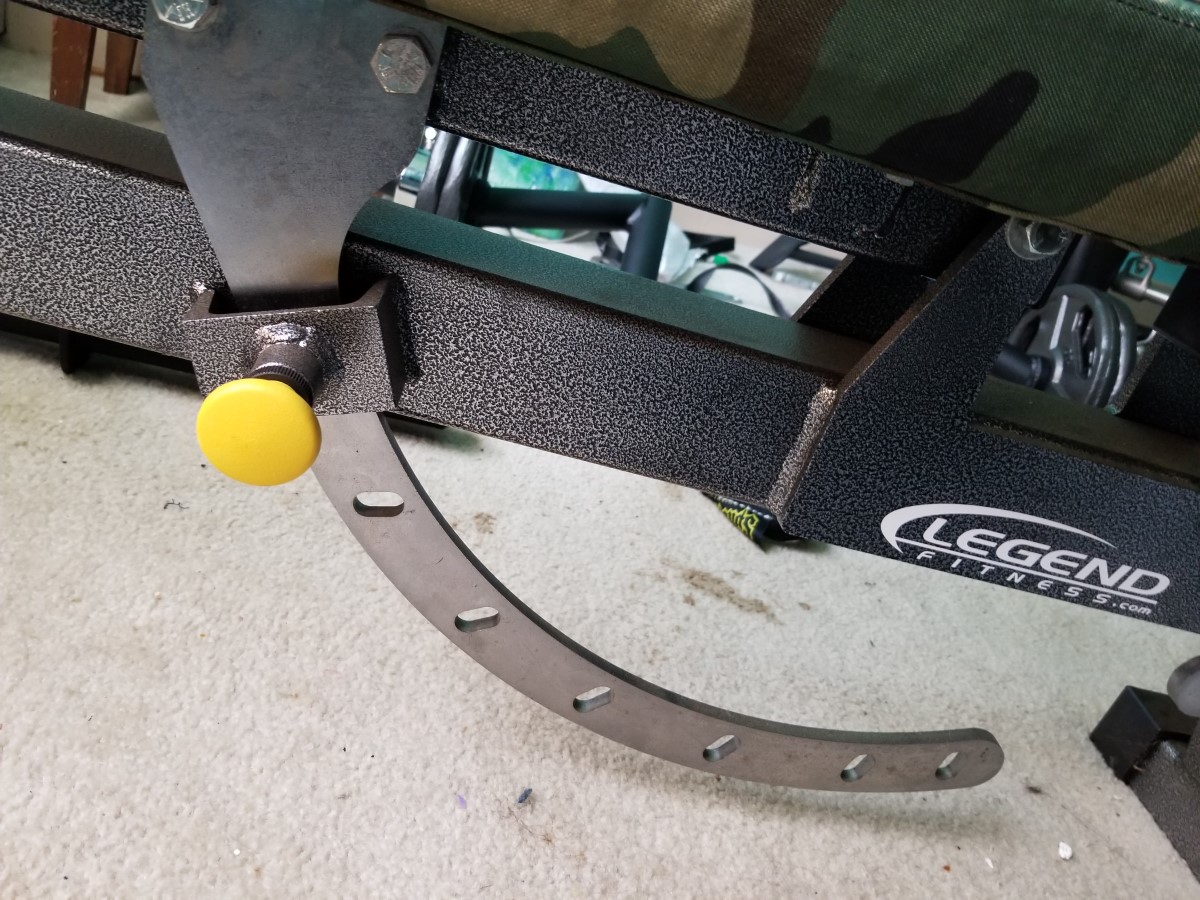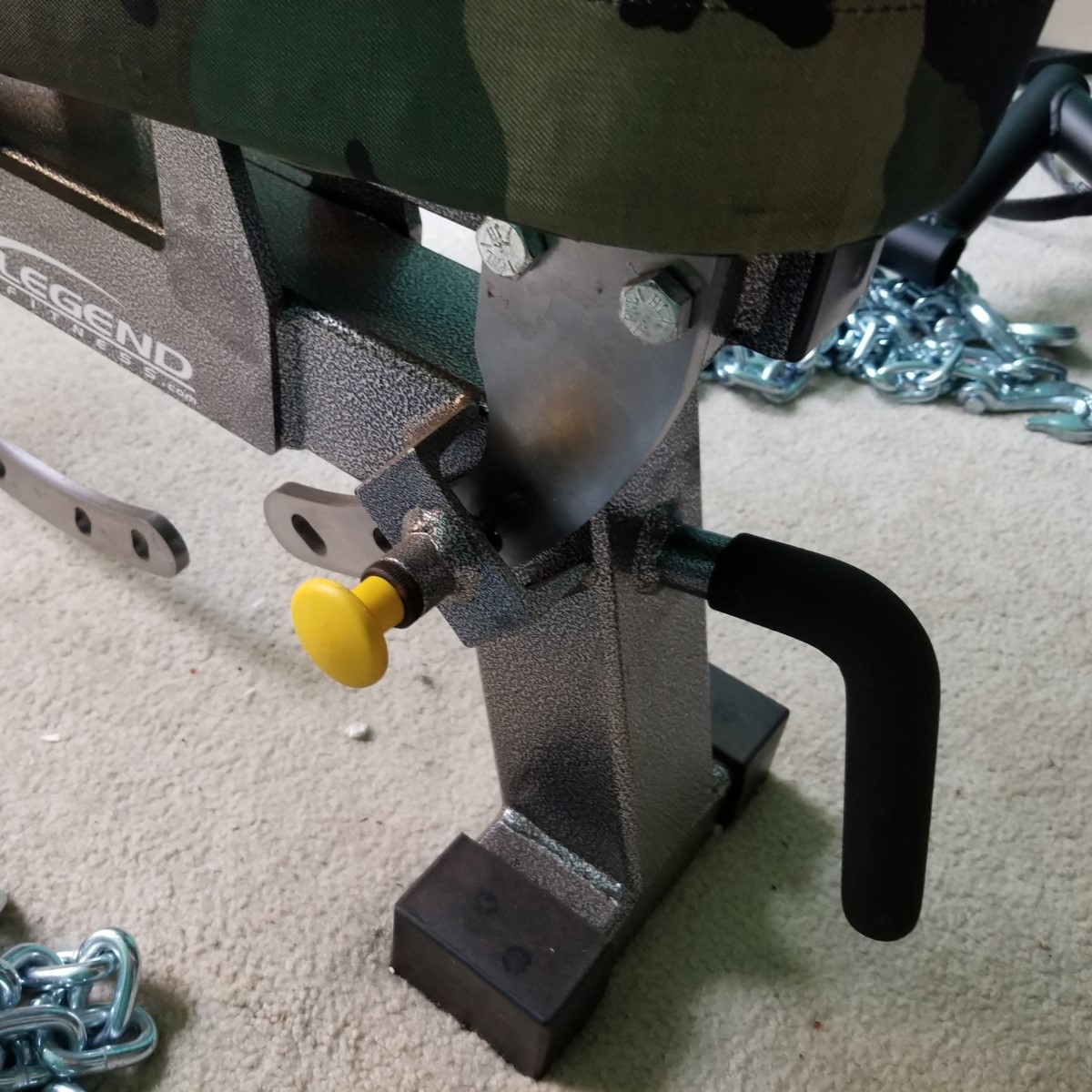 What I like about the Legend is that it has more precise and specialized angles due to the 3/8″ pop-pin design that locks into the cam type thick steel with adjustment holes strategically placed for particular degrees of angles, which is why I kept it exclusively for my dumbbell station (The Rogue is exclusively used in my rack/barbell station) and both stations are in two different areas far from each other.
Another great feature of the Legend is that you can get it in one of many colors for the frame and upholstery since they're made to order (the solid colors are vinyl material and the woodland camo and desert camo designs are made of cordura material), this is something Rogue lacks on their benches which would be a nice personalized touch.
A few minor nit picks on the Legend (in my opinion) is the 18″ height in the flat position which works for me but is a bit less optimal for leg drive, unlike the Rogue and previous flat bench I own (at 17.5″ and 17″ respectively).
Another minor gripe would be the stock 10.25″ wide back pad, I'm more of a broader build so when I bench, anything closer within the 12″ range, or an exact 12″ back pad keeps me better balanced and supports the shoulders more.
The above issue can be remedied with purchasing their 12″ wide pad which I've been thinking of getting sometime soon to replace the 10.25″ pad, even though it'll be used only for dumbbells these days I figured I might as well get the best support on it.
I bought this bench years back and didn't know they had the option for a 12″ wide pad, otherwise I probably would've got it back then.
After owning the Rogue it feels much more like a traditional flat bench while still being adjustable and slightly better stability than the Legend (this is not saying much since the Legend is very stable too), but the Rogue feels like it's just planted onto God's green earth when sitting and laying on it to press.
And finally, the steel pop-pin design is absolutely trust worthy and will never break when in use on inclines…but under a loaded barbell in a rack (just from being in the presence of and using both designs), I would trust my life with the steel ladder design on inclines more with the insanely "Overbuilt" construction of it (versus a pin), it's just on a whole other level of being indestructible!
Final Thoughts
For the price I got it for in contrast to the price it goes for new, I have zero complaints, and some might ask:
"Hey Tony, why didn't you get the Rep AB-5000?"
I'd simply say this after upgrading from certain overseas pieces of equipment and little by little upgrading to some primary U.S. and Canada made pieces: There's just this quality to overbuilt detail that I didn't want to go backwards on; in the case of the Rogue Adjustable 2.0, the rock solid ladder design with minimal working parts to adjust it, and the welded and already assembled design.
"But Tony, what about the decline feature that Rep offers?"
Aside from scoring a decent deal for an overbuilt tank of a bench, I barely ever use the decline feature and only ever used it on my old cheap adjustable bench press when I had it at the time for like one movement, which was the decline pullover. Maybe if I had a quality decline feature (leg hold portion) I would do decline situps on it too once in a while, but I'm more partial to aligned spine core movements such as pushups and decline pushups anyway, so a decline feature, while a nice extra little feature to have if it's available to mess around with, is a smaller degree of importance to me and how I train.
Another thing to add is that dips/weighted dips can easily hit the triceps and lower pecs extremely effectively depending on how upright, or forward you lean during the execution of the movement and can easily replace decline pressing if you have healthy shoulders for that movement.
"What will become of your custom flat bench to IPF specs?"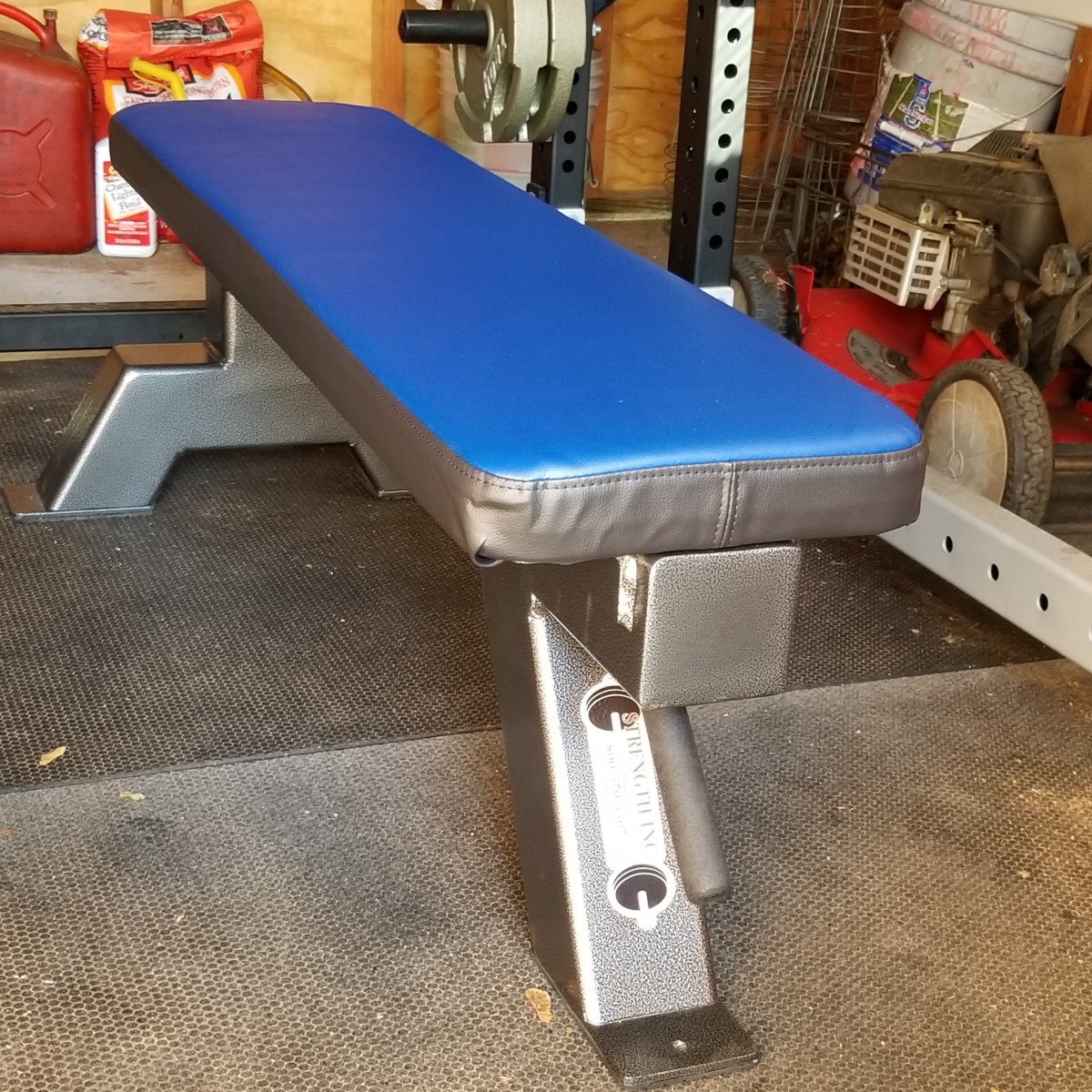 It's an absolute beastly tank and no doubt it rocks for what it is. No stone was left unturned in the build quality of it, and it will last for ages like most overbuilt equipment, but I wanted versatility too along with the rock solid foundation of the bench especially in a home gym, and since I don't compete and have no issues doing other exercises, I'm not too strict on the big 3 lifts. However, with the Rogue I have the IPF specs covered even if I did want them included. With a bench like this flat bench, or not, the Rogue has no weak points and is just as rock solid as a traditional one.
So with that said, the flat bench needs to find a new home due to space and due to the Rogue 2.0 Adjustable Bench covering everything I could possibly want out of a dedicated rack bench!
I dedicate this review in honor of the great Franco Columbu, one of the strongest bodybuilders on the face of the earth.