Very few things are as important for strength training as a power rack.
While you can get a budget power rack at around $300, spend more and it's a whole different world. A better rack feels as solid and safe as one at a commercial gym and has several features you might have taken for granted until you notice the cheaper racks are lacking them.
You Don't Have to Bolt Down Your Rack
A "freestanding" power rack is one you can use without worrying about bolting anything to the floor. This is the easiest to deal with.
I should present a little bit of context so that other people don't get in your ear and make you feel like you need a bolt-down rack.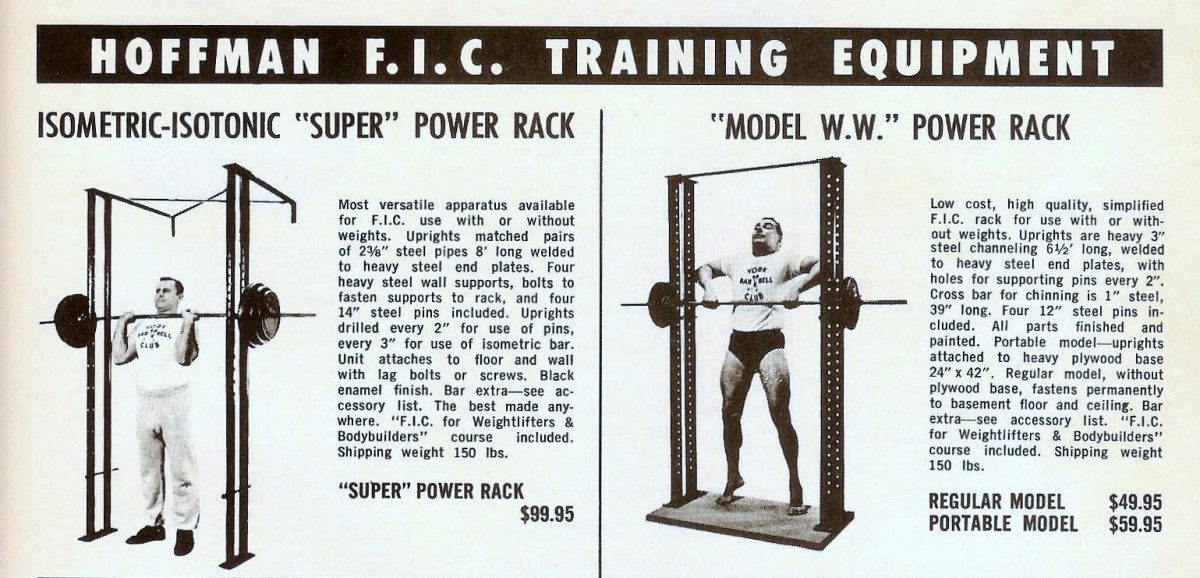 This pic is from the era where the "a real power rack is bolted to the floor" assertion is rooted. The originals were very shallow from front to back and had to be bolted down to the floor or wall.
In commercial settings, having a bolt-down rack still makes sense so that it doesn't shift around from people using it all day and is impossible to tip over even if someone is monkeying around on it.
There has been a resurgence in bolt-down racks for home use, chief among them Rogue and their R-3 rack. At home these are more essential for Crossfitters for exercises like kipping pull ups. For other people, eh, not so much. Do you bolt down all your furniture? Or do you shove it back into place after a while when you notice it's moved? Yeah, not a big deal.
Important Guidelines for Picking a Home Power Rack
Some of this comes down to what kind of gravy you like best. I recommend you look at the product page of a couple choices I go over further below and see if anything jumps out at you. Don't worry about most of the features, or you'll make yourself crazy and never make a decision.
The point of this guide isn't to sort out every feature but to steer you towards a few solid choices that have most or all of these most important features.
Open-Ended Design
Some nice freestanding power racks have adopted the open-ended design of bolt-down racks, where you have complete freedom to slide your bench back without any lower horizontal brace getting in the way.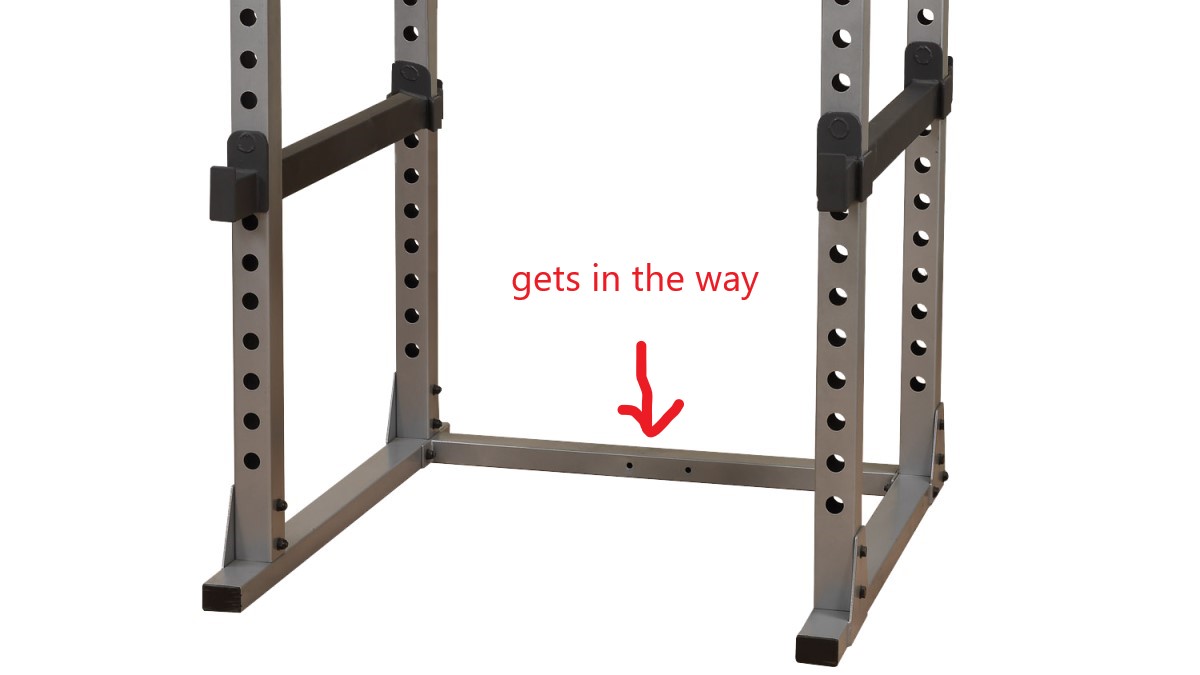 In particular this often becomes a problem when you set your adjustable bench to incline position and need to slide it back a little more to get your body under the bar. It runs up against the rack's cross-brace, as you can see above. It also will get in the way of your feet when unracking for squats.
Freestanding open-ended racks have to designed heavy-duty enough that they remain stable without needing the lower cross-brace so much.
To accomplish this, the racks need these features for stabilization:
3×3 inch tubing
Gusseting on the bottom corners
A deeper footprint
Very heavy weight (300+ lbs)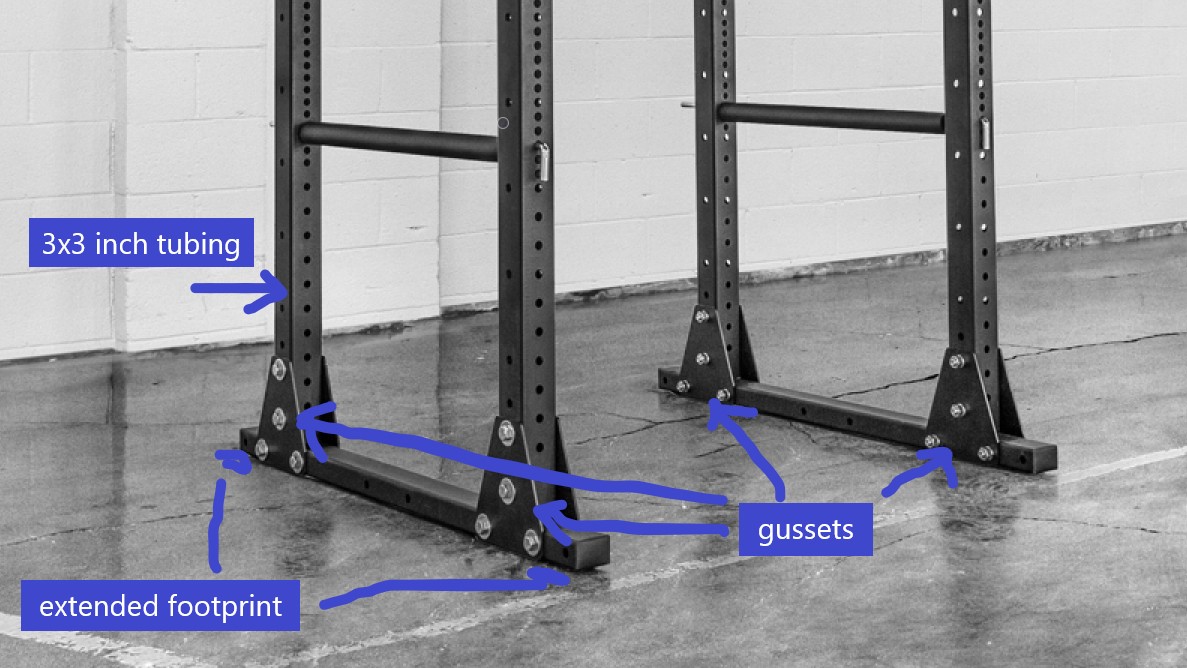 This increases the price significantly in the interest of omitting that lower cross brace that gets in the way.
Here's another look at why the extended footprint is necessary: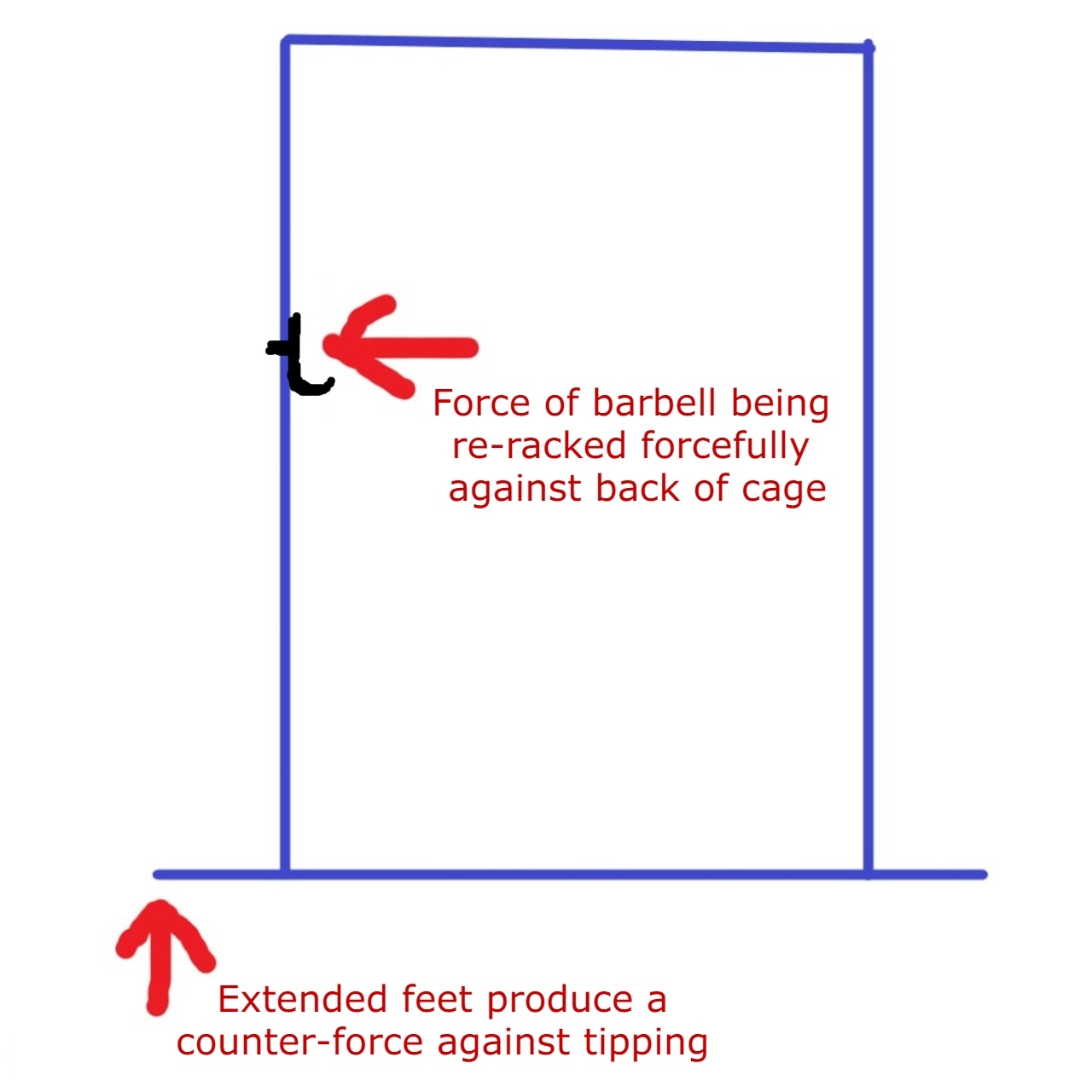 An extended footprint beyond where you're racking the bar acts as a counter-force, leveraged against the floor, to prevent the rack from tipping. Intuitively this should make sense.
Sturdiness / Weight / Weight Capacity
Some companies advertise a weight capacity of 500 lbs, 1000 lbs, whatever. Don't compare that number. Any rack out there will hold the amount of weight you're lifting and not break. Steel is strong stuff. It really comes down to how stable the rack is, and that consideration is not at all indicated by a weight capacity rating.
Whether or not it's a rack with an open-ended design, you want a rack that feels solid, doesn't shift around, won't tip at all when you walk into it with a heavy barbell on your shoulders, and doesn't wobble when you do pull ups.
For that super stable feeling, get a rack made of 11-gauge steel and either 2×3 inch or 3×3 inch tubing. These always weigh in at over 200 lbs. Some commercial grade ones are closer to 400 lbs, which is a burden to assemble (or move!) but great to use. For a freestanding rack, it mostly comes down to heavy = stable.
You can weigh down some racks further by adding 45lb weight plates to storage pegs, preferably close to the floor.
In terms of the rack staying put and not sliding, rubber flooring makes a huge difference. The rack will slide too easily on concrete or other surfaces.
Pull Up Bar Height and Your Ceiling Height
A power rack is partly wasted when its pull up bar is too close to the ceiling to give you head room over the bar. Sure, it's nice to have a tall rack that you can do standing overhead presses inside, but you have to balance everything out with your ceiling height.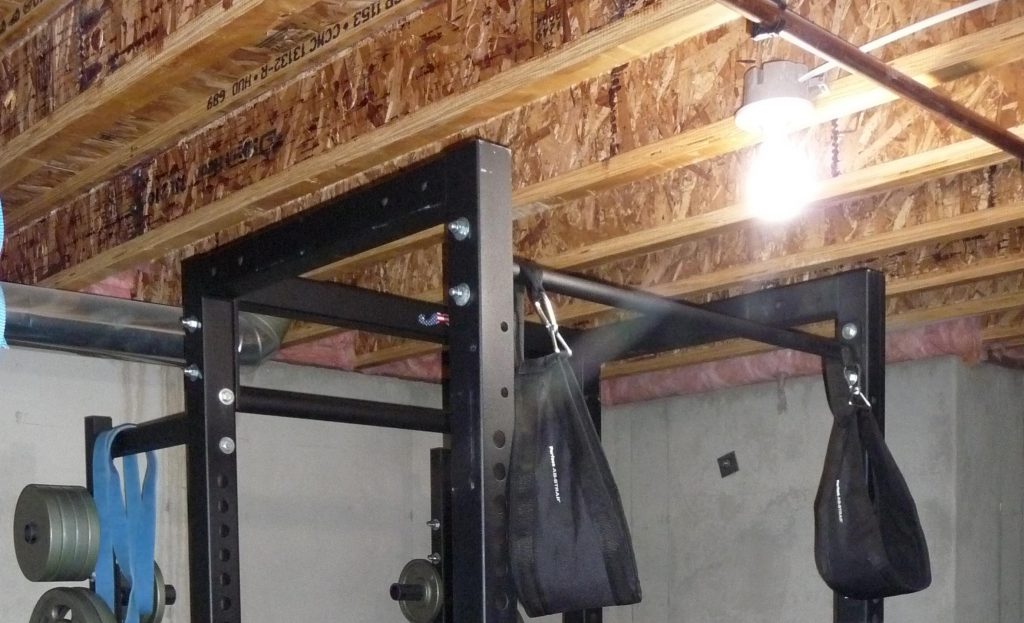 Modern racks with the pull-up bar installed into any holes on the uprights on the front, rather than on the top frame, gives you the flexibility to install your pull up bar at the perfect height. This is the best design, giving you a full-height rack while not sacrificing head room for pull-ups. All of the racks I feature below have this feature, with the exception of the ForceUSA MyRack.
J-Hook Choices
This is what you rack the bar on, and it's almost as important as the bar itself, because it greatly affects your experience during every single set and whether your bar's knurling gets ruined by the hooks.
An option for sandwich J-hooks is a plus, in my opinion. The way they are constructed, there's a thick slab of UHMW (ultra high molecular weight) plastic protecting your bar's knurling no matter where you slam it into the hook, even against the front edge mistakenly. They also are thinner side-to-side and stick out from the rack farther, giving you more room for slop side-to-side when re-racking the bar.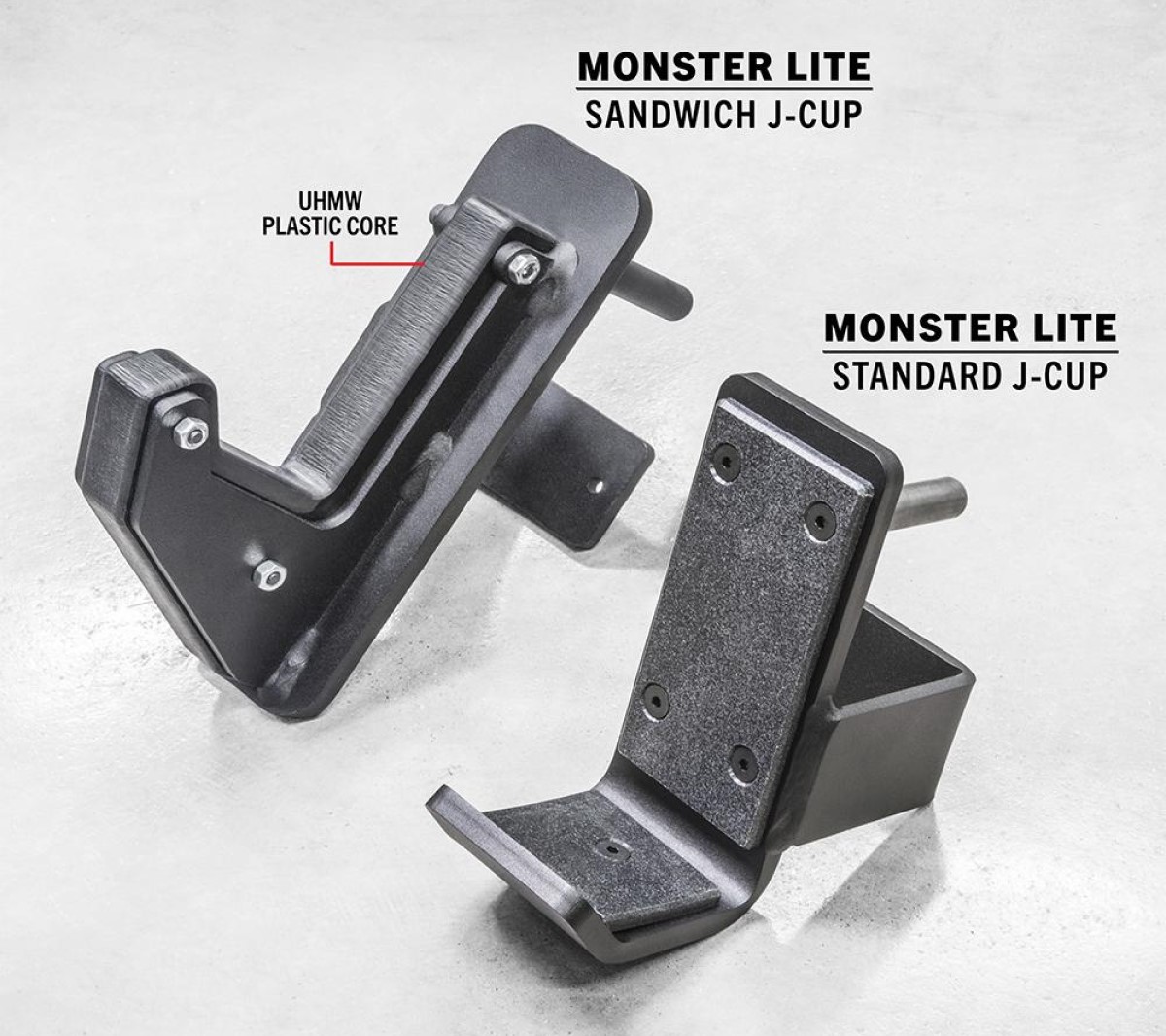 When given the option, most everyone would prefer sandwich J-hooks over regular J-hooks. The price is the only factor. I wrote a post all about these.
Failing that, at least make sure to get UHMW lined J-hooks, the one on the right side in the pic above.
Safety Straps
These have been around long enough now that most everyone has learned to trust them. The design kinks have been worked out.
These serve the same purpose as traditional steel safety bars, catching the bar at the bottom of your range of motion if you should fail a set, but with a few advantages over steel bars:
Reduced noise
Reduced wear on the bar's knurling
Reduced risk of rack or bar damage if you drop the bar
Reduced need for Westside hole spacing
To explain that last point, straps can be set with one anchor higher than the other so as to adjust the strap hang height just right. This way the extra holes in the rack uprights are not necessary.
If you aren't aware, Westside spacing is a feature originated by the people at Westside Barbell, a well-known and invitation-only powerlifting training facility. They started putting a hole at every inch on center in the bottom portion of the uprights, rather than every 2 inches or more, so as to allow the lifter to set the safety bars at his perfect height for bench presses, just under his range of motion but high enough to save him if you should fail. The industry has widely adopted the design. It just so happens that every rack I feature further below has Westside spacing because it's so popular.
Anyway, if you don't get safety straps, the next-best alternative is safety bars that have some kind of protection on them, such as pin-and-pipe safety bars or UHMW-lined safety bars. Sure, sometimes you'll only hit them if you fail a set, but if you do a variety of exercises you might be resting the bar on the safety bars/straps for certain exercises.
Other Add-Ons, and Compatibility Between Brands
If you have your heart set on attachments like a monolift, lat pulldown, or dip handles, make sure you can get one from them or a compatible one of another brand.
You might be able to find a compatible brand of power rack attachments in this guide. There are like 20 different sizes, and some are totally incompatible with others. Your best bet for compatibility is 3×3 inch tubing, which nowadays is the majority of racks.
Now on to a few specific racks that meet most of those criteria…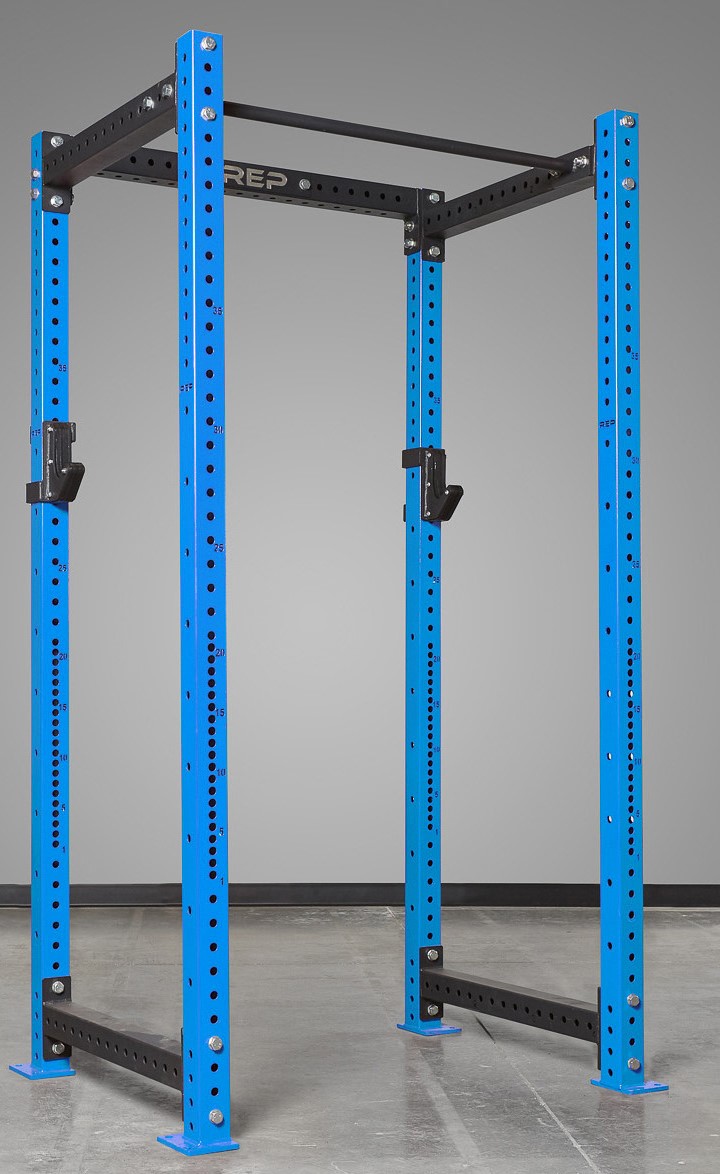 Summary
Price:
$670 and up
Weight:
275+ lbs
Height:
93″ or 80″
Footprint Depth:
47″ / 36″ / 30″
Possible Issues:
– Must be Stabilized or Bolted Down
– Imperfect Compatibility for Attachments
What Makes it Stand Out:
– Quality Control
– Height and Depth Options
– Stabilizer and Extension Options
Rep Fitness makes very good quality equipment, nearly on par with Rogue, but not USA-made, and for a slightly lower price. Unlike Titan, they don't really copy Rogue's models.
Rep doesn't make a flat-foot rack. This is their featured power rack in the same price range of the other racks here, and although at first glance it appears to be a bolt-down rack, it can be configured to be freestanding, as I go over below.
On the product page you'll see several customization options, including height and depth choices, which is easier to deal with than the way Rogue and Titan both separate out the different heights and depths into different models you have to browse through on separate pages.
I confirmed with Lance at Rep Fitness that you can mount the pull up bar anywhere on the uprights instead of the top frame, giving you height options for it.

The basic unit is meant to be bolted to the floor if you don't add any kind of bracing.
One option to avoid bolting it down is adding the bottom rear stabilizer. I like the way the stabilizer is curved backward, a design that makes it less likely to get in the way of your bench or feet… but we're only talking a few inches, and it will therefore still get in the way with some benches or situations.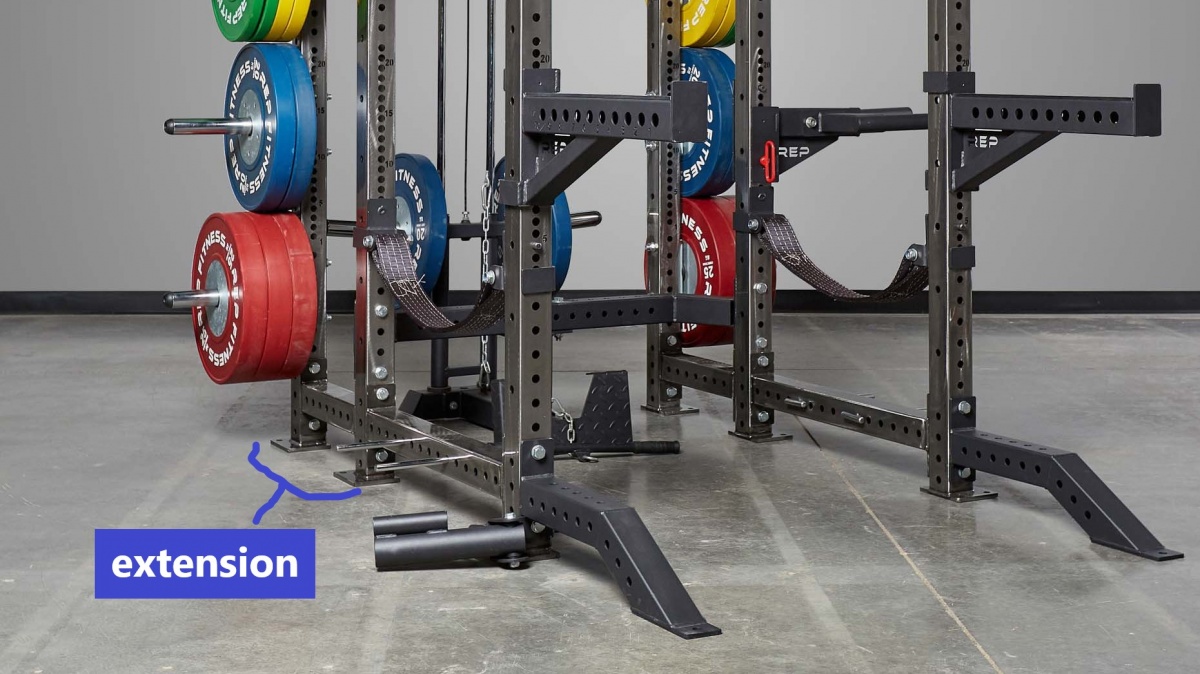 The other option is to add the rear extension shown here, on which you can optionally install plate storage pegs, which is also great to have, both for storage sake and to weigh the rack down. You also see the optional front feet extension, which will help stability a little but not as much as the rear.
The size compatibility with the Rogue Monster Lite attachments is a plus. They are sized in metric, so the compatibility is not going to be perfect and some attachments likely will not fit.
By the way, as far as those band pegs... Not a great idea to use bands on a freestanding rack unless you weigh it down good. You could pull it right off the floor.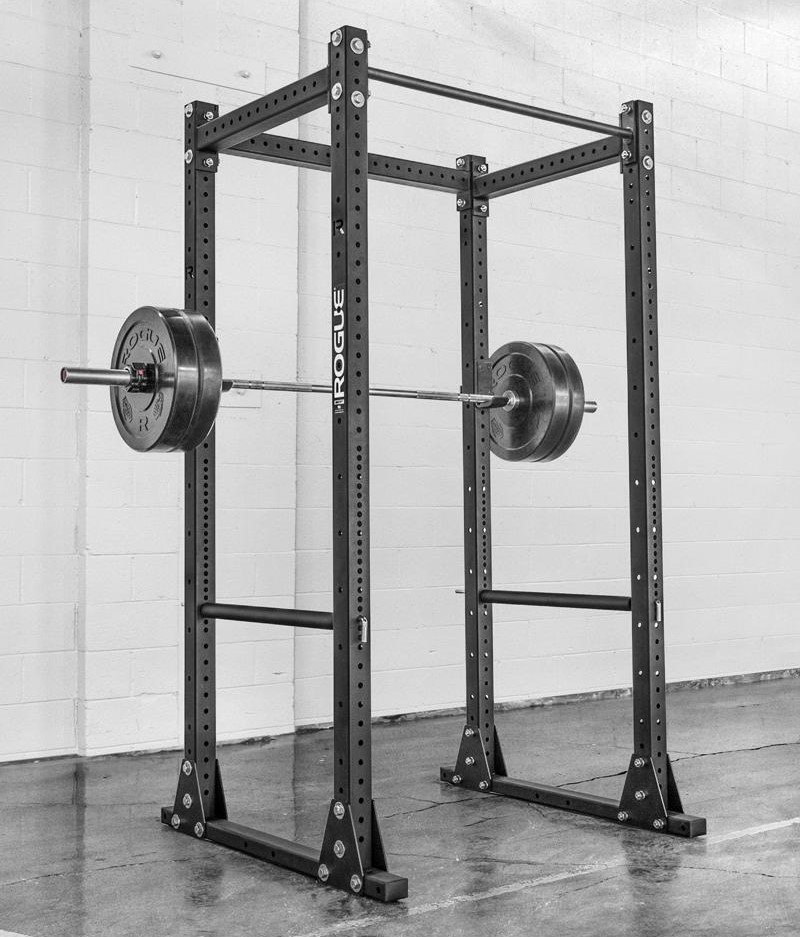 Summary
Price:
$895
Weight:
295 lbs
Height:
92.4″
Footprint Depth:
48″
Possible Issues:
Nothing I can think of
What Makes it Stand Out:
– Good Attachments Compatibility
– Quality Control
– Made in the USA
You can't go wrong with Rogue. Quality is always a given. Their designs and quality control are among the best, at least for this price range. People who want to avoid the risk of headaches with bad parts that need to be replaced go with Rogue. Occasionally there can be an issue, but they do such high volume that they've got their processes down better than anybody to avoid the problems. They make their racks (and many other things) in their own huge facility in Columbus, OH, making it one of the only made-in-the-USA choices.
Accordingly, Rogue is more expensive than other options.
The 92″ height will fit under a 8ft (96″) ceiling, and you can adjust the pull up bar a bit lower during installation as needed.
Naturally, all of the Monster Lite attachments fit this rack, as well as some from Rep Fitness and other brands.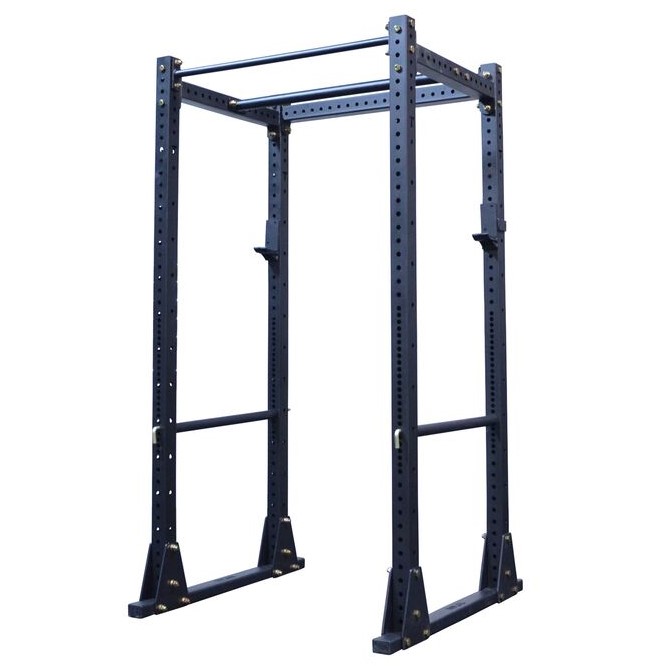 Summary
Price:
$660-700
Weight:
280-296 lbs
Height:
92″ or 82″
Footprint Depth:
50″
Possible Issues:
– Imperfect Compatibility for Attachments
– Lower Quality Standards
What Makes it Stand Out:
– 82″ Height Option
– Optional Rear Extension
Titan's X-3 line includes several power racks and squat stands made of 3×3 inch tubing. The flat-foot X-3 is a freestanding variation of their regular X-3 power rack.
Titan is known for their low prices and making direct copies of Rogue equipment, sometimes with corners cut. It is not unusual for Titan's equipment to arrive scratched up or a weld misaligned. Their UHMW plastic inserts protecting J-cups and safety bars are a bit roughly cut compared to the clean polished look of other brands. Picky people will not like Titan. Others don't mind taking a gamble. Titan does send you replacement parts if there's a problem.
Their flat foot rack has a 50″ deep footprint, which is 2″ deeper than Rogue's. A previous version of this article I had this rack as weighing 343 lbs. As often is the case, the info from Titan was inaccurate and has been corrected to 296 lbs for the 92″ tall model, which is almost exactly the same weight as Rogue.
Unlike Rogue, besides the 92″ height one Titan has a 82″ (6'10") height version for fitting under low ceilings.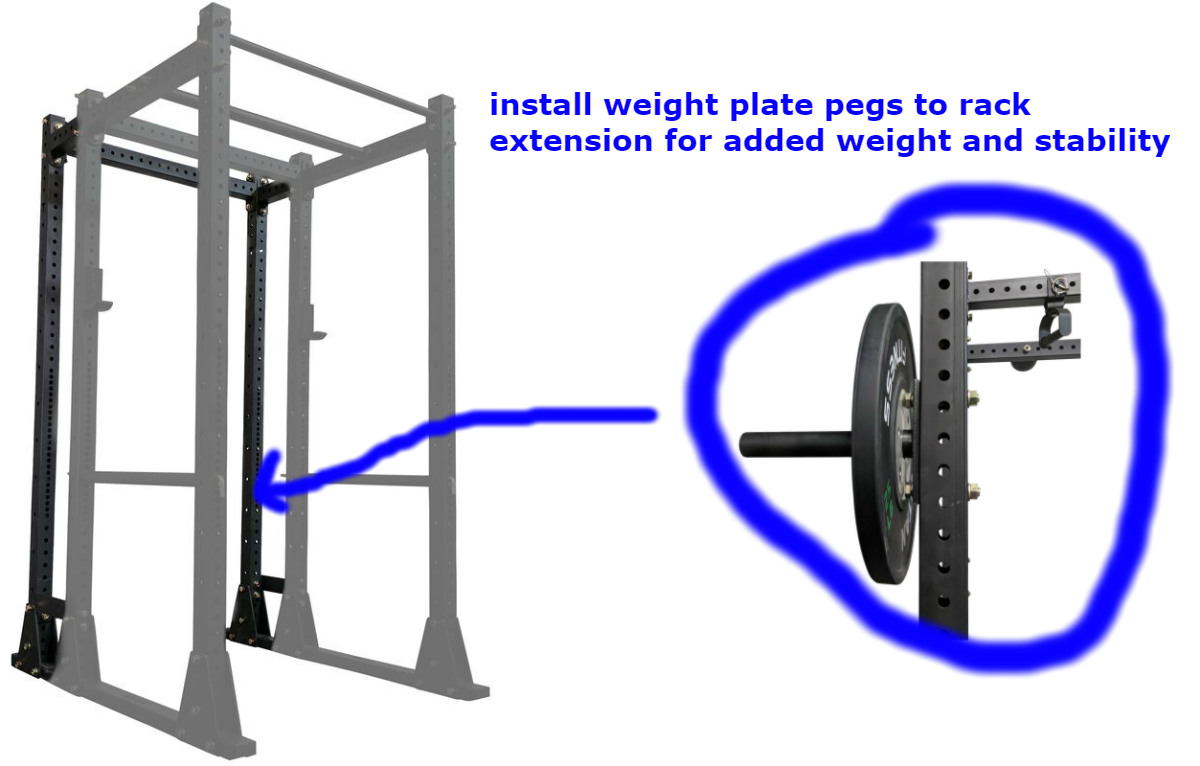 For added stability, add the rack extension and set of 8 plate storage pegs to really weigh down that sucker.
Titan's tubing size is metric, converting to about 2.95″ square tubing and 11/16″ holes. Due to this, some attachments from Rogue and others will fit, while some may not. This may not be an issue for you, given that Titan makes a ton of attachments for it.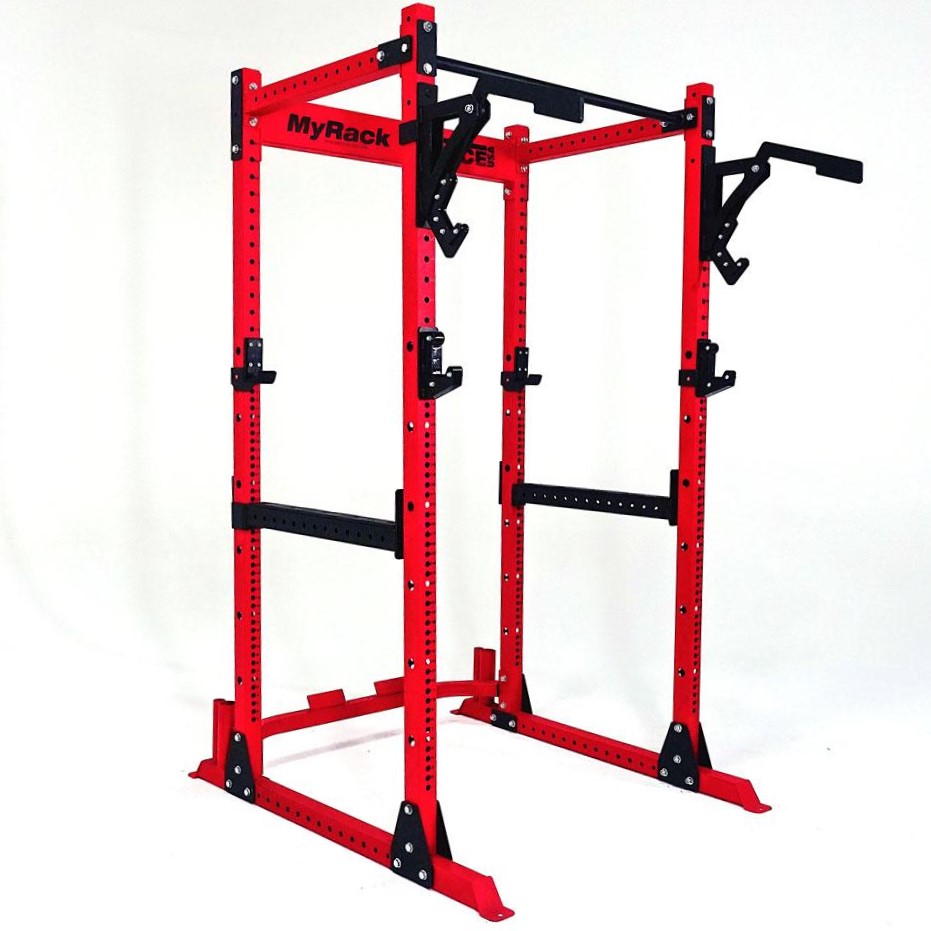 Summary
Price:
$759 + $99 shipping
Weight:
176 lbs
(or likely ~230 lbs with necessary features)
Height:
87″
Footprint Depth:
55″
Possible Issues:
– No Compatibility for Attachments
– Fixed Height 87″ Pull Up Bar
– 12-Gauge Steel
What Makes it Stand Out:
– Modular design lets you pick features
without paying for unused parts
The ForceUSA brand is owned by Net Media Group, an online marketing agency that promotes many brands like Precor and others. They also own Diamondback Fitness.
Being meant for mass appeal, this rack is not as heavy duty as some other models that the more hardcore or picky lifters would prefer. It is made with only 12-gauge steel, which is a bit thinner than the 11-gauge steel in the rest of the racks I'm talking about in this post.
The initial $499 price when you view the product page is a little deceptive in that the rack is not functional unless you add a few things. For $499 you get only the basic frame. No pull up bar, no J hooks, no safety bars. You have to add those on the product page, and then you'll see a better total, which comes to $759 minimum. It is called modular, and they give you a few options for each of those.
On the other hand, if you're active duty military, a veteran, or any first responder, ForceUSA is one of the few companies who will give you 10% off, a good chunk of the price for something this expensive.
It has a lot of options and accessories, and at least from the pics they all look well made, clean welds, clean cuts, that kind of thing. I mention it because some brands with low pricing like this have more roughly made stuff. I have not heard much feedback about their products, however, so I can't say whether the pics are typical.
Like the Rep PR-4000, this has a bottom rear stabilizer, though in this case it comes standard with the rack. You can either install the stabilizer or bolt the rack to the floor.
It's a good thing that the base is so deep at 55″ to help prevent tipping, because this rack is not nearly as heavy as the other brands of racks.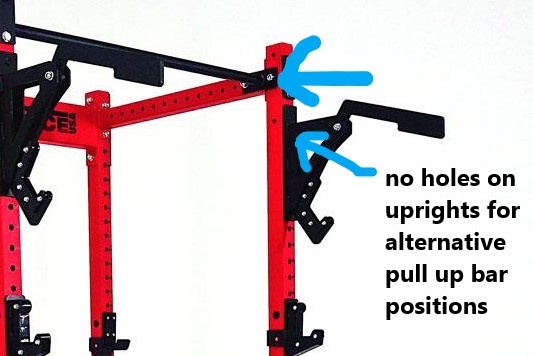 The rack is 84″ tall. The MyRack pull up bar can not be installed at any other height. This is unlike the rest of the brands here that are all flexible in where you put the pull up bar so that you can have the rack almost hitting the ceiling while the pull up bar is lower for head room. There are no holes provided on the inside edges of the MyRack uprights for the pull up bar to mount into at a different height.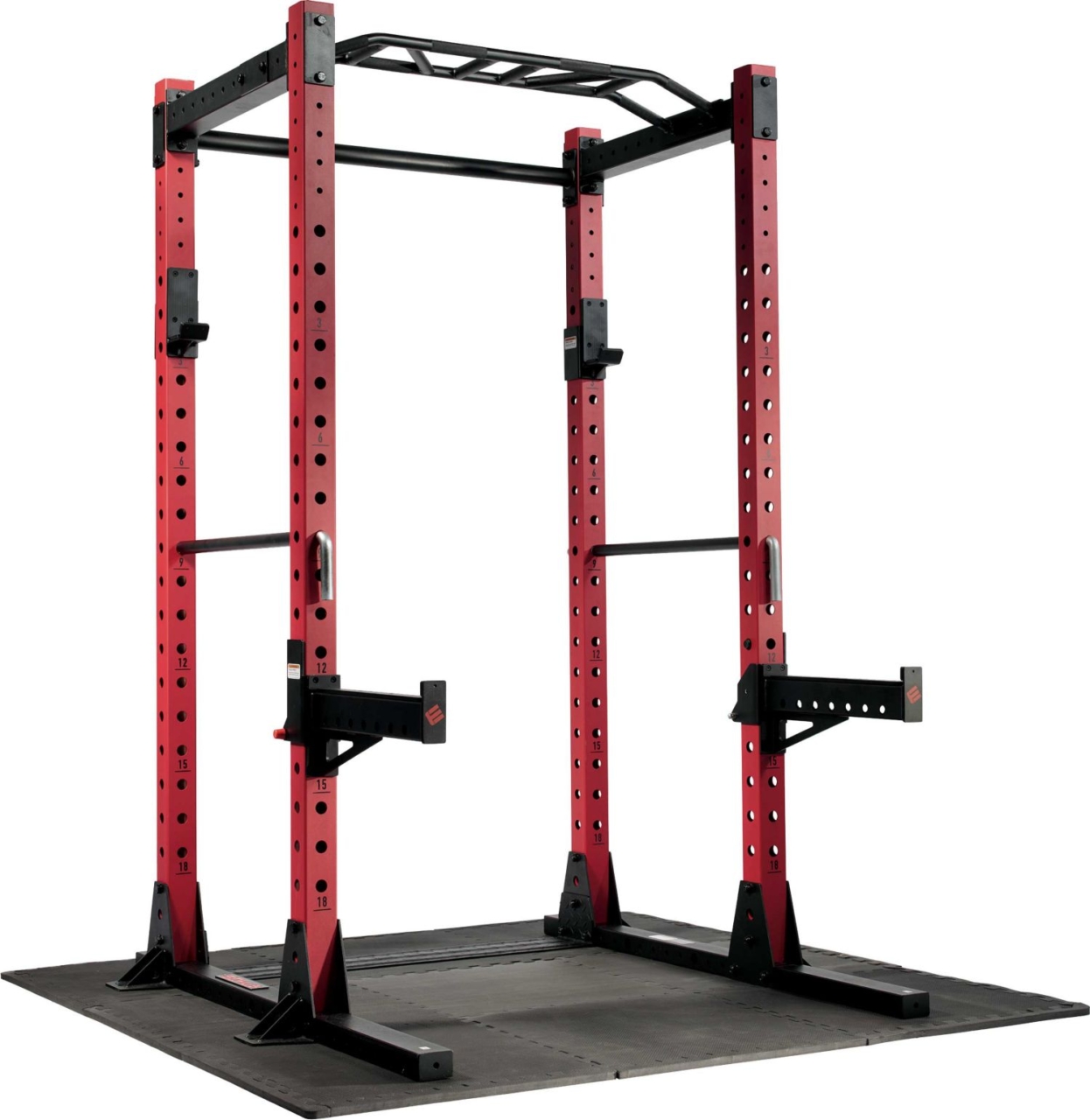 Summary
Price:
$750 + shipping or free pickup at any Dick's
Weight:
278 lbs
Height:
85″
Footprint Depth:
59″
Possible Issues:
– 3″ hole spacing throughout
What Makes it Stand Out:
– Fat pullup bar, multi grip pullup bar, and outside safety arms all standard
– Rogue Monster compatible except the hole spacing

Ethos is a brand exclusive to Dick's Sporting Goods.
Dick's charges shipping, or you can buy online and pick up at any Dick's store to avoid the charge.
This rack reveals a somewhat dated design with 3″ hole spacing all the way up, with no Westside style 1″ hole spacing in the bench press area, likely leading to a problem getting the safety bars at just the right height for all exercises.
While they offer zero additional attachment options, the standard rack includes outside safety spotter arms (in addition to the pin-and-pipe safeties) and multi-grip and fat pull up bars. They are compatible with some of the Rogue Monster attachments. The 3″ hole spacing could put a snafu in that for attachments using a locking pin. You could get compatible strap safeties from another store and negate the need for Westside spacing, with the way strap safeties are so adjustable.
Like the ForceUSA rack, it's ready to be bolted down should you so choose.
If you're an owner of one of the racks I featured here, how is it working out for you? Leave a comment below!