The Problem with Racks and Low Ceilings
Power racks' typical 7ft height poses a problem in typical residential apartments with 8ft ceilings. Basically in any home without high ceilings you're in danger of banging your head into the ceiling as you do pull ups. It's even worse in a basement with 7ft ceilings.
Quick way to eyeball ceiling height: The height of the top of the upper door frame on standard interior doors is about 7ft. In a basement you probably don't have such a door to eyeball with.
With an 8ft ceiling, say in a bedroom or garage, the issue isn't technically fitting a rack, but doing full range of motion pull ups can be iffy. Sure, the ceiling may be 8ft from the subfloor, but when you add carpet plus the layer of 3/4″ plywood and 3/4″ rubber on top that we like to put down for home gym areas, plus 12″ of headroom above the bar, you could run out of room doing full range of motion pull ups. Sometimes it works. Many years ago I was using a rack with a 82″ (6'10") high pull up bar, and I was getting an inch or two from the 8ft ceiling and never hit it.
With a 7ft basement ceiling it's pretty tight. You won't be able to tilt upright even an 82″ (6'10") rack after assembling it, because of the arc when tilting it up. In that case you will have to assemble it standing up, which is difficult but usually possible with another person's help. Some basement ceilings are even lower than 7ft, eliminating some racks from contention.
I'm giving you two types of solutions in this guide:
Solution 1: 6ft Power Rack. There are several of these. They will fit in virtually every basement or low mobile home ceiling. With it you can lift way more safely than one of those small lightweight squat stands would allow you to. Or go ahead, get stuck under a failed lift with no safety bars and hope someone hears your whimpers coming from the basement before you pass out.
Solution 2: Squat Rack with Open Top. This is especially good if you're over 5'9″ tall yourself. You'll find yourself banging your forehead on the pull up bar when walking into a power rack, then again on the rear crossmember when racking the bar for squats.
For solution 1, kneel on the floor and measure your vertical reach to determine how high the pull up bar needs to be to give your knees floor clearance for effective pull ups. Roughly speaking, the pull up bar needs to be at least your own height, if not higher.
---
Titan T-2 Short Rack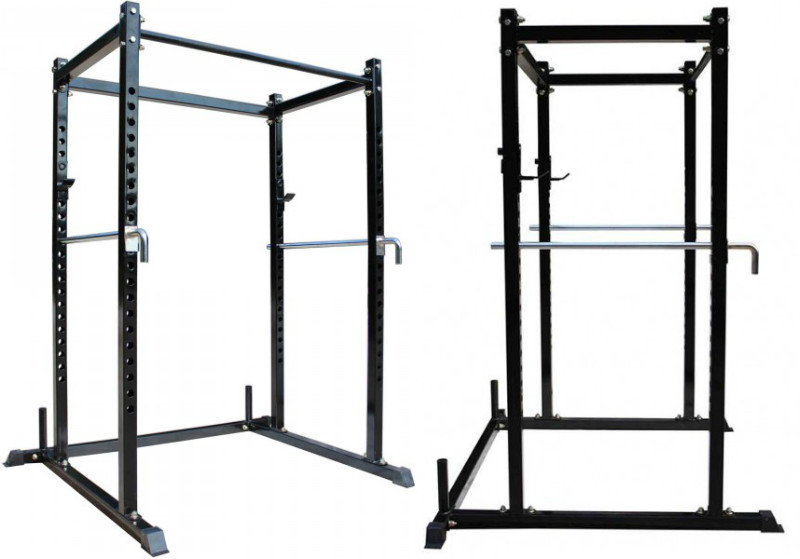 | | |
| --- | --- |
| Height | 71″ |
| Pull Up Bar | 68″ high, 1.25″ Diameter, Knurled, Powder Coated |
| Weight | 132 lbs |
| Steel | 12-gauge 2″x2″ |
| Price | $349.99 Titan Fitness |
Titan's full sized T-2 rack is what we rated as the best power rack under $300 (when it was cheaper), and that goes just as much if you consider only shortie racks.
Titan basically does low-cost Rogue imitations. And they do ok at it. They've been at it a while and have gotten better and better with their design considerations. They make weird decisions with new products, or they don't always think things through. Over the last few years they've improved some designs, but it reflects an initial lack of understanding of why other brands of equipment are designed the way they are.
We've done an overview of the full-height Titan T-2 rack in a separate article including several written and video reviews.
In this case, Rogue doesn't have a short rack quite like this, making it a notable design for Titan.
First thing – 12 gauge steel! That makes for a nice strong feeling rack. It's no 3″x3″ rack, but the difference is noticeable over 14-gauge racks. Titan actually says this is 11-gauge steel. At some point I heard from another source that convinced me that the rack is 12-gauge. Unfortunately I have since forgotten what source that was, and I don't know what to tell you.
It's a lightweight rack, but it redeems itself by having weight pegs in back, that you can use to load the unit down. When you do that, it's kind of like having a super heavy duty 300lb rack. Not quite, because it can still wobble, but it doesn't shift or tip easily. So it's all a matter of whether you have the extra plates to spare to make this a good option for you. I like the positioning of the pegs, too. The plates won't interfere with your range of motion, unlike some bad designs where the plates are stored up on the same upright as the J-hooks. Those type of designs are at best annoying, and at worst dangerous if you aren't conscientious about it.
I like the extended feet on the base too. I don't think the ones going out to the sides in the back do much, because a rack doesn't hardly ever tip sideways (unless you use their dip attachment I guess), but the ones sticking way out in the front, plus the extra frame in the back for the aforementioned weight pegs, helps keep it stable even if you don't weight it down. It does make for a big footprint though, which could be bad if you're as short on room space as you are on height.
The bar holders and safeties are all steel, no UHMW plastic liners to protect the bar and keep the noise down. You can upgrade to UHMW-lined J-cups, and while you're at it, choose from three styles of dip attachments.
Some other brands of attachments fit the T-2 rack, giving you even more options to expand.
Titan X-2 Short Rack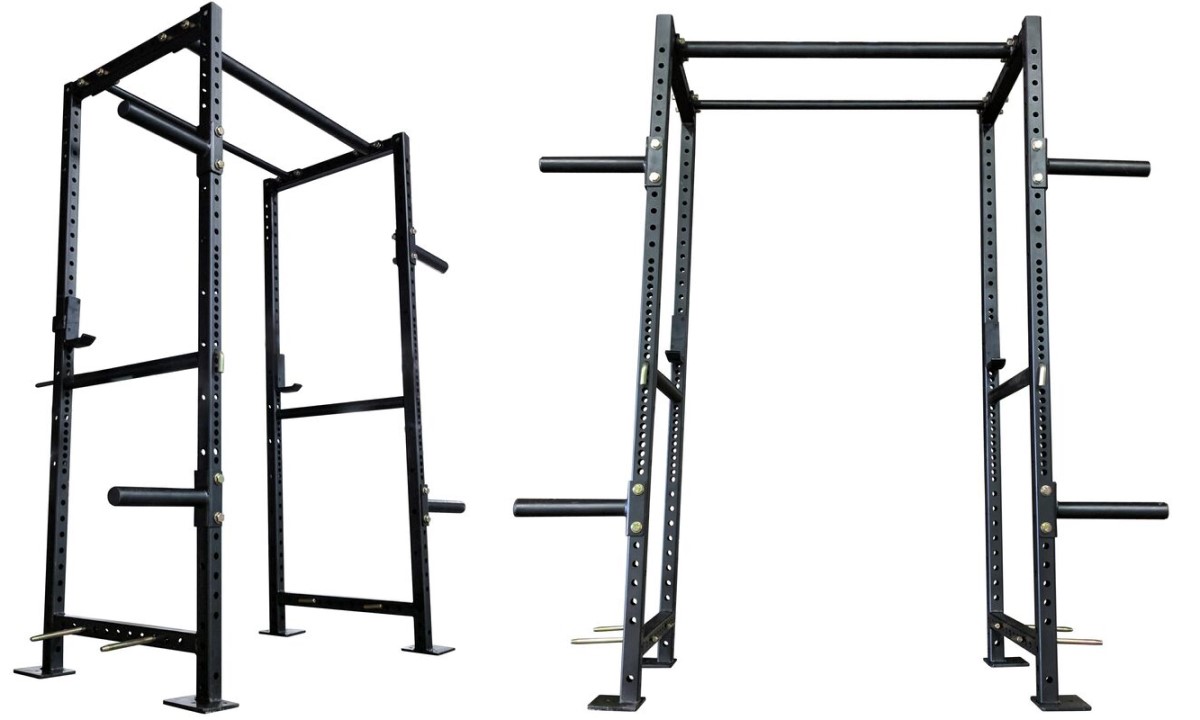 | | |
| --- | --- |
| Height | 78″ |
| Pull Up Bar | 78″ high, 1.25″ Diameter & 2″ Diameter, Knurled, Powder Coated |
| Weight | 217 lbs |
| Steel | 9-gauge 2″x2″ |
| Price | $409.99 Titan Fitness |
Since I originally wrote this, Titan expanded their product lines to a few more models of racks beyond the T-2 and T-3, each with a few variations in size. They now have several "short" models, but their X-2 is the only one besides the T-2 that comes in a true "short" model that's close to 6ft tall. The various short versions of the X-3, T-3 and Titan Series are closer to 7ft or 8ft.
The first thing I notice is the 9-gauge steel tubing. That's what they claim. But seriously, could someone who has this rack get some calipers in there and measure the steel thickness for us? 9-gauge could be used for gusset plates, which this rack doesn't have, but the tubing? I'm having a hard time buying it.
They include both a regular 1.25″ and a 2″ fat pull up bar for people who like to work their grip strength.
Westside hole spacing is a good feature too. This refers to 1″ hole spacing in the bench press area to help you get the safety bars at the perfect height, and 2″ elsewhere. You might want to mark your favorite holes yourself on all four posts, especially with the 1″ spaced holes that are hard to eyeball, because they do not have number markings to help you out. The side holes spaced 6″ apart help guide you a little.
The X-2 is a bolt-down only style rack, by virtue of its open-back design that allows you to position your bench anywhere without hitting a rear lower crossmember. Possible dealbreaker or the perfect rack. All depends on whether you are planning on bolting it to concrete (or plywood sheets).
As with the T-2, the X-2 has bare steel J-cups included, with UHMW lined J-cups available as one of many accessories available.
Instead of the rear storage posts of the T-2 rack positioned out of the way, the X-2 has storage posts included that have to be mounted on one of the existing posts, getting in the way of some exercises. Or don't install them. Or get the extension kit so you can mount several storage posts on extra uprights the right way.
---
Rep Fitness PR-1050 Short Rack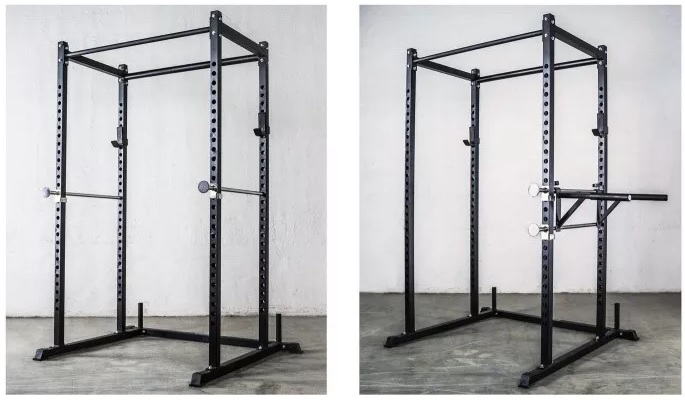 Rep Fitness has been selling Crossfit equipment since 2012.
First thing that stands out to me from the specs is this rack is really thin steel. 14 gauge is what you see in the cheapest weight benches and racks (the higher the number, the thinner the steel). What this means is it can wobble on you. You'll also see that the overall weight is actually listed as higher than the Titan rack. I don't know about that. I believe Rep is giving the net weight only, ie: with 20 lbs of packaging. But that 2″ thick pull up bar in the rear could be adding some weight, if it's solid and not a pipe. Anyway, all three racks are pretty light, and going with which ever one is 10 lbs heavier is a dumb move. It's not going to matter. Make your choice another way. If the steel gauge is the factor that steers you away from this one, that makes sense.
Rep includes two pull up bars, a 1.25″ and a 2″ in the back. Sweet! All you freaks who find pull ups way too easy can make it double hard. Fat bar pull ups are no joke. Imagine gripping a 2″ olympic bar sleeve and doing pull ups on that. Well, without the rotation. Fat bar pull ups lend themselves to doing a full overhand grip, with your thumb on the same side as your other fingers, because your thumb becomes otherwise useless. Not sure what the technical name for that grip is.
One thing you really might like about Rep's rack over the others is the laser-engraved hole numbers, every 5th hole. Even Rogue doesn't do that! It helps when you move the J-cups or safety bars often. Without the numbers you end up having to mark them yourself to keep track.
You also get UHMW liners on the J-cups. These are standard nowadays. Steel-on-steel banging is a silly thing to do to your nice bar. UHMW (ultra high molecular weight plastic) protects your bar, your ears, softens the impact as you set it down, and keeps the housemates/neighbors happy. Generally if you get a rack without them, like the Titan one above, it's a desperate attempt to keep the price down. In this case you aren't paying much more over the Titan rack to get these.
All in all, Rep offers a few nice features, but you're still getting a 14-gauge rack. I would steer clear of this. I had to go over it to show you another option besides the Titan T-2.
Rep charges shipping on their site, while on Amazon it's free shipping with only $40 extra added to the price, making Amazon a better deal unless you're getting other stuff from Rep as well. Shop their site and check it out. They have lots of good stuff.
---
Alternative Solution: Rogue SML-1 Monster Lite Squat Stand 2.0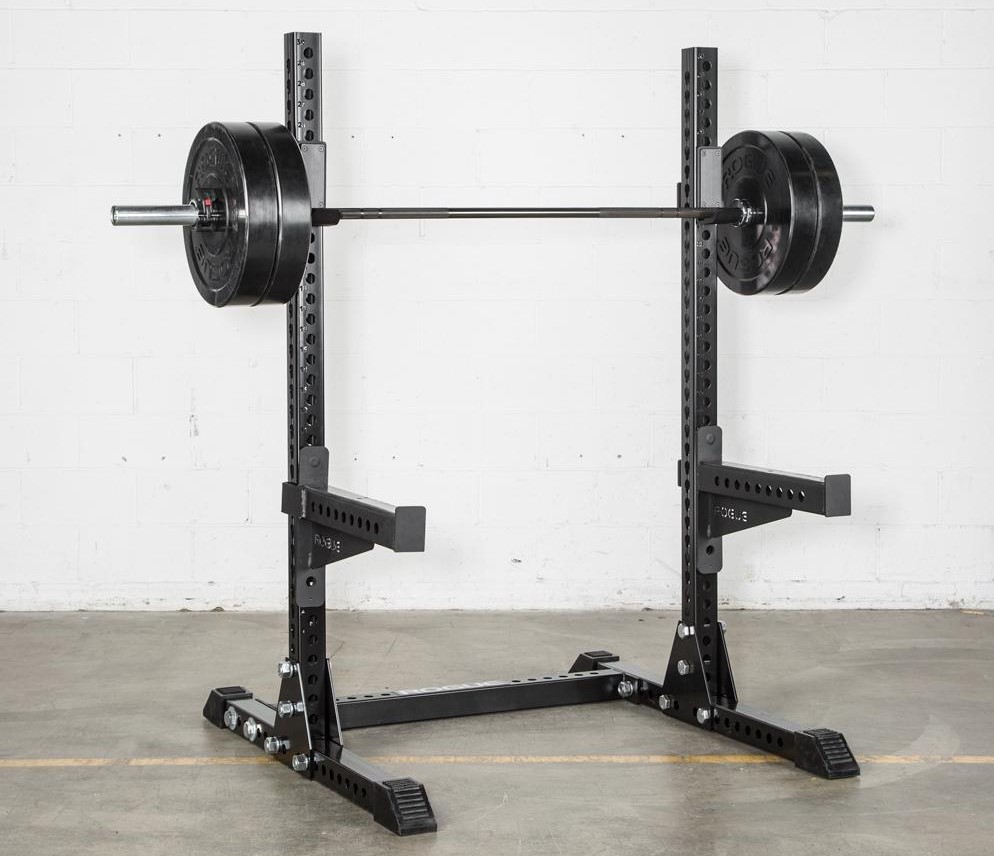 Yep, I know, this aint a power rack. Hey, there are limited options out there and I didn't want to just leave you with the above choices only. If you get this, you'll be in pretty good shape safety-wise. Not as safe as a power rack, but getting there. Of course, you sacrifice the pull up bar.
With a squat rack like this, be sure to add the 24″ safety spot arms shown in the options on the page! The whole reason I'm recommending this unit is because it has long safety arms that actually work good.
Besides the spot arms, you can add wheels to make it mobile, or brackets to bolt it down into concrete with. Both are designed well, of course.
If you browse Rogue's site you'll see the cheaper S-1 and more expensive SM-1. I don't recommend either. The S-1 is lighter and has shorter safety arms. You don't save that much money. The SM-1 is the Monster version, as expensive as they could make it, and not worth the extra cost. The middle of the road SML-1 is totally the right choice here.
The Rogue SML-1, with the spot arms, is higher priced than the Titan or Rep racks. It's also a lot beefier, to help make up some safety and stability in lieu of being a full power rack. I feel like the short power racks just don't work out as well because if you're over 5'9″ you're going to be hitting your head. For what it is, the Rogue unit doesn't have any flaws like that. I say go with that and figure out some place outdoors to do pull ups where you can get a full range of motion without your feet hitting the ground. Doing pull ups from a 6ft bar kind of sucks anyway.
Let me know if you disagree with my assessments here, or if there is another rack I should include!