Intro: Is This Your Kind of Rack?
This article is for you if:
You know you want a power rack, and
You want to keep your spending around $300, and
You don't want to get stuck with a crappy rack you'll have to replace
Experienced lifters generally prefer more expensive, heavy duty racks, $500-$1000 or even more, with the extra security, stability and features they offer. It can lead you to believe that you're risking your life by going with a cheaper rack. That really isn't the case. If you're careful with your choice, understand proper use of a rack, and understand any particular limitations of the rack you get, you could save some cash and be really happy with your choice of a starter rack that will do the job for your personal gym.
Some of this will depend on your needs, and I'll go over those possibilities. Your #1 might not be the same as mine.
Shortie Racks: I have not included any of the 6ft tall power racks out there, only ones that are a normal 7ft. The short ones are kind of a whole different thing. I have already written a post comparing some short power racks.
---
Titan T-2 Power Rack
| | |
| --- | --- |
| Height | 83″ |
| Pull Up Bar | 80″ High, 1.25″ Diameter, Powder Coated |
| Weight | 107 lbs |
| Steel | 11-gauge 2″x2″ |
| Price | $329 Titan Fitness |
We featured this as perhaps the best power rack under $300.
Here's competitive powerlifter BJ Whitehead squatting 720lb on the Titan T-2 rack. Before seeing this, I never would have expected the rack could take that much weight, or more so that an experienced lifter like him would trust it to do so, until I also noticed that it's made of 11-gauge steel. That makes a big difference. Most notably, he has the pegs in back heavily loaded with plates to keep it steady, which is what they're designed for.
On that note, any otherwise lightweight racks like this redeem themselves by having weight storage pegs in back, that you can use to load the unit down. When you do that, it's kind of like having a super heavy duty 300lb rack. So it's all a matter of whether you have the extra plates to spare to make this a good option for you. I like the positioning of the storage pegs. The plates won't interfere with your range of motion, unlike some bad designs where the plates are stored on the same upright as the J-hooks. Those type of designs are at best annoying, and at worst dangerous if you aren't conscientious about it.
The T-2 also comes in a short version, so if you browse around Titan Fitness's site, be sure not to select the wrong one!
Although Titan provides a good number of optional attachments for the T-2, the sizing of this rack is such that a few other brands of attachments will fit it too, so you have even more options.
By the way, these Amazon prices I'm listing are approximate. The Amazon prices changes over a short period of time.
---
Best Fitness Power Rack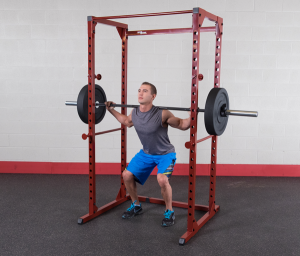 Body Solid's "Best Fitness" line is their cheap home-grade equipment. The Best Fitness Power Rack is the little brother to the Powerline rack that's been around for a decade or more. It's actually the same dimensions, so maybe like a weaker brother. The 12 gauge steel is downgraded to 14 gauge (higher gauge = thinner steel), there are no holes drilled for a lat pull attachment, and the warranty is reduced. Otherwise the design is the same. It's lighter.
I used the heavier Powerline rack for a while. The Powerline rack is not bad at all for a starter rack, but its price is a bit over the $300 range I'm limiting this article to. It's light enough that when you walk into the uprights with a loaded barbell hard enough you can potentially tip it. Not that easily, but it can happen if you really try to test it. It's still miles better than those cheap portable squat stands that tip from just a few pounds of pressure. Under normal use, you won't tip it. Being that the Best Fitness is 20 lbs lighter, that's just something to keep in mind. Not a big deal unless you'retrying to walk right through the rack at full speed with 300+ lbs. If you're more reasonable about it, you could use this rack with 500 lbs or so.
I'm not a big fan of this rack. This one is really light duty.
---
TDS H-92563-B Power Rack
The TDS brand, based in China, is sold by New York Barbell, in Elmira, NY, since at least 1978. No relation to the iconic York Barbell, based in York, PA since 1932. It's the old brand name similarity trick.
TDS equipment is known for being inexpensive. They also make lots of unique pieces that are hard to find elsewhere. I've heard occasional complaints about things like burrs left on welds, pieces not aligned right, or paint that scratches off easily. No doubt they're cheap, and quality control wouldn't be their specialty.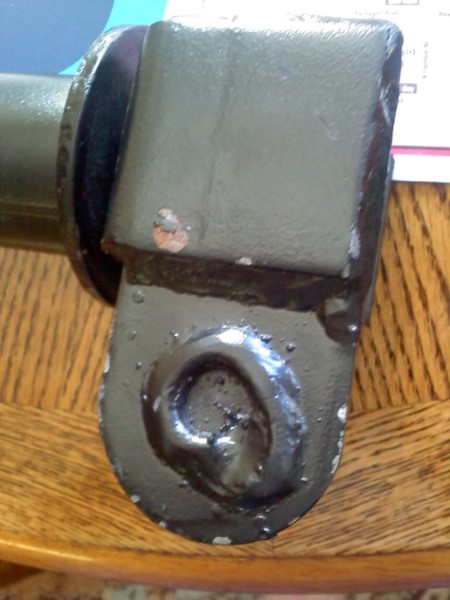 Fun facts: Their current newyorkbarbells.com website was designed in 1999, each page raw html coded with a text editor. They've had an @aol.com email address since 1999. They sell on Amazon too, and quite frankly that's a better experience.
Of special note, as the pic shows if you look closely, there is no pull up bar included in the base unit! You have an option to add it for $40. That's how they keep the base price under $300.
Just like the Titan T-2, they have the weight pegs on the rear so you can really load it down to stabilize the rack if you feel the need to for your heavy lifts.
---
TDS H-92550 Open Top Rack
They call it the "Power, Squat, and Open Rack Station".
See above in the other TDS power rack notes for company info on New York Barbell and some heads-up on their equipment in general.
The big feature here is you can do standing overhead presses without banging the top of the rack. The other limiting factor, remember, might be your own height. If you're 6ft tall you could very well punch holes in a standard 8ft ceiling with a couple 45lb plates on the bar.
---
Fitness Reality 810XLT Rack
You want cheap, you got it right here. This is literally the lowest priced power rack I could find. In an article like this I have an obligation to include it or I'll get questions about this.
The company is Paradigm Health and Wellness. I never heard of them. Some quick research shows paradigmhw.com has been around since 2007, selling saunas for the first couple years and at some point expanding to a complete array of fitness equipment. It's a mix of equipment with crazy low prices and normal prices. Some of the "buy now" links on the site don't work. Strange.
Both Walmart and Amazon have it. When Walmart has a great deal on fitness equipment that has you itching to pull the trigger, it's time to pause and reflect. While getting a good deal is obviously important to you if you're reading this, you have to wonder why it's a good 30% less than even the "budget" competition such as Titan.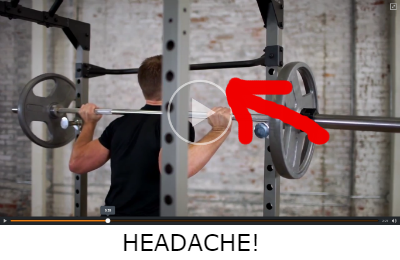 They advertise this and their $100 bench as having an 800lb weight capacity. The price is nowhere near the ballpark of any other manufacturer advertising a high weight capacity like that. Is this some kind of liquidation?
The height of the rack itself is more like 77″, with the 6″ pull up bar sticking up. So it's almost a 6ft shortie style rack. They almost get away with it, with the way a 6ft tall user can walk under the arched pull up bar without a headache… but look what happens when you try to re-rack a squat, in the screencap I took from the product video. You're walking right into the rear cross brace.
If you try this one, I'll be interested to hear how it works out for you. I would steer clear. You aren't saving money if you have to replace it.
---
My Recommendations
Out of these, I'd strongly lean toward the Titan T-2. Titan's early models had flaws, and over the years they have done a good job of fixing them in response to the feedback from lifters, while only raising their prices a little. The T-2 is, surprisingly, 11-gauge steel, which is normally reserved for heavy duty 2″x3″ or 3″x3″ racks.
I like the plate pegs in the rear, which, as I mentioned in the longer description above, is meant more to stabilize your rack than store your plates conveniently (it's not that convenient for storage), and in that it's quite effective.
You can get the T-2 direct from Titan Fitness.
If you're tall enough that standing overhead presses can't be done in the Titan rack, the TDS Open Top Rack is a cool rack. Maybe they've fixed any issues by now. I would imagine it's plenty safe. There are no welds to worry about, as it's all bolted construction. I remember seeing people recommend it on the bodybuilding.com forums a few years back.