In the first photo I saw, the two racks grabbed my attention. I had to guess: Is this for two people?
Nope. Both racks are for him. Mostly. When someone has two racks in his garage just for himself, that's a serious dude. I was compelled to find out more, and here we are.
Technically his wife uses it too, but she's more into Crossfit type workouts that don't involve the racks as much. Sometimes friends occasionally come over and lift too, so the second rack becomes handy for that.
The garage gym belongs to Logan, a 30 year-old mental health professional in Land O'Lakes, Florida.
Here's how his gym originally started…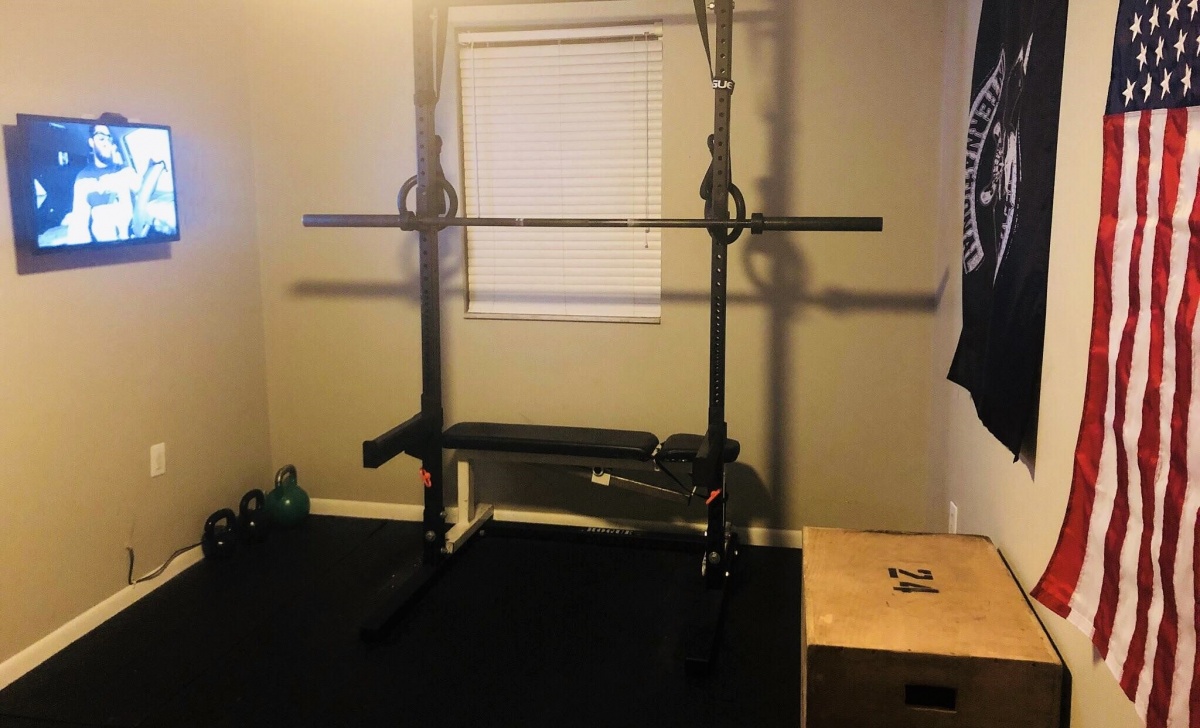 Two years ago he had this Rogue SML-2 half rack setup in the extra bedroom. He moved it to his garage last year and expanded it way out.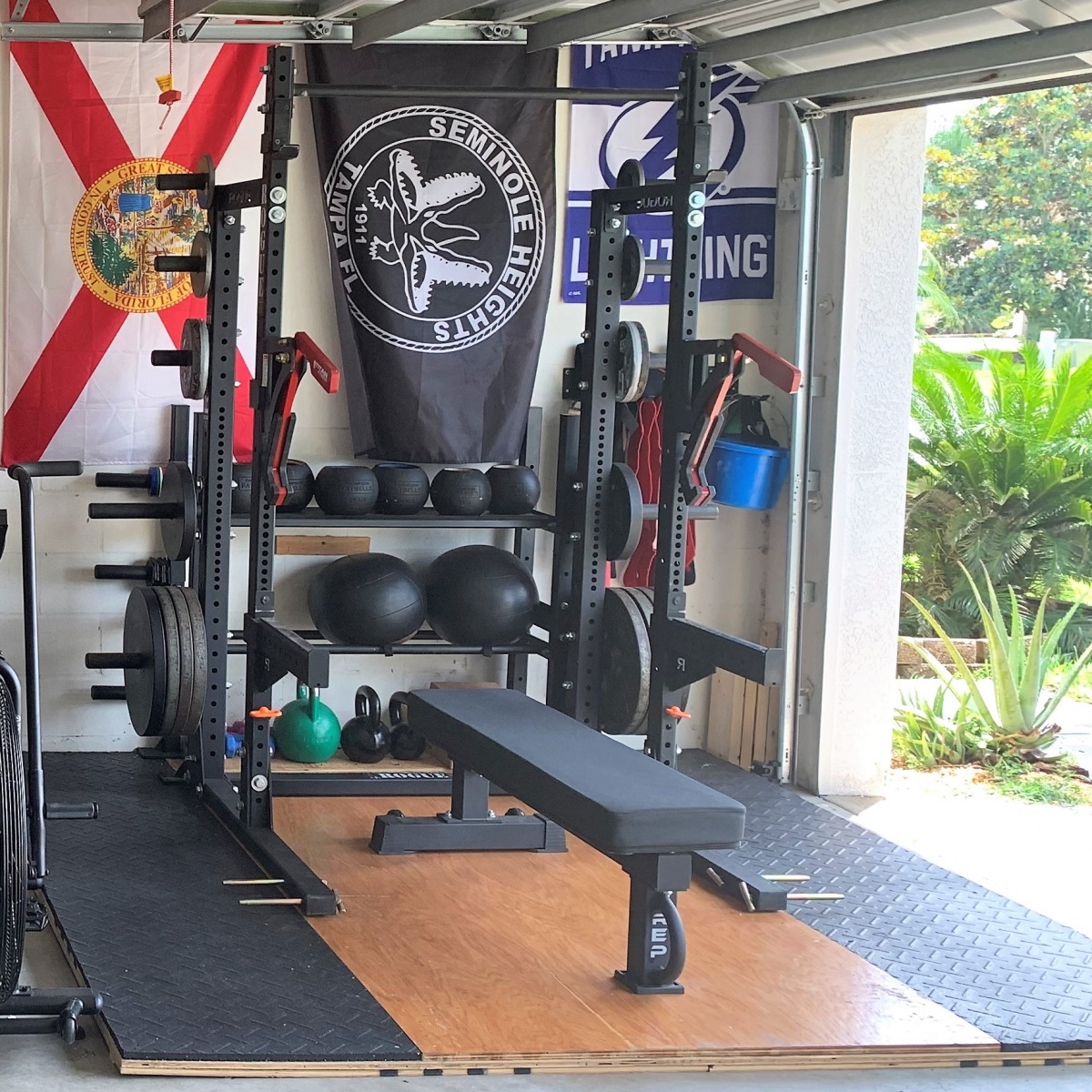 Here's the same rack now in his garage, with the plate storage extension added. He had a plate tree before. Storing the plates on the rack helps stabilize it.
He upgraded his crappy bench to the Rep FB-5000 Comp Bench.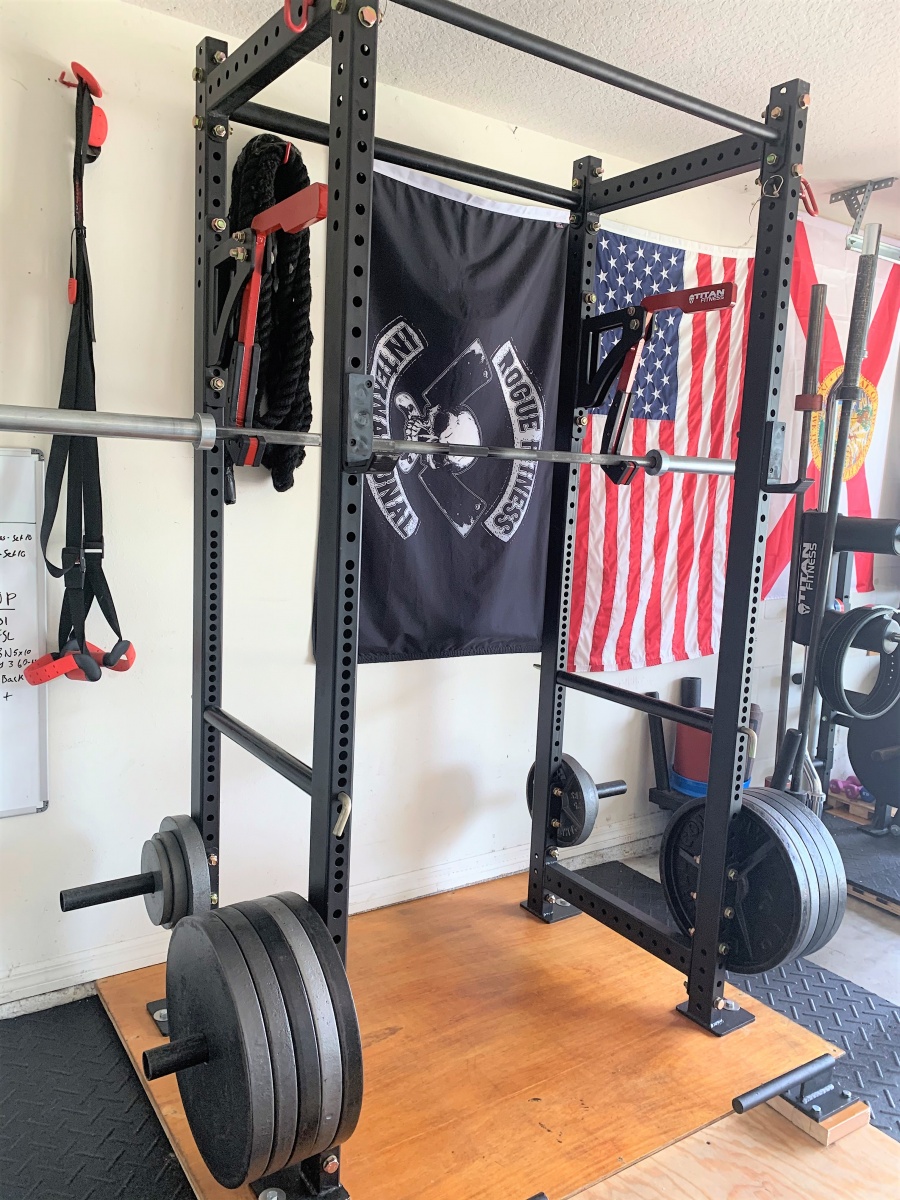 For his second rack, Logan scored his Titan T-3 rack on the used market.
Height note: This is the 82″ height version, which Titan calls the T-3 Short, while the T-3 Tall is 91″. At this height, nearly 7ft, the Short is a typical sized home rack. A really short rack made for low ceilings is more like 6ft tall.
This rack is set up mainly for squats, and he makes use of the lower portion of the uprights for plate storage without the plates getting in the way. The pin-and-pipe safety bars stay at this height for squats. Anything else requiring a lower barbell range of motion is done in the other rack. He really needed a full power rack like this to keep ts going over 400lb.
By now you've also noticed the decoration. You can't get away with flags anywhere else in your house without creating a militia clubhouse vibe. You get to have them in your garage, and you can have an American flag hanging from your front porch.
You can see the Titan monolifts on both racks, which have become one of the first accessories people add on to their racks. Their purpose is to hang the bar perfectly in your starting position, and as you lift the bar off the monolift falls back against the rack, ready for you to re-rack the bar onto just like regular J-cups. For both benching and squatting this is a big help when it gets heavy.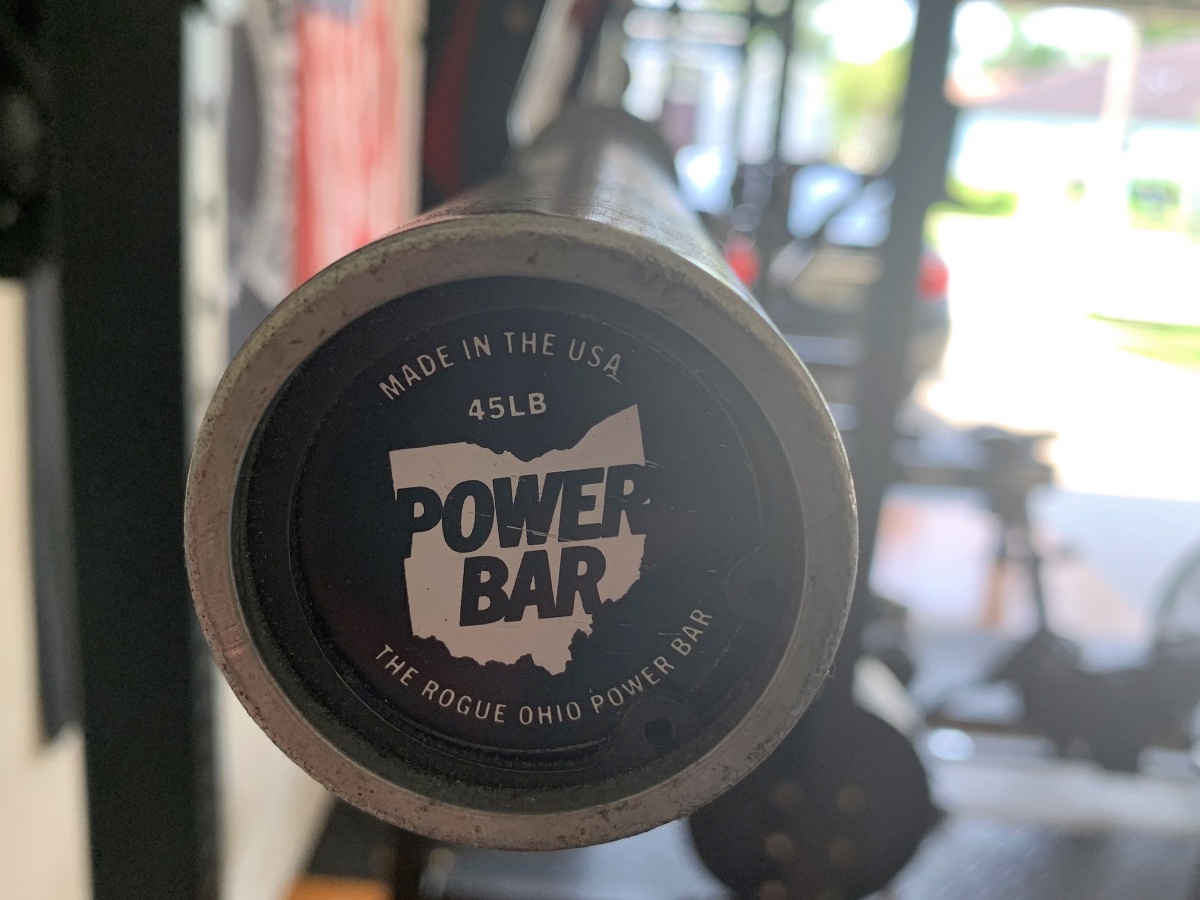 The Rogue Ohio Power Bar is Logan's main bar. One of the few things he bought new. I also wrote a review of it here.
He uses Lock Jaw Collars and generic Amazon collars of the same type. He hasn't noticed the Lock Jaw brand to be any better.
He constantly checks the second-hand market, where he bought and sold stuff over time to acquire most of his equipment. Right before the coronavirus hit and everything became scarce, he helped a buddy build his first garage gym with another Rogue SML-2, plates, bar and bench.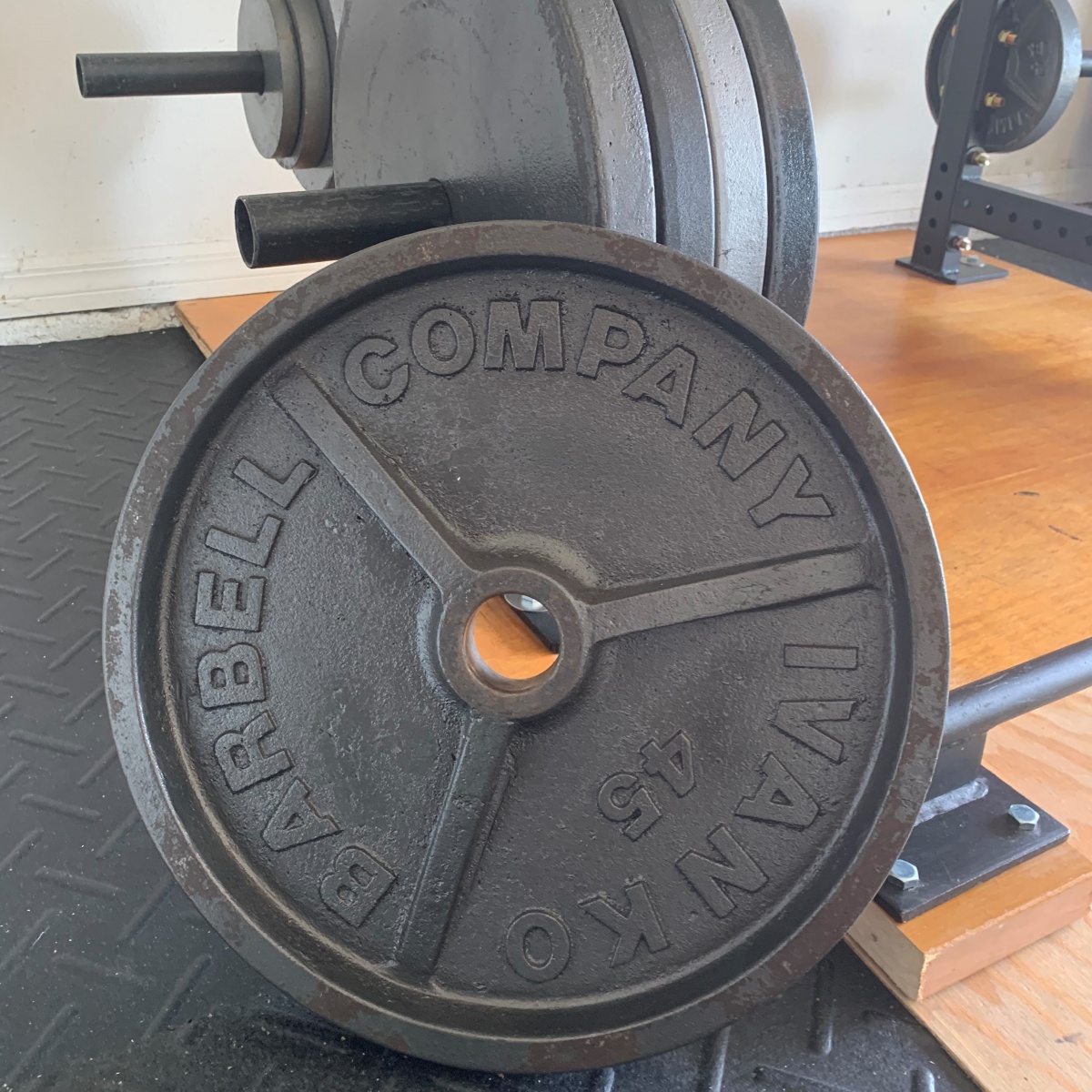 Originally he started with bumper plates, moving on to Titan competition bumpers, which he did like but ditched them and picked up some used sets of Ivanko and Troy plates as powerlifting took priority.
He's been competing at powerlifting meets for the last couple years, as well he should be with PRs like this: 205kg squat, 125kg bench press, and 237.5kg deadlift. That's 451lb, 275lb, and 522.5lb for those of us who count in American. Pretty rapid progress for only being at this seriously for a few years!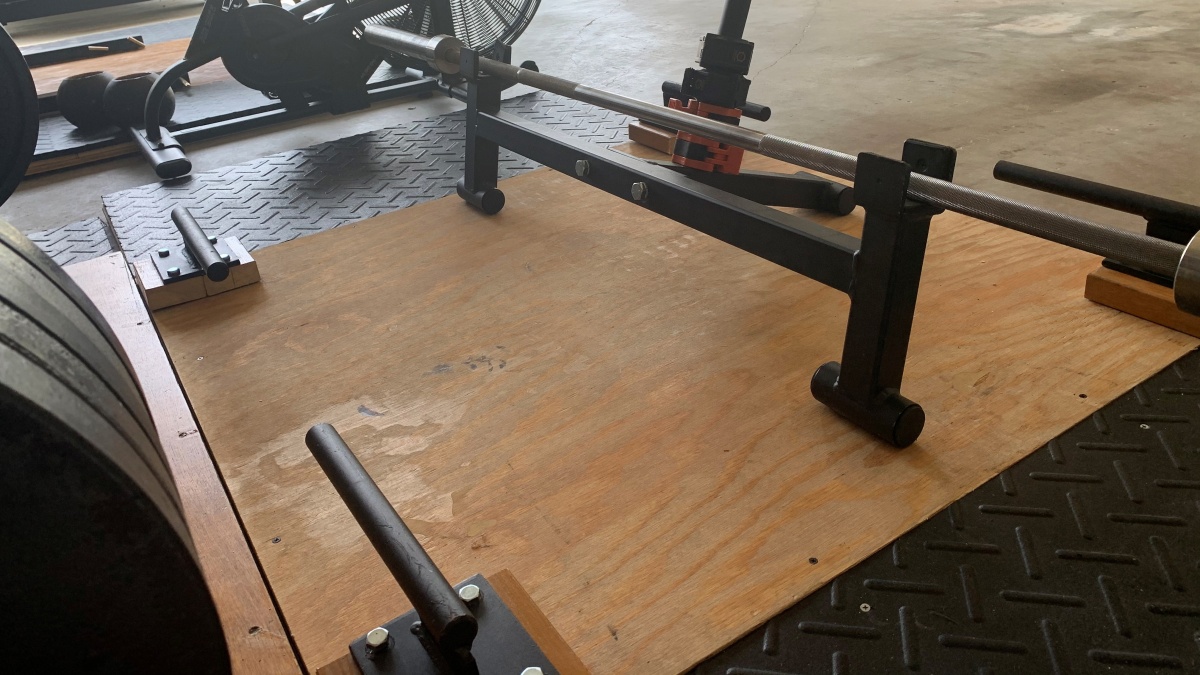 Obviously, someone who has two racks does not try to get by with something like a Dead Wedge. He uses the largest deadlift jack on the planet.
He got the Rogue Ohio Deadlift Bar for a small discount in Rogue's Boneyard Bars section.
Those are Titan deadlift band pegs on the edges of the wood platform. Using bands is a technique that advanced lifters use to add accommodating resistance to a bar also loaded with plates, increasing the resistance dramatically as the bar moves up. This way you can start with a bar loaded not as heavy with plates so that you can clear the floor easier and get it going, and then the bands start kicking in more to make it tough as you complete the lift.
If you're wondering, there's no functional reason he has the deadlift band pegs elevated like that. His lag bolts were too long and he opted to stack up extra wood instead of going back to the hardware store.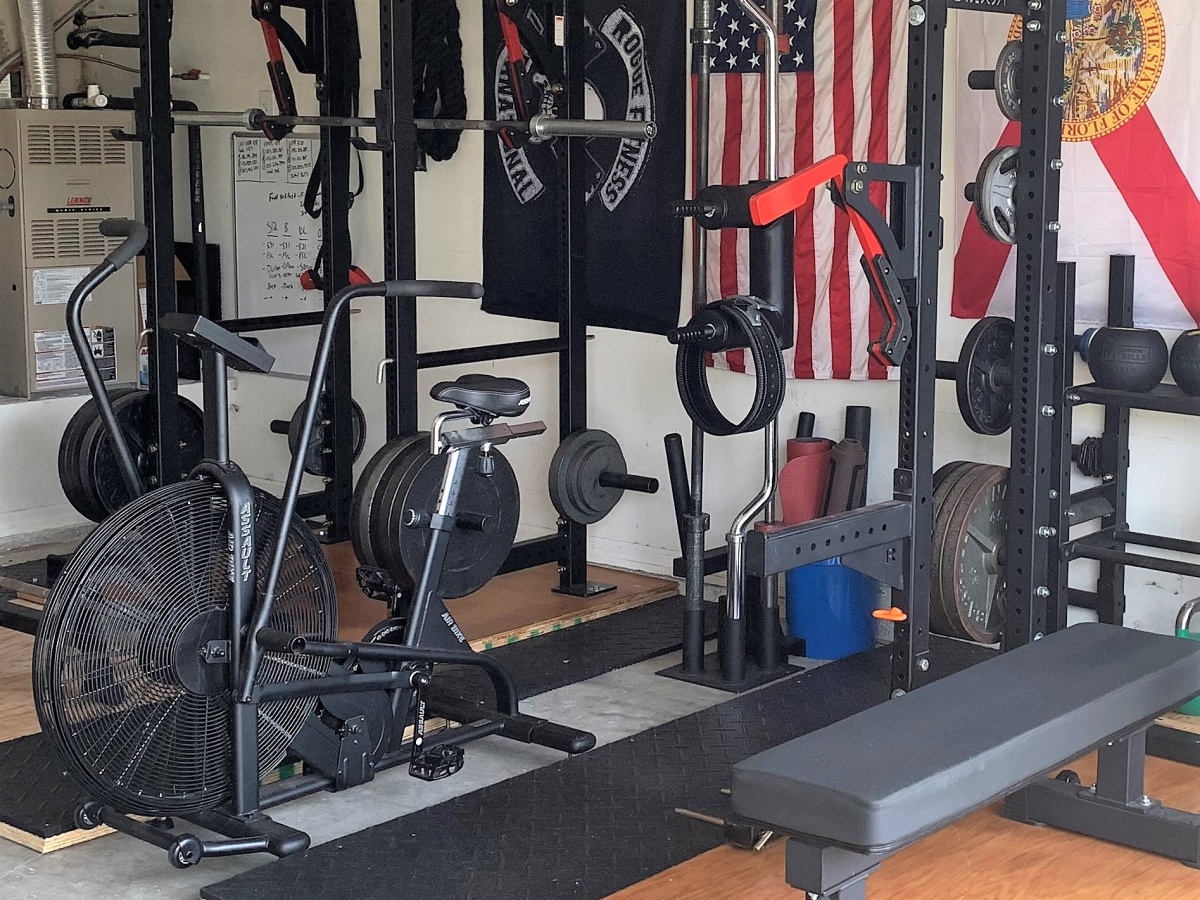 Situated between the two racks is the ever-popular Assault Bike. The barbell storage behind it holds a couple beater bars, a Rogue Matador that fits the Titan rack, and a Titan safety squat bar with an Inzer belt hanging off it.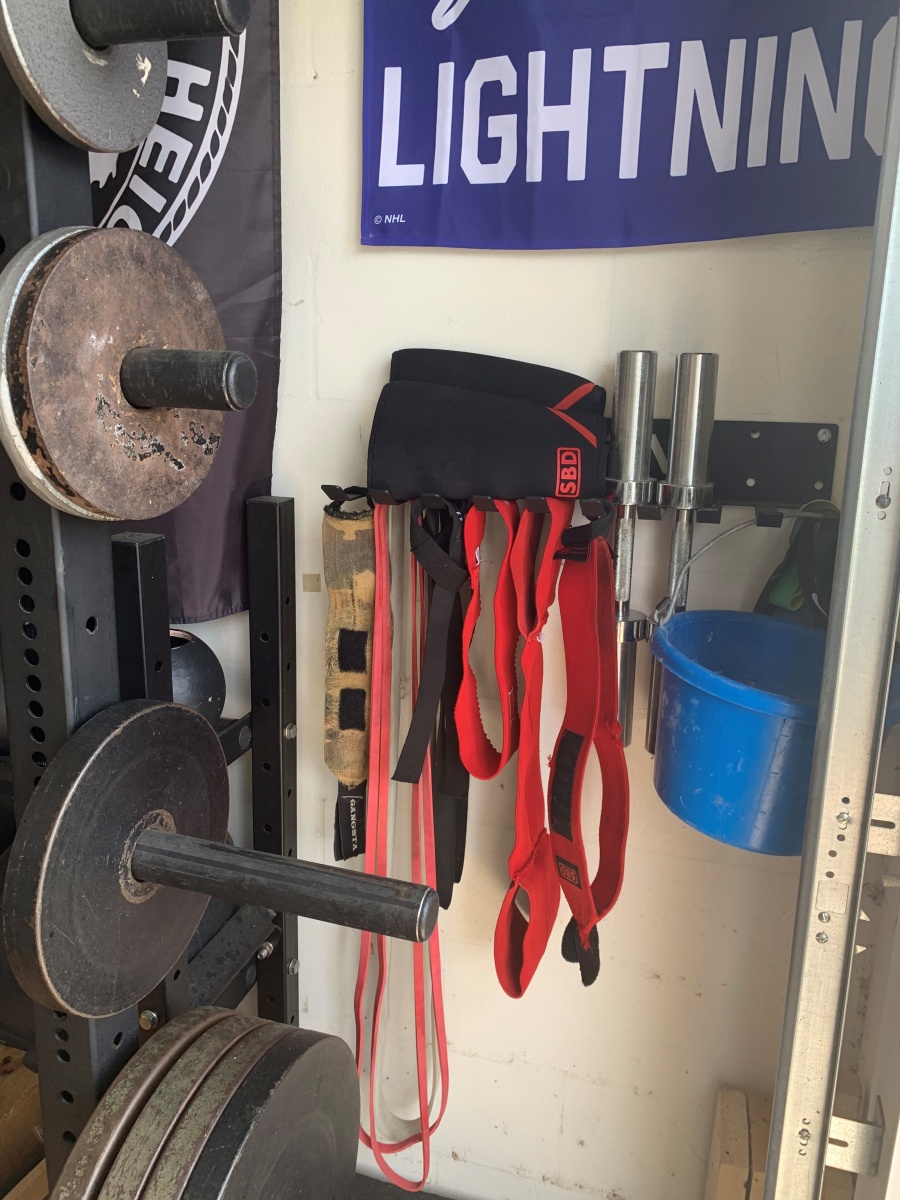 On the wall by the garage door, a Titan belt hanger holds Titan dumbbell handles, EliteFTS bands, SBD wrist wraps and sleeves, Mark Bell Sling Shot, Gangsta Wraps, Hip Circle, and a chalk bucket.
Logan had some Ironmaster dumbbells, then a set of hex dumbbells, and then he ditched those and went with the adjustable handles and a few pairs of FatBells.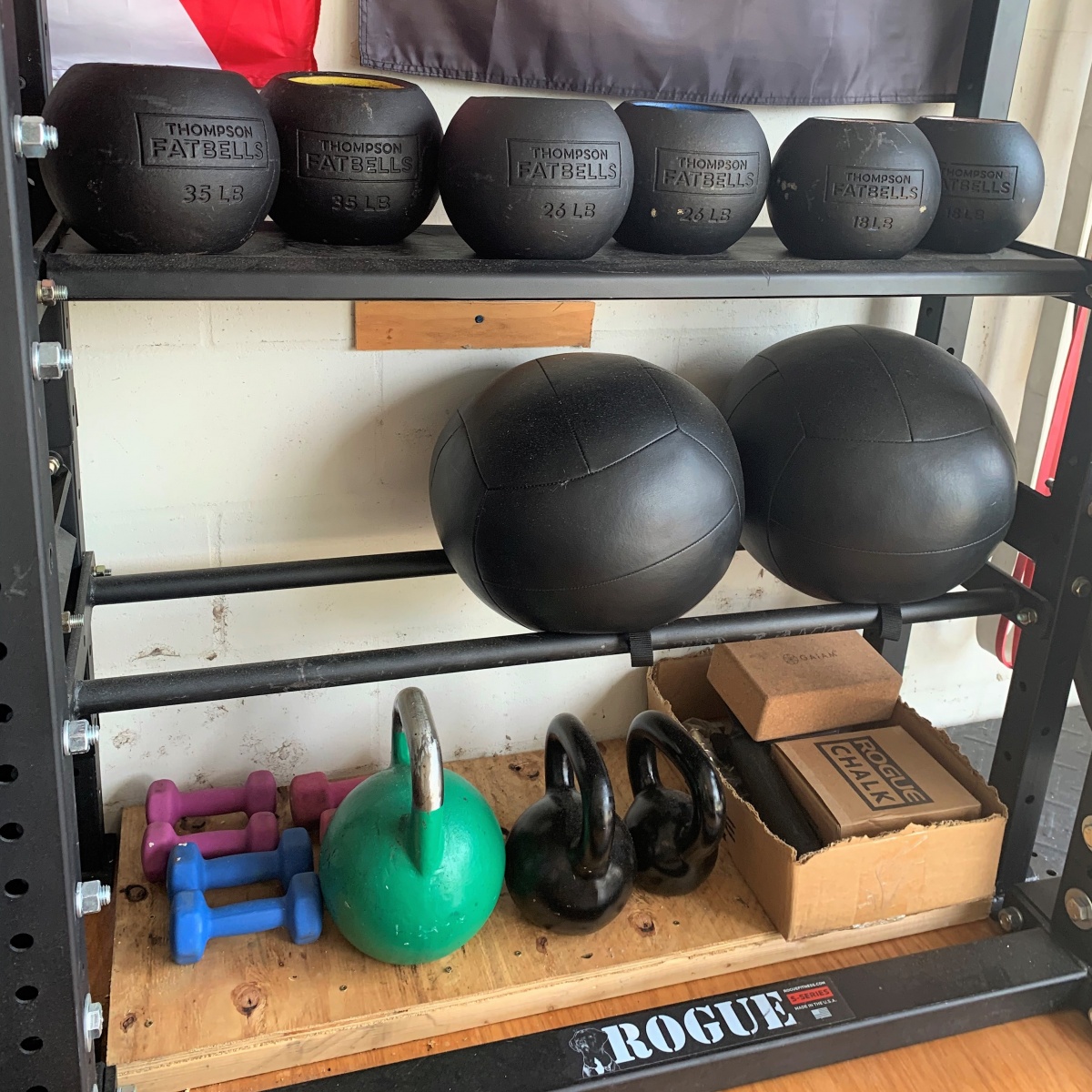 The Fatbells are nearby on a Titan storage rack behind the Rogue half rack, along with a few kettlebells and dumbbells, Titan med balls, and extra chalk.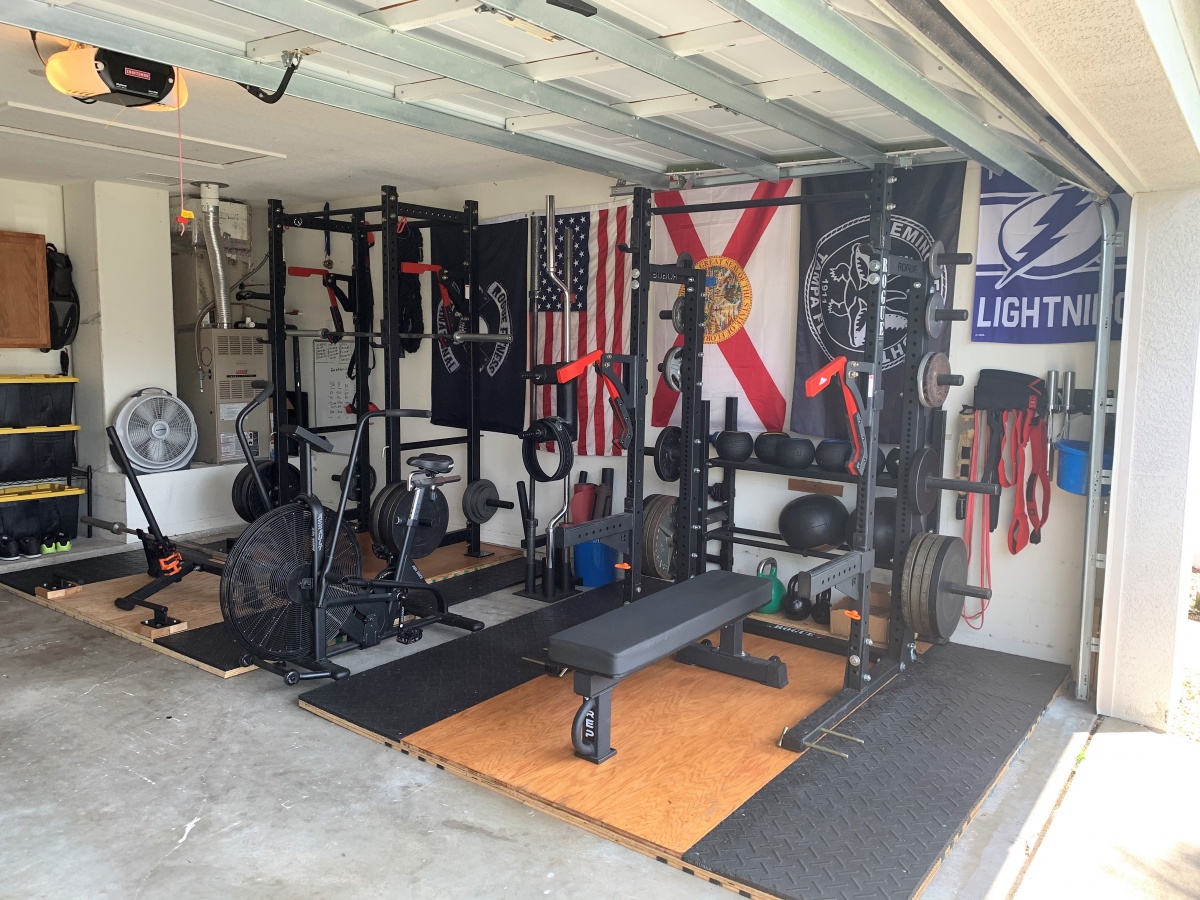 The platforms under the racks he built at different times. First the deadlift platform. The person he bought the used Titan power rack from gave him the platform it was on too, which is why you see those two platforms fitting imperfectly together. The large 8×8 platform he built for the Rogue half rack, and eventually he'll make the same big platform to replace the small ones.
You can see the left edge of the 8×8 platform lifted up a little. He put a shim under it. Usually that has to do with the wood curling from moisture.
He hasn't felt an issue with the garage slope the way he has his racks set up sideways. (building codes mandate a slope in all garages towards the door)
The gym only takes up half his two-car garage, leaving enough space for the car.
Cost Breakdown
TOTAL: $7,094
(+ tax and shipping)
As described, some of the equipment he bought used. This is the approximate cost if you were to buy everything new.
Logan's IG: @logangoestothezoo