Updated Sept 2022 to mention V2 of the Super Bench and fix a few other details.
Good news — Ironmaster fixed their Super Bench!
They just unveiled their Super Bench Pro on Friday. It's a big deal because they fixed two major bugs in the old design: The somewhat squishy pad, and the 20″ bench height in flat position that is too high for the average lifter. 
The Old Ironmaster Super Bench – Why It's Insanely Popular
Let me fill you in on some context.
Ironmaster is best known for their Quick Lock Adjustable Dumbbell System that rival the Powerblock and Bowflex adjustable dumbbells because of their extreme durability with the nearly all-metal metal construction instead of plastic.
Ironmaster also happens to make a really good bench to use with their adjustable dumbbells, or in a power rack or as a general use gym bench for that matter. Bowflex or PowerBlock simply do not make a bench of this quality.
The Ironmaster Super Bench (original) has been loved for years because of its unique design that solved a major problem in other benches, the dreaded "pad gap". Its detachable seat pad design completely eliminates the pad gap.
Let me show you what I mean, on another brand of bench: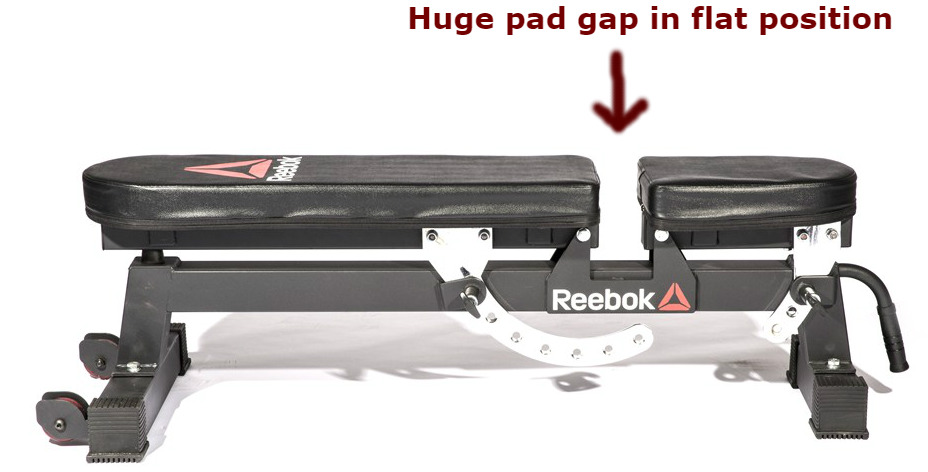 The pad gap in most benches like the above bench is required so as to give room for the back and seat pads to move in as you adjust to incline position.
Here's how Ironmaster solved it: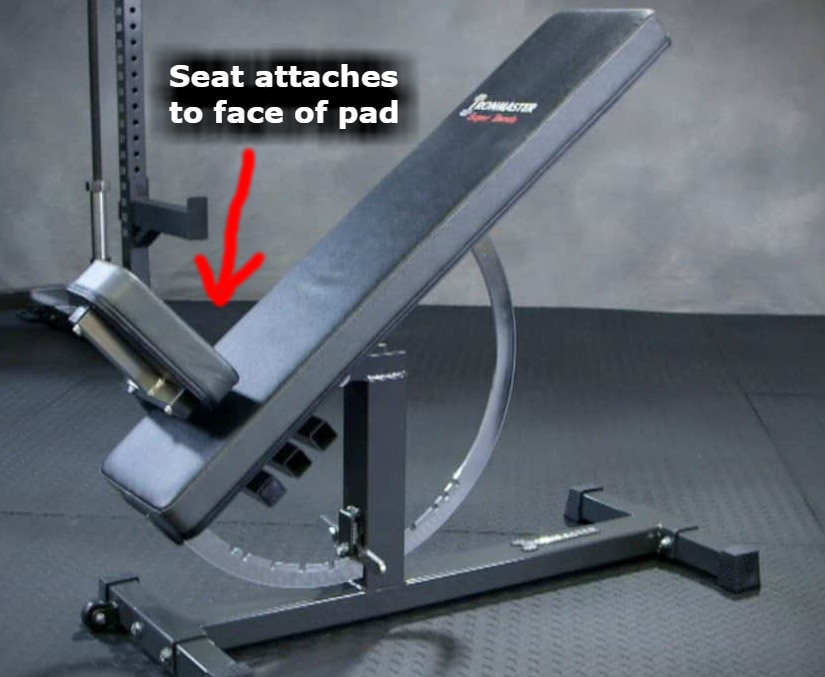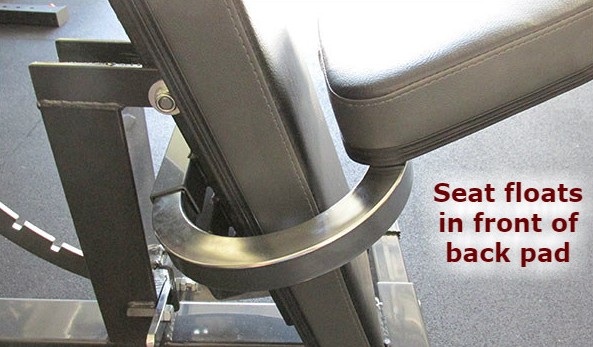 This eliminates the pad gap entirely, removing the discomfort associated with having that 2″ gap in your lower back area when doing flat presses.
That, along with the fact that the adjustment mechanism is so sweet, and it has a ton of attachments if you're interested, is why it's such a popular bench. I featured it in the Top 4 Adjustable FID Benches article as perhaps the best FID weight bench, which I need to update with the Pro at this point!
The New Super Bench Pro – Quick Rundown
Here's what they improved.
Height in flat position is 17.2″, down from 20".
Huge improvement. This puts it at the optimal height for most people to plant their feet safely and comfortably.
Firm pad.
Along with the height, this was a major complaint of the old model. Now it totally feels like a commercial quality bench.
Wheels are included.
No need to buy their $30 wheel kit.
Larger frame.
The base frame is 4″ wider and 4″ longer, with larger tubing, making the bench more stable under heavy load. I didn't know that was even an issue in the old model, but ok.
More secure connection for attachments.
They now have a pin and a separate tightening knob. This is like what I've seen in the sliding adjustment for glute-ham developers to make things feel nice and solid.
They bumped up the price by $50 to $369. Considering that other benches comparable to it (but without the awesome gapless design) are $400, that' not a bad jump in price for what you get.
The wheel location was an odd choice. They put them the wheels at the front of bench, unlike virtually all other brands of benches. You want the wheels to be on the rear so that you can wheel the bench in and out of your power rack easily. Not to mention that would put them out of the way of your feet when lying on the bench. Ironmaster primarily markets this bench to use with their popular Quicklock dumbbells, so I can kind of understand it, but still, weird choice. Ironmaster confirmed with me that you can put the wheels on the rear too.
Do the Attachments Still Work?
One thing that makes these benches unique is Ironmaster has an unusually large number of other accessories for this bench.
Most of the attachments for the Super Bench work for the Super Bench Pro. Where they don't, Ironmaster has released new Super Bench Pro versions of those attachments.
2020 update: Ironmaster came out with a "hybrid" pad that you can replace the stock Super Bench Pro pad with.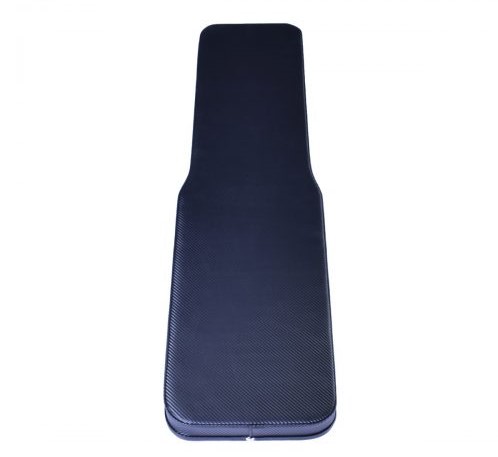 Half is 10.25″ width, half is 12.25″ width. You can flip it around to install either end towards the front. People like a narrower or wider bench for bench pressing or other exercises, and this pad accommodates that. The vinyl on this pad has a better grip than their stock pad. I like the fact that they removed the logo too, a consequence of the material they switched to. Big logos look tacky on bench pads.
As of writing, Ironmaster is forcing you to buy the Super Bench Pro with the old style pad and add the hybrid pad as an extra. I hope they offer the hybrid pad as an upgrade option at some point, or replace the old pad entirely and bump up the price a little more on the Super Bench Pro.
Is the Super Bench Pro Worth the Upgrade?
Normally the incremental improvements in gym equipment don't justify you buying a replacement. What you have is ordinarily fine.
In this case, Ironmaster is the only company making a bench with this kind of "no pad gap" design in the first place, because it's patented, or at least the ring adjustment mechanism allowing for it is.
I have no doubt that current owners of the bench are going to be selling it on the used market and springing for this upgraded design. It's that big of a deal. So yeah, if you've got the cash, you will enjoy this bench significantly more.
As always, you can get it direct from Ironmaster and that's about it, because they have no online dealers.
2022 Update: Super Bench Pro V2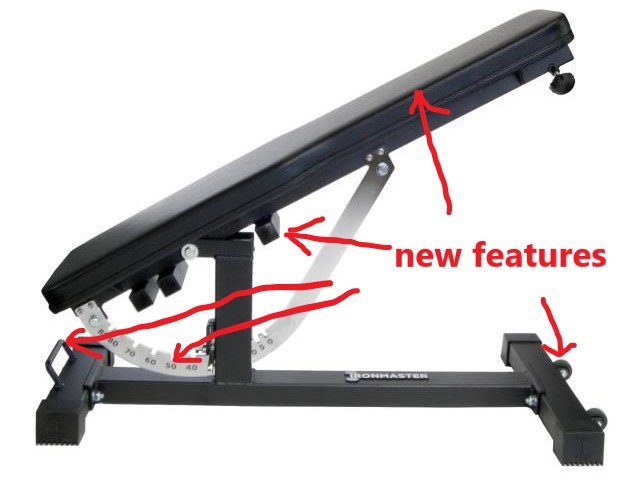 In August 2022 Ironmaster released the Super Bench Pro V2 with several welcome improvements.
One complaint that remained with the Super Bench Pro was the seat was so close to the floor when the bench was in incline position. This has been addressed with an additional attachment point for the seat pad, should you find it helpful to move it up several inches.
The adjustment holes on the locking ring are now numbered so you can set your favorite incline angle consistently.
Wheels and a handle have been added, a modern feature that people have come to expect from benches.
Finally, the popular Hybrid Pad – which is narrower at the shoulders – is now standard on the V2, no longer forcing you to buy it separately for full price and have a useless regular pad to do something with.