Introduction
These adjustable benches are meant for use either with dumbbells or with a separate rack/cage. The advantage of such a bench over a weight bench with an attached rack is the ability to move the bench out of the rack, whether it's to use the bench alone for dumbbell work or to use the rack alone for squats and other exercises.
A flat utility bench is a lot simpler to shop for than an adjustable bench. No moving parts, no attachments, no separate pads, etc. See why a flat bench can be better than an adjustable bench, and also our flat benches comparison.
But if you're into doing incline, this is the article for you. There are a hundred current models of seemingly good looking adjustable benches out there right now. I cut the list down to the top 4, and I'll explain which one might be best for you, depending on your situation.
Quick Look
USA MADE
Rogue 3.0
BEST INCLINE
BodyCraft F320
VERSATILE
Ironmaster Super Bench Pro
SPACE SAVING
Rep Fitness AB-5200
Flat Height
17.5″
18″
17.2″
18″
Adj. Seat
Yes
Yes
Removable design
Yes
Pad Gap
1″
2″
None
2.25″
Options
Colors
None
TONS of options
Spotter Deck,
Wide Pads
Steel
11-Gauge
12-Gauge
11 & 12 Gauge
11-Gauge
Made In
USA
China
China
China
Price
$585.00
$379.00
$399.00
$469.00
All of these benches above have:
Firm Padding
Good Seat Height
800+lb Weight Capacity
11 or 12 Gauge Steel
Front Feet Are Out of the Way
$300-$600 Price Range
And to help you understand a few things better…
Padding – Some lower end benches made for home use are made with cheap soft foam padding. Soft padding can "bottom out" on you while you lay on it with enough weight, putting you against the backboard and making things a little uncomfortable. Soft foam doesn't provide the firm but comfortable surface that a higher end bench made with high density foam that you'll find in a commercial gym. You won't feel nearly as stable on it. So it's a balance between being firm enough to not squish on you while you're trying to balance a heavy weight, and having just a little give to be comfortable. Firm padding also makes for a more durable bench long-term. Every bench we recommend has good firm padding.
Pad Gap – The gap between the backrest pad and seat pad, while the bench is in flat position. The design of many benches necessitates a gap here so that there's room for the backrest to tilt forward in incline position.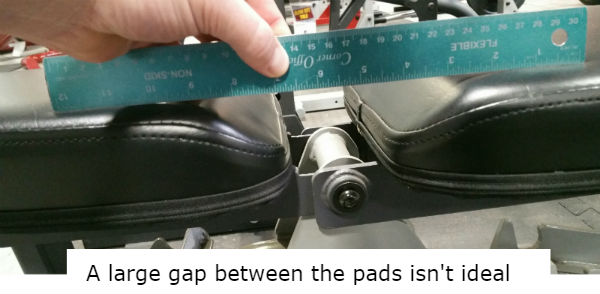 Seat Height – There are two pads on a bench, the back pad and seat pad. The height of the seat pad is also the height of the back pad when flat. 17-18″ is a great height for the large majority of people, from 5′ to 6"5″ tall or so. It's hard to find anything shorter that is better suited for users under 5′ tall, but even for them a 17″ bench is quite usable. There are a TON of tall (19″+) benches out there, and frankly they are not optimal for the large majority of users under 6'5″ or so. The reason they're so tall is not because of ergonomics. It's because so many of them have (optional or included) leg curl attachments where they have to make sure that your feet do NOT touch the floor during the exercise, which makes the bench too tall. A bench that's too tall will make it hard for you to get the best stability with your feet flat on the floor without your thighs angling down. A good 17-18″ bench also gives you room to create hip/leg drive to get those heavy bench presses up. And finally, it makes it easier to reach dumbbells you have set on the floor.
Weight Capacity – This includes the sum of your body weight and how much you will be lifting. This is not the point at which the bench will break, but it is a rough recommended limit to avoid the possibility of long term damage to the bench. Cheaper benches out there will vary in weight limits. A 600lb weight limit sounds good, but heavy lifters won't be as happy with it, and even for much lighter/weaker lifters it won't feel quite as solid as a commercial bench. Stability counts for a lot when you're pressing a lot of weight, even if you and the barbell don't come anywhere near the limit. The more solid the bench feels under you, the more you're going to be willing to try to lift, and the stronger you can get. Any 300lb capacity benches out there are just junk.
Positions – Many benches are adjustable to a flat, incline (head up) or decline (head down) position. This adds variety to the bench press exercise so that you can target different muscles in your shoulders and chest. Note that incline is head up position, decline is head down. You'll see that most of the higher quality benches don't even offer a decline position. Decline complicates things, because it requires that your front legs be held in place, which means a different shaped seat pad and/or leg holders in front, both of which can get in the way when you aren't using them. The gap between the seat and back pad also typically widens for decline position, making it uncomfortable with a hinge possibly sticking up. Flat and various incline positions make for a quite sufficient range of positions for the vast majority of people who aren't top bodybuilders.
If you need a recommendation for a bench that does decline too, contact me and I'll help you out and maybe write another article!
Adjustable Seat – The back pad on all these benches is adjustable. The seat pad is separate, and a seat pad with an adjustable angle helps keep your butt from sliding down and off the seat when doing presses with the back pad in an incline (head up) position. One exception is the Ironmaster bench, on which the removable seat pad is attached always to a 90 degree angle to the back pad.
Steel Gauge – These are all 11 or 12 gauge steel. The lower the number, the thicker the steel, making for a more solid feeling bench that can take a crazy amount of weight without even flexing. 11 gauge is generally used in commercial quality benches.
Attachments – A leg attachment includes a leg curl and leg extension combined attachment. A preacher curl attachment is a pad to stabilize your arms for bicep curls (curl bar not included). You will need weight plates for either one. See the notes above on seat height and why a leg curl attachment generally makes for a less than optimum bench. Most benches here don't have these kinds of attachments available. They aren't a good idea for any multi-user environment, where the attachment ends up laying next to the bench as a tripping hazard.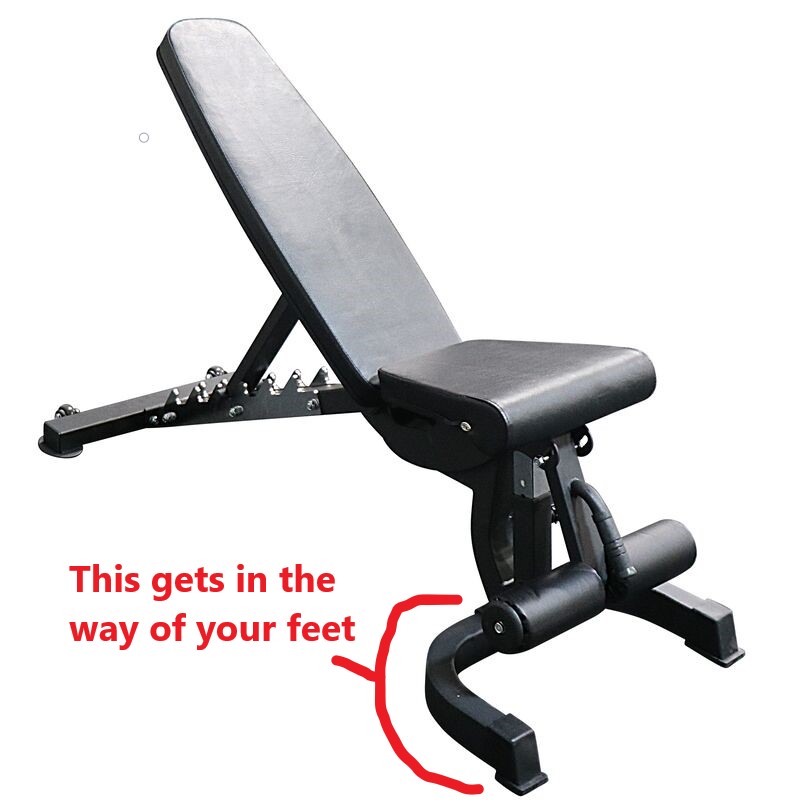 Front Feet Design – To clarity, the "front" is the end where your own feet go. The very best design is a single foot in front and 2 feet widely spaced in back. This is what you'll see in the most heavy-duty commercial-grade $1500 benches that you'll find in some health clubs. The reasons they sometimes make wide front feet is to help the stability of a lightweight or poorly engineered bench, or to better accommodate some wobble from a leg curl attachment that operates off the front of the bench. Wide front feet get in the way of your own feet! I hate them and hope they die. The worst designs are the ones with wide feet that curve along the floor, giving you nowhere to put your feet but way to the sides where you don't really want them. A couple of the benches here don't have the best design of feet I described, but at least only a single straight tube that isn't too wide.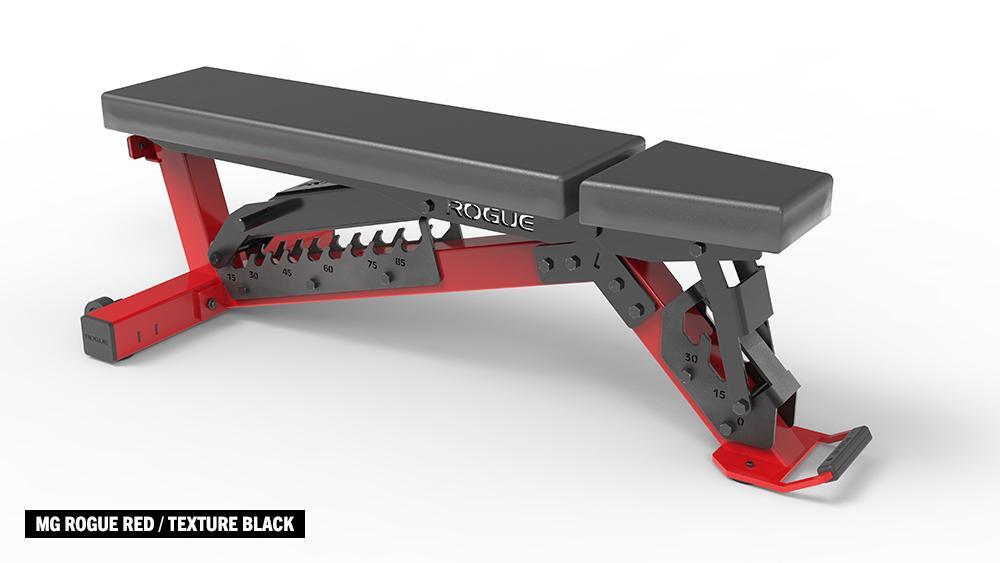 The only USA-made bench on this list. Rogue makes a ton of equipment in-house at their huge facility in Columbus, OH.
Released in June 2021, this replaces their Adjustable Bench 2.0. Upgrades in this version:
| Rogue Adjustable Bench 2.0 | Rogue Adjustable Bench 3.0 |
| --- | --- |
| 2×3 Frame Tubing | 3×3 Frame Tubing |
| 6 Back Positions | 10 Back Positions |
| 2 Seat Positions | 3 Seat Positions |
| No Adjustment Markings | Laser Engraved Adjustment Markings |
| No Compact Storage Ability | Stands on Edge for Storage |
| No Color Options | Several Color Options |
The $40 price difference between the two is worth it considering everything you get. Easy choice to go with the upgraded version. Keep in mind Rogue's original adjustable bench (1.0) was $800! They had to take things down a notch in 2.0 to hit a better price point. Now they're creeping back up, albeit nowhere near $800.
The ability to tilt this bench up on its end for a small storage footprint is huge when you're getting tight on space with all your garage gym toys.
Among the color options are a $65 option to include stainless steel ladder catches. Those catches will obviously face some abrasion from constant adjustment, and the stainless steel prevents any possibility of paint wearing off and keeps it looking good longer.
Pros
Cons
– 11 gauge steel
– USA made
– Minimal 1″ pad gap
– Many adjustment positions
– Laser engraved adjustment markings
– Expensive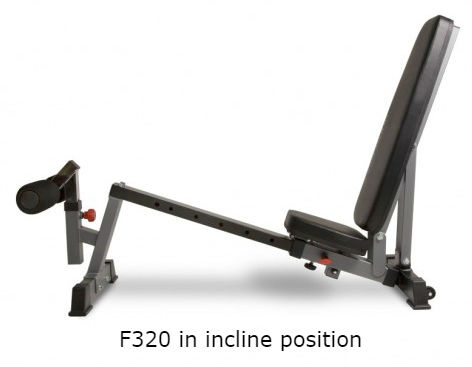 BodyCraft is located just a bit up the road from Rogue Fitness in Ohio. BodyCraft was there first!
BodyCraft makes a very limited number of products compared to, say, Body Solid, who makes the same type of strength equipment but releases a pile of new products every year. The reason they do this, as a BodyCraft employee once explained to me, is they prefer to concentrate on quality, improving their existing products incrementally.
The unique thing about this bench is, as shown above, for incline positions the seat slides backwards and down the frame/rail. Two advantages:
Low position for dumbbell work – You can reach the dumbbells on the floor to your sides easier.
Good position in a power rack – Normally, tipping the backrest to incline forces you to move the bench farther back into the rack, possibly hitting the rear brace of the rack, possibly with the choice of lifting the back legs of the bench over the rack's brace. With some bench/rack combos you simply can't get yourself in an incline position right under the bar where you want to be. This bench eliminates that problem.
They make incremental improvements in their equipment every few years. A good example of their attentiveness to feedback and industry trends is this bench's pad gap. See the 2011 version contrasted with the 2015 version (which I believe is still the same model as of writing). The pad gap was easily 3″, which is totally ridiculous. They narrowed it down to 2″ by raising the hinge.of the back pad, shown here:
This bench was a big deal in 2008 or so, and then as the years went by it became old news. Still, no other bench to my knowledge has copied this design, and they remain popular enough.
| Pros | Cons |
| --- | --- |
| – Very low to floor in incline position | – The low incline position may take some getting used to. It's also hard for large people with limited mobility. |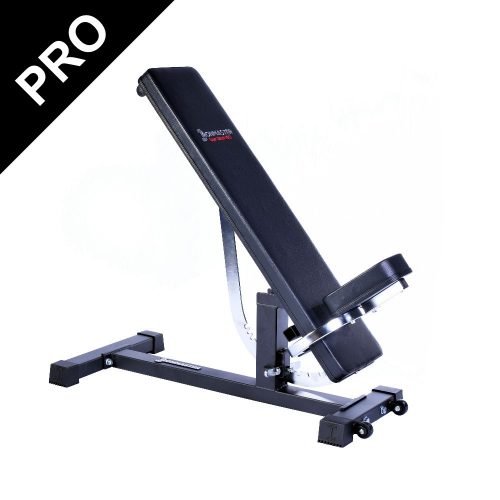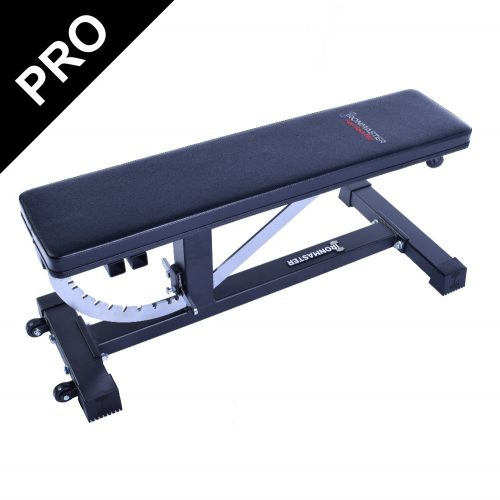 UPDATED 2020 – I have rewritten this section with the Super Bench Pro in mind, which Ironmaster released in late 2018 to replace the original Super Bench. They are still selling both the original and Pro, which I don't understand. The Pro is better in every way, and this was a badly needed revision.
Honestly, Ironmaster went a little crazy with this. They made an excellent heavy duty bench and then figured it was so solid that they could start adding a bunch of attachments to turn the thing into part of everything you want in a home gym. Why not?
Coach Chris White shows you just what this baby can do once you start adding the attachments.
His space shows you the beauty of something like this. A bench, pull up bar, and dip station all in one small area of your home. That's what it's meant for.
3 things make this bench unique, besides the attachments:
Patented Angle Adjustment Ring with Foot Lever – What a mouthful. Most benches have a ladder-catch or pop-in adjustment. This one has a steel ring with notches on it where the foot lever catches. It's so simple to use that you don't have to lean down and grab it, and I'm pleased to see that the foot lever is out of the way enough that you aren't going to accidentally hit it (which is absolutely crucial – when something gets in the way on a piece of gym equipment, it spells mayhem).
Zero Pad Gap – How so, you ask? Well, there's no gap because in flat position it's all one pad. For incline positions you slide the seat on. This is great because in flat position on other benches the gap between the seat and back pads can be annoying.
Add any of these options:
Leg Hold-Down for Situps or Decline Presses
Leg Extension/Curl
Preacher Curl
Dip Station
45 Degree Hyper (this is where it starts to get crazy)
Lat Machine
Dumbbell Spotting Stand
Hybrid Pad
Or you know what, just stick with the base unit and it's great as it is. **But** do get the leg hold down if you plan to decline press.
Improvements in the Pro Version
The Pro is only 17.2″ high in flat position vs 20″ with the original bench. This makes it within IPF specs for bench height, and it's just plain better to use.
Wheels, which were an option on the original, are now standard.
Wider base and larger tubing for better stability. This also makes it heavier… Good thing they all have wheels now.
Better attachment securing mechanism helps you lock in attachments quicker and more securely.
High density foam pad improves the feel significantly. You don't want a squishy pad.
I should mention that in 2020 they came out with a "hybrid" pad that you can replace the existing pad with.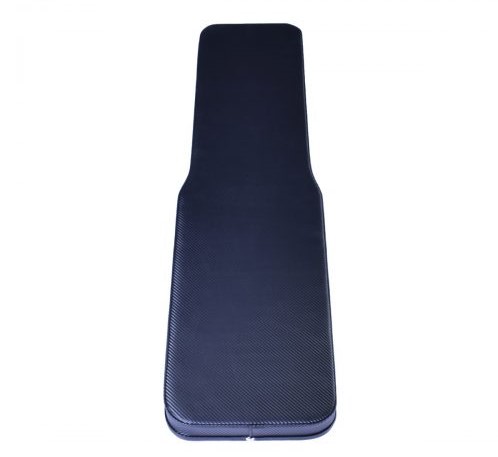 Half is 10.25″ width, half is 12.25″ width. You can flip it around to install either end towards the front. People like a narrower or wider bench for bench pressing or other exercises, and this pad accommodates that. The vinyl on this pad has a better grip than their stock pad. I like the fact that they removed the logo too, a consequence of the material they switched to. Big logos look tacky on bench pads.
As of writing, Ironmaster is forcing you to buy the bench with the old style pad and add the hybrid pad as an extra. I hope they offer the hybrid pad as an upgrade option at some point, or replace the old pad entirely and bump up the price a little.
Pros
Cons
– NO pad gap, due to the unique design
– Attachment Heaven
– Nice adjustment mechanism

– Splayed out front feet get in the way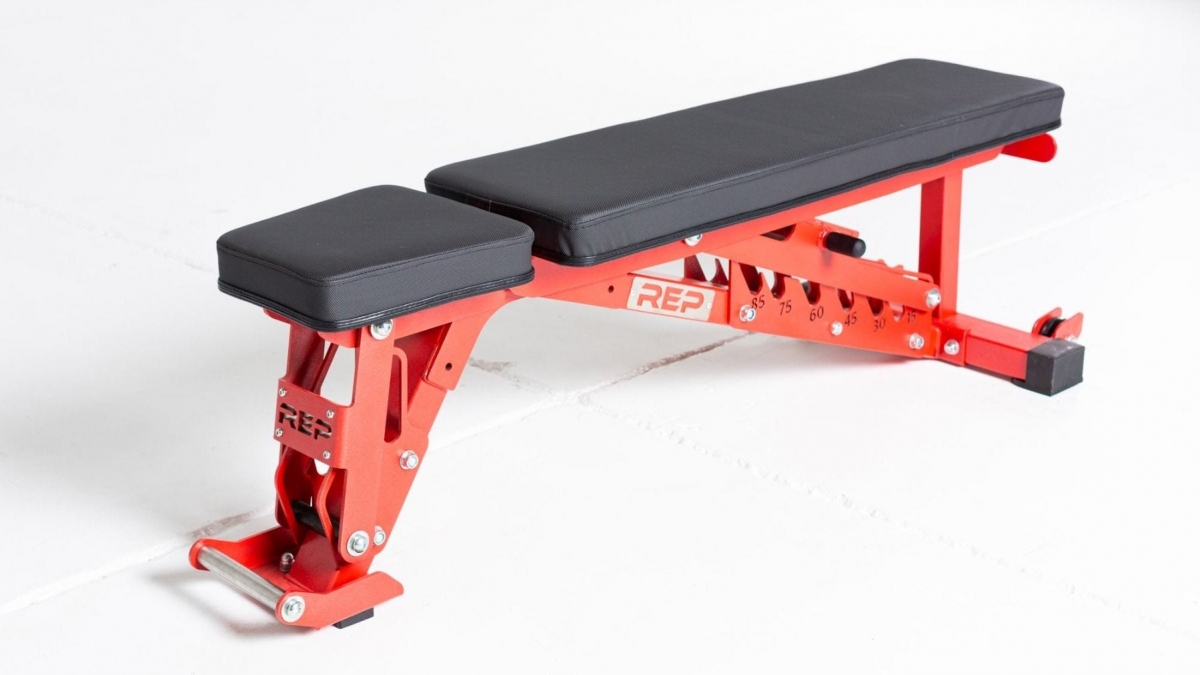 Rep Fitness is a Denver, CO company that has been known to have excellent benches for the price. This is one of their highest-priced benches.
Keep in mind that Rep had the laser engraved adjustment markings on this bench before Rogue did on any bench. This looks similar to the Rogue 3.0, but this bench came out way before the Rogue 3.0, making it look like this time Rogue is the one copying!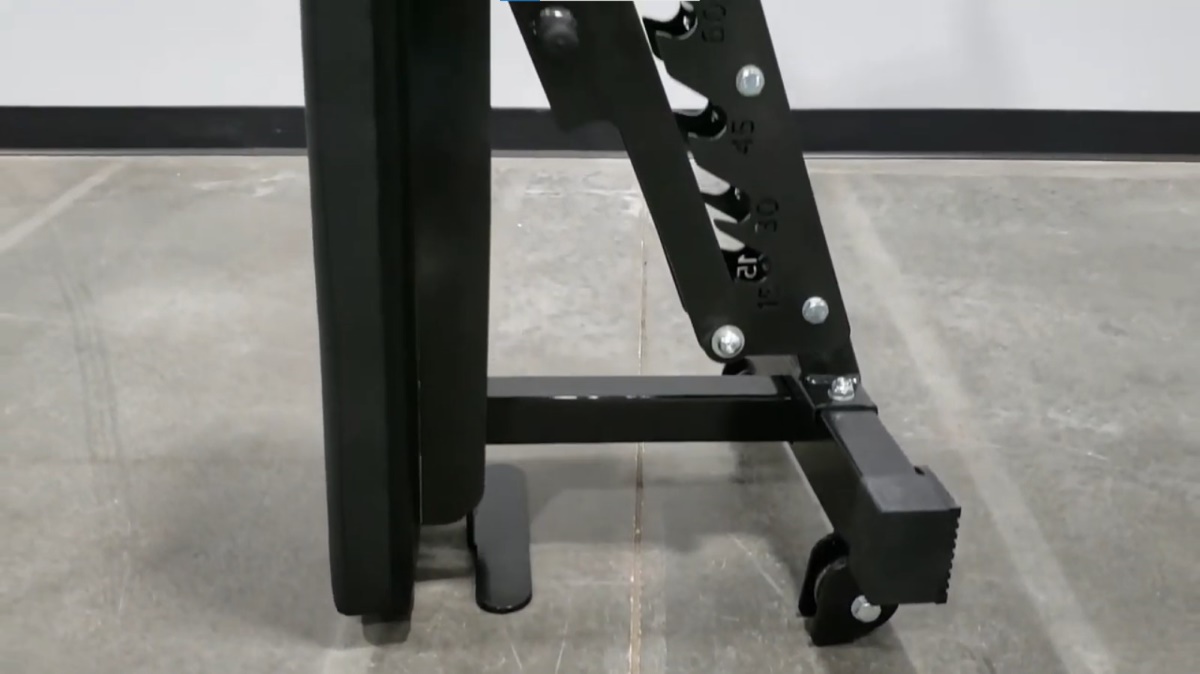 Like the Rogue 3.0 bench, the Rep bench can be stood up on its end for storing out of the way. Also like Rogue, Rep is doing a lousy job marketing this feature. Currently they have no product image showing it. I had to take that screengrab from their video. The flat plate it stands on is designed well enough that the bench isn't susceptible to toppling over from a nudge.
Rep sells a higher priced AB-5000 "zero gap" bench, which has a seat pad that slides on bearings horizontally to several positions to butt up against the back pad and remove any gap. For incline positions you slide the seat pad forward to give just enough room to tilt the back pad up into place against it. It works well.
One reason I recommend the AB-5200 for most people over the AB-5000 zero gap bench is the ladder catch adjustment mechanism for the AB-5200 is easier to use than the AB-5000's pop pin adjustment and can even be done one-handed. The other reason is the 2.25″ gap in flat position on the AB-5200 is not that big of a deal. The padding is sturdy and thick enough that you're not going to bottom out onto the hinge between the pads.
The optional 14″ wide back pad might be something to consider. People say it feels better on their shoulders for bench pressing.
Currently the product pictures are all with a red frame, but I think the black frame is the only one in stock. It's hard to tell what's going on with that right now.
Pros
Cons
– Easy ladder catch adjustment
– All laser engraved, no stickers
– Optional wide pad
– Optional spotter deck
– 2.25″ pad gap
– Color options are currently unavailable
Is there another bench that you feel should be included in this article? Let me know! Note that there are lots I didn't include because of the high height, low weight capacity, front feet that get in the way, or being even more expensive than the Rogue.