See the dumbbell microloading article also. I split this article off to focus on better solutions for barbell microloading with fractional plates and rewrote the dumbbell one while I was at it.
The Problem
Microloading is using small weights – usually 1lb or less – to load your barbell in small enough increments that you can keep progressing. It's helpful anytime you're doing an exercise with light weights where adding 5 lbs is simply too big a jump, or even when you have plateaued out at higher weights and can't seem to get past that number.
Most weight lifting equipment manufacturers only go down as low as 2.5lb olympic plates and haven't bothered with 1.25lb plates, but 1.25lb is common enough that it's fairly easy to find if you search around.
With 1.25lb plates, with a pair you're still increasing the weight by 2.5 lbs. You might want a smaller increment than that.
Micro Weights Comparison Chart
Scroll right to see all 5 if they aren't visible.
Bells of Steel
Micro Gainz
Iron Woody
Wright
Rogue
Plates
8 x 0.5 lb
0.25, 0.5, 0.75, 1 lb
0.25, 0.5, 0.75, 1 lb
0.25, 0.5, 0.75, 1 lb
0.25, 0.5, 0.75, 1 lb
Material
Iron
Steel
Steel
Rubber
Rubber
Color Coded
No
Optional
Yes
Yes
Yes + White Lettering
Made In
China
USA
China
China
China
Set Price
$30 & free shipping
$43 / $48
$50
$65
(code TWOREP for 5% off)
$76
Below is a more detailed look at each one.
DIY Chain Loops and Other Solutions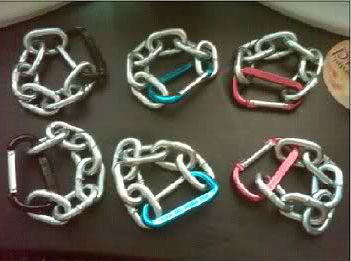 First, some DIY guidance.
You can get several lengths of chain and use carabiners to make some micro weight loops like the above. The weight all depends on the size of the chain you can get. Thin chain can easily be less than a pound per loop of the type shown above.
For that matter, you could use a thin rope to hang a bag filled with any loose heavy objects like spare change or a bunch of nuts and bolts. You probably want to duct tape it together enough so it won't swing around, or that kind of wobbly weight is a different type of training.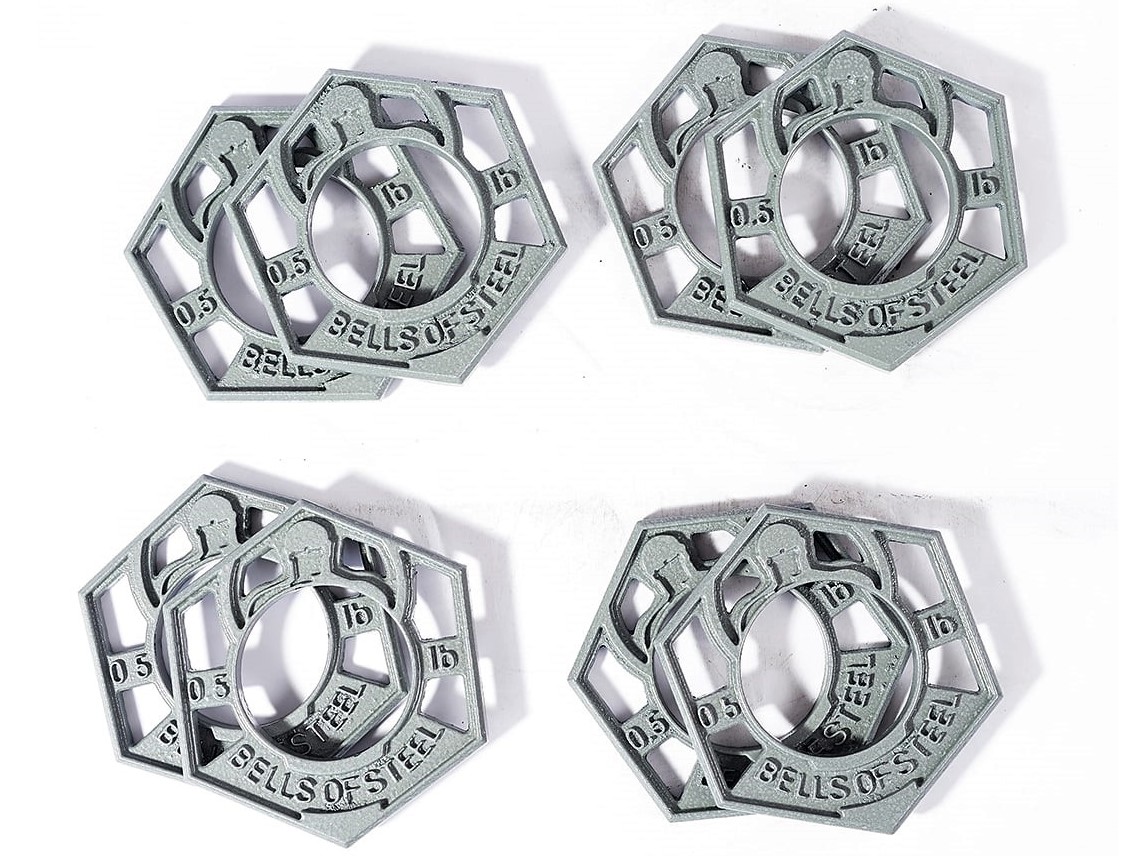 Bells of Steel sells these iron 0.5lb plates in a set of 8 for $30, one of the best deals you'll find for micro weights.
Although unlike others featured here, these are made of iron and not steel, they are machined down to be very accurate in weight, within 1% of the marked weight.
On the downside, they are not made in 0.25lb sizes. See below for more options.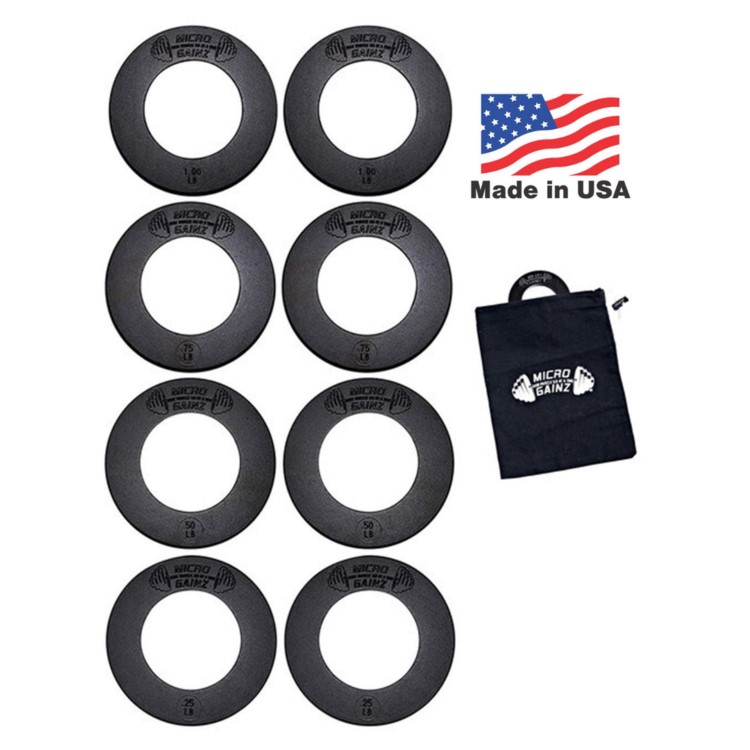 Micro Gainz has these USA-made fractional plates in 0.25, 0.5, 0.75 and 1lb. As of writing you can get a full set for $43. They sell pairs of single sizes too, but they price it such that a whole set is a much better deal.
They also offer an option on the product page for color-coded versions for just $5 more, a highly recommended upgrade to make your life easier should you go with these.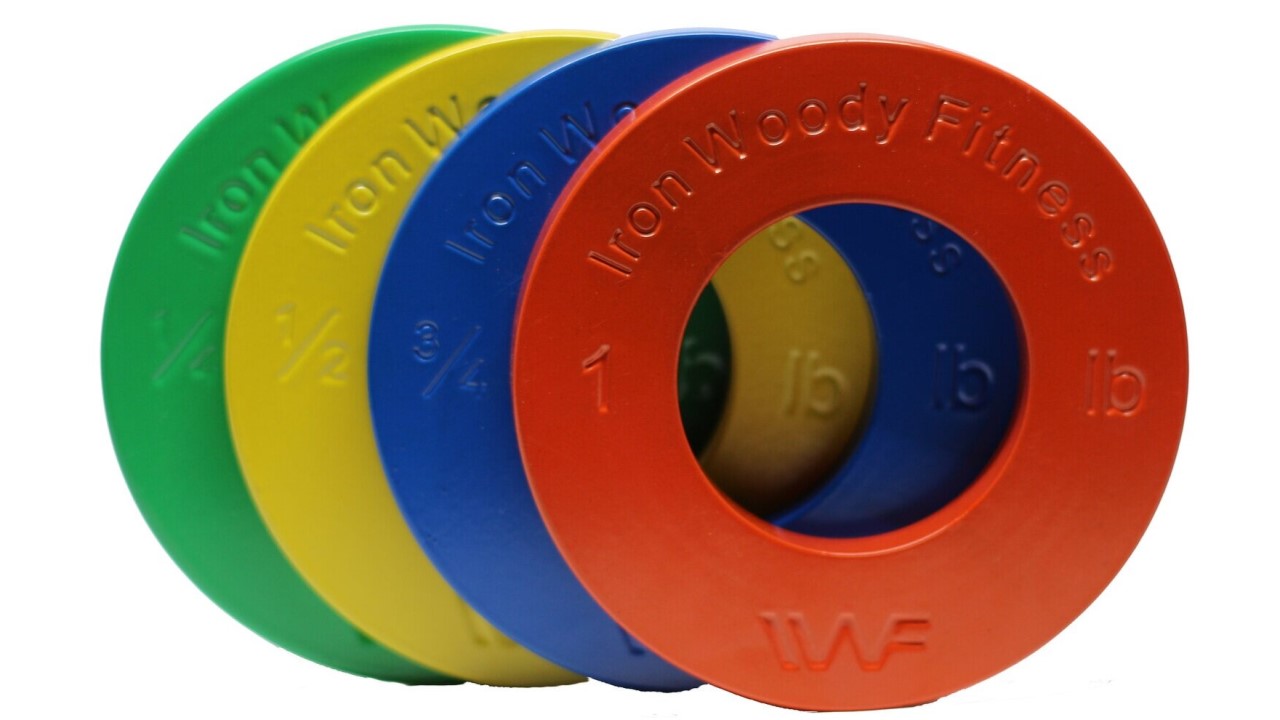 For a color coded option, the Iron Woody steel plates come in 0.25, 0.5, 0.75, and 1lb sizes for a little more than the black Bells of Steel plates, $50 per set.
They do not advertise a specific level of weight accuracy. Most likely they're pretty close.
They are also available in kilogram sizes of 0.25, 0.5, 0.75 and 1kg.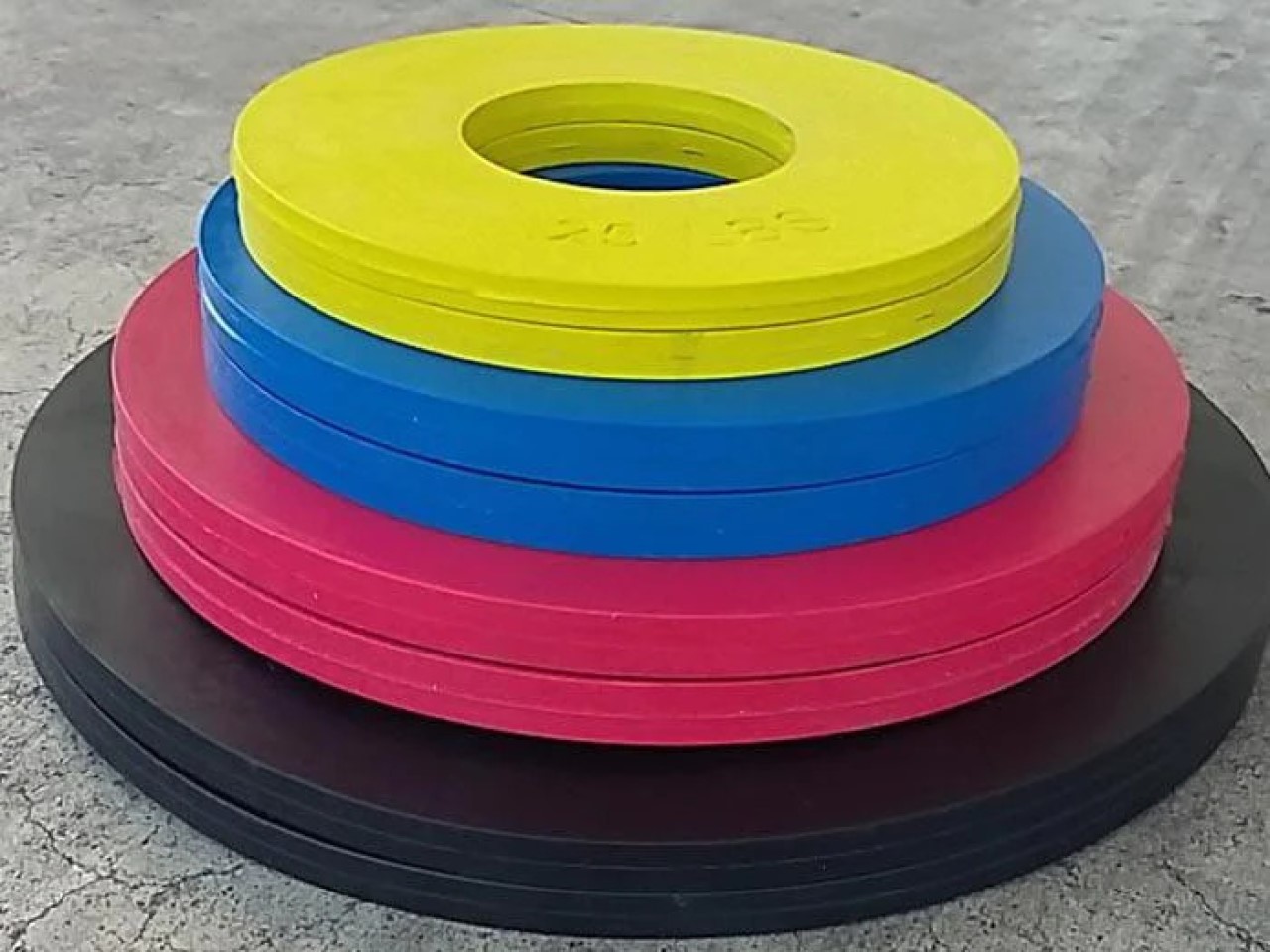 Rubber coating reduces noise significantly. These also have an even tighter weight tolerance the others above, at +/- 0.5% of the marked weight!
Wright has these in the same sizes as the others, 0.25, 0.5, 0.75, and 1lb, for $65 a set. As always, use our code TWOREP on checkout for 5% off.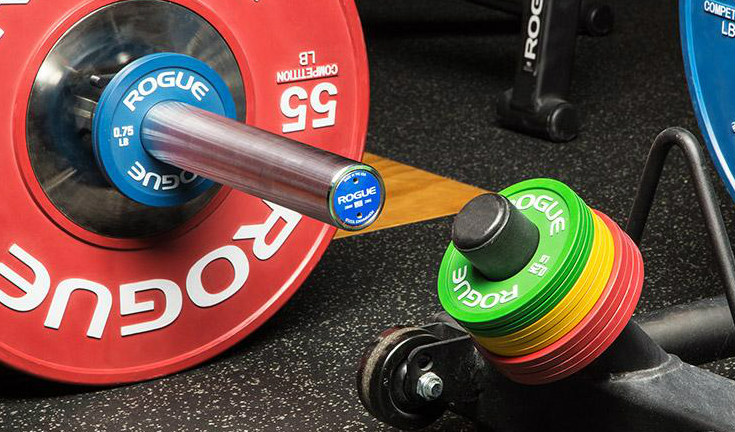 Now for the premium option! Rogue sells rubber coated fractional plates in 0.25, 0.5, 0.75, and 1lb, or as a whole set for $76.
Unlike Wright, these have white lettering to help you confirm the weight, and they just look better.
Their weight variance is a little wider than others, guaranteed at only +/- 2% of the marked weight, or 10 grams. That doesn't matter. It's a marketing thing. 10 grams is an extremely low variance in absolute weight that has no bearing on your training.
On that note, if you're doing microloading, you should be concerned about the accuracy of your larger plates. Consider using very accurate plates such as machined iron plates or bumper plates. Micro weights don't do you much good if the variance of your larger plates eclipses it and you don't know exactly what you're lifting each time.