Intro: Why Machined Weight Plates are Awesome
For looks, nothing beats the old-school appeal of deep dish iron plates. A rubber or urethane coating is admittedly more user-friendly. Doesn't matter. There's something about the look and feel of iron that makes it look heavier and feel more satisfying to clang and bang.
The best as far as this goes is a well-machined iron plate. It's made with a regular casting process and then is machined down on all sides to the right dimensions, resulting in pretty accurate weight and a precisely snug center hole, instead of being pounds off like cheap plates that have little or no machining done.
Sometimes people call these calibrated plates. I have done the same thing, and I'm trying to move away from calling them that. The only truly calibrated plates are the steel (not iron) powerlifting plates or bumper plates that are dead-on accurate in weight, down to mere grams. They have to be that accurate for competitions or people would have a fit. My understanding is – without knowing the details – it isn't feasible or cost-effective to try to calibrate iron to weight. Cast iron products coming from a mold aren't as consistent as steel, leading to weight variations of several ounces. After casting they machine the iron to the right dimensions that result in most plates being within 1% of the marked weight, which I think isn't really close enough to call calibrated.
Now on to the plates! These are the top ones on the market today.
Quick Comparison Chart
Ivanko OM
Troy HO/PO
Rogue Machined
Rogue Deep Dish
York Legacy
The Strength Co
Bells of Steel Machined
weight
accuracy
+/- 2%
+/- 2%
+2% / -0%
+2% / -0%
+/- 2%
+/- 2%
+/- 2%
hole size
50.2-50.8mm
50.8mm
50.6mm
50.4mm
53mm
50.5mm
50.1-50.9mm
diameter
450mm
450mm
448mm
450mm
445mm
451mm
450mm
thickness
of 45lb
1.56″
1.54″
1.5″
1.97″
1.5″
1.25″
1.2″
coating
baked polyester
baked enamel
baked enamel
e-coat
baked enamel
e-coat
powder coat
made in
China
China
China
USA
China
USA
China
price of 45lb
$101
$100*
$94
$78
$76
$98
$100
(free shipping)
Data as of Apr 2021
* The prices of Troy plates can vary widely. They sell through independent dealers, who can set and change prices as they please.
Ivanko model OM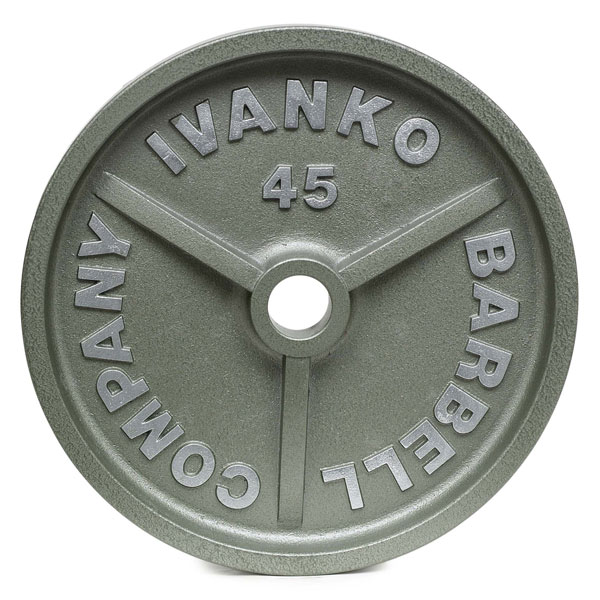 Best For: Ivanko fans and any lifters who want consistency and proper sizing
The gold standard! Up through the early 2000s these were considered the go-to machined plates.
Ivanko has been around since 1967. Their plates earned a great reputation for quality. There are a lot of fans of Ivanko plates who have been using them for decades and sometimes even find that the newer crop of Ivanko plates imported from China are better.
Ivanko machines their center hole to a tolerance of 50.2mm-50.8mm diameter, meaning less than 1mm of slop on a 50mm bar sleeve. That's considered nice and snug. It's the same with most other brands here. Some years back when badly off-spec Chinese olympic bars flooded the market, Ivanko held firm with their plate hole sizing and told their whining customers that their cheap bars were whacked, while York started oversizing their plate holes to compensate. Props to Ivanko for that.
Ivanko used to be considered very expensive. As I compare now, they're about the same as everyone. I suspect they have not bothered raising their prices for ten years and have become in line with most everyone else that way? Dumbbell Buddy's prices for Ivanko plates are listed as much higher, albeit with free shipping. So I'm not sure what's up.
Their website was hand-coded in Notepad in 2011, no software framework at all, and they don't care to fix navigation links that broke years ago. I'm being harsh, but it gives you a good feel of how the owner must care exactly zero about modern technology or marketing. To order you can either call up Ivanko on the phone or order online from Dumbbell Buddy, who appears to be their only online dealer.
Oddly enough, if they manage to keep coasting like this after having stopped all product development and marketing so long ago, you could make an argument that the consistency of Ivanko plates makes for a good investment in terms of the likelihood that in several years you can probably buy another bunch of identical plates to match. That's including a big assumption that their long history is an indication that they have a long future.
Troy HO and PO
Best For: Proper sizing. Price shoppers might find a good deal. Overall good pick.
The HO and PO models use the same casting, differing only in the finish, with the HO being green-grey with white lettering, and the PO all black.
I sold thousands of these Troy plates when I was a dealer. Overall they're a solid buy. People were happy with them and placed multiple orders for them. Customers would sometimes get plates with the enamel too thin in spots or built up. There is a certain splatter type texture to them that is intentional.
Starting at 2:10 in Alan Thrall's video above is his experience receiving and inspecting these plates he got from us.
Now is a good time to say: Iron plates are not the right product for OCD sufferers, and especially not enamel-coated plates. The stock photos are always optimistic. They're plates. You lift them. If they look fine from far away, are in one piece, and are on weight, call it good. OCD sufferers should look at urethane plates, steel plates, or rubber bumper plates… and be sure to not look too closely to find the traumatizing scuffs.
Possible surface defects aside, these are a solid choice. Dead even 450mm overall diameter, a snug center hole, and accurate. From what buyers have reported, the 45lb plates for example can fall in the range of 44.5lb to 45.5lb, which is just over 1% off in each direction, well within the plus or minus 2% range advertised. Many are dead-on 45lb.
At one point Troy started making the edges of the rims a little more rounded. Not by a lot, but enough to notice if you had older ones. Probably to make them more user friendly.
As of writing, Troy hasn't been able to bring in enough stock from China to keep up with demand since March 2020. Prepare for pre-ordering and a long wait. This situation is what directly led to Strength Co, further below, to have an American foundry start casting plates.
Rogue Machined Plates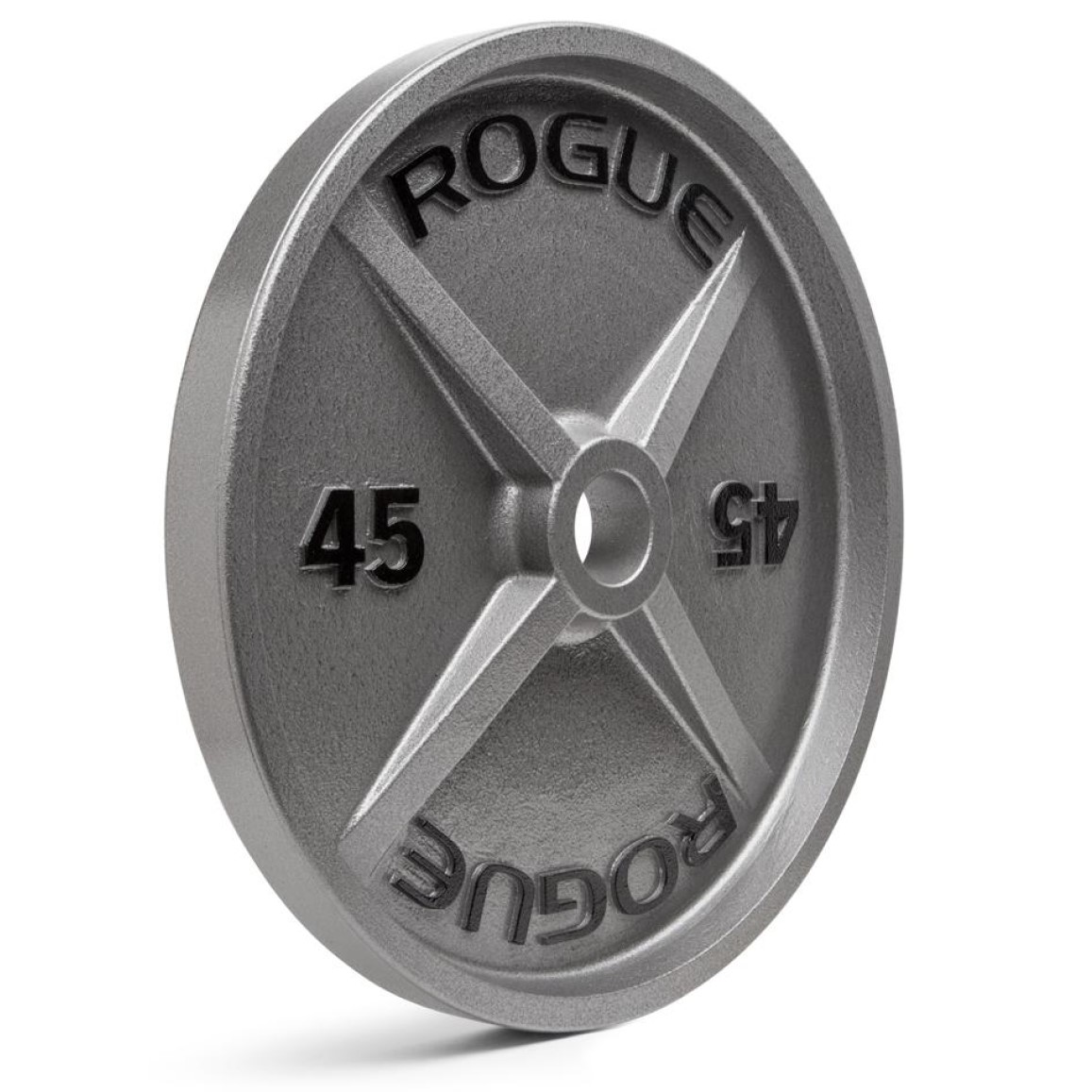 Best For: Lifters who want accuracy and good contrast lettering
Two options from Rogue. First, the China-made plates.
These plates were released a few years ago. I like the black lettering on grey. These are some of best looking plates of this style, in my opinion.
They are guaranteed to not be underweight, and up to 2% overweight. That's a tighter range than the 2% over- or under-weight that everyone guarantees. I'd be curious how they manage to keep them more consistent than everyone else.
Rogue made the choice for the 45s to be 448mm diameter instead of the standardized 450mm. This matters because it affects the height the bar sits off the floor, and if you have a mix with another brand of plate, this 448mm is going to mess it up. My best guess is Rogue did this on purpose with the idea that people might be mixing them with bumper plates, making the bumpers contact the ground first and with a little give to them. But I don't know for sure.
The price is fantastic. At least until you calculate shipping and your excitement drains away. The "hundo pricing" for ordering enough plates at once doesn't make much of a dent against that shipping charge.
Rogue Deep Dish Plates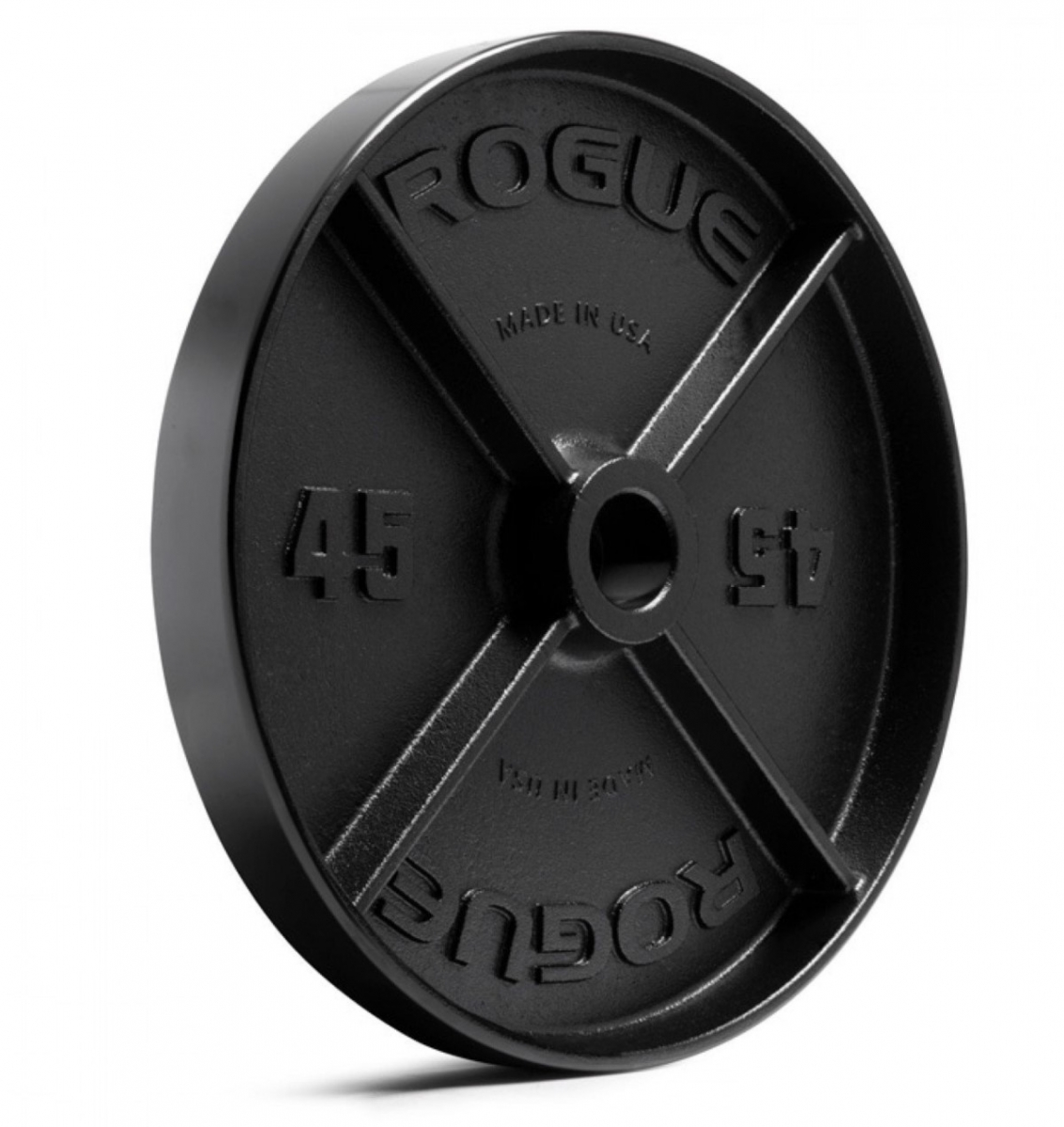 Best For: Lifters who want accuracy, easy handling, an old school look, and USA-made
These have the same exceptional accuracy as the Rogue Machined Plates.
Several differences to point out from the Rogue Machined Plates –
These plates, released in 2020, are very "deep dish", with the overall thickness of a 45lb plate being a hair under 2″, way thicker than Rogue's other plates and any other brands here. The deep rim makes the plates even easier to carry with one hand.
The Michigan foundry that makes these for Rogue uses ductile iron, a cast iron alloy that is incredibly strong, making these plates more resistant to breaking. It takes a lot to break a weight plate. If you're abusing them pretty hard on concrete or whatever, that might be a consideration.
Next, the electrocoated finish, called e-coat for short. Rogue has been doing this on some olympic bars and other products. Basically it's an electrically-applied coating that goes on super thin, uniform, leaving no bare spots and no buildup. It preserves the texture of the iron, improving handling maybe, and I like the look of it. It's also pretty durable. Seems to work good. The typical enamel coating baked onto on plates isn't very consistent.
Rogue is making these in the USA! It was good timing to come out with these in 2020 when nobody could meet the demand for plates from China and everything was sold out.
Thankfully, Rogue set the 45lb plate to the standardized 450mm diameter, unlike their China-made plates further above. This ensures you can use them with no issues alongside every other brand of plate that is the right size.
Six months after releasing them, Rogue still isn't making any 10lb, 5lb, or 2.5lb in this style, with the closest choice they have in those sizes of black plates being the generic "Standard Barbell" plates that Rogue and a hundred other stores sell.
York Legacy Milled Plates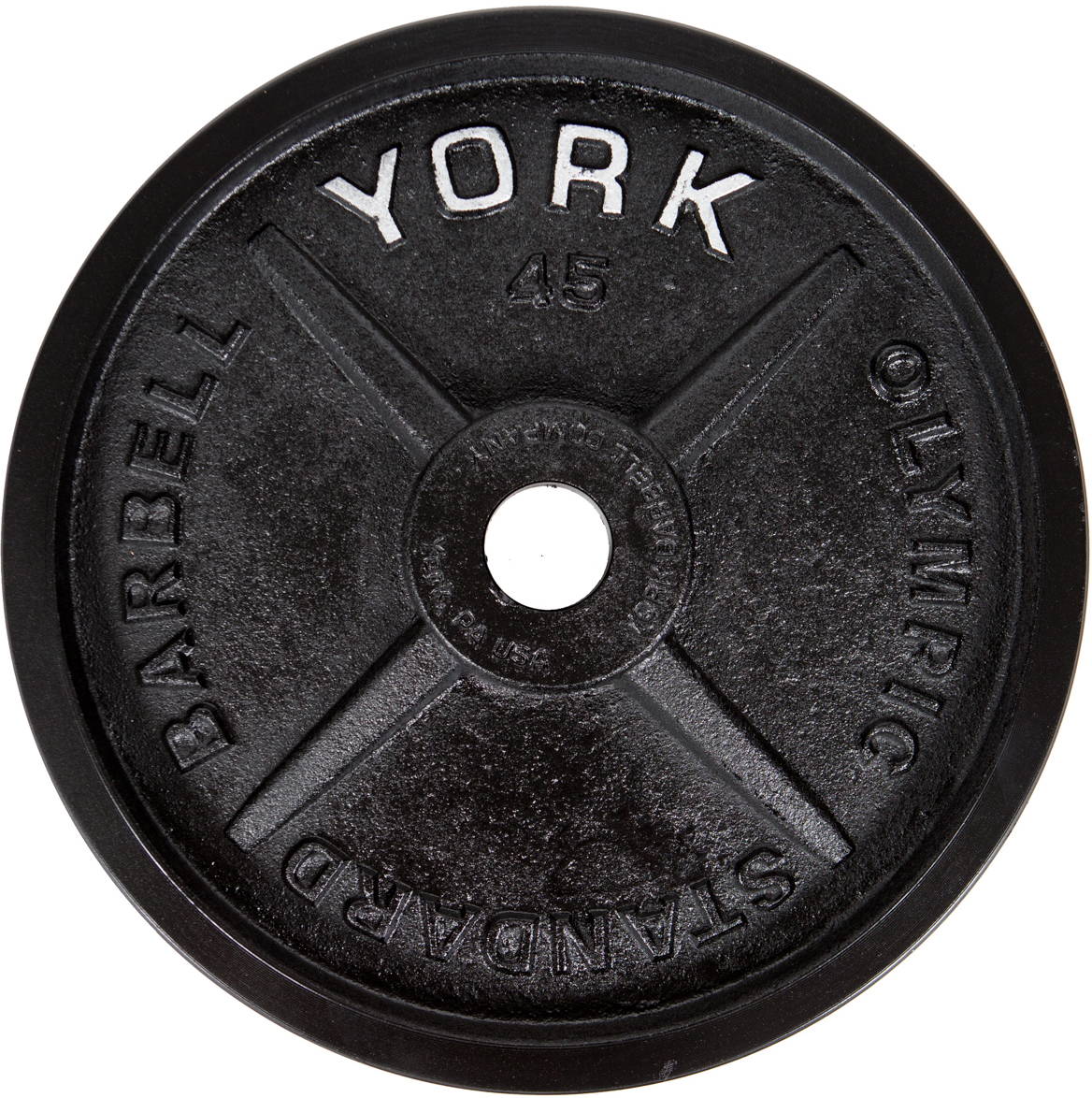 Best For: Diehard York fans
Boy, that picture looks rough, doesn't it. I don't know what to tell you. That's the most flattering one they have. It's the "legacy" model, which happens to be their only machined plate of this type. I think it's supposed to look a little rough.
York was established in 1932, making it easily the oldest company here. Initially they were in the business of promoting weightlifting, and at some point I'm not sure of they started making barbells and plates.
Unfortunately, at some point they outsourced everything to China and let their products be ruined. The plates are now manufactured with an oversized center hole to fit badly made oversized olympic bar sleeves that used to populate the market some years ago, as I described in the Ivanko section above. It results in a very sloppy fit, not a big deal for things like bench pressing but pretty annoying for any exercises where you pull off the floor.
On top of that, the 45lb plate diameter is way short at 445mm instead of 450mm, causing significant issues if you should be doing any exercises off the floor and mixing them with properly sized plates.
A number of people collect York's decades-old USA-made lines of plates, which can be occasionally found in garage sales and online marketplace listings and are considered a far better value than the current crop of York plates. Bring a caliper if you drive to check any out. If it's not rusted to heck and the hole is around 50.5mm, that's a darn good plate, and you don't even need to bother asking to weigh it. Spotty surface rust is no big deal.
For the current model, the weight accuracy is great. The casting and finish quality are average.
York is the only one to call their plates "milled" rather than "machined". As far as I can tell, it's totally a matter of terminology and marketing.
The Strength Co Plates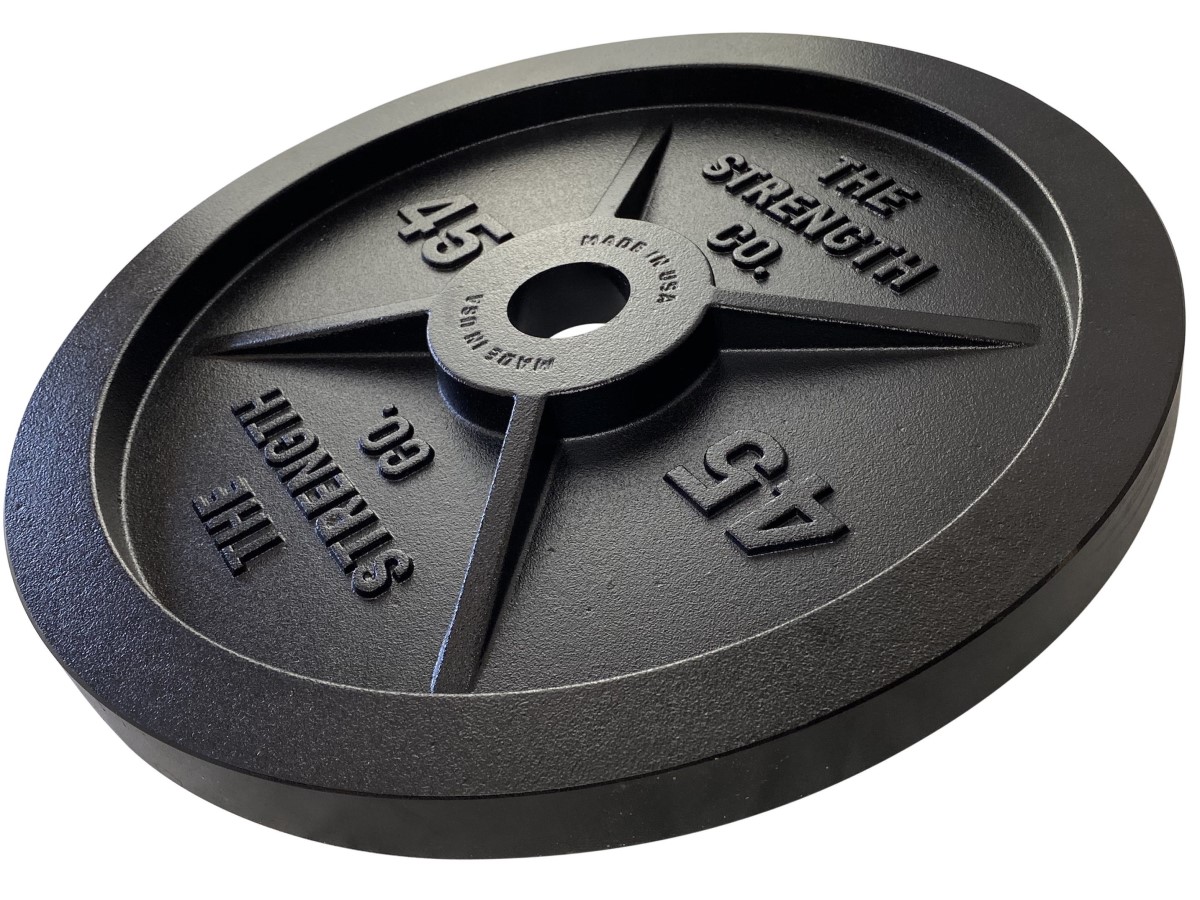 Best For: Lifters who want a unique USA-made alternative
The owner started The Strength Co not as a store but a Starting Strength coaching gym in 2017. In 2020 they took the opportunity of the shortage of Chinese plates to have their own American plates made, and – based on the number of reviews – they've been selling a massive number of plates since.
The first thing you might notice is the extremely thick rim. It's not the best size. Let's look at how that might affect things…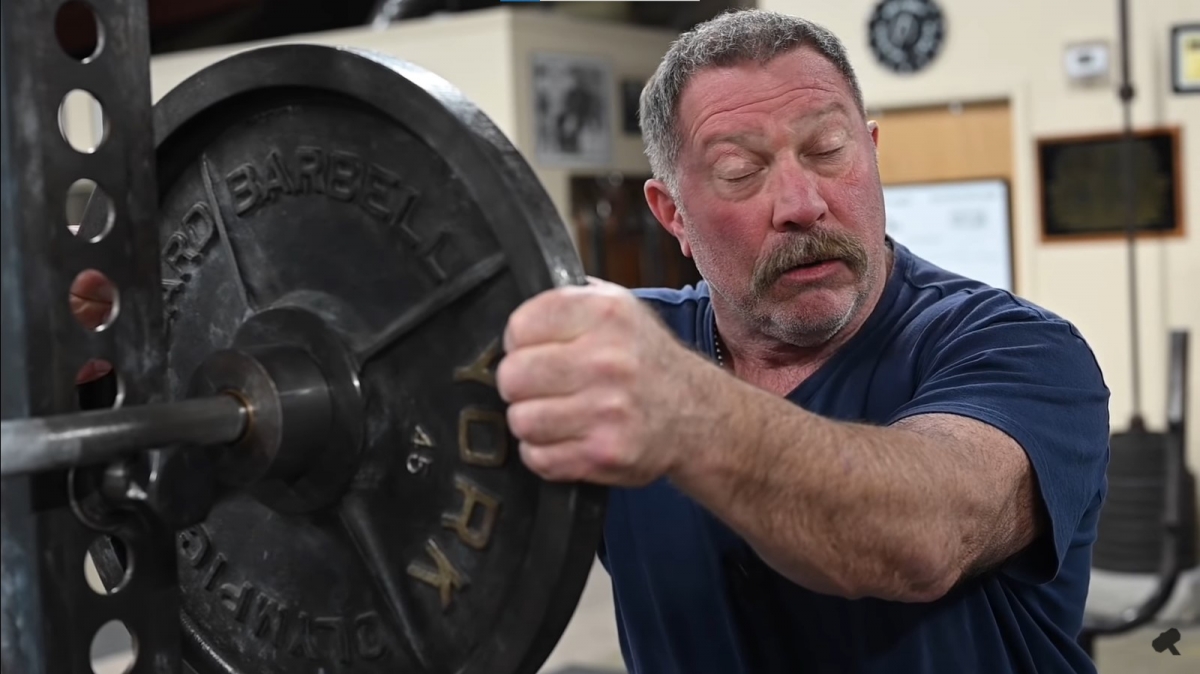 Above is Rip grabbing a vintage York plate with a rim of moderate thickness, so you can get your fingertips around it easily on the backside and pull it off a bar safely. That York rim is actually on the thick side compared to other plates.
The Strength Co plate rims are so much quicker than York that it makes them less user friendly. If you have exceptionally large hands, they might be just right for you. For most people I don't think they're going to work out as well.
The risk of dropping a plate on your foot is greater than zero and – as silly as it sounds – is probably the greatest danger in the gym to anyone who gets into the habit of loading plates over and over, week after week. A small risk catches up to you with high enough volume. One slip with a 45 is all it takes to ruin your life for months. Get plates you will grab 100% securely every time.
As far as the plate diameter, they are 451mm / 17.75″ 45lb instead of the standard 450mm / 17.72″. The extra millimeter is not enough to notice if you're only using The Strength Co plates, but it is enough to matter if you'll ever find yourself mixing them with 450mm plates as I always do. It causes these plates to be more in contact with the floor.
The quality of the casting and finish looks great in the pics. They use the nice modern e-coat finish that otherwise only Rogue is doing on their Deep Dish, described above. I notice that only American made weights are being e-coated. Nothing from China. Is there a reason for that?
Even though I would not buy them for the reasons mentioned, I like that they tried something a bit different and are making them in the USA instead of relying on some Chinese company to design and make the plates as mindless clones of existing designs.
If you feel fine about the rim shape and plate diameter, give the plates a try, and leave a comment here to share your opinion with everyone!
Bells of Steel Machined Plates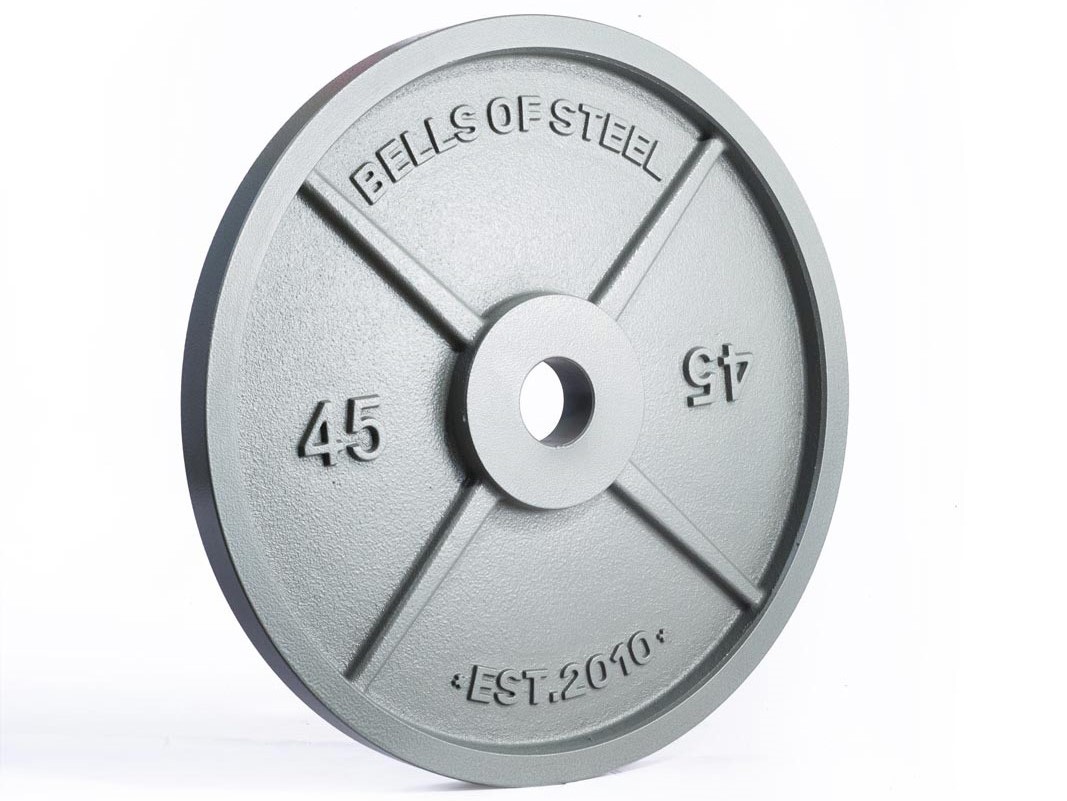 Best For: Lifters who are filling up the bar sleeve
The newest of the bunch, the BoS plates released in 2021 are also the thinnest at only 1.2″ (45lb). BoS has a lot of stuff geared towards powerlifting, and these are the kinds of plates that elite powerlifters like. They can load a bar up heavier with these than any other plates on this page. The alternative is steel powerlifting plates, which are even thinner but cost twice as much.
At the same time, the thinness of the plate makes for harder handling like the Strength Co plates. You can't get your fingers deep under the rim to carry a plate as easily one-handed as with other models here. Be more careful than normal.
There's nothing about the look that stands out to me. It's a powder coated finish that looks decent, but the design and color reminds me a lot of the cheap "Standard Barbell" grey plates. I can't really dock them a point for that part. Just personal preference.
These are a surprisingly good deal for machined plates. The lack of painted lettering must save on costs a bit too. BoS is the only company here who offers free shipping on plates. I imagine that after paying the $200+ freight they're often breaking even and depend on larger orders to overtake the freight costs and turn a profit.
Other than plates, BoS has a nice selection of heavy duty equipment to browse through. Most of it is geared towards powerlifters.
Update: I bought a 45lb pair of these plates to try out. I can confirm that the size, center hole, and actual weight are all pretty good. The reason I got them was because I was maxing out my bar with bumper plates when doing deadlifts and needed some thinner plates. Thin plates like this are ideal for such a situation. See my full review.
That's it for the models. Let's look at a final consideration…
The Perils of Shipping Plates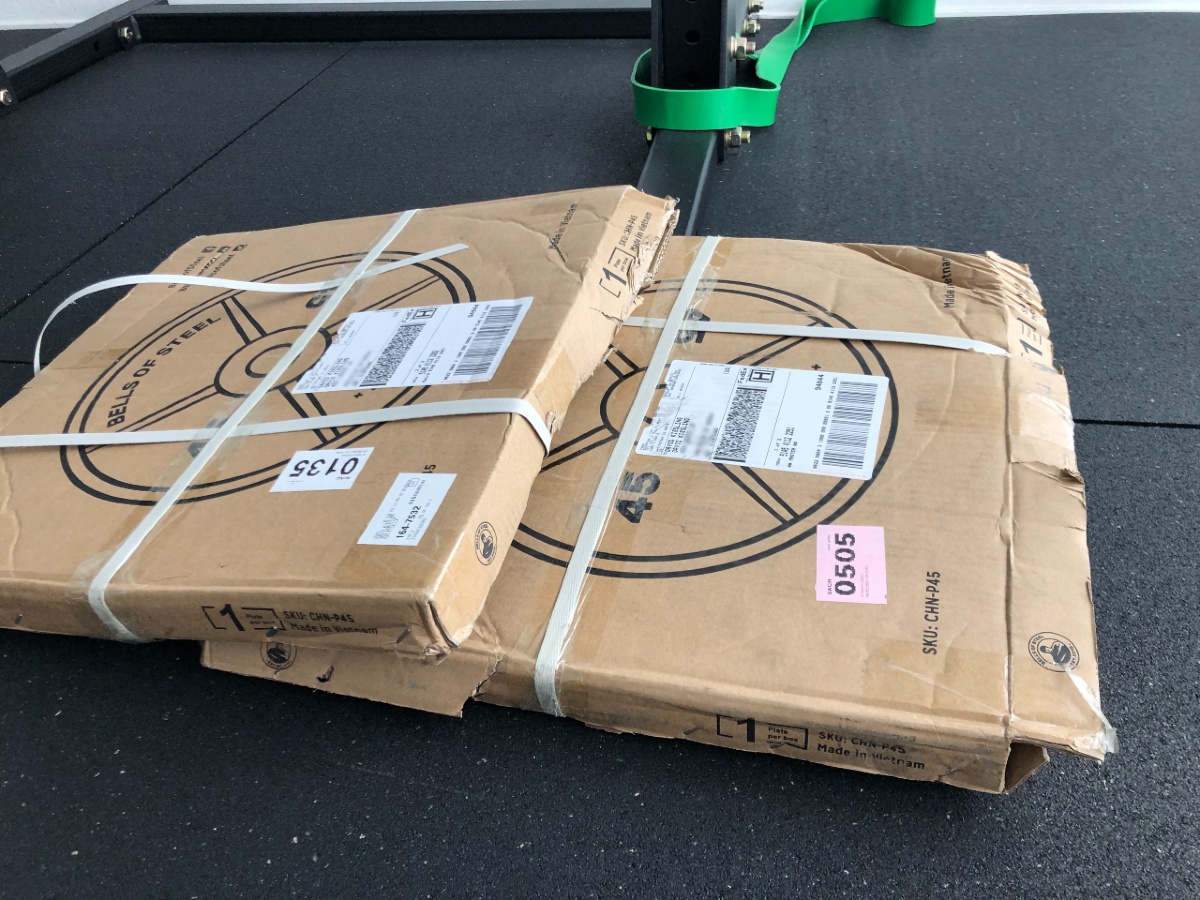 Heavy iron = shipping damage.
Should you have missed my comment about selling gobs of Troy plates, note that I have dealt with many, many shipments of plates.
If possible, order enough plates or other stuff at once to get them shipped by freight. The shipper determines if they're going to ship by package or freight based mostly on the weight. It's cost-effective to ship something by freight once it reaches around 200 lbs, give or take. Freight will be packaged on a pallet or in a crate. Your plates will be far safer that way than in a package that gets tossed around. Or until they run into the odd forklift operator with no depth perception.
Freight means you deal with a little bit different delivery process. A truck with a lift gate is not guaranteed. A lift gate is the fold-away steel platform on the back of a truck that can act as an elevator to bring the pallet down so the driver can wheel it to your door. Without it, you have to hand-unload the pieces on your own. You're used to package carriers delivering right to your door. Freight carriers technically just do "curbside" delivery. In practice they're nice enough to put it in front of your garage, but certainly not going up steps to your door, because of the weight.
A couple decades back, lift gates were more rare. Trucks mostly delivered to stores, not direct to people's homes. That changed with all the online shopping. Normally today most freight carriers are smart about it and it all works out. To avoid getting the possibility of having to hand-unload a large number of weight plates, check with the store you're ordering from to make sure they request a lift gate.
The other small issue is freight requires a signature on delivery. One handy trick if you can't be home is the freight carrier can be released from liability by the shipper and told to drop it off at the destination (hopefully carefully). I did that a few times for customers in nice suburban neighborhoods. Package thieves don't steal weights.
Alternatively, you can pick it up at the last hop freight terminal. The carrier never has a problem with that. Their process is usually to attempt delivery one time, and if nobody is home you can avoid a hefty re-delivery fee by going to pick it up. Bring a knife to cut pallet straps, or something to pry open the crate with, should you not be able to get help or fit the crate in your vehicle.
This isn't to make freight sound like a pain in the butt. It always works out in the end.
Grip Plates
I've left out all the "grip" plates that are much like the ones shown in this article but with grip holes for easier handling. I could maybe do a comparison of several of those if readers want me to.
But you know, when I think of grip plates, there's one style that stands out in my mind.
The Ivanko OMEZH, aka "Ivanko Revolvers" in reference to the shape of a revolver pistol's cylinder, are well-loved, as are the obvious imitation by Rogue, the Six Shooter plates. Everyone loves the cool design of both of them, and they seem to hold up just fine to some serious abuse despite the huge grip holes, because… engineering I guess.