Intro
Traditionally, knurling on a pull up bar was a good thing. Any manufacturer who didn't put knurling on it was cheaping out big time. It was just as important as the knurling on barbells and dumbbells.
Now there's a mix of pull up bars that are intentionally not knurled. Kipping pull ups, or the more popular variation in the Crossfit Games, butterfly pullups, require your hands to slide on the bar. Knurling would tear up your hands in a single set.
The type of squat racks we're talking about here are specifically made for the Crossfit crowd. Generally they are not used in actual Crossfit boxes. With a whole group training at once, businesses opt for a more space- or cost-efficient solution, like a rig with several stations, or a long pull up bar stuck out from the wall with several brackets. For a single user, a squat rack with a kipping pull up bar could be just the right thing.
Important: Ceiling Height
These racks are tall. Taller than you can reach. That's the whole point. You have to be fully off the floor for kipping pull ups. Therefore, these racks will not fit under a standard 8ft residential ceiling. Some new garages have 9ft ceilings to allow for big SUVs with roof racks. In that case, you're in luck, and this kind of squat rack will fit in your garage fine.
It really depends on how tall you are, and your reach. You have to be able to hang from it with arms at full extension without your feet reaching the floor at all. AND you need enough head clearance above the bar. The bars on these racks can be adjusted to a few heights. With a 9ft+ ceiling, most people will find a good height with both foot and head clearance.
---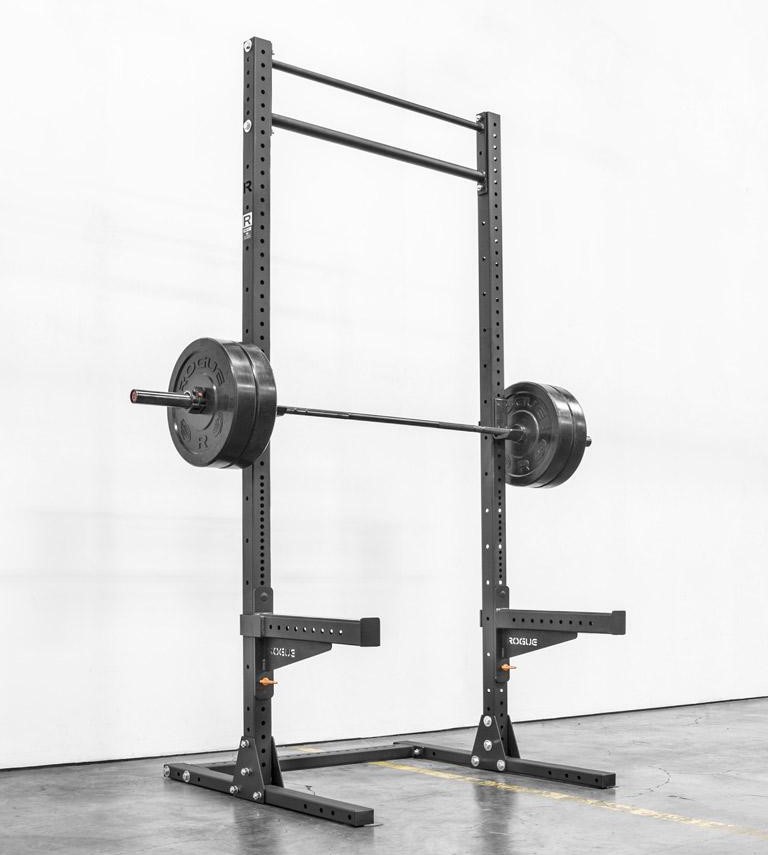 Height
108″

WHY BUY?

Most Trusted Brand in the Industry
11 Color Options
USA Made

Pull Up Bar Max Height
104″
Weight
157 lbs
Steel
3″x3″ 11-gauge
Price
$520
Along with the rest of the Monster Lite series, Rogue came out with this in 2013.
It has supplanted the Rogue S-2 2.0 as a basic squat stand with pullup bar. It's only $20 more, and for that you get 3″x3″ tubing, a higher pullup bar, and color options.
With up to a 104″ pull up bar height, it will suit anyone who isn't a pro basketball player.
Plus, as with anything Rogue nowadays, it's made in Columbus, OH, not from a Chinese factory that may or may not care about its quality control. Rogue has always had excellent customer service and is known for replacing barbells and other equipment. There's not much that's likely to happen to your squat rack, but it does have a lifetime warranty.
Mounting Might be Necessary
One thing it does not have is an option for weight posts on the rear base to weigh down the rack and keep it from rocking, which racks of this design are prone to do with kipping pullups. This rack is no exception. Users who are light enough can get away with it as-is. Others need to get the mounting feet and bolt this into the floor (see the bottom of this article on mounting racks), which means either a concrete floor or a couple sheets of plywood that serve as a wider base and extra weight that will keep it from tipping.
---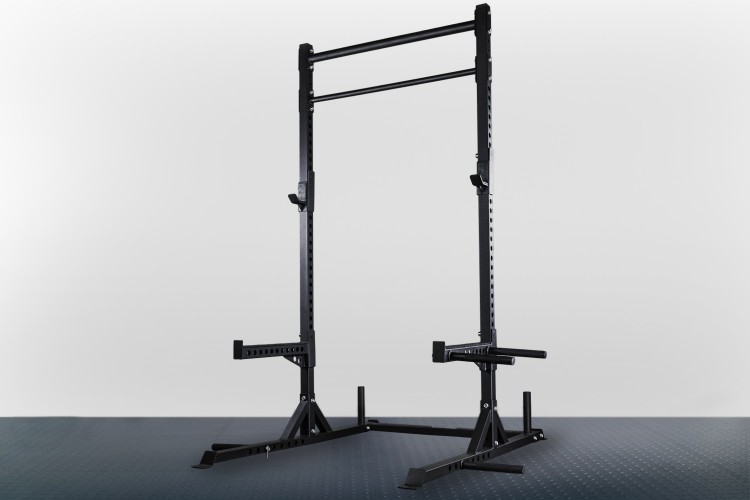 Height
92″ / 108″ optional

WHY BUY?

Huge 4'x6′ Footprint for Stability
108″ (Upgrade) Height for Tall Lifters
Heaviest Design at 205 lbs
Spotter Arms Included
Better Bracing on Uprights
Lowest Price*

Pull Up Bar Max Height
88″ / 104″ optional
Weight
205 lbs
Steel
2.5″x2.5″ 11-gauge
Price
$449
* Rep Fitness does not do free shipping, so you'll do best to order more and spread out shipping costs. On that note, we also recommend their bumper plates with hub anchors as detailed in this article.
It's heavy!
The weight of this unit is rare – At 205 lbs it's way heavier than Rogue's 157-lb SML-3. Why is that? Well, it isn't the tubing. Rogue's is actually slightly heavier in that portion.
The Rep unit is heavier because of 5 additions:
The extra pull up bar
Spotter arms (included in the base price, unlike all others here)
Large stabilizers for the uprights
Band pegs
Weight horns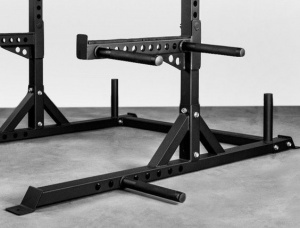 Better than Rogue?
Rarely does any squat rack or power rack actually overshadow anything that Rogue offers, in a reasonable price range. Rogue is normally at the high end of the price range among comparable models. In this case Rogue actually doesn't have a comparable model. Rep has a very good design here. Look over the details of this one, and you'll see they covered everything. They listen to customers and put in nearly every design feature of every rack on this page, and more, excluding color options.
I particularly love the extra tubing braces holding bottom of the uprights. Gusset plates are good too (those are the flat triangular pieces of steel on Rogue's and Fringe's versions), but the fact is gussets don't do as good of a job keeping the uprights in place as the 45 degree tubing braces that Rep uses. Inherent in the design of gusset plates is they allow room for play, because of the play in the bolt holes. This is not evident in a full power rack, but with a squat stand like these designs it's a big deal because there's only 2 uprights and you have to be sure to tighten them perfectly vertical. I found this out with this Titan X-3 squat stand I bought, on which I had to tighten the bolts beyond what I thought I should, or the uprights would tip forward slightly over time as I kept slamming weight on it. It wasn't noticeable until I was like, Why is my bar rolling forward every time I rack it?
The odd 2.5″x2.5″ tubing is used by a few companies. Keep in mind that when you're comparing tubing, 2.5″x2.5″ is the exact same 10″ of steel surface as 2″x3″ tubing. So neither is more heavy duty.
Finally, if you may want to mount it into a concrete floor or wood platform, it comes with bolting tabs. But you really should not need to, because those rear weight pegs are there for you to keep it from tipping. One 45lb plate on each peg will do the trick.
---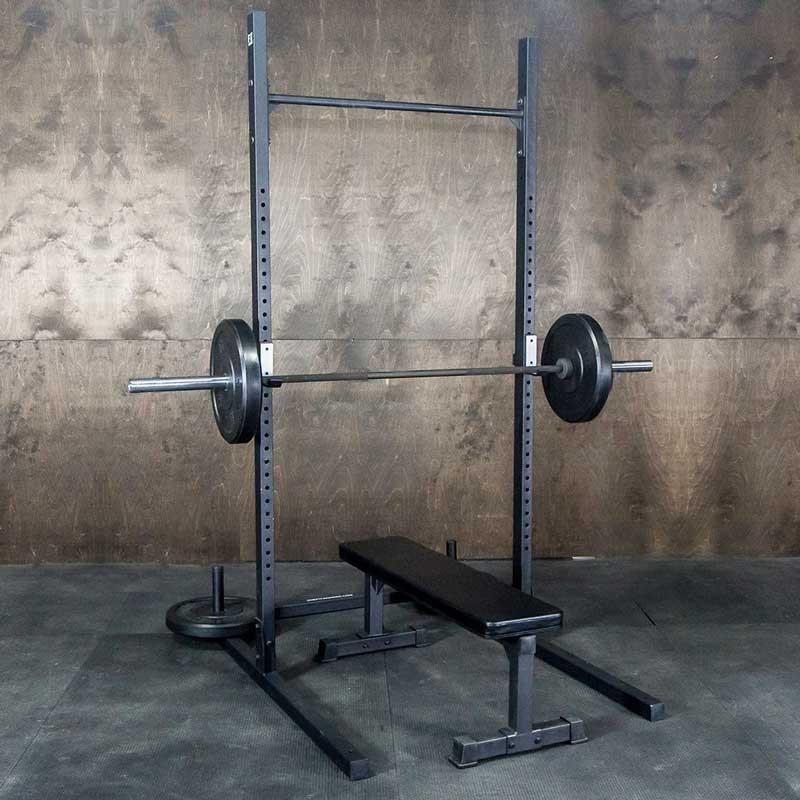 Height
99″

WHY BUY?

Huge 4'x6′ Footprint for Stability
Free Shipping
1 Year Return Period
Sized for Shorter Athletes

Pull Up Bar Max Height
93″
Weight
110 lbs
Steel
2″x3″ 11-gauge
Price
$625
If this is the only item you're ordering, Fringe may be the lowest priced, because of their free shipping.
It has the same huge 4'x6′ base as Rep Fitness's model, and basically equivalent steel tubing. The reason for the huge weight difference between it and Rep is because Rep includes spotter arms, an extra "fat" pull up bar, band pegs, and is taller.
Like Rep, Fringe has weight horns so you don't have to bolt it down.
One nice thing about Fringe is they offer a really generous 365-day return policy, even for stuff in used (but usable) condition. And in the first 30 days they'll even pay to take it back. I don't know of any other supplier of this kind of equipment that does this. So they rank the best on the risk scale if you're feeling jittery.