Updated 2023 with latest pricing
You get a hold of a great power rack or squat rack, but then you find out that the company doesn't make the attachments / accessories that you want.
No problem! You should be able to find a compatible attachment or accessory, as long as your rack is made with one of a few standard configurations.
The 3 Compatibility Specs
The key specs are: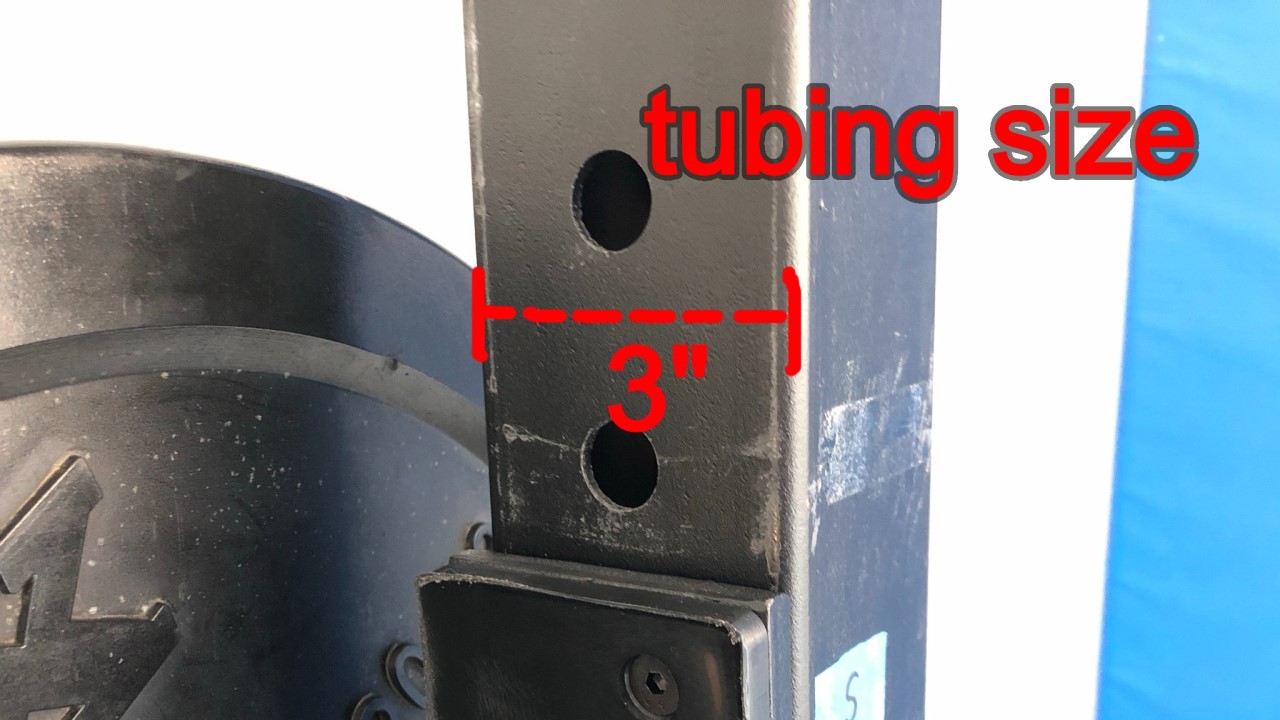 The tubing size of the uprights, as above, typically one of: 2″x2″, 2″x3″, or 3″x3″.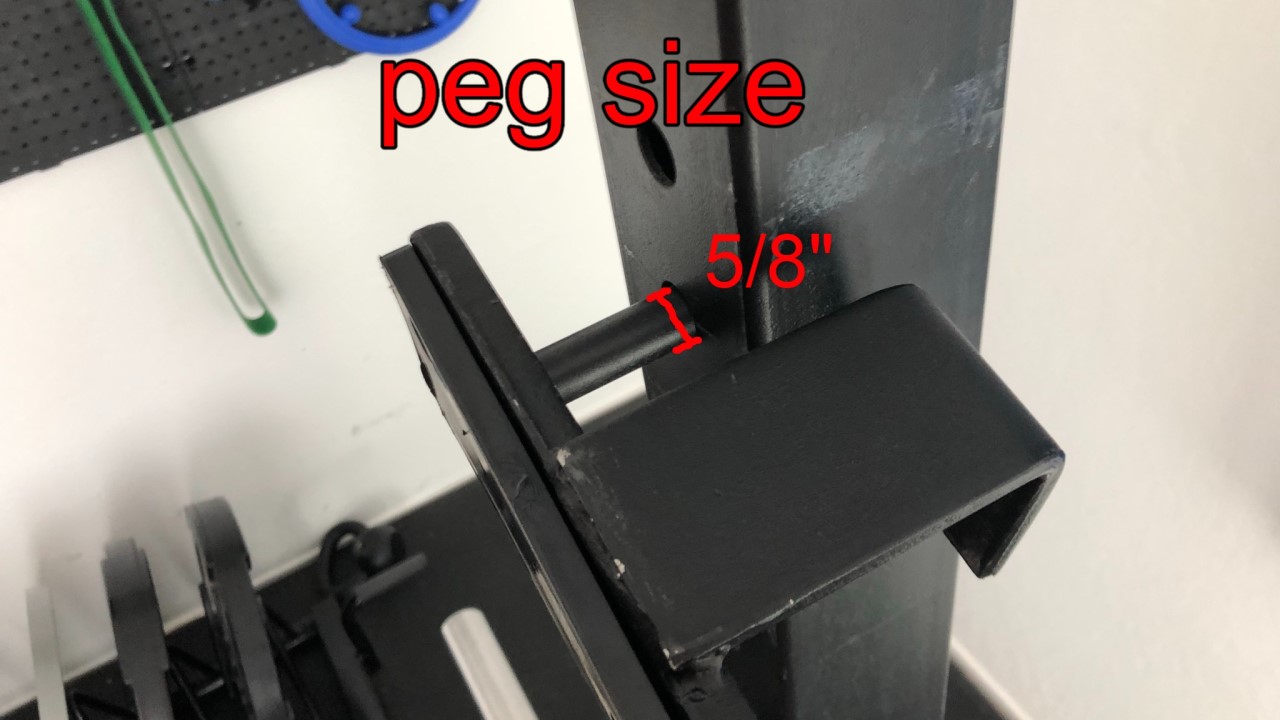 The hardware/peg diameter that fits into the holes in the uprights, as above. One of 1/2″, 5/8″, 3/4″, or 1″. Going by the peg diameter is more consistent across brands than the hole size that is cut somewhat larger than the peg.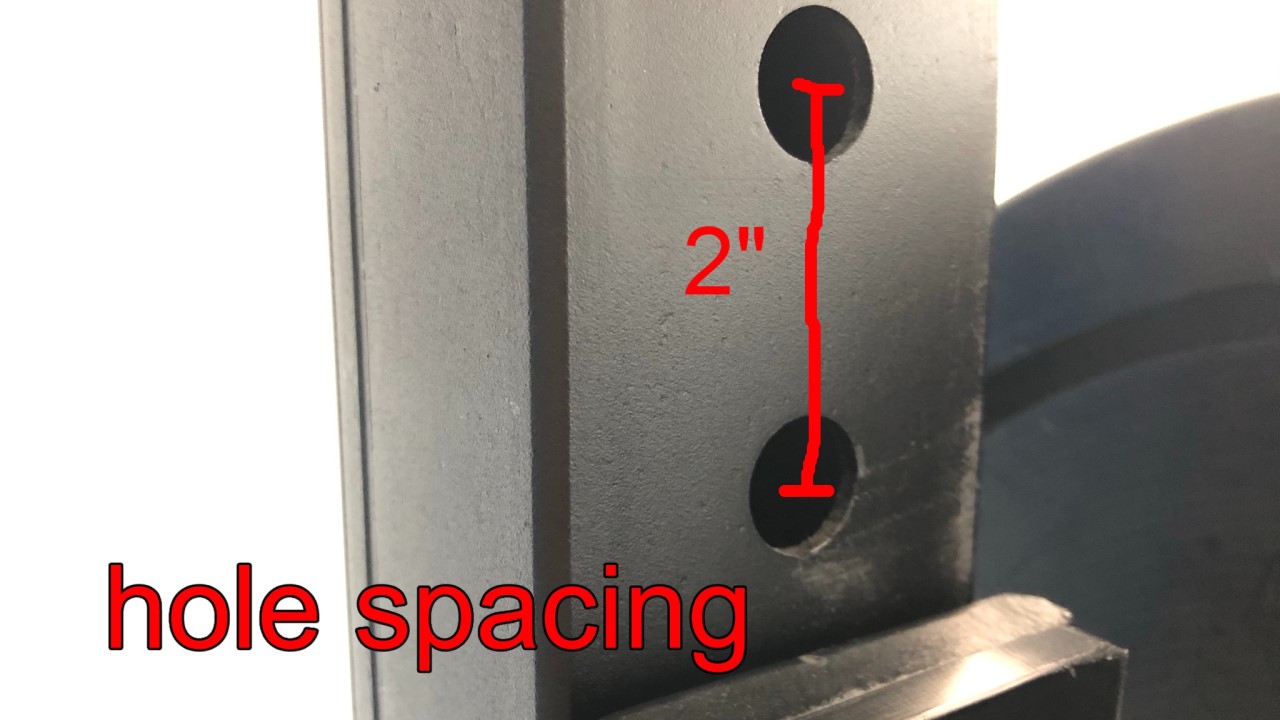 The hole spacing in the uprights, ie: the distance between holes on center, as above. This is only applicable for attachments that use 2 holes, the second using a locking pin.
2″ spacing is becoming the standard. Some racks have Westside spacing, which is 1″ spacing at a certain height range for setting bench press safety bars just right, and otherwise 2″ spacing above and below that.
When Slightly Wrong Sized Attachments are Ok
An attachment can fit in a larger hole than it's made for, but it will be able to wiggle and maybe tip down a little, depending on the snugness of the bracket that goes over the tubing.
Similarly, attachment brackets can fit onto slightly smaller tubing than what they were designed for. This can be less bad than the wrong peg size, because you can glue shims (UHMW plastic or wood) to the inside of the attachment's bracket to make it fit. Some attachments work well enough even if they're loose. Some don't have enough pressure put on them to be a safety issue, like a battle rope anchor, but it could still rattle.
Lastly, the steel gauge (wall thickness) of rack tubing does not factor into compatibility. The tubes are fabricated to an outside diameter spec.
For fitting 3×3 attachments onto 2×3 tubing, or 2×3 attachments onto 2×2 tubing, an Etsy seller is making these adapters to fill the void in the bracket.
When You Should Not Use the Wrong Sized Attachments
I don't recommend you use load-bearing attachments that don't fit quite right, such as J-hooks, steel safety arms, or plate holders, unless you have a good way of retrofitting it to be snug enough. Use some common sense, visualize it, and you'll get the idea.
Attachments Using 2 Holes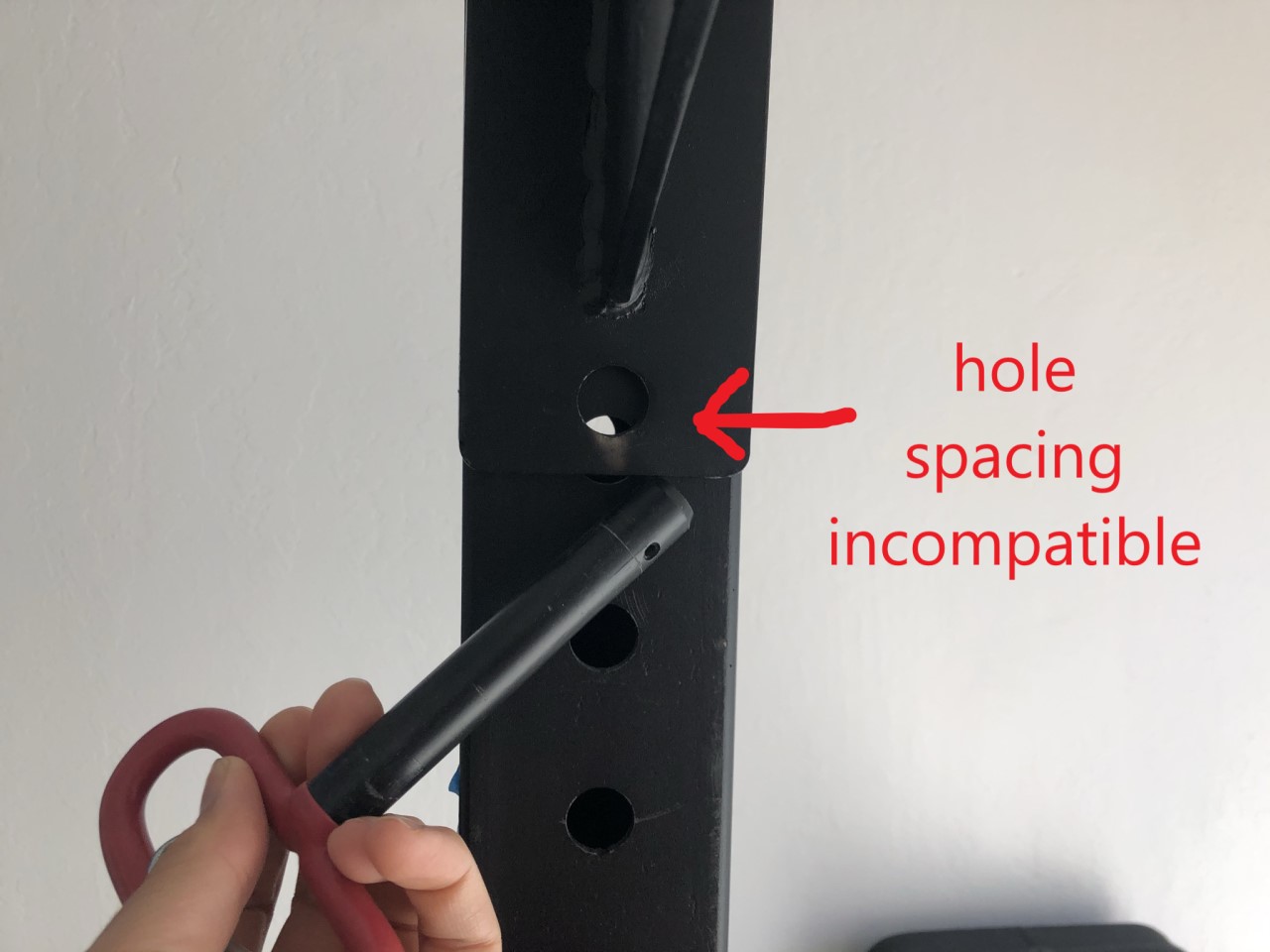 A large number of readers have asked about attachments that use a locking pin to secure the attachment into a second hole on the rack's upright. If the hole spacing is the same, it's fine. Normally the question involves a brand that uses metric hole spacing, in which case it is not compatible either direction with imperial (inches) hole spacing. As much as you want it to work, no, under most circumstances you won't get the locking pin in. The difference is about 1/16″ on the first hole, and the difference widens with each successive hole.
If you're thinking of foregoing the locking pin or buying a thinner one, and you have to ask for confirmation on whether it's safe, you probably shouldn't do it.
List of Power Rack Attachments by Size
Rogue has among the best and most consistent quality. Cheap Amazon-only brands, which I don't like to list unless there are no other options, are the worst and might be unsafe. Most other brands are somewhere in the middle or sometimes as good as Rogue.
Not listed here are complex attachments and accessories that will not fit any other racks, such as those that mount on the top or bottom crossmembers or need the rack to be a specific width between uprights. Examples are special pull up bars or rack extensions.
The size categories below are ordered smallest to largest.
2×2 Tubing, 5/8″ Pegs
Titan X-2* (discontinued), Powerline PPR1000, Northern Lights Crossbox
* The Titan Fitness X-2 used 50x50mm tubing, which is 1.97″x1.97″. Titan also used 50mm hole spacing. The second hole on their attachments that use two holes (with a hitch pin) will not line up quite right on racks with 2″ hole spacing.
2×2 Tubing, 1″ Pegs
Powerline PPR200X / PPR500, Best Fitness BFPR100, Valor BD-7 / BD-33, Rep Fitness PR-1000 / PR-1050 / PR-1100, Fringe Squat Cage, Legend Fitness Varsity Series, Get Rx'd Pro Power Cage, Vanswe Power Rack, TDS 1000lb Power Squat Rack, Fitness Reality 810XLT, Titan Fitness T-2*, Giant Lifting 2X Series, Amstaff DF1161A / TP006D (discontinued)
* The Titan Fitness T-2 uses 50x50mm tubing, which is 1.97″x1.97″. Their attachments are generally made large enough that they are compatible with 2×2 tubing. They also use 50mm (1.97″) hole spacing.
For more on the strap safeties used as an alternative to traditional steel safety bars, see our article, Are Power Rack Safety Straps Safe?
60x60mm (2.36″) Tubing, 1/2″ Pegs
ForceUSA MyRack only.
Although no other brand is directly compatible, these might fit the Bells of Steel racks in the next section well enough.
60x60mm (2.36″) Tubing, 5/8″ Pegs
Bells of Steel Residential Rack / Utility Rack / Light Commercial Rack / Brute Rack / Folding Rack / Combo Rack
60x60mm (2.36″) Tubing, 1″ Pegs
Powertec WB-PR / P-PR (discontinued), Hulkfit Power Cage
2.5×2.5 Tubing, 1″ Pegs
Valor BD-11 / BD-41, Amstaff TR023 / TR025 / SD1050
2×3 Tubing, 1/2″ Pegs
2×3 Tubing, 5/8″ Pegs
Rogue R-Series (Infinity), FringeSport Kip Cage / 2×3 rigs (discontinued), Bolt Fitness Lightning Power Racks, Titan Fitness T-3* / T-6* (discontinued)
* The Titan Fitness T-3 and discontinued T-6 use 50x75mm tubing, which is 1.97″x2.95″. Their attachments are generally made large enough that they are compatible with 2×3 tubing. They use 50mm (1.97″) hole spacing. On the other hand, you can use true 2×3 attachments on Titan racks, if the attachment does not need to fit tightly the way some such as roller J-cups need to.
2×3 Tubing, 3/4″ Pegs
Sunny Health & Fitness Power Zone Power Cage
No other brands match this size. The attachments in the 2×3, 5/8″ peg section above should fit this rack well enough.
2×3 Tubing, 1″ Pegs
Fitness Reality X-Class Light Commercial Rack
No other brands match this size.
50x80mm (1.97″x3.15″) Tubing, 5/8″ Pegs
Rep Fitness PR-3000 (discontinued)
3×3 Tubing, 5/8″ Pegs
Rogue Monster Lite, Vulcan Flat Base Power Rack, Stray Dog Strength, Griffin Fitness GR3 Lite*, Bells of Steel Hydra, Rep Fitness PR-4000*, Titan X-3*, Body Solid GPR400 / SPR500 / SPR1000**,
* The Titan Fitness X-3, Rep Fitness PR-4000, and Griffin Fitness GR3 Lite racks use 75x75mm tubing, which is 2.95″x2.95″, or about 1 millimeter difference vs true 3×3 inch tubing. Their attachment brackets are generally made large enough that they are compatible with 3×3 tubing except as noted. They both use 50mm (1.97″) hole spacing. For the reverse situation, you can use true 3×3 attachments on these 75mm racks, if the attachment does not need to fit tightly the way some such as roller J-cups need to.
** The Body Solid SPR1000 takes 5/8″ pegs facing the front/back, and 3/4″ pegs on the sides. Many of its attachments are made to fit the side holes, which are incompatible with any other racks.
Mark Buffalo wrote a guide on how to fit the Titan X-3 lat pulldown on a Rogue Monster Lite rack.
3×3 Tubing, 3/4″ Pegs
American Barbell power racks, EliteFTS Collegiate / R3
See the 3×3, 5/8″ section above for more attachments that will fit these racks well enough.
3×3 Tubing, 1″ Pegs
Rogue Monster, Vulcan Strength Racks (except Flat Base Power Rack), Ethos Power Rack 1.0, Amstaff 370, Fringe 3×3 rig, Valor rig, Legend Fitness Performance Series, EliteFTS Scholastic Half Racks / Garage Power Racks, Get Rx'd Goliath rack, Sorinex XL Series, Bolt Fitness Storm Series, XM Fitness 365 Infinity Power Rack, PRx Pro, Prime Prodigy, eliteFTS Quick Ship Power Rack, Inspire Fitness FPC1, Fray Fitness Savage Series, Stray Dog Strength, Giant Lifting 3X Series, Oak Club Manufacturing, Irwin Fitness, Titan's TITAN Series*, Rep Fitness PR-5000*, Griffin Fitness GR3*
* The Titan Fitness, Rep Fitness, and Griffin Fitness racks use 75x75mm tubing, which is 2.95″x2.95″. Their attachments are generally made large enough that they are compatible with 3×3 tubing. There have been reports of Titan's all-steel J-cups and UHMW-lined J-cups not fitting over 3×3 tubing, but their other attachments should fit. Titan and Rep both use 50mm (1.97″) hole spacing.
Universal Fit Attachments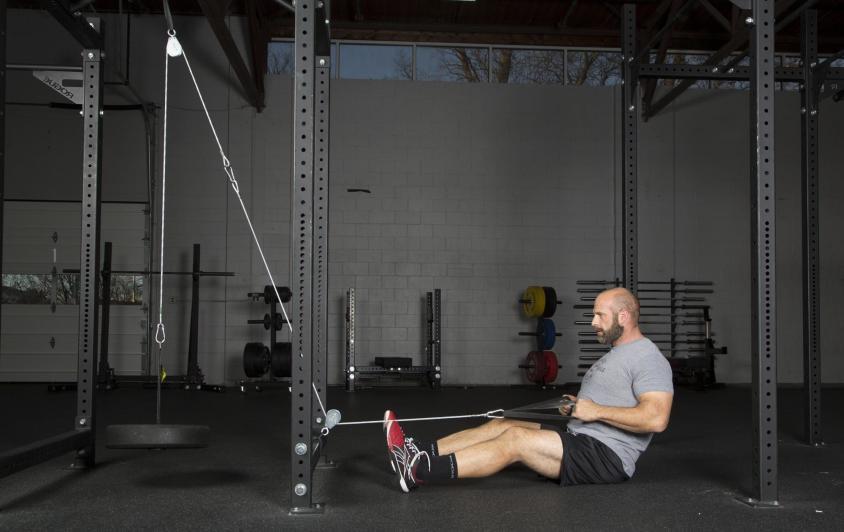 For a high and low cable system that works on almost any power rack, see the Spud Inc Pulley System shown above.
If you only need a high pulley (for lat pulldowns and tricep pushdowns), see Giant Lifting's pulley system for a much lower price.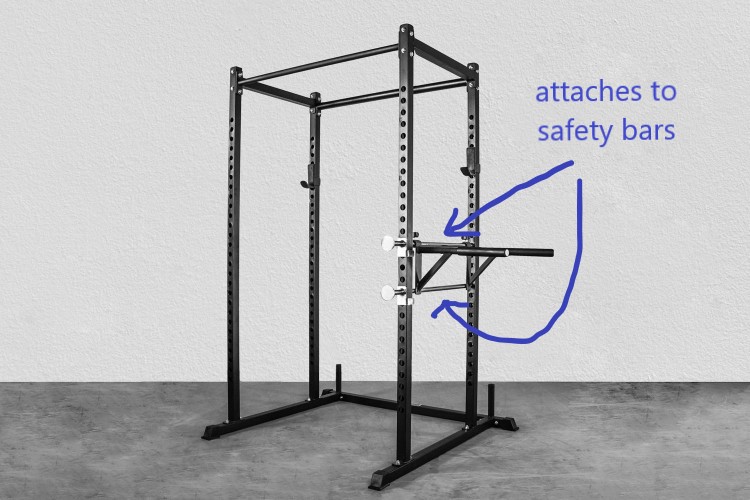 This Rep Fitness dip attachment above fits on almost any rack with 1″ round safety bars (thanks Anthony!). The rack needs to have at least 21″ depth between the front and back uprights, which is the case for all freestanding racks and most floor-mounted racks except the most shallow ones. The rack's hole spacing does not matter, as the bottom part of the attachment simply rests against wherever the lower safety bar is.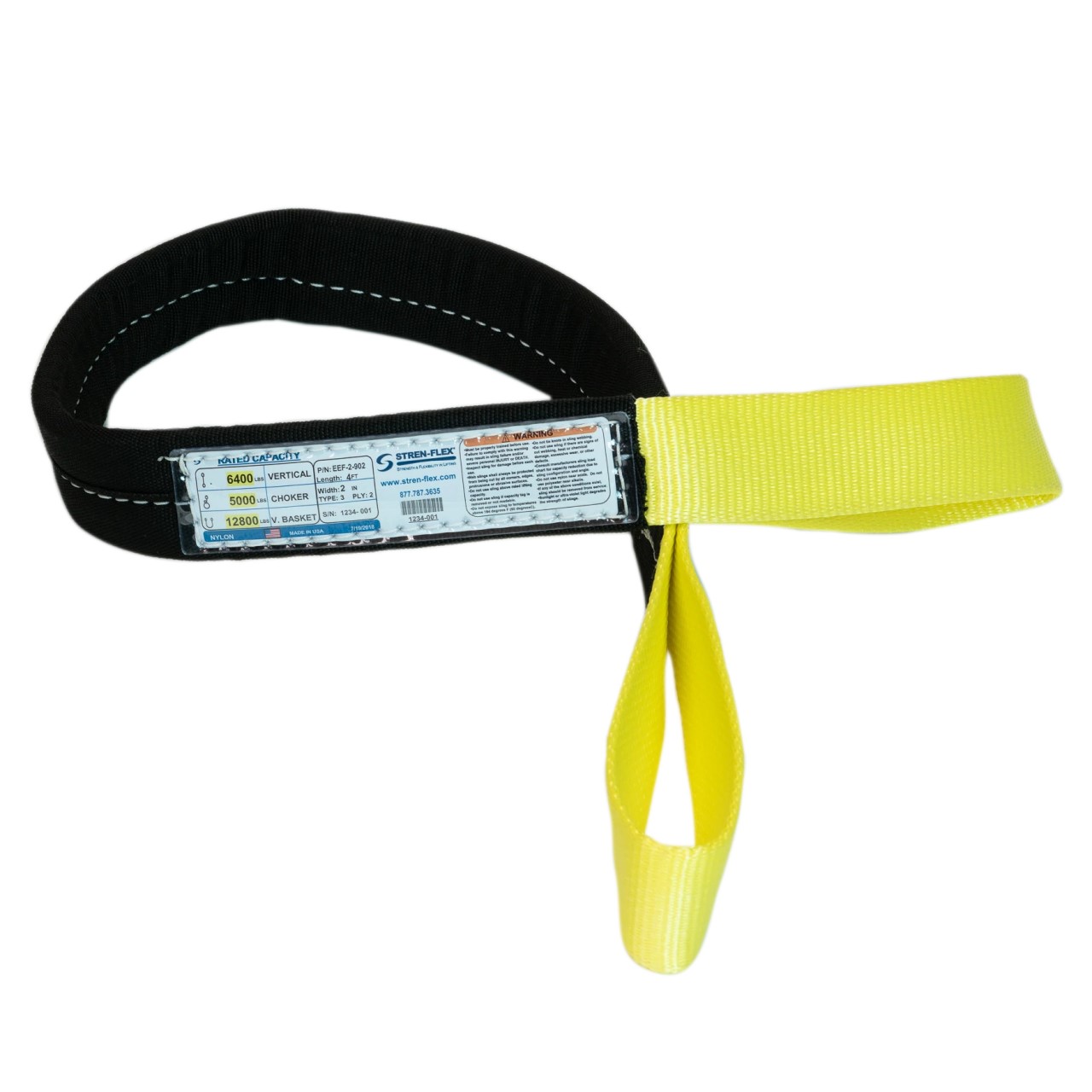 There are a couple solutions for power rack strap safeties if you can't find a match. If you can get a brand of them with brackets that fit your rack but the straps are the wrong length, get two 2″ Stren-Flex slings of the right length to replace them with. They are extremely strong, with pertinent info labeled and a chart on that webpage with the pound ratings.
Your second option is a pair of Spud Inc suspension straps that hang off your rack's top crossmembers.
Rear Rack Extension and Foot Stabilizer Fit
Multiple questions on this in the comments prompted me to add this section.
You generally can't add a rear rack extension – usually to accommodate weight plate storage – made for a different brand. The height of the holes off the floor and the rack width would have to be precisely the same.
Similarly, with extension feet meant to stabilize a rack, even if the tubing size and peg size are a match, the holes would have to be precisely the same height off the floor, or they would float and defeat the purpose.
I have heard reports of people using these across brands, but in every case it seems the user made some modifications to make it work. If you found a case where they are perfectly compatible, please leave a comment!
General Recommendations
For the best compatibility going forward, I highly recommend getting a 3×3 rack taking 5/8″ pegs or 1″ pegs, compatible with Rogue Monster Lite or Monster, respectively. Other companies try to fit those sizes to be compatible.
Rogue appears to be in the beginning stages of abandoning their 2×3 racks in favor of 3×3. Other manufacturers have noticed and likely will follow suit. This doesn't mean that nobody will make racks with 2×2 or 2×3 tubing. I believe that there will be a market for those lighter and cheaper racks for a long time, and they are not necessarily bad racks. The 3×3 attachments sell much better and are more numerous, because people who spend the extra money for a 3×3 rack are more likely to soup it up.
As mentioned about specific brands in the charts above, you might want to steer clear of racks that have metric sized tubing that is not truly 3×3 inches even though that might be what they advertise.