It's six months into the coronavirus situation, and you're still having a heck of a time trying to get basic gym equipment like weight plates. Why?
Well, I'll tell you about it further below.
First, I Wasn't Hallucinating About Rogue's USA-Made Plates
Last week I mentioned seeing these with little confidence that I didn't have a vivid and utterly false memory. Then yesterday I got an email about Rogue's new USA-made machined iron plates. So they are real!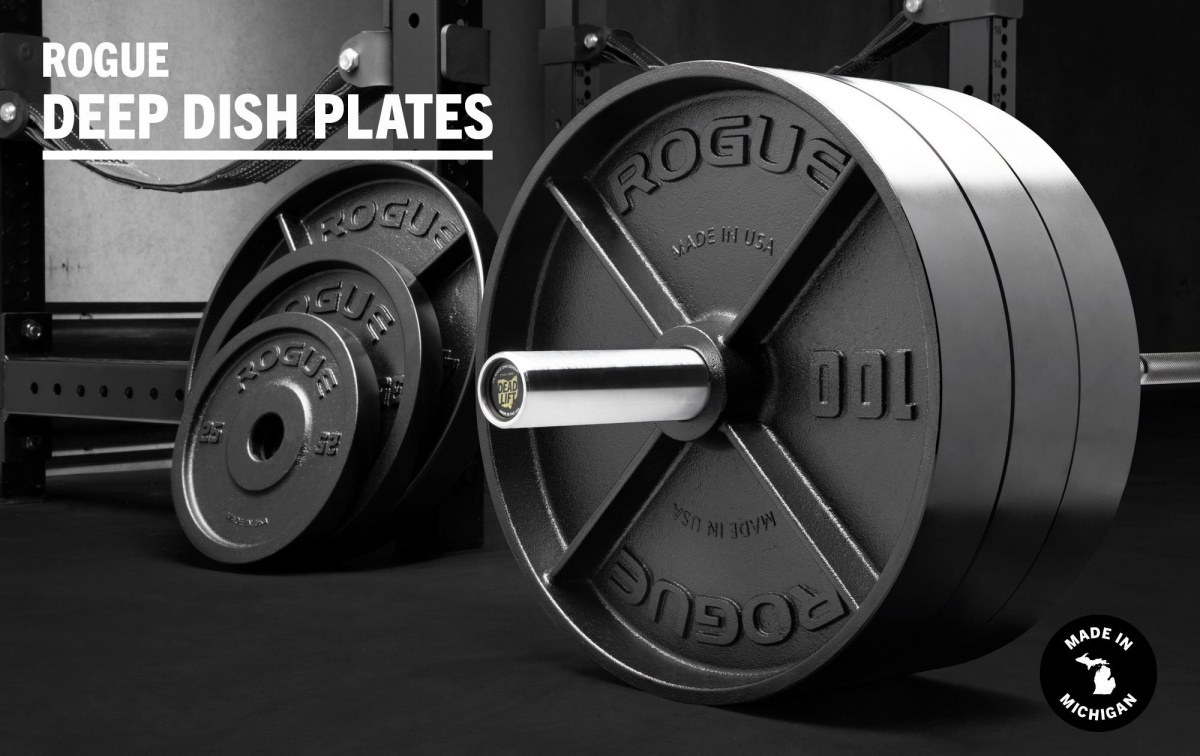 They look good. Just one issue: Rogue puts these and others in the "Steel Plates" category. Rogue indeed has steel powerlifting plates (50% more expensive), but these new plates, as well as several of their other plates, are not steel, but iron. I know the Steel Plates category fools people, making them sound more valuable than they are.
Aside from being USA-made they are unique in the way they are coated with the e-coat finish that Rogue is fond of now. First plates ever to use e-coat, I believe.
I know, they're out of stock already. Probably took 10 minutes to sell out. Sign up for their stock notification.
It's a Seller's Market
If you have some background in business or economics, you already get this. But I'm finding that many people don't think of pricing in any terms except lower prices = good, higher prices = bad.
The early 2020 Chinese lockdowns halted their production, and then the US lockdowns halted US production and closed stores. Everyone was staying home and ordering home gym equipment until it was quickly all gone. Many people still aren't going back to commercial gyms.
When demand outstrips supply, to hit equilibrium again you basically either need to increase the supply or lower the demand by raising prices.
The production rate of gym equipment is only going to increase so quickly. It's big, heavy stuff. Factories and stores are reluctant to expand unless they're confident that this is a long term trend. They also don't want to raise prices too much and overshoot the mark.
Eventually it should hit equilibrium. Things will be out of whack into 2021. Demand is only going to go up next month (see below).
One thing I can tell you: The stores hate backorders as much as you do. Their business was not made to run that way. It just doesn't work, in so many ways.
In fact, that's what caused me to close Adamant Barbell in April. Our suppliers ran out of stock and got hit by coronavirus lockdowns at the same time. Backorders piled up. I saw the writing on the wall and said, "That's it, I'm out."
On the bright side, things are better every month at this point. Getting a barbell is almost a non-issue now. Dumbbells are still spotty, but some sizes are staying on the shelves better.
Black Friday Sales?
The Black Friday shopping season will be much different than 2019 as far as gym equipment goes. Deals will be harder to find for the major stuff.
Rogue has already bowed out. No Matte Black Friday. Fair enough.
As much as stores like to use the holiday craze to pretend they're having a blast slashing prices and making their beloved customers so happy, it's marketing. If it doesn't make business sense, there's no exuberant price slashing.
I expect that more attention this Black Friday will go to smaller companies that make their own specialty equipment (see our Made in the USA page for some new additions!) and are keeping up with demand enough to run some sales. Things like high-end leather weight belts and some unusual and less popular types of workout equipment. That's already been happening with people looking around for whatever kind of equipment they can still get as an alternative.
I will be updating the Black Friday 2020 page in (early?) November. We'll see what happens as November comes around. In the meantime, don't expect to wait and make a big score in November. Get whatever you can when you can, before the demand spikes and clears out the shelves again.
Stock Status Rundown