Here's a nice gym with a folding squat rack for a change! This kind of rack has gotten popular with people wanting to save space between workouts, and several companies make them now.
Four years ago in this raised ranch house in Columbia, CT, Nathan started with a mere set of Walmart kettlebells and cloth mats to protect the wood floor. This gave his wife a workout area at home. Since then he's made drastic improvements, building a full gym: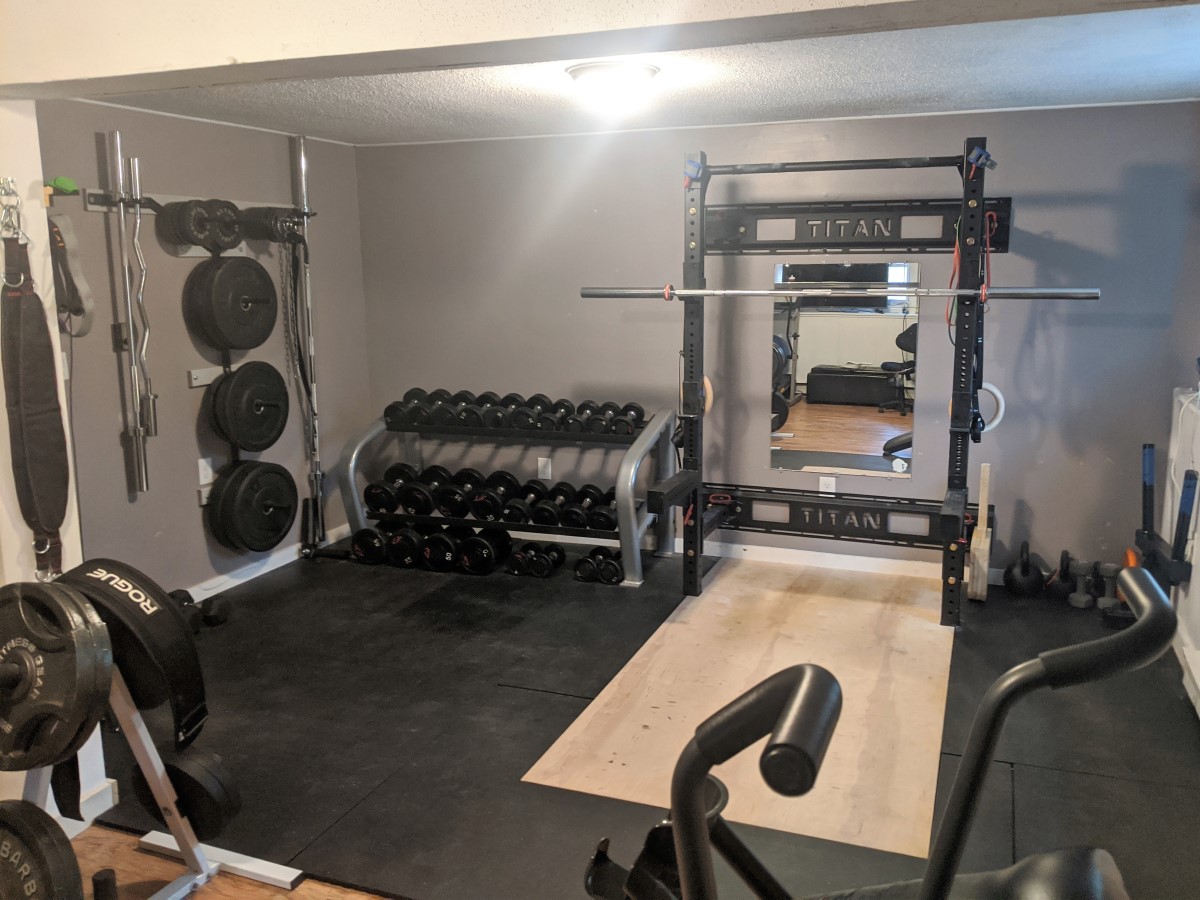 He got into buying and selling gym equipment on the used market in order to build this gym.
The idea in "equipment flipping" is to buy a seller's whole gym they're selling off on a local marketplace – Craigslist, Facebook Marketplace, etc – for a good price, keep what you want, sell the rest individually for more than you paid, and use the extra money to repeat the process until you end up with everything you want. Hundreds of people around the country do this. The downside is it takes so much time over a period of months and years that you better consider the flipping a hobby in itself, beyond just using the equipment. You have to be able to store all the stuff you don't want until you can sell it off. Those with the time and patience end up building a gym like this without it costing much in the end.
The flooring under the weight area is a laminate floor, nothing he's worried about damaging, so he put the 3/4″ plywood sheet directly on the laminate with no protection so as to be flush with the surface of the 3/4″ rubber mats. If he ever moves the gym to the garage or an out-building, he'll most likely replace the floor anyway.
I wouldn't recommend doing that on a nice hardwood floor. Better to put some kind of thin material under everything like a few large canvas drop cloths, to protect the wood both against plywood scratching and against black scuff marks from the rubber.
He painted the underside of the plywood with Kilz, a latex primer and sealer, to help protect it against moisture. The major cause of plywood sheets bowing over time is moisture getting into one side. In Nathan's install, nothing is under the plywood but the bare wood laminate floor that came with the house.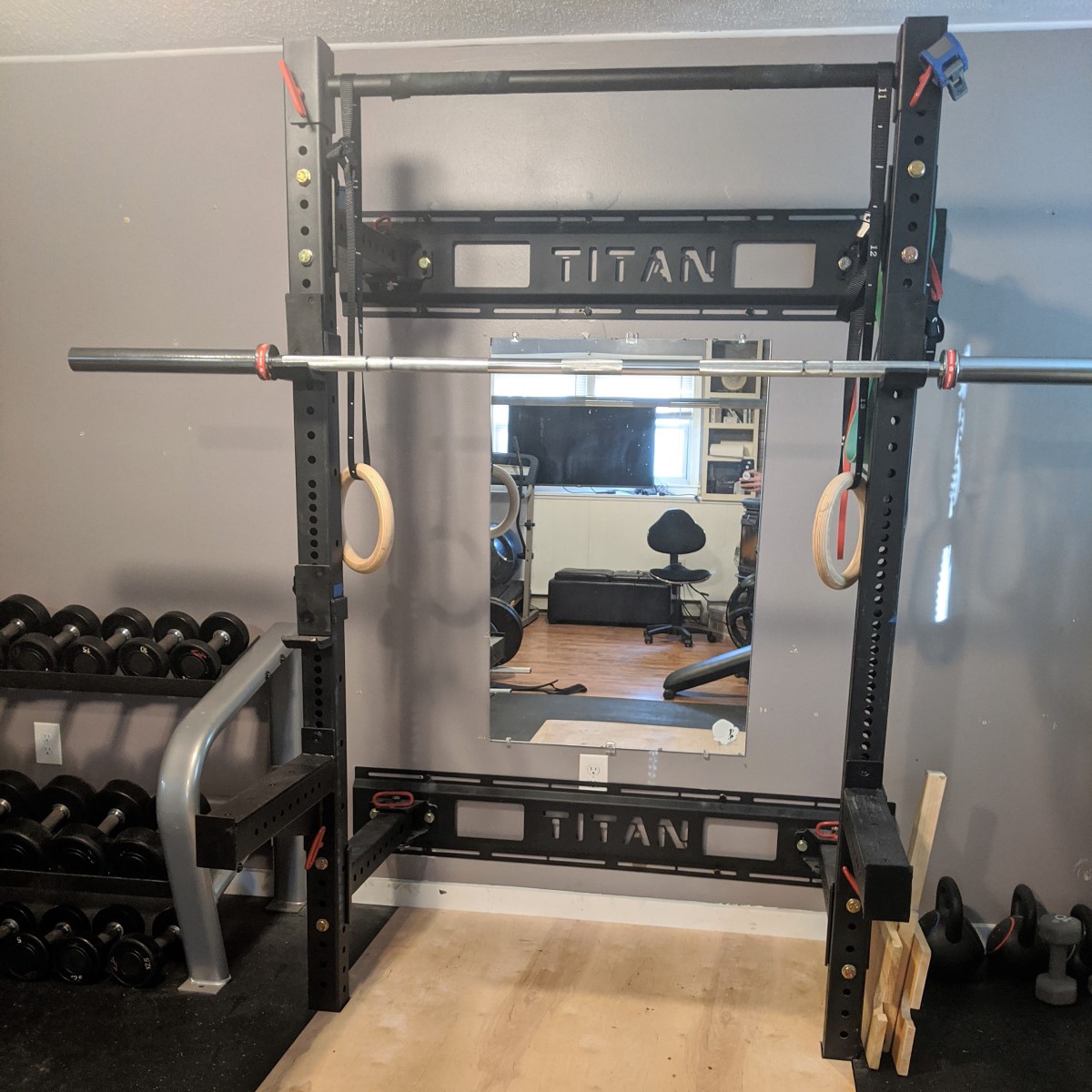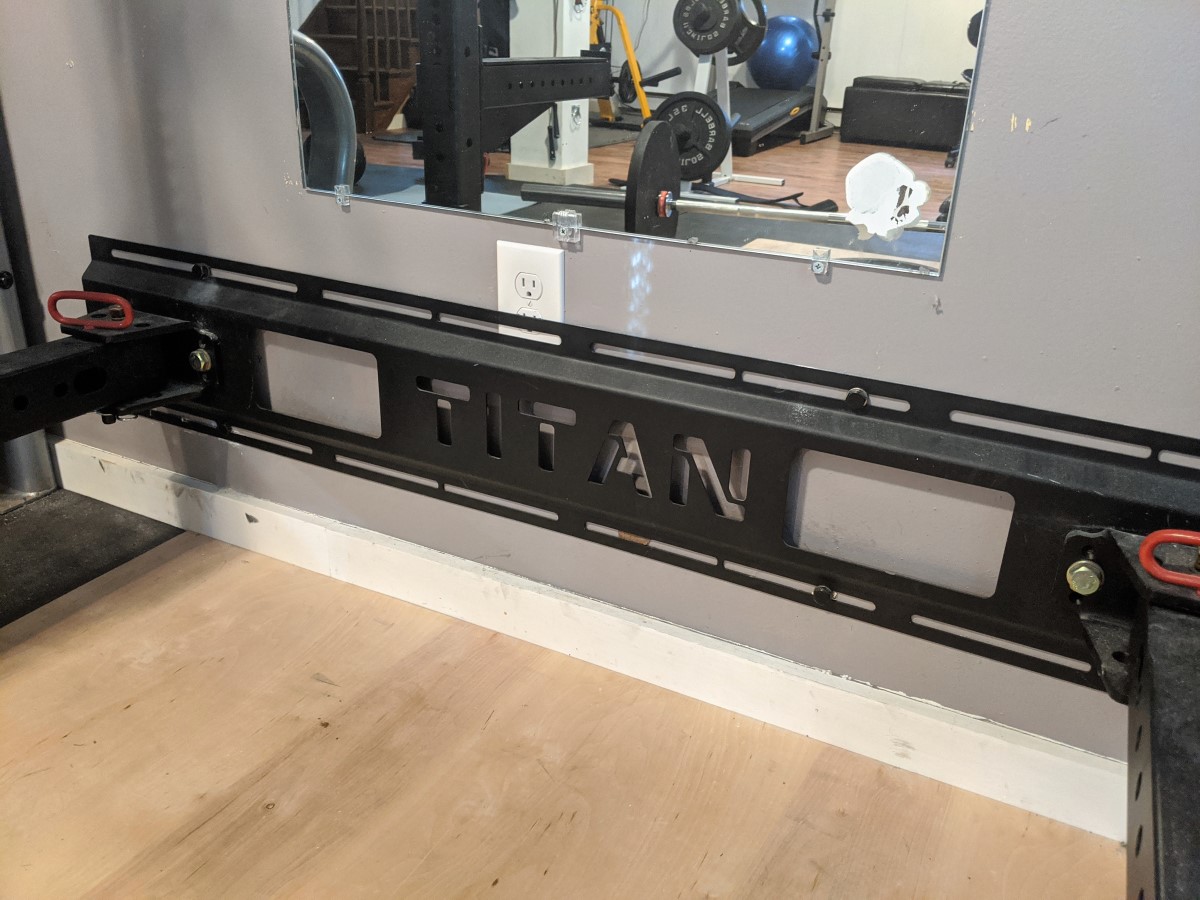 Despite the limited instructions that came with the Titan X-3 folding squat rack, Nathan found it easy to install. The stringers (the big things against the wall that say TITAN) help with getting it positioned just right. The other purpose of the stringers is to distribute the load across four studs in the wall so it doesn't rip out. Note that Titan no longer makes the stringers. In mid-2020 Titan told me they were in production, but here we are, still no stringers. People have had some success using Rogue's stringers, but the spacing is off, and you would likely be disappointed with having to misalign things enough to make it work. Your best bet as of writing is to get a couple 2×6 boards to lay across the wall studs.
One upright on the unit that Nathan received was slightly kinked but straightened out fine as it was bolted into place. No other issues. Good welds. Huge bolts holding it all together.
Even though this rack is made to fold, he hasn't been folding it in. He got it because even without folding it in it saves floor space compared to anything else.
He tested out the folding mechanism anyway, and it folds smoothly and easily. Just pull off the pull up bar and fold it back like it says.
The bar on the rack is a Rogue bar from their Boneyard collection that consists of bars with slight imperfections.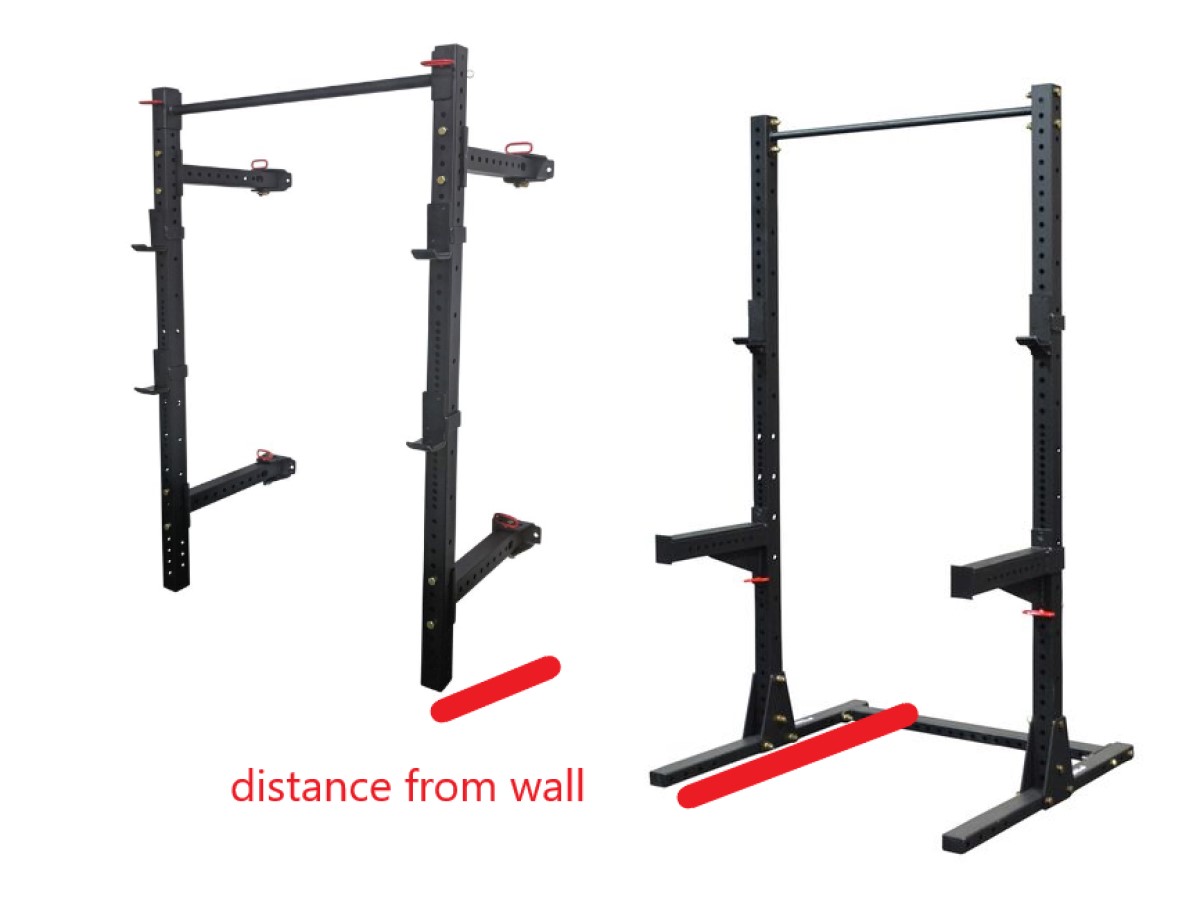 You can see what I mean here about the use of space. A freestanding rack like the one on the right has feet sticking out a couple extra feet past the uprights, taking up more floor space.
For that very reason, I've been considering replacing my own squat rack with a wall-mounted one like this. I have a heavy bag hanging out in front of it, and after removing the safety spotter arms I have to avoid the rack's feet as I move around the bag. My reservation is they aren't engineered to take spotter arms with the possible force of dropping a barbell on them. Freestanding racks take that force through the frame, but this rack would pull on the screws in the wall. I might give it a shot anyway, definitely with the wall stringers like Nathan got for maximum hold.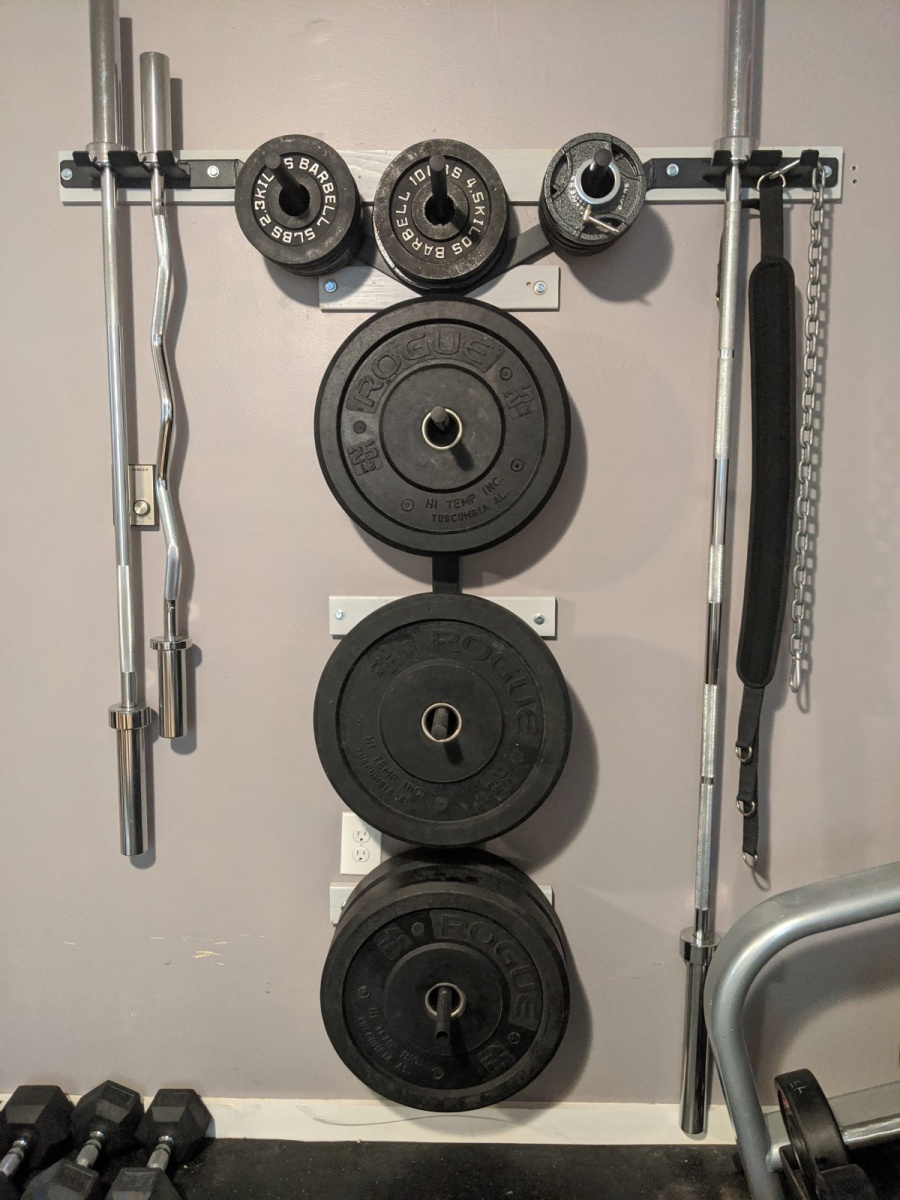 The Titan wall mounted plate storage rack has a mix of random steel plates and Hi-Temp bumpers from Rogue, and some cheapo bars and curl bar from Titan.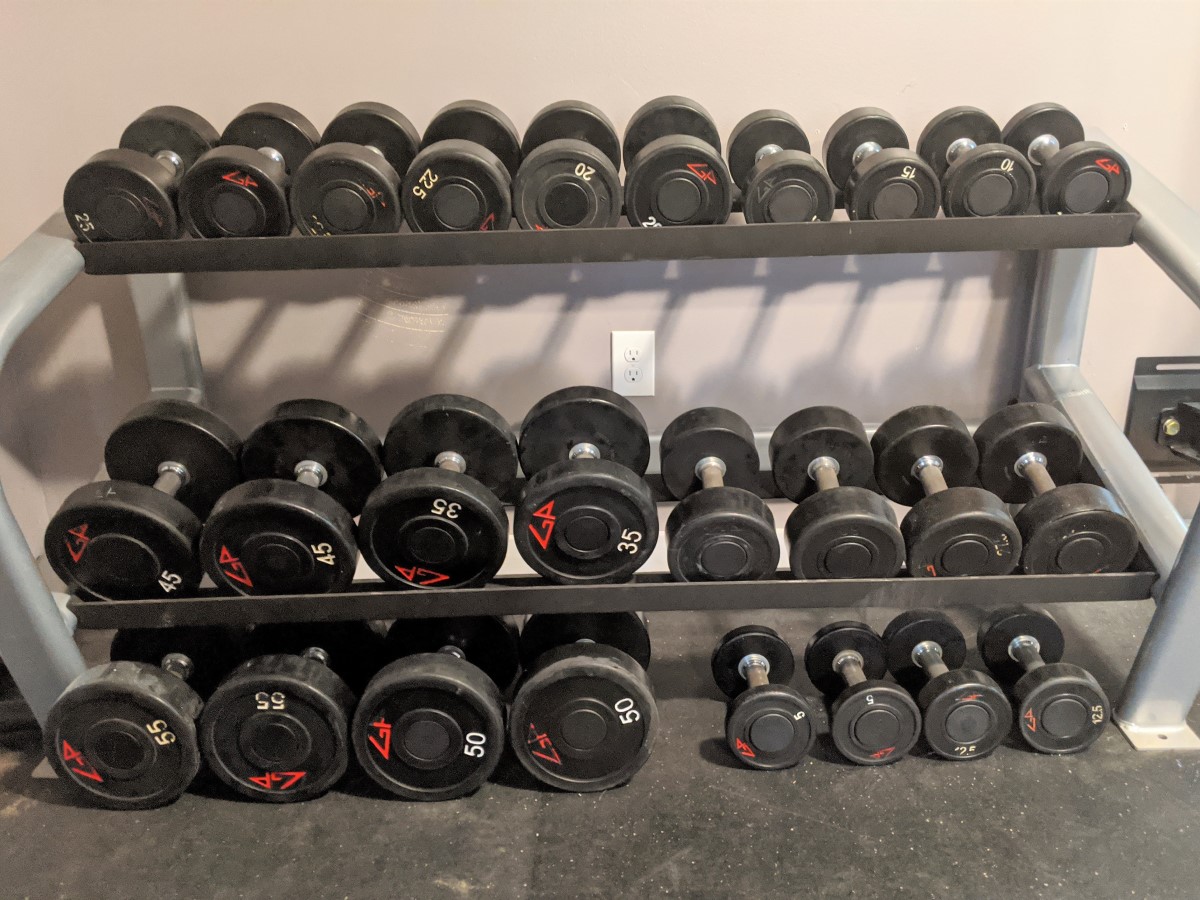 He scored this set of GP 5-55lb urethane dumbbells on the used market for $400 just before the coronavirus shutdowns. Even considering the missing pair of 40s, it was a steal. The set goes for $3,000 new.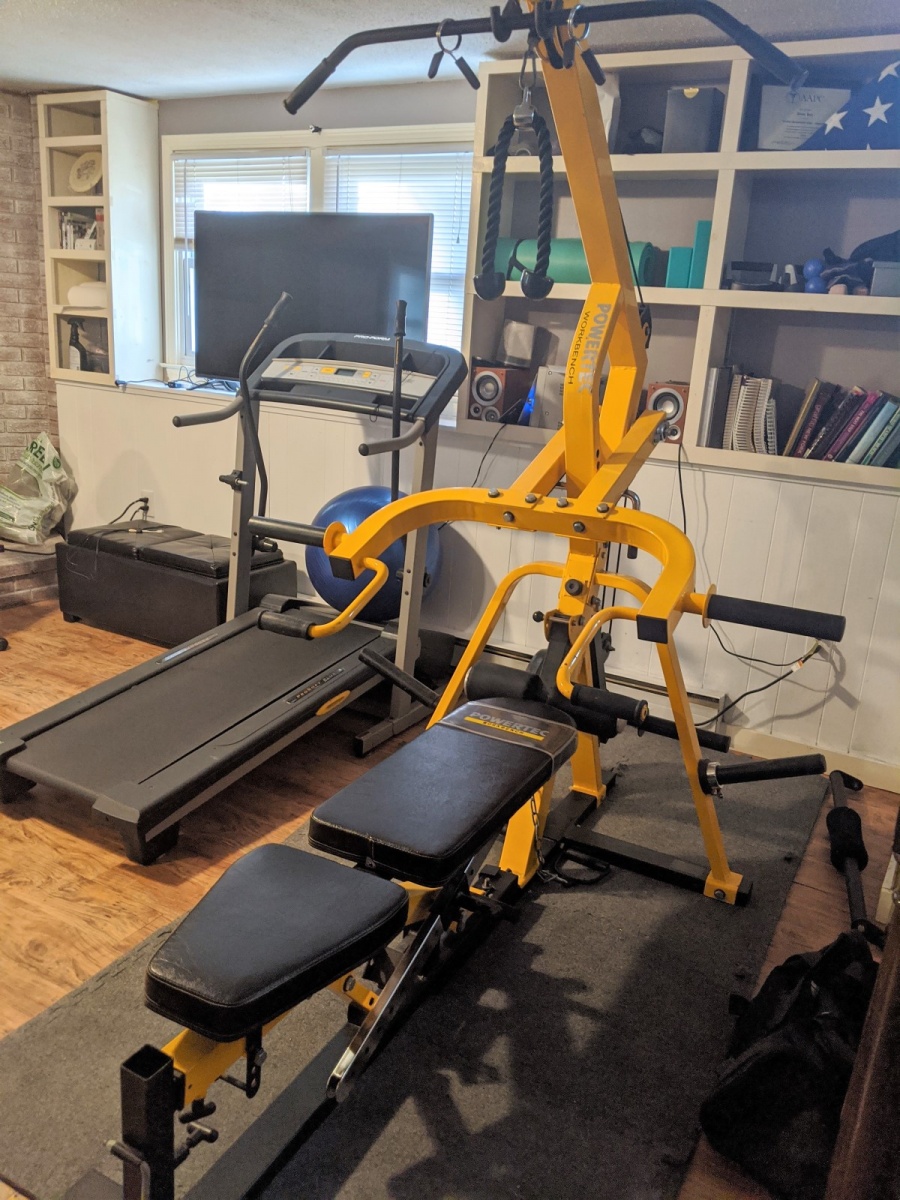 Nathan picked up the Powertec Workbench LeverGym on the used market for its upper and low cable portions. At some point he'll replace it with a cable machine with a selectorized weight stack, without the bench.
The ProSoft Plus treadmill next to it was also bought used. It's a discontinued model from ProForm.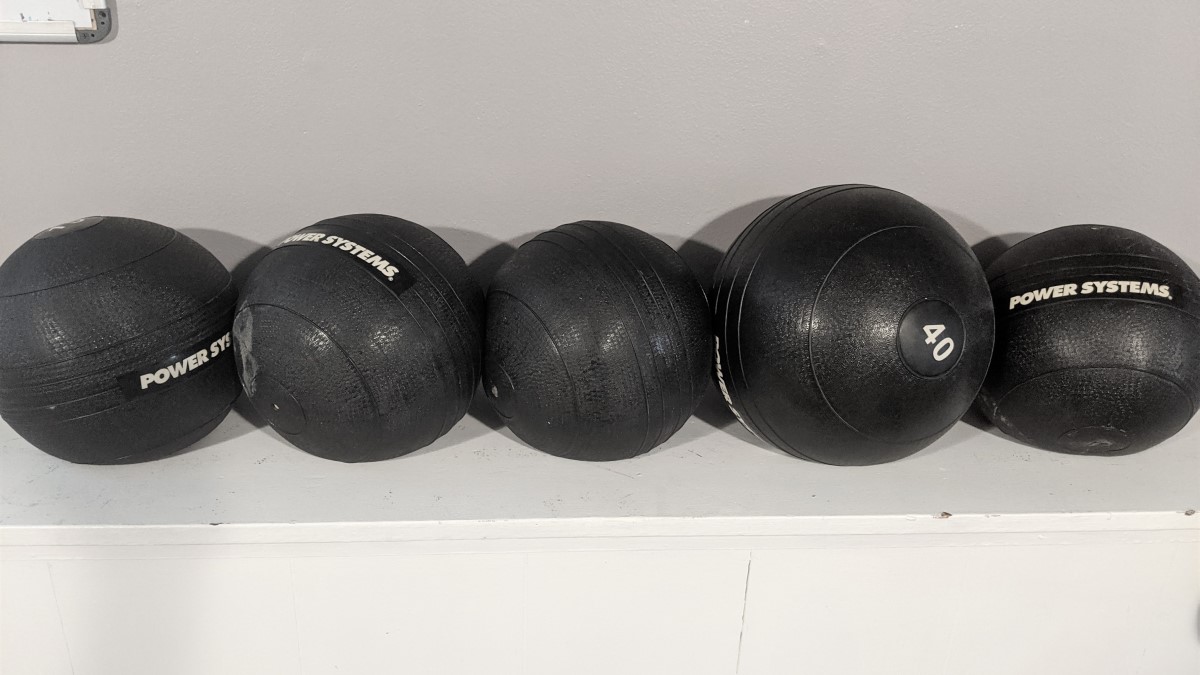 A set of 10lb to 40lb Power Systems Slam Balls.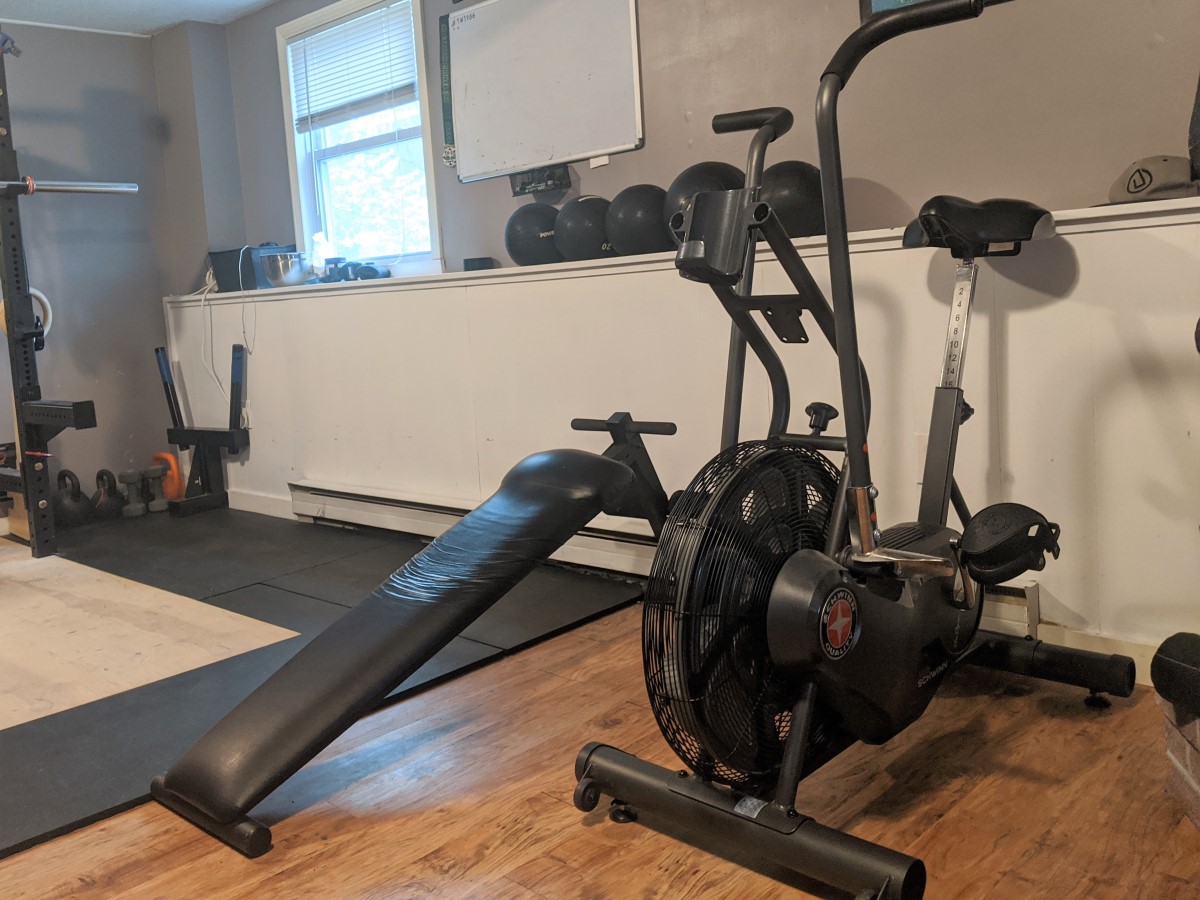 This is a Schwinn AirDyne AD6.
Next to it is an ab board with upholstery that isn't holding up well.
In the far corner is a Titan y-dip bar (which Rogue calls a matador) used on the squat rack. As of writing, Titan no longer makes it or any dip attachment for the X-3. The Rep Fitness y-dip attachment will fit.
Nathan is into bodybuilding and functional training workouts, while his wife uses the area for interval training and yoga. They let a few Crossfit friends come by to use it too. Not everybody has a gym this good in their own house.
Total Cost Estimates
Based on current pricing as of the last update.
As described, Nathan got a lot of his stuff used, but the above would be the prices new.
Instagram
Here's some proof that they actually use the gym! From Nathan's IG, @natejoslinart: