Rewritten Sept 2022 with two new bars and better info throughout.
Intro: What Is a Specialty Deadlift Bar?
Deadlift bars are a specialty power bar made specifically for deadlifts. It adds some tradeoffs over a regular power bar that make it better for deadlifting and worse for anything else.
I'm not talking about trap bars here, as aboe. Trap bar deadlifts are an excellent lift, but they don't involve the same muscles, to the same degree, as a straight-bar deadlift. With a straight bar you have to bend over more, involving your back and hamstrings, while with a trap bar the movement turns into more of a squat. Some lifters do both. A traditional deadlift is not to be overlooked, because it works your back, glutes and hamstrings so well.
For more advice on these, see my post on specialty squat bars that includes hex bars.
Some lifters only use trap bars because they have an issue with straight bars hitting their knees or shins. This is a form or flexibility issue. Start with lighter weight, warm up, stretch, and watch videos on good deadlift form… like this one.
Let's take a look at what might be the best deadlift bar, depending on your needs.
Quick Chart
Scroll right to see all 7 bars.
| | Rogue Ohio Deadlift Bar | Texas Deadlift Bar | Okie Deadlift Bar | StrongArm Deadlift Bar | StrongArm Sumo Deadlift Bar | Titan Series Deadlift Bar | Rogue Women's B&R Bar |
| --- | --- | --- | --- | --- | --- | --- | --- |
| Finish | Bare Steel, Black Zinc, Cerakote, E-Coat | Bare Steel, Black Zinc or Chrome | Black Zinc | Bare Steel | Bare Steel | Black Zinc | Bare Steel |
| Diameter | 27mm | 27mm | 27mm | 27mm | 27mm | 28.5mm | 25mm |
| Tensile Strength | 190,000 PSI | 190,000 PSI | none given | 210,000 PSI | 210,000 PSI | 200,000 PSI | 190,000 PSI |
| Knurl Type | Deep Volcano | Mountain Peak | Mountain Peak | Mountain Peak | Mountain Peak | Deep Volcano | Medium Volcano |
| Center Knurl | No | No | No | No | Yes | No | No |
| Sleeve Attachment | Snap Ring | Pinned Sleeves | Pinned Sleeves | Snap Ring | Snap Ring | Snap Ring | Snap Ring |
| Length | 90.5″ | 92.5″ | 90″ | 90.9″ | 90.9″ | 90.5″ | 79.1″ |
| Price | $345-$410 + shipping | $345-$390 + shipping | $399 + shipping | $379.99 & free shipping | $379.99 & free shipping | $349.99 & free shipping | $225 + shipping |
All of these bars weigh 44 lbs
Deadlift Bar vs Power Bar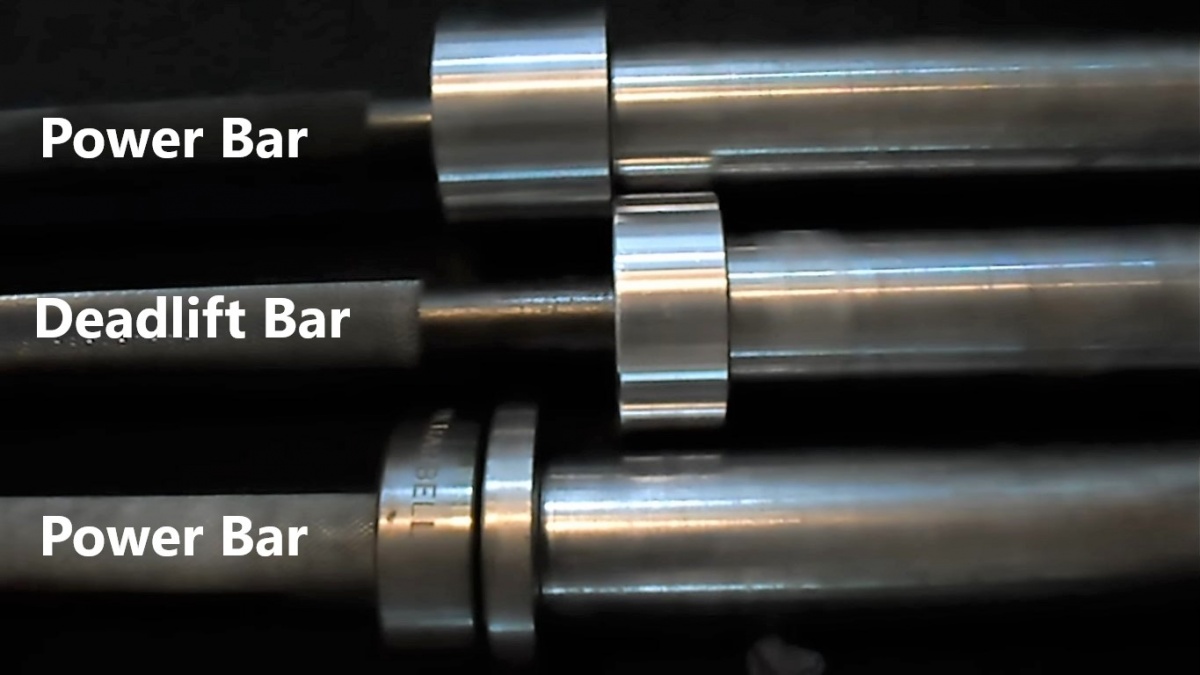 Traditionally, any power bar / powerlifting bar is used for deadlifts, squats, presses, and just about anything else you want to do.
Power bars are a bit more stiff than is optimal for deadlifts. They can still work, just not ideally, assuming you're trying to lift as much weight as possible.
Here are the differences in a specialty deadlift bar that make them uniquely designed for this purpose.
Extra Long
This is one of the main unique features of a specialty deadlift bar.
Normally, powerlifting bars have a shaft length between the inside collars of around 52″. This way the shaft is wide enough to fit over a 48″ wide olympic bench rack or power rack with some room for slop. The overall length of the bar is roughly 86″.
The deadlift bars here have an extra long shaft, about 56″ instead of 52″, while the sleeves stay the same length as other power bars. The long shaft isn't needed for grip. Some athletes have a wide grip for snatches or squats. Deadlifts are not one of those wide grip exercises. What the long shaft does is flex more, and that helps spread the load over time as you lift off the floor, giving you an extra advantage of pulling less than 100% of the weight from the very bottom and getting a smoother pull that doesn't shock your muscles so hard as it clears the floor. In the end, though, you still have to get the weight up.
In olympic lifting, this flex is also called "whip". It doesn't really apply to deadlifts, done more slowly and with a smaller range of motion than a clean. They're talking about the same kind of effect in the shaft.
That being said, you do have to be lifting a lot of weight for the steel to start to flex. It varies, but let's say 315 lbs / 140kg with a sumo grip (narrow grip, hands between legs), and 405 lbs / 180kg with a conventional grip. If you're new to this, those numbers just correspond to three or four 45lb plates per side. If you aren't lifting that much, you won't get this benefit out of the bar. Therefore a specialty deadlift bar is really only meant for the small percentage of lifters reaching those numbers.
Just about the only disadvantage to deadlifting with this kind of extra-long bar is if you're attempting the Reeves deadlift. Never heard of it? Check it out.
Also, don't use this kind of bar in a power rack. It's too susceptible to being permanently bent if you drop it on the safety bars, with the extra torque at the ends. So don't try benching with a deadlift bar, or squatting, or anything else.
One type of extra long bar that is not mass produced is the Elephant Bar, made by Rogue for the Arnold Strongman Classic. It is more flexible than a regular bar, and it has 27″ long sleeves instead of 16″. The center shaft between the inside collars remains the same length, 52″.
Thin Diameter Shaft
The other unique feature to deadlift bars is the shaft is thinner than a traditional 29mm powerlifting bar, or even a 28mm weightlifting bar. A thinner bar is easier to get your hands around. To illustrate this, try pulling on a 2″ pipe that you can't even get your fingers around to touch your thumb. Your grip fails quickly.
27mm is what the manufacturers have settled on to provide for a stronger grip. Strength of the steel also becomes an issue with thinner bars.
While we're still on the subject of grip, consider learning to use a hook grip for your deadlifts. EliteFTS wrote a good article on 3 critical deadlift lessons most lifters never learn, one of which is the hook grip.
A Killer Grip
Aggressive knurling is a must. Aggressive knurling doesn't just mean it's cut deep. It's a whole science in itself, based on how it feels and how well your hands grip it without it feeling needlessly sharp.
Eventually, every lifter learns that the weak point in his deadlifting game is his grip. His fingers start to slip, and he starts to appreciate aggressive knurling. This is not the case with other exercises.
The Texas Power Bar and a few others have a very aggressive knurling, so this isn't necessarily unique to deadlift bars.
Tacky and Thin Finish, or None At All
The finish/coating of the bar needs a certain amount of "tack" to it to keep your hands from slipping too easily. Any coatings tend to smooth out the bare steel texture and make the bar more slippery.
Chrome is notorious for getting slippery when wet from sweat. It's just too smooth. Only one bar featured here has chrome as an option.
Black oxide has a good amount of tack and is extremely thin. It doesn't fill in the knurl canyons as much as other coatings. You might need to wipe some oil on it occasionally to prevent rust (see the olympic bar maintenance article).
Black zinc or bright zinc are okay. Like black oxide, they can wear off with enough use, leaving bare steel exposed.
Cerakote is a thin ceramic coating traditionally used on guns. It is a little slick compared to the other options. Currently, Rogue is only one here offering it as an option.
E-coat is another one that is currently only offered by Rogue, as far as deadlift bars go. It stands for electrostatic coating, a process that ensures the coating is applied evenly, even inside the knurl canyons where other coatings tend to pile up too much. This makes it fill in the knurl less than other coatings, preserving almost all of the grip you would get from bare steel.
Bare steel is the best to use, in the minds of many. It requires some maintenance to prevent rusting. Preventing rust is the whole point of having any coating on a bar, after all.
Detailed Looks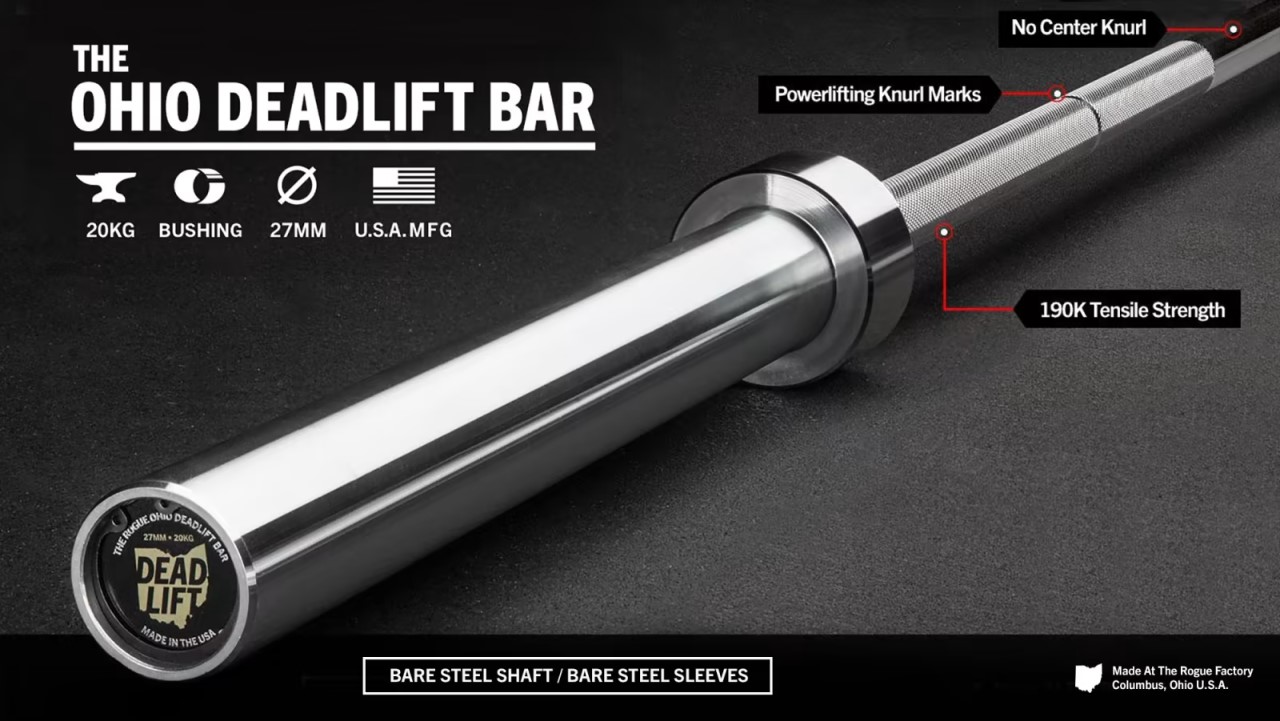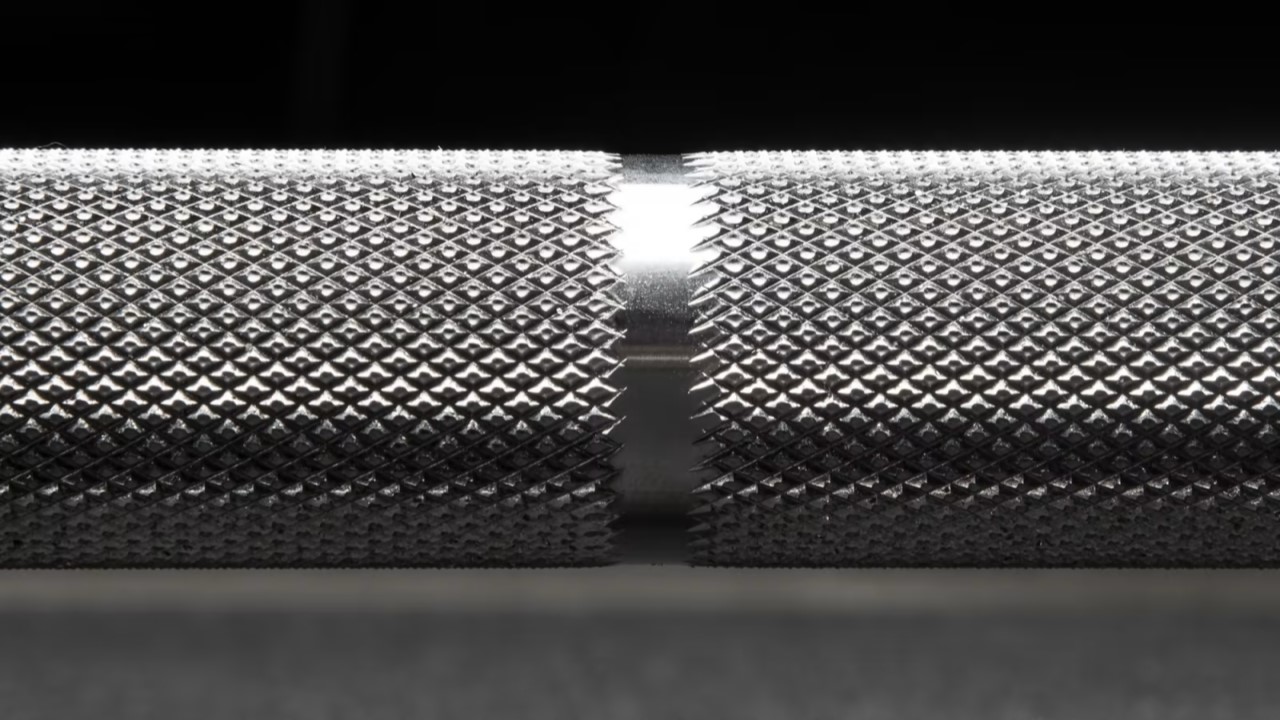 Selling Points: Aggressive volcano knurl, quick shipping, several finish options, hundreds of reviews.
This originally came out in 2016. Rogue puts real research into their equipment. The employees lift. You won't often find anyone saying that they bought something from Rogue that was low quality.
The volcano knurl is cut even deeper than the Rogue Ohio Power Bar, while still less sharp feeling than the few bars here that have mountain peak knurl.
The coating options on the linked bar are bare steel (no coating), black zinc, e-coat, and listed separately is a Cerakote version. This is the only bar featured here with the e-coat and Cerakote options.
See Cody's 2017 review of the Ohio Deadlift Bar.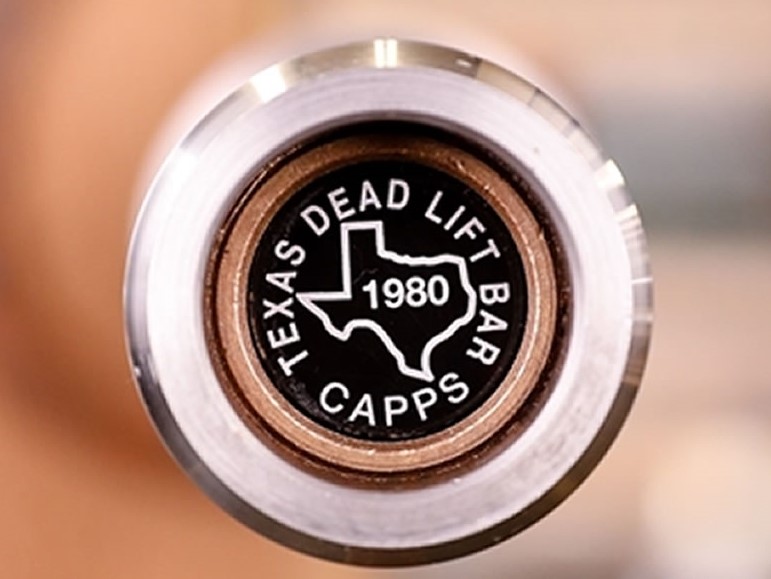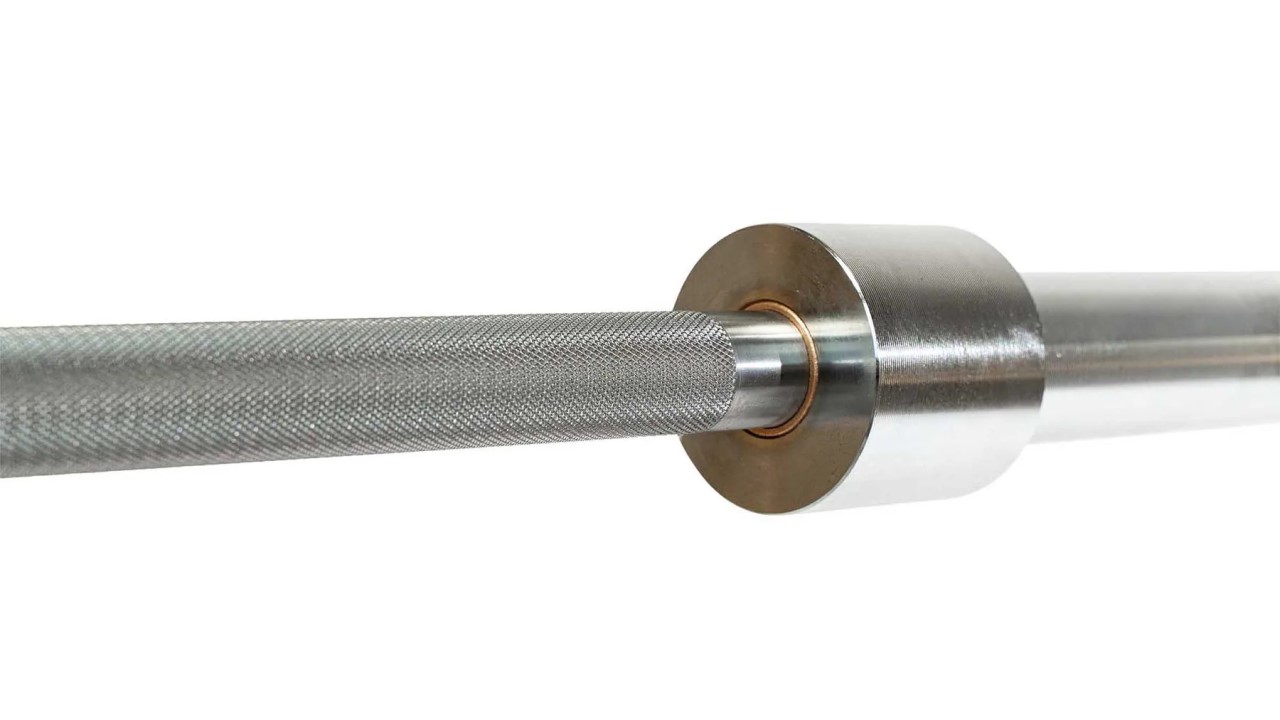 Selling Points: Classic brand loyalty, competition training, the most flex, and deep mountain peak knurl.
One of the classic bars manufactured by Capps Welding / Buddy Capps. The end cap has the state of Texas logo. As you can imagine, it's made in Texas. (Capps is not the same as CAP, a Chinese manufacturer… And not to be confused with the end "caps". We need more words!)
This bar was one of the first known for its mountain peak knurl that was sharper than just about anything on the market for a couple decades, and it remains so.
The big inside collars (shoulders) of the bar have the effect of providing more flex to the Texas DL bar on your pull before it clears the floor, because the plates are further out, leaving more space between the plates.
In contrast to others, weight of this bar is 45 lbs, not 20kg /44 lbs and is therefore meant more to be used in competitions where pounds are the denominated weight.
This bar is still used a lot in competitions and is therefore still quite relevant. It's good to practice on the same bar you'll be competing on.
At some point, perhaps 2020 or before, the Texas Deadlift Bar was updated to a longer 92.5″ overall length, most of which went into the sleeves, and slightly stronger 190,000 PSI tensile strength steel. Thanks to Jose in the comments below for the info!
The Texas bars are made to order, with a lead time of about 2-4 weeks.
See Nikita's side-by-side review of the Ohio and Texas Deadlift Bar.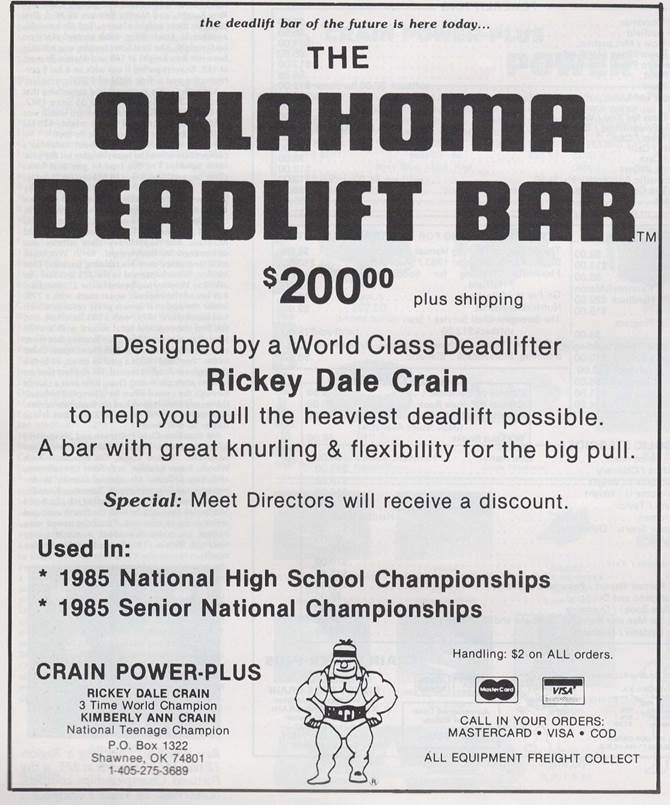 Selling Points: Nostalgia, and a proven classic.
The Okie was the first deadlift bar made to these kind of specs, originally sold as the Oklahoma Deadlift Bar in 1984, preceding even the Texas Deadlift Bar.
Its other claim to fame is it has been used in tons of local, state, national and international lifting competitions over the years. In other words, it's a proven favorite of heavy lifters.
You can only get it online from a couple places, notably Crain (the manufacturer).
They are so old-school that they don't even give a PSI tensile strength rating like everyone else has been doing for the last 15 years. My guess is it's probably lower than the others here.
It has a mountain peak knurl that is slightly less aggressive than the Texas Deadlift Bar.
Here's something interesting. This bar supposedly doesn't have bushings in the sleeves. The sleeves are just steel on steel. For deadlifts, you know, maybe that's a good thing. You don't want the bar to rotate out of your hands.
Like the Texas Deadlift Bar, it has pinned sleeves, while most others use snap rings.
My overall assessment on the Okie is it's becoming dated. It was the original groundbreaking design, and there's a certain fame behind it. Capps eventually copied the Okie, and Rogue copied them both, and others on from there. There are some old rusty Okies out there (that's what happens after 30 years if you don't oil it) that people love too much to replace. If a powerlifting meet you're competing in will be using the Okie (possible but I think it's becoming rare), then it's nice to practice your lifts on the exact same bar. Other than that, I don't know, I think you'd be happier with a different one.
There used to be an Okie Extreme Deadlift Bar, now discontinued. It had snap rings, bronze bushings, an uncoated bare steel shaft, and zinc plated sleeves. They didn't sell enough of them, I guess.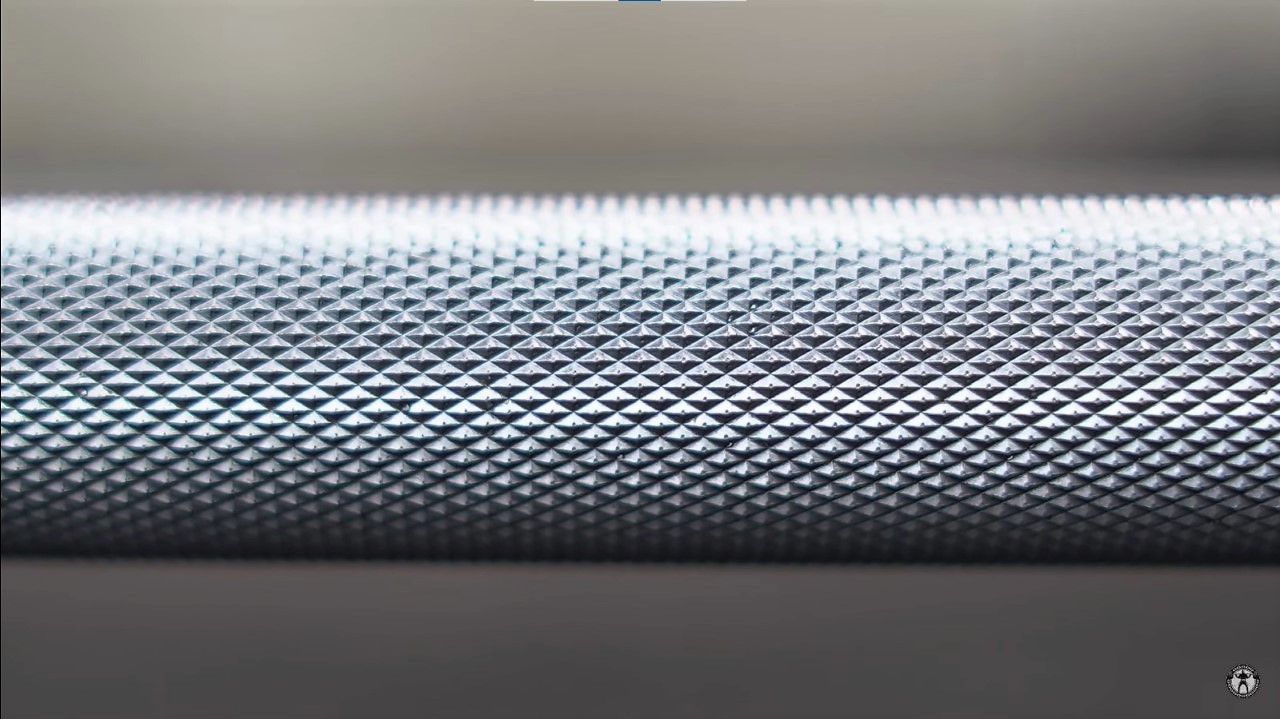 Selling Points: Aggressive mountain peak knurl.
StrongArm Sport is a Canadian company. US customers (the vast majority of you reading this) can get the bar at Bells of Steel's US site. Bells of Steel is also a Canadian company, and they opened up the US facing site in 2019, along with a US distribution center.
Bells of Steel has the tensile strength currently listed as 110,000 PSI. I was informed this is a mistake, and it should be 210,000 PSI. I have to say that makes a lot more sense. There's no way a 110,000 PSI bar is strong enough to hold up to heavy deadlifts, and Bells of Steel markets their products towards powerlifters. I expect they will fix this on the page soon.
Basement Brandon did a video review: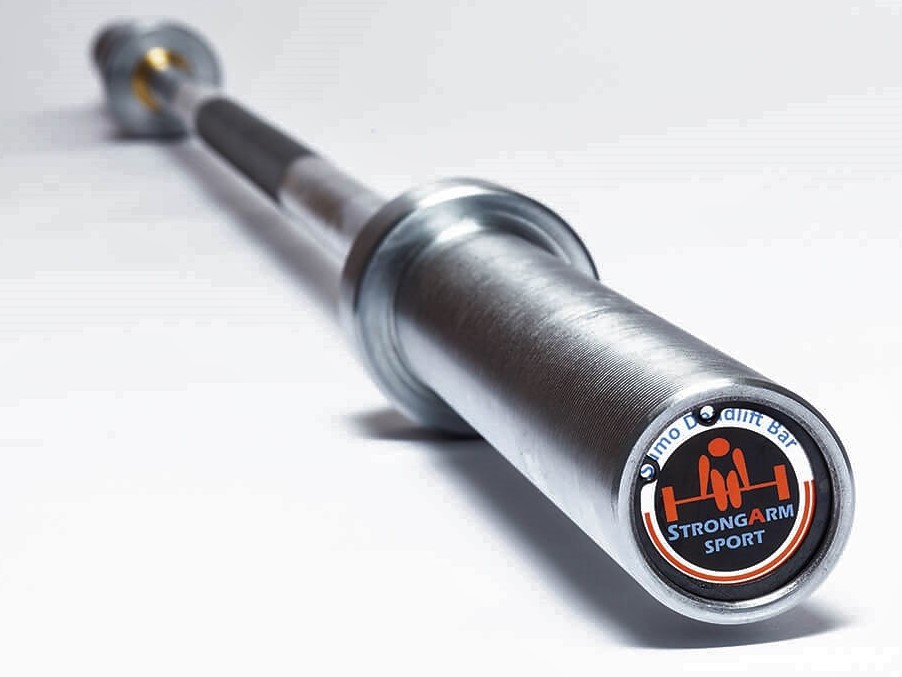 Selling Points: Sumo deadlifting.
The same as the StrongArm conventional deadlift bar, but with a totally different knurl pattern. See above. For sumo deadlifts, you want a long stretch of knurling around the center to grip, while further out from the center it's nice to not scrape your shins. Given the wide stance of sumo, your shins are clear of the knurl strip, so this makes sense.
A lifter who trains the sumo deadlift enough can typically lift more weight with it – up to 50 lbs more – than the conventional deadlift, due to the shorter distance the bar has to travel off the floor. Robb Wolf published a biomechanical analysis of the sumo vs conventional deadlift.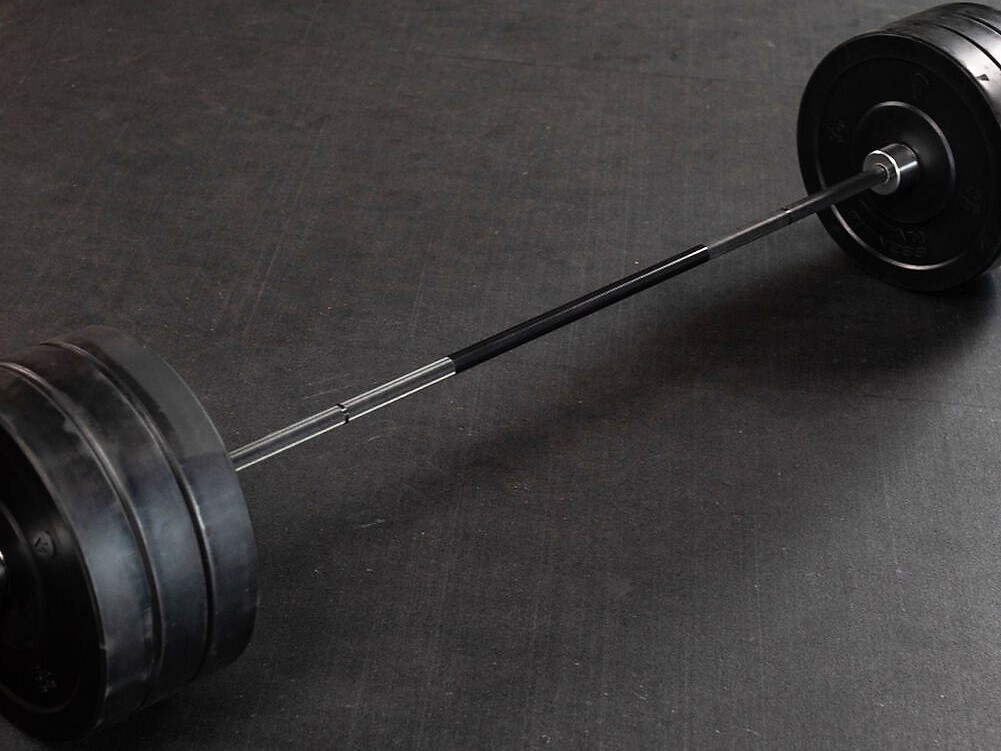 Selling Points: Lowest price of all specialty deadlift bars, and a thicker 28.5mm shaft.
Titan Fitness came out with this in mid-2022. Titan is most known for their relatively inexpensive power racks and rack attachments. Their other products are hit and miss.
It's the only bar here with a traditional power bar's 28.5mm shaft. Other than that, it's most similar to the Ohio Deadlift Bar. It comes only in a black zinc finish. One part of the product page says it's Cerakote, but that only applies to their other bars.
With the free shipping deal it's the lowest priced bar here. The price difference is not enough for me to recommend buying it, unless you are really set on getting a 28.5mm deadlift bar. The other bars like the Rogue and Texas have a ton of happy customers. This one just hasn't been in the hands of enough people that I can say much for sure about it.
Alternative: 25mm Women's Bars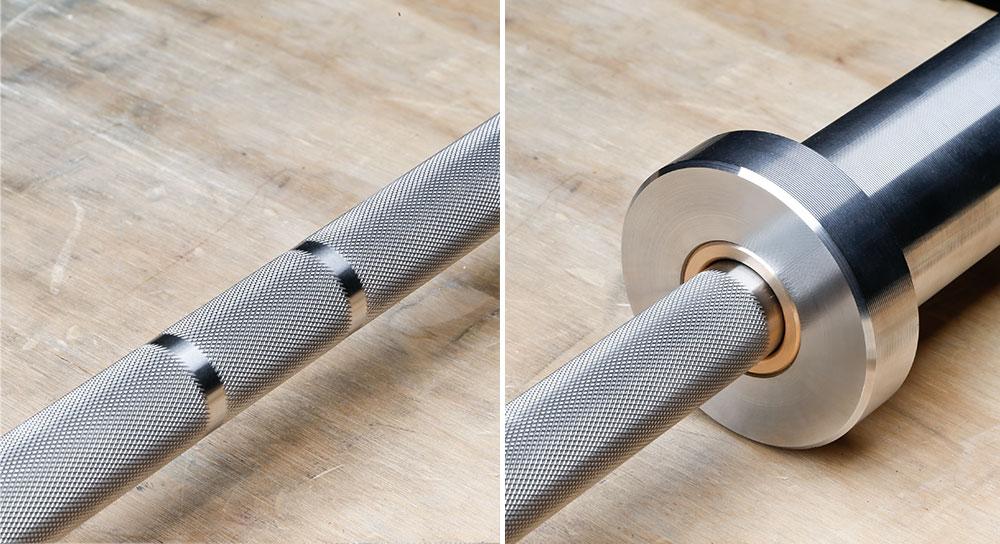 Selling Points: Much cheaper alternative.
Thanks to alandu78 in the comments for pointing this out. One thing you can do is get a 25mm women's bar. The thin shaft makes a big difference in what you can get your fingers around and pull.
Generally you wouldn't buy a 25mm women's bar for only this purpose. I'm thinking more of a situation where there is such a bar in a gym already.
Perhaps the best one I've found for this would be the Women's B&R Bar. This version has a bare steel shaft, giving you the best grip texture possible, and a medium volcano knurl that isn't as aggressive as the other bars here but is decent.
A women's bar has shorter sleeves, about 13″, so keep that in mind if you'll be loading it with thick bumper plates where you could run out of space.