Heavy lifters benefit from specialty 8ft deadlift bars and other oddly-shaped bars that can let you move the weight in new ways.
Let's take a look at several specialty squat bars that could help you lift more weight safely and smoothly.
8ft Long Squat Bars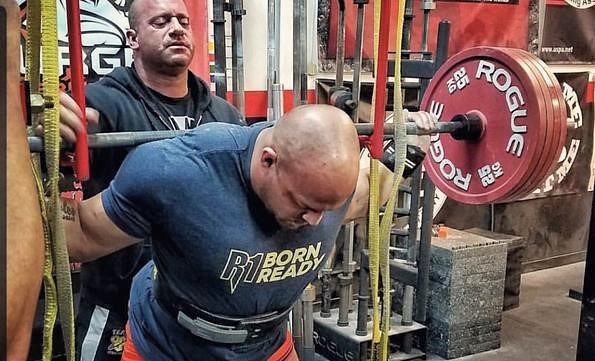 The first type of specialty squat bar looks much like a regular straight barbell but is extra long and thick.
Both the sleeves and the inner shaft are longer. The longer sleeves help you load a couple more plates, while the longer shaft helps you re-rack the bar on any normal 4ft wide rack without worrying about centering it just right, which can be a huge safety and mental issue with squats.
Plus, the thicker shaft stiffens it up significantly over a typical 29mm power bar, and the thickness is more comfortable on your upper back.
First, a quick look at some of these bars. Then I have some notes to share.
My recommendation out of these is the Rogue Squat Bar. Here's why –
Fully knurled shaft – No other squat bar has this. Just a couple IPF ring marks, and a ring mark in the very center to help you line up.
Stainless steel shaft – None of the knurling is filled in with a coating, which is a problem with zinc or chrome.
Fast shipping – Rogue typically ships bars within a day.
Good pricing – For a USA-made squat bar, it's the best deal easily.

Rogue came out with it in June 2019. The Strongarm and Kabuki are pretty new too. More on those below.
Nikita did a review of the Texas Squat Bar at her gym. It's perhaps the longest-running specialty squat bar still in production. Hasn't changed much in decades.
I don't know how you could justify spending $720 for the Kabuki Squat Bar. A 250,000 PSI tensile strength bar is not helpful whatsoever. 200,000 is fine even for gorillas.
The Strongarm Squat Bar, sold at Bells of Steel, might be worth a look because of its crazy low price. They're a Canadian company with a distribution center in Indiana for US customers (be sure to order from bellsofsteel.us, not the Canadian site bellsofsteel.com). The bar is made in China and is yet unproven. Let me know what you think of it if you buy it!
Hex Squat Bars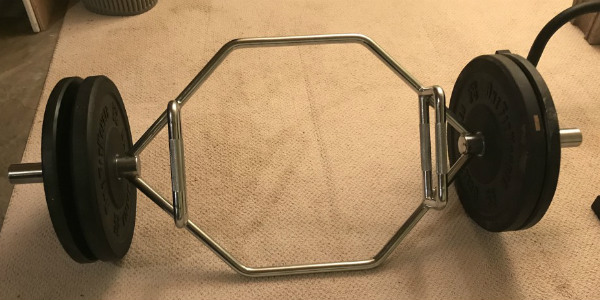 Hex squat bars are a popular way of doing the squat movement in a more comfortable way. They are kind of like doing deadlifts because you're lifting the bar off the floor, but it is actually more like a squat because the center of gravity is in line with your vertically and not in front of you like a deadlift. In other words it uses the same amount of quad muscle as a squat, whereas deadlifts would be more hamstrings and back. The neutral-grip handles are in position for you to lift in a very comfortable position.
All in all, a hex squat bar gives you the opportunity to lift more weight than you can manage to balance on your back or shoulders.
Hex squat bars come with either high or low handles, or both. The difference is your starting position. I recommend getting one that can be flipped over for you to grip it either way.
A lot of these hex bars are very similar. See our review of the FringeSport hex squat bar, which has a pretty common design and at a good price. Don't overthink this.
Tony wrote about the old Biotest Hex Bar, an old-school design that is no longer made.
Safety Squat Bars

A safety squat bar gives you a more comfortable way to squat, with pads against your back and shoulders and your hands in front of your shoulders.
Brandon Campbell Diamond did a video warning of a few issues with these.
The pads should not be too far apart or they're resting more on your shoulder bones than your traps.
The camber of the bar and the handles need to be offset.
The 3 pads should be all tied together so they don't shift around.
The bar shaft should be thick, to avoid any whip.
Titan Fitness used to have a lousy safety squat bar with flaws on the above, but as they often do, Titan improved version 2 of their safety squat bar to hit the positive side of all the above points, and it's only about $200. With other brands you're looking at more like $400.
Right now, I don't know of any safety squat bar that has as good of a design as Titan's for near the price. Even more expensive ones aren't designed as well. Titan usually is the one with questionable budget options, but in this case it's the one you should go with.
Top Squat Accessory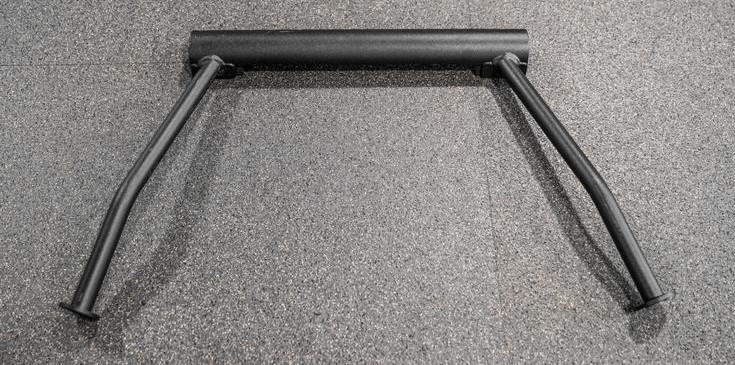 I got a Top Squat years ago, before I learned how to squat right. It's made for people with shoulder mobility issues, much like a safety squat bar.
It's an attachment invented by Dave Draper, a former top-level competitive bodybuilder.
The differences is it doesn't have the padding of a safety squat bar, opting instead for thick urethane over the part over your back, and it attaches onto a bar instead of being a whole bar itself.
I discovered that your bar should be 28mm. Mine was 30mm, and I had to shave off some of the inner urethane to get it to fit. That presents a bit of a problem, because an optimal squat bar for heavy lifters is thicker than 28mm to avoid whip.
Personally, I wouldn't use it again. I like low-bar squats, and I don't have any problems that this kind of device solves.
Most people really should work on some stretching and learn how to do a proper low-bar squat instead of using a Top Squat or safety squat bar. That said, if you are working on your mobility issues or you just don't care about them, then maybe get a safety squat bar.