Who is Brandon?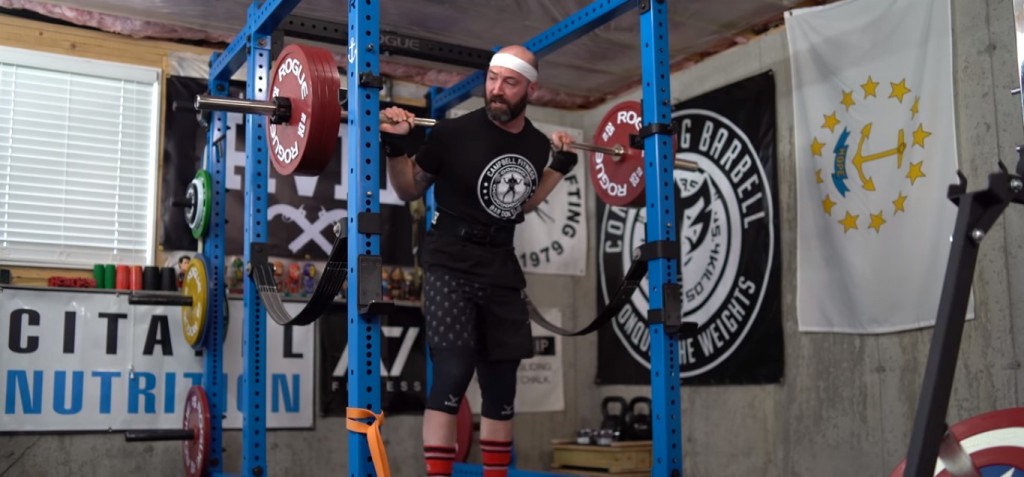 A quick intro for those of you who don't know about him. Brandon Campbell Diamond is a competitive powerlifter and well-known Youtuber with a following of 190,000.
Although he does make a portion of his income from Youtube, he works at a data storage company as his main job. All of his powerlifting accomplishments are on the side. His followers enjoy his videos because he doesn't come across as a "meathead" at all but as very thoughtful, analytical, and of course very strong.
Requirements
Brandon went into full analytical mode and made a series of six videos about his decision process. You can either spend eighty minutes watching those like I did, or you can take five minutes to skim this article…
I've included his last video, showing off his rack, at the bottom of this article.
Anyway, Brandon sold his house and moved into a rental while his new house is being built. He didn't want to have to move everything so sold much of it, including his blue Rogue RML-690C power rack (in the pic further above) that has been there in so many of his videos, before the move.
The RML-690C is a 6-year old 3×3 rack design with rear storage. Nothing fancy about it, just a solid rack.
A couple of his requirements this time:
Half rack instead of a power rack. The garage he's moving into has limited overhead space, and he wants to take advantage of some of the overhead space by having a half rack with a pull up bar as high as possible.
1″ holes.
Something high quality that will retain its value for resale.
90″ max height, if possible.
(He says 1″ hardware in his video, but he means 1″ holes on the uprights. I don't think he actually cares about the size of the bolts in the top or bottom of the rack.)
Let's go over the racks! The pros and cons I'm listing are entirely according to Brandon. I'm showing you his process to give you an idea of how an expert makes these decisions and not really injecting my own opinions into this much.
Rep Fitness HR-5000 Half Rack
This just came out in March 2019.
Update 2021: This rack has been discontinued, and Rep has no other similar half rack.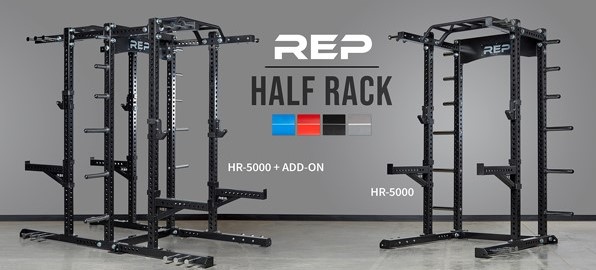 Pros
Many features included:

Sandwich J-hooks
UHMW lined spotter arms
Band pegs that can be installed on top or bottom
Upgraded pull up bar

Color options
Ready to ship
Cons
Lack of extra attachments
93″ height, or 98″ height depending on how you install the pull up bar
Lots of frame up top, which might not fit in his garage
Imported from China – Risk of bad welding or bad alignment
Doesn't hold value for resale like Rogue or Sorinex
The Rogue Monster attachments and certain other brands of attachments fit this rack mostly fine. See our power rack attachments compatibility list.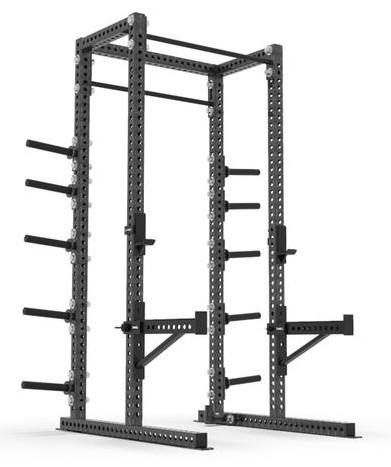 Pros
Sorinex has good resale value
They outfit large facilities and make very reliably high quality stuff
More color options than Rep (attachments only)
Lots of attachments
USA made
Smaller upper frame size to fit his space
Cons
2 month lead time
You have to talk to a sales person to order
No color options on frame
Standard J cups (not sandwich)
High freight cost
95″ height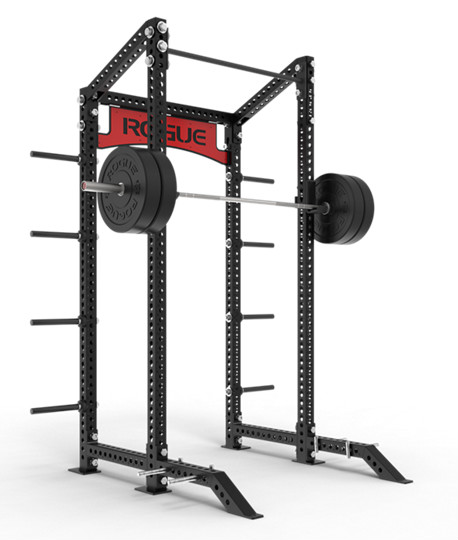 Pros
Lots of attachments
Rogue has good resale value
He has experience with the quality of Rogue racks
Reasonable freight cost
90″ height
USA made
Normally this rack has 90″ rear uprights and 100″ front uprights, but Rogue will swap the front out for 90″ if you like.
Cons
Safety arms are extra
Few color options
Everyone expects him to go with Rogue and is calling him a Rogue fanboy
Final Choice
Surprise! He went with none of the above options.
He did get a Rogue… But he changed his mind and went with a Rogue power rack instead of a half rack. He had gotten so used to training inside of a power rack, with the added safety, and there are certain attachment options that half racks don't provide like safety straps instead of steel safety arms.
Here it is…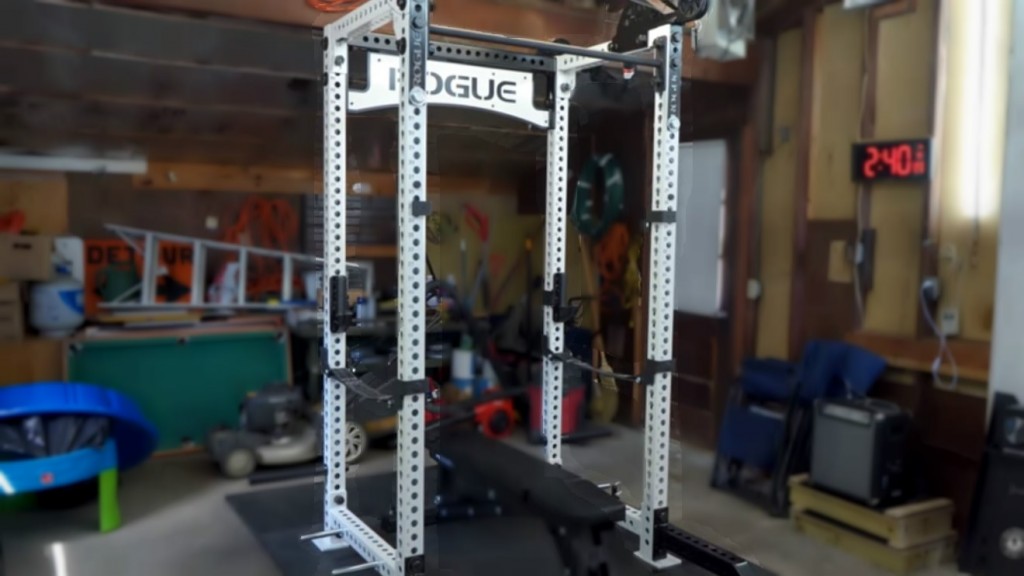 He went with the Rogue RM-3 Monster Power Rack with the white frame.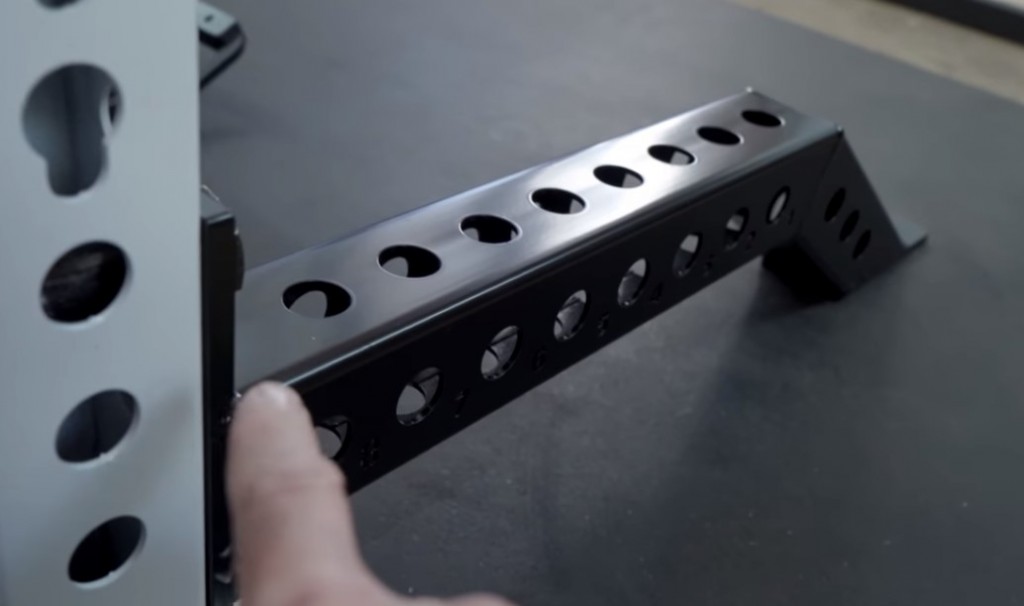 He added this pair of feet sticking out the front for extra stability. I don't even know where he found them. I can't find them on Rogue's site. After assembly, he assessed that those feet are not necessary and the rack is plenty stable without them.

He added the Monster safety straps but also got the steel safeties in case he wanted to use them at some point.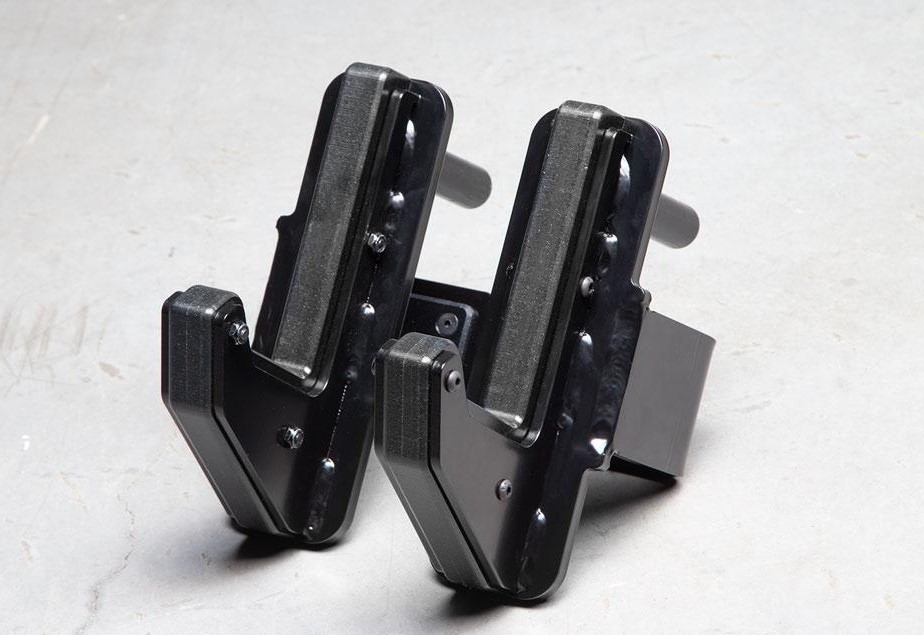 He opted for the sandwich J cups, specifically the 1.5″ version and the best choice, in my opinion. They give you more space horizontally than standard J cups, to make it easier to rack your bar safely if you're off center.
He also added the slinger attachment, which sticks up pretty high and isn't going to fit into the basement when he moves again.
Here's the final video in his 6-part series, to give you a good look at the rack all assembled and ready to use. There was so much overlap that it isn't necessary to watch the first 5 videos.