Introduction
A good bench is one of the most essential parts of a garage gym setup. If you have the luxury of space and enough money to spend, you can shop around and outfit your garage with separate benches for flat, incline, and decline presses, like a big box gym. But most garage gyms don't have the luxury, and so you're looking for something that is compact and versatile.
You need a bench that can go from decline to flat to incline to upright to accommodate different exercises.
For a long time, I made do with a simple Weider adjustable bench that I found on Amazon. The bench was cheap, under $50, and adequate for intermediate levels training routines like P90X, P90X2 and Body Beast. However, it didn't have a very high weight rating, and it was also pretty wobbly.
Once I transitioned to heavy barbell movements, I knew I needed a stronger bench to work with. And my research led me to the X-Mark 7472 bench. I've now had this bench for almost two years, so I've had plenty of time to work with it and understand its strengths as well as areas of improvement.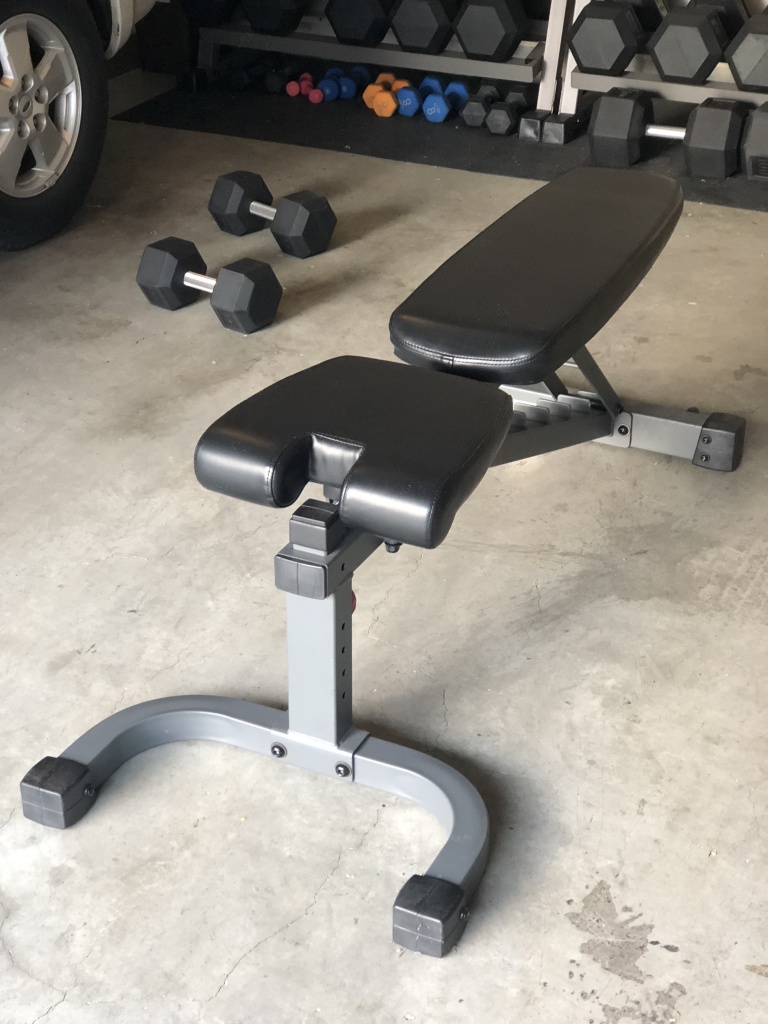 Ordering the X-Mark Bench
You can order the X-mark bench website directly from the manufacturer's website, or from Amazon. Both sites offer free shipping, but I found the price on Amazon to be a little cheaper than X-Mark.
Packaging & Assembly
The bench came neatly packed in a flat-shipping box and weighed approximately 80 pounds. It comes with a clear set of assembly instructions and all the required fasteners. All you need is a wrench and a pair of pliers. The bench was very easy to put together, and I had it ready in under 45 minutes.
Features
You can find the detailed specs on this bench online, but here's a summary. The bench is constructed with 2"x3" 11-gauge steel tubing. The dimensions of the bench are 61.5" in length, 25" in width, and 19.5" in height. It has an impressive weight capacity of 1500 pounds. It has a thick 3" pad for the back and the seat, which is protected with well-stitched, sweat resistant nylon covers.
The bench offers seven different incline levels, ranging from -20° for decline presses all the way up to 85° for upright shoulder presses. The angles offered are -20°, 0°, 20°, 35°, 50°, 65° and 85°.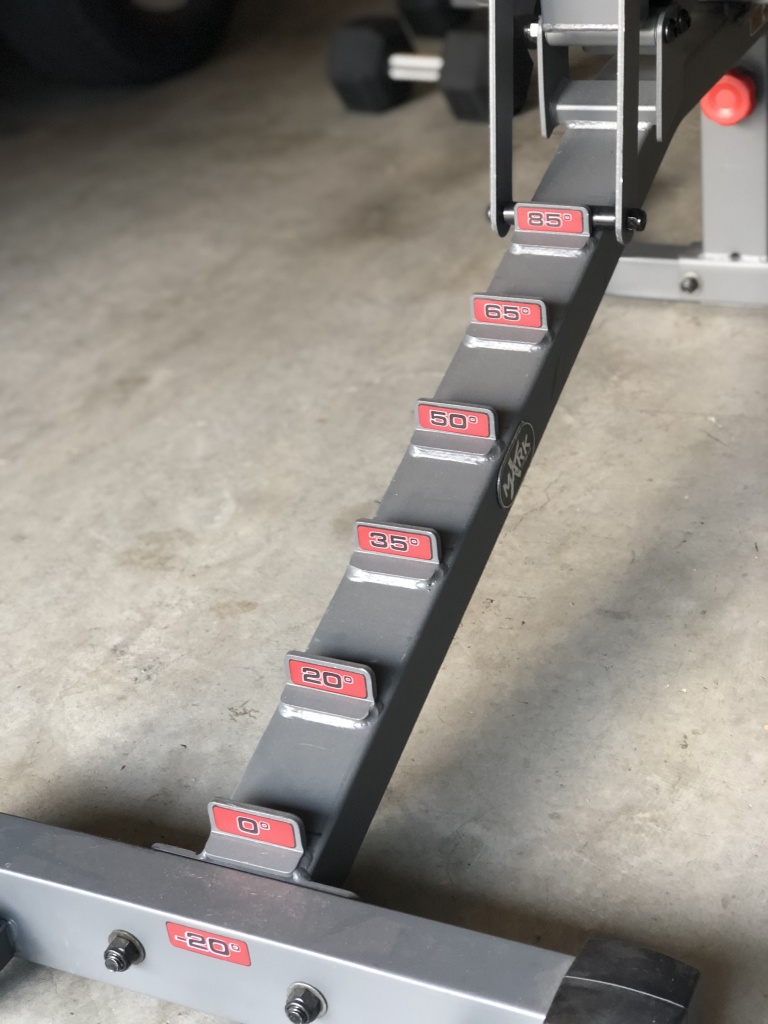 The seat has three incline adjustments, to support flat, incline and full-decline presses. It also has a pair of wheels to facilitate movement across the gym floor as well as in and out of storage. As part of the standard package, you also get the attachable vinyl-covered footrest with roller pads, to lock your feet under when performing decline presses or crunches.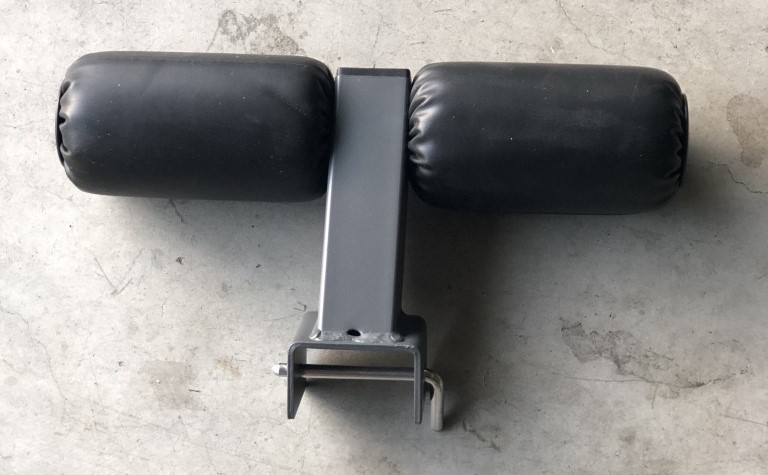 The bench features a smart, understated black, gray and red color scheme, with gray powder-coating on the steel tubing.
Build Quality
In addition to the X-Mark bench, I also happen to own a pair of their dumbbell storage racks. I can vouch for this much – X-Mark builds solid products. This bench feels like a tank. While I haven't tested it, I feel very confident that this bench does live up to its touted weight capacity of 1500 pounds.
The powder coating on the steel tubing is uniform and aesthetically pleasing. After almost two years of regular use, I am yet to see any signs of flaking or rust. The weld lines at the joints are neat and understated.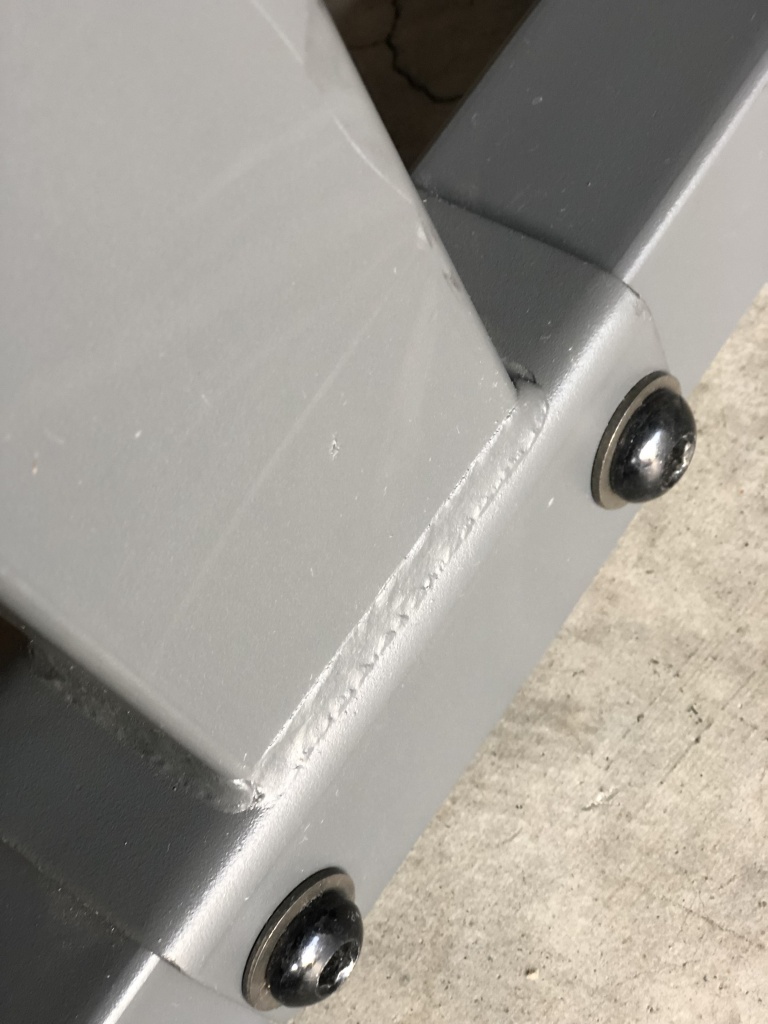 The quality of the stitching on the seat is top notch. The seat cover on my previous bench started to fray and tore after six months of use. In contrast, this bench has taken a beating, with me using it for jumps, step-ups and all kinds of other madness – but it shows no signs of wear and tear. I've even placed heavy loaded barbells with aggressive knurling on the seat, but the cover took no damage.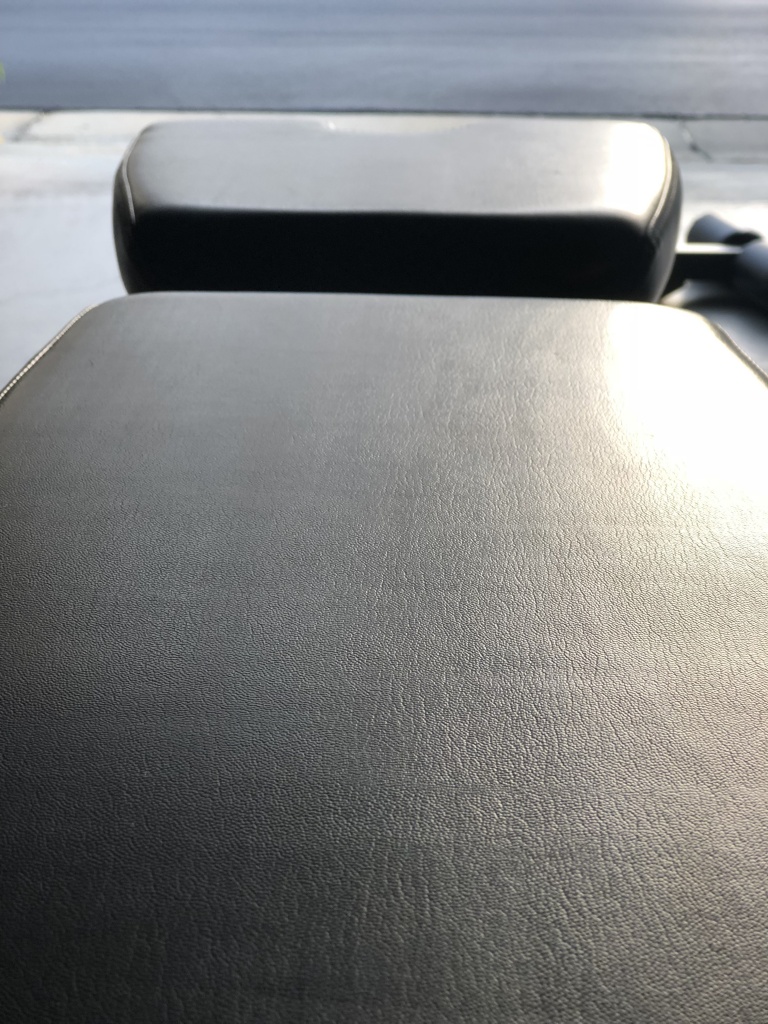 Mobility
The bench can be moved around the gym floor by grabbing the footrest and rolling the front wheels. I rarely use the bench for decline presses or sit-ups, and so I've never attached the footrest.
But without the foot rest, there is no separate handle by which to grab the bench. So when I want to lift the bench and maneuver it, I carry it by the base.
However – a word of caution. If you lift this bench by the base to move it around, you need to be extra careful when setting it down. Did I mention this thing is heavy? Because it is, and it will give you a painful reminder if you're careless when setting it down.
Utility
In the two years that I've had this gym, I have put it through the works. When I compare it to my previous cheap bench, this is a rock.
Multiple heavy bench sessions, lots of heavy loaded bars and dumbbells on the seats, a full-grown male jumping on and off the bench, you name it. This bench has taken everything I've thrown at it and keeps asking for more. Not once have I felt it sway or wobble, even a little bit.
It gives me the confidence I need when I'm trying to bench heavy weight, so I can focus on pushing the bar off my chest and not have to worry about the bench back giving way and snapping my spine.
It's also very versatile. I don't know about you, but I have a small garage, and I don't have the luxury of multiple pieces of equipment for different exercises.
So my bench doubles up as a box for box squats, and for jumps.
My wife uses it as a makeshift stool for pull-ups from the bar. It's also great for Bulgarian split squats because the cushioning on the back-rest feels comfortable for the raised leg. 
I also use it as a back-rest for barbell hip-thrusters, but I'll admit that it's a bit on the higher side at 19.5" to be genuinely comfortable. I make do by placing some bumper plates flat under my butt and either side of the loaded barbell.
I've even tried to use it for weighted step-ups, but I don't recommend it because the cushioning is pretty thick and it feels a bit unstable when you're at the top of the movement.
Some Minor Issues
As versatile as this bench is, there are a few minor issues that I feel I should highlight.
The Seat Adjustment Pin
The seat offers three levels of adjustment – flat for regular benching, low incline for incline presses, and high incline to line up with the back when it is the declined position. The adjustment mechanism works with a spring-loaded pin. Over the past two years, I have noticed that the spring doesn't always snap back, so sometimes, you have to wiggle it a bit to have it sit back in the appropriate slot.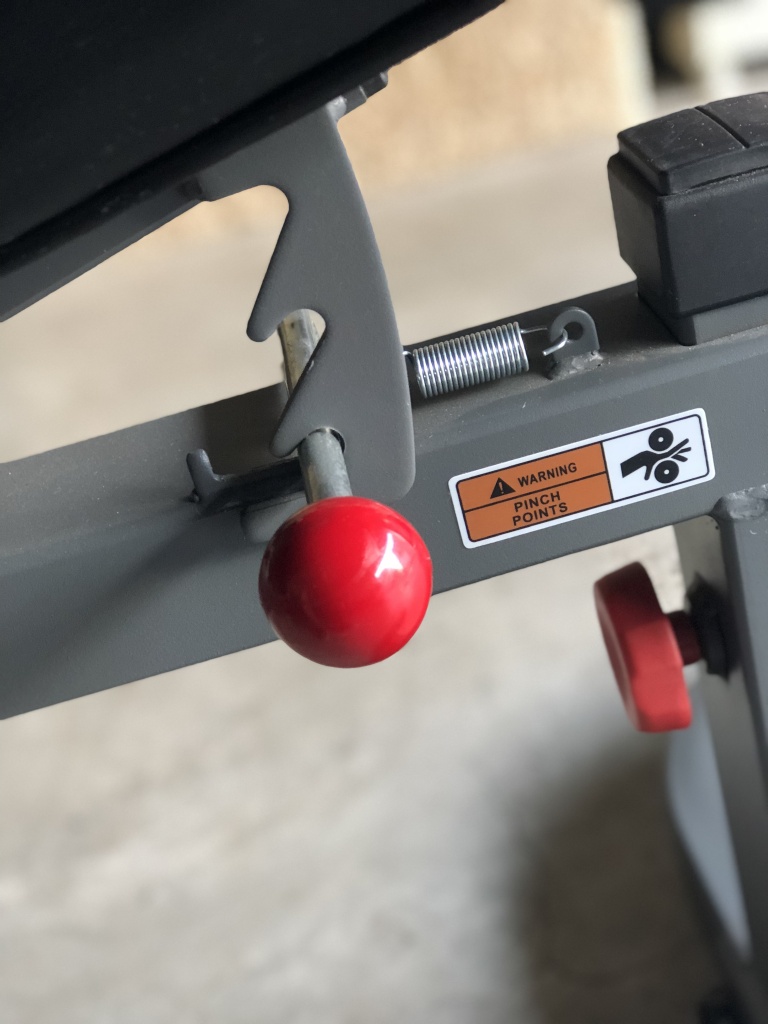 Odd Incline Angle Increments
As I mentioned earlier, the back of the bench offers seven levels of incline, ranging from -20° to 85°. This is where I have a small pet peeve. Most of the commercial-grade adjustable benches I 've worked with offer incline adjustments in increments of 15°. The flat angle is 0°, the incline angle is 45°, and the straight angle is a full 90°.
With the X-Mark, you have to choose between 35° and 50° for your incline benching, and 85 ° for your upright presses. I find this mildly annoying. I'd prefer it if the bench offered inclines in increments of 15° so that I could set it at exactly 45° for my incline presses. I like to know that I'm building strength and technique at a consistent angle on a particular exercise, irrespective of where I work out – but maybe that's just some OCD-like thinking on my part.
But the fact of the matter is this – the 30° incline feels a little too low for incline presses, and the 50° incline feels too high. I've built a workaround by setting the angle at 35° and then adding a couple of ½" wood blocks to increase the angle a little more. I guess that it's still not 45°, but it feels better than 35° or 50°.
Slightly Restrictive For Upright Shoulder Presses
My final nitpick has to do with using the bench in the upright mode for seated shoulder presses. This bench has a long back, and so it is different from a traditional chair-bench that most commercial gyms have for shoulder presses.
The back of the bench restricts your head movement, so your head is a little further in front than it would typically be on a traditional chair bench. This results in a more upright torso angle when shoulder pressing; something you might not be used to if you've only worked on the commercial benches. Those seats allow you to lean back more and engage your upper chest muscles a bit when pressing.
As a result, you will find that you cannot press as much weight on this upright bench, because it removes the ability for your upper chest to assist. That's not necessarily a bad thing, but it's good to keep in mind – especially for all the ego lifters out there. I find myself actually sliding off the seat a little, to reach an optimal angle for shoulder presses, as seen in the image below. It actually looks like terrible form, but the angle feels more natural this way.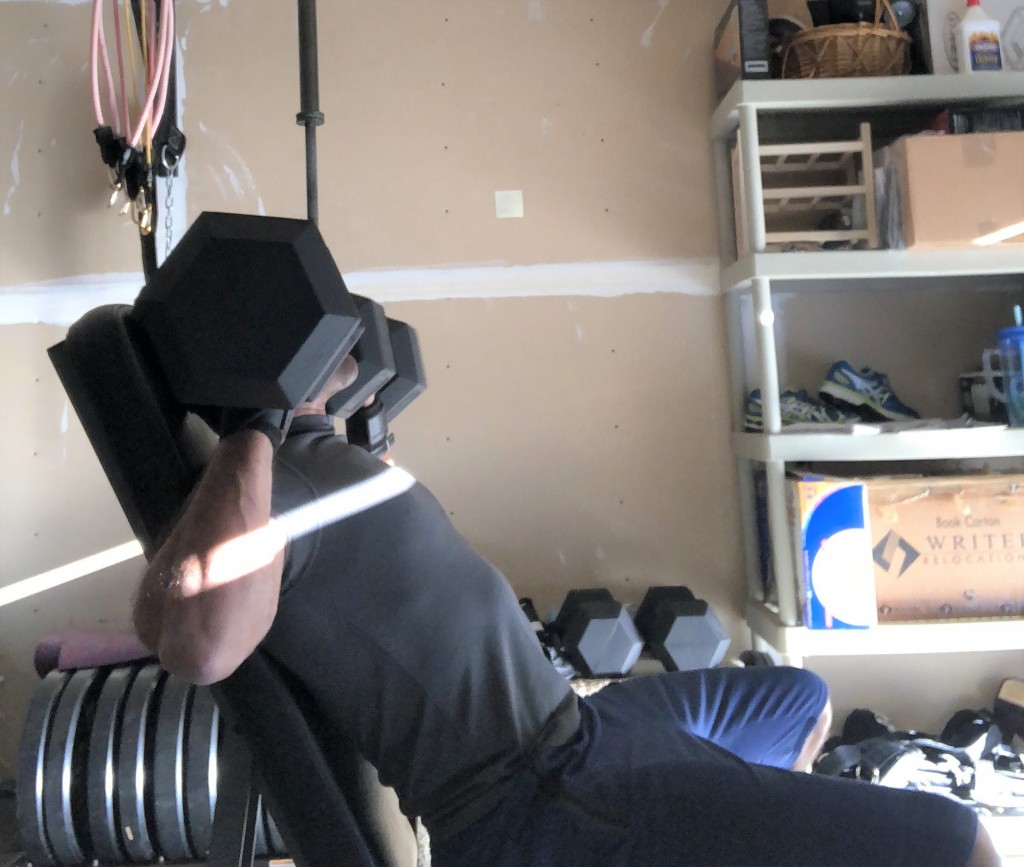 Final Thoughts
Minor issues notwithstanding, the X-Mark 7472 is a fantastic bench. It is sturdy and inspires confidence under even the most demanding loads, and it holds up well to the rigors of everyday use.
There are many options available on the market, from reputable companies like Rogue, Titan, and Precor. But few of them match this sweet spot of affordability and weight rating.
The build quality and construction are both top-notch, and the price point is hard to beat. If you're in the market for a good quality adjustable bench that will last for a long time, the X-Mark 7472 comes highly recommended.