Rewritten and reorganized in 2023 with more current and detailed advice.
Why Buy a Concept2 Rower, Anyway?
Concept2 air rowers have been the most popular rowers for many years. Unlike some cardio machines, rowing can be done intensely enough for high intensity interval training, or at a more moderate pace for steady cardio. Rowing is a movement that works most major muscle groups in your body, unlike running or bike riding.
You can potentially find a pre-owned Concept2 rowing machine in perfectly usable condition and save a good chunk of the price.
Through the 90s and early 2000s, Concept2 was already a top rower in professional rowing circles and Olympic teams. In 2006 Greg Glassman started prescribing it in his Crossfit workouts, and rowing gradually moved into the mainstream. Now you can find them at gyms everywhere, giving you a choice other than the typical treadmills, bikes and ellipticals.
The Concept2 still beats out other air rowers. The parts are almost all from overseas, but some assembly is done in the USA at Concept2 Inc's facility in Vermont.
Concept2 Models and Release Dates
Models you may encounter as you search for a used rower:
Model
Years Made
Performance Monitor
Notes
Model A
1981-1986
None
Exposed flywheel, no drag adjustment. Primitive, but still usable if you're desperate.
Model B
1986-1993
None or PM1
A nice upgrade over the old A, with an enclosed flywheel. No drag adjustment.
Model C
1993-2003
PM1 or PM2
Introduced some modern parts that are used in later models as well. Adjustable drag. A good choice if you can't find a D.
Model D
2003-2021
PM3, PM4
or PM5
A popular semi-current model. They had a few iterations of this model.
Model E
2006-2021
PM5
Similar to D. It is raised up higher off the ground for immobile users and built heavier to compensate so that it remains stable.
RowErg
2021-present
PM5
This combines the Model D and E into one product with a choice of standard legs for a 14″ high seat or taller legs for a 20″ seat.
Dynamic
2021-present
PM5
The pedals move instead of the seat. It is a specialized model for on-water athletes that simulates the feel of a lightweight boat.
Differences Between Current and Recent Models
Model C, D, E, or RowErg are all reasonable choices. People buy these models used all the time and are generally happy.
The current RowErg has nearly all the same parts as the Model D made from July 2006 to 2021, with the RowErg merely having a different name, a tablet mount below the same PM5, and a choice of taller legs.
The Model D years 2003-2006 had a PM3 and PM4, without a heart rate monitor or online tracking, and the frame had a white finish instead of the current black finish. The PMs are all upgradeable – see below.
The Model C had a PM1 or PM2. It also had a noisier chain and a wood handle, both of which can be replaced with the modern parts. Most other things were the same or similar, even the same seat.
Performance Monitors
The performance monitor (PM) is what they call the electronic display that keeps track of your distance, speed and other stats.
If your PM fails, a new PM5, the only one made now, will run you $160, making it the single most expensive component of these rowers to be concerned about the condition of. Fortunately the PM5 is backwards compatible with all models all the way back to Model A, with included retrofit kits.

The pic above will help you identify at a glance which PM a used rower has on it. The later models have successively more functions and display capabilities. The PM5 has a heart monitor and can use online fitness tracking software.
The main consideration is that older used electronics will fail sooner. With every passing year the older monitors are at a higher risk of failure. That being said, they are all known as being generally reliable and without bugs.
How Much Does a Used Concept2 Rower Cost?
For reference, check the current retail prices of current models at a reputable site like concept2.com or Rogue Fitness. Currently the MSRP is $990. It's rare to find them on sale, so the MSRP is the true retail.
The market for used Concept2 rowers is unlike any other cardio equipment. They don't lose much of their value over time.
A used Concept2 RowErg or Model D does not sell for far below the retail price of a new RowErg, maybe $800, and they don't stay on the market for long.
A used Model C might be closer to $500, considering that some parts could use an upgrade or need to be replaced. This is probably about what it retailed for back in the '90s!
What to Test and Inspect
Always ask to try it out. When you're buying on eBay, that isn't an option, unfortunately. If you have a chance to look at it in person, there's no excuse not to spend a few minutes evaluating it.
Check the PM
As with all electronics, the main issue is time and repeated use. Electronics fail. For this reason, an old PM is more likely to fail on you than a new PM.
Bring AA and D batteries (only the PM2 uses AA batteries) with you just in case the owner is stupid and has none. Browse through the menu and test all the buttons.
Check the battery compartment for leaked battery acid.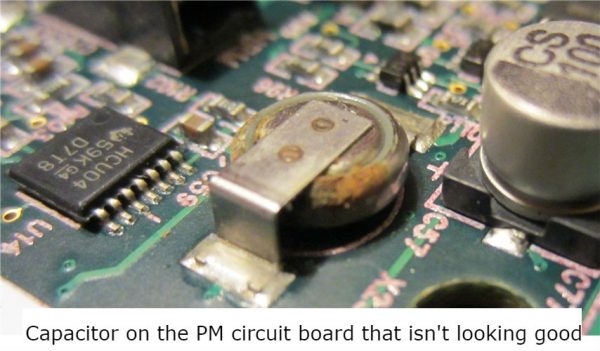 To be thorough about inspecting an older PM, unscrew the cover of the PM and check the circuit board's capacitors for brown spots like the above. You don't have to know your way around a circuitboard. Just look for that.
Some people advise looking up the total meters rowed in the PM menu, but that doesn't really matter. A Concept2 rower could have hundreds of thousands of meters on it and still be fine. That's how rugged they are. Plus, I've heard that the number could be reset from a firmware upgrade.
Check the Other Parts
Sit and do some pulls for a minute and make sure all parts move good and the performance monitor is tracking. If something is worn, it's probably replaceable for cheap (see the section below on used parts).
Here are a few parts to look at if you want to make sure it's perfectly good to go with no downtime:
Chain – Check the cleanliness, showing it's been oiled occasionally and isn't rusty. A new chain will be $23 and requires a good amount of disassembly to replace. On a Model C you might want to replace the whole chain and sprocket assembly with the quieter parts, $43.
Monorail – Check for pitting that will hinder smooth sliding. You can feel this when you do test rows. A new monorail track will be $19.
Handle – For a Model C with an older wood handle, you'll probably want to replace it with a modern handle, $15, or just get a new handle anyway if it has a lot of miles on it.
Foot Straps – Commonly worn out from high usage. Dirt cheap at $2 each.
Getting Used Parts
This is a big reason why they are so popular. No matter what fails, you can replace it. That's why you shouldn't be too picky with grabbing a used one. The big exception is the $160 PM. Other than that, with the company's 40 year history in business you can probably count on getting parts forever. Rowing is more popular than ever, and if nothing else they will keep supplying Olympic teams, which is how they got established.
Concept2.com has parts for sale online for very reasonable prices.
eBay has some parts for sale even cheaper.
Sportsmith has a lot of parts listed online with prices.
Where to Buy a Used Concept2
Local Rowing Clubs
Check with your local rowing clubs (search for "rowing club" on Google Maps). They might have some older models they're replacing. They aren't as likely to be replacing a RowErg, because it's the current model, everything on it can be replaced at a reasonable cost, and the machine lasts for years and years.
Local Marketplace Sites/Apps
Facebook Marketplace and OfferUp are popular apps for local classifieds.
Keep scouring Craigslist, either bookmarking your search or using a free service like NotiCraig to get alerts when a new one pops up.
row2k is a competitive rowing site that has a used marketplace.
I'll warn you now: You have to be quick. They can easily be snatched up within a few hours. Don't ask the seller questions at first, or you'll miss your chance. Just ask when the soonest time is that you can come see it, and then once you arrive you can evaluate it to your satisfaction.
Given that so many people are out looking for a used Concept2, scammers have seized the opportunity to sell Concept2 rowing machines online for great prices and never deliver it. No reputable source is going to have crazy good prices for new rowers, and likely not even for used rowers. There's no reason to sell a legit Concept2 rower for so cheap.
For the same reason, you can't really find refurbished Concept2 rowers. Sellers don't need to refurbish them, because the market is so hot for ones in decent used condition, and they last so long that used ones might not need anything replaced at all. Any parts can be replaced with basic tools.
eBay
See the eBay listings for Concept2 rowers. These are tough to find as good of a deal on, considering all the eyeballs on these auctions over a period of several days. For those of you in rural areas, it might be your only option.
Be careful about buying a rower on a place like eBay, because you're buying it sight unseen. You don't have a chance to do all the checks I go over in this article. So make sure you ask the seller all the questions you need to.
If You're Coming Up Dry
If you can't get a hold of a used C2 for a price far enough below retail (currently $990), you can always get a new one from Rogue Fitness or direct from Concept2.