Like many people, I was getting tired of struggling to re-center my bar on regular J-hooks after every set. That's where these come in, acting as "return rollers" to get the bar re-centered instead of awkwardly grinding the bar against the J-hooks to move it.
These particular ones are for the Titan X-3. You can get some for other Titan racks, and some will be compatible with a select few other brands of racks. More on that in the Compatibility section.
Titan has improved things in all aspects of design and quality over the years. Let's see how they are now…
Shipping & Packaging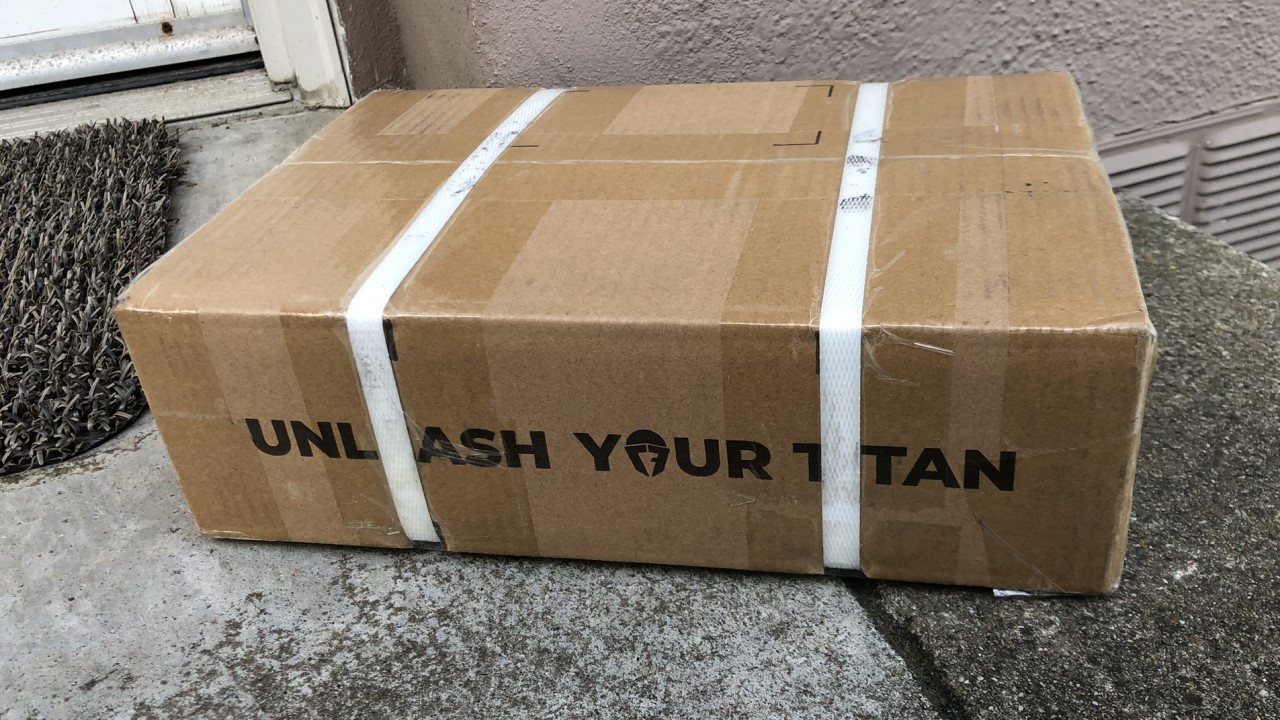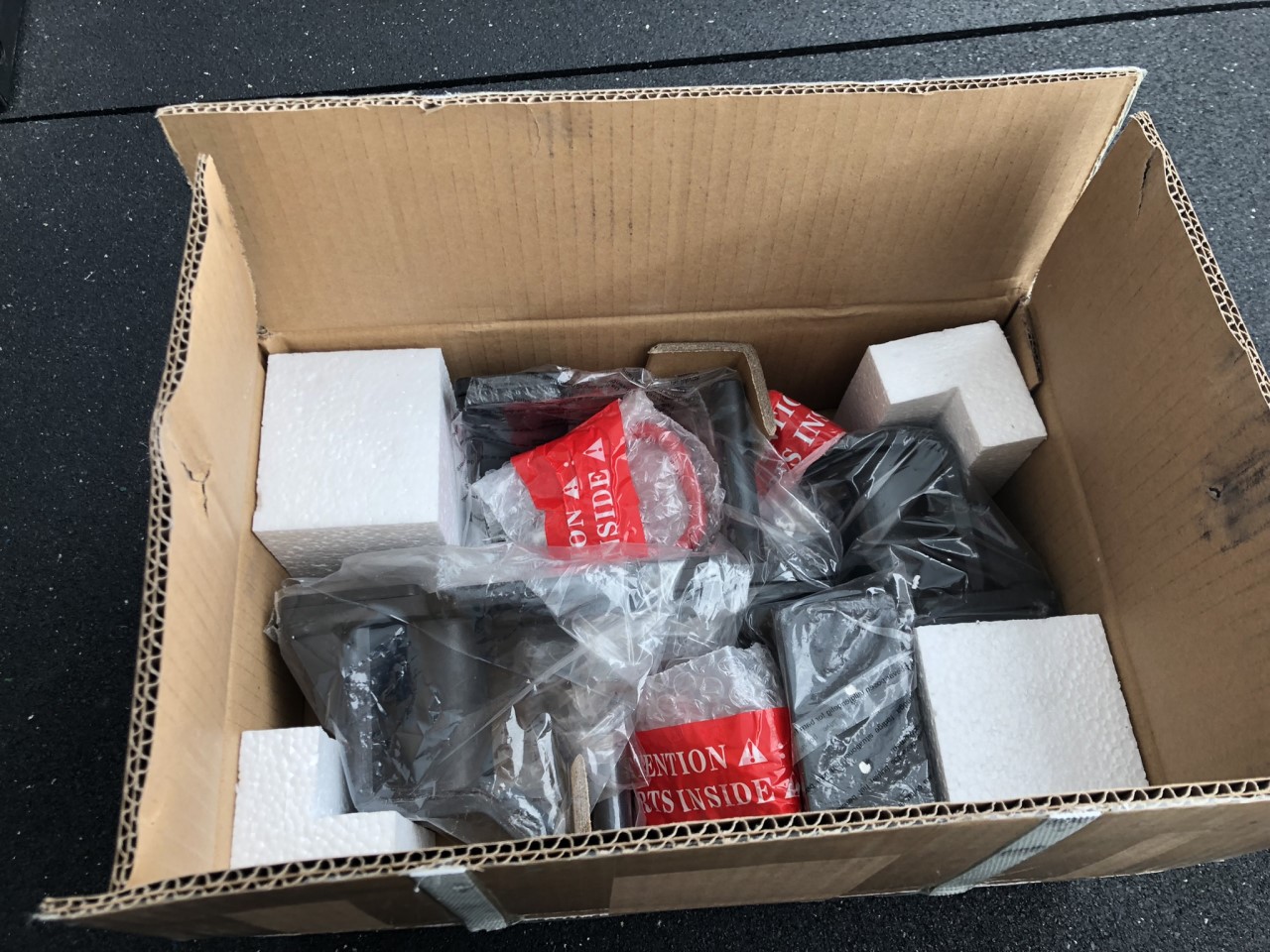 2 business days from order to delivery, quicker than I anticipated.
The J-hooks were packed in an impressively heavy-duty box that I feel obligated to save and reuse for something. The box was also secured with pallet wraps that were taped on. Good tight packing material inside. They were totally protected.
Design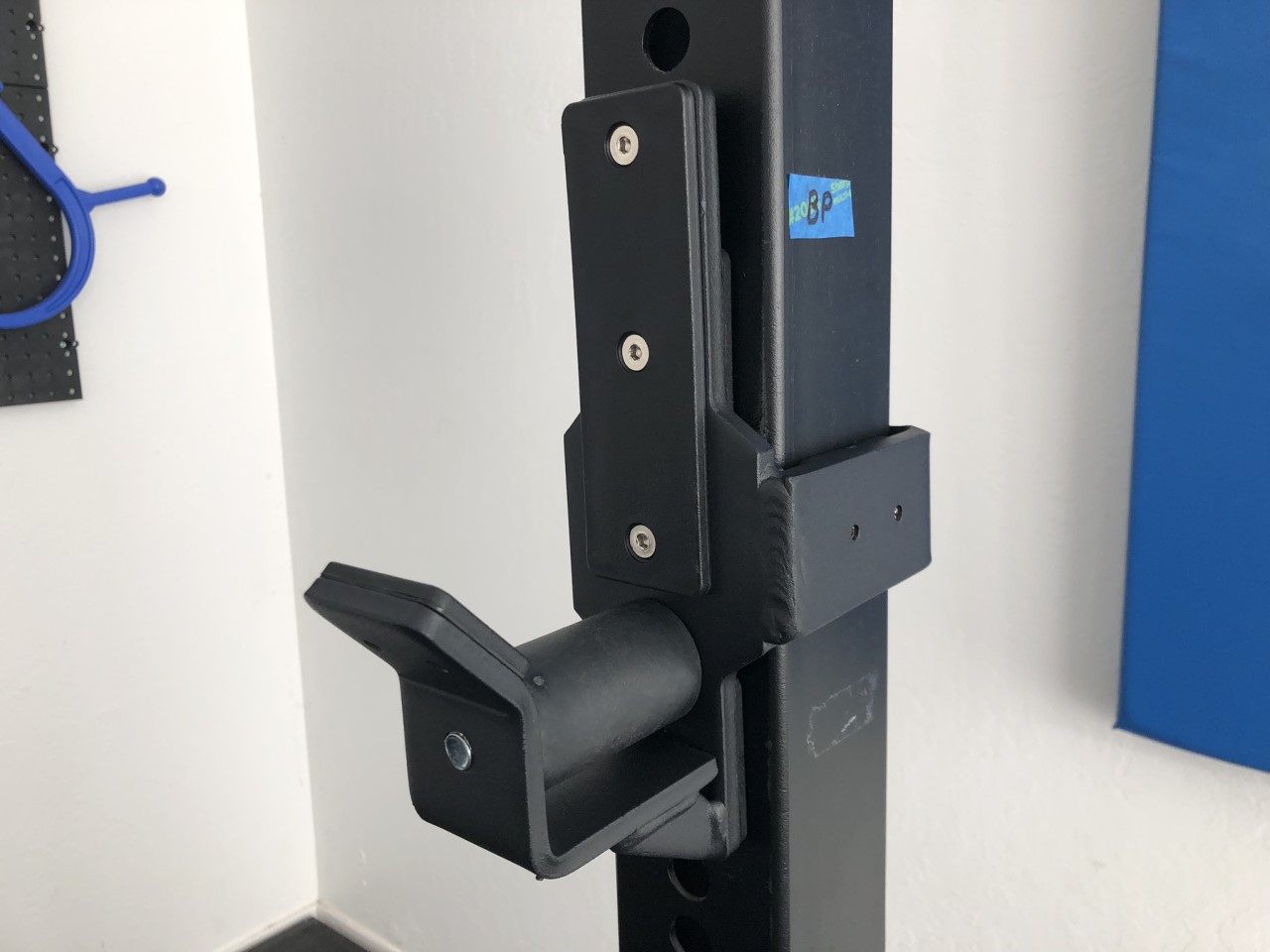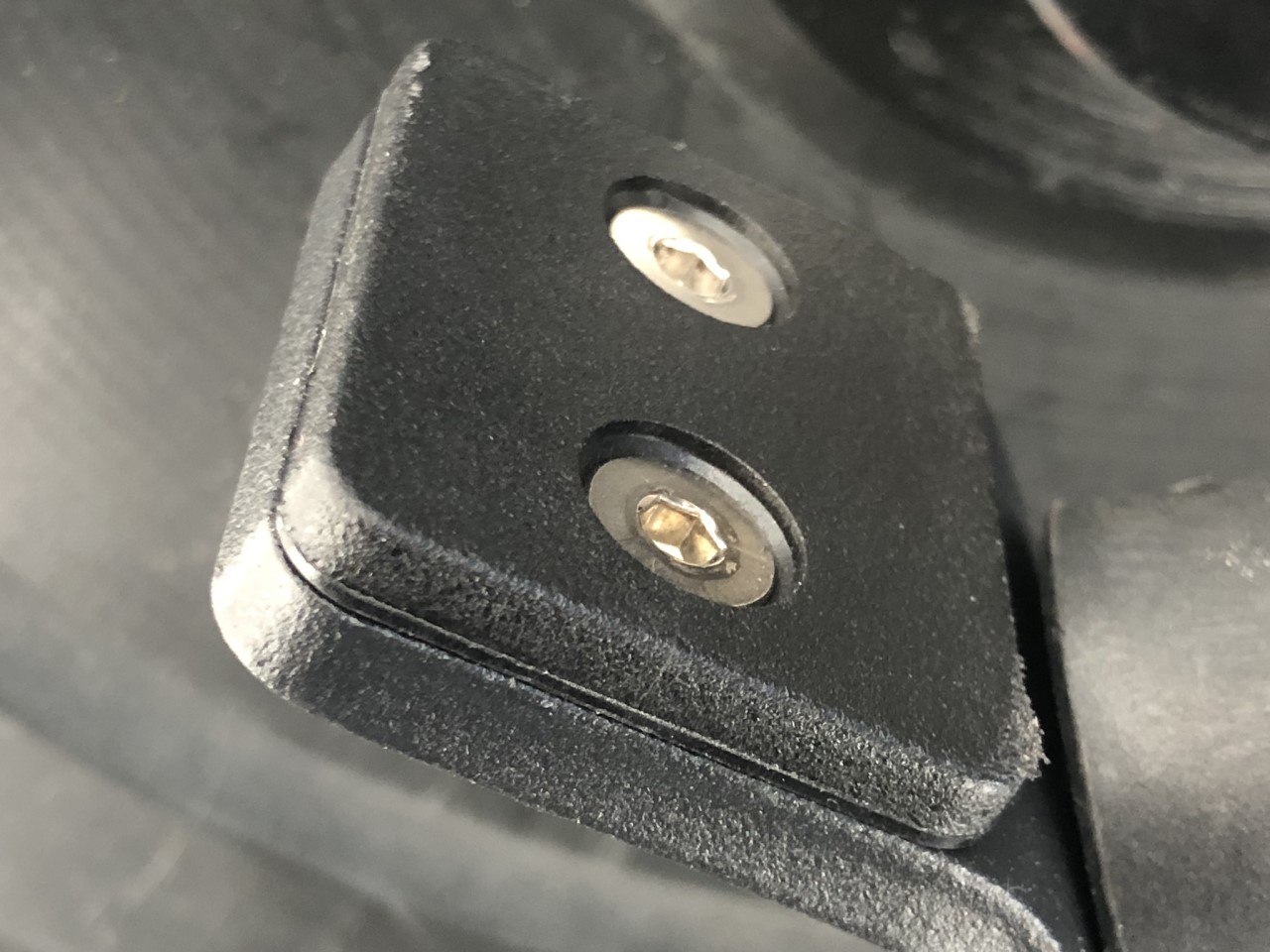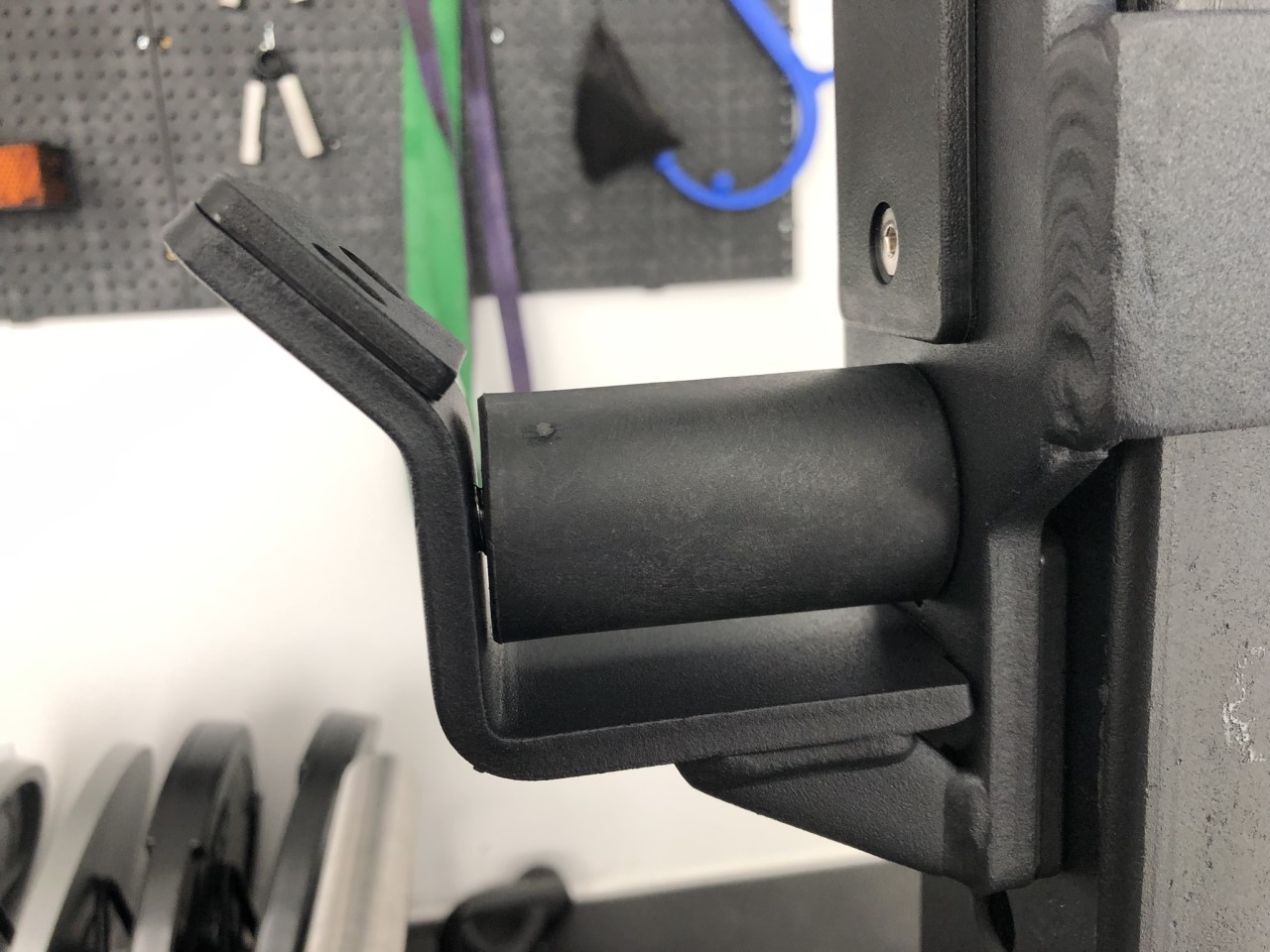 Titan has come a long way with the sleek shaping and texturing of the steel and UHMW plastic liners that make them look more Rogue-like and not slapped together like they used to look.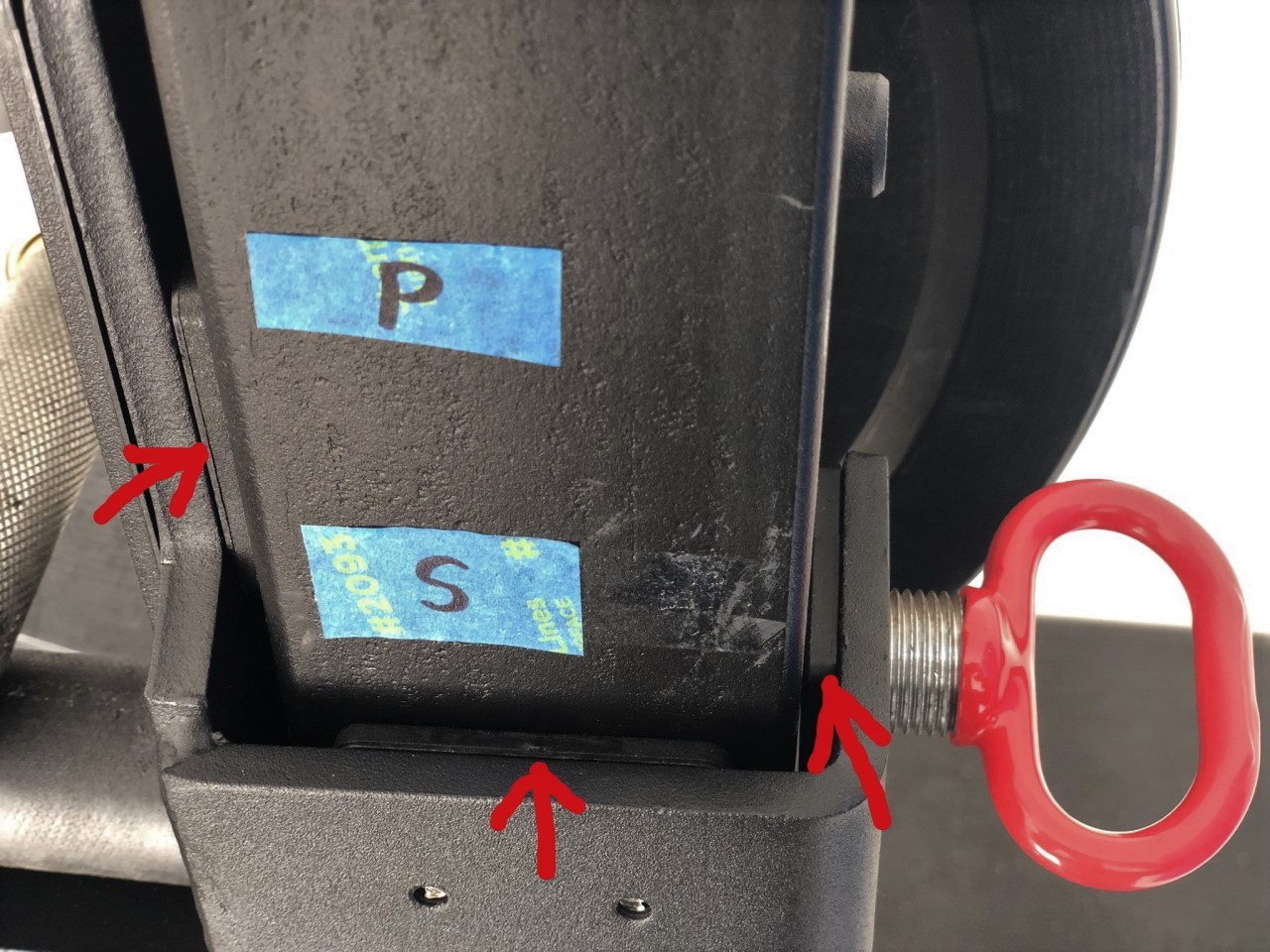 They put UHMW liners also on all 3 inner surfaces of the bracket to protect your rack and prevent undue noise, which is pretty common now but still not the case for all brands.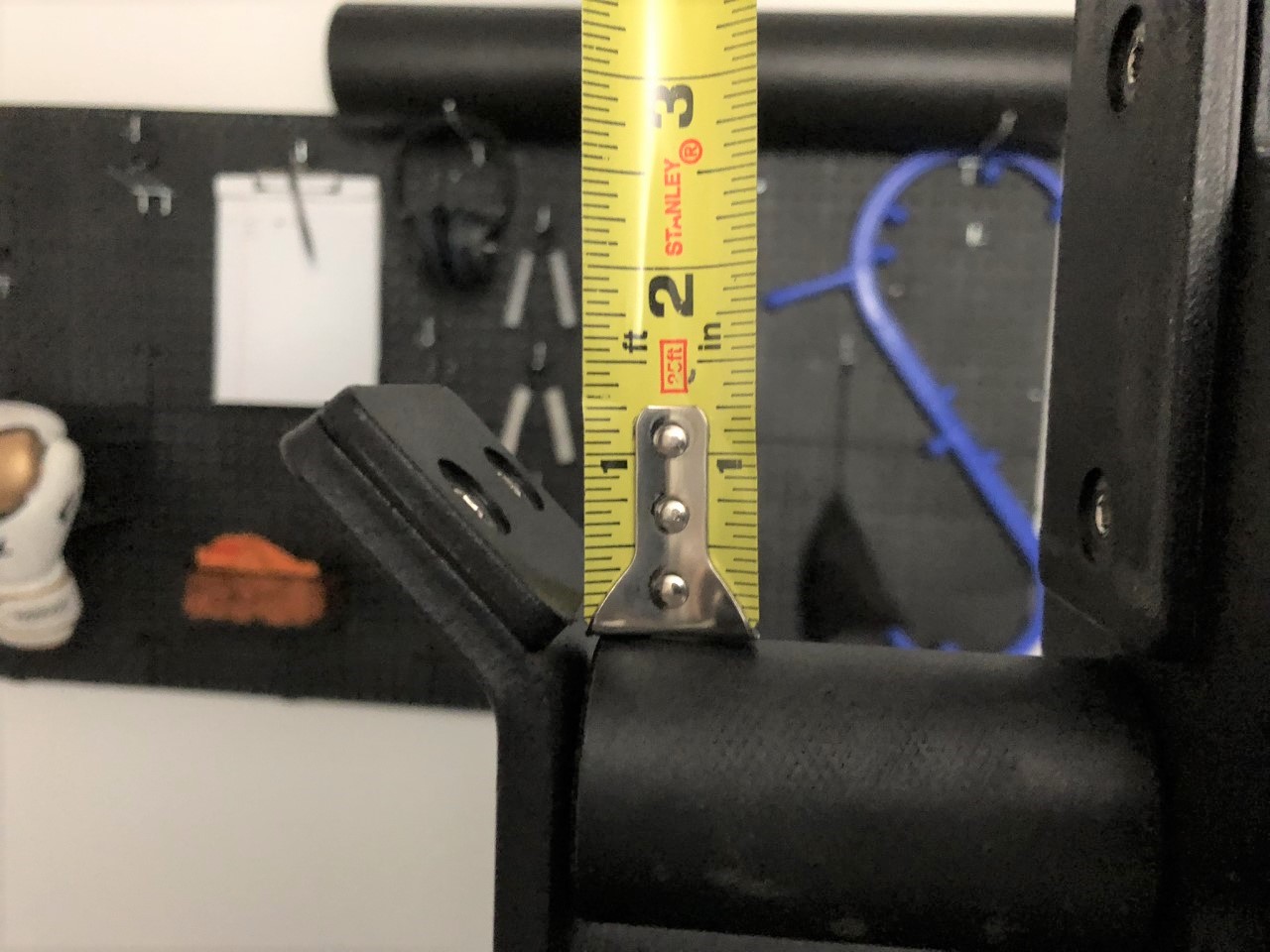 A minor complaint people have with their design is the tall front lip, extending 1 3/8″ above the roller, making for an extra height to clear when you're lifting the bar over. I don't know the reason for it. Even a specialty bar that has an extra-thick shaft only still only touches the bottom edge of the lip's UHMW liner and does not benefit from such a tall lip.
I have not found it to be too much of an issue myself. The extra-tall back plate gives you plenty of area to work with to re-rack.
Testing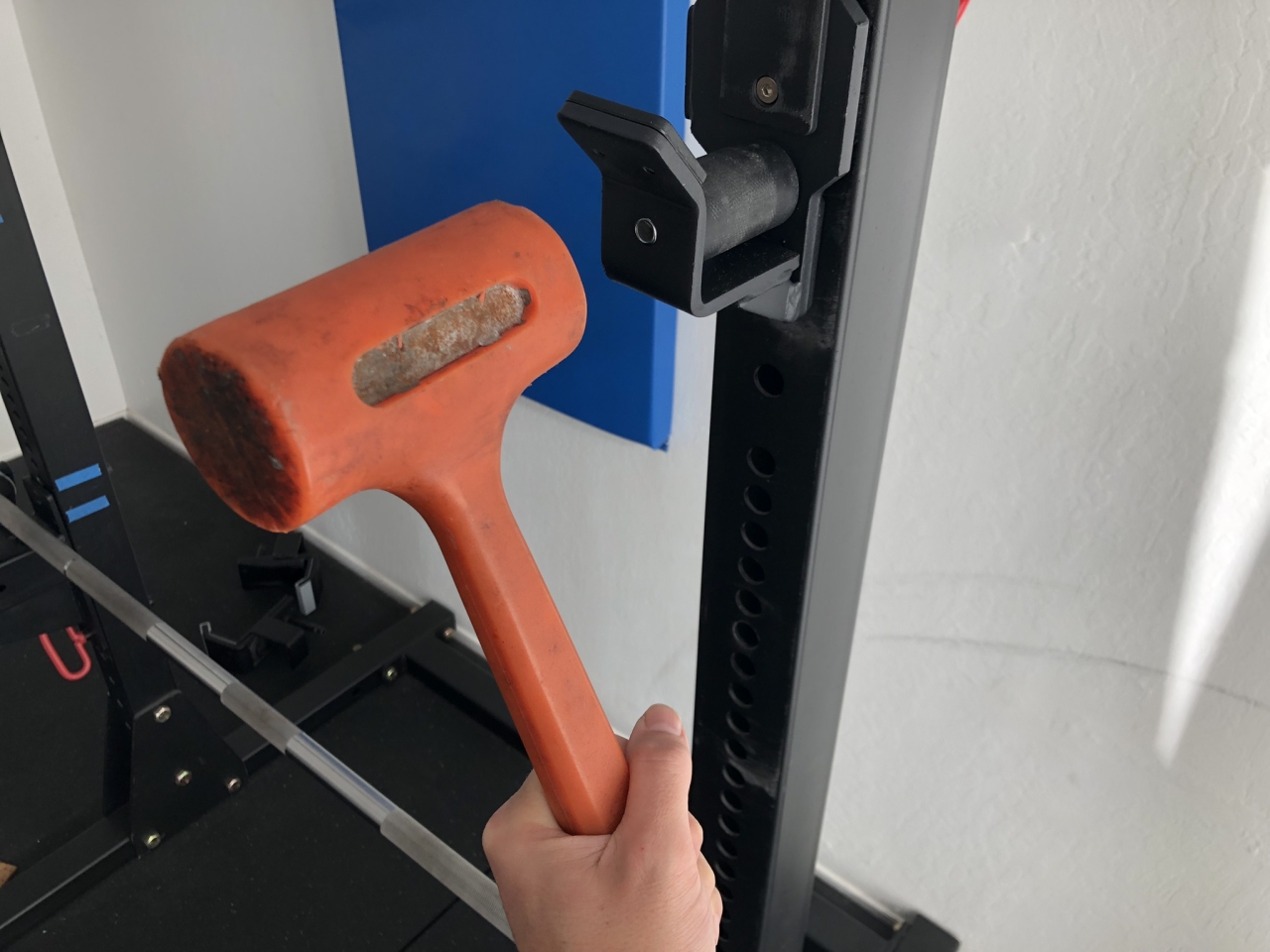 One of the rollers was stuck in place at first. Email Titan and get a replacement? No sir, no need for that. I thrice whacked the front with a mallet. After that I could turn the roller with a feeling like the roller was being ripped loose from the front or back edge, as if it were inadvertently glued (more insight on this at the end of this section!). After a few seconds of being worked around, the roller started rotating smoothly.
Update – After originally publishing this, I heard people have had this issue and couldn't force it loose. I suspect all they needed to do was take a good sized rubber mallet to it just like I did.
Testing the rollers! As noted in the video comment above, my rack doesn't have the ideal support for this. With 315lb I have to hold one upright to roll it. With 135lb I can do it one-handed. A full power rack or anything with better supported uprights would be ideal.
Regarding the whole purpose of the rollers, I indeed find that the rollers take all the worry out of racking a little off-center. It only takes a second and no real effort to roll the bar to center. The feature really does make a lifting session feel better, more about lifting weight only and no longer an impossible game you're playing every set trying to rack the bar as centered as possible.
Now for a little drop test. I dropped 315lb an inch or so onto the J-hooks, which is a conservative test only meant to put them through some reasonable paces, not find out where they break (I really want to keep these). I had an idea that the nylon rollers could be the weak point.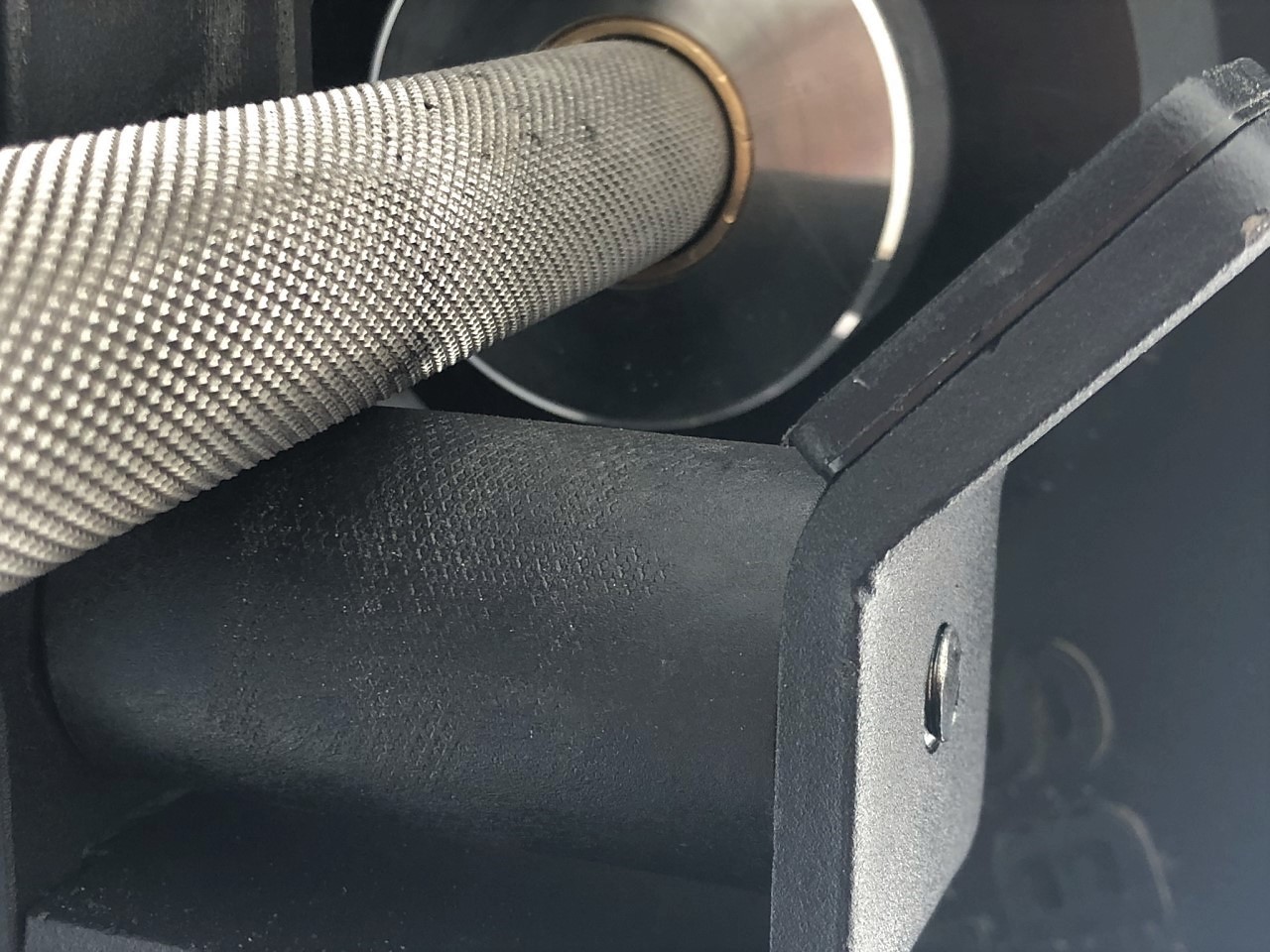 After either the test drop, or perhaps normal re-racks and rolling for a few workouts (I didn't keep careful track), the aggressive knurl of my Ohio Power Bar was imprinted into the nylon. The roller surfaces are also starting to flatten slightly in spots from the impacts.
I asked Titan about this, wondering if they were aware of that they start getting indented so quickly, and they said it's normal wear. Ok, fair enough.
So far, with not many workouts on them yet, I can say that this visible wear starts happening right away, while functionally there's no issue yet. The large steel bolt going through the roller stops it from warping too badly, because you're just smashing the roller between your bar and the bolt, causing to an extent some flattening of it in each spot you slam. There's not really any way to crush the roller out of shape, the way the bolt supports it. I expect what will happen is I'll end up with a lot of little flat spots throughout the circumference of the rollers, spread evenly enough around to keep it passably round.
As far as safety concerns, that bolt isn't likely to fail. If it does, the frame of the J-hook is still there as a backup.
As mentioned already, these have UHMW lining all over, including inside the C-bracket and on the inside lip in front of the roller. That, combined with the nylon rollers, makes racking the bar about as quiet as you can get. That's one reason I still would have preferred plastic rollers like these that have potential to wear even if Titan had offered steel rollers like some manufacturers are doing, the other reason being that if the plastic is taking the damage then the knurl on my bar is staying nice and sharp.
If eventually it were needed, I was curious whether the rollers could be replaced. While I found the bolts in the UHMW liners easily removable (you could turn the UHMW liner around should you manage to shred your way through one spot), the roller bolt is Loctited in, which I guess is good as far as being secure, but you're not going to get that out unless maybe you apply enough heat to loosen the Loctite and melt the roller. That would also explain why one roller was stuck on arrival: the Loctite oozed too far out and hit the roller! See above on the mallet solution.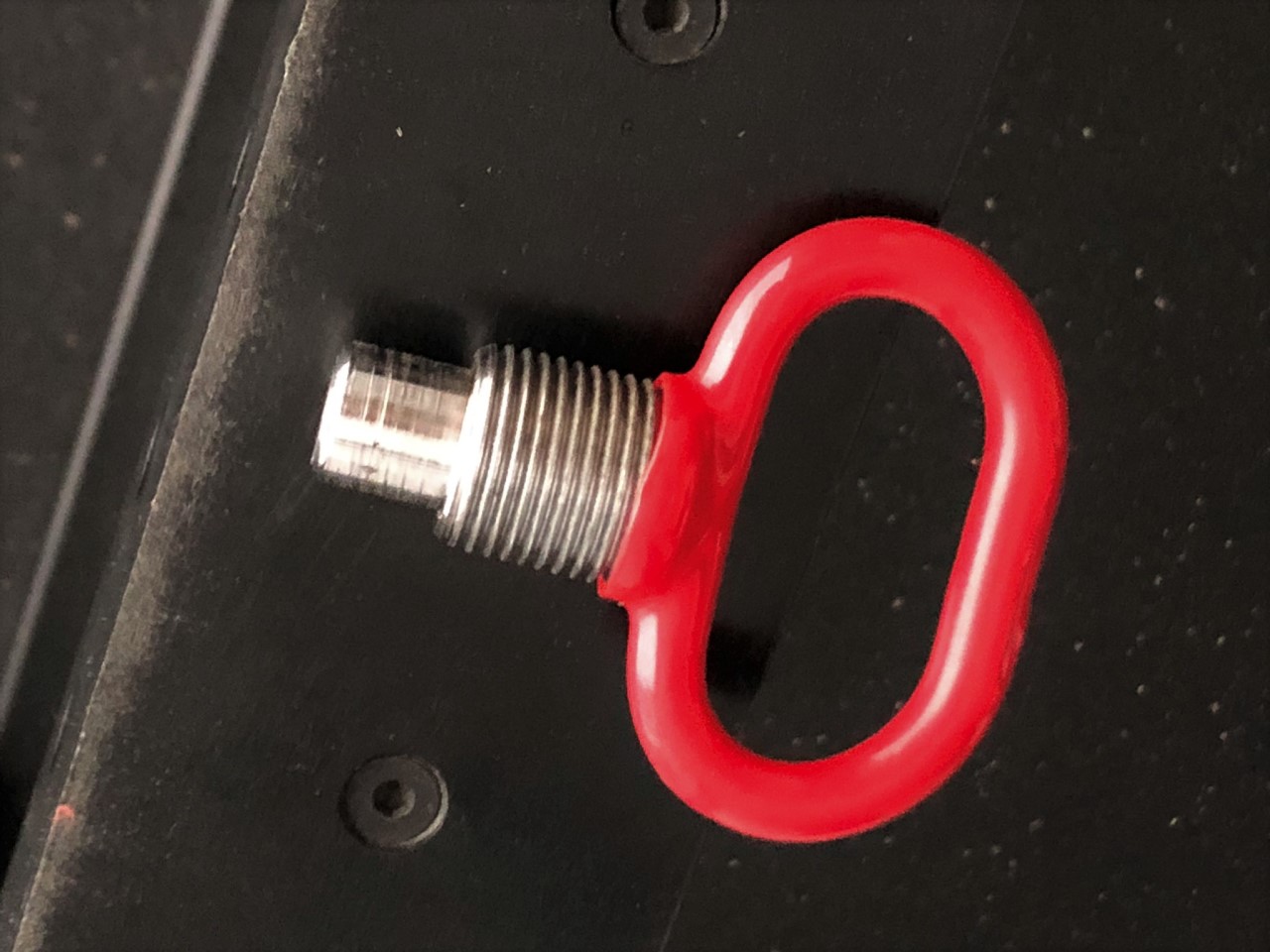 A reader shared that he ground off part of the locking pin so when adjusting height he could clear the pin from the rack and be able to leave it threaded partway on. Good idea! I don't expect Titan to change it, because a company is going to like an error-proof design that forces it to be either locked or removed.
Compatibility & Other Options
Titan also makes this attachment for their T-2, T-3, and TITAN series racks, all the same design adapted with different sized brackets and pegs.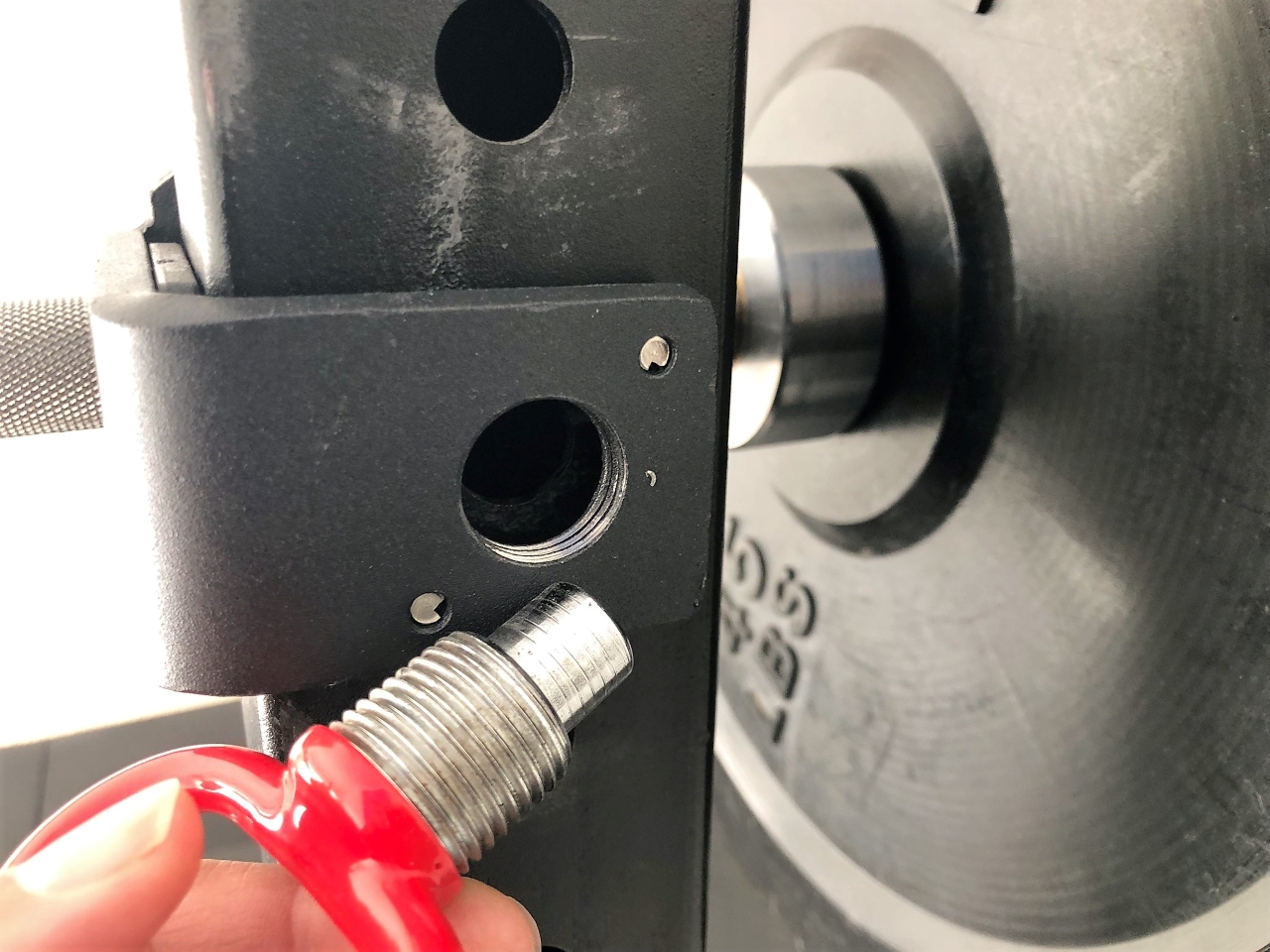 Titan's roller J hooks are a perfect fit for Rep Fitness and Griffin Fitness racks, both having metric dimensions.
Titan's TITAN Series J hooks will fit on a Rogue Monster rack. That should go for any other 3×3 rack with 1″ holes. Using the X-3 J-hooks on a Monster Lite rack might be a different story. I've heard some people can get the locking pin on ok, while others find that the hole does not line up well enough. I suspect Titan's first X-3 version did not line up well enough, and the second version did, which would be good news, but I don't know for sure. Share your experience below to help us out!
The issue is Titan's metric tube sizing and metric hole spacing makes them incompatible with imperial sized racks, mostly an issue with the hole spacing on metric being a tad shorter, preventing you from getting the locking pin into a lot of attachments like this. In this case the bracket fits on fine, and it's only the locking pin that remains an issue. Again, with the Monster racks and presumably other 3×3, 1″ hole racks it sounds like there's not an issue. For others, you could potentially find a smaller pin that will work well enough.
As far as choosing between the Titan J-hooks and some other brand, currently there are no direct competitors to Titan that are made to definitely fit metric-sized racks. Rep Fitness and Griffin Fitness don't make roller J-hooks. Rogue, Irwin Fitness, and Bells of Steel sell some for their imperial sized racks, mostly 3×3. Given that I have a Titan rack, it was a no-brainer to get the Titan J-hooks, which are cheaper than all those others anyway.
Conclusion
To sum up, I'm happy enough with these that I'll keep using them for the foreseeable future. As I've described, rollers made of a harder material would be nice, as well as a shorter front lip. I was aware of those things as potential issues before buying, and so far I only find them to be minor issues to be aware of.