Why This Kind of Bench?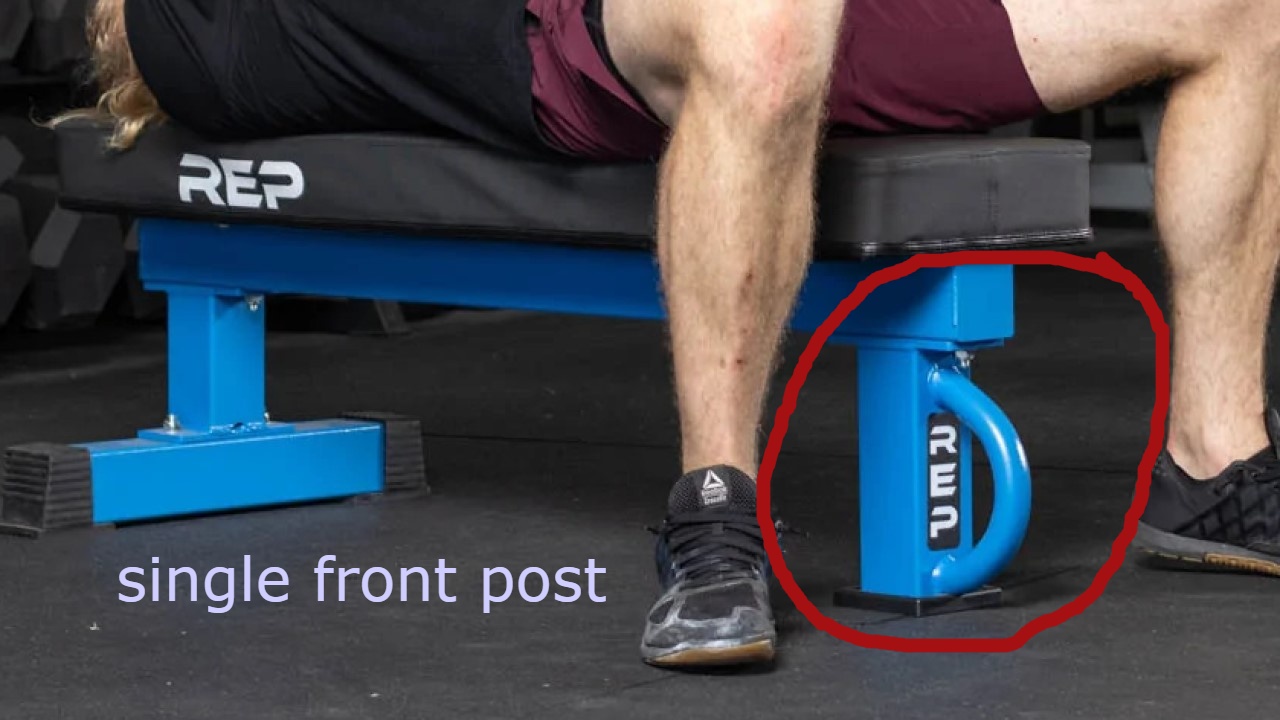 This guide focuses only on flat benches with a tripod foot design shown above, with two points of floor support in the back and one in front. They can also be called "single post" (referring to the front foot) or "3 post" benches. This design keeps the bench's feet out of the way of your own feet. No stupid leg curl attachment to get in the way either. Tripod benches have to be designed a little more heavy duty to make up for the lack of front support.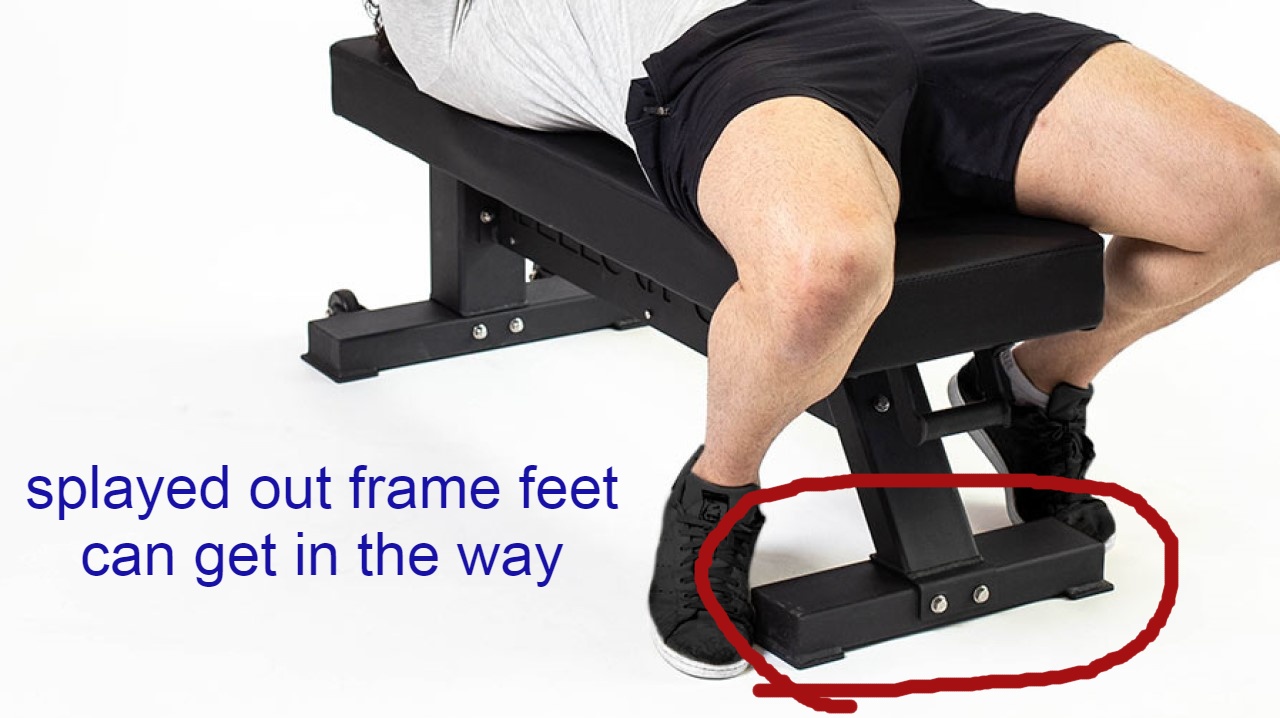 In contrast. the above is a more common bench design that can get in the way of your own feet. It is more stable with the four points of floor contact, which is the reason for the design. It's a common type of design for low-quality benches. Some heavy duty benches by good brands are made this way too. It creates more stability in the front that you just can't get otherwise on a standalone bench.
A lot of lifters have the single post design as one of their main requirements when shopping for a new bench. Luckily there are several at good prices to choose from now.
All the benches featured here have back wheels and can be stored vertically, so you can easily move it around and make the best use of your space. They also all are advertised as holding a very large amount of weight, 1000 lbs or so.
Comparison Chart
Scroll right to see all 6 benches.
| | Rep FB-5000 | Titan Competition | Bells of Steel 2.1 | Get Rx'd Competition | Griffin Competition | Giant Lifting FB-3X |
| --- | --- | --- | --- | --- | --- | --- |
| Height | 16.8″ | 17″ | 17.1″ | 14.7″ | 17″ | 17″ |
| Pad Width | 12″ | 11.8″ | 11.9″ | 12.6″ | 12.5″ | 13″ |
| Pad Thickness * | 4″ | 2.4″ | 3.9″ | 2.5″ | 4″ | 3.5″ |
| Bigger Pad Option | Sold separately | Sold separately | Sold separately | Upgrade option | Sold separately | Sold separately |
| Upholstery | Textured | Traditional | Textured | Textured | Textured | Textured |
| Frame | 3×3 11-gauge | 3×3 ??-gauge | 3×3 12-gauge | 3×3 11-gauge | 3×3 11-gauge | 3×3 11-gauge |
| Weight | 74 lbs | 38 lbs | 46 lbs | 57 lbs | 58 lbs | 64 lbs |
| Starting Price | $239.99 | $179.99 | $209.99 | $165 + shipping | $239.99 | $199.99 + shipping |
* See my notes at the bottom of this article on pad thickness. The above numbers are misleading.
Also remember a thick pad upgrade will increase the overall height.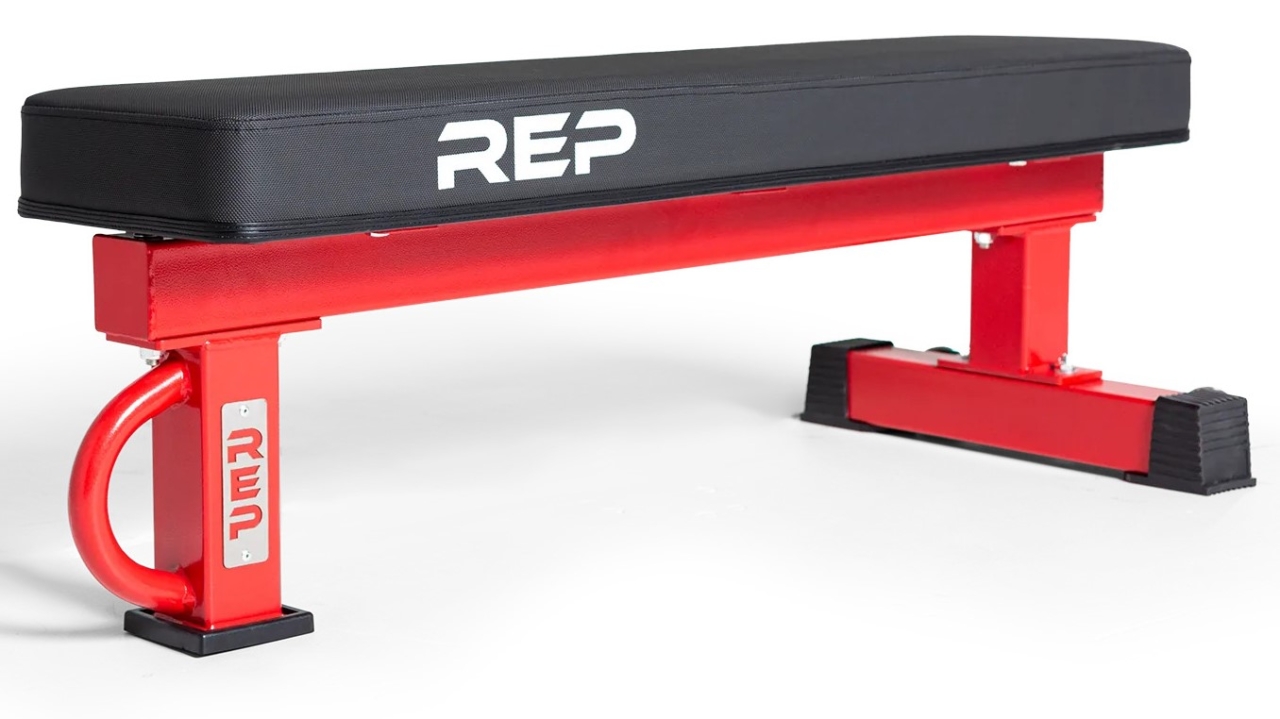 Pros: Good overall design and build quality. Good customer service.
Cons: Pricey.
For a few years, Rep was just about the only choice for a good single-post flat bench in this price range. They were selling so well they could barely keep them in stock until around 2021 when competition with similar price and quality came out. They have always been responsive to customer questions and concerns.
I did a full review of their FB-4000, which I'm happy with. The FB-5000 is basically better in every way, so I'm thinking I can recommend it to you as a top pick pretty easily. The FB-4000 is being discontinued.
Rep is the only brand here offering 5 color options for their bench, including a clear coat which I personally would like with that bare steel look.
At 74 lbs, it's the heaviest of the bunch by far, a sign of a heavy duty build.
Pad Option: The standard bench pad is already 4″ thick, so that much is good. You can upgrade to a wider pad for $90.
The $239.99 price is on the high end for the benches featured here, but that's only because I chose an arbitrary $250 price cutoff. There are more expensive benches out there.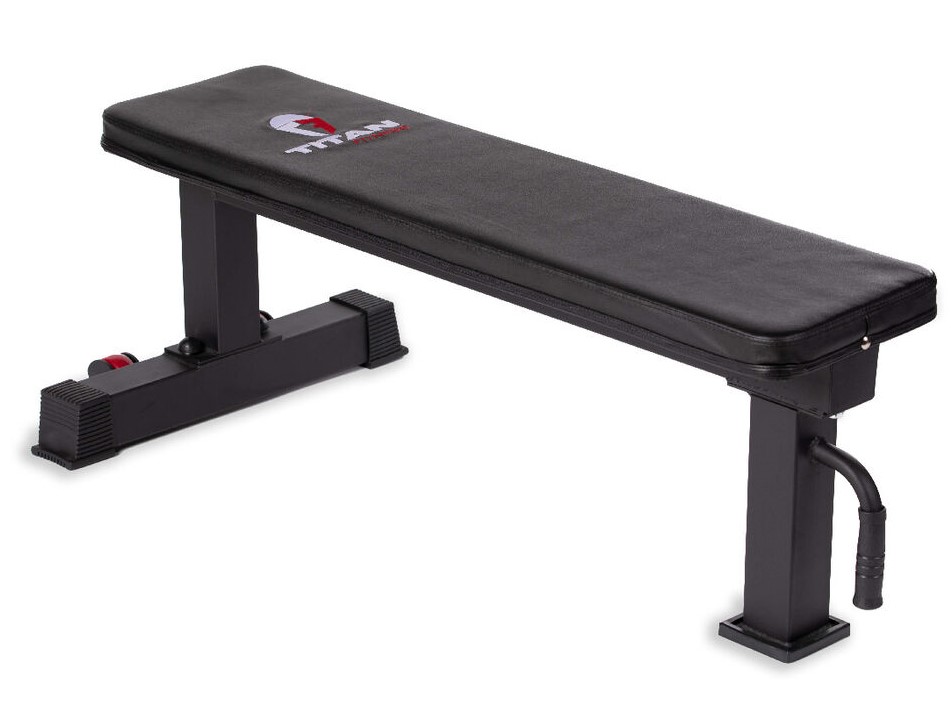 Pros: Great price whenever it's on sale. Easy to clean surface.
Cons: Very light. 11.8″ pad width is somewhat narrow. Dubious steel gauge. Thin backboard.
Unlike all the other benches featured here, Titan stuck with the traditional smooth vinyl upholstery that is easiest to wipe clean and dry. It doesn't have quite the grip on your skin that the newer textured materials do, but it's tried and true and a good option if it's going to be used by more than one person. More on that at the bottom of this article.
Normally Titan is at the low end of the price range for comparable products. In this case the flat bench market is so competitive that this bench's normal price is only in the middle of the price range. Like many Titan products, this bench does go on sale for a good 15-20% off.
Pad Option: There is a wider and thicker $100 "Hefty" pad, which also has a better backboard than the flimsy one on the standard pad and results in a 18.6″ or 19.3″ height (depending on what's accurate). Tough tradeoff. I don't know which way I would go.
They advertise this as 11-gauge steel. Given that it's lighter than any other bench here, I have a hard time believing the advertised gauge without understanding where they're saving so much weight. I would guess it's 12 or 14 gauge. Titan has had problems giving the right gauge for their power racks in the past too.
Other recurring issues that users have mentioned are missing or wrong bolts, the upholstery feeling like it might be too fragile, and sometimes the frame being not perfectly aligned. With all these issues I'm going to have to recommend against this particular bench for now. Titan has some products worth considering. I don't think this bench is one of them until they fix these issues.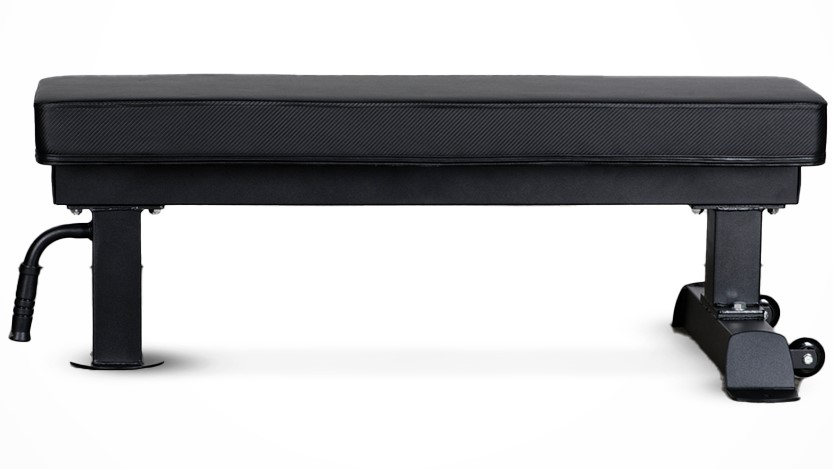 Pros: Extra thick pad standard. Price is relatively low considering free shipping.
Cons: 12-gauge steel. No rubber feet. Wide Load pad is pricey.
This is the tallest bench (before added options) featured here at 17.1″. While I think a 17″ or shorter bench is ideal for most people, this is not enough of a difference to worry about unless you add the upgraded pad.
Pad Option: Their $120 "Wide Load" pad is extra wide and thick and brings the bench height to 17.5″.
They chose thinner 12-gauge steel for the frame tubing, in contrast to the 11-gauge steel most other benches here use (if you don't know, a lower number means thicker steel). This is worth considering as a drawback. On the other hand, consider that BoS caters to powerlifters, tests their equipment, and rates this at 1000 lbs.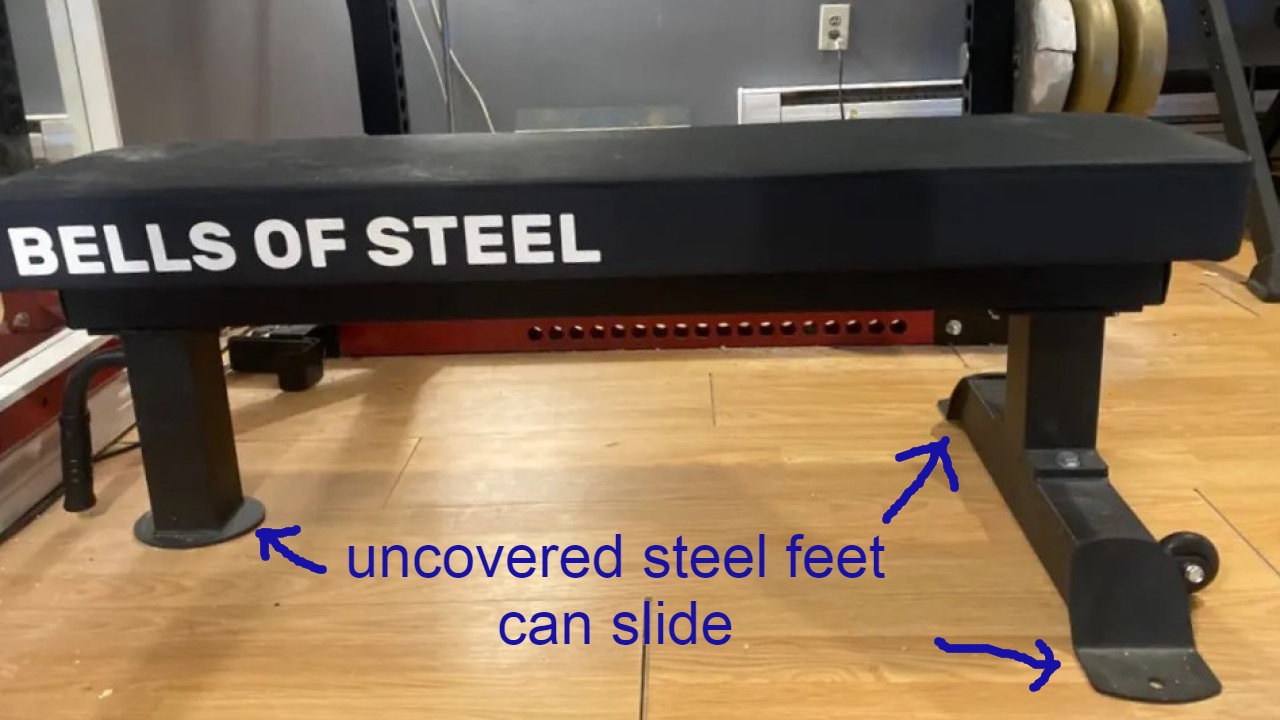 No rubber feet! Without them, the steel will slide too easily on bare concrete or a wooden lifting platform. On rubber gym flooring it should stay in place fine. Perhaps they'll address this in a future version.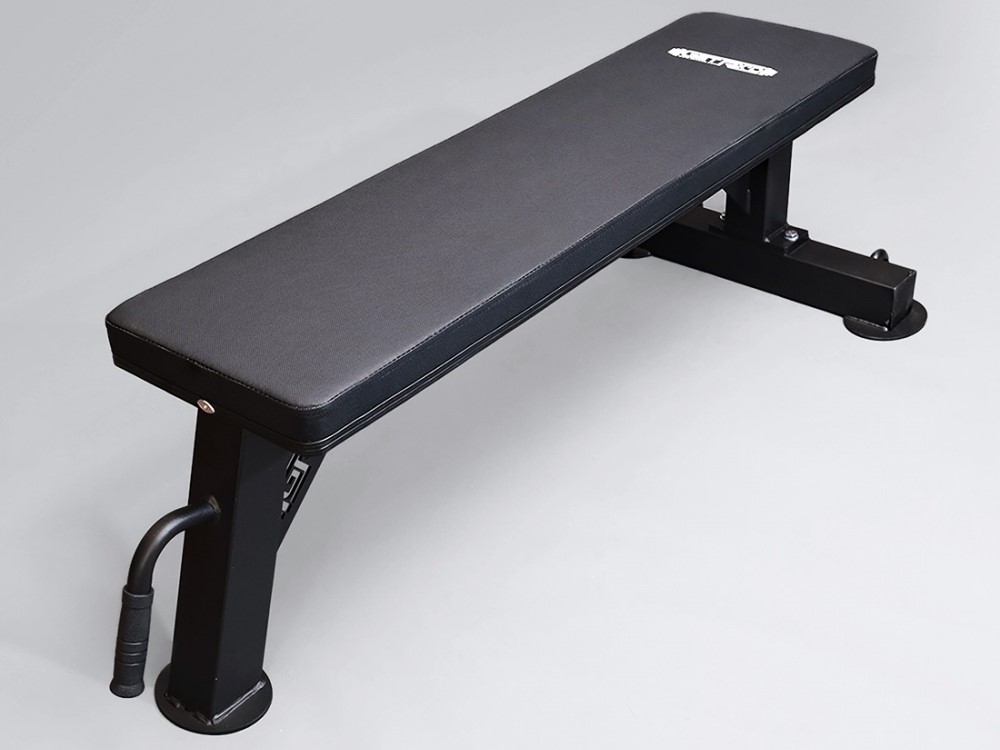 Pros: Good price. Cheap pad upgrade option.
Cons: Wheel design flaw. No rubber feet. Relatively thin pad unless you upgrade. High shipping charge.
Get Rx'd has been in business for a couple decades, first under Multisports. Worth noting that I emailed them a question about their bench and they never replied.
Aside from the "Heavy" model bench, they offer a 14-gauge steel "Econ" model. Ignore it. You'd only save $15. This 11-gauge one is the easy choice between the two.
The price appears at first to the be the lowest. Then you add shipping and it ends up being more than the stores who offer free shipping. If you live near Houston you can pick up at no charge.
Pad Option: Two additional pad options are available for a mere $15-25 more. Unlike other companies, you don't have to buy the upgraded pad separately. One option is a thick pad, and the other thick and wide pad. They bring the bench height to 16.7″, which is more in the range of a common height. Without the upgrade the bench is unusually short, which even so might not be a negative depending on your height and form.
As with the Bells of Steel bench, the Get Rx'd bench has no rubber feet, making it potentially slide too much on a slick surface such as bare concrete or a wooden lifting platform.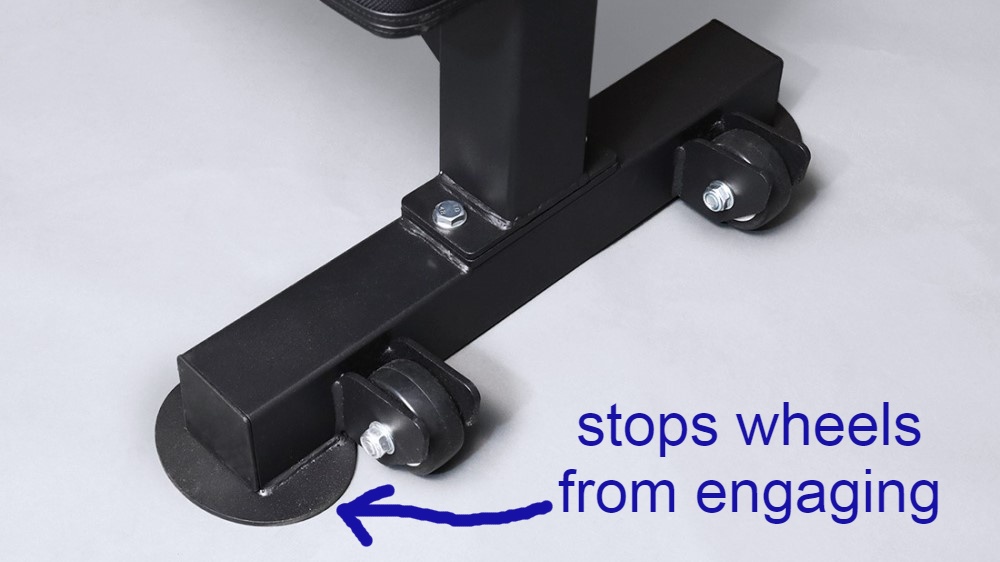 One design flaw. The welded-on circular foot pieces in the pic above stop the wheels from engaging until you tilt the bench up at a high angle that is unreasonably close to vertical. They must have added those pieces for stability without seeing that this particular placement would affect the wheels. Without that, the wheels would have engaged at a low angle because they're nicely placed so low.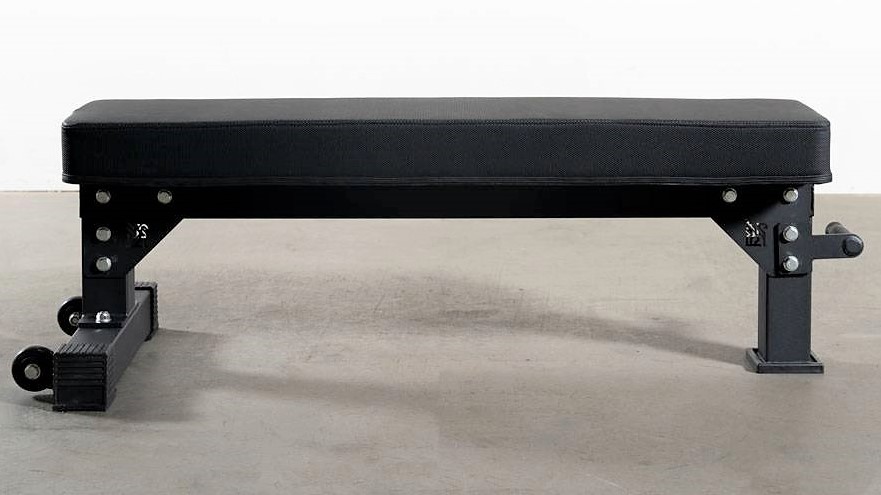 Pros: 4″ thick pad standard. Overall nice design.
Cons: Pricey. Lesser known brand. Out of stock often.
Griffin Fitness started in 2020 in southern CA. They've always gotten back to me quickly when I had questions.
Pad Option: A $90 upgrade gets you a 14″ wide pad. Same thickness as the standard pad, which is plenty thick already.
That's about it. They seem to have done things right. The front handle is oriented horizontally, which technically has more potential to get in the way of your legs than a vertically oriented handle. In practice it doesn't really.
This is one of the pricier benches featured here. As with Rep Fitness, that's because it's on the upper end of the arbitrary price cutoff I set for this, and in this case it has a 4″ thick pad as standard that should factor in.
They seem to have more trouble than most stores at keeping things like this bench in stock. As always, I don't recommend waiting forever if your first choice of equipment is out of stock. Who knows how long it's going to be. Just get something and start lifting!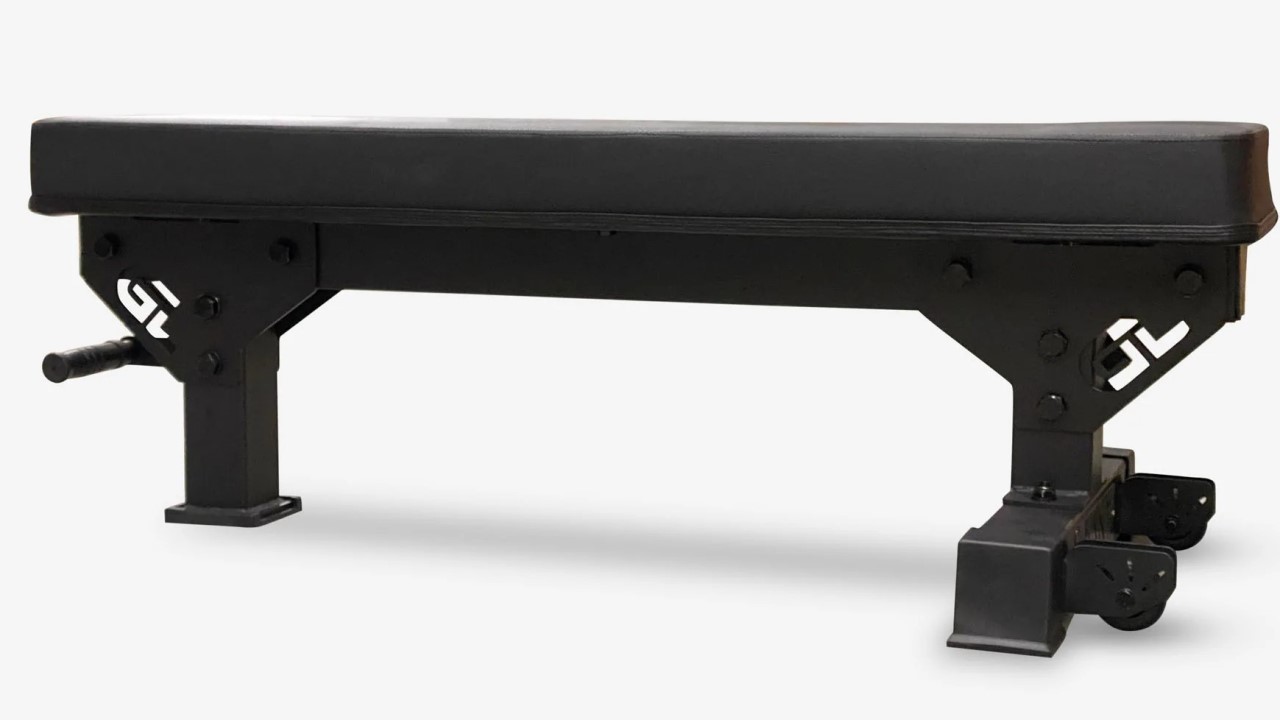 Pros: Extra thick and 13″ wide pad standard.
Cons: Lesser known brand. Shipping is extra.
Use our code TWOREP on checkout at Giant Lifting to save 5%!
Giant Lifting is a lesser known company out of Washington that started selling equipment 2016 locally, and then in 2020 they grew their business and expanded their focus nationally with their website. People aren't really discussing them online, so I have a limited amount of info to go of off. The owner got back to me quickly when I had questions.
Pad Option: They have an extremely thick pad as standard. Nothing wrong with that. For $70 you can get a wider pad. You might not even need that, because the standard pad is already an unusually wide 13″. This bench with their standard pad could work out to be the best deal here if it's wide or thick enough for your taste. Users with a narrower shoulder frame than the average male might find the standard pad too wide.
The price is pretty low, but they do charge shipping. That puts it at around the same price as the other benches here, unless you live near their AZ or WA distribution centers and can pick up. As always, a shipping charge means you could potentially get a better deal than at other stores if you have more things to add to your cart to spread out the shipping cost. Consider also that they include a large pad standard.
I can't find much in the way of user experiences with this bench. I can't pick out any obvious design flaws or drawbacks. Like Griffin, it has the horizontal style front handle.
Considerations
Pad Thickness
The reason pad thickness matters is you don't want to bottom out on the backboard. Obviously the amount you lift and your bodyweight will factor in here. These benches are all fairly close as far as the foam density. None have the squishy foam of a cheap bench. So bottoming out would require some significant weight to be put on the bench, while on the other hand a very thick pad will feel just fine.
You can't trust the exact specs given for pad thickness. Some brands I think are including the backboards in the measurement and some not, and the measurement might be rounded off as well.
Bottom line is you have to eyeball the product pics. The Titan and Get Rx'd bench paddings both look thin, at least without the pad upgrade. The rest of the standard pads look fine.
Pad Width
The 14″ width pad upgrades are meant to support your shoulders better for bench presses than the traditional 12″ width pad. A lot of people like them, which is why so many benches now have this as an option. If you have a narrower frame, you won't find those wider pads useful, and in fact you might really dislike them because they can actually hinder full range of motion. Lifters who train for competitions (IPF spec width is 11.4″-12.6″, or 29-32mm) might be better sticking with something close to a 12″ width pad.
Bench Height
A bench height in the ballpark of 17″ is good for most people, and most benches I featured here are about that. Don't forget if you're springing for a thick pad option it will change the height. Perhaps first find something to lay on before buying a new bench, whether another weight bench or anything of that approximate height, and measure it to estimate what you'll be getting into.
Upholstery
Titan is the only bench here with traditional feeling vinyl upholstery. Unfortunately their bench has too many issues that deter me from recommending it.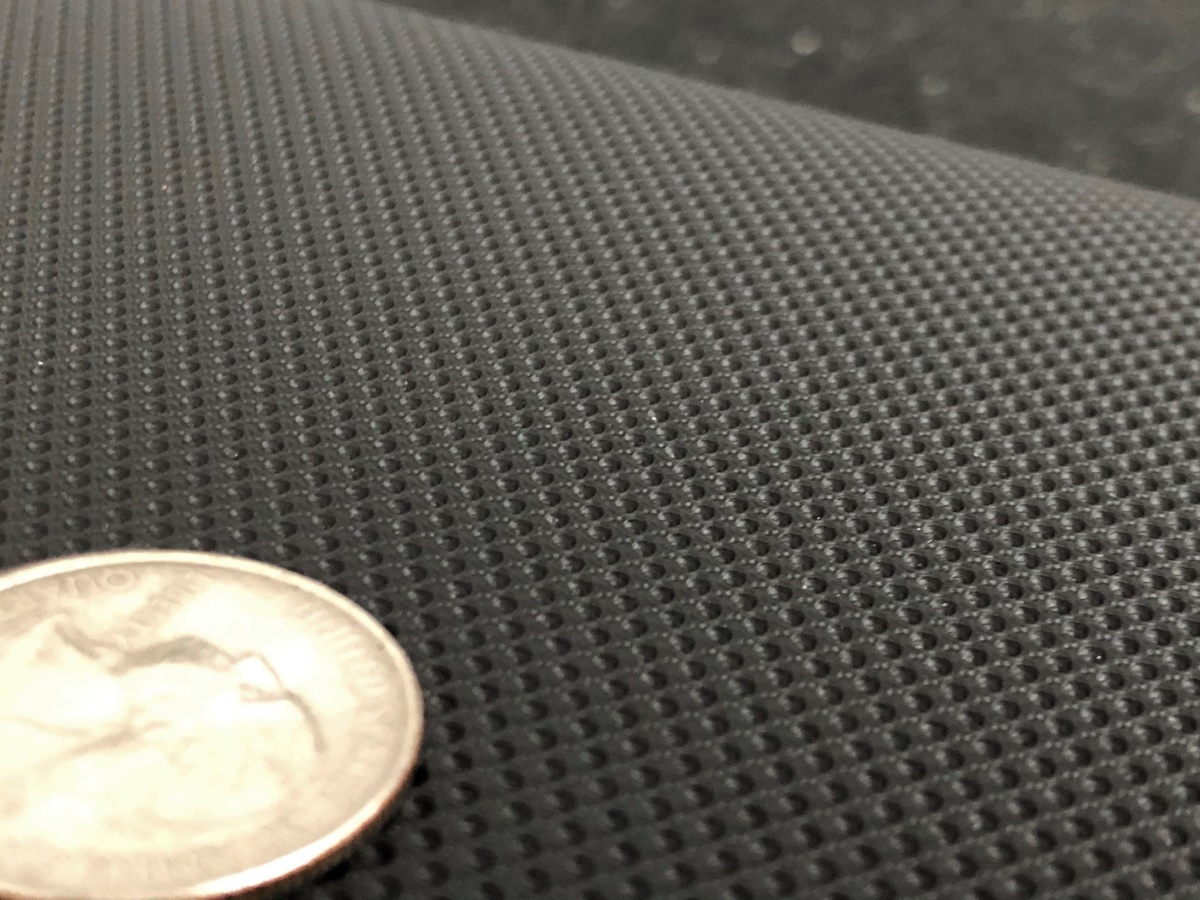 Everyone else has moved to the above pictured style of stretchy, textured upholstery. It's great for gripping to your skin, and it feels to me like it's probably durable. The downside is all those little divots make it hard to wipe the bench clean, whether it's wiping away sweat or cleaning spray. You'd be best off using a simple vinegar-water spray solution, which will evaporate eventually. That might get rid of some of the sweat stuck in the divots, but I can't help but think some sweat will stay in there, making this style of upholstery slightly unsanitary for multiple users. If it's just you, it's more of a non issue.
Or this might be me making an issue out of nothing. If just about everyone has moved to this upholstery, I gotta consider that I'm the one who's wrong. What do you think?