Titan Fitness came on the scene in 2013, and the Titan T-2 power rack was one of their first products. The reason it's a big seller is it's the cheapest power rack you can get, just over $300 right now. It's for beginner lifters, or even intermediate lifters who are ok with a budget rack.
T-2 vs T-3 HD
Just to be clear, this article is about the T-2, Titan's lighter duty, cheaper rack. The T-3 "HD" rack is an extra $146 and has some extra features. It's really popular too, so I'll go over the T-3 HD power rack in another article very soon.
Update 11/18/16: Here's some comprehensive reviews and my analysis of the Titan T-3 HD rack.
On to the reviews…
The Human Machines
They're a couple guys who do fitness related videos. Their videos are kind of all over the place, everything from slacklining to baking protein bars to training with kegs.
They made a few mistakes, which I'll go over below.
Here's the three corrections I would like to make to what they say in the video. Hindsight is 20/20, and they still did a better job in 5 minutes than I would!
He calls it the "Titan HD". This is the T-2, and the only "HD" was the T-3 HD, although some places like Amazon mistakenly call the T-2 the HD also.
They suggest the hole spacing on the uprights is 1″. Nope. They're probably measuring the piece of steel between the edges of the holes. The way you measure is on center. Bottom line, the hole spacing is 2″. And that's ok. That's standard.
He's using a (wide) sumo stance and acting like this rack has a lot of width inside for that. It doesn't. The side to side width is the same as any other rack. It's required to be about 48″ wide on the outside, because it needs to be a few inches shorter than the inside width of an olympic bar, 51-52″ or so. So add in the upright widths, and this is 44″ inside. If you're tall and really into sumo stance, this one isnt for you. Go for Titan's more expensive T-3 rack and you can get your toes underneath the raised frame.
Mike Seiber's Review
He shot this in 2014, and he bought it a year prior to that. Since then, Titan has thankfully improved their alignment on welds and made some other fixes to quality and design.
Reviews on Titan's Site
Titan has a good pile of reviews for this rack on their site. By that measure it's the most popular piece of equipment they make, but I don't know, maybe they were pushing hard for reviews in the beginning, because the more expensive T-3 HD seems to be pretty popular now too.
I'll point out now that when you try to click through the pages of reviews it doesn't work right. You click page 2, it reloads the page, and you have to click the Reviews tab again, and then you'll see page 2.
Amazon
Amazon is always a no-brainer to check for reviews. Sometimes equipment is listed there, sometimes not. There's plenty in this case.
The nice thing about Amazon is you know they don't delete negative reviews, and they pin the top rated reviews to the top, positive and negative.
From the "most helpful" Amazon reviews:
"Exactly what I wanted and needed, with no frills or negative surprises. Feels sturdy and stable in use, doesn't rattle about or wobble if you drop a loaded barbell on the safety bars. Lots of functionality. Perfect for lifters who just want to get under some iron without the need to show off or surround themselves with fancy gear to convince themselves that they're doing something."

– S. Pitts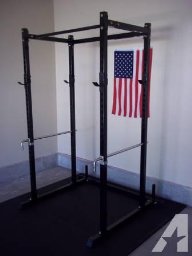 "There are no frills to this rack, but it functions very well and handles any poundage I throw at it! I used to be a competitive powerlifter, so I wanted a quality rack at a decent price. At first, I had serious doubts about the quality given the very low price tag. These concerns were put to rest when I saw Texas powerlifter BJ Whitehead squatting over 700 pounds raw out of this same rack on Youtube. When my rack arrived via FedEX, there was a problem with on of the uprights. I called Titan and they took care of the issue immediately. There customer service is exceptional!!! I feel so confident in this power rack that I just ordered a second rack to expand my garage gym. Sure, there are better and more expensive racks out there, but why does a person really need more than the Titan power rack??? If it is good enough for BJ Whitehead, it is plenty good enough for you!"
– Paul S. Hernandez
BJ Whitehead Squatting 720 lbs
The last Amazon review above had me intrigued. It turns out BJ Whitehead is a powerlifter who has several videos on youtube of him squatting up to 720 lbs on what certainly appears to me to be the Titan T-2 rack. Every detail looks right. The rack does shake like you'd expect with that much weight.
You can see that he does have the rack heavily weighted down on the plate pegs in front. That's what they're designed for. It's a smart design to help make up for the light weight (107 lbs) of a budget rack that would ordinarily be too prone to tipping over to squat this much on.
I guess it just goes to show, steel is strong, folks. It can sway and wobble, but if the engineering is right it can handle a lot of weight without failing.
Reddit Discussions
Gotta love reddit! Here's the best threads I found.
Equipment Review – Titan Power Rack
Titan T-3 Squat Rack or T-2 Power Rack
Titan T-2 Power Rack vs T-3 Squat Rack. FIGHT!
You can get the T-2 power rack directly from Titan Fitness.