The Blues City Power Bar is Titan's USA-made deep-knurled power bar. I got a hold of it and learned a few things about it that I'm sharing today.
I bought it on their website during a sale for $270 + tax. Regular price is $300. Currently that puts it somewhere in the middle of the range of prices for comparable power bars.
For some context, there are several other good power bars similar to this from other companies, such as the Rogue Ohio Power Bar and the classic Texas Power Bar. I specifically wanted a 28.5-29mm power bar with aggressive deep knurling, center knurling, and smooth sleeves. You won't find much to choose from with those specs, other than a couple $500+ stainless steel power bars, and I don't want to spend that much.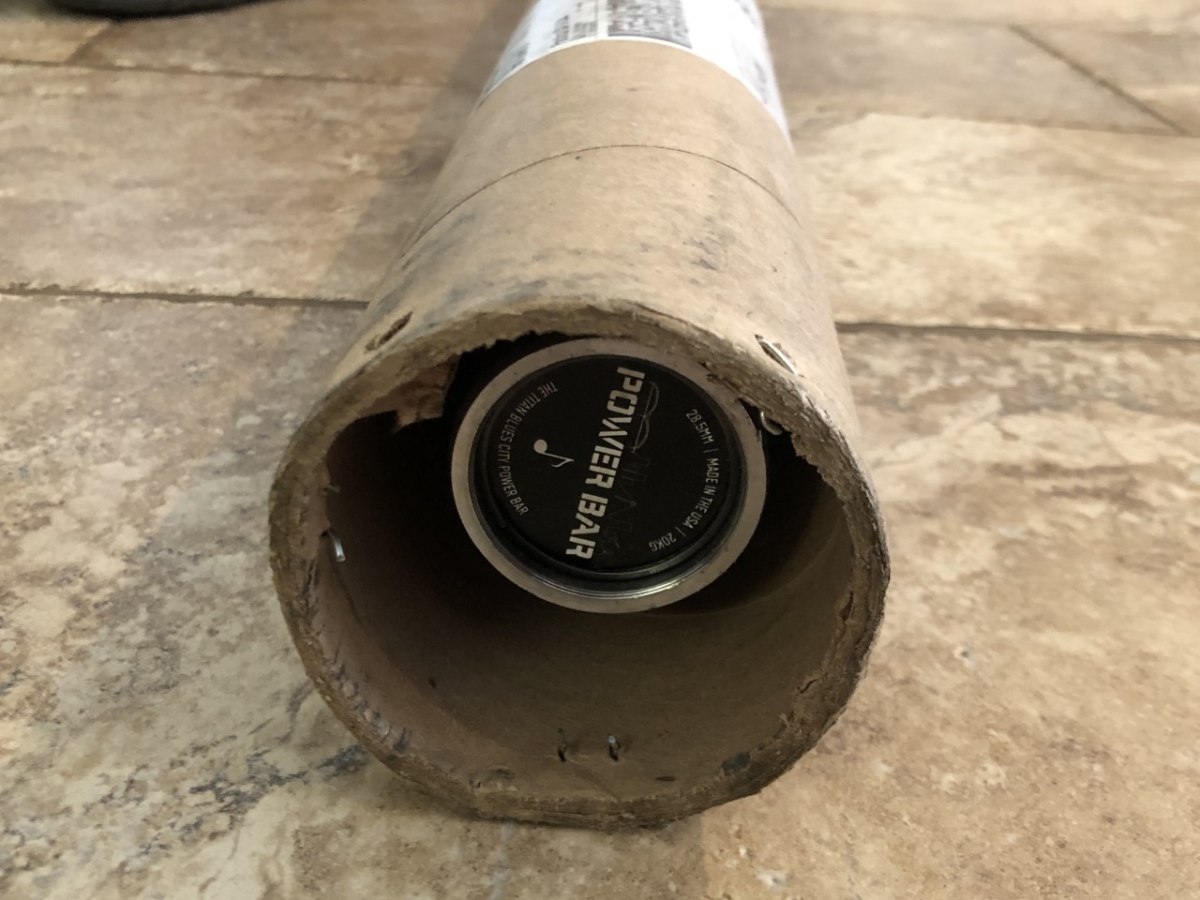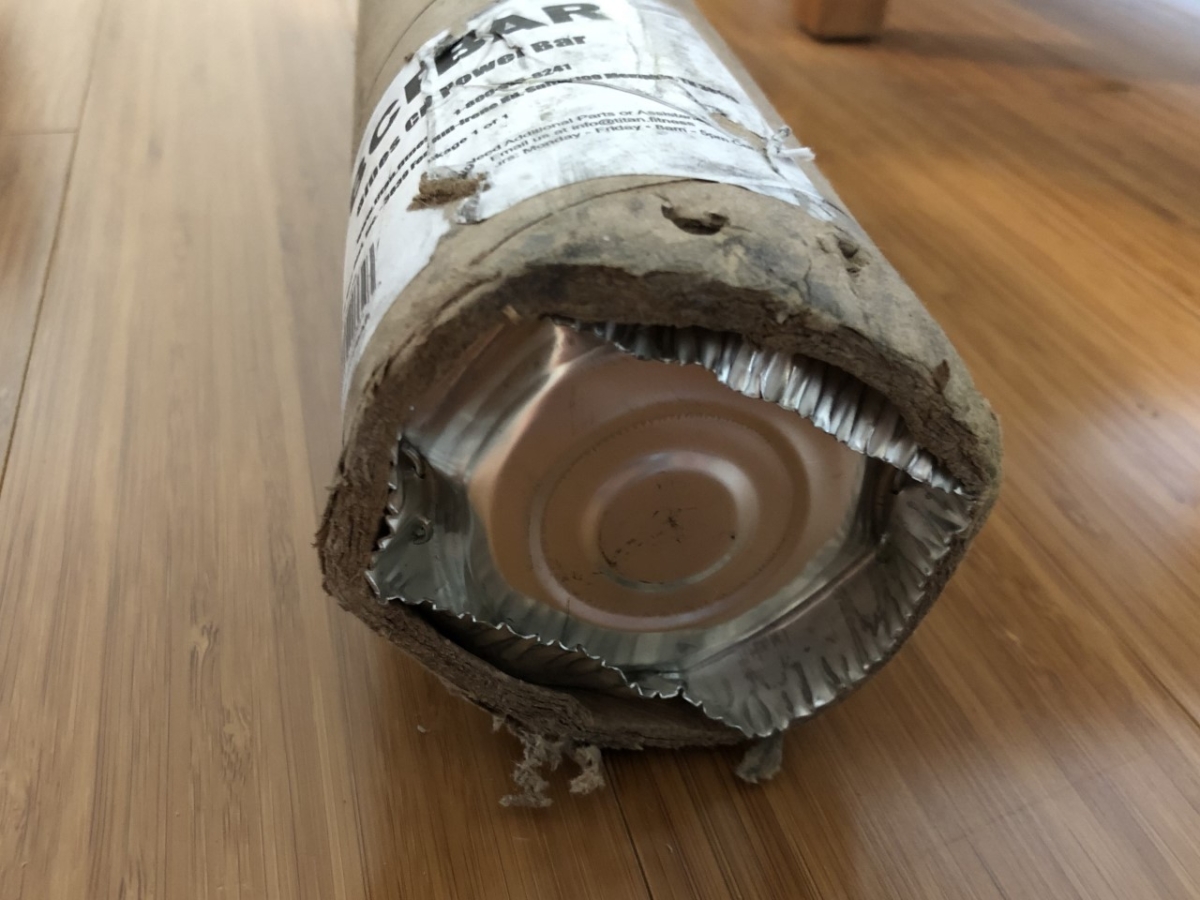 First, the shipping and packaging.
Titan had it out the door in 2 days after I ordered, and I received it the next week. Good heavy duty tube. The tube caps are questionable. One cap was like a heavy duty pie tin held in place with gun staples. The other end was missing the cap, and the bar was sliding out on its own. The bar's condition was okay, aside from some scratches and a lot of dust, both of which might have been from falling out in shipping. Most bars and weights of any kind I've bought from various stores don't arrive in perfect condition, so this was not surprising.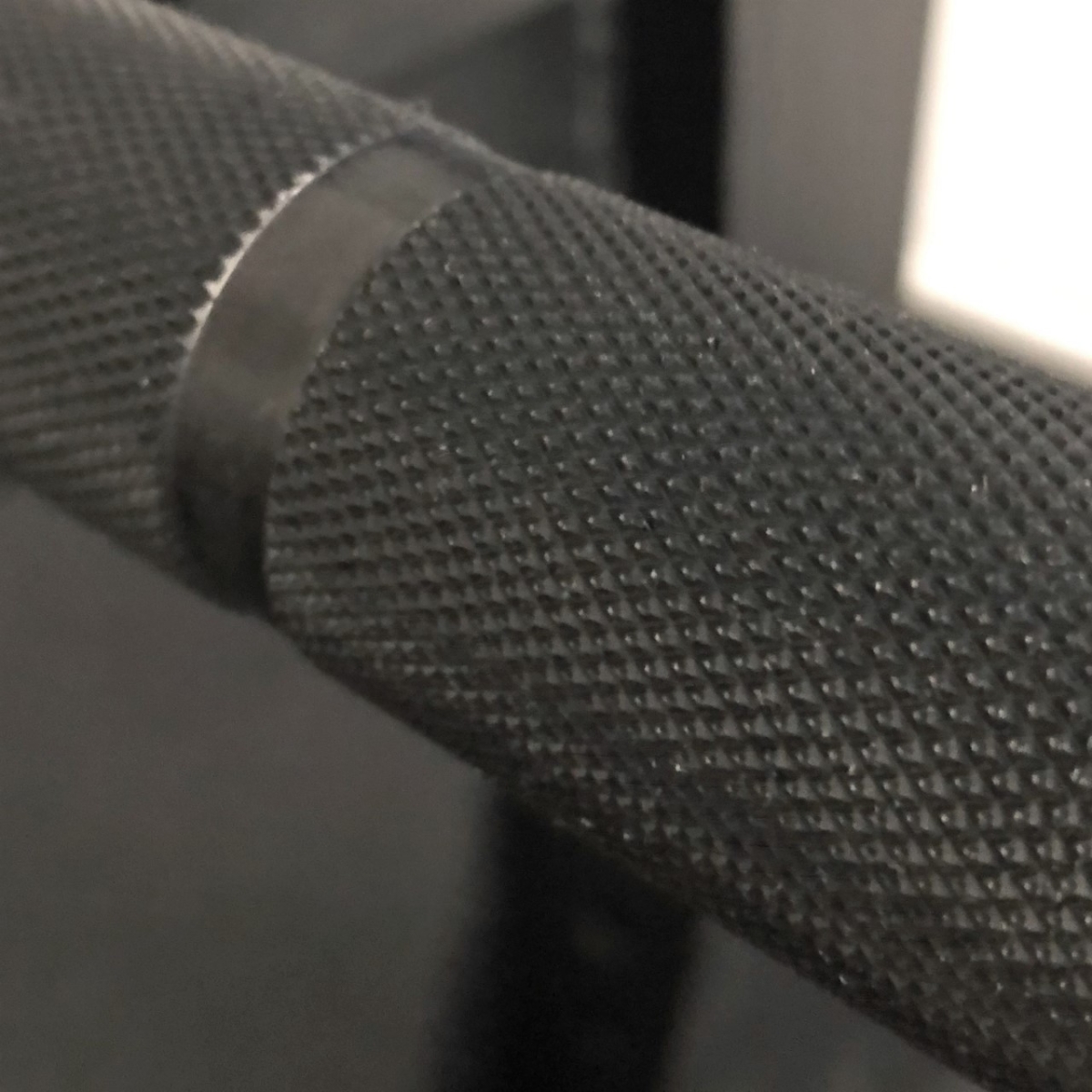 As soon as I started pulling the bar out of the shipping tube, I loved the volcano knurling. It sticks to your hands very well, more so than many bars out there with hill type knurling advertised as light or medium, and without feeling overly sharp. Titan calls this aggressive knurling. It's not quite as aggressive what you will find on the more extreme bars featured in the Deep-Bite Power Bars Comparison. I might add it to that page as an alternative.
Sorry about the pieces of lint you see in the pic on the knurl. I neglected to fully clean it off. I've learned it's impossible to clean a bar with anything but a brush. Fibers of any kind from cotton or microfiber towels get caught up in the knurl. I'm also going to do better next time with a close-up detail shot of the knurl. That one is a little out of focus.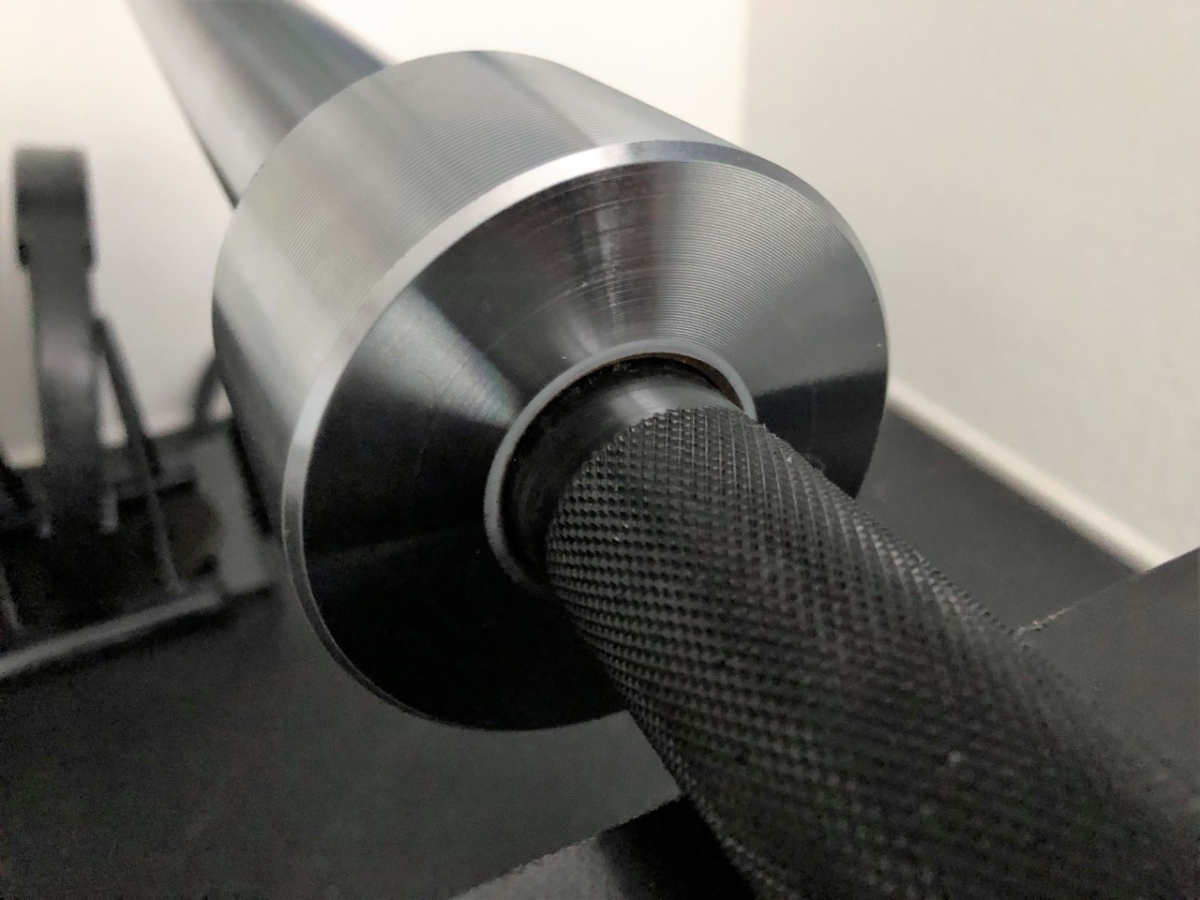 The shaft's zinc plated finish helps preserve the grippy feel and is a fairly thin plating so doesn't fill in the knurl's valleys like chrome plating can somewhat.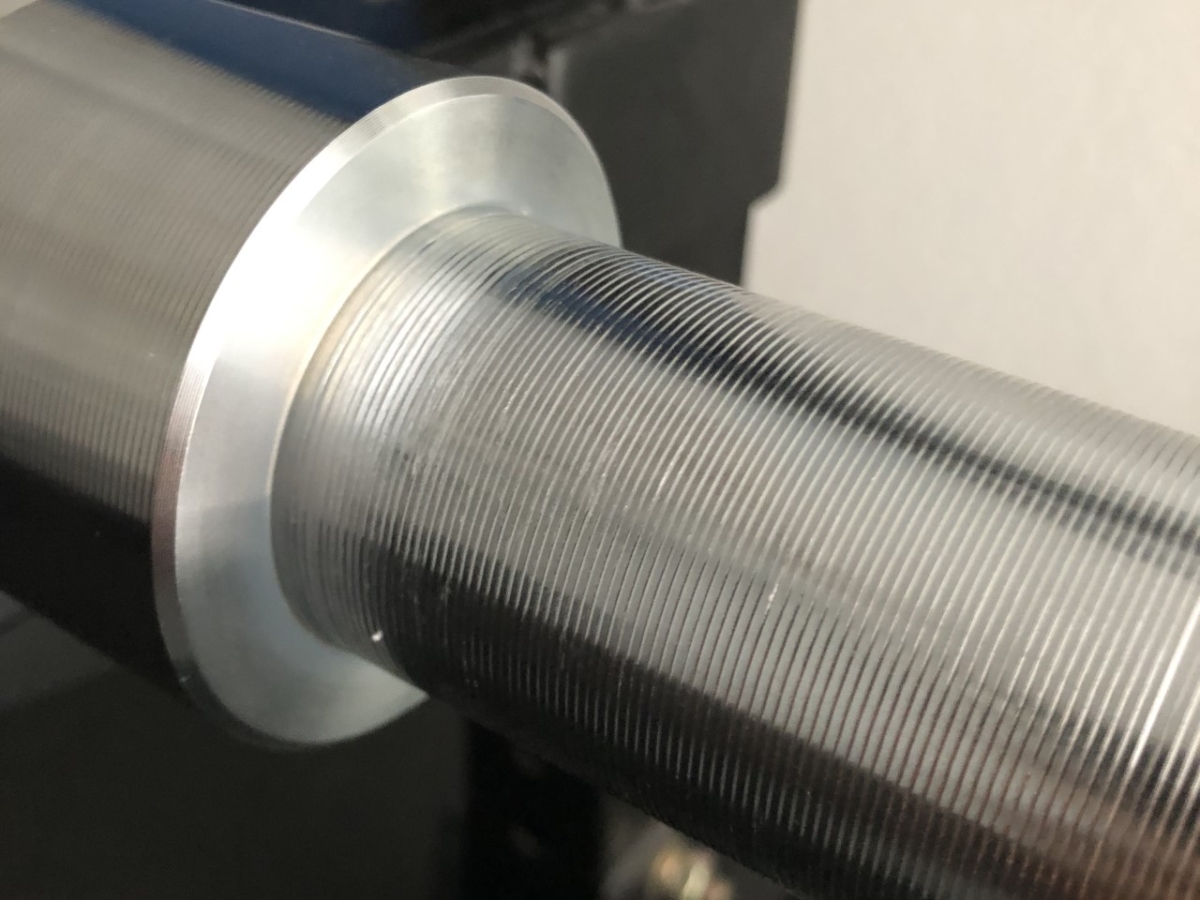 One main reason I bought this bar is Titan told me that the sleeves are smooth, not grooved. Unfortunately they gave me bad info, and I was disappointed to find grooved sleeves, and the grooves are even a little deeper than another bar I have. Deal breaker for me. Titan's service to set up the return was great. They quickly provided me with a Fedex return label.
I wrote a guide a while back on which bars have smooth or grooved sleeves, updated recently. It's personal preference. I dislike having to jam plates onto the sleeves with so much resistance and noise from the grooves. The smooth sleeves list is now shorter after moving Titan over.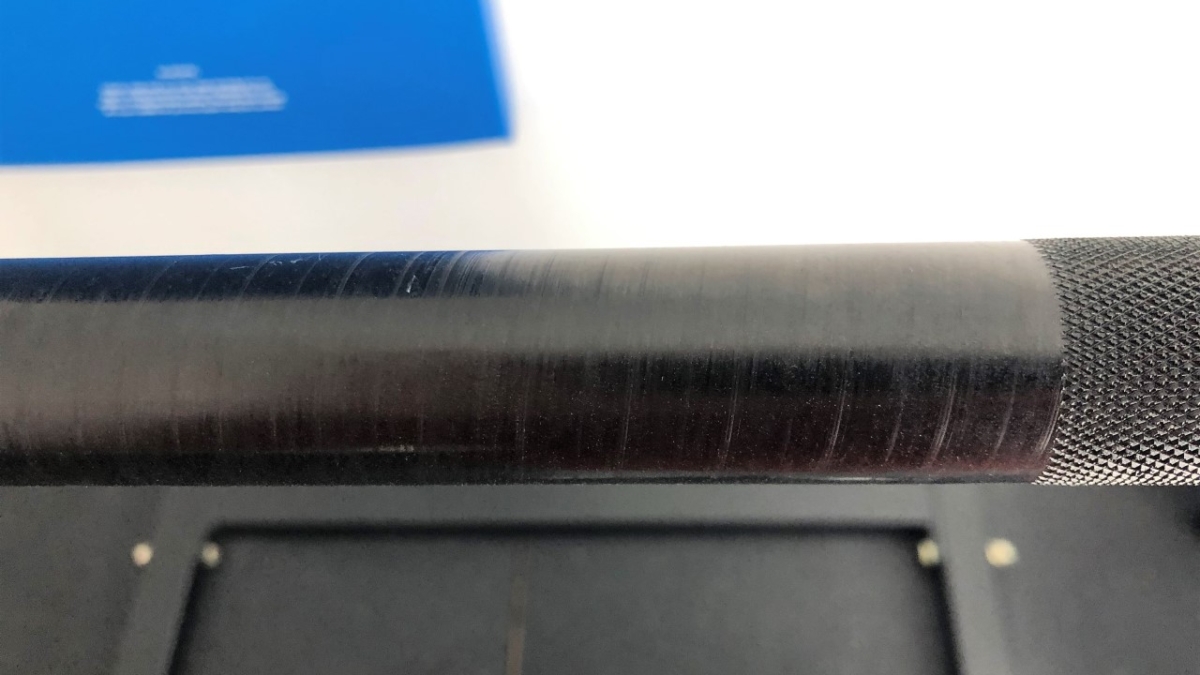 The shaft has an unusual line marked into all the smooth areas I've never seen before, like in the pattern of a rolled knurl but shallow. I don't know what to make of it. Could be on purpose?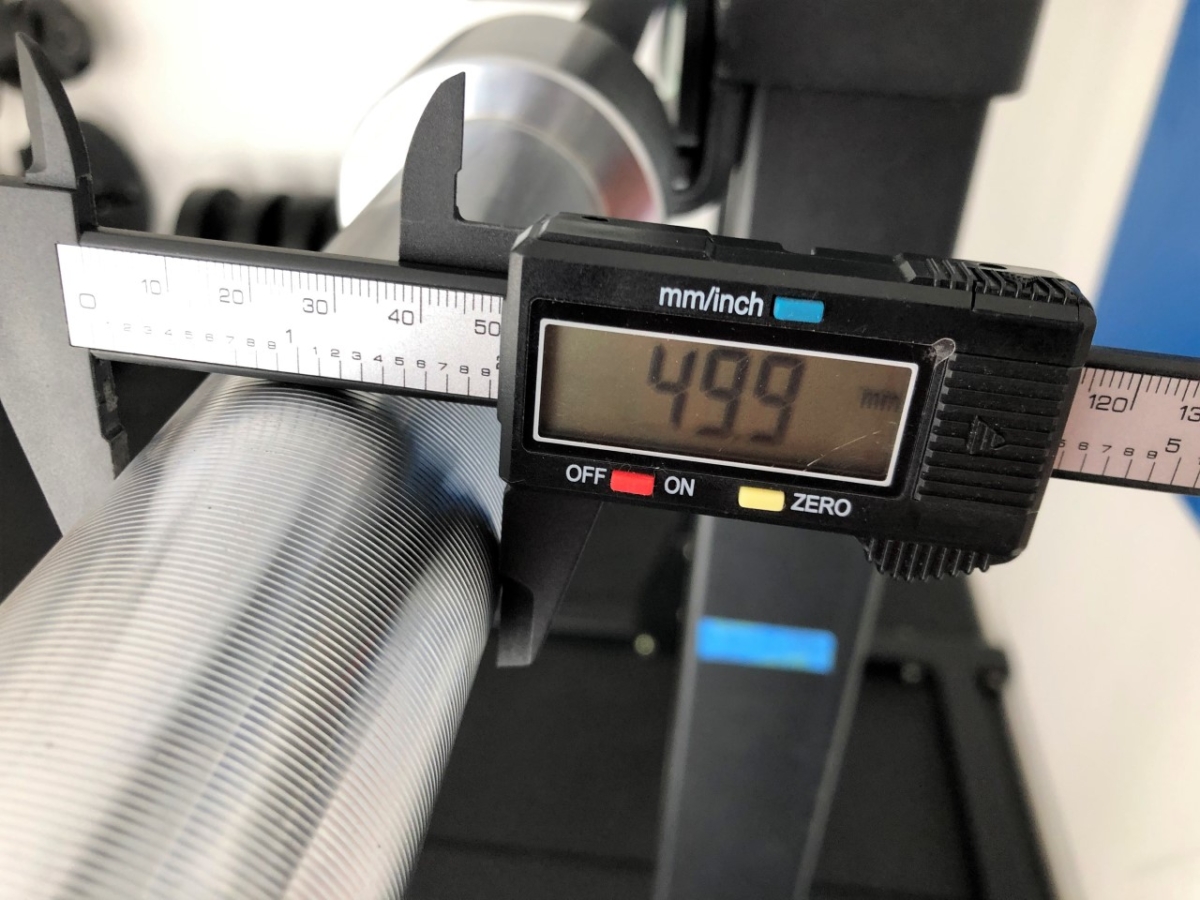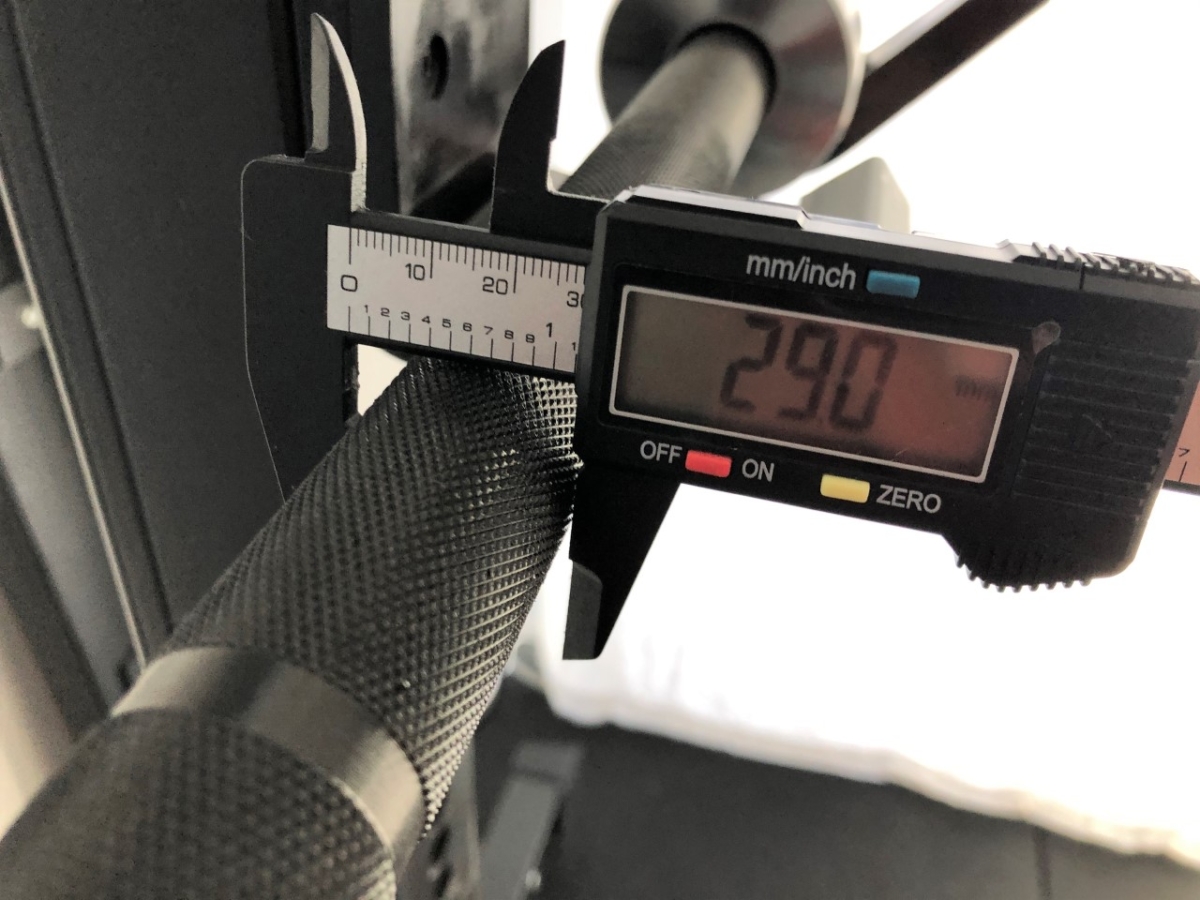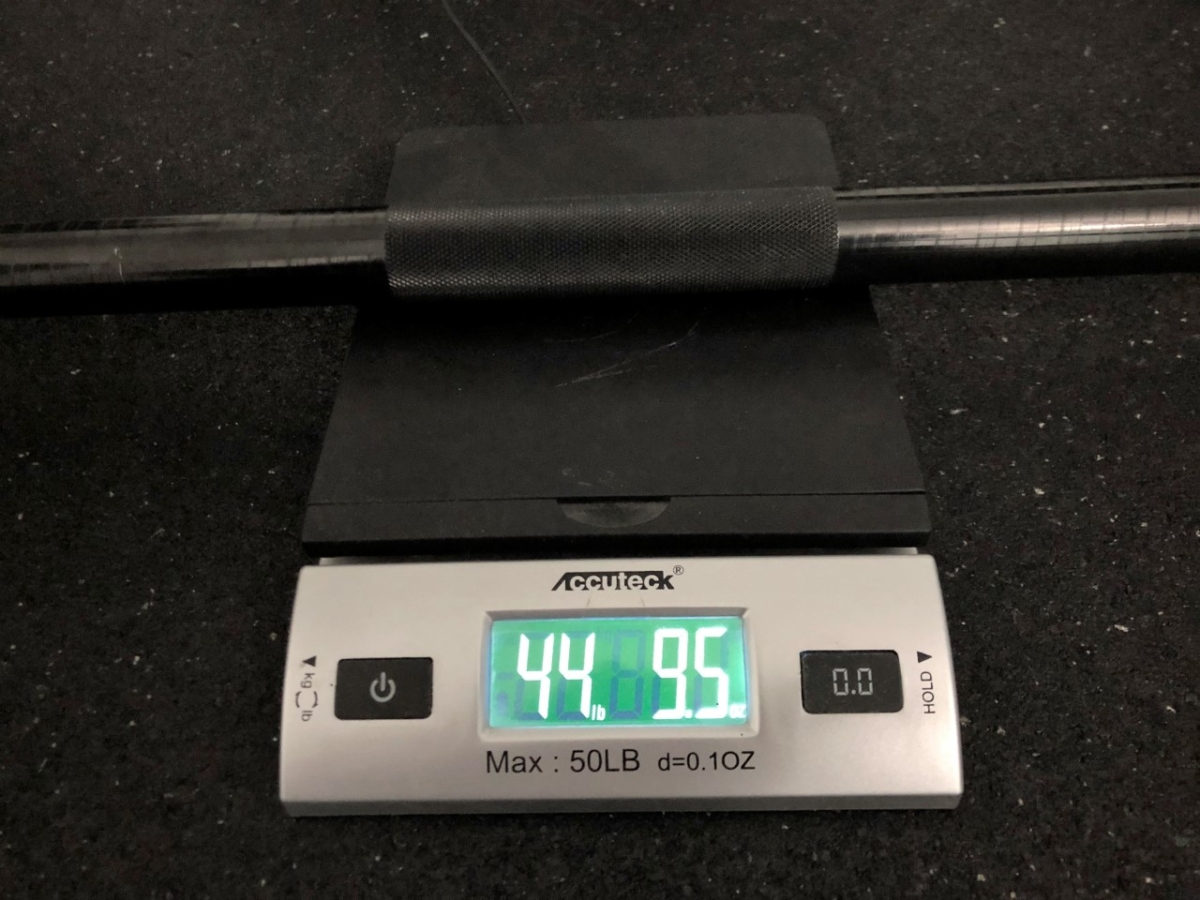 The shaft I measured at 29.0mm, but later after I no longer had the bar I realized on a shaft with aggressive knurling like this I should have measured the smooth part and I probably would have gotten about 28.5mm. With lighter knurling the difference is only around 0.2mm.
The sleeves are about 49.8mm to 49.9mm. I learned only recently that bar sleeves are not 50mm but slightly under, and I thereafter checked out the sleeves of a few different brands and how well good plates fit them. At this point I would say 49.7mm to 49.9mm is virtually perfect. 49.5mm is less desirable in my opinion, the way plates fit noticeably looser.
The weight is advertised on Titan's site as "20kg (45lb)". 20kg is 44lb, and being as this weighs in at 44lb 8oz, I guess they split the difference. Personally I prefer bars that weigh a bit under 45lb so that it comes out close to 45lb when I add collars. So this would work fine for me.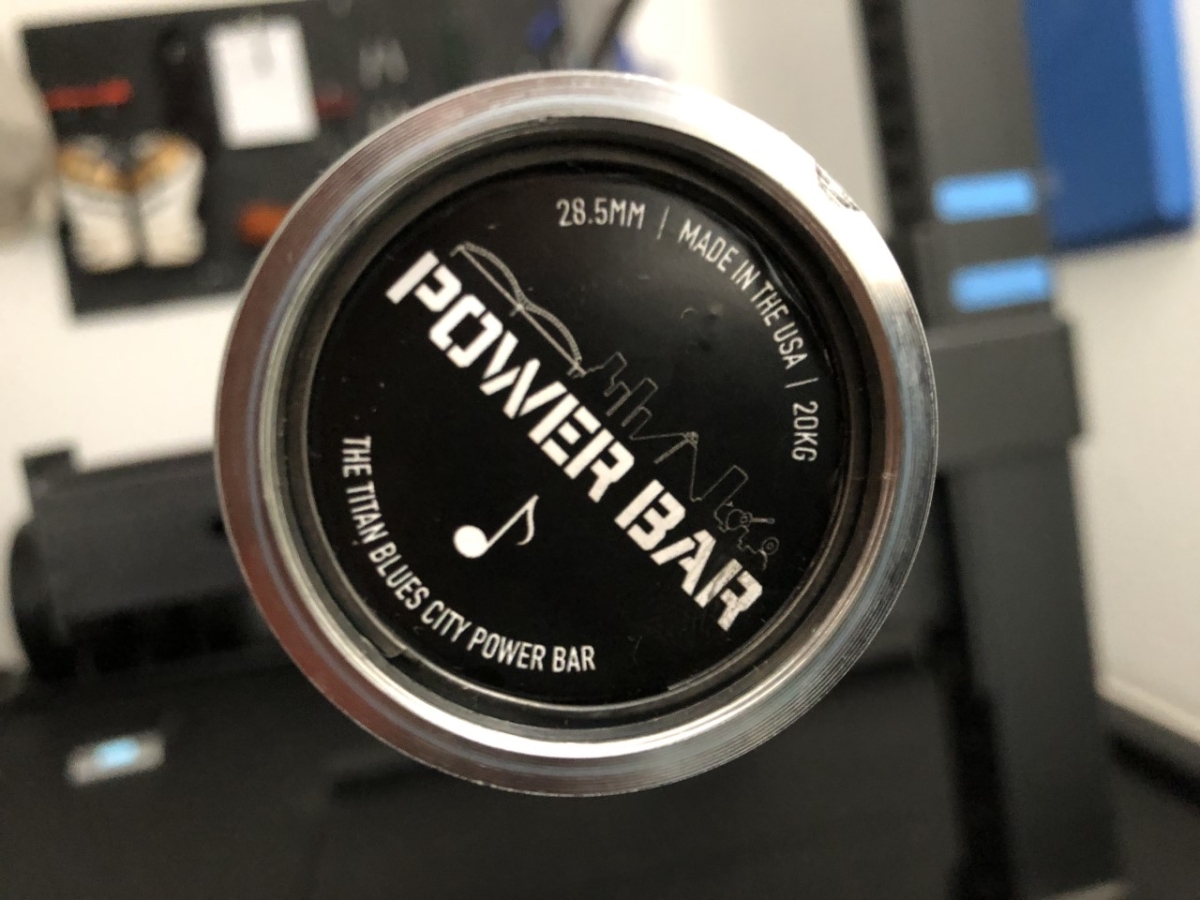 The snap ring on the end cap appears to be sleekly installed with the eyelets hidden. I've never seen that before.
The sleeves have a tight construction, not much slop side-to-side or up-down. Sleeves with a looser fit will make more noise and be more prone to breaking a snap ring or wearing down the internal parts if you're dropping the bar. The sleeves both rotate well on the bronze bushings. So all that's excellent.
Because I returned this bar for the reason of the grooved sleeves described above, I only tried it for one workout of squats and bench presses. The shaft size and knurling texture felt perfect, better than any other bar I've owned to date.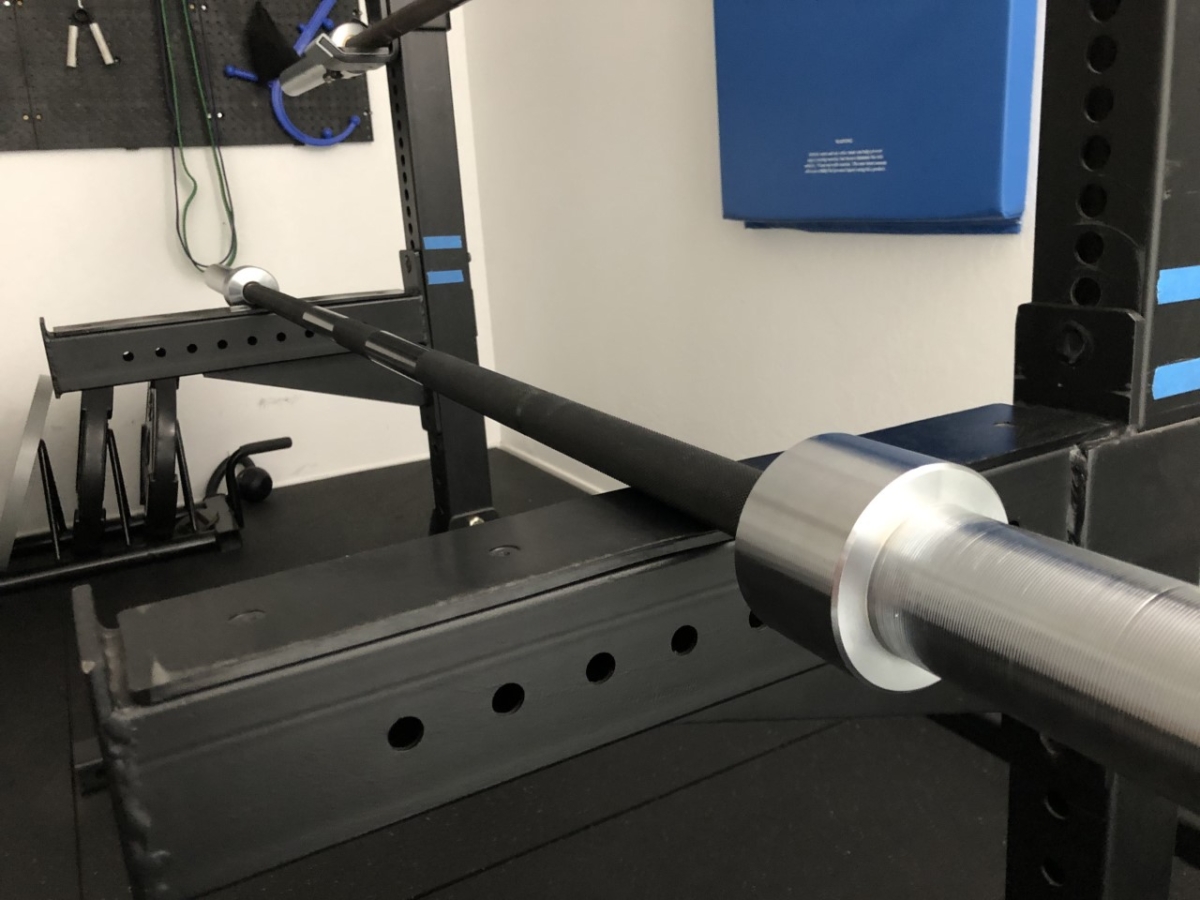 To sum up, if you don't mind grooved sleeves and possible blemishes, this appears to me to be a well-made power bar that feels great and has high tensile strength at 200,000 PSI. 28.5mm or 29mm is in my opinion the perfect size for a range of exercises, and I'll be looking for another one with smooth sleeves.