Intro
This Ironmaster OB 86 bar has flown under the radar. Ironmaster is most known for their heavy-duty adjustable dumbbells.
I thought i'd get my hands on the bar and determine whether people should be considering it.
It's $239, which puts it in the price range of some fairly respectable "budget bars" that are better than the cheapo ~$115 bars that you should avoid if possible.
Disclosure: Ironmaster initially gave me a discount because I wanted to get the bar to review for this blog. When I ran into some slight shipping damage and other issues they gave me a full refund. More about all that below.
Shipping and Packaging
2 business days after I ordered (quicker than I expected), the UPS driver dropped it off at my house with a thud and ran off like he stole something. Uh oh.
The tube was ripped into 3 pieces. I brought it into my gym in the back to pull the bar out and check the condition.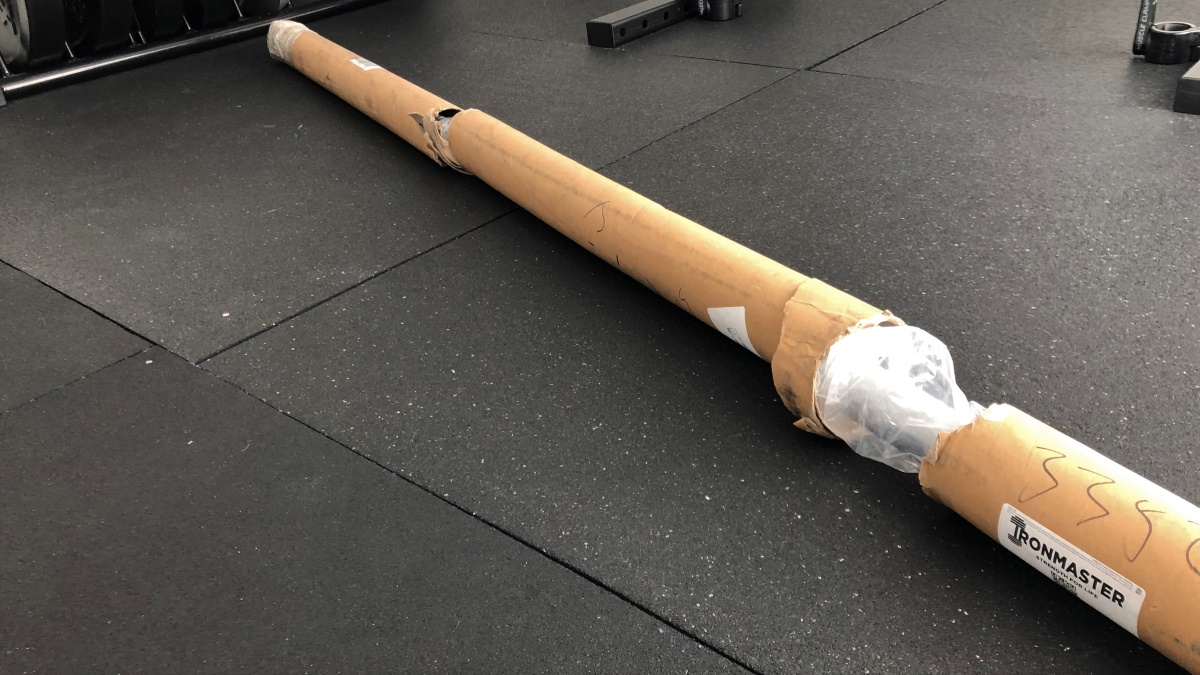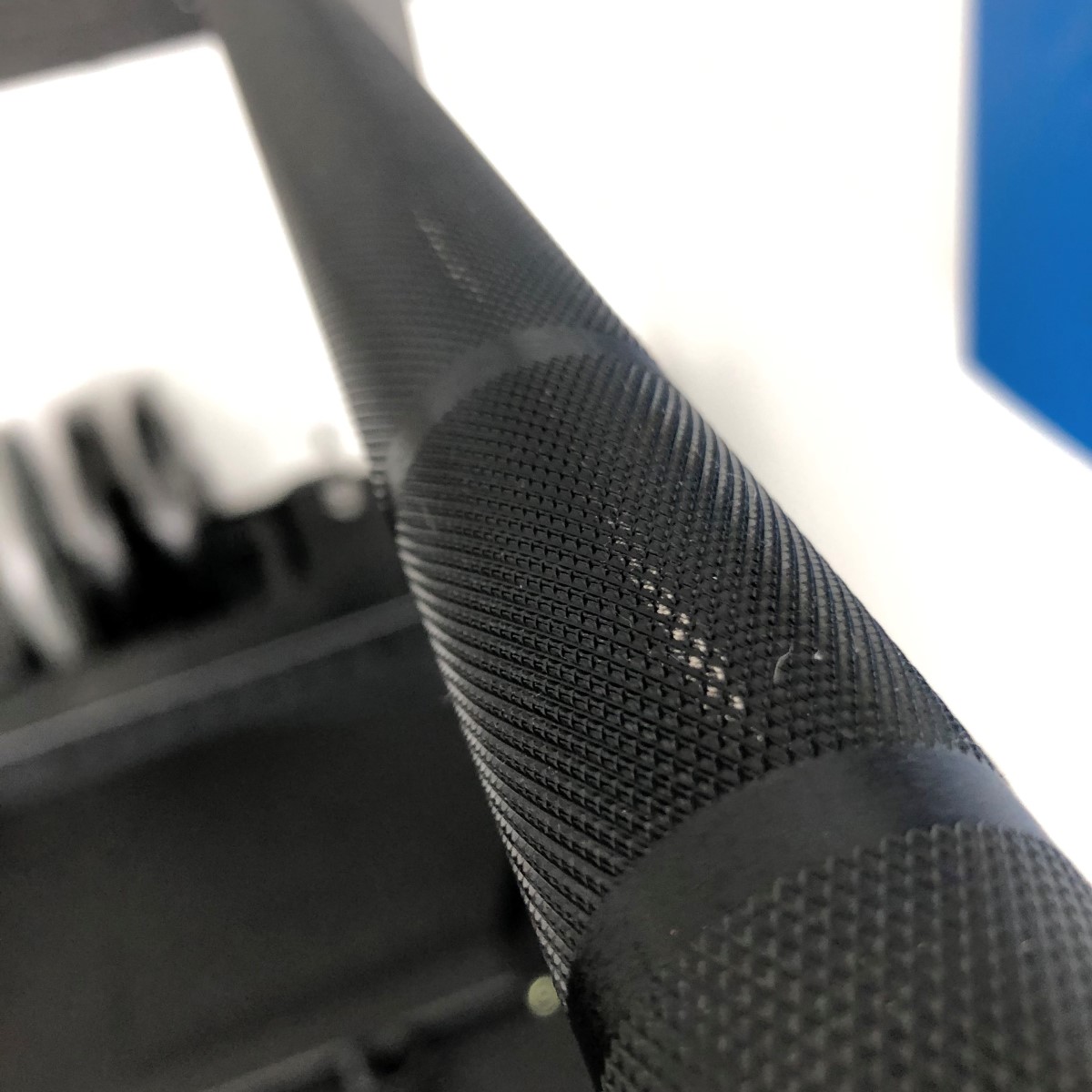 Not bad. As it turned out, the only shipping damage was some light surface scratches in the shaft's finish. The sleeves and shoulders looked great.
I suspect what happened is a UPS hub forklift guy with bad judgement spotted this tube having rolled off a conveyer and against a post, and he rolled up with his fork too high and stabbed the sucker clean through with both prongs. The tube seems thick enough that I would expect it to hold up to a normal amount of being tossed around in shipping.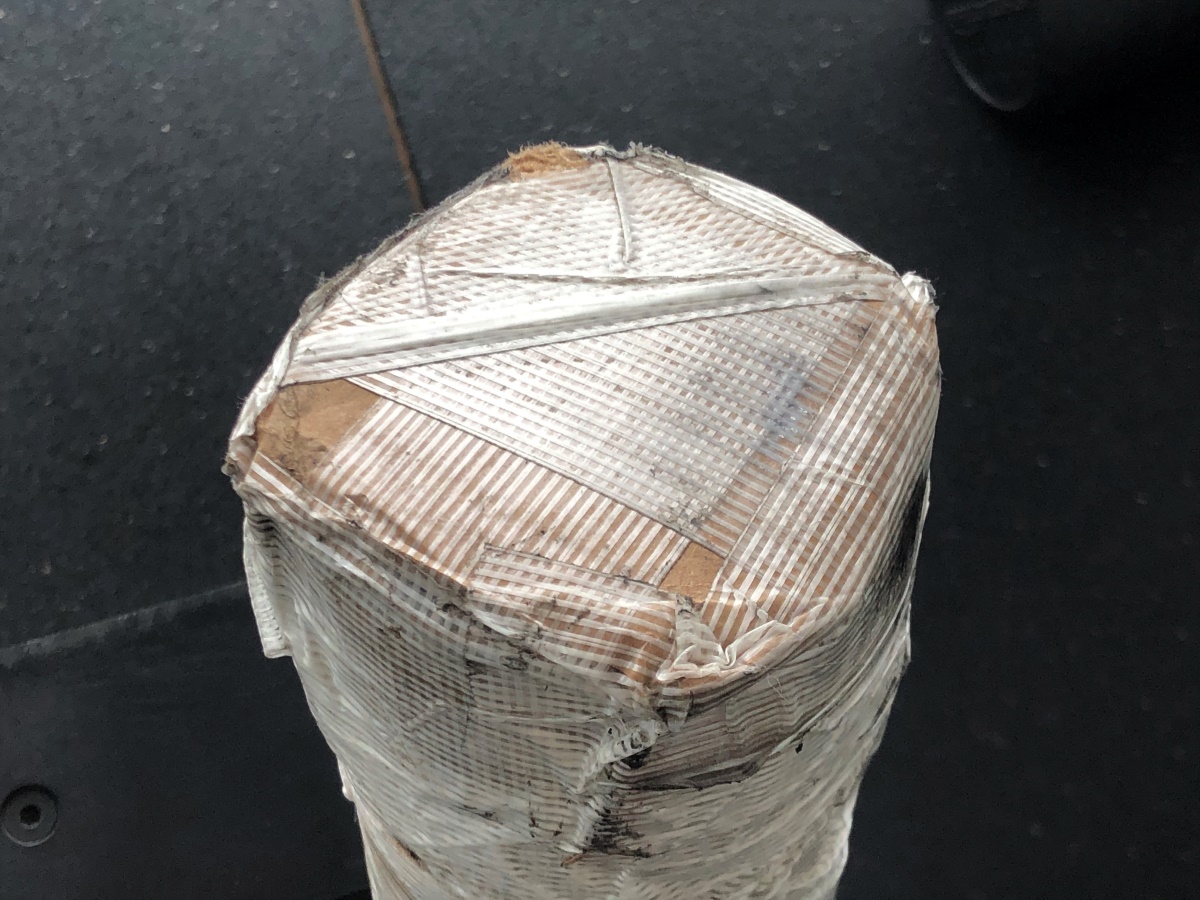 Normally if a bar's packaging fails, it's from one of the tube's end caps busting off, letting the bar slide out and get banged around. That wasn't the case here. Ironmaster taped over the end caps with an ample amount of reinforced tape shown above that held up good on both ends.
Basically, as far as I can tell, Ironmaster probably did their part and it was exceptionally bad handling by UPS. Luckily it's pretty much okay.
Features / Specs
| | |
| --- | --- |
| Tensile Strength: | 150,000 PSI |
| Shaft Diameter: | 28mm |
| Length: | 87″ |
| Loadable Sleeve Length: | 16 3/8″ |
| Shaft Length Between Shoulders: | 52″ |
| Finish: | Black Chrome |
| Knurl Depth: | Light |
| Center Knurl: | No |
| Ring Marks: | Dual |
| Spin: | 4 Needle Bearings Per Sleeve + Brass Bushings |
| Sleeves: | Grooved |
There were a few inaccurate product page specs: The shaft diameter, knurling, and the bushings/bearings. I talked to Ironmaster about it, and they inspected their stock and updated the specs. So everything on the product page is accurate now as per above. They don't sell a lot of these bars, and I guess I was the first person to be anal enough to check everything and care enough to bring it up. None of the differences are good or bad, just a preference in features and the type of lifting you're doing.
I generally like 28.5 or 29mm for an all-purpose bar. To explain this a bit, a 28mm like this is considered more of an olympic lifting bar or a deadlifting bar because the smaller diameter makes it easier to pull. A powerlifting bar suitable for more comfortable presses is generally 29mm or 30mm. An "in-between" size of 28.5mm is an all-purpose size that I think was pioneered by Rogue. That said, some people like a 28mm bar for everything, and the Texas Power Bar is an example of a pure powerlifting bar that is 28mm.
One feature that is always positive: The sleeves are quiet! Snug fit, little or no slack in all directions. You really notice the lack of noise when dropping a deadlift or olympic lift. It's a deep thud sound, only the plates banging, with no clang from the parts of the sleeves. There are probably a lot of quiet bars now (like the new Rogue Ohio 2.0S), but this one immediately struck me as much quieter than what I'm used to.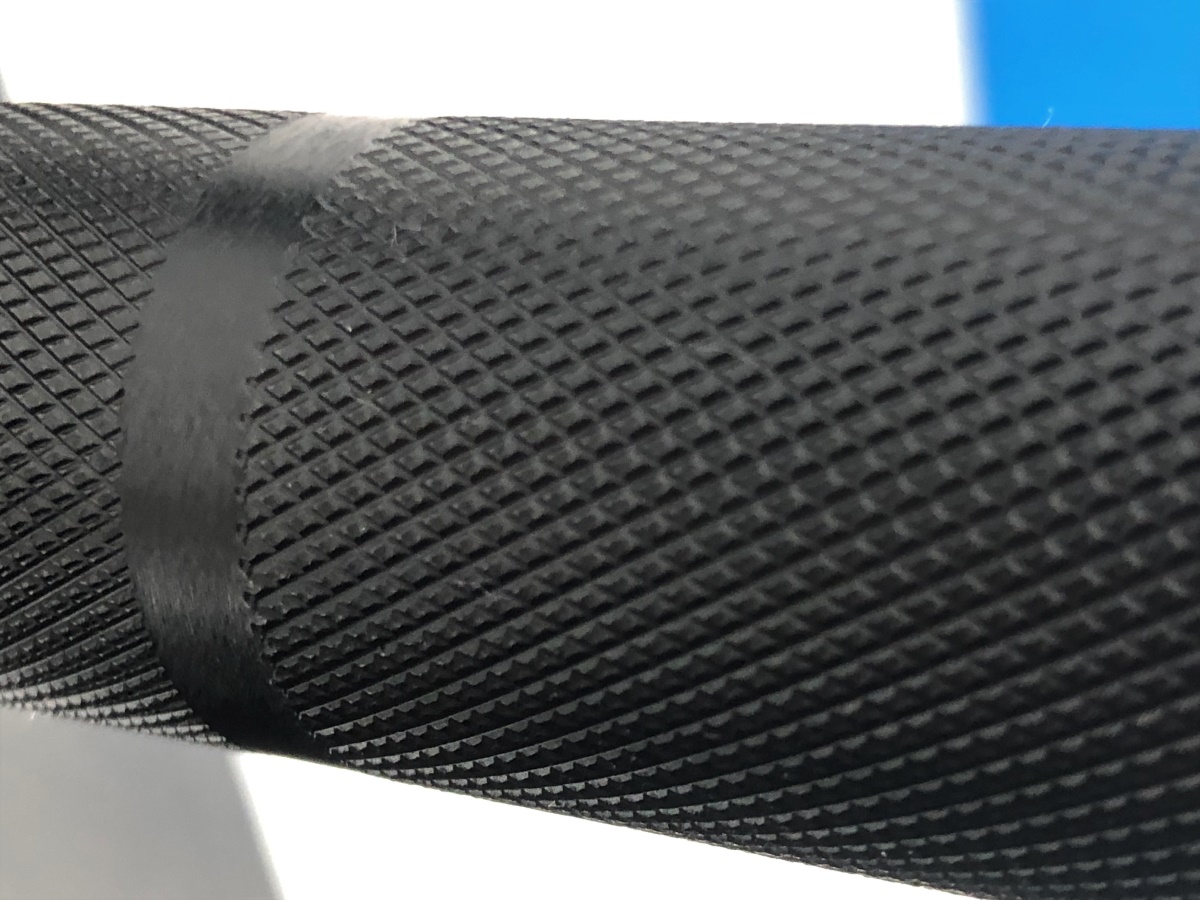 It has a finely spaced, light feeling knurling that can slide in your hands pretty easily with a loose grip and wouldn't hurt for heavy presses. It's not serious knurling that sticks to your hands, like sometimes people like for deadlifts. I know the pic above makes it look deep, but I don't know what to tell you, the ridges feel smaller and more passive than they look. Note the tops of the ridges are all flat, which makes it very easy on your hands.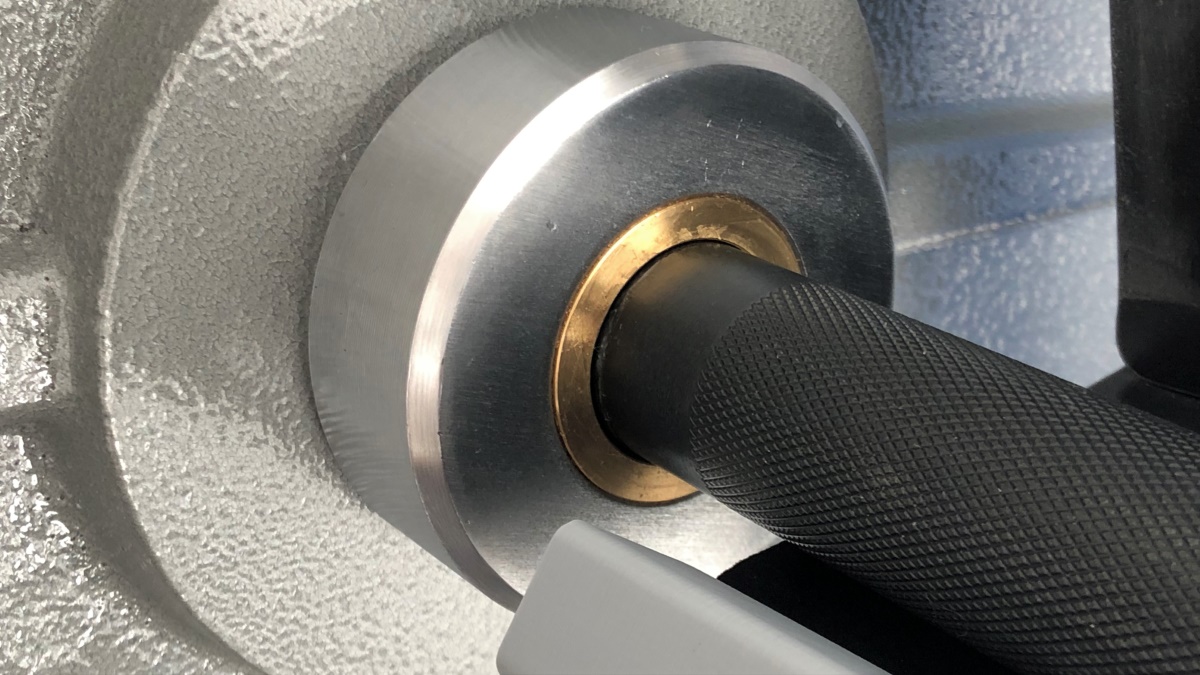 The spin I noticed was unexpectedly high/sensitive for a bushing bar. Then Ironmaster told me there are 4 needle bearings per sleeve, which makes sense now, along with the brass bushing you see at the end. I also had thought that these bushings were always bronze, which is a harder steel normally used for heavy duty bushing applications because it won't get bent, but they say these are definitely brass to absorb impact more softly. I don't think you should care one way or another about brass vs bronze. I'm just trying to be accurate.
The shaft is super straight. With any bar I can find if it's a hair off straight by spinning the shaft and eyeballing it carefully for wobble. This one doesn't show even a hint of wobble. This is partly psychological. When a bar has a slight bend, when you're holding it up loaded with plates its tendency is for the shaft to want to rotate to get the bend pointing up, which messes with your grip when it's mid-lift. When your grip fails on a deadlift, you'll have to wonder whether it was because you didn't have the bend pointing up, even if the bend is very slight. It's nice to know when the shaft is perfectly straight and you don't have to think about that.
150,000 PSI is the same as the Rep Sabre. This kind of tensile strength is good enough for the large majority of home users. It has potential to bend under certain abusive circumstances but otherwise can be used for anything including dropping with bumpers.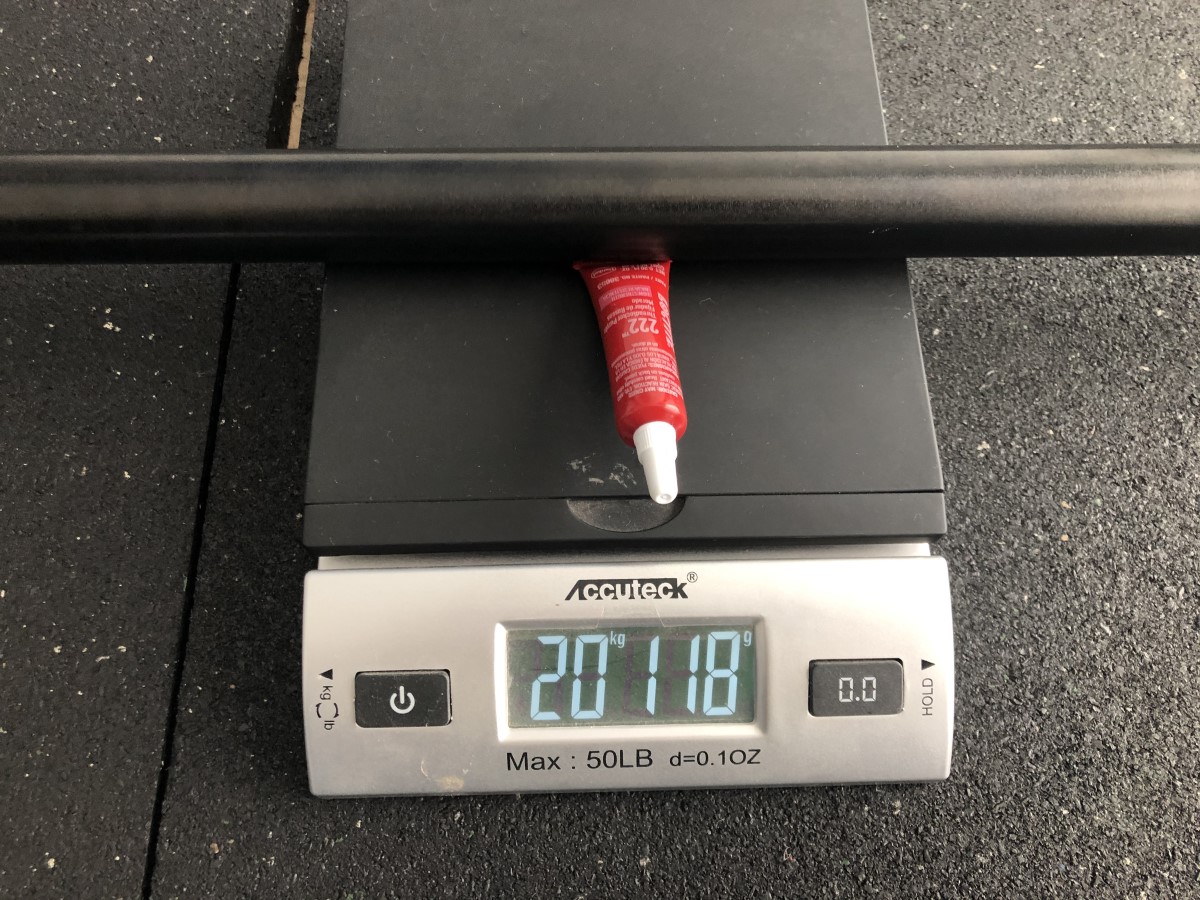 How's the weight? Pretty close. Marked weight 20kg, actual 20.1kg or 44lb 4oz. I tared the scale with that tube to keep the bar from rolling off.
The finish used is black chrome, which I couldn't find much online about. It's used on car wheels, if that's the same black chrome. Ironmaster didn't have additional info on it. I don't have a chrome bar right now to compare the feel to, just a Troy bar with some kind of copperish finish. The scratch I showed further above that shows bright silver underneath makes me wonder whether it's some kind of black coating over chrome to give your hands a little better grip, but I don't know.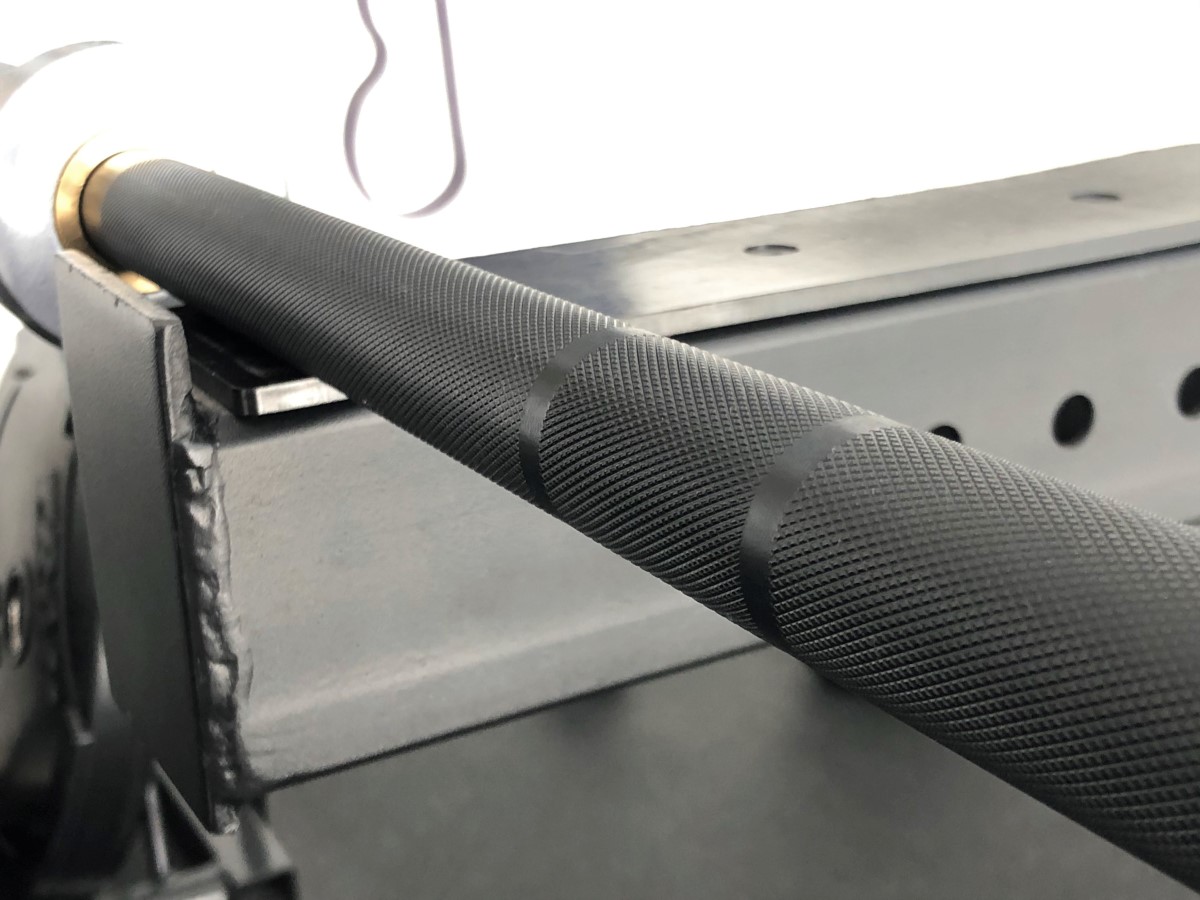 Here's something you might not know: The ring marks are on the wrong spot on a lot of bars. The outer IWF rings should be 910mm apart and the inner IPF rings 810mm apart, on center. These rings are all shifted 20mm (3/4″) more towards the center. The rings are intended as grip width guides and they certainly still work when you adjust your grip for various exercises according to the specific bar. Honestly the different width of the knurled and smooth areas around the center shaft of different bars throw me off a lot more.
Conclusion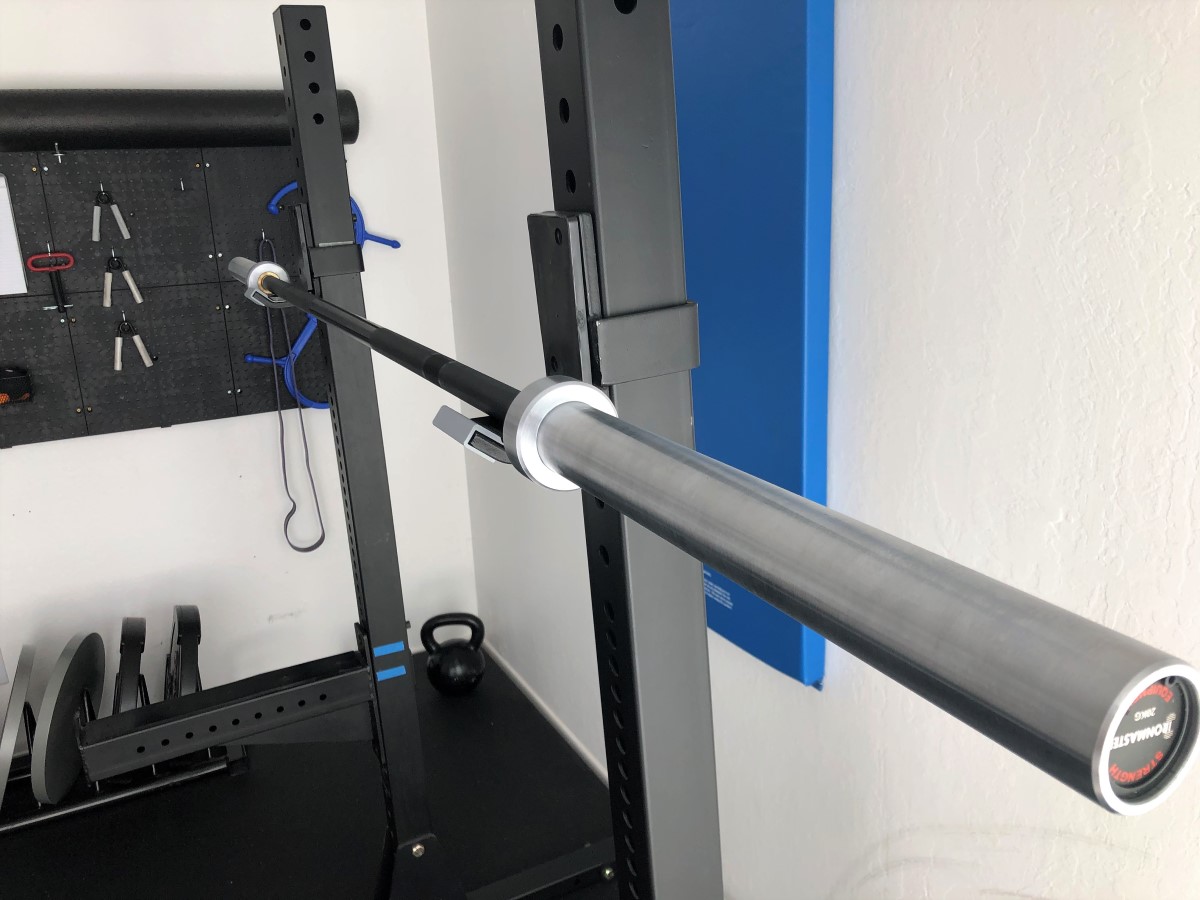 For $239 and free shipping, the features of this bar make it worthy of consideration if you want a low-priced all-purpose bar and you incorporate some high-rep olympic lifts (or Crossfit), or if you want one for olympic lifts alone. It's been overlooked. It has unusually good spin for a bar in this price range, thanks to the needle bearings and tight construction. The sleeves are unusually quiet when it's dropped. The knurling is fairly soft. It's not as well suited for exclusively powerlifting/bodybuilding style movements.
On top of it, Ironmaster has always seemed to me like a great company. They have always been attentive to my questions as I do research for this blog. They got right on top of fixing the situation with the wrong specs on this bar. Their Quick-Lock dumbbells have shown to hold up well over several years and can even be tossed down stairs.
I have an article on the best bars under $250 that I'm going to have to add this bar to.