Traditional stationary bikes vs the Assault
I'm going to come right out and say it; I'm a fan of the Assault AirBike.
I've ridden a lot of stationary bikes over the years and more than a few air bikes from a variety of manufacturers. None of them have impressed me like the Assault AirBike.
The problem with most stationary bikes, especially the ones built for home use, is they use a wheel or strap to create resistance and it has to be adjusted manually. It can be difficult to find that perfect amount of resistance while you're riding.
Air bikes, on the other hand, are my preferred stationary bike style, primarily because the harder you pedal, the more the resistance increases. It doesn't require you to reach down and twist a knob to gain intensity. So, if you're serious about your workouts, an air bike is the way to go.
My Introduction to the Assault AirBike
The other air bikes I've ridden, even those built for commercial use, were a step up from more traditional stationary bikes but I found the majority of them to be clunky, noisy and inefficient.
Then I found the Assault AirBike and it changed my life.
OK, that statement might be a bit extreme, but I was truly impressed with the Assault bike after my first ride.
My introduction to the Assault AirBike happened when I decided to incorporate CrossFit into my fitness routine. Actually, the Assault bike was the first piece of equipment I used the first time I walked into my CrossFit box.
After years of using treadmills and traditional stationary bikes to do my steady-state cardio and HIIT, my trainer put me on the Assault Bike and told me to do 40 calories as a warm up. Being a bit of a show off, and in spite of her warnings to take it easy, I pushed and pedaled with gusto… and nearly passed out!
Clearly, this was no ordinary ride.
Editor's Note: He isn't alone. It's such a hard workout that Ian Berger of BarBend says, "The Assault Airbike is one of my favorite tools to train the mind."
While air bikes have been around for nearly half a century, the Assault Air Bike takes your steady-state or HIIT workout to the next level with its ease of use and quality construction.
What's so Great About the Assault AirBike?
First, the specs:
Structurally, the Assault Air Bike is as heavy duty as they come. The powder coated steel frame is tough and allows zero flex. The bike stands 48.4 inches high, 50.9 inches in length, 23.3 inches wide and weighs in at 98.1 pounds. Thankfully, it has casters built in to the front cross-member should you need to move or store it.
One of the first features you'll notice when you climb aboard the AirBike is the LCD display console. It has a large, easy to see (even with sweat in your eyes) readout that allows you to simultaneously track your heart rate, speed, RPM, time, calories burned and, if you're so inclined, watts. I haven't used them, but the AirBike is also equipped with various on-board programs you can use to vary your workout.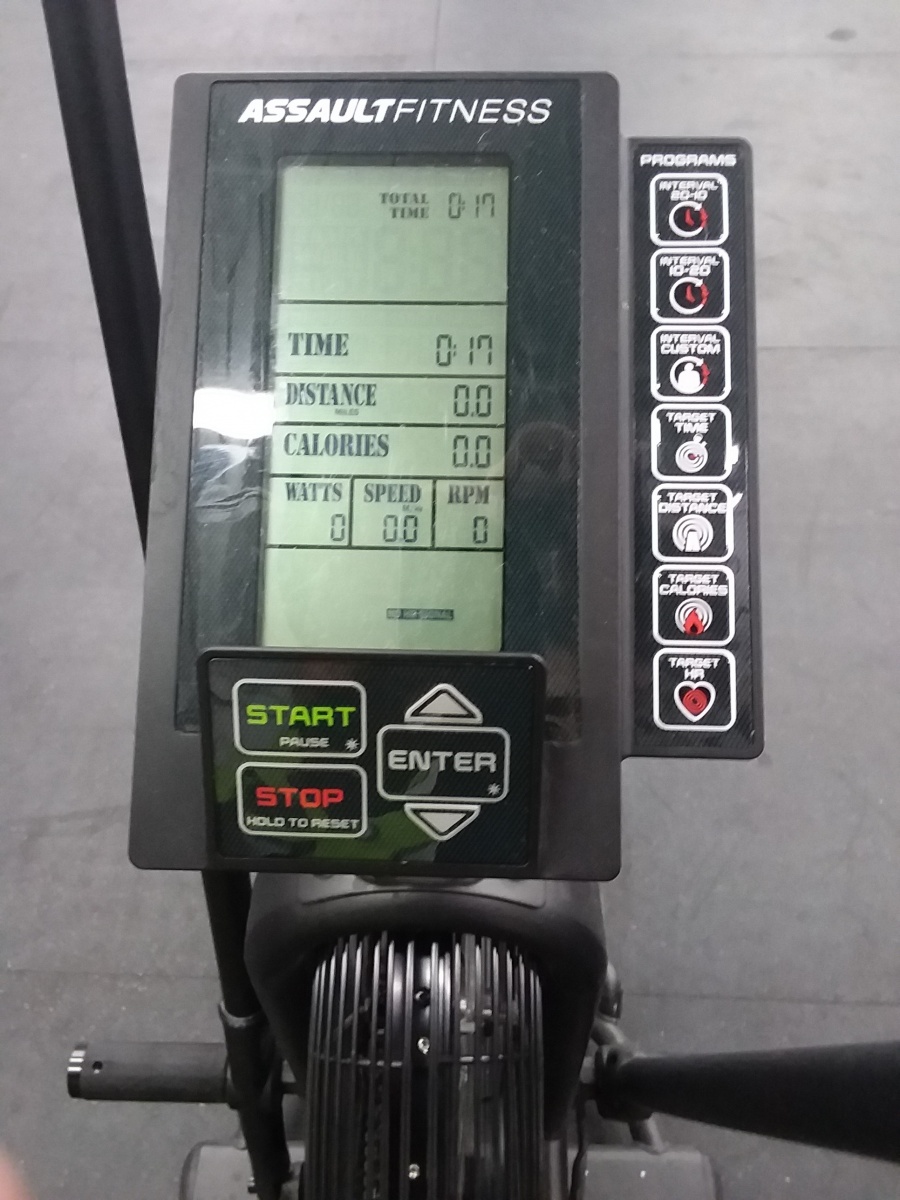 Back in the old days, you'd ride the bike for time or distance. While you can use those parameters on the Assault Bike, my preferred option is racing for calories burned. It results in a much more brutal (in a good way) riding experience.
One of the best things about this bike (other than the killer workout) is the comfort of the saddle and its adjustability. Seriously, the seat is one of the most important, yet often overlooked, features on a stationary bike and not all seats are created equal.
Most of the bikes I've ridden had one seat adjustment; up or down. The Assault Bike can be adjusted for saddle height, layback (forward and backward) and horizontal seat angle.
If you've ever ridden a bike where the seat was set at a poor angle then you know just how uncomfortable that can be.
You may be thinking, "It's just a seat. How much difference can it make?" Making sure your seat is properly adjusted isn't just about comfort. It ensures that you are getting maximum leg extension and the best possible workout. I'm 6'3" with a 36" inseam and there's plenty height adjustment left for someone even taller.
While riding, one can't help but notice how solid and smooth the Assault AirBike is. There's no wobbling, no vibrations and no slack in the pedals or handlebars. All of the energy you expend is transferred directly into the bike whether using your legs, arms or both.
Apparently, that's due to the rigidity of the thick-gauge steel frame and, according to the Rogue website, at least 1-2 sealed cartridge bearings at every pivot point. That includes the flywheels, the pedals, bottom bracket and linkage arms. There are over 20 bearings in all.
Like I said, solid and smooth.
Even the pedals are heavy duty. They're constructed with enough surface area and grip so your feet won't slip off no matter how hard you're pedaling.
Using the handles
The Assault Air Bike also has a set of knurled foot rests attached to the hub of the wheel for those occasions when your legs are burnt and you want to focus on an upper body/ cardio workout.
That's right; you can vary your workout on the Assault bike by using just your arms. To improve your pushing strength, focus on pushing the bike's arms away from you. Or you can work on your rowing motion. The Assault AirBike has super comfortable hand grips that flare out wide so you can keep your hands narrow or move them to the outside for more focus on the deltoids.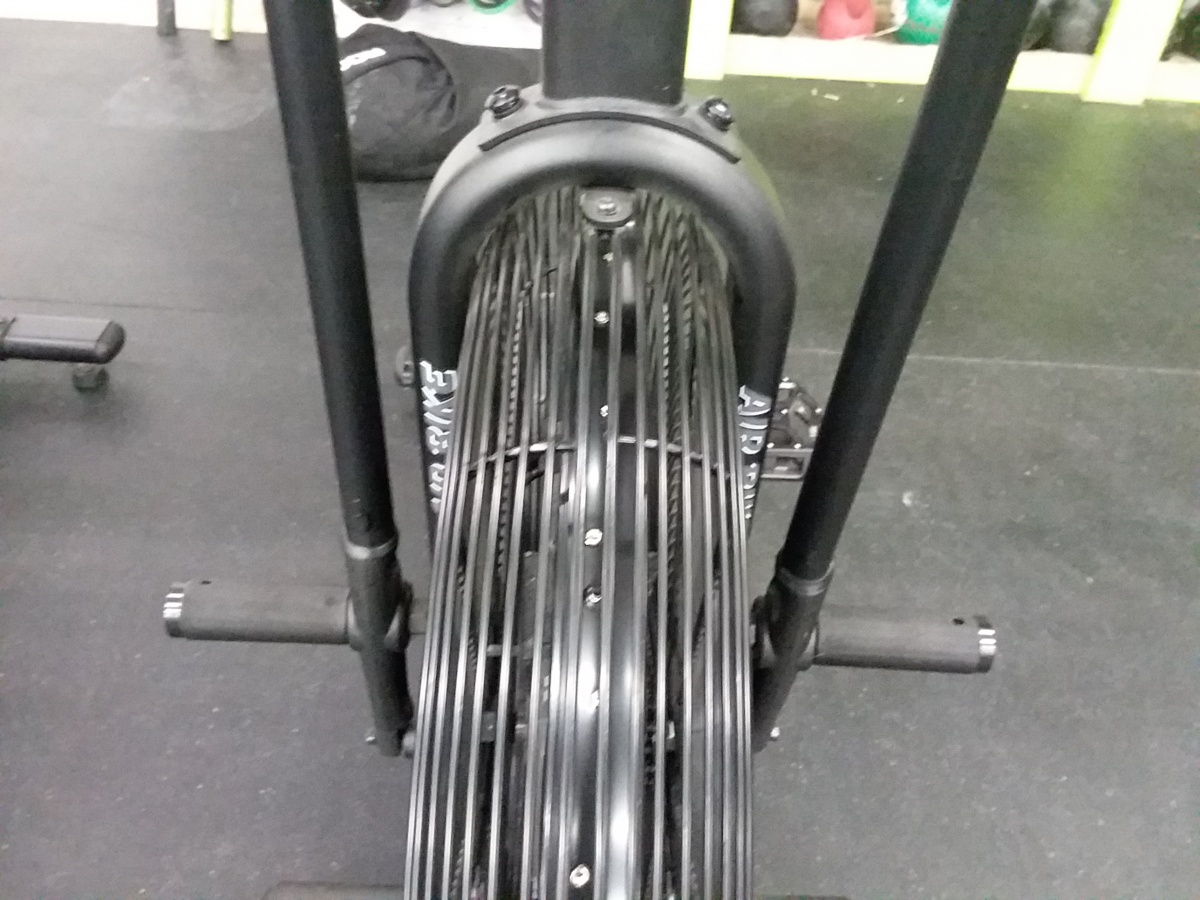 Final thoughts
As I mentioned at the beginning, I am a fan of the Assault AirBike.
The bottom line is the Assault bike is a bad ass piece of gym equipment. It's built for commercial use but it would make a great addition to my home gym. In spite of the fact that the Assault bikes I use are shared by dozens of people of varying heights, weights and intensity every day, they are still in terrific shape. Even the pedals and seat show minimal wear. That is a testament to the quality of this machine.
Rogue offers an optional water bottle holder kit and an Assault wind screen which cuts down on the wind blowing in your face and quiets the fan noise. The Assault bike I use has neither of these options and that's OK. I kind of like the wind blowing in my face and I never thought the bike was particularly loud. A bottle holder might be a nice addition but it's far from essential. It's not like I would say, "What? No bottle holder? Forget it."
The regular price on the Assault AirBike starts at around $1000 (plus $40 apiece for the bottle holder and wind screen options) so it's no small investment. That being said, this is the most solid, most versatile stationary bike I've ever ridden in a commercial setting or otherwise. It's so versatile, in fact, that if you were to add only one piece of equipment to your home gym, this would be the one.
Editor's Notes:
This is sometimes referred to as the Rogue Assault Bike, but Rogue is just one of the biggest dealers. The bike is made by Assault Fitness. People sometimes are referring to the Rogue Echo Bike.