TURN OFF YOUR AD BLOCKER FOR OUR SITE, OR YOU WON'T SEE ALL THE SPECIALS BELOW.
UPDATES THE LAST FEW DAYS
Nov 27th – Cyber Monday
Most everyone has a Cyber Monday deal – See them below!
Fringe is doing Lightning Deals hourly today, similar to Rogue's hot deals today that can expire pretty quickly.
updated 11:19am PT
Nov 24th – Black Friday
No need to list updates here today. EVERYONE in the list below is having a sale. See details below!
STORES
---

Adamant Barbell has been providing strength training equipment since 2007 to universities, Sheriff and police departments, fire stations and commercial gyms. We specialize in dumbbells and olympic weights.
Starting Monday, Nov 20th – Sale includes Troy Premium Plates, Troy Pro-Style Dumbbells, lifting platforms, rubber dumbbells, benches, squat stands, and several "factory defect" / blemished items.
---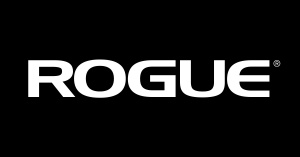 Rogue is the icon in the functional training / Crossfit equipment industry. They have built a reputation based on outstanding customer service, leading-edge high-quality products, sponsoring the Crossfit Games and being active in the fitness community.
Hot Deals & MBF Exclusives includes two things: big markdowns and special items that you've never seen before. Some limited-edition offers that may never be available again, such as cerakote Bella Bars, cerakote Ohio Bars, light grey versions of their Monster power racks, and 100lb sandbags. The Hot Deals change constantly.
As of Monday morning I see belts, sleds, Concept 2 rowers, Monster racks, Monster Lite Racks, R-series racks, jump ropes, Eleiko competition bumpers, and plenty more…
Plus, see the "5  for $5" shipping deal – Buy any 5 items in stock at their Ohio warehouse and they ship for $5. Rogue typically charges full price for shipping, so this is a big deal.
And finally, Hundo Pricing for sets of dumbbells, plates and bumpers.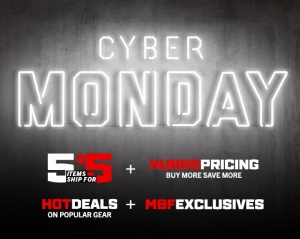 ---

Titan Fitness began in 2013 as a new brand of Titan Distributors. They have some of the lowest priced equipment on the market, and after their first shaky year the quality of the equipment has vastly improved.
15% off SITEWIDE – EXTENDED through Cyber Monday!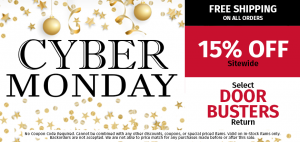 ---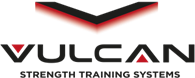 Vulcan Strength started in 2009 in Charlotte, NC. In early 2016 when the prominent MuscleDriver USA shut down nearby, many of the folks came over to work for Vulcan.
Spend more, save more! Keep adding to your cart for a bigger discount and see your progress on the top of the page!
Discount tiers for Black Friday & Cyber Monday:
• 7% ($0 to $1,000)
• 10% ($1,001 to $2,000)
• 12% ($2,001 to $3,000)
• 13% (3,001 to $4,000 + Free Shipping)
• 14% ($4,001 to $5,000 + Free Shipping)
• 15% ($5,001 and up + Free Shipping)
---

Ironmaster makes the popular Quick-Lock dumbbells that can be expanded to to 165 lbs per hand and are among the most durable adjustable dumbbells on the market. They also have some good benches and other equipment.
8% off any size order, coupon IMSFL8P
Plus, the Self Spotting Home Gym and the Half Rack System are on sale with these coupon codes:
$200 off the IM2000: use code IMSFL2000
$100 off the IM1500: use code IMSFL1500
You won't see the discounts until you enter the coupon code at checkout!
---
Eleiko produces the best IWF certified barbells in the world and has also been producing other high-quality weightlifting equipment for decades.
See their Black Friday Collection – Training bars, training bumpers, competition bumpers, straps, and lots of accessories!
Plus – Spend $150 or more and be entered to win a brand new Eleiko Sport Training Bar!
---

Fringe offers a 365-day 100% guarantee on everything they sell. They even pay to ship it back in the first 45 days.
Sale on NOW, Nov 20th – Nov 27th
Currently: bumper plates, barbells, sleds, squat racks, and accessories!

---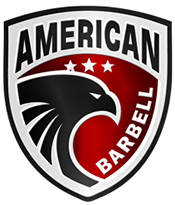 American Barbell supplies health clubs, boxes, universities, and professional athletes.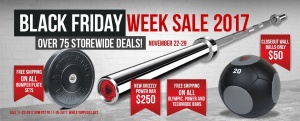 SALE ON NOW. It includes:
Free Shipping on ALL Olympic, Power and Technique Bars
Free Shipping on ALL Bumper Plate Sets
Closeout Wall Balls Only $50
Kettlebells 10% off
Flat Bench $125 / $175
Low Push Sled $125 / $199
Speed Sled $149 / $199
Technique Bundle Save 15%
Vertical Bar Storage $88 / $125
Urethane Gun rack $88 / $125
Black Resistance Tubes $69 /$99
Horizontal Bumper Storage $275 / $325
T-Grip Shorty Bar $115 /$ 139
Select T-Grip Bars on Sale
Select Speciality Bars on Sale
All Rack & Rig Equipment on Sale
---

WOD Nation specializes in accessories for Crossfit such as bands, massage tools, and protective gear. They also have some nice t-shirts!
ON NOW – Their BF sale is not shown on the website: You must use the coupon codes!
Spend $50 & Save 10% : Use discount code 10BF2017
Spend $75 & Save 10% : Use discount code 15BF2017
Spend $100 & Save 10% : Use discount code 20BF2017
---


Life Fitness has a 25% off sale on ALL full priced items, plus FREE delivery & installation! – Home gyms machines, benches, treadmills, rowers, Hammer Strength equipment, accessories, you name it, it's on sale.
NOTE: You have to use coupon code BLACKFRIDAY25 . The sale is not currently advertised on their site!
Through Cyber Monday only!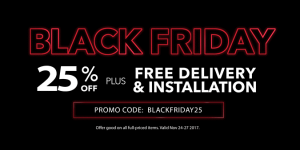 ---


Bowflex is one of the most well-known companies in the fitness industry. They have expanded over the years beyond their single Bowflex machine and offer several popular pieces of equipment.
Use code BLACKFRIDAY17 or you won't get the discount!
Their Black Friday & Cyber Monday sale includes Max Trainers, SelectTech Dumbbells, TreadClimbers, and the Revolution Home Gym.
---

See Amazon's Black Friday: Sports & Outdoors category with active deals now!
---

Wright was known for their bumper plates in the mid-2000s and has since expanded to all types of Crossfit equipment.
See the Black Friday & Cyber Monday Sale – Benches, the Lean Garage Rack, equipment packages, bars, bumper plates, fractional plates…
Also use our discount code ADAMANT to take 3% off – Click here to visit Wright Equipment, add items to your cart, and then apply the code during checkout.
---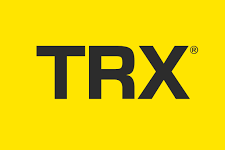 TRX is the well-known suspension trainer that utilizes your body weight for hundreds of exercises. You can find them in gyms across the country.
$50 All Trainers
30% Off Other Gear
FREE SHIPPING on Everything
---

Dragon Door specializes in high-quality kettlebells and kettlebell training products. A good place to visit if you're getting into kettlebell training.
HUGE 40% off on ALL their products – The sale is NOT advertised on their site. You have to enter promote code BFCM2017 in your cart to save 40%.
---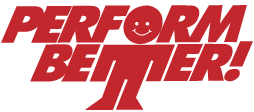 Perform Better specializes in functional fitness, agility training and sports training.
Holiday Sale through December – Currently exercise balls, weight vests, resistance bands, sand bags, foam rollers, suspension training, yoga mats, agility ladders, adjustable benches, urethane fixed barbells, yoga mats, medicine ball racks, jump ropes, conditioning ropes, hex deadlift bars, plyo boxes, swiss bars, bumper plates, kettlebells, urethane weight plates, dumbbell racks, power racks, barbell storage racks.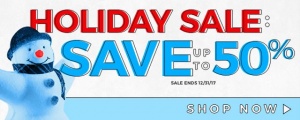 ---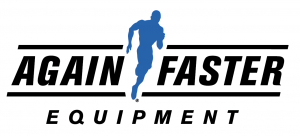 A leader in the Crossfit equipment industry. In April 2016, X Training Equipment bought out their Canadian division and some other assets. The situation now is unclear, but they are still in operation.
Black Friday & Cyber Monday Sales – wall balls, slam balls, barbell and bumper packages, hex bars, farmers carry bars, axel bars, ez curl bars
---


Rep Fitness started selling equipment in 2012 and has also produced a lot of good youtube videos going over equipment.
5-20% Off SITEWIDE – Everything is on sale!
---

The founder of EliteFTS, Dave Tate, started the company in 1998 and has been into strength training since the 1970s.
Cyber Monday sale includes barbells, power racks, their yoke bar, and more!

---

Christian's Fitness Factory has been selling a full range of fitness equipment for many years and has a reputation for excellent customer service.
ON NOW – Black November Sale on All CFF Brand Items – bars, dumbbells, plates, strength equipment, conditioning equipment, pull up rigs, racks, kettlebells, medicine balls.
---

Rocktape is a leading manufacturer of the revolutionary kinesiology tape that athletes swear by.
SAVE 35% – USE COUPON CODE BLACKCYBER17 AT CHECKOUT.
---


Sorinex has been producing exercise equipment since 1980 and is one of the most recognized brand names today.
30% off apparel with code: apparel30
10% off the ENTIRE SITE – code: boscoholiday10
---

Ironmind has been providing high-quality strength equipment since 1988.
Enter code FRIDAY in your shopping cart to get 10% off lots of equipment!