While these kettlebells are not as functionally perfect as traditional styles, most of them will work pretty well. It's a good gift idea for Crossfitters and other lifters, or a fun way to make your gym unique.
The level of detail on some of these suggests to me that they used some kind of modified method, not just regular iron casting, to get the design to come out so detailed and consistent. They look amazing. I'm thinking of how most cast kettlebells can have imperfections that need to be sanded smooth. That wouldn't fly on these, or the careful design would be ruined. I don't know hardly anything about metalworking, so maybe someone who does can leave a comment below and inform me!
A good number of these are out of stock, or they have a few weeks lead time, but as far as I know, all the ones shown here are still produced as needed. The market for these is very small. The good part of that is if you're getting it as a gift the recipient probably has never seen one before. Check with the store before ordering if it doesn't look like they have some in stock, and order with plenty of time to spare.
This artistically impressive design comes from Onnit. Every weight is a different kind of ape/monkey: an orangutan, howler monkey, chimp, gorilla, and Bigfoot.
Like several of the bells on this page, the back side of each of these has a relatively smooth design so that it rests well against your forearm compared to the bumpy front design.
Available in 8kg to 40kg (18lb to 88lb)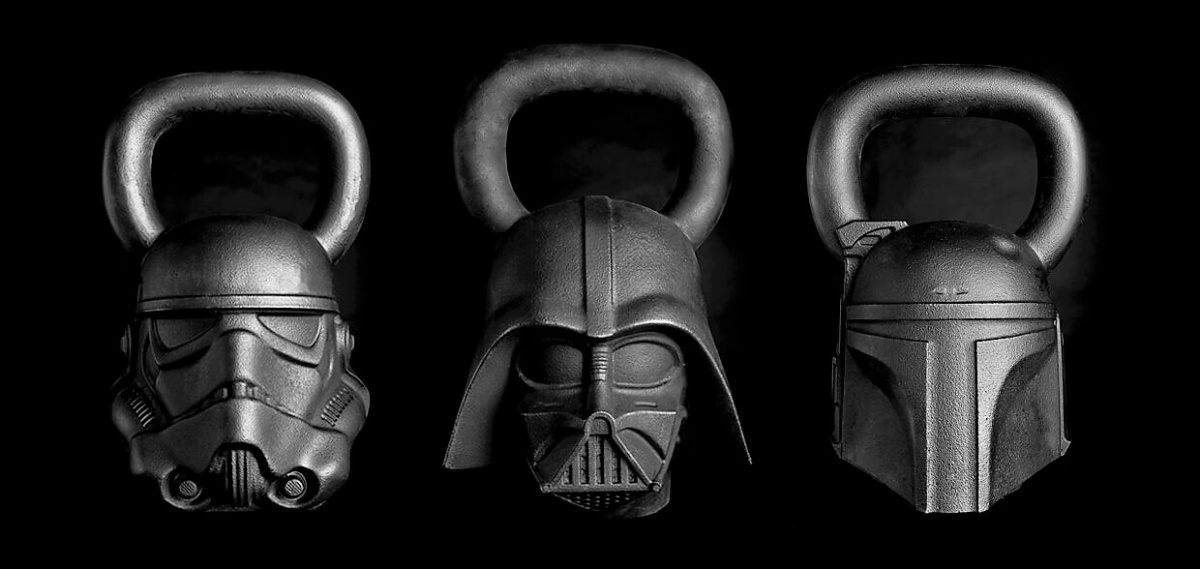 Another offering from Onnit, for Star Wars fans. Stormtrooper, Darth Vader, and Boba Fett. They must have partnered with Disney, who owns Star Wars, to make these, and they are made with some nice attention to detail.
Like the Primal Kettlebells, the back side on these is smooth enough for comfort.
Available in 50lb, 60lb and 70lb only.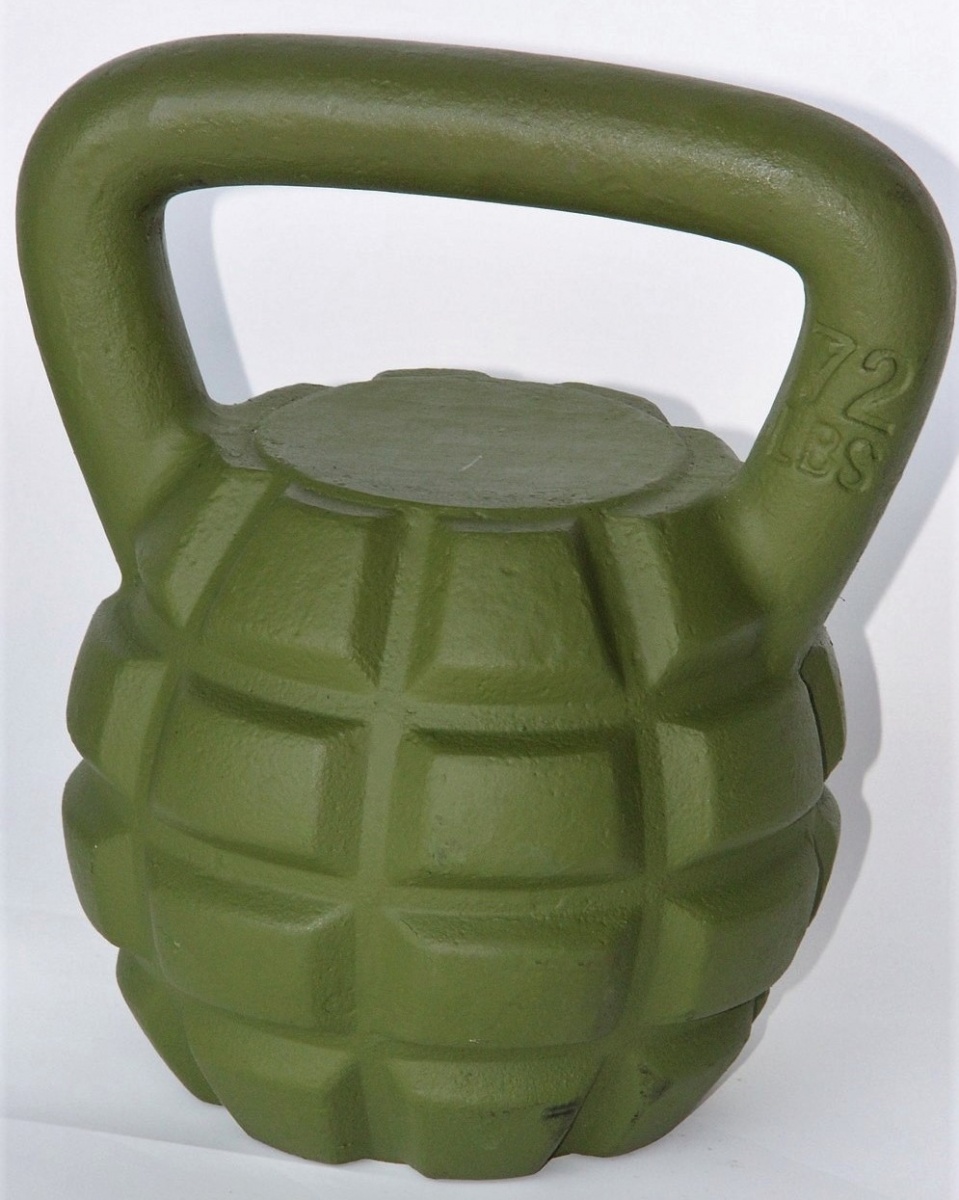 The owner is a Navy veteran where he served as an Explosive Ordinance Disposal Tech. Naturally he makes kettlebells shaped like grenades.
This video gives a much better look at them. The website of the manufacturer, MadFitter, does not do them justice, due to bad pics (every pic makes it look like a different color of green!) and a hard to read font.
As described in the video, the handle is quite angular, with tons of room for two hands, and is not as thick as some others, meaning it's probably 1.25″ or less.
The bumpy grenade design isn't that comfortable against your forearm. It's best for doing swings with.
They're all pre-order at the moment.
Available in 8kg – 32kg.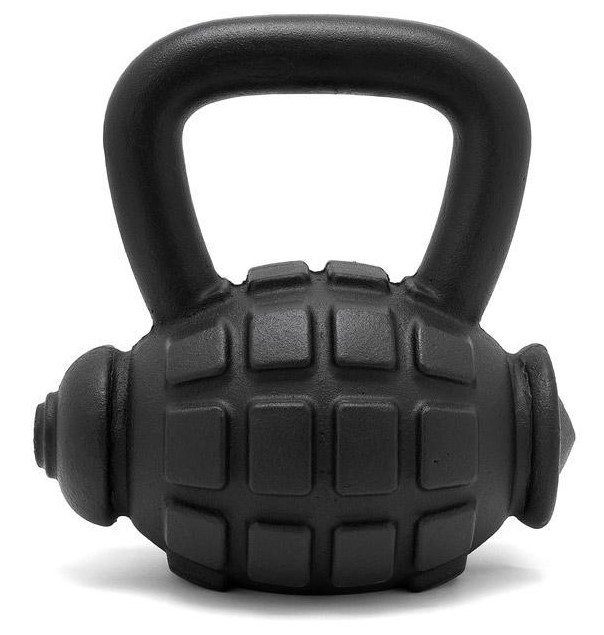 Same idea as the BoomBell, this one from FringeSport. I don't know who came up with it first? I assume MadFitter did. I like Fringe's version better. They have a more consistent finish and a weight accuracy guarantee. Without that guarantee, cast iron products can be off-weight by around 5%. The consistent finish ensures that the handle glides smoothly in your hand without any rough or uneven spots to bother you.
Like the BoomBells, the bumpy grenade design goes all around and is not so comfortable against your forearm with heavier weights compared to the Onnit kettlebells or regular smooth-faced ones.
This grenade kettlebell appears to be an experiment by Fringe. The only size available is 28kg (62lb), and it's out of stock as of writing. They would remove it from the site if it were discontinued, so check their site again soon or subscribe to the stock notification.
The Hell's Bells are another one from FringeSport, a line of 5 demonic faces that represent embodiments of 5 of the 7 deadly sins for you to do battle with every workout: Lucifer (pride), Satan (wrath), Abaddon (sloth), Mammon (greed), and Belphegor (gluttony). They gave a questionable explanation of why the remaining sins of envy and lust are not included… I'm thinking it's because they wanted to limit it to 5 bells in an 8kg to 24kg range in case they didn't sell well. Maybe send them a note and ask them to design the remaining two!
These are made with a process that maintains nearly as good a level of detail as Onnit's kettlebells, as you can see from the pics.
Iron Skull Fitness was the first company to make unique hand-forged kettlebells, in 2011. All the others saw the appeal and copied the idea. That's why other brands use a similar skull or demon theme.
I don't think anyone has surpassed them in the level of quality of skull-themed kettlebells! In particular they do a great painting job that nobody else has matched. They must have an artist doing the painting by hand?
These are hand-made by a Ukranian who does traditional blacksmithing and sold exclusively on his Etsy store Forged Commodities. He does tons of other forged items too. No question that he's a legit highly-skilled blacksmith.
Functionally speaking, the design on some of them incorporates a very long handle that is not ideal. You need to be able to rest the body of it on your forearm, and the handle makes it too long to do that well. A couple of them look a lot better in this respect, with more traditionally sized handles, so maybe he's gradually moving to that?
The sizes range from 9kg to 26.4kg. Most are not calibrated to any typical weights in pounds or kilograms. He designs and makes them, then he weighs them almost as an afterthought.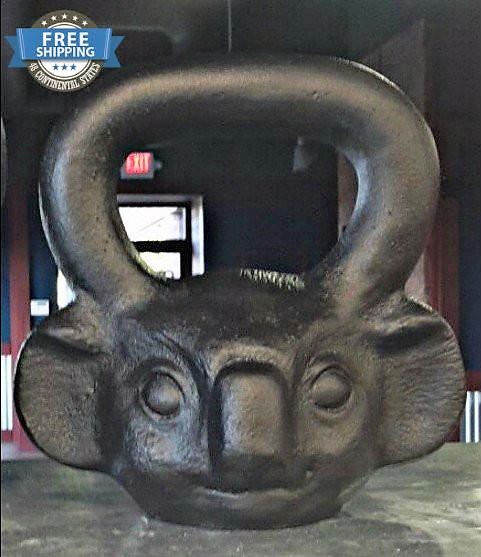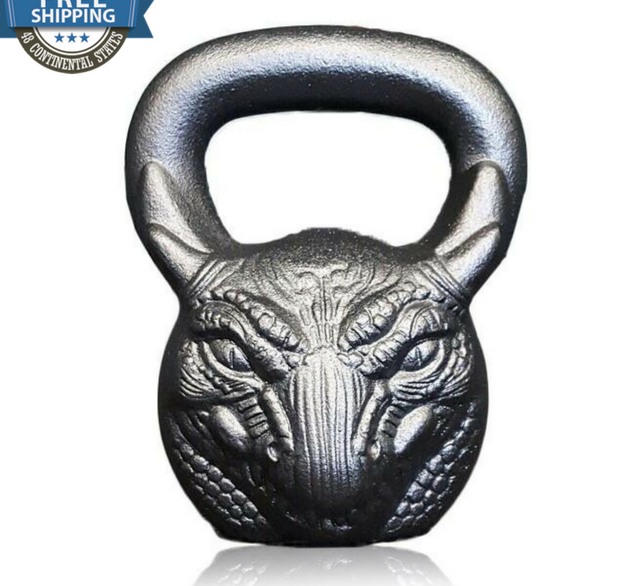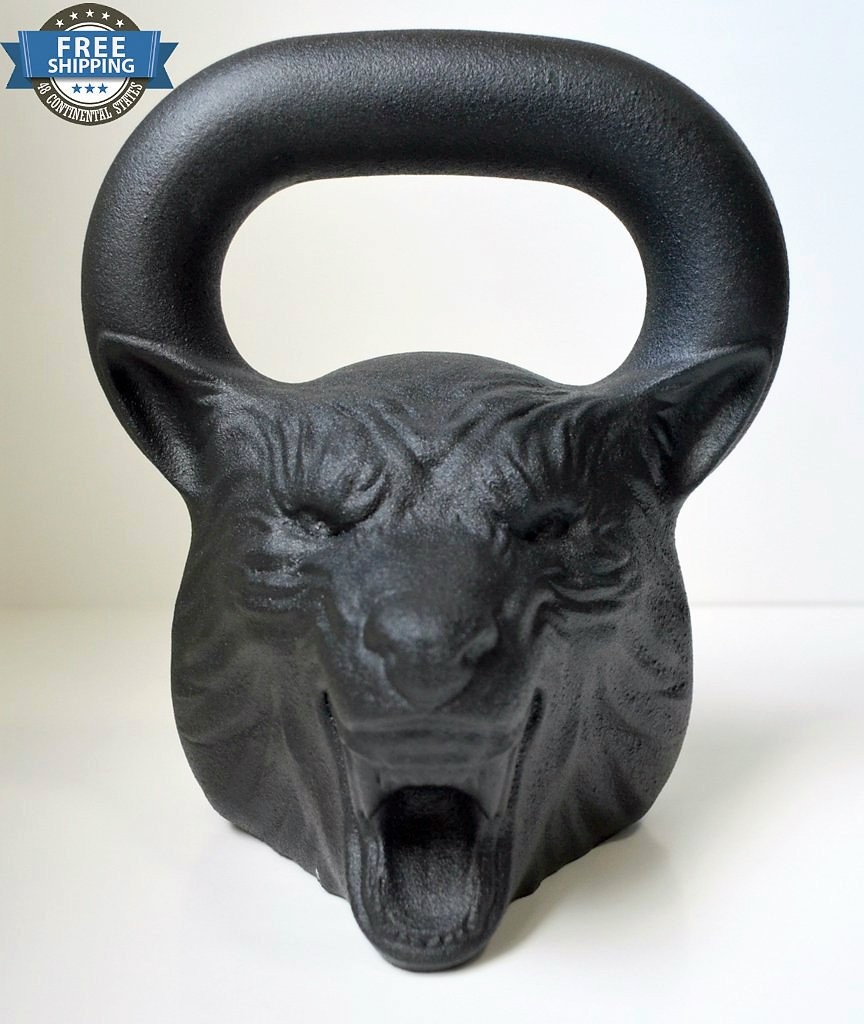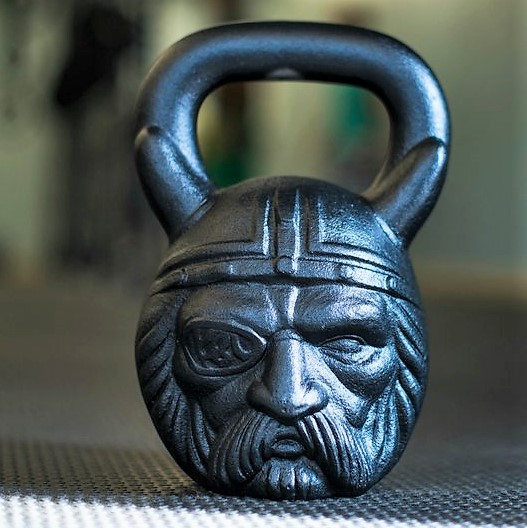 Made in the USA by ZooBells. A bear, lion, dragon, wolf and panther. Mixed in among the animals is Odin. Honestly these don't look as artistically stunning to me as some other brands. I like the Odin one the best. What do you think?
These are made and sold by a former Crossfit competitor, so he's done thousands of reps with kettlebells and knows what a good kettlebell should feel like. Each kettlebell is poured by hand into the cast. The feedback indicates that the handle feels good, which is the most important factor for functionality.
The main issue is they don't mark the weight on them. You have to remember. Or put them on a scale.
Available from 8kg (18lb) to 34kg (75lb).