What Goes into a Weight Set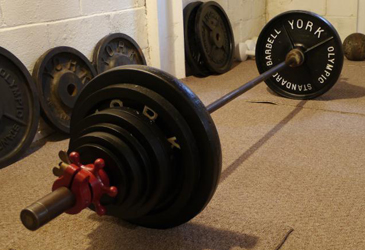 A sample set might look like:
We recommend you get two of each size weight plate, and if you need more, keep adding 45lb plates. The exception is the 5lb plates. Start with 4 of those. This is because of the large jump between 10lb and 25lb, creating a weight gap at some point that you won't be able to fill without some extra 5lb weights.
You can also build a smaller set by simply excluding the 35lb plates. The 35lb plates aren't necessary to be able to be able to use combinations of plates to hit all weights up to 300 lbs, and it's easier to not have to confuse the 35lb and 45lb plates at a glance since they're similar sizes. A set without the 35lb plates might look like:
Bar
If you're just getting into lifting, the economy bar may be fine. It's included in most of our 300lb weight sets.
If you want something stronger and nicer to use, see here for a few bar recommendations.
Collars
Our basic spring clip collars are included with most 300lb weight sets. They work.
The Muscle Clamp collars are hands-down the easiest to use. They're a good choice if you find using collars at all a chore and don't want to waste time.
If you're doing deadlifts, get the basic Lock Jaw collars. They are stronger than the above and will help keep your plates from sliding after each rep.
If you're doing cleans or snatches, get the Lock Jaw Pro collars. The plates will only slide a little bit after several drops, making these collars good for high-rep work.
For the ultimate hold, get the Lock Jaw Elite collars. They are just a few bucks more, and while they do take more effort to tighten, they won't allow hardly any movement.