Give our blog a new name and win some nice stuff!
The name "Adamant Barbell Blog" has served us well, but this blog needs its own name and new website instead of being only an offshoot of our store site at www.adamantbarbell.com.
---
PRIZES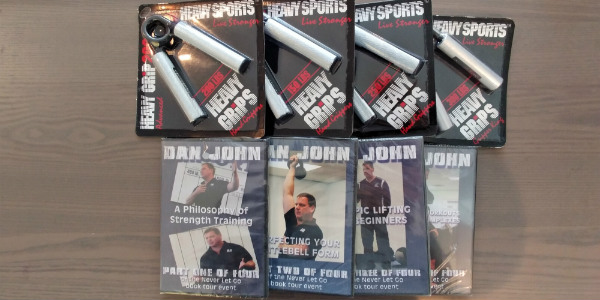 The winner who submits the name we like the best will receive all of the following:
4 Heavy Grips grippers – $40 value
+ 4 DVDs by Strength Coach Dan John – $129.80 value
A Philosophy of Strength Training – 2 DVD set, 2 hrs 18 mins
Perfecting Your Kettlebell Form – 75-min DVD
Olympic Lifting for Beginners – 75-min DVD
Warm Ups, Workouts and Barbell Complexes – 90-min DVD
+ A $30.00 Gift Certificate for anything at adamantbarbell.com
Total Value of Prizes: $199.80
Whether or not we go with the name someone suggested, we will award a winner, guaranteed!
---
MORE ABOUT US, TO HELP YOU CREATE A NAME
For now, our store Adamant Barbell won't change its name. We need a new name for our blog only. It has grown way beyond just supplying info for our store shoppers. It stands on its own now with a lot of great content.
We write about gym equipment mainly for normal folks setting up a gym in their home or garage. Benjamin's gym we featured in March is a perfect example of what our readers can do. His gym is a combination of equipment for Crossfit and strength training, which is pretty common nowadays. Other people are more into bodybuilding or cardio and will have equipment to reflect that.
Our articles are also read by personal trainers getting equipment for their own studios, and Crossfit affiliates equipping their new boxes.
Contributors include David (the owner), who has been in the fitness industry for 10 years, and athletes who have spent years in the competition scene or working out privately in their own garages.
Topics of our articles include different types of barbells, dumbbells, power racks, benches, and the occasional article about conditioning equipment, suspension training, or any accessories like knee wraps or grippers. We compare different models to suggest the best one for your situation and feature some hands-on reviews where a writer personally evaluates a product in-depth and shares his insights.
Suggest up to 5 new blog names for us in your entry form. 
Due to the limitations of our software, once you submit one entry you won't be able to submit again. If you come up with better names, contact us and we will delete your previous entry so you can resubmit.
---
CONTEST TERMS AND CONDITIONS
NO PURCHASE OR PAYMENT REQUIRED TO ENTER OR WIN. A PURCHASE OR PAYMENT OF ANY KIND WILL NOT INCREASE YOUR CHANCES OF WINNING.
The Contest is sponsored by Adamant Barbell
The Contest begins on April 1, 2018 and ends on April 15, 2018.
We are offering a prize to one individual who submits a valid entry. 
You must be an individual legal resident of the 48 Continental United States and older than 18 years of age or the legal age of majority in your state of residence.
You must have a shipping address in the 48 Continental United States.
Employees of Adamant Barbell or any of its respective affiliates, subsidiaries, advertising agencies, or any other company or individual involved with the design, production execution or distribution of the Contest and their immediate family and household members of each such employee are not eligible. Participation constitutes entrant's full and unconditional agreement to these Official Rules and Sponsor's decisions, which are final and binding in all matters related to the Contest. Winning a prize is contingent upon fulfilling all requirements set forth herein.
Limit one entry per person. If you wish to enter again to submit new suggestions, contact us and we will delete your previous entry first.
Odds of winning depend on the number and subjective quality of eligible entries received.
Adamant Barbell will select the best blog name submitted as the winner. Whether or not a submitted name is adopted, there will be a winner.
The potential winner will be notified within 5 days of the end of the contest, and once notified, will have 48 hours to claim the prize. If the prize is unclaimed, another winner will be selected.
Verification of Potential Winners: The potential winner must continue to comply with all terms and conditions of these Official Rules and winning is contingent upon fulfilling all requirements. The potential winner will be notified by email after the date of selection. If a potential winner of the prize is disqualified for any reason, Adamant Barbell will award the applicable prize to an alternate winner from among all remaining eligible entries.
Publicity: Except where prohibited, participation in the Contest constitutes winner's consent to use winner's name, city and state for promotional purposes in any media, worldwide, without further payment or consideration.
Limitations of Liability: Adamant Barbell are not responsible for: (a) any incorrect or inaccurate information, whether caused by entrants, printing errors or by any of the equipment or programming associated with or utilized in the Contest; (b) technical failures of any kind, including, but not limited to malfunctions, interruptions, or disconnections in phone lines or network hardware or software; (c) unauthorized human intervention in any part of the entry process or the Contest; (d) technical or human error which may occur in the administration of the Contest or the processing of entries; or (e) any injury or damage to persons or property which may be caused, directly or indirectly, in whole or in part, from entrant's participation in the Contest or receipt or use or misuse of any prize. If for any reason an entrant's entry is confirmed to have been erroneously deleted, lost, or otherwise destroyed or corrupted, entrant's sole remedy is another entry in the Contest play, provided that if it is not possible to award another entry due to discontinuance of the Contest, or any part of it, for any reason, Sponsor, at its discretion, may elect to hold a random drawing from among all eligible entries received up to the date of discontinuance for any or all of the prize offered herein. No more than the stated number of prizes will be awarded. In event that production, technical, seeding, programming or any other reasons cause more than stated number of prizes as set forth in these Official Rules to be available and/or claimed, Sponsor reserves the right to award only the stated number of prizes to a winner selected among all eligible entries.
We reserve the right to modify or cancel this promotion at any time.
---
THE CONTEST HAS ENDED.
4/21/17 – We have a winner! Congratulations to Steve Vogel of Frenchtown, NJ!