Adamant Barbell has a complete selection of olympic weight sets for sale.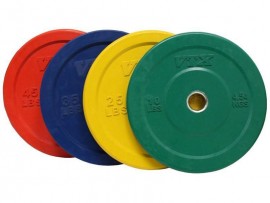 Bumper plates are pretty much necessary for actual olympic exercises like the snatch or clean. They are solid rubber with a brass or steel insert in the hole. The rubber ensures a long equipment life, a non-deafening noise when you drop the loaded bar, and protecting your floor from damage, assuming it's concrete or something similarly strong. Bumper plate sets might not include a bar, so check the product description and pick out a nice strong bar that will withstand the shock of being dropped.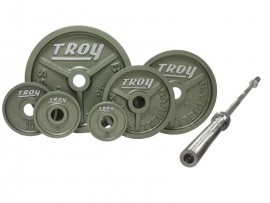 Among all the olympic weight sets for sale here, most people go for the 300lb sets. These sets include a pair of weight plates of every size 45lb and lower, plus two extra 5lb plates, and a bar with collars. The actual weight of the plates is 255 lbs, and the bar is 45 lbs. These 300 lb sets don't include the expectation that you'll actually be pressing 300 lbs. The issue is you need a good selection of weight plate sizes in order to quickly load the bar with the ones you need. The time spent loading and unloading a bunch of 10lb plates really adds up, and you'll be glad you opted for the 300lb set.
But we also have 500lb sets for sale, and if you don't find just the right size set for you, make your own with the complete selection of weight plates and bars we have. If you're confused about anything at all, we're standing by to help.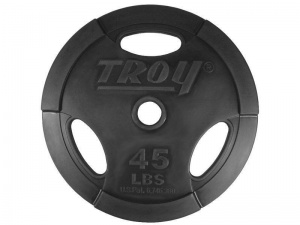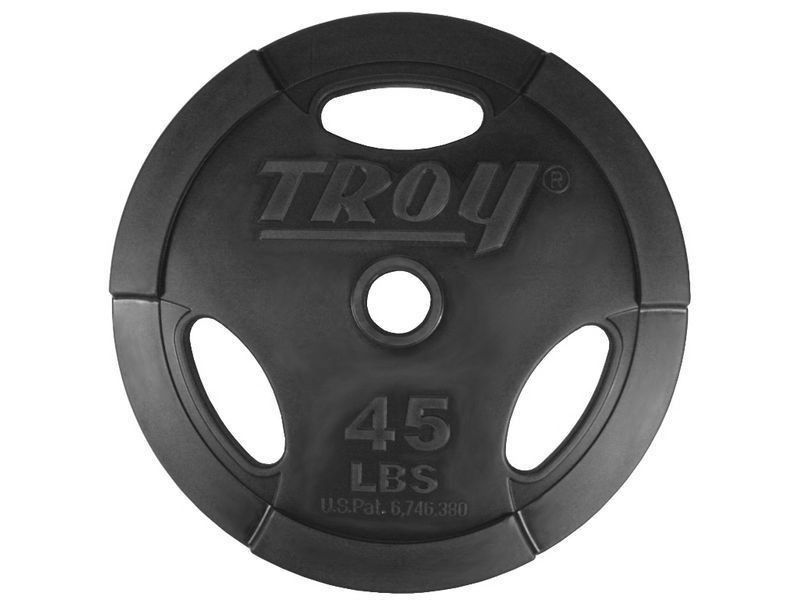 The most top of the line olympic weight sets for sale is the Urethane encased set. Urethane is an insanely durable material that will outlast rubber through exposure to extreme temperatures. You have to pretty much take a knife to urethane to damage it. Nothing else will. These plates also have grip holes to make handling easy and safe. Dropping a 45lb plate on your toe will ruin your month for sure.
You don't have to get the urethane sets to take advantage of the grip hole option. We also have regular cast iron weight sets with grip holes in the plates. They are still excellent quality, with high attention paid to weight accuracy, and they have been one of our top sellers over the years among all the olympic weight sets for sale.