Intro: Why This Gym?
Not long ago, I found a photo of a stunning looking but mystery gym. Tony recognized it as the gym of 'AttyGuy', a longtime regular on the bodybuilding.com workout equipment forum.
I quickly realized that nobody has done this gym justice. The brand new commercial grade equipment is nestled in a museum of rare old York weights and collector's items. Pieces of info from AttyGuy were scattered around on several-years-old forum threads, and there was a small showcase of the gym on Legend Fitness's site. The full story of this gym needed to be told. I got in touch with AttyGuy to learn all about how he built this gym and the choices he made in selecting equipment.
American Made
AttyGuy wanted to make his new gym as good as any commercial gym that he would like going to. Just as important, he knew that he wanted all American made equipment. Cheap production in Asia and stricter US environmental regulations have forced most manufacturing of gym equipment to Asia.
This meant that plates would have to be either Ivanko or York. He couldn't afford Ivanko, being on military orders at the time. He bought a set of new York Legacy plates, picked them up at the facility in York, PA, and got a tour of their museum.
Those plates worked fine but somehow lacked the character he was looking for, and none of the plates York has in production are made in the US anymore, which was important to him.
So he did some research and learned how to flip used gym equipment, buying people's entire home gyms on Craigslist and other sites in order to keep the one piece he wanted for his gym and re-sell the other pieces, sometimes after cleaning them up to make them more valuable. This included weights, machines, everything, and many different brands.
Partly Modern
AttyGuy had a 400 sqft basement to turn into his dream gym. That's about the size of a 2 car garage. Lots of possibilities with a space that big!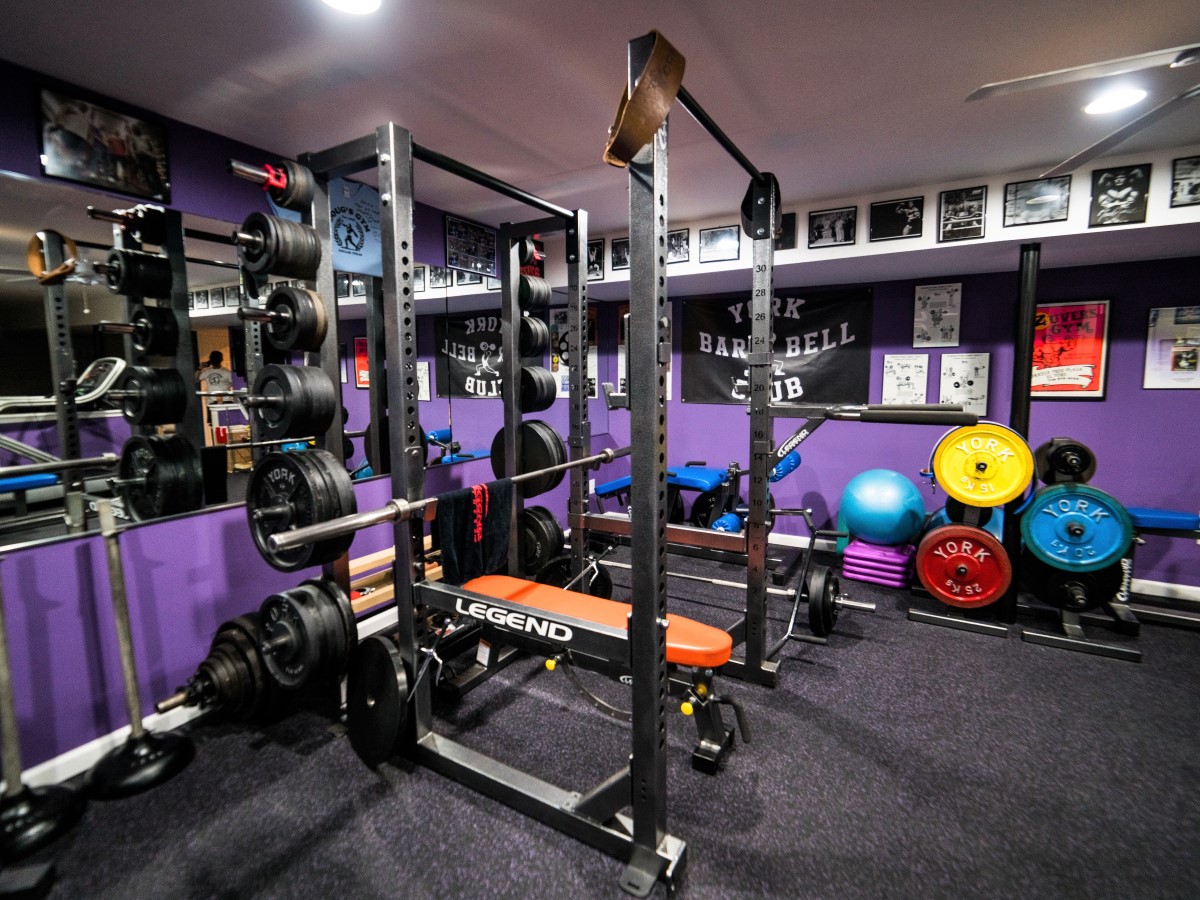 Weights are one thing, but for the larger equipment, the level of technology on modern equipment can't be compared to older stuff that was built when they were still figuring things out.
During the process of flipping equipment, AttyGuy got to know various brands and types of gym equipment really well. The vintage York weights he would keep. The rest – racks, benches, machines, etc. – he would keep for a while, work out with, replace, and gradually clear everything out for a profit to use towards eventually buying all brand new equipment.
He looked closely at Rogue and Sorinex and settled on Legend Fitness.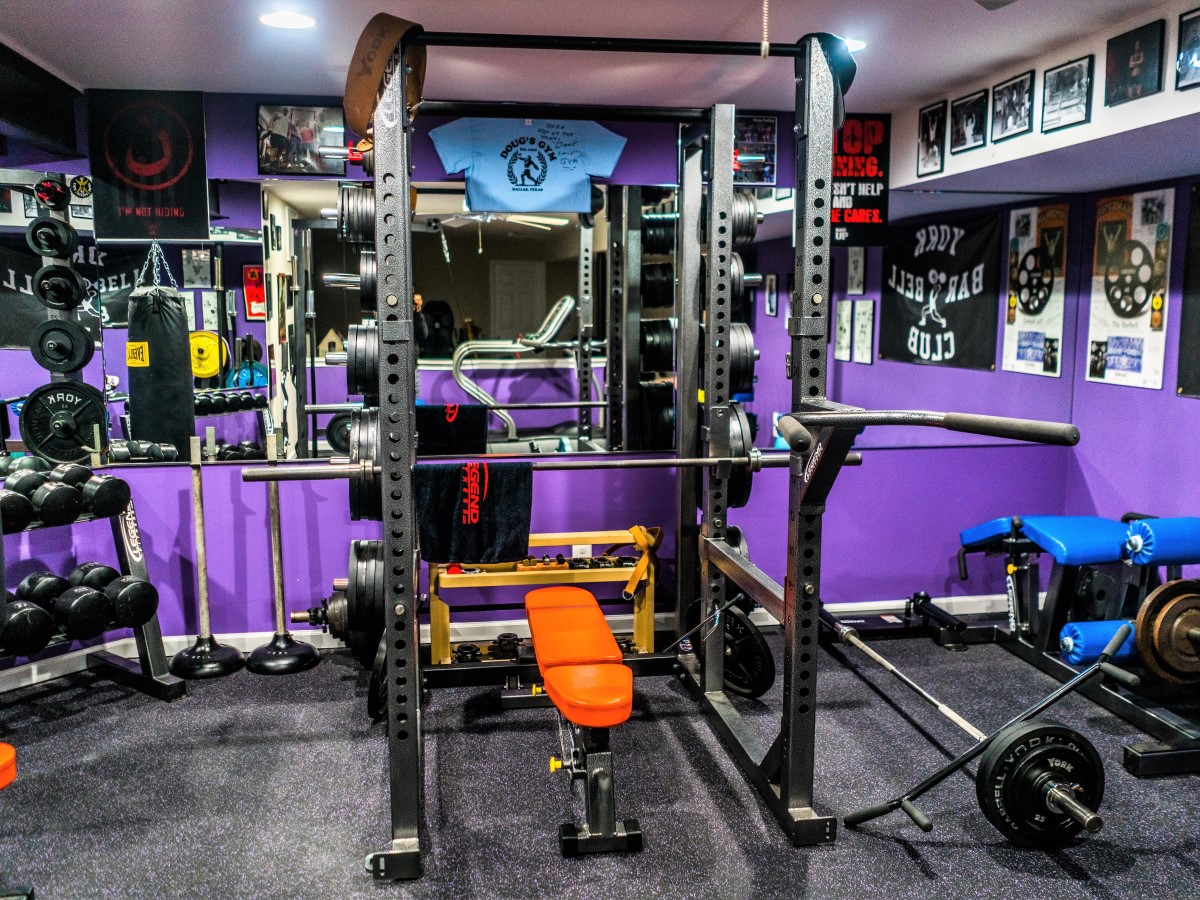 The center piece of his gym is this Legend Performance Series Power Station, along with the Beefy Spotter Arms and Beefy J-Hooks. He chose this model of open-top rack for a few reasons. First, Legend Fitness has a great reputation and has their own fabrication shop in the US, unlike most other manufacturers who get everything from China and can't oversee the quality of the construction. The open-top design lets him do standing overhead presses without restriction, and it's a design that makes it look different than everyone else's rack. The 6 plate storage pegs on each side are useful. It's heavy enough at 460 lbs that there's no need to bolt it down.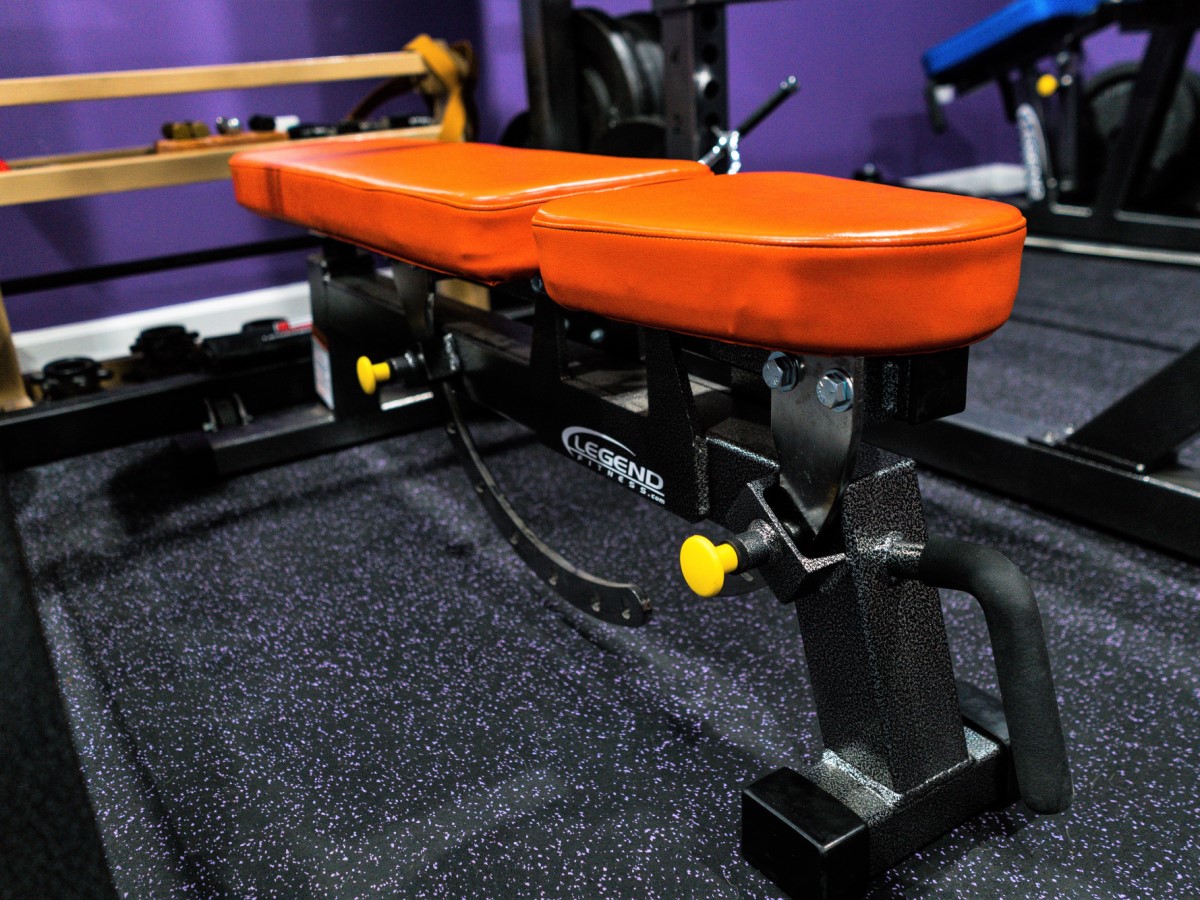 Attyguy reports that the Legend Three-Way Utility Bench feels very solid, no undue movement of anything at all, and the same for the other Legend pieces.
The color options was one reason he went with Legend for everything. Legend sent him a set of fabric samples so that there weren't any surprises with the orange color.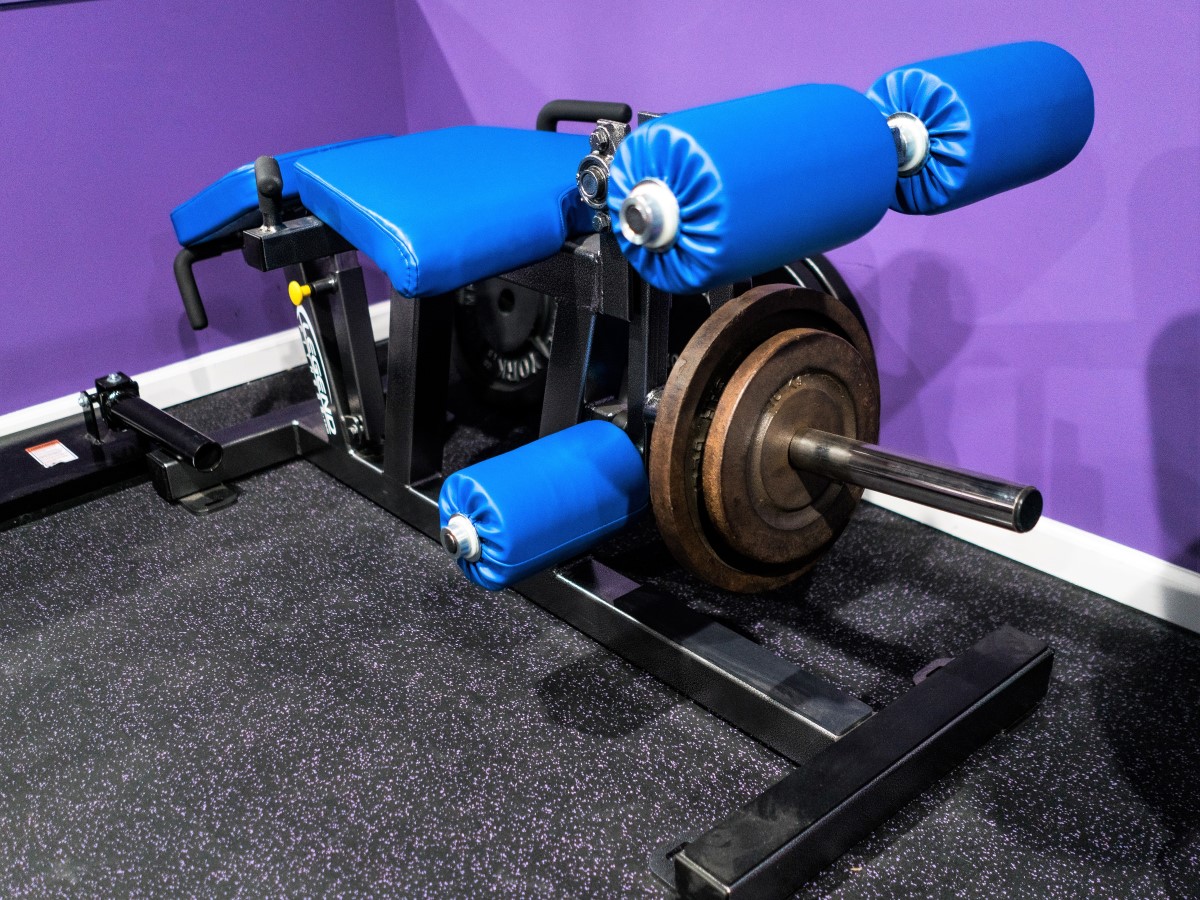 The 2,500 lbs of York plates he already had was enough to spread over the rack and any machines, so he went with plate-loaded machines like this Legend Leg Extension/Curl rather than getting machines with selectorized weight stacks.
On leverage leg machines like this the resistance is a lot less in certain areas of the range of motion, specifically when the lever arm is close to vertical, which is the bottom part of the movement on leg extensions. Still, the movement is very smooth and he likes this one better than a couple Body Solid leg machines he had in the past, which had too much play.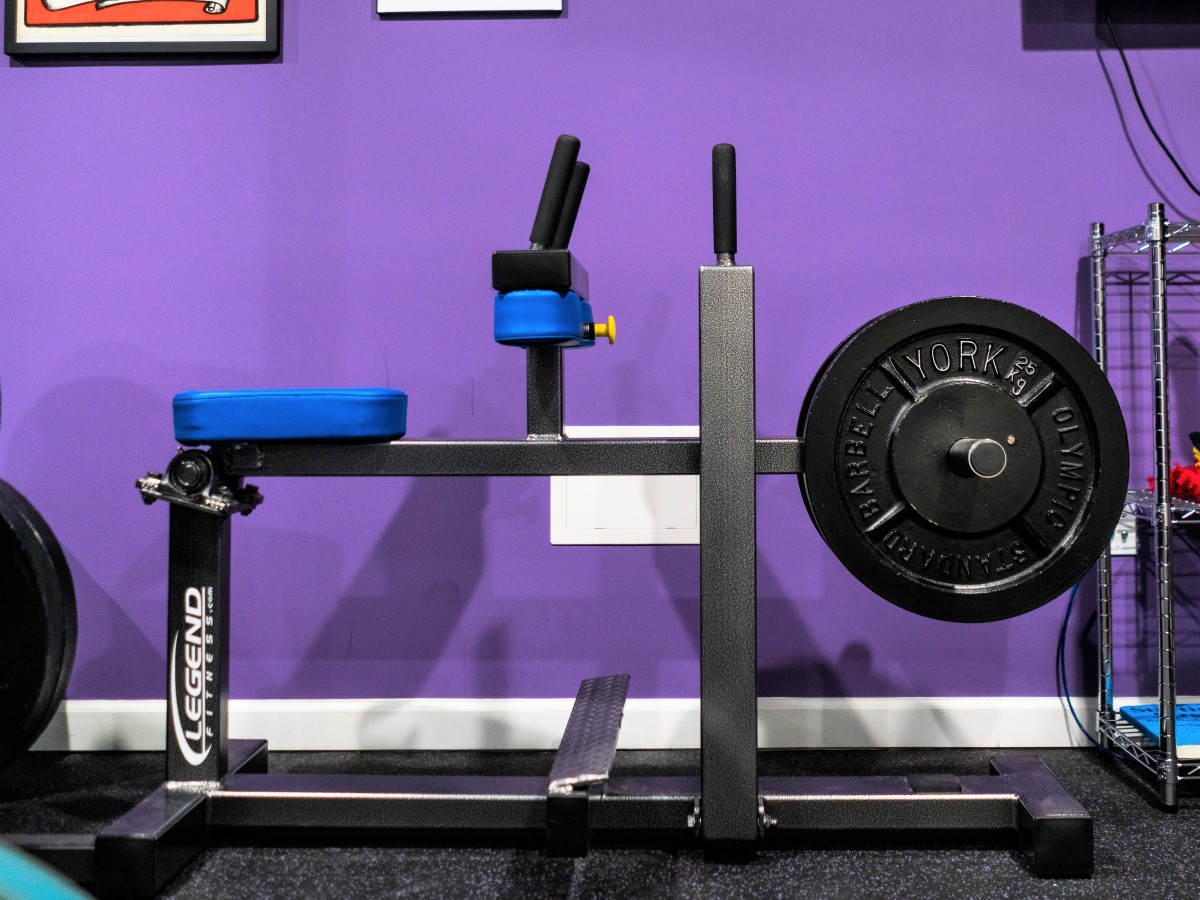 He made 3 orders of new Legend equipment over time, one or two pieces per order, until he had everything you see, in the process continuing to flip equipment sell off his remaining Body Solid equipment to fund it all.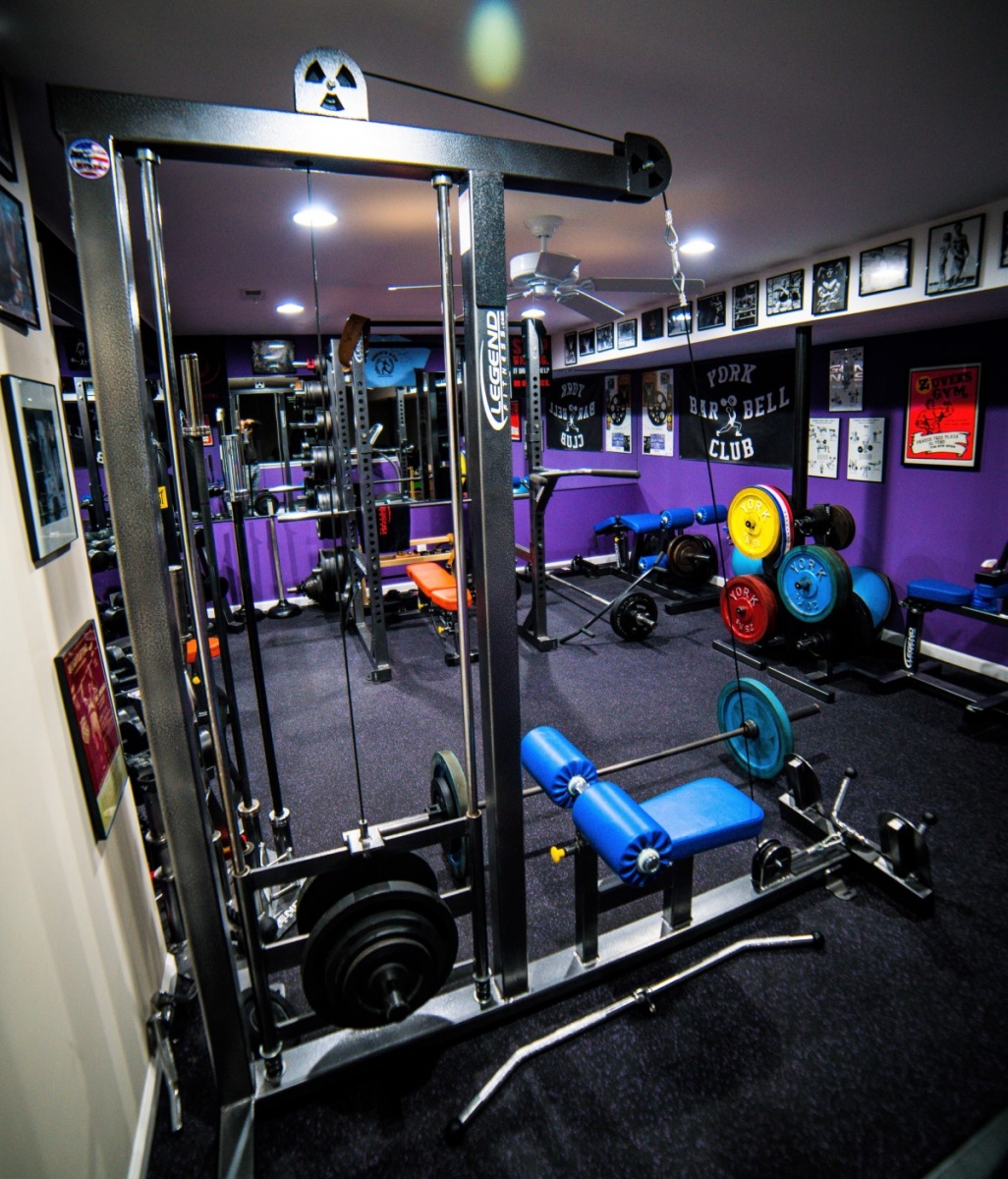 As far as the flooring, the whole area is covered with Regupol 3/8″ rubber flooring, which AttyGuy was able to pick up at Regupol's facility in York, PA (not too far from York Barbell!). If you need flooring, I talk about Regupol in the flooring guide.
Vintage York Weights Collection
Now on to the weights…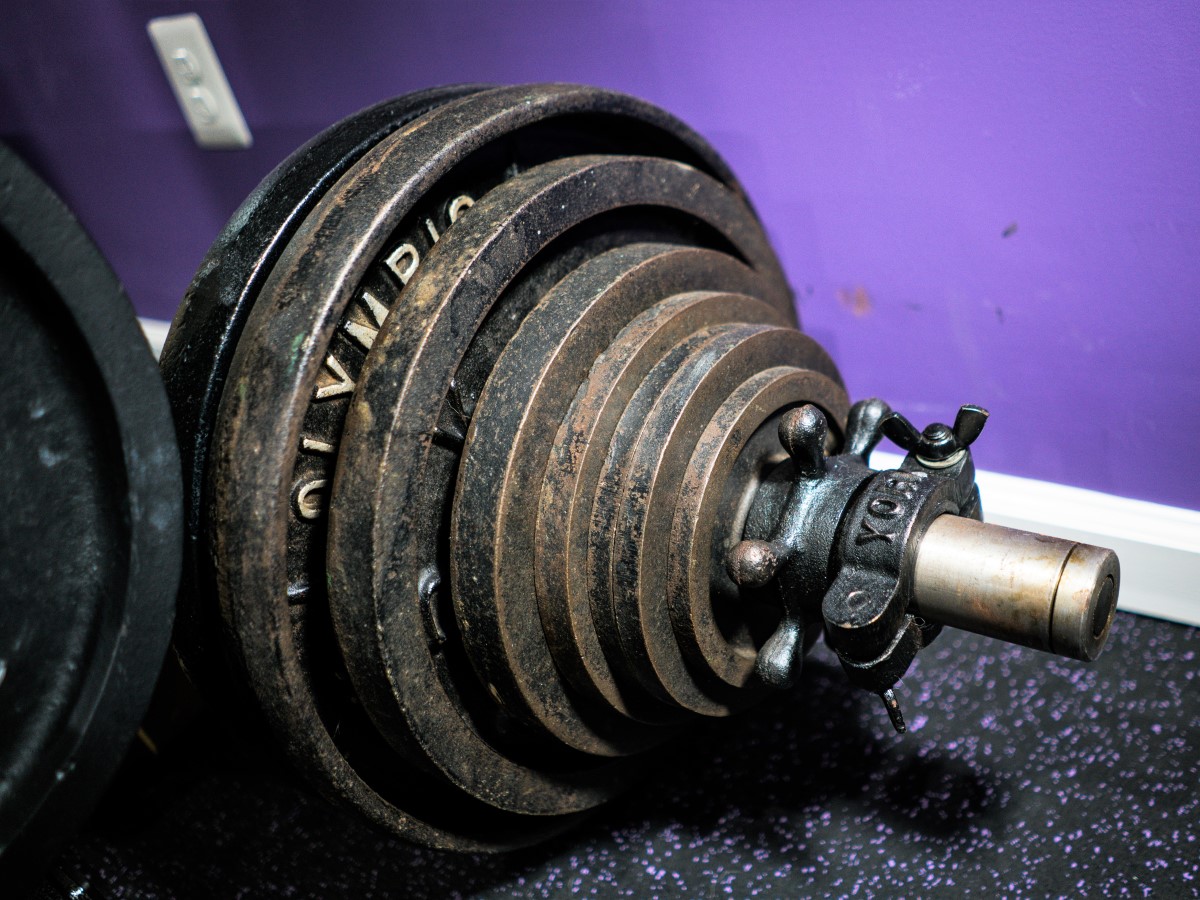 During the process of collecting and flipping equipment, AttyGuy learned about the history of York and the founder, Bob Hoffman, who was a bit of a shady character but also was responsible for keeping the U.S. Olympic Weightlifting Team going against the Soviets, quite the noble endeavor. Being an Army Reserve Officer, AttyGuy developed an appreciation for what they did for the country's place in the sport.
Bottom line, York was going to be a prominent feature in AttyGuy's gym.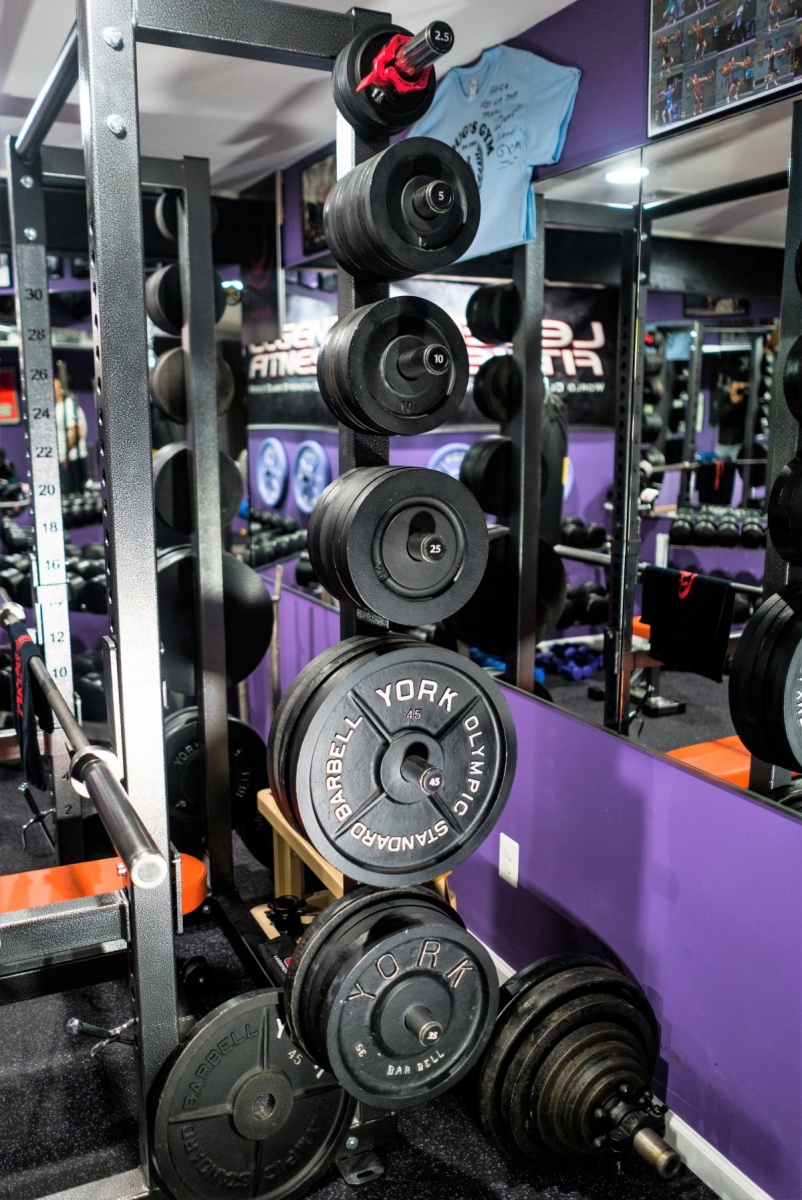 Some were in good enough shape to be restored only minimally and the original finish left on for that vintage look (the best choice, IMO!), while others needed to be completely cleaned and repainted.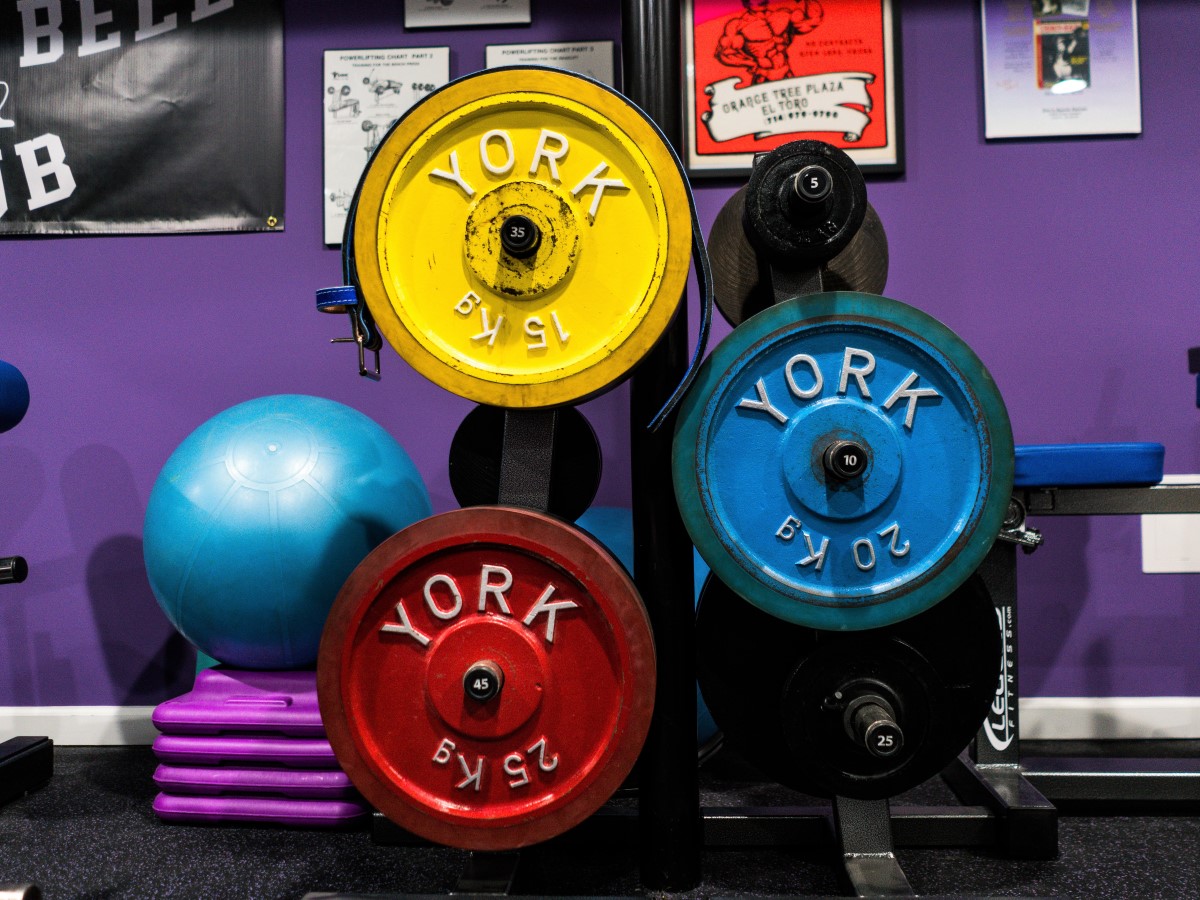 Even a set of vintage York steel powerlifting discs!
AttyGuy was partly motivated by becoming a steward of the old York equipment he was collecting for his gym and someday pass it on to others when he can't lift anymore. The history behind all of these old weights mean more to him than just having weights.
He found some really rare York stuff occasionally but didn't want to be spending exorbitant amounts of money. Focusing on the 1960s to 1990s York equipment worked out well.
Note that the weights shown here are just the ones he kept. All in all, he refurbished 10 or 15 thousand pounds of plates and dumbbells, reselling most of them. Doing a good paint job involves a lot of steps and considerations. He had it down pretty well for the ones he kept.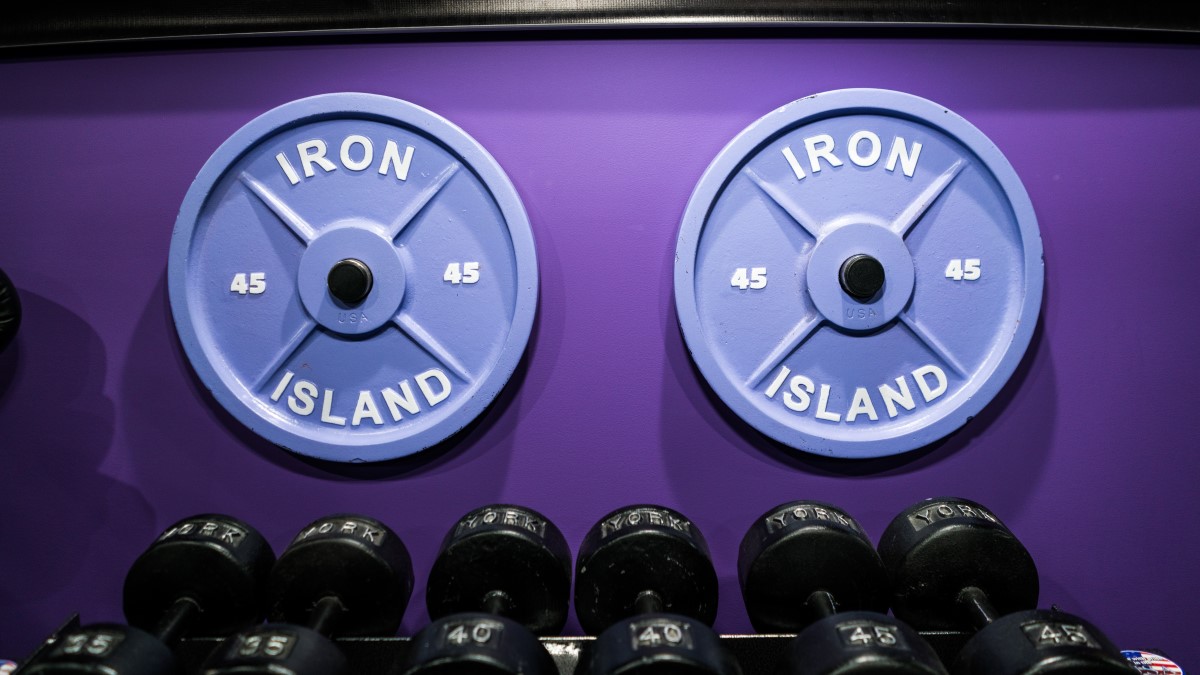 Iron Island was a gym in Long Island, NY in the 1990s that became famous as a powerlifting center, serving tons of national-level powerlifters and putting on large meets. York made a batch of 240 plates branded for the gym.
Ken Leistner aka "Dr. Ken", the founder of Iron Island, saw the above photo and contacted AttyGuy, stoked that he was so into the plates, and sent him an autographed photo of himself at Zuver's Gym in Costa Mesa, another legendary hotspot for powerlifting.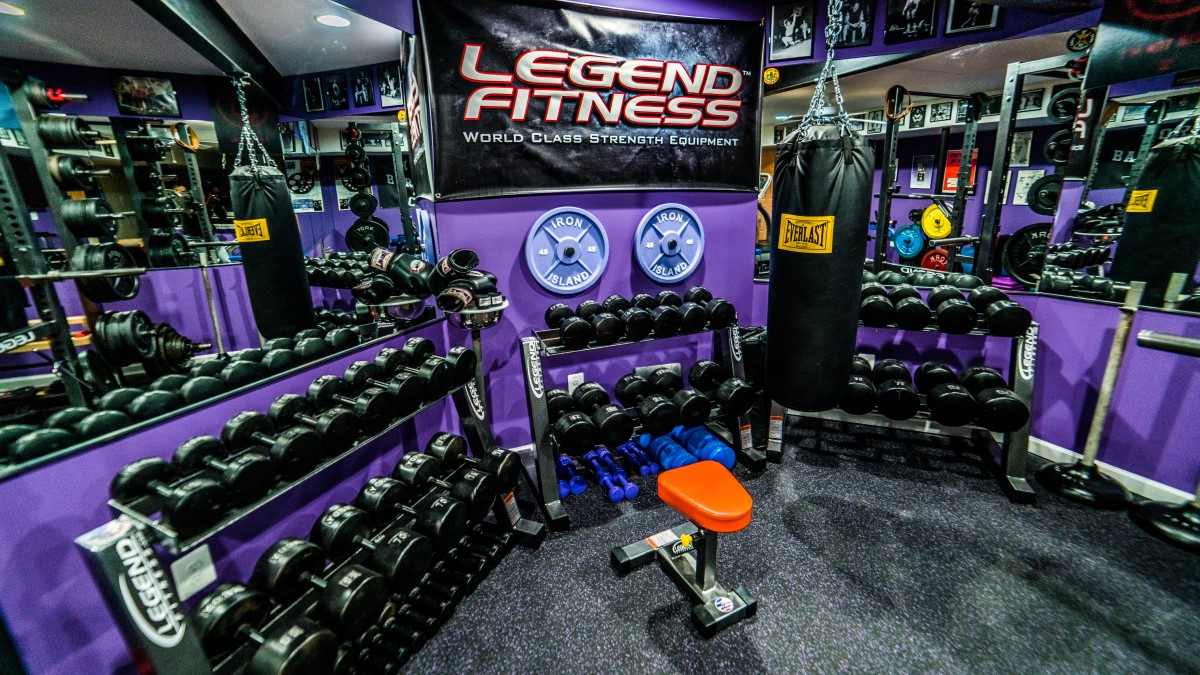 A full set of 10-100lb York roundhead dumbbells on Legend dumbbell racks, along with a Legend stool for seated dumbbell work.
He built the set of roundheads a little at a time. Nobody had very many. It's quite rare to see a complete set of them all in one place like this.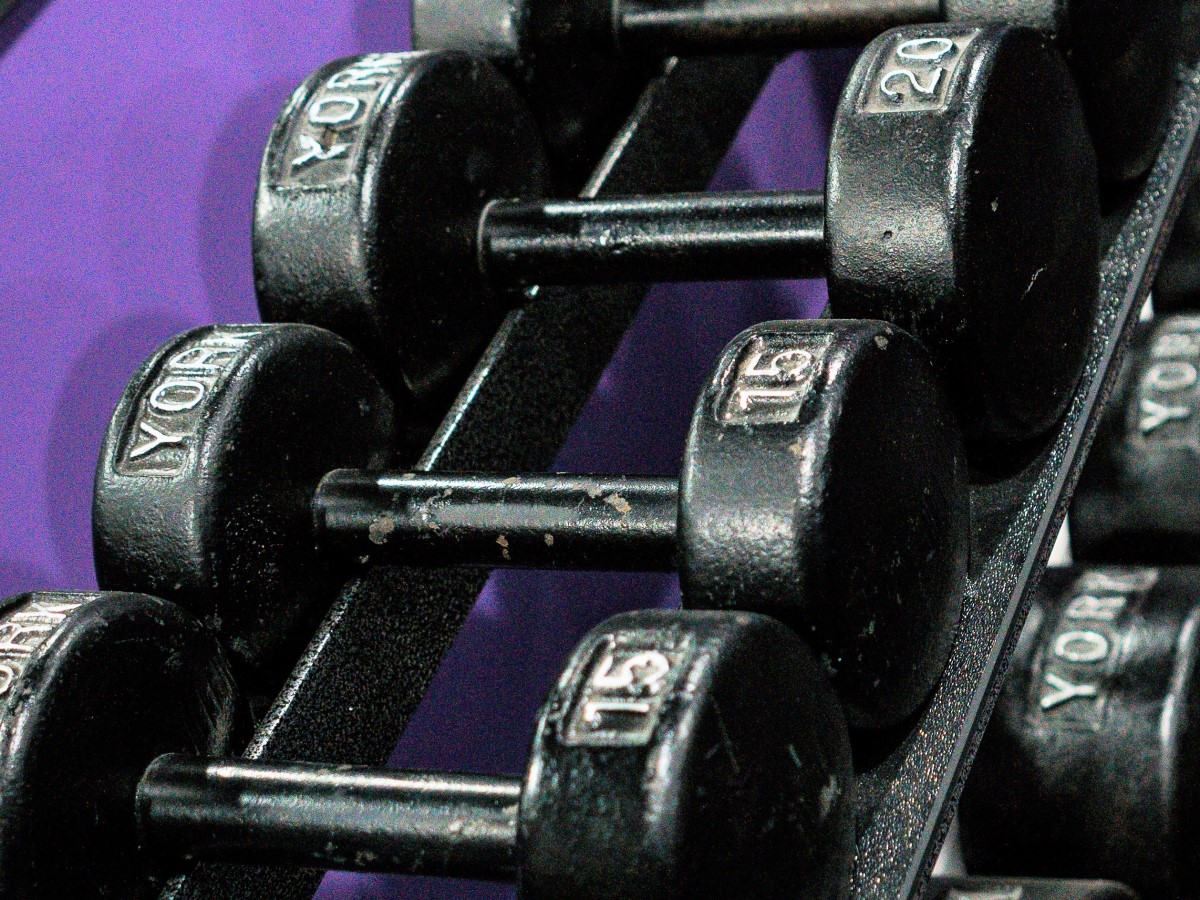 A closer look at the York dumbbells. Yep, they're gritty. That's part of the appeal.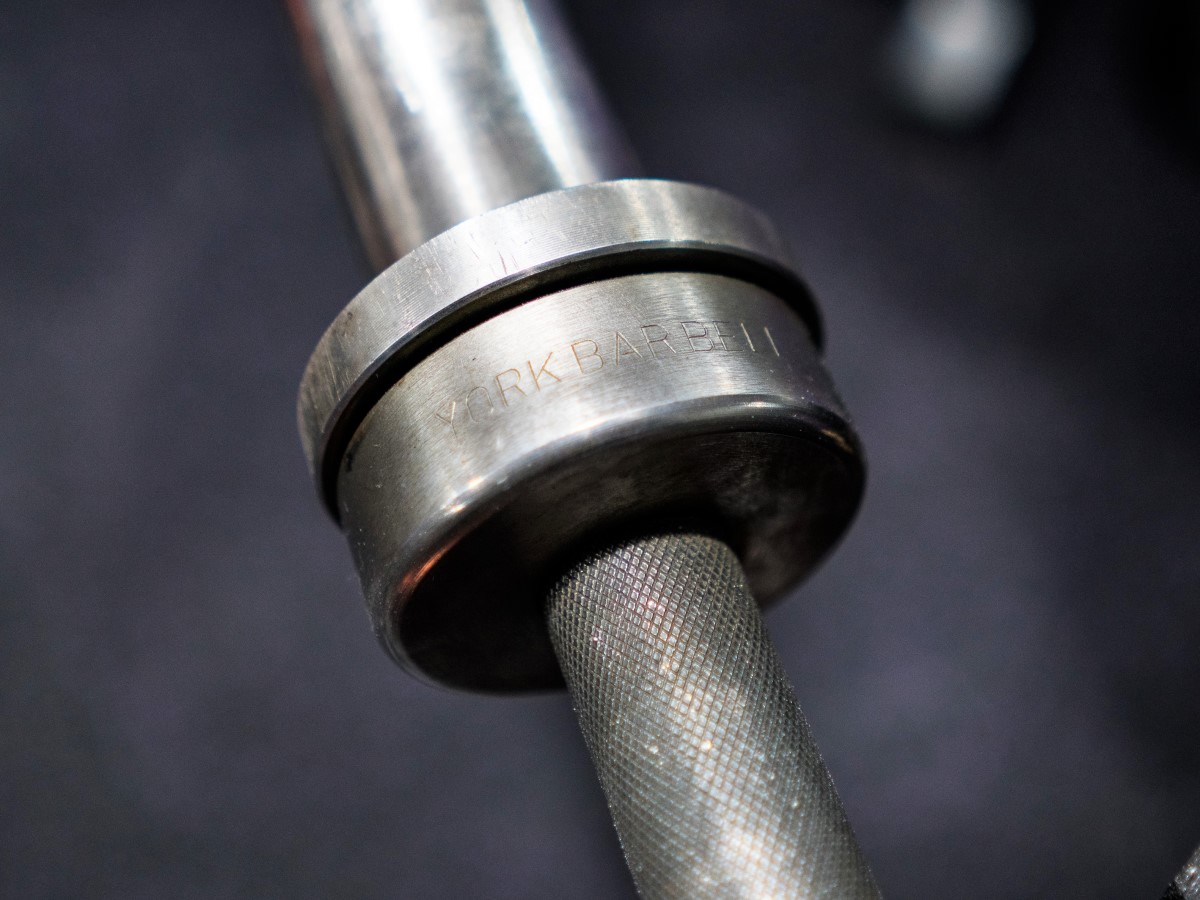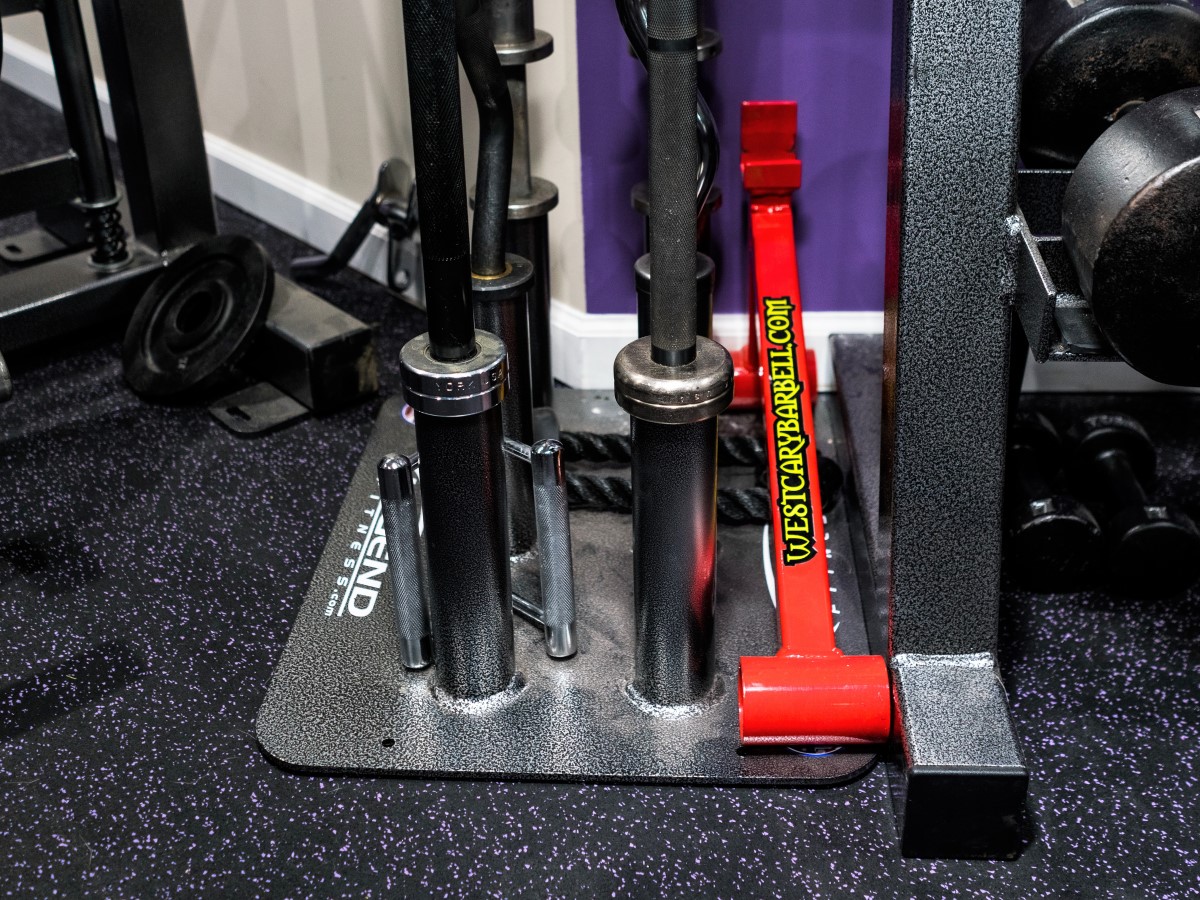 Legend Bar Holder holding York bars and an Ivanko curl bar, along with a deadlift jack from the defunct West Cary Barbell store. Rogue now makes a jack like it.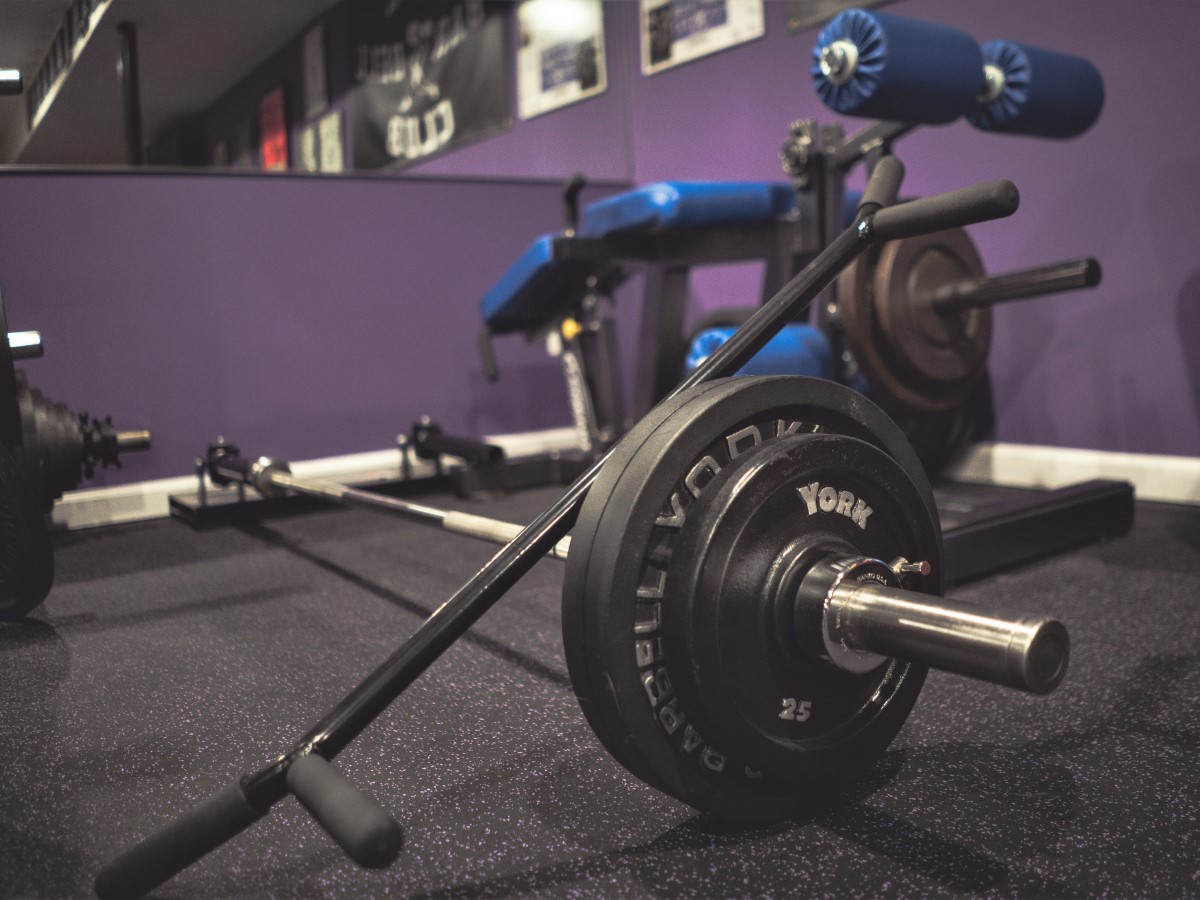 Legend's landmine, the Ground Based Grappler, which includes a landmine base and two handles, one of which is shown. Used with a York bar and York plates.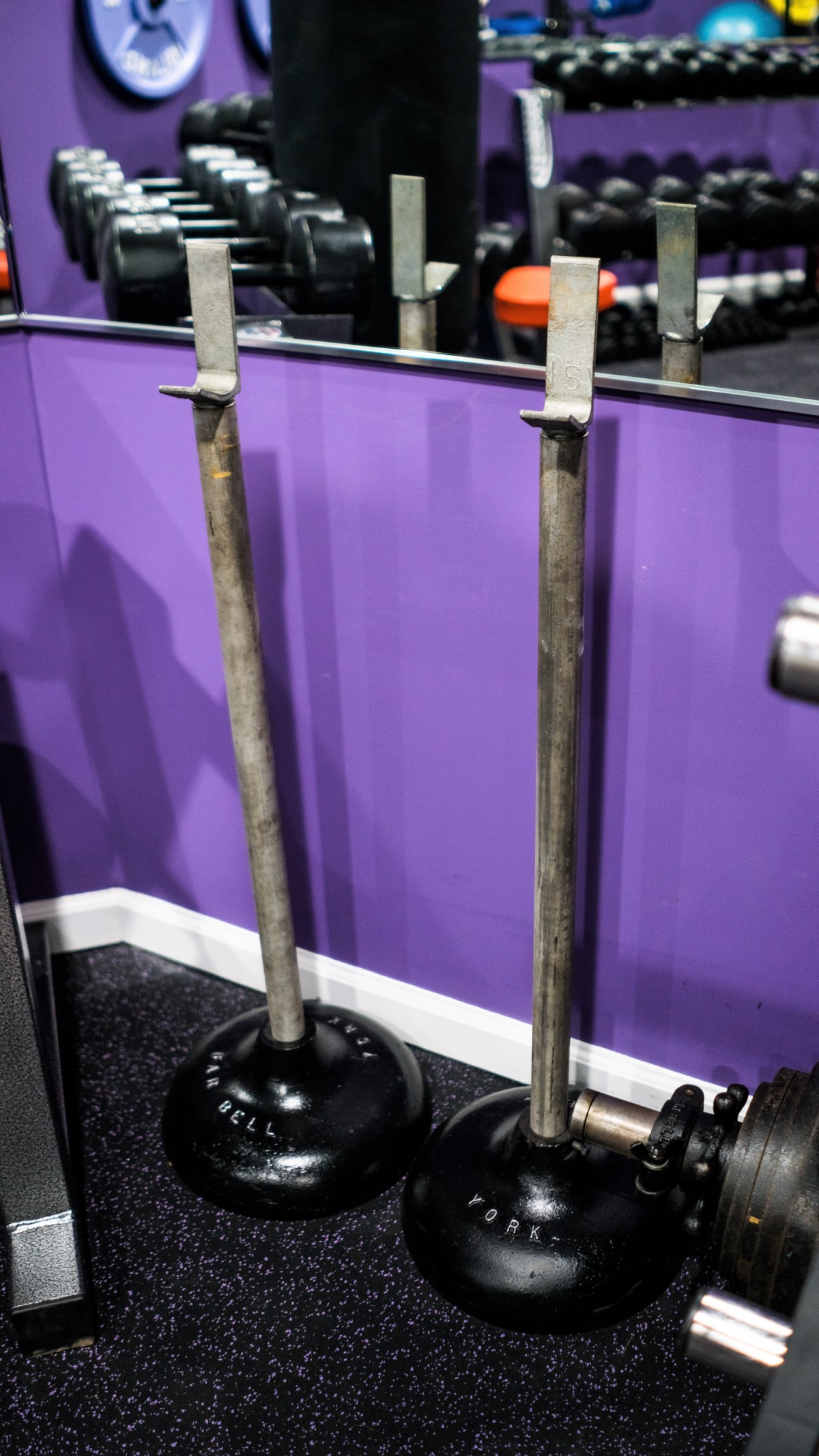 A pair of vintage York squat stands, purely for decoration at this point.
Speaking of decoration, let's take a closer look at what's on the walls…
The Art Collection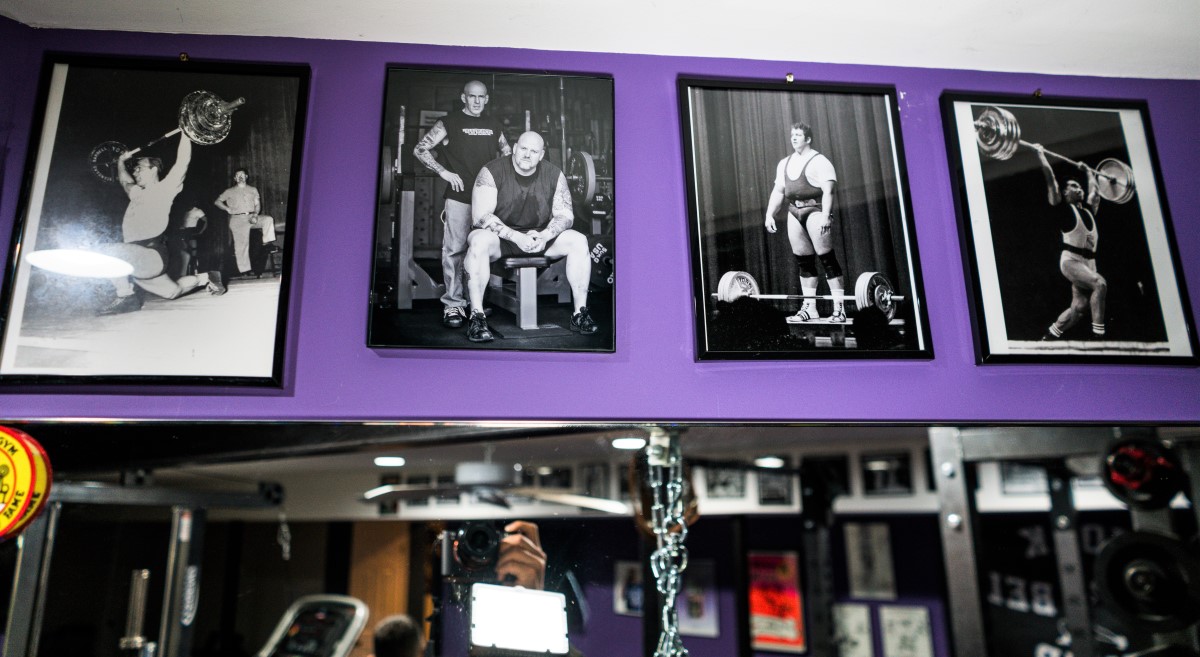 In appreciation of powerlifting and weightlifting history, AttyGuy has lined his walls with pieces of history featuring old posters and photos of legends like Tommy Kono, Norb Schemansky, Dave Draper, Franco Columbu, Frank Zane, and John Davis.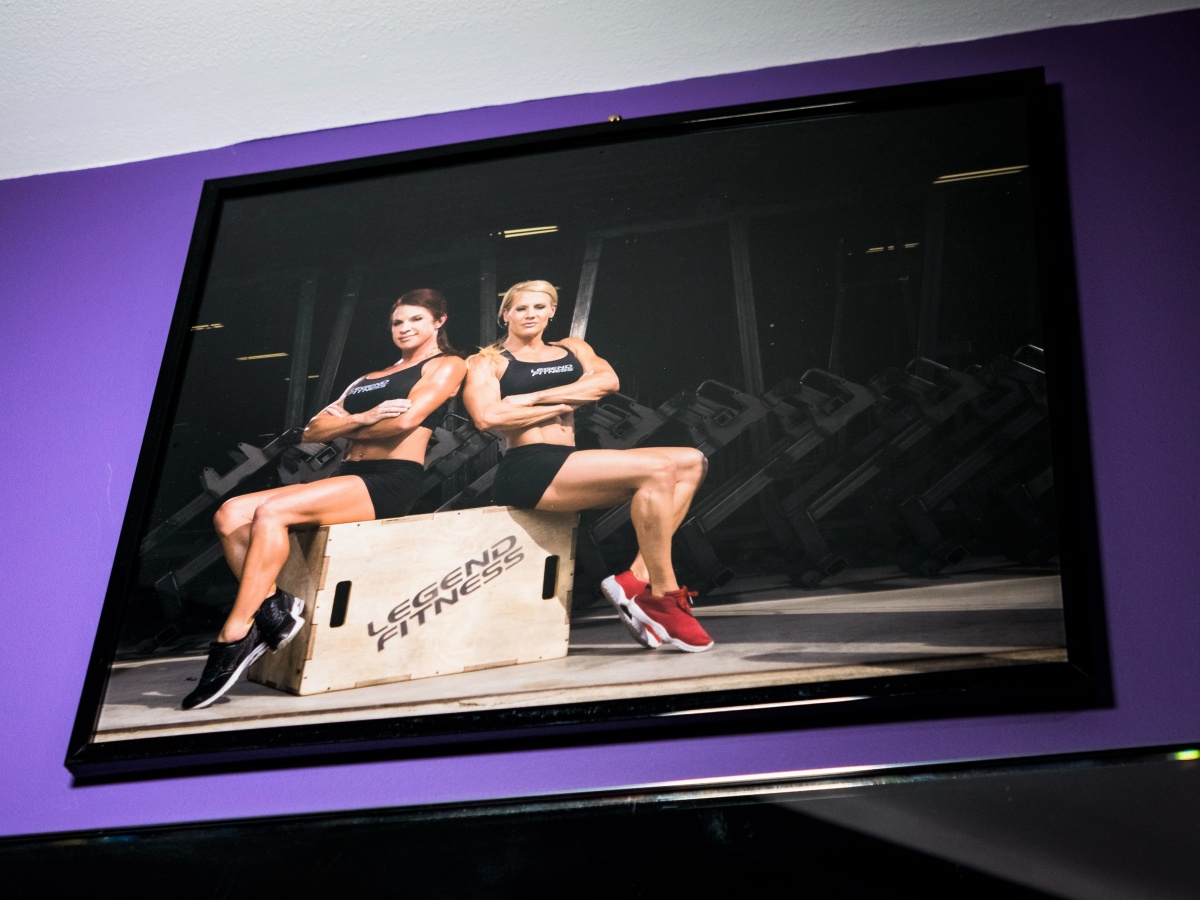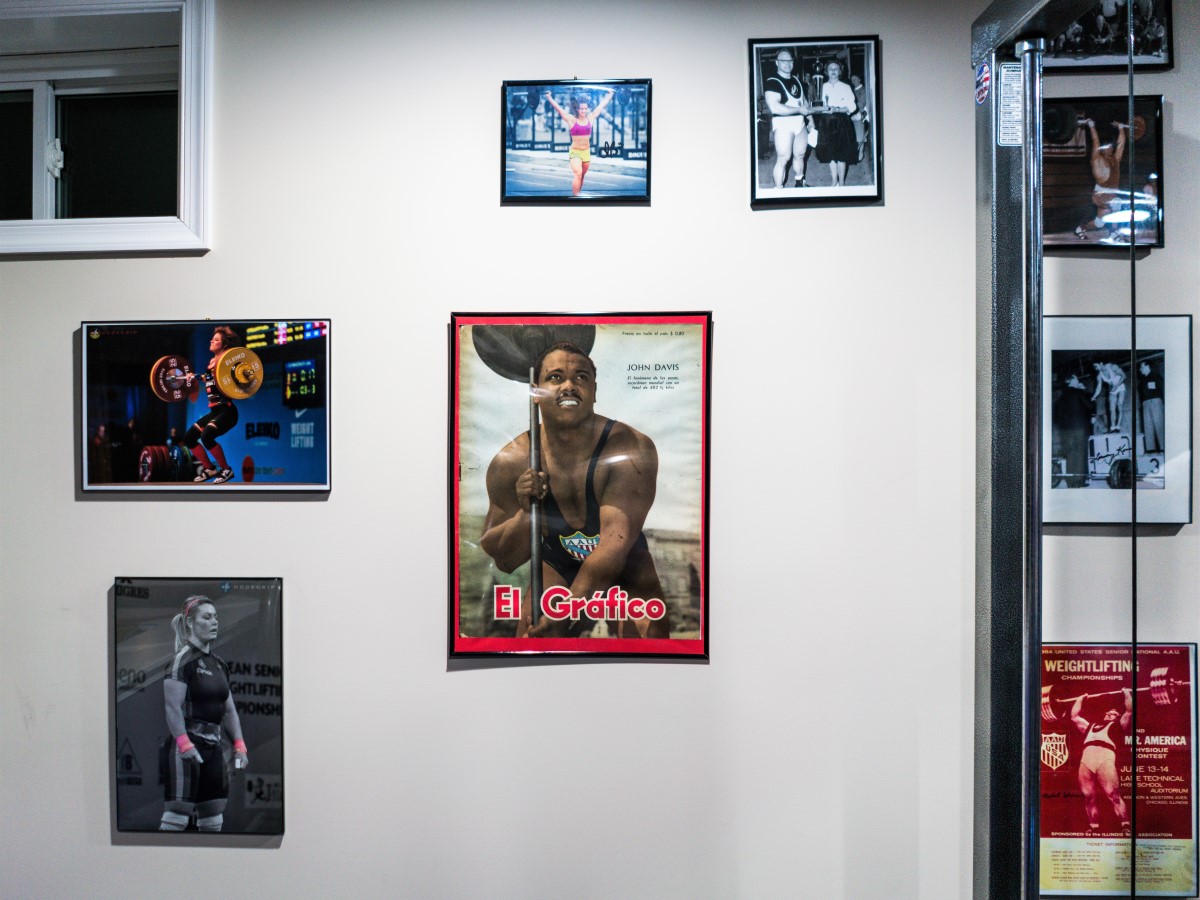 The artwork changes the whole vibe of this windowless basement gym into a small museum of powerlifting and weightlifting icons and history, along with all the classic York weights to give it an authentic feel to match.
It was important to have several women featured. AttyGuy has daughters and wants them to see that women can be strong too and not look like freaks.
In the same vein, note that most of the men featured in the artwork on his walls are not primarily bodybuilders trying to look good. He's featuring icons from the past who were into getting strong, competing, and coaching.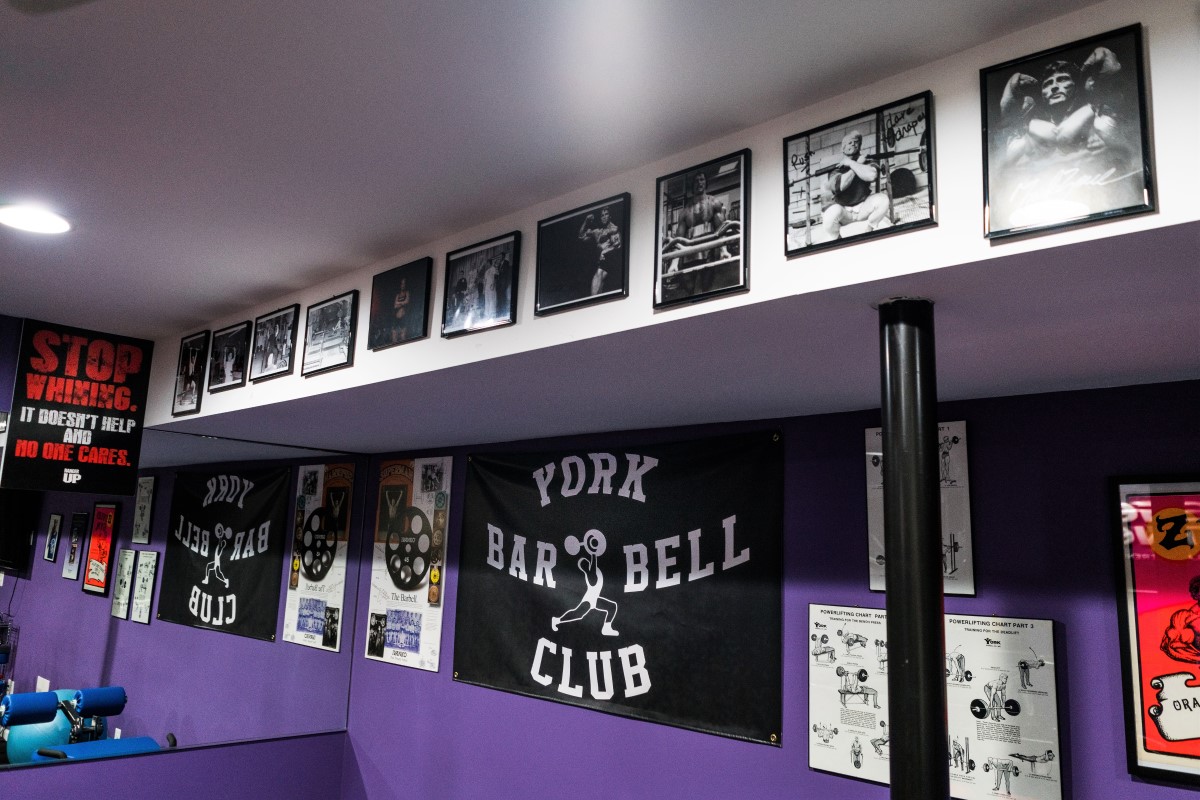 Some of these framed photos were provided to AttyGuy by Bruce Klemens, a prominent photographer of weightlifting back in the day.
eBay and other online stores were also helpful for getting some old pics and original posters.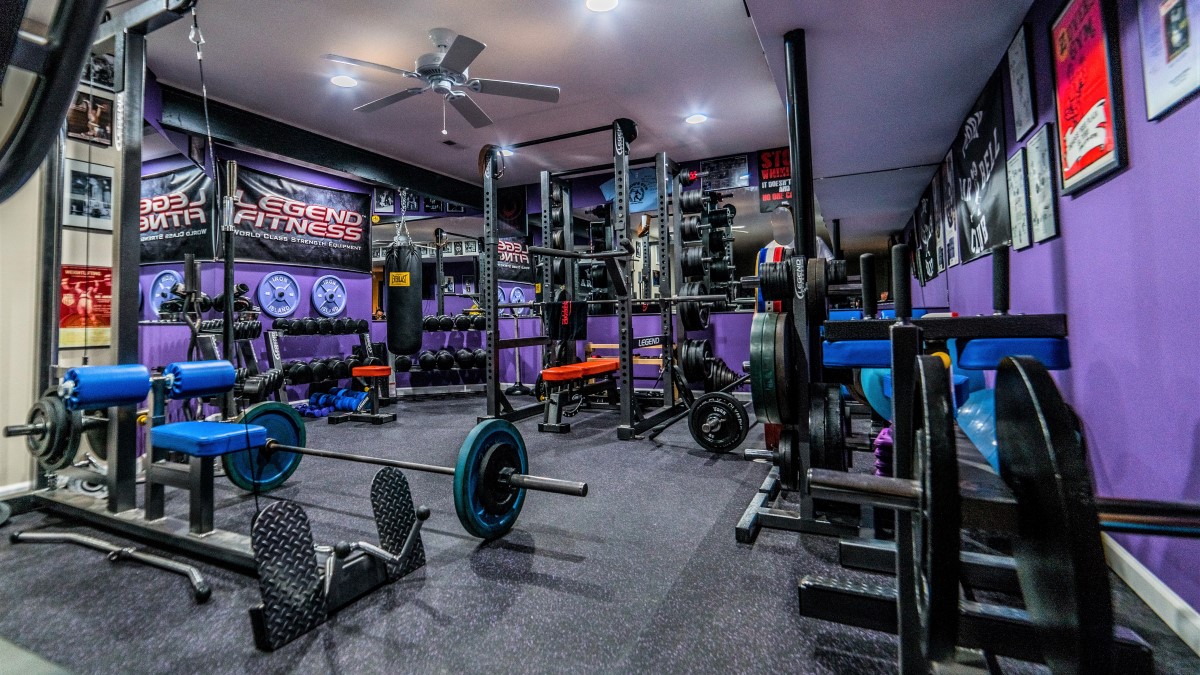 All pics of AttyGuy's gym on this page were taken by his friend John Choe. Thank you to John and AttyGuy!